Sometimes you just want a cute Notion template to inspire your creativity.
I've got the perfect list for you.
Below you'll find a list of X hand-picked notion templates for their cuteness and aesthetics.
Check out my longer list of free notion templates.
And if you're looking for more specific templates, check out my lists of:
Aesthetic Notion Templates
The Super Life (Ultimate Life Planner)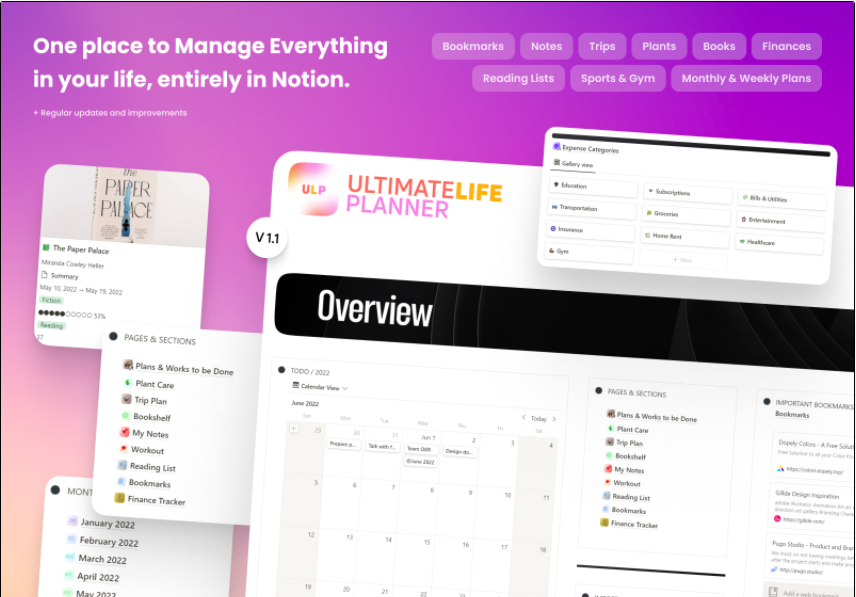 The Super Life (Ultimate Life Planner) is one place to manage everything in your life entirely in Notion.
It brings tasks, notes, plans, health, plant care, travel plans, finance, and more together in your favorite tool.
Don't miss my longer list of business Notion templates.
Anime Cafe Dashboard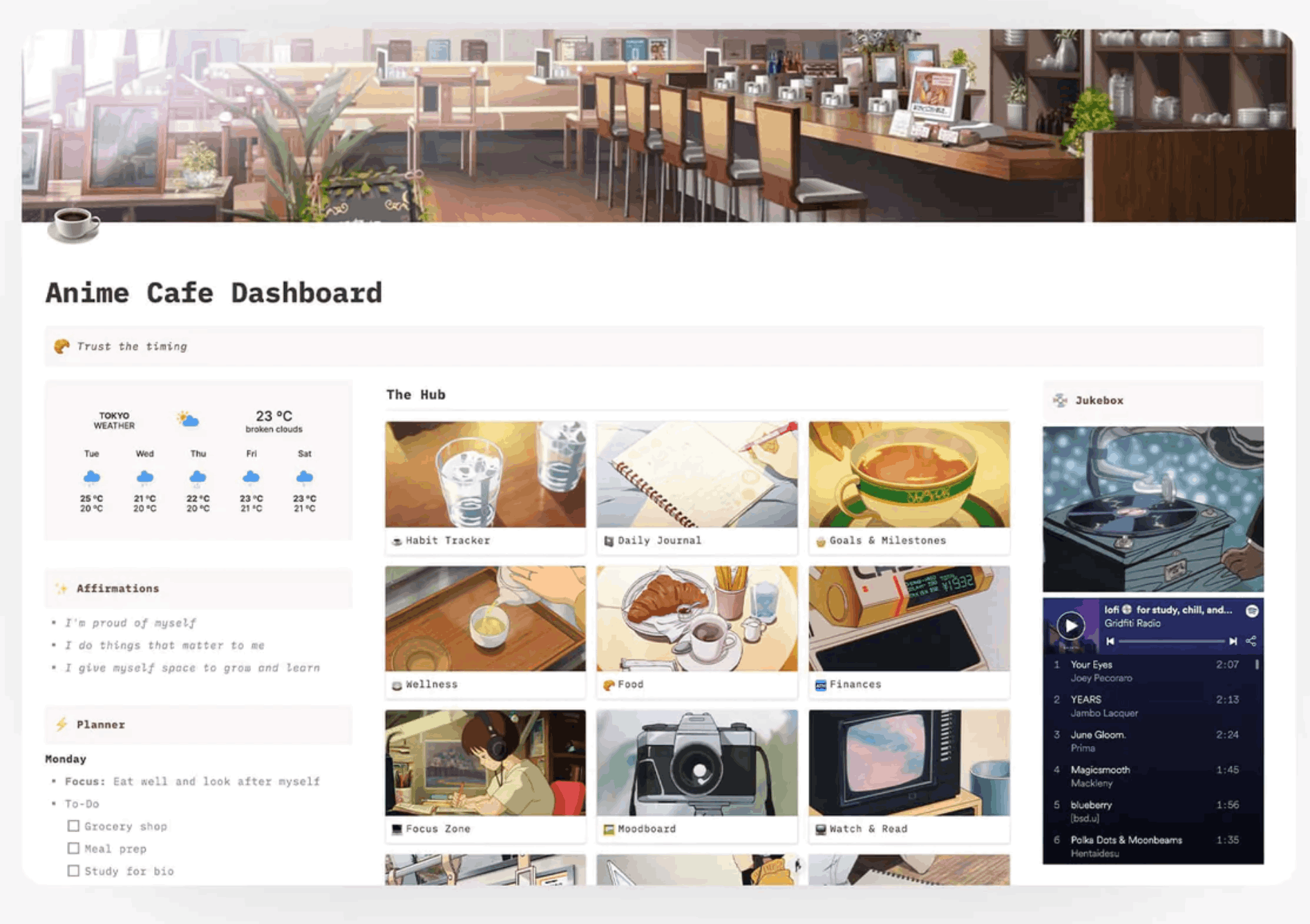 Have everything for your life in one place with the all-in-one Anime Cafe Dashboard! Walk into your personal virtual cafe every morning for anything you need in this super aesthetic Notion template.
Pairs perfectly with our Student OS template (available as a bundle option)
The dashboard is a hub for:
🍎 Daily Habit Tracker
📓 Daily Journal (Gratitude, Intentions & More)
🗻 Goals & Milestones
🧘‍♀️ Mental & Physical Wellness Hub
And much more. Click the link below to check it out.
The Cozy Life Dashboard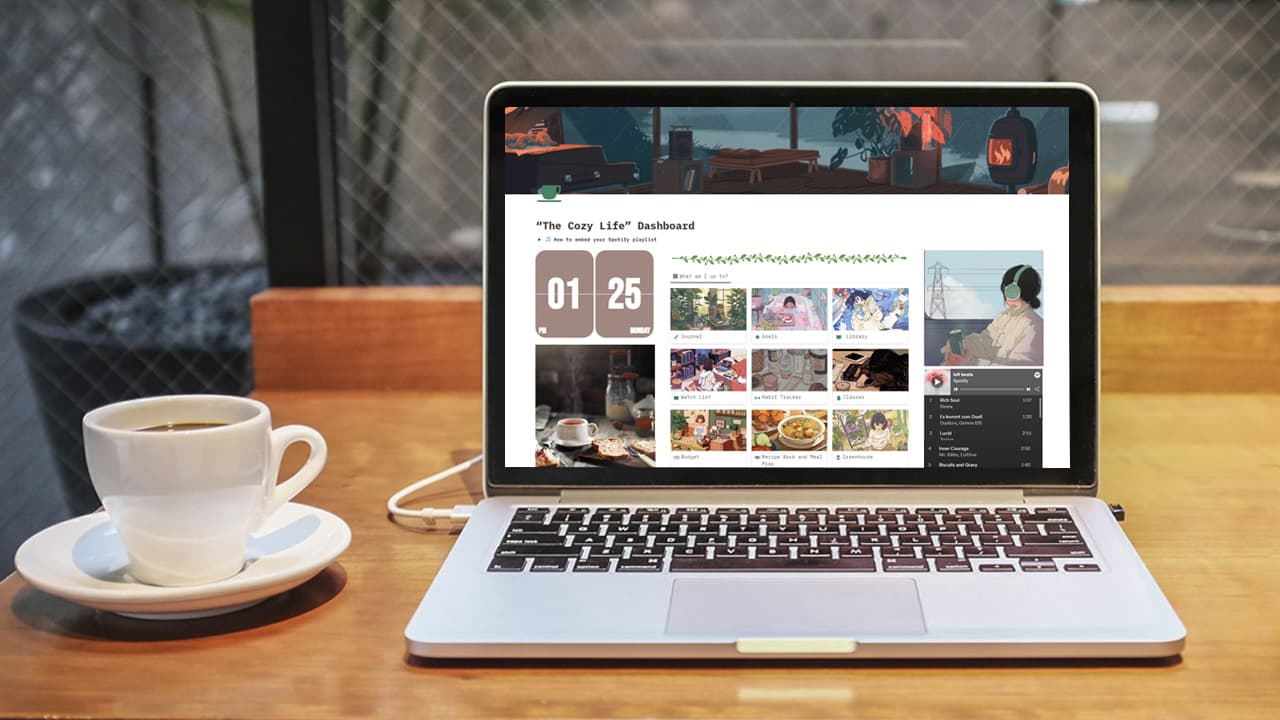 Author: Nick & Cody
It just started raining outside. You can hear the rain pitter-pattering outside your window.
You poured a fresh cup of coffee and there's music playing softly in the background.
I tried to capture these little moments in a single Notion template.
This is a cozy, aesthetic dashboard to help you keep track of everything in your daily life.
It's full of fun widgets for Notion like Weather widgets, quotes, spotify embeds, and more.
And it's the best template I've ever made.
2023 Notion Gratitude Journal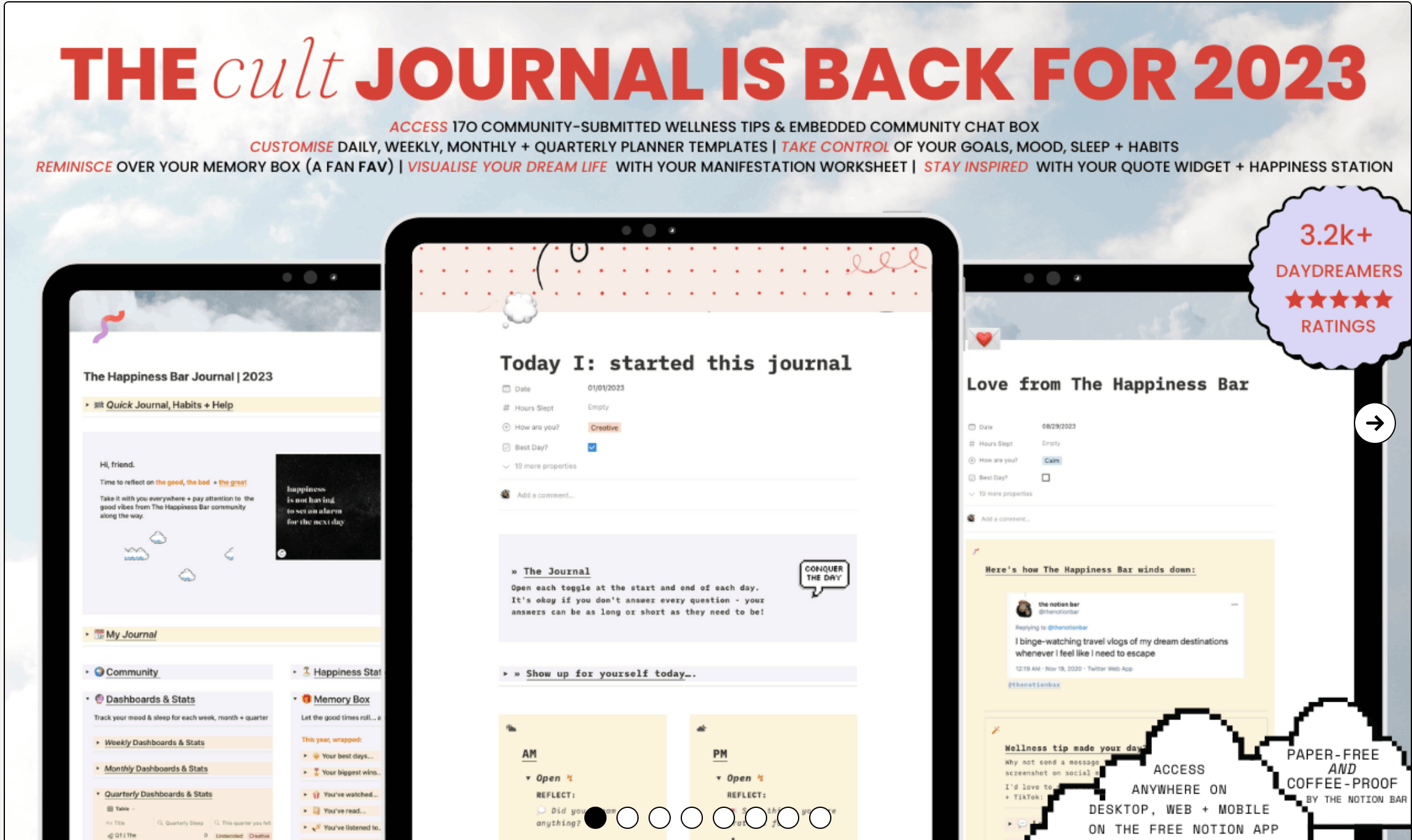 Author: Frances Odera Matthews
Updated for 2023, the cult journal with over 3,000 downloads is back for another edition this year.
Frances runs The Notion Bar and is a certified Notion consultant.
This year's edition includes a bunch of new features, including:
Beautiful & mobile-friendly design
Conveniently pre-filled dates
170 inspiring community-submitted wellness tips (submit your own for next year)
Mindful habit & task tracker/manager (Daydream and Power Journal only)
Insightful weekly, monthly & quarterly automated mood summaries (Daydream and Power Journal only)
4 x customisable & automated planner templates with pre-filled prompts, habits and tasks (Daydream and Power Journal only)
Daily Planner Notion Template
Weekly Planner Notion Template
Monthly Planner Notion Template
Quarterly Planner Notion Template
And honestly a ton more. Check it out below.
Ultimate Habit Dashboard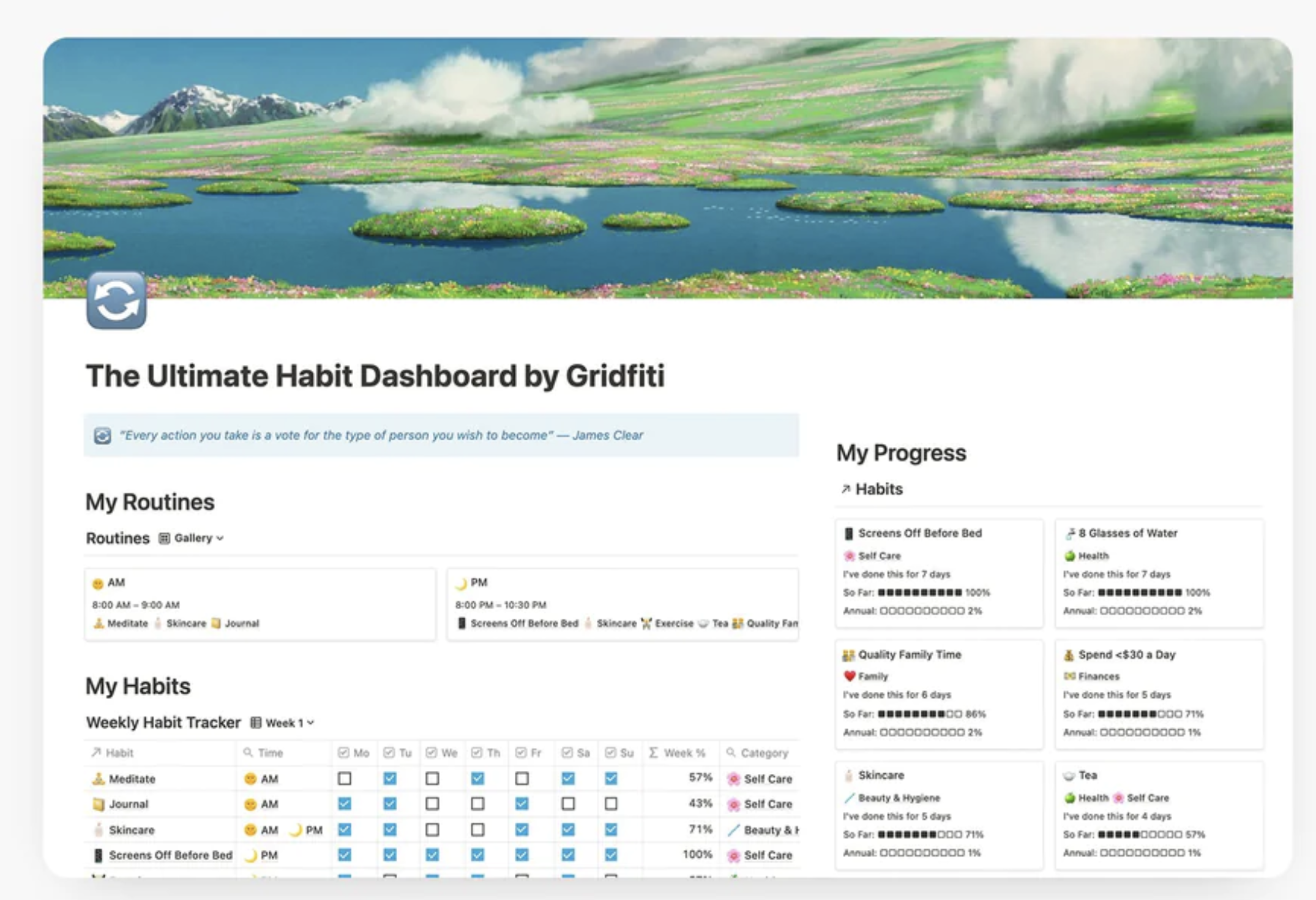 Author: Gridfiti
Create great habits and stick to them with The Ultimate Habit Tracker Dashboard for Notion!
✔️ Create, then track your habits every week with an easy-to-use checkbox system
🍎 Includes several built-in categories – from health, to self care, organization, finances, intellect, hygiene, and more
🚀 Get an overview of how you're doing by habit and by category throughout the year with progress bars – and even see how many days you've stuck to your habit so far
🌖 Set integrated AM & PM routines that connect to your habits
The Relationship Journal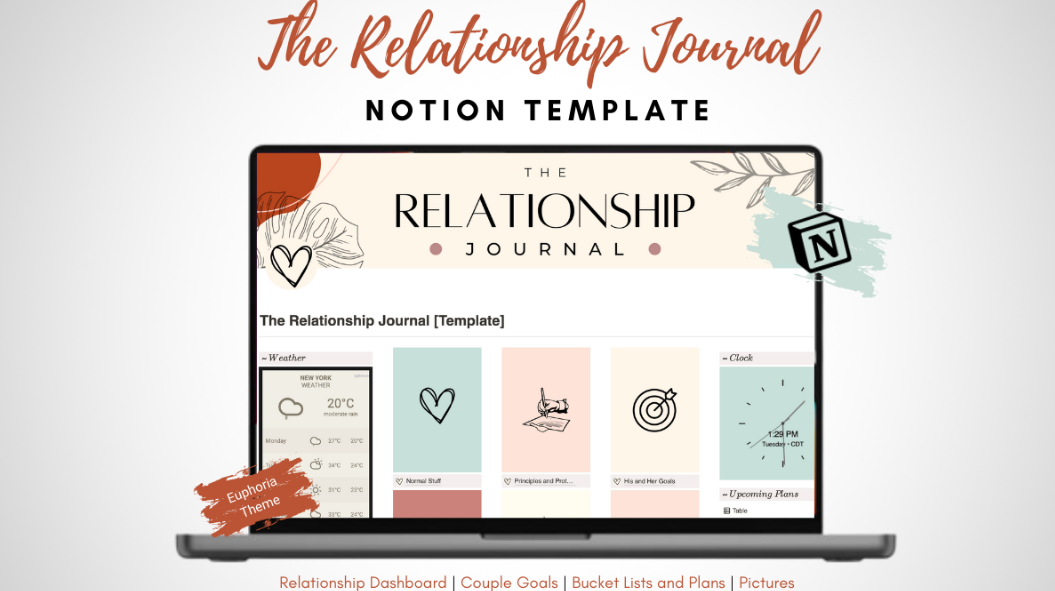 The Relationship Journal is a clean anbd beautiful Notion template that helps you document your journey with your partner and develop an even stronger relationship.
This is a brand new Euphoria theme with neutral pastel colors and a fresh tile-design that is suited for viewing in both light and dark mode.
Features:
Customize your ready-made relationship dashboard
Document your discussions and upcoming plans
Create your own photo albums
Set goals and hold each other accountable to them
Track important dates and milestones in your lives
Share your love for music through joint Spotify playlists
Maintain a timer of how long you've been together
Maintain a world clock, weather widgets for when you're apart
Maintain principles and protocols that guide you
Write down your travel wishlists
Note down your Netflix watch lists and reading lists
Notion Side Hustle OS Template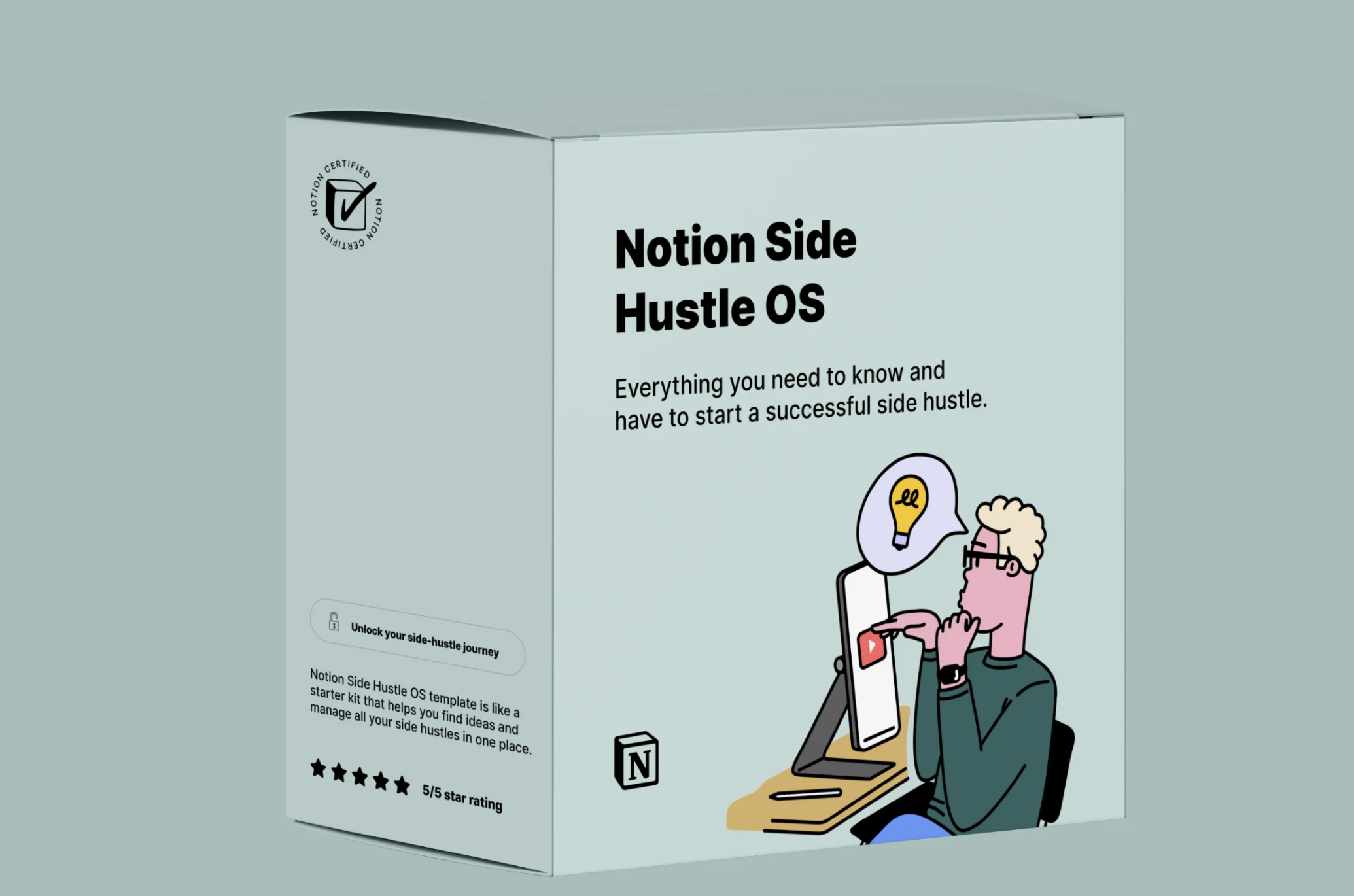 Explore a list of 60+ most popular side hustles.
Start making side income finding the best side hustle for You.
This Side Hustle OS has everything you need to know and have to start a successful side hustle.
If you've been looking for a Notion template to start making additional income, you're in the right place.
One of the best ways to increase your income is by getting into a side hustle. But, if you don't know what to do or don't have time, don't worry.
The Notion Side Hustle OS template is like a starter kit that helps you find ideas and manage all your side hustle daily things in one place. With this template, you'll have a nice and productive system to manage and grow your side hustle.
Also, an access to lists of the best tools and links. This whole Notion Side Hustle OS will be the one-time purchase that brings you clarity and actionable steps to your side hustle growth.
Second Mind for Notion + Free Onboarding Call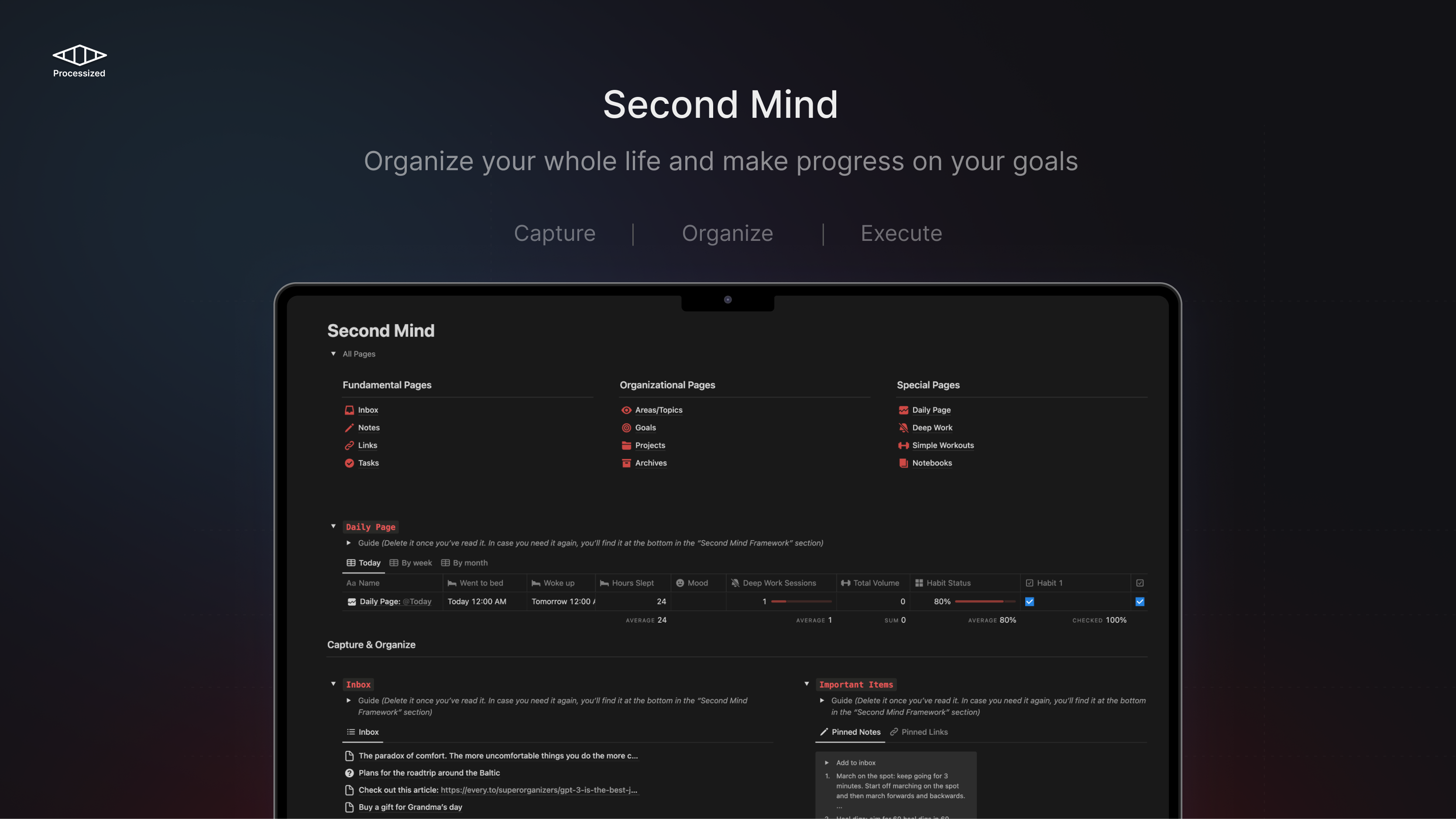 Slay information overload and transform your knowledge into results with the best knowledge management system for digital workers, creatives & entrepreneurs: The Notion Second Mind
Capture what matters, instantly
Second Mind is a trusted place for your resources:
Inbox: your notes, links, and tasks integrated with Notion Quick Capture and shortcuts to make capturing as seamless as possible. Capture and get on with your day.
Organize your resources for future use and never forget anything
The information you gather is only useful if you can find it in the future.
Second Mind helps you organize your resources:
PARA: Tiago Forte's knowledge management system (Projects, Areas, Resources, Archives) tweaked for actionability.
Pulled resources: In each Project, you can add relevant resources from different Areas or Topics to help you execute.
Build an idea goldmine that grows together with you
Your resources are useless when they're idly laying in your second brain.
Second Mind offers tools to help you process your resources for more clarity, focus, and creativity:
Quick daily review: A 5-minute process to keep your second mind tidy, find connections, and keep you up to date with your daily work.
Weekly review: A weekly ritual to review your resources and project results, plan your week, and find new connections and ideas. Progressive summarization : Tiago Forte's distilling method for making your resources more concrete and actionable for future use.
Start using it as soon as you download it
Say goodbye to hours-long tutorials and courses.
Second Mind offers a seamless way to start using it as soon as you download it.
1-minute guides: Under each page, you'll find a short instruction on how to use it most effectively.
15 min onboarding: A quick onboarding designed to help you get the most out of the second mind template.
(Bonus) Free onboarding call: Hop on a 30 min call with me to answer all of your questions and help you tailor the template to your needs.
Stoic Life Journal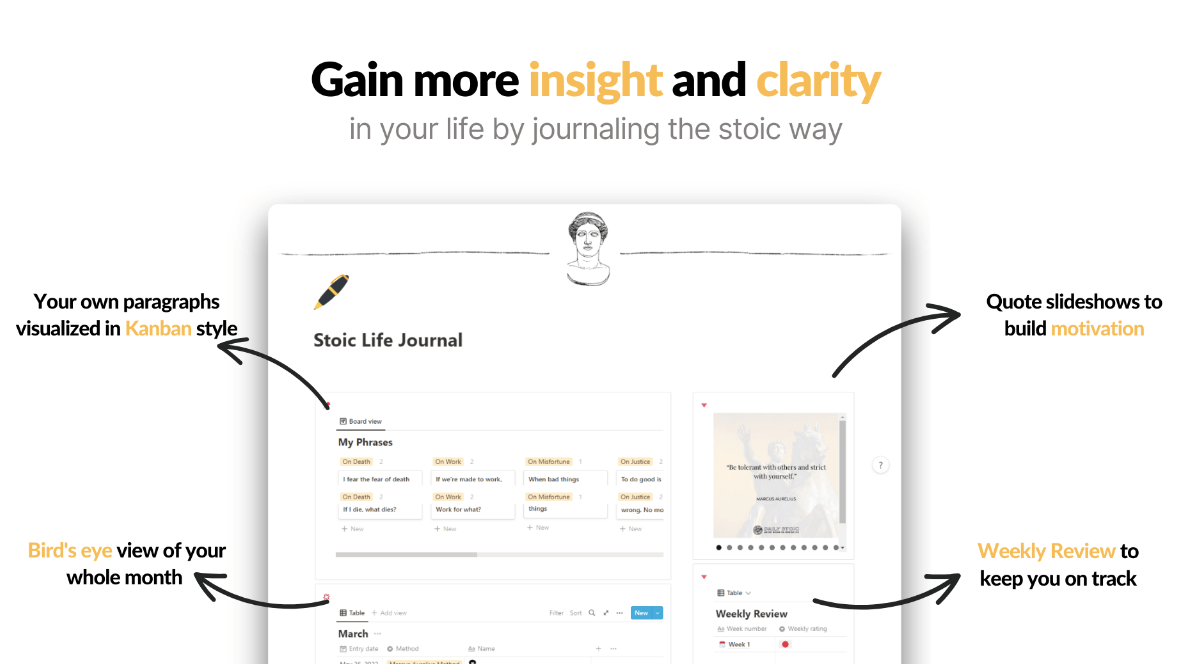 Author: Pascio
A life journal made to bring more insight and clarity to your life by journaling the stoic way.
That's how Pascio describes the Stoic Life Journal.
Anchoring on the known benefits of journaling combined with the 5 Stoic Methods, this template helps:
Calm and clear your mind
Make decisions more objectively
Embrace the events in your life
I've journaled in Notion for the last few years and I started a list of my favorite Notion journal templates if you want to look at other options.
It includes:
Journal Dashboard
Personal phrase collection
Unlimited journal entries
Easy sorting and storage, and more
Limitless OS: The All-In-One Notion Template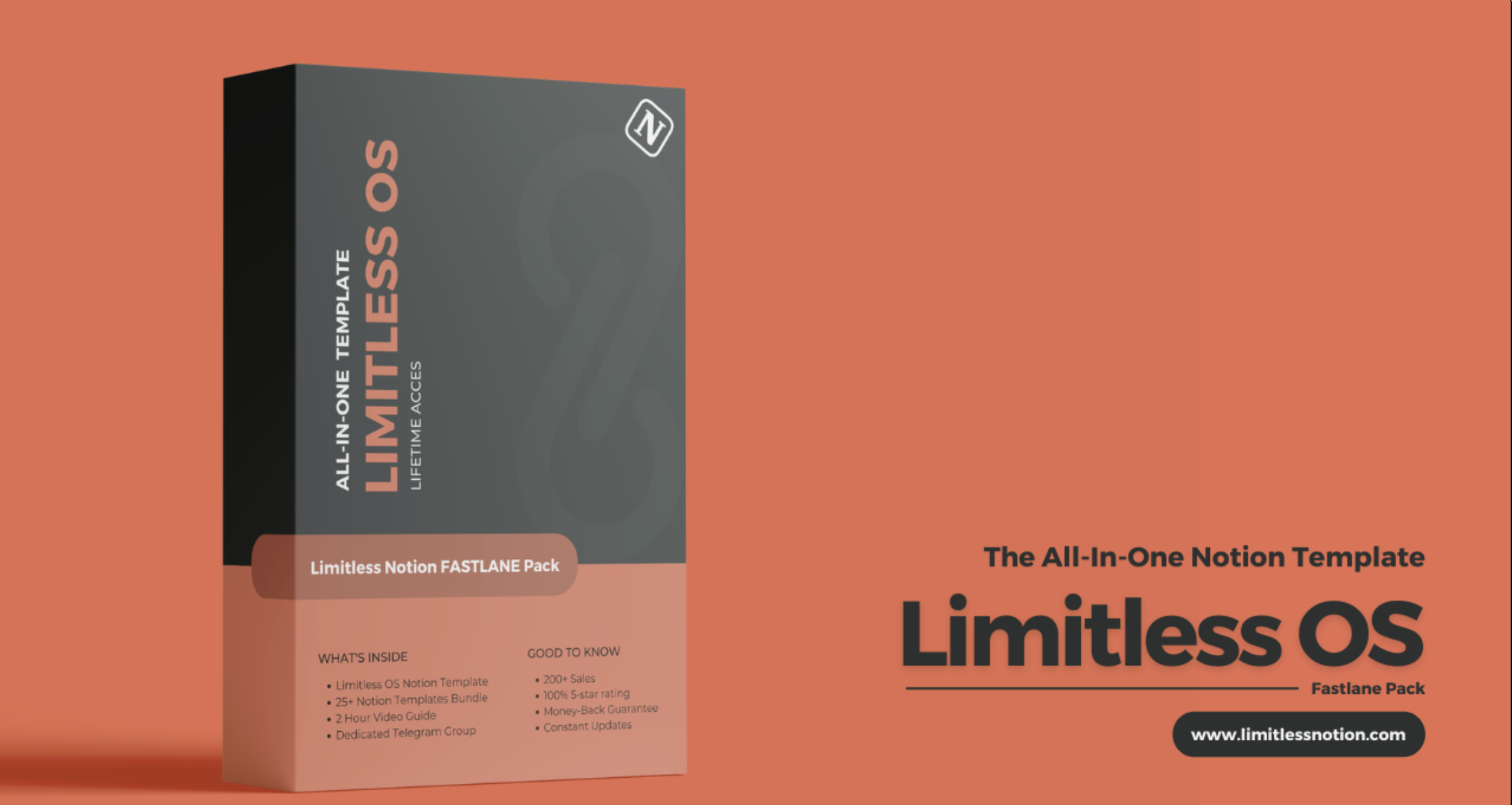 Limitless OS is the Ultimate, All-In-One Notion Template.
With One Purchase, you'll get everything that you may need to build your dream Notion Setup.
What you'll get:
Limitless OS with 30+ Built-in Templates Working Smoothly Together
2-Hour Video Guide for Easier Template Setup
Dedicated Support on Telegram for Assistance
Lifetime Access & Lifetime Updates (current version 2.0.9)
Get the Limitless OS today at the link below.
Limitless Notion Template Bundle [25 Templates]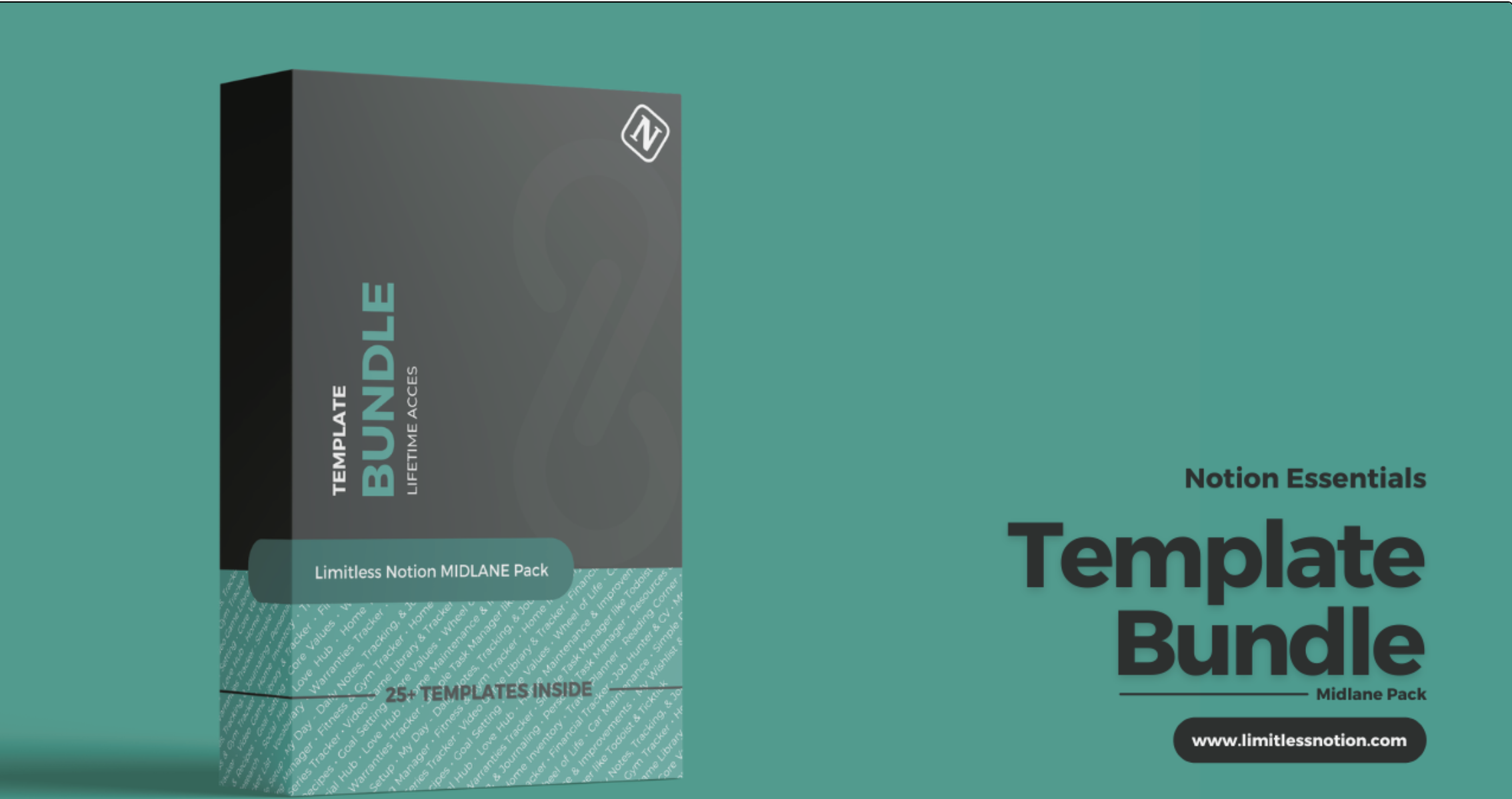 Supercharge your Notion template library with 25 easy to use Notion templates.
Here's exactly what's inside.
Life Setup Notion Template - $15
My Day - Daily Notes, Tracking, & Journaling - $10
Personal Task Manager Notion Template - $10
Resources & Learning Manager Notion Template - $10
Fitness & Gym Tracker Notion Template - $10
Travel Planner Notion Template - $10
19 other templates valued over $55
Includes lifetime access to these and all future templates.
Get the Notion template bundle at the link below.
Content Creation Hub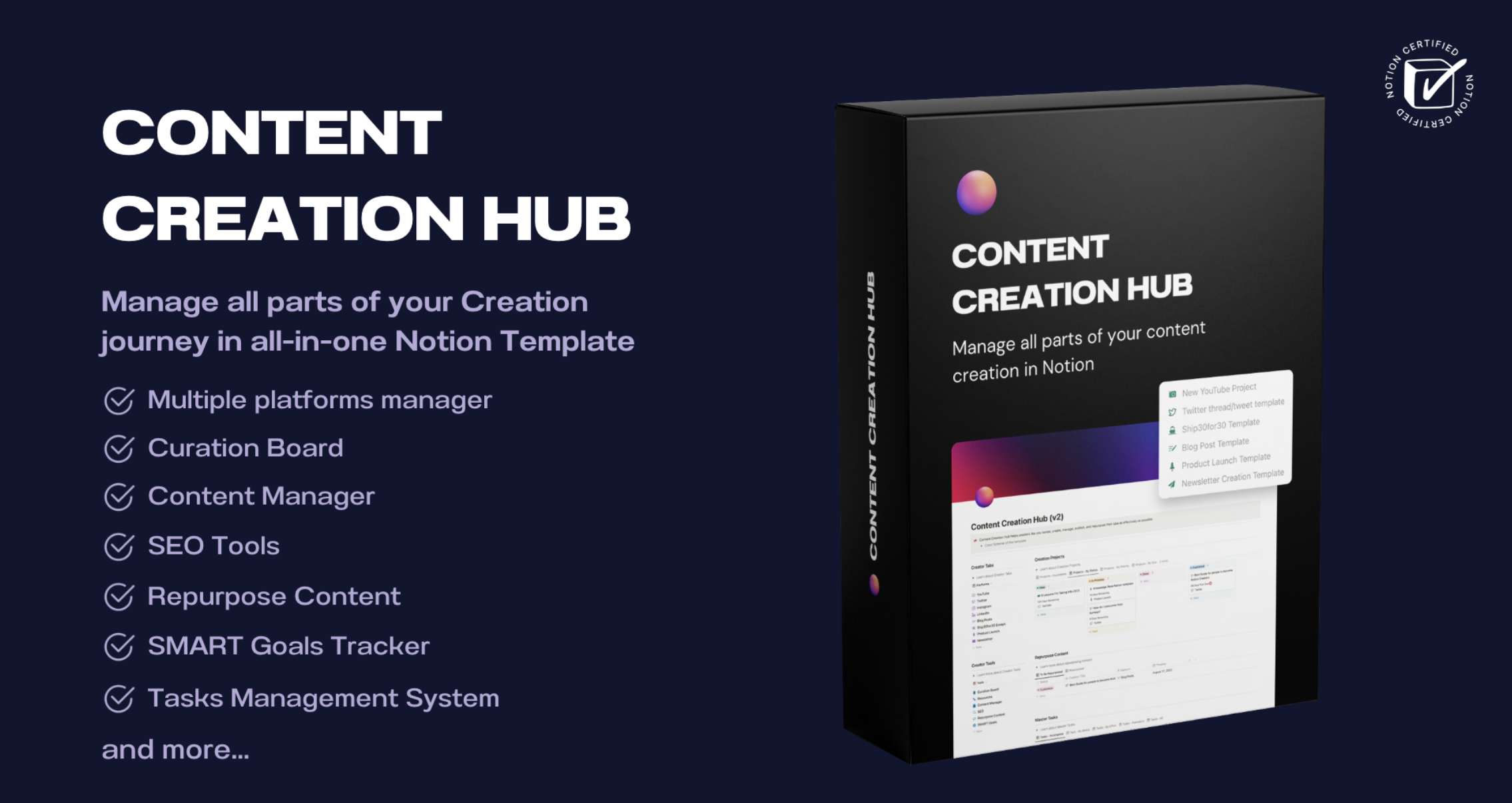 Author: Atul Anand
Manage all parts of your Content Creation in Notion.
This template hub helps creators like you curate, create, manage, publish, and repurpose ideas as effectively as possible.
Over 300+ creators are already using this Notion Workspace.
Never start your content from scratch again.
Content Creation Hub is integrated with systems that help you curate content from anywhere on the internet and create your ideas and notes.
And all this can be easily used as an inspiration for your creative projects.
Grab it at the link below.
Build $4000+/month in passive income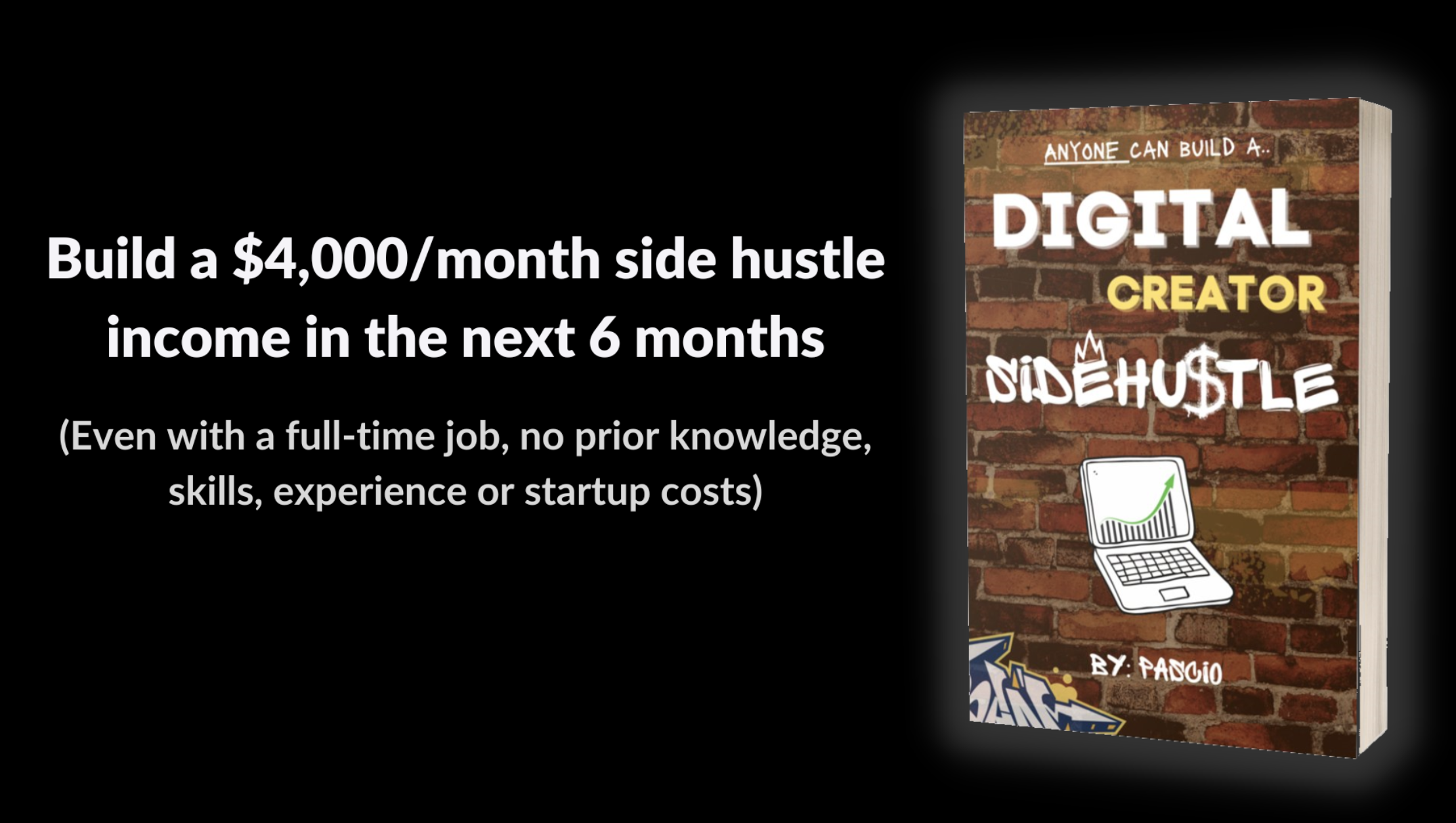 Anyone can be a digital creator. It's never been easier to start your own business.
Learn to make money online by creating and selling Notion templates and generate more than $4000+/month in passive income.
Start asking yourself:
✅ What would an extra $500/month do to your finances?
✅ How would life look with $1,000 extra coming in consistently every month?
✅ How would having the security of a $2,000 income stream benefit you?
What you'll be learning
After reading this guide, you'll have familiarized yourself with the essential knowledge to help you build, launch and sell Notion templates consistently to create passive income for yourself just as I did to generate more than $20,000+ in revenue in 10 months:
✅ How to start a side hustle that actually pays ✅ How to build an online audience and the value of it ✅ How to set up systems to help you do more faster. ✅ How to build a product with no knowledge ✅ How to package and prepare your product
This isn't some internet guru bullshit. It's something me and hundreds of other people are doing right now.
And you can too.
Startup OS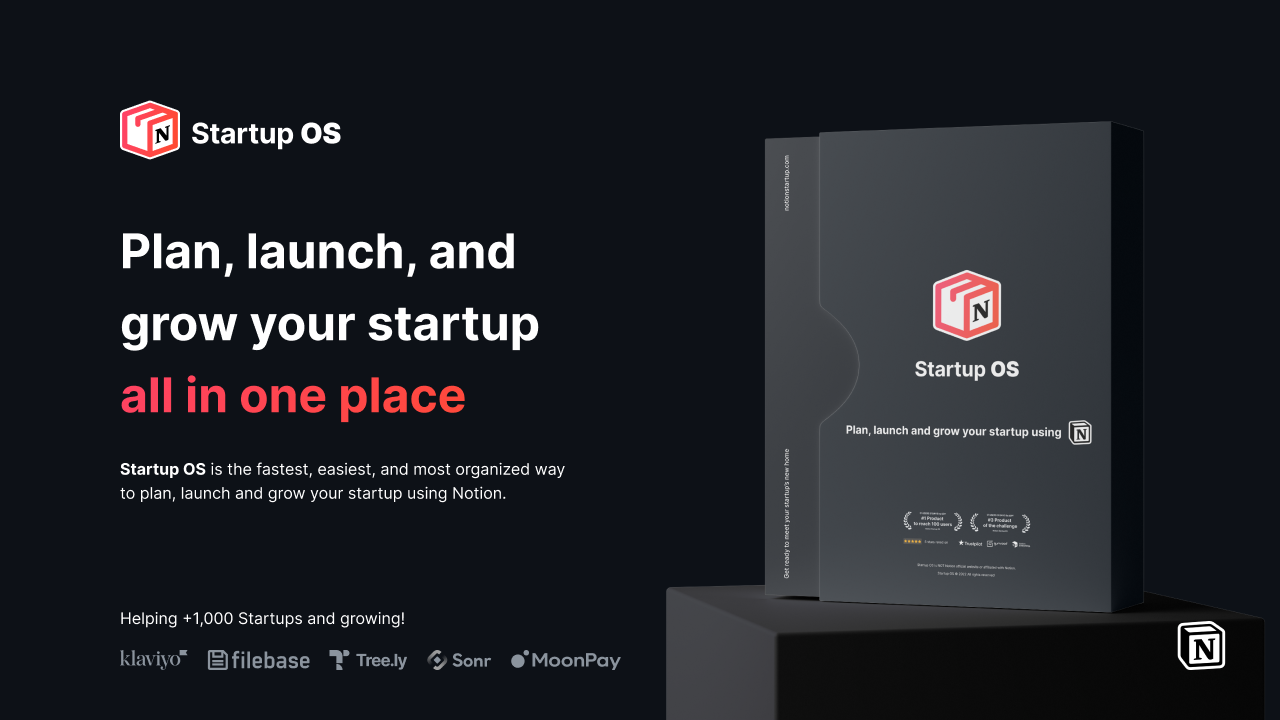 Plan, launch, and grow your startup all in one place!
Startup OS is the fastest, easiest, and most organized way to plan, launch and grow your startup using Notion.
The Startup OS has +60 ready-to-use and easy-to-customize templates including:
✅ Company Dashboard
✅ Business Model Canvas
✅ Value Proposition Canvas
✅ Company OKRs ➕ +56 Other Templates
A process-based approach to growing your startup.
Get the Startup OS today.
💸 Smart Finance Tracker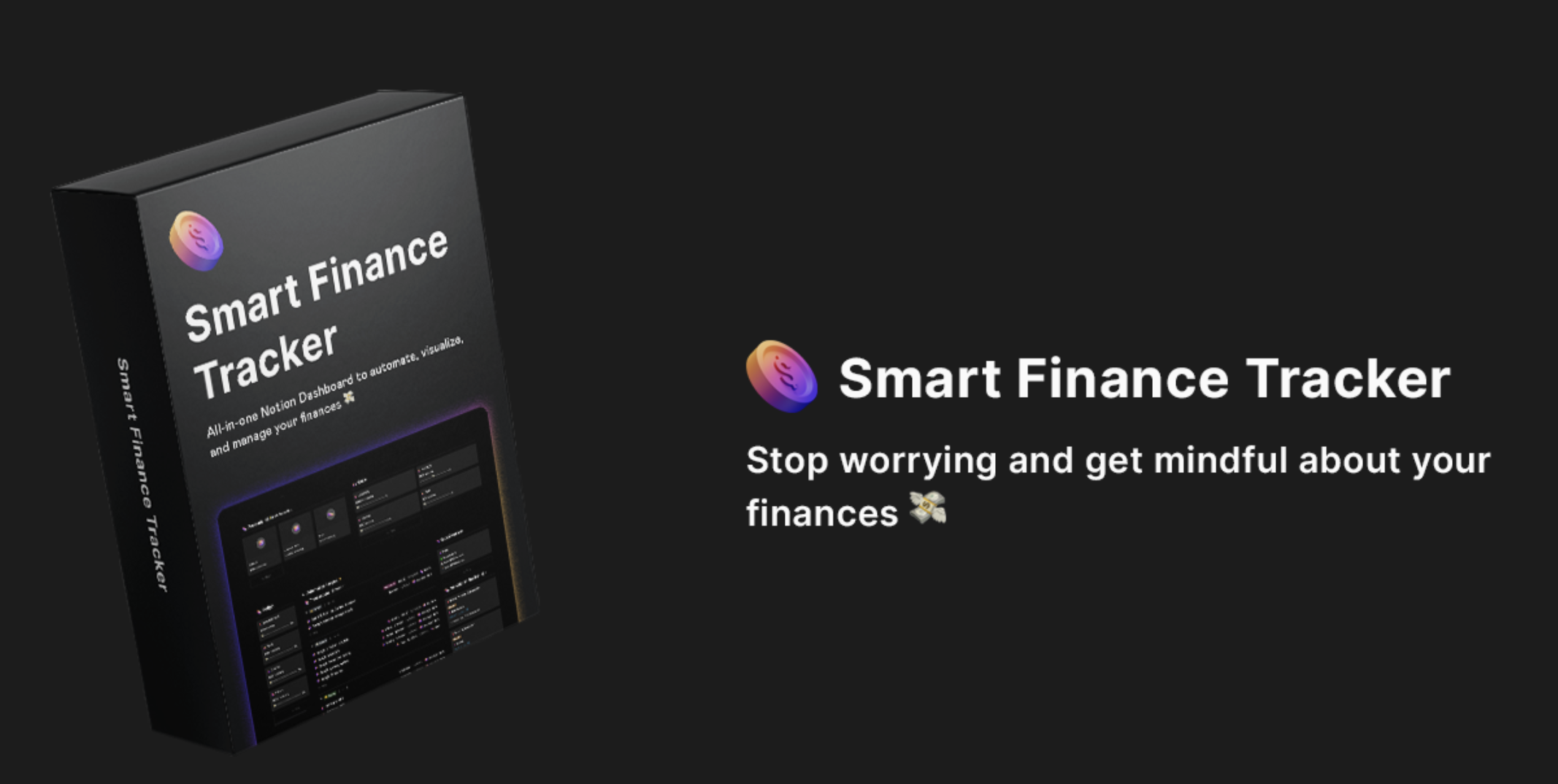 Author: Atul Anand
Never lose track of your finances with this all-in-one Notion Dashboard to automate, visualize, and manage your finances 💸
This tracker is designed to minimize most of the friction that you usually get while inputting your transactions, managing finances, etc.
What's Inside
✅ Track your transactions (automated for smart and ultimate version only)
✅ Internal Automations
✅ Accounts (Banks & Cards)
✅ Set your budget
✅ Happiness Tracker
✅ Subscription Tracker
✅ Automation capabilities
✅ Financial Goals Tracker
✅ Finance Planner (Annual, Quater, Monthly view)
✅ Investment Tracker
✅ Debt Tracker
✅ Visualization (charts, graphs, etc.)
Get the smart finance tracker today at the link below.
Aesthetic Student Planner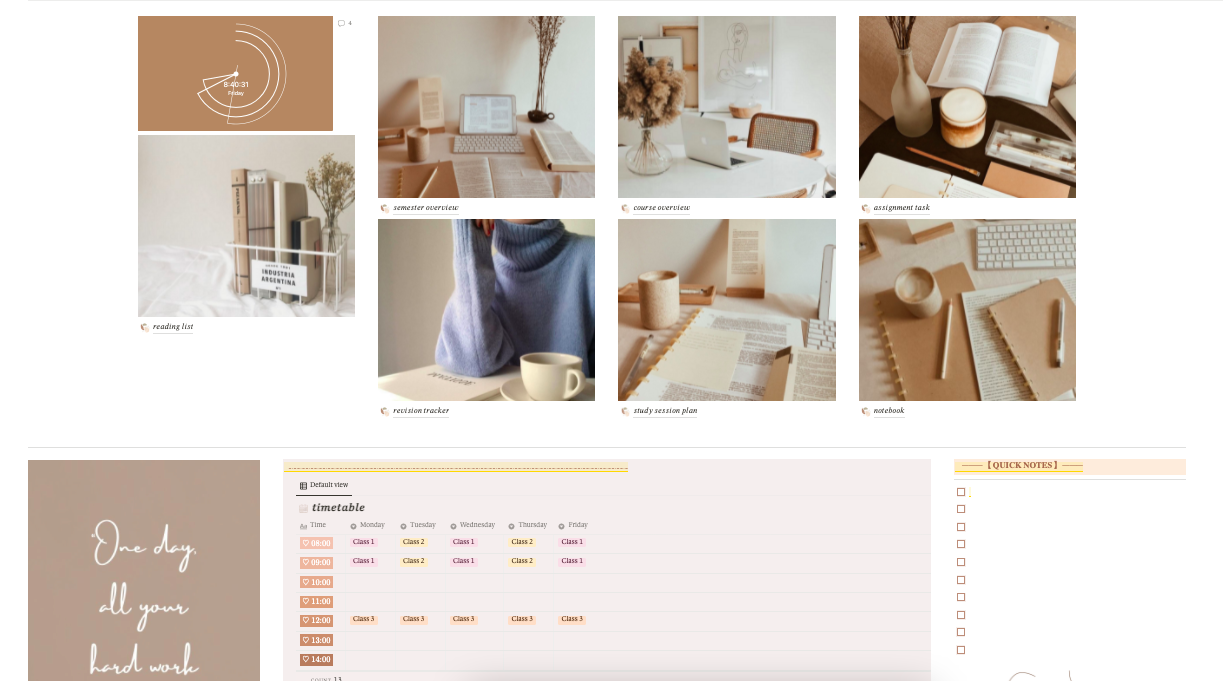 Author: EllasTemplates
Notion Small Business Kit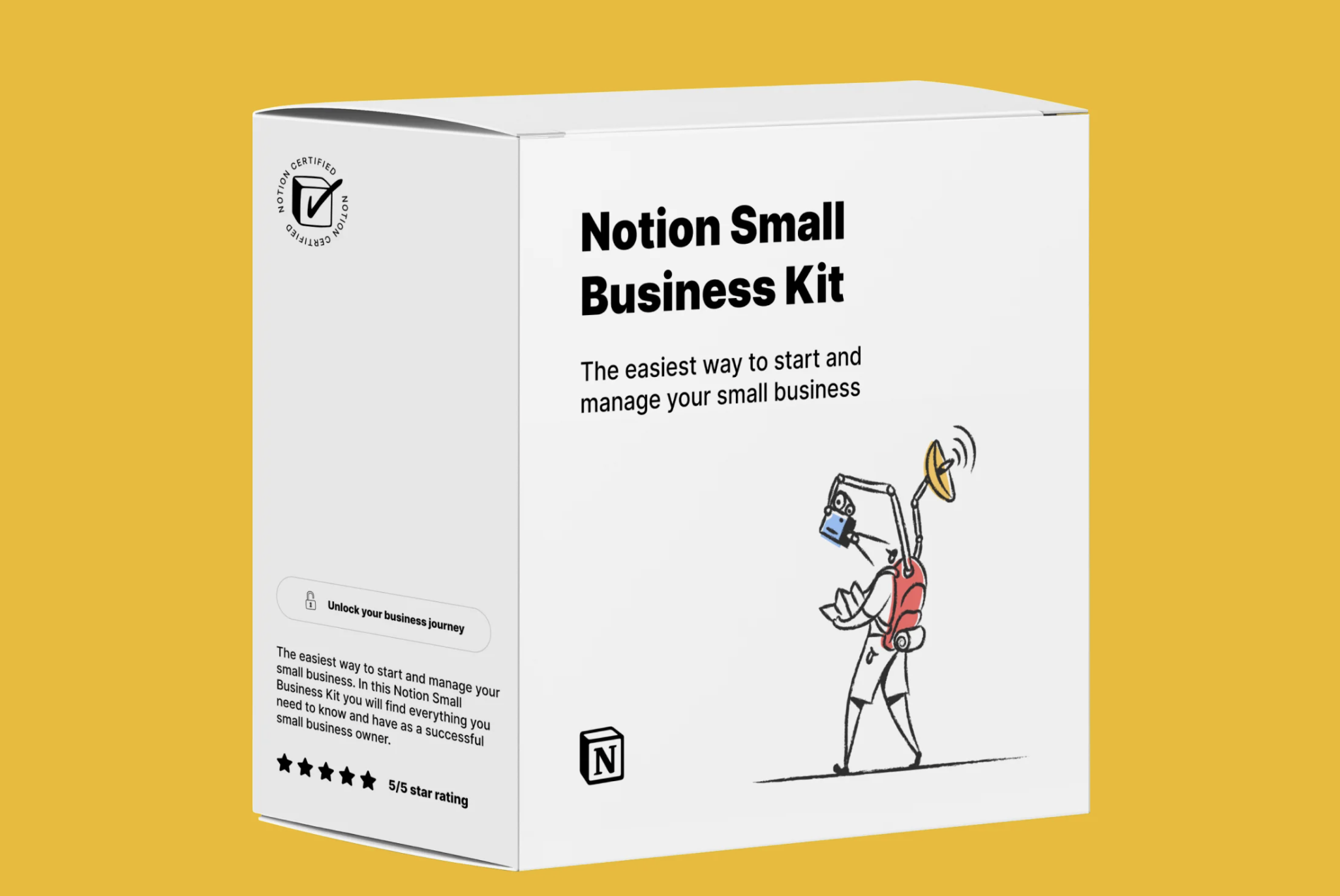 Your ultimate guide and management tool to help you start and manage your small business.
In this Notion Small Business Kit you will find everything you need to know and have as a successful small business owner.
So you are looking for the easiest way to start or manage your small business.
Well, this kit is designed exactly for you.
No matter if your business is online or offline, e-commerce or service provider agency you will find this kit extremely beneficial.
This guide will help you to start/manage your entire small business.
Aesthetic Homepage Template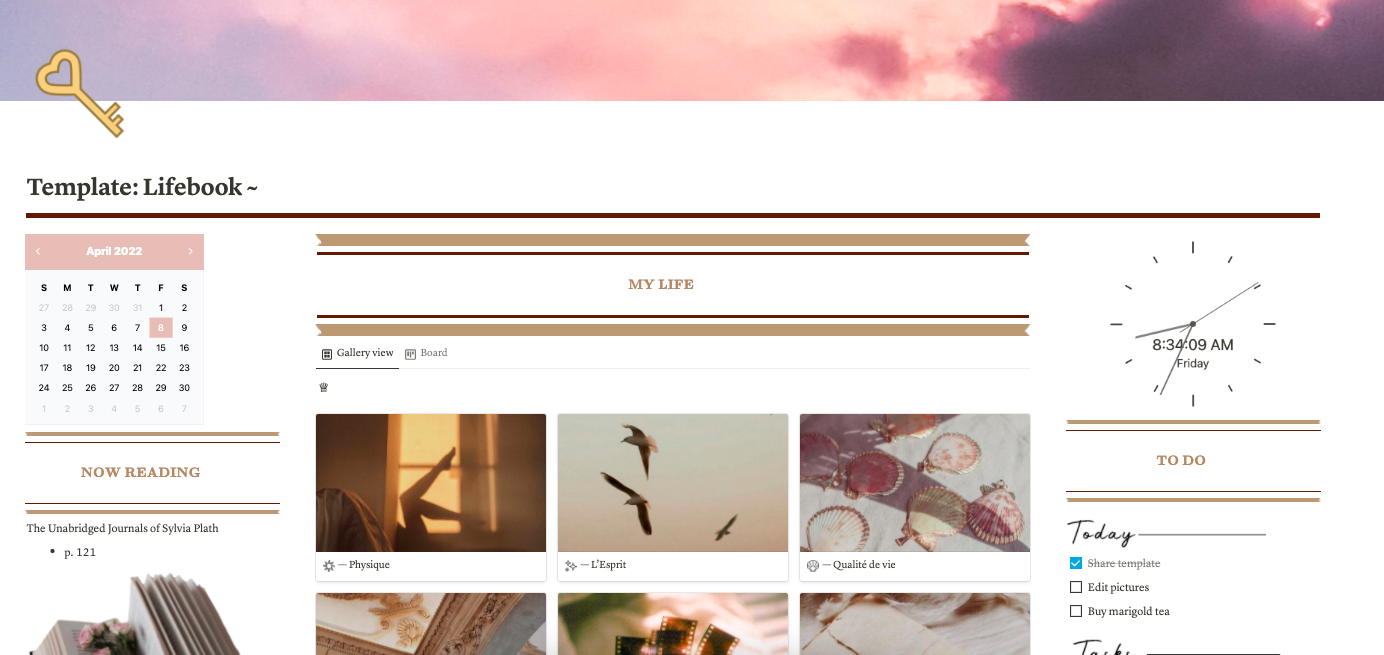 Author: Reddit User StarryAmbrosia
Ultimate Planner Dashboard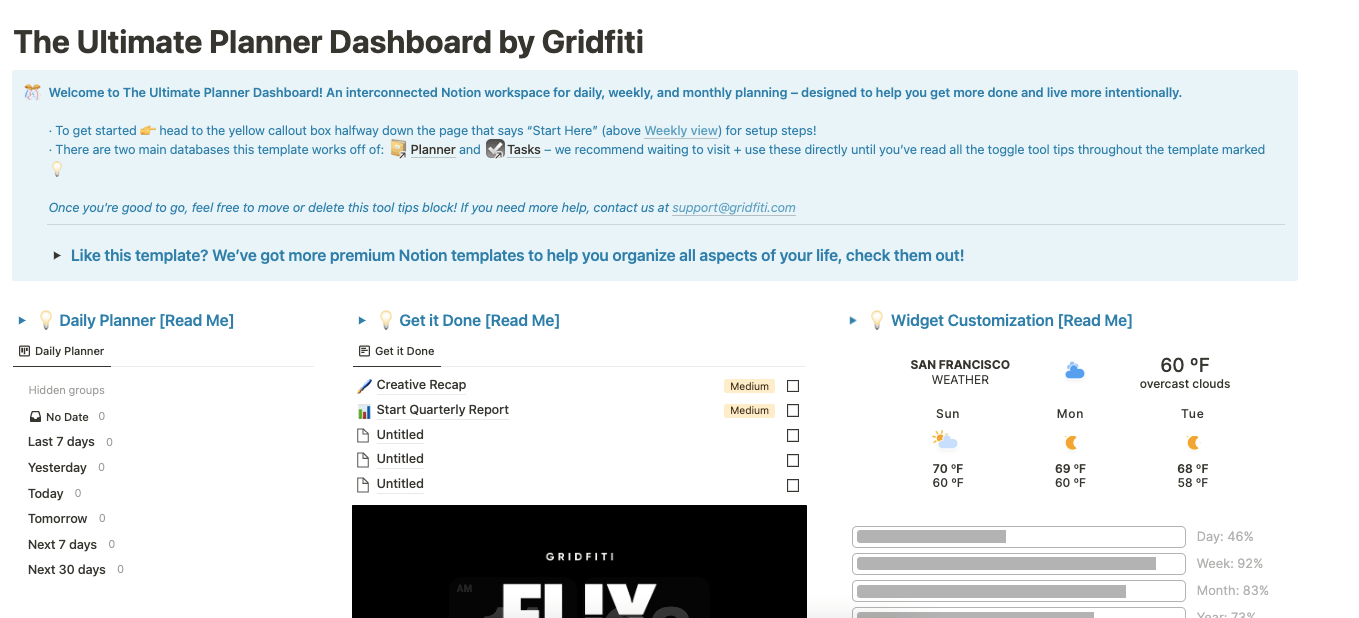 Author: Gridfiti
Notion Habit Tracker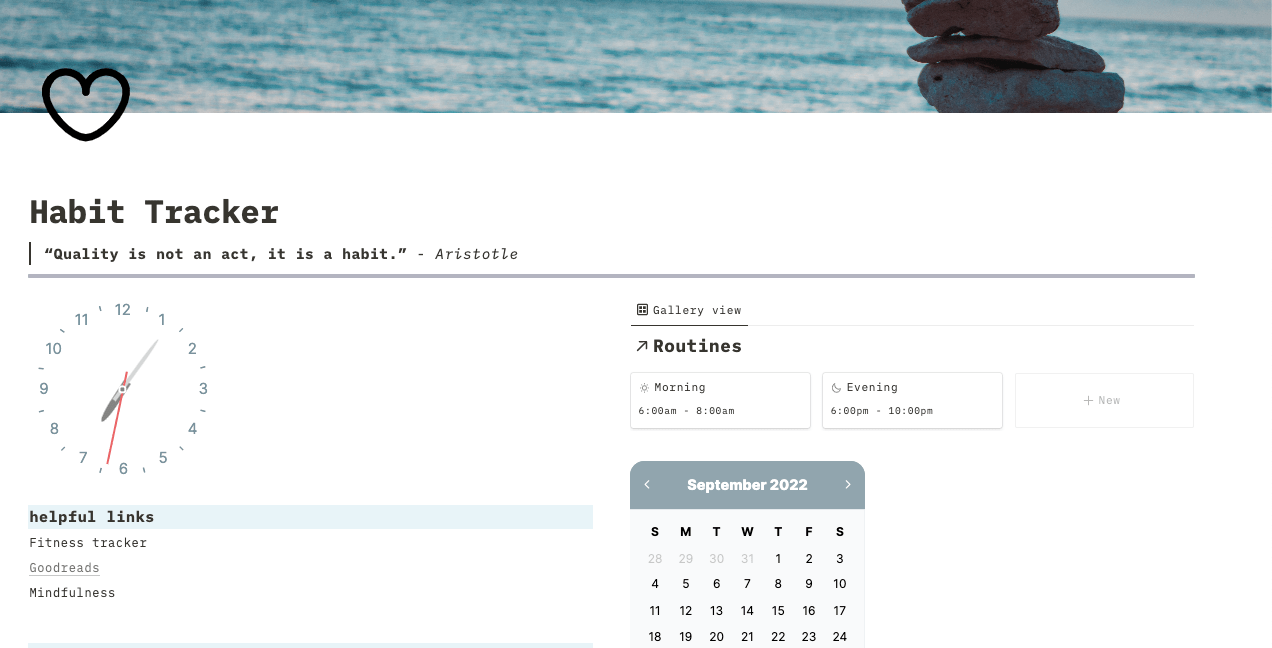 I completely reworked my Notion habit tracker and I'm giving it away for free.
I wanted to create a calming space that I'd look forward to filling out each day.
My habits are likely different than yours, and my template is lightweight enough for you to customize it to your liking.
It has a space for:
Routines
Monthly reflections
Tracking your weekly habits
Get it free at the link below.
Aesthetic Habits Template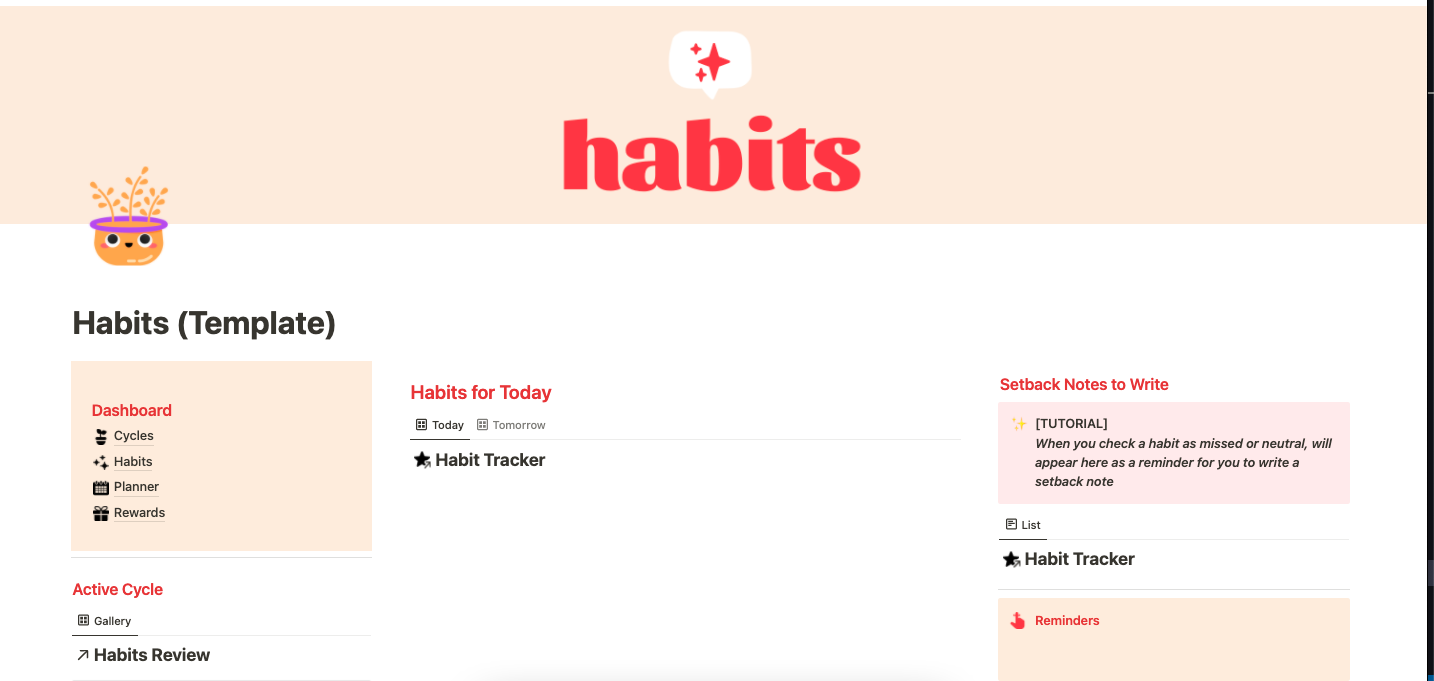 This is probably the most aesthetically pleasing template I've found for tracking habits in Notion.
It's by Reddit User EllieGons.
Notion Plant Tracker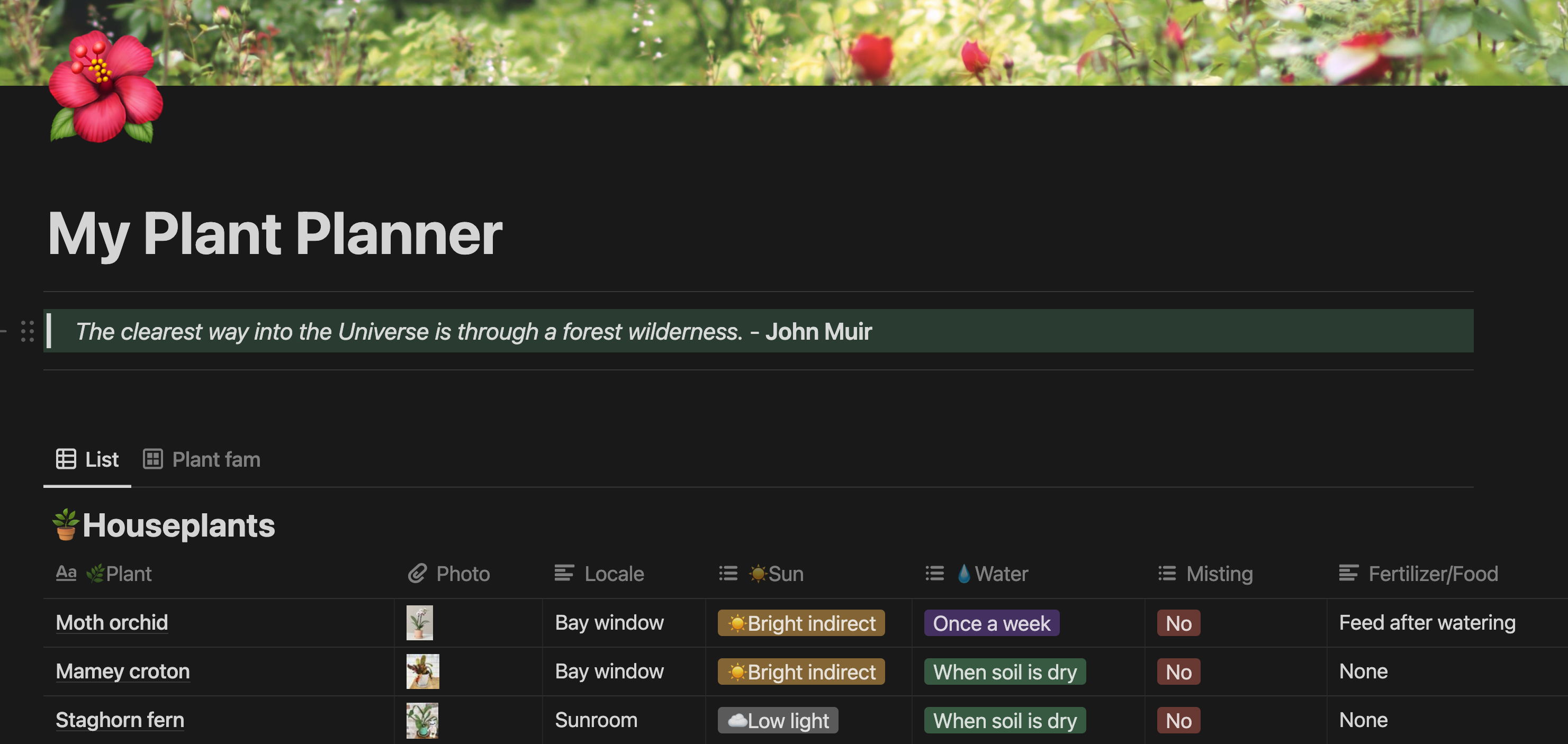 Author: Crafty Cody
Notion Creator Starter Pack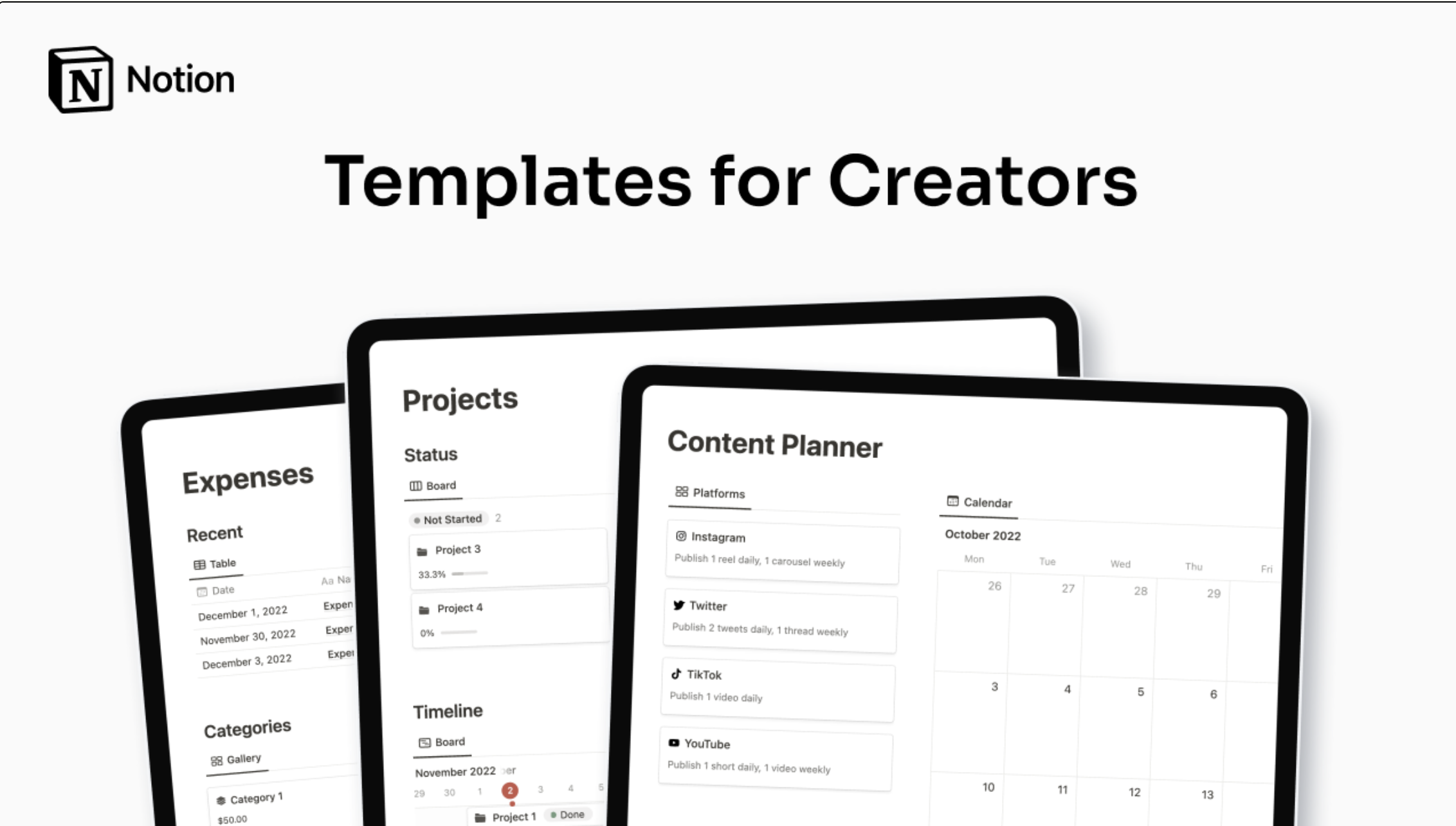 Feeling overwhelmed by everything you need to get done? This product is for you.
Introducing Creator Pack. Creator Pack is here to help you stay organized and on top of your deadlines.
With these templates, you can easily track your projects, expenses, and social media content calendar. Plus, our templates are designed to help you save time and be more productive.
What's Inside?:
Projects Tracker
Tasks Manager
Content Planner
Personal CRM
Expense Tracker
Notion Expense Tracker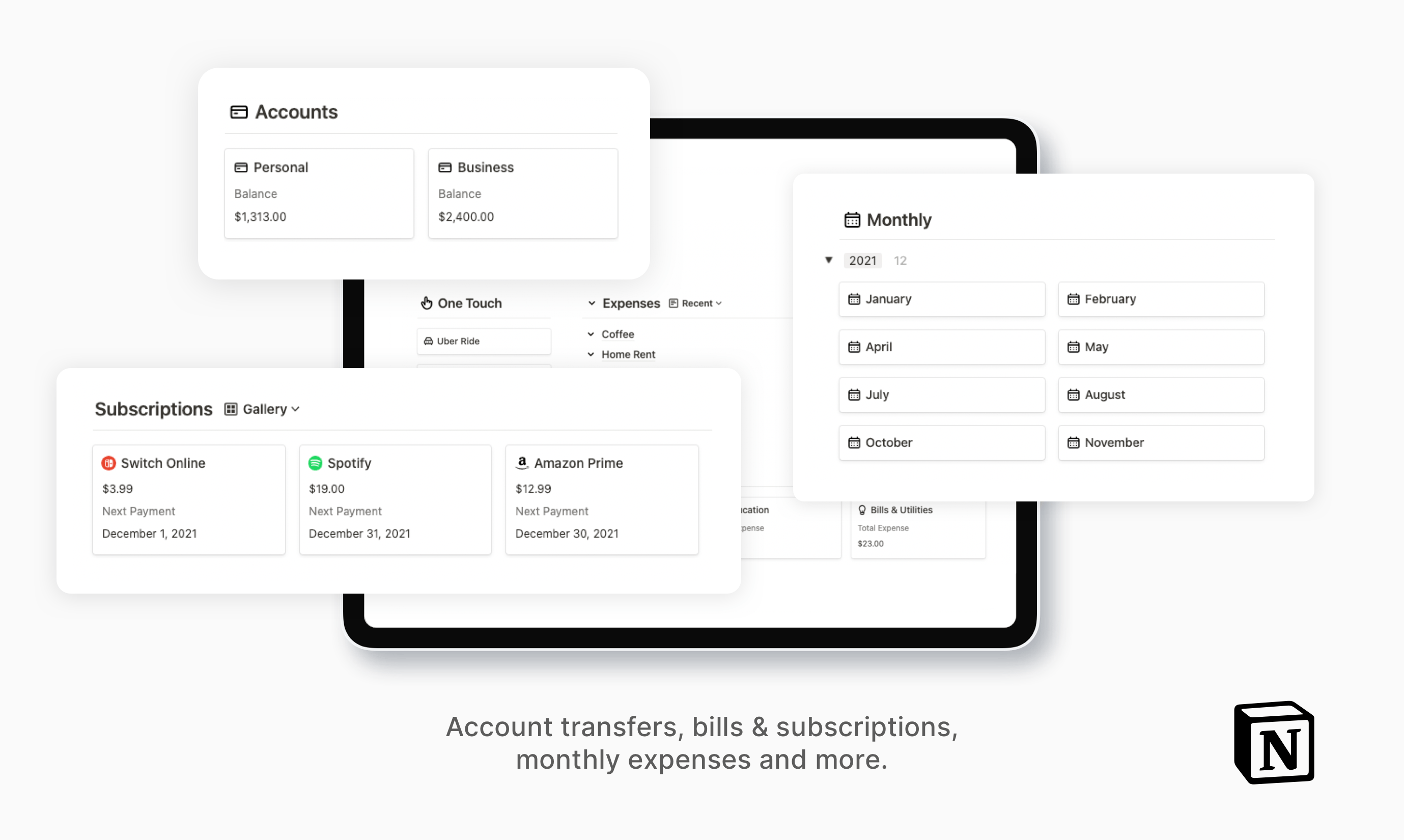 Author: Easlo
New Years Resolution Board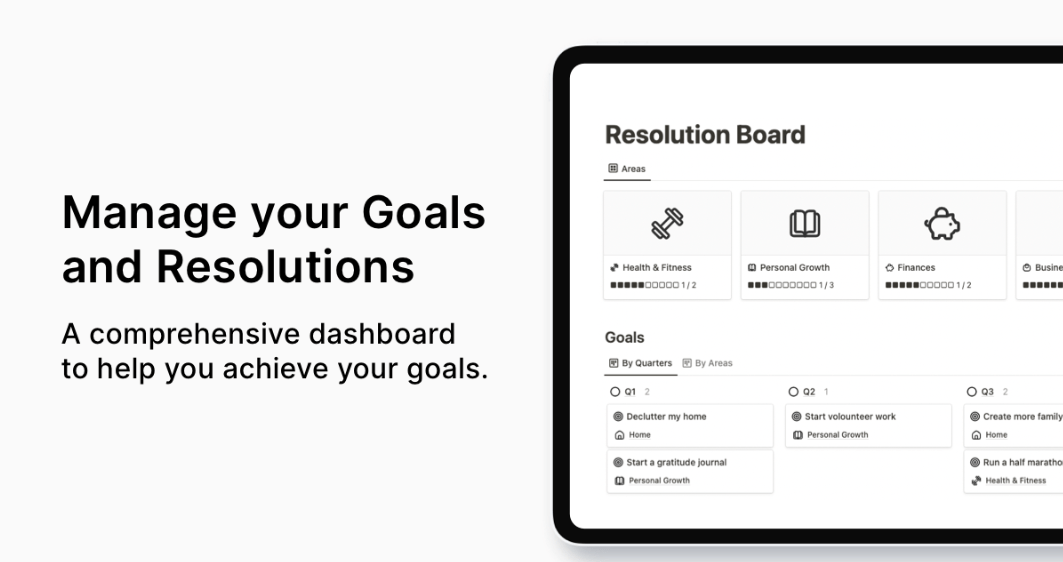 Author: Easlo
Crochet All Day Notion Template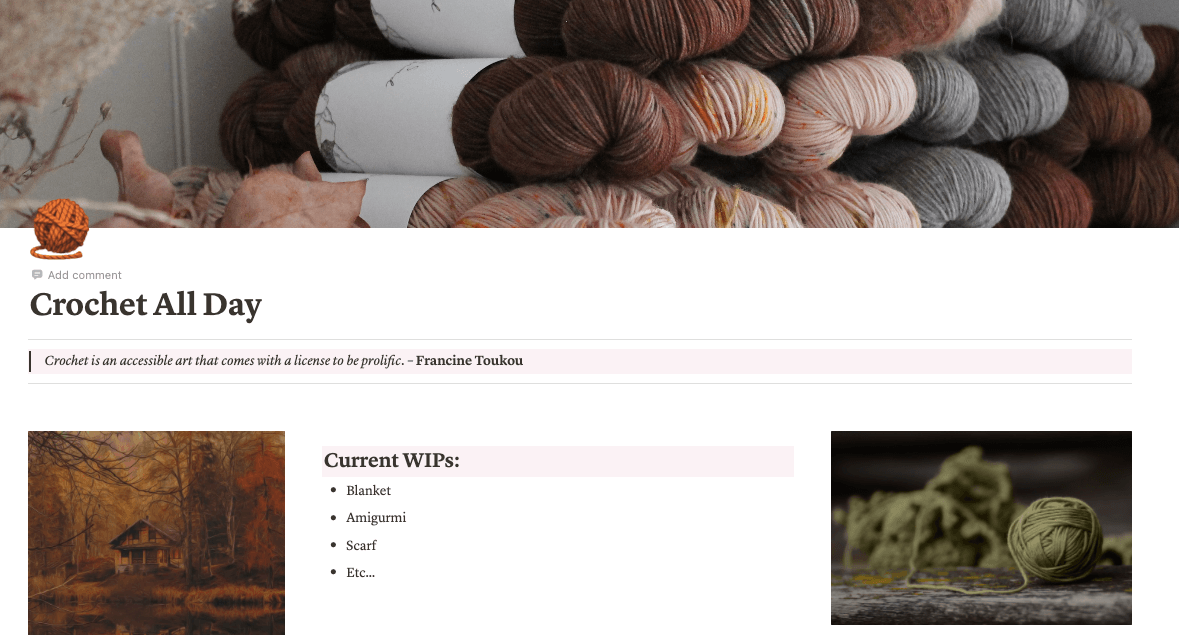 Author: Crafty Cody
My wife made this template to keep track of her crochet projects!
Nick's Notion Journal (Free)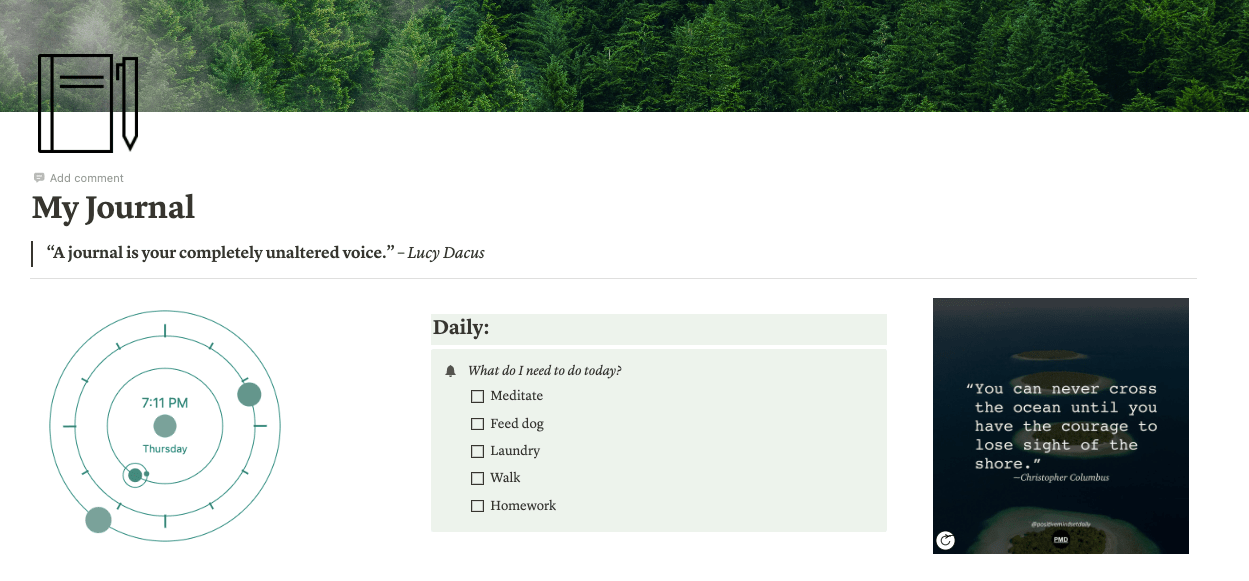 Author: Nick Lafferty
Sobriety Hub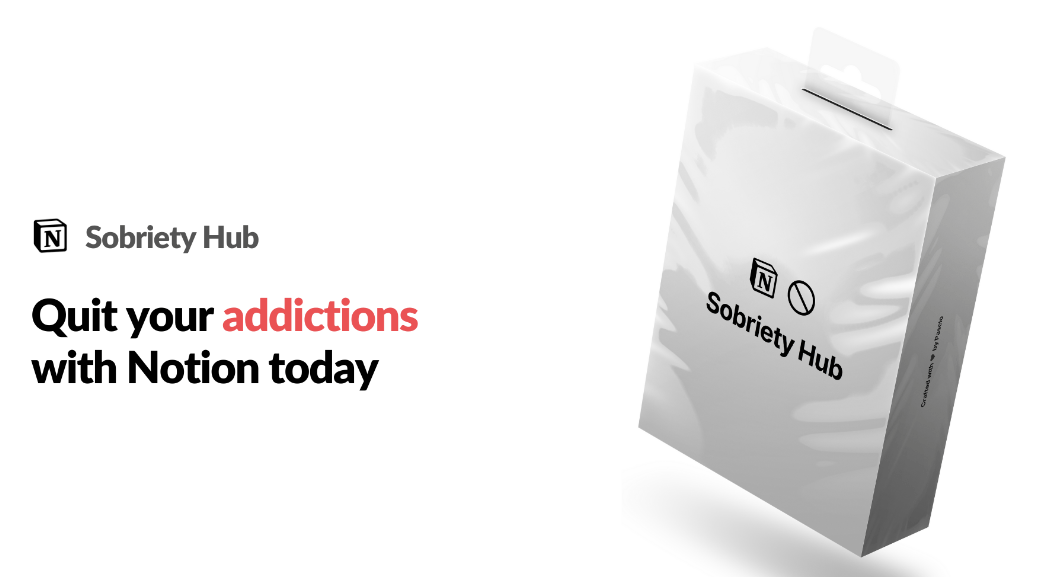 Author: Pascio
Ultimate Second Brain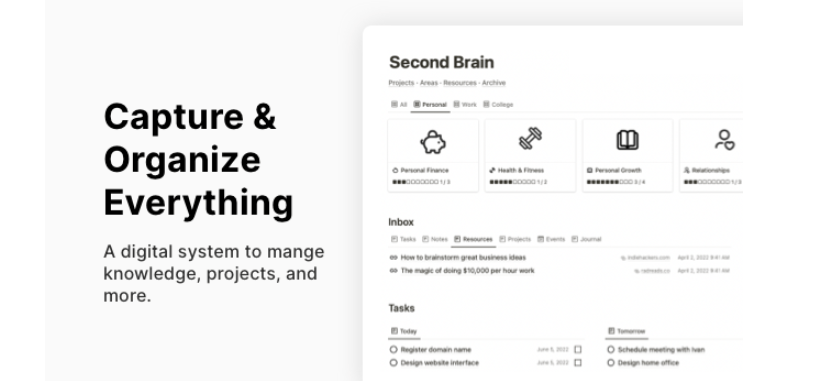 Author: Easlo
Capture and Organize Everything in Notion
All-in-one productivity system to capture and organize your knowledge, projects, tasks, goals, and more.
What's included?
All-in-one dashboard
PARA system: Projects, Areas, Resources, Archive
Weekly review
Additional components for habit tracking, goal tracking, and journaling
Tutorials and examples
Lifetime access
Access to private support community
Notion Startup Templates Bundle
50+ ready-to-use templates to launch & grow your business.
Launching a business is hard. So why not use the best templates?
Over the last 10 years, the folks behind BaseTemplates have launched and scaled tens of businesses. And in that time, we created simple templates for ourselves that we could reuse over and over again.
They are all based on best practices from the most successful founders and cover every area - from aligning on a shared vision to setting up a job board.
This bundle includes: 💡 Idea & Validation templates for value propositions, ideas to MVP, and business model planning. ⛰️ Strategy templates for SWOT analysis, mission vission and values, OKRs, and more. ⚙️ Operations templates for daily stand-ups, weekly retros, and 1:1s 💸 Fundraising & Investor templates, including pitch decks 📣 Marketing & Sales templates for PR, sales, social media, Product Hunt launches. 📦 Product templates for user research, a/b testing, go-to-market plans 💻 Tech templates for website launches and issue trackers. 🔢 Finance templates for invoicing, expenses, budgets, and P&Ls ☎️ Customer Experience for Internal FAQs and Help Center 📊 Data & Analytics including a Data Dictionary and Tracking Links 🤝 HR templates for Applicant tracking, Employee Database, Job Boards, and more.
Grab the bundle at the link below.
1-Year Transformation Board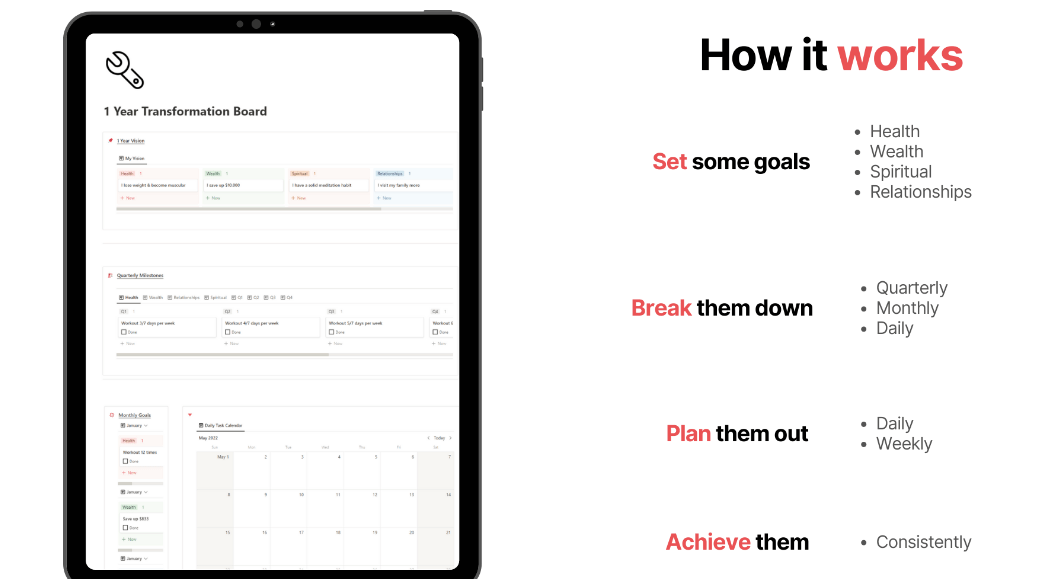 Author: Pascio
A dashboard designed to help you break down and achieve your goals in just one year.
If you really focus your mind for the coming year on accomplishing the goals you set, this digital intuitive lightweight Dashboard made with love in Notion, serves as your personal assistent on that journey.
Daily Reflections Board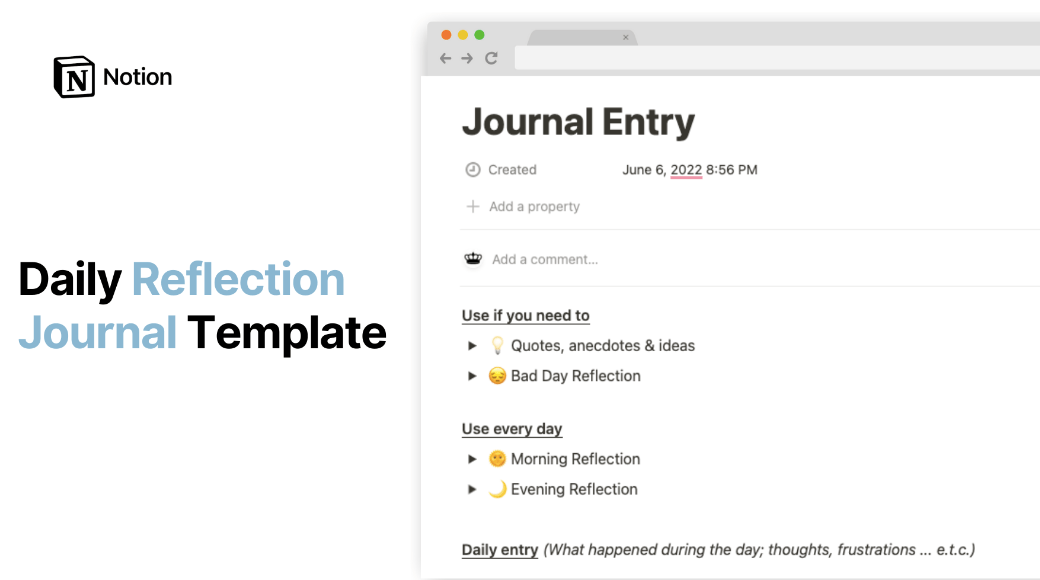 Author: Pascio
Health Hub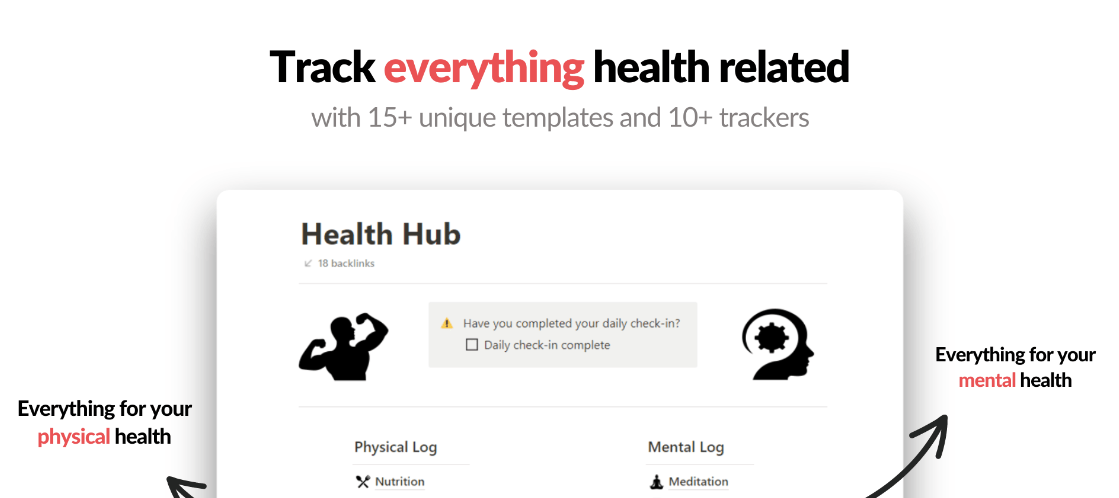 Author: Pascio
Student OS: The All-in-One Student Dashboard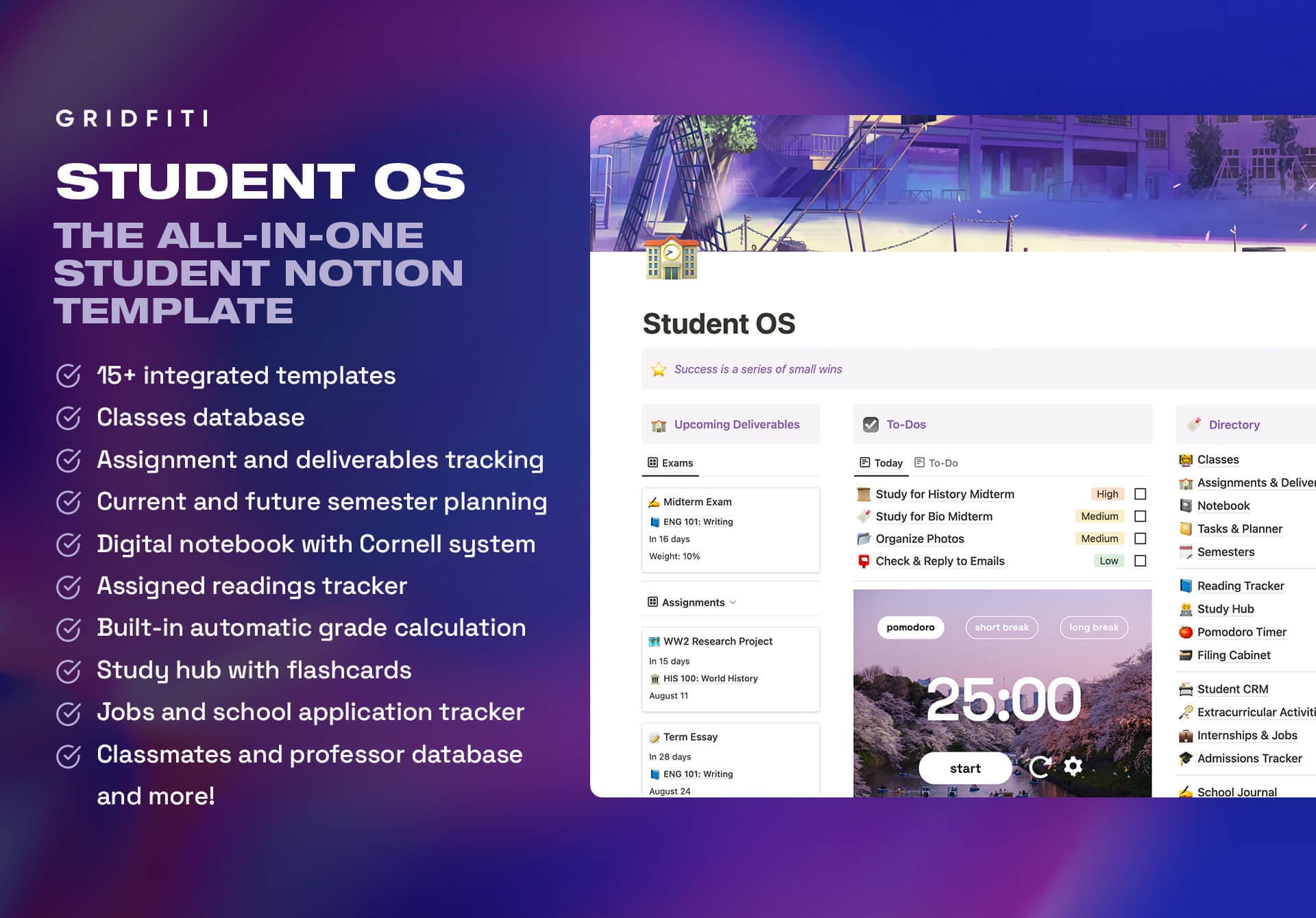 Student OS is the ultimate all-in-one workspace for everything you need for your academic career, both in and out of the classroom.
It brings together 15+ integrated templates into a centralized dashboard, including:
Robust class pages
Assignments and deliverable tracking
Semester planning
Available in both an aesthetic and minimalist theme.
Sobriety Hub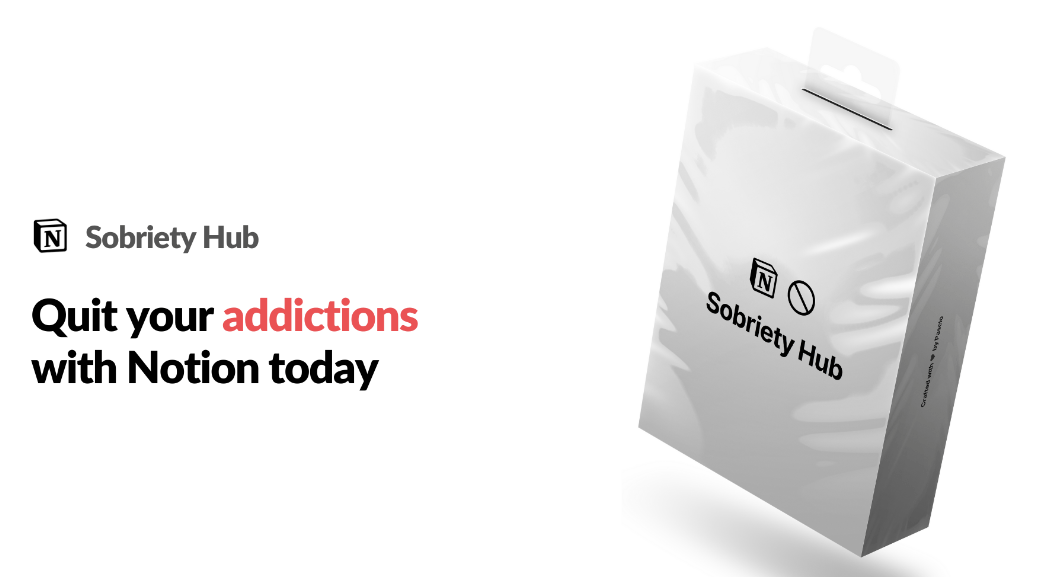 Author: Pascio
New Years Resolution Board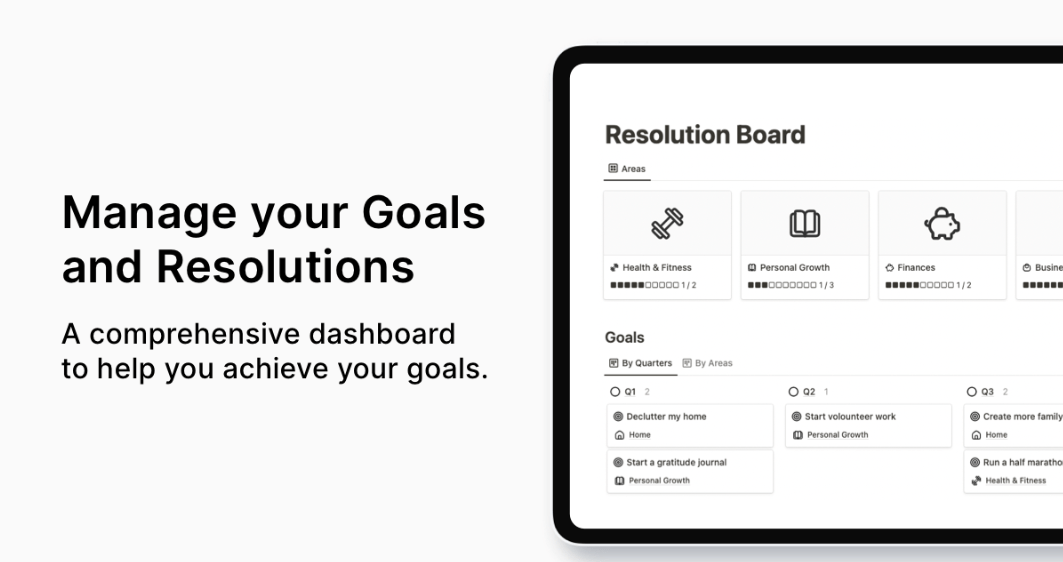 Author: Easlo
Course Plan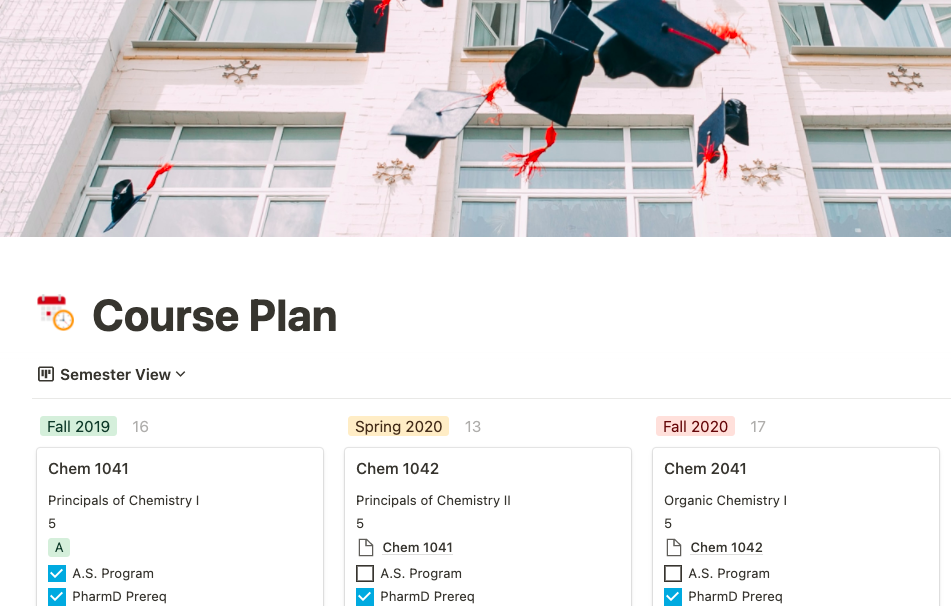 Airbnb + Property Rental Dashboard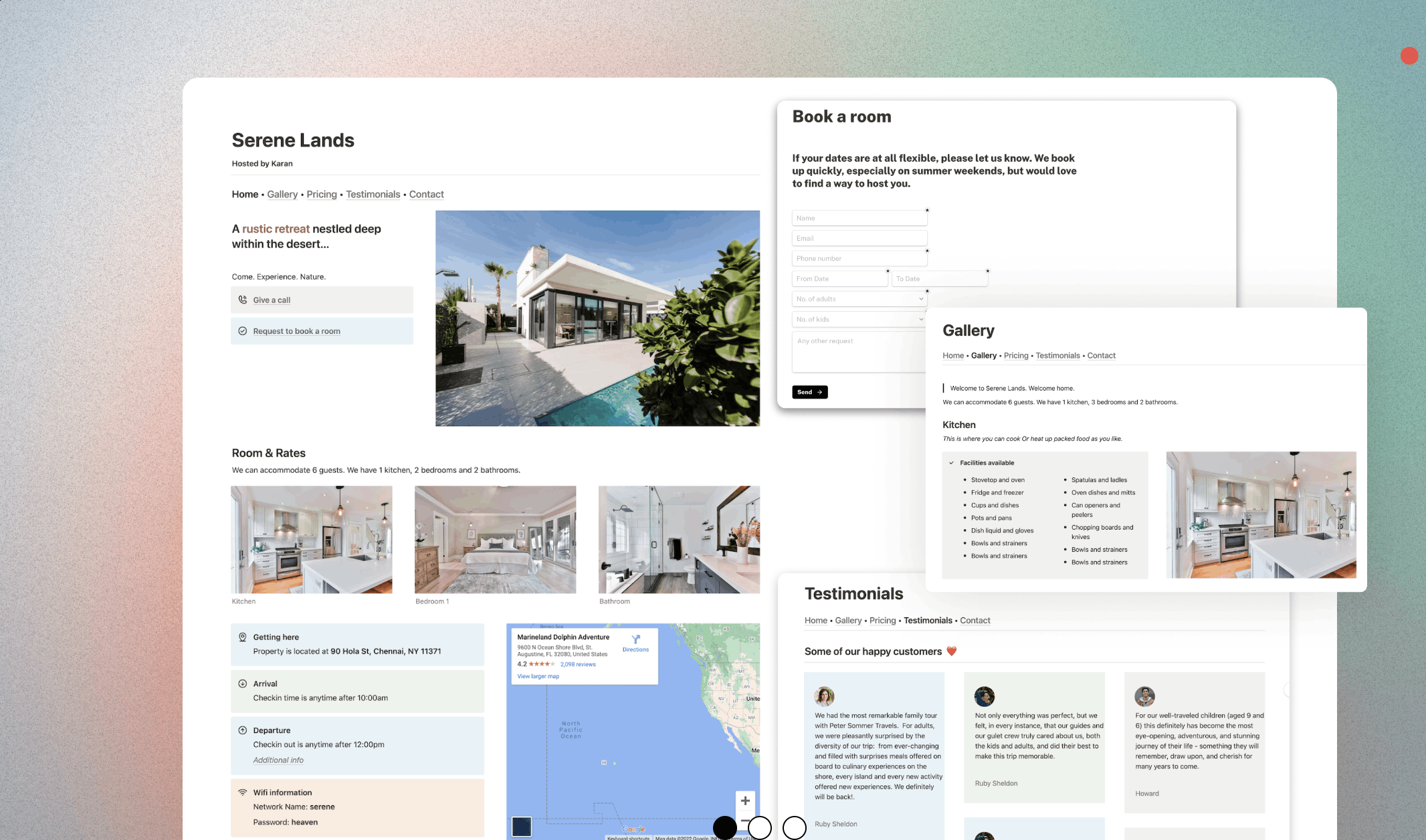 Author: Go Limitless
Notion Book Tracker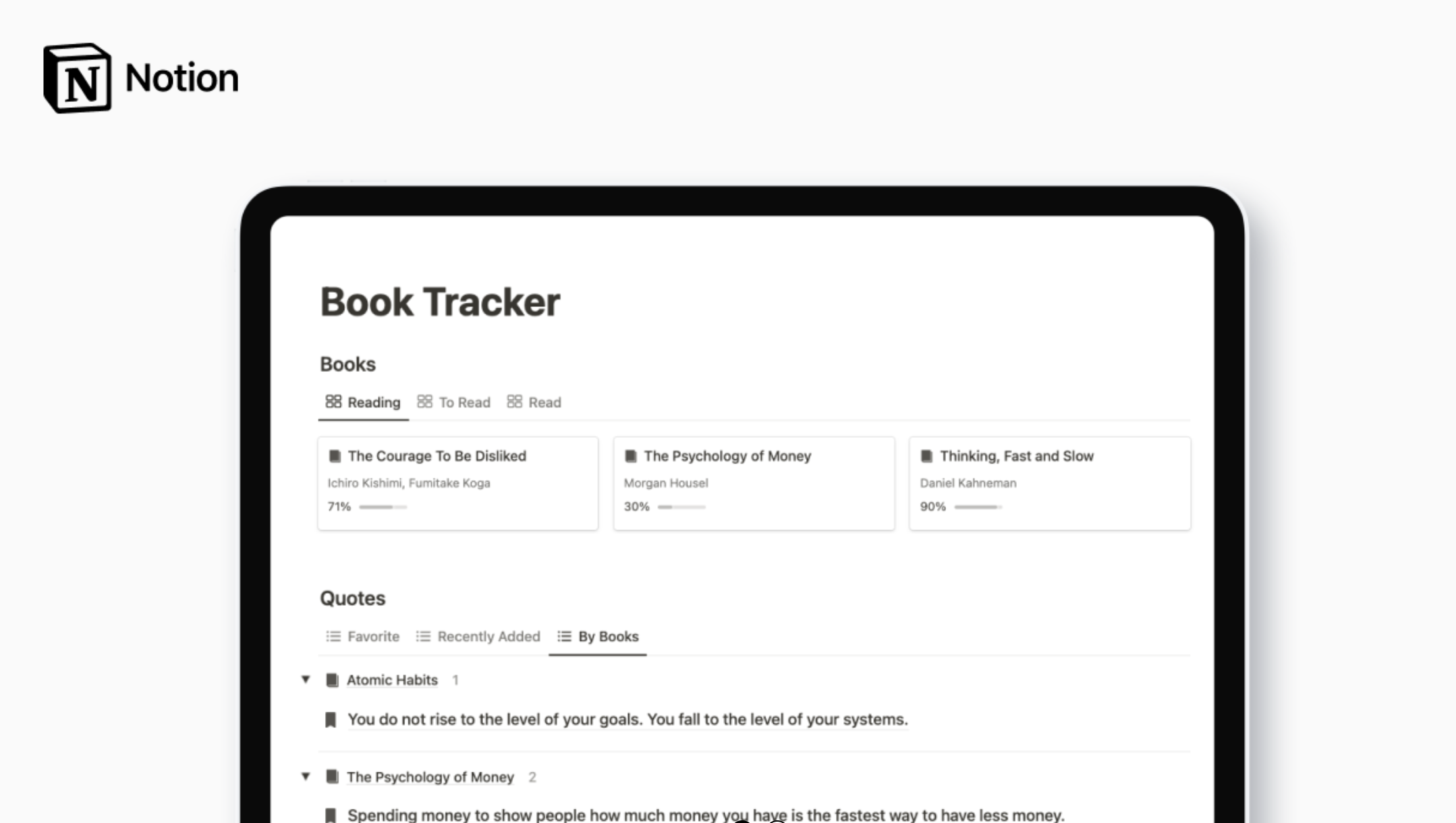 Author: Easlo
90's Horror Aesthetic Notion Dashboard Template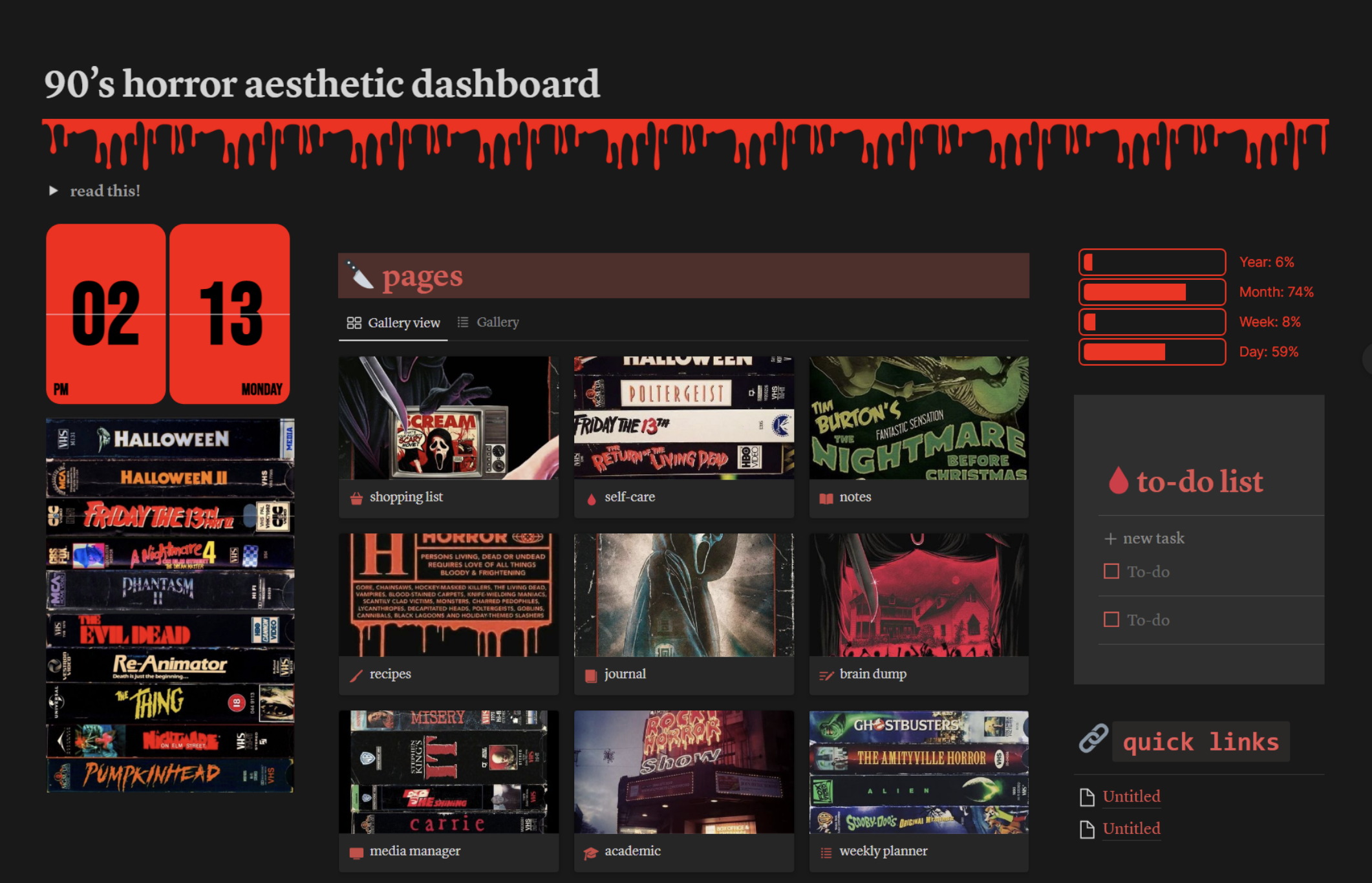 See Also