There are a million ways to create and launch a website.
But if you're already a Notion pro, why not use a tool you're familiar with instead of learning something else?
Notion is a valuable skill to learn.
Huge companies like Figma, Pixar, and the one I work for, Loom, use Notion across their entire business.
I've created hundreds of Notion documents across my personal work and professional career working as a growth marketer for fast growing start-ups.
Notion is a great tool but it falls short if you want to build a website with it.
You can publish a Notion page to the web but it has serious draw backs.
Read on to learn why and what a better option is. And don't miss my list of free notion templates.
Here's a sneak peak though.
Potion is an easy to use website builder on top of Notion.
Turn an existing Notion page into a fast website with a custom URL in seconds.
How To Publish A Notion Page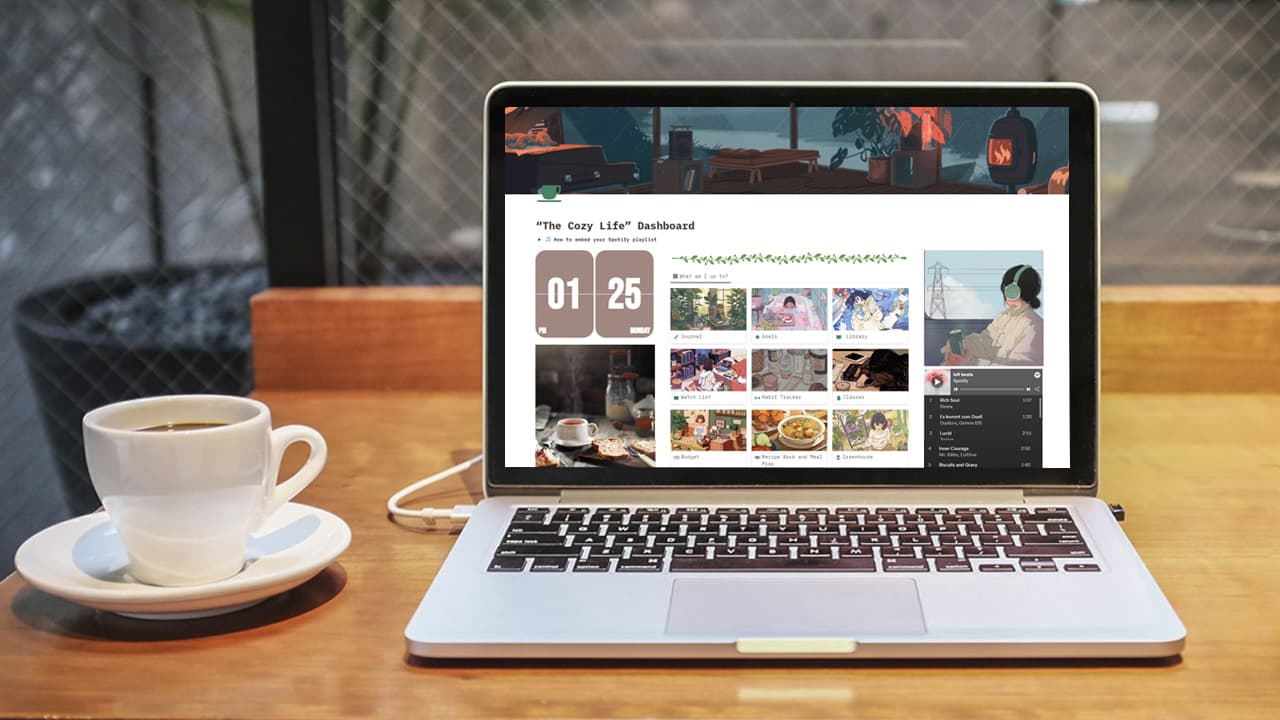 To publish a Notion page to the internet, click Share in the top right corner of your document then click publish to web.

There are additional options you can check as well, like:
Link expiration date (new feature!): expires the link after a specific time
Allow Comments: let's users comment on your document, useful for getting internal feedback
Allow Editing: allow users to edit your document, uncheck if sharing this page publicly
Allow duplicating: allows users to duplicate your docoument
Allow search engine indexing: allows Google and other search engines to index your page
Here's an image that shows what those options look like.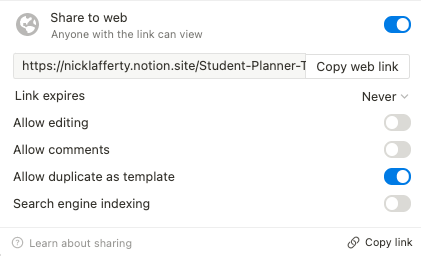 If you want to sell Notion templates then you'll want to enable duplicating, but otherwise you can leave it unchecked.
While publishing your Notion page to the internet is easy, in the next section I'll talk about the drawbacks and how you can fix them.
The Issues with Publishing Notion Pages To The Internet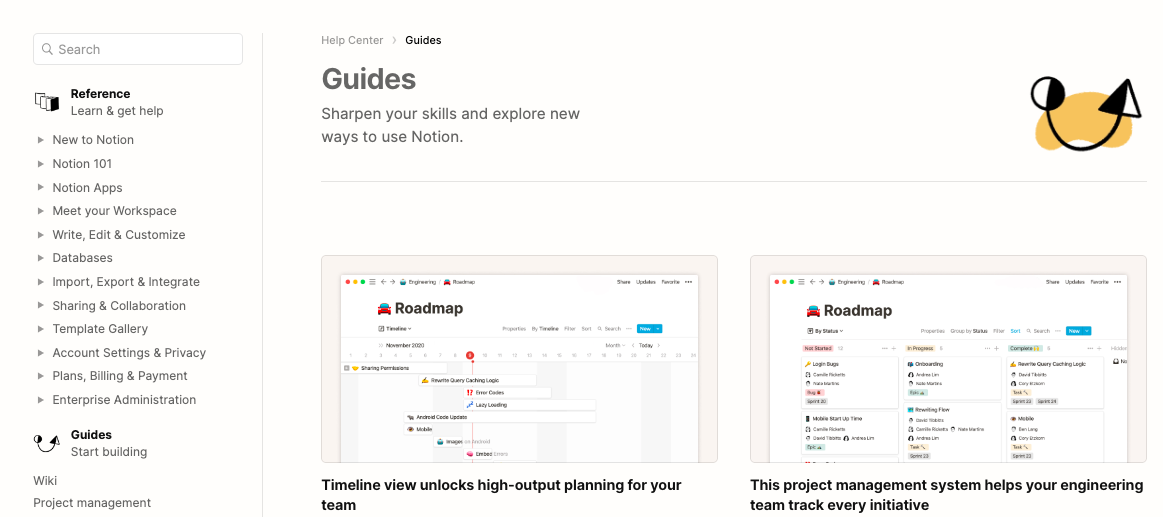 The four main problems with publishing Notion pages to the internet:
Notion pages are slow
The URLs are long and ugly
The pages aren't SEO friendly so ranking in Google is hard
You can't use a custom domain
Here's why each of those matters.
Notion pages are slow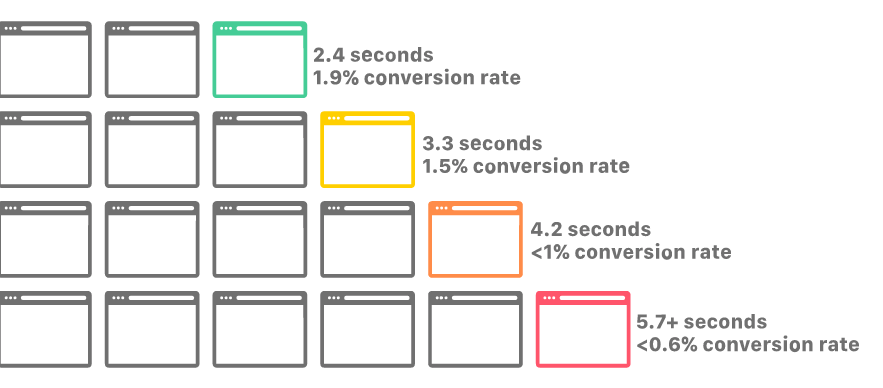 Page speed is correlated with website conversion websites.
The above image is from Cloudflare. They run one of the largest content delivery networks (CDNs) in the world and they're the backbone for many websites on the internet, including mine.
They've studied the relationship between website page speed and conversions using their own data.
And they found that faster pages convert better than slower pages.
This makes sense and the reason is simple.
Users hate waiting for a page to load.
There's an expectation that pages will load fast, and if they don't then users will leave.
Have you ever clicked on a link and the page loaded for a few seconds? After a while you leave.
Also fast internet connections are not common around the world, particularly for users on mobile phones.
Users with slow connections should be able to use the internet in a reasonably efficient way.
They deserve a good experience too.
Default Notion pages are pretty slow because they can have a lot of heavy elements on them, like:
Ugly URLs
Notion URLs are ugly.
They have all this extra junk on the end, like this
https://nicklafferty.notion.site/X-Y-Z-0845ac8d228645bab5c1fc5a15f5f8ca
Not only are those URLs long, they're not easily readable.
URLs help you understand what a page is about. URLs should be short and clear.
For example, this page has the URL of /blog/create-notion-website.
Reading that you know exactly what you're going to get.
Not SEO friendly
SEO stands for Search Engine Optimization, and is about optimizing a website's content and structure to be friendly to search engines like Google and Bing.
Better SEO often leads to more traffic from search engines, which is highly coveted because it's free and high quality.
I know SEO because it's part of my job. I've helped start-ups grow their business on Google for the last 10 years.
I've managed SEO teams on big websites for companies that are worth billions of dollars.
So I can confidently tell you that Notion pages have bad SEO.
Here are some ways Notion pages aren't SEO friendly by default:
Headings aren't coded properly
Headings are the big text at the beginning of each section on a website.
They give a page structure and help users (and search engine bots) understand the content of a page.
For example. this section has a heading of Headings aren't coded properly.
It's an H4 heading, meaning it's the 4th level of heading in this document.
It's nested under an H3, which is nested under an H2, and everything is nested under an H1 which is the title of this page.
But Notion pages don't code headings properly.
Instead of H1, H2, etc, the headings are wrapped in a tag.
The difference between the two is beyond the scope of this article, but it's enough to know that they're not done properly and it's bad for SEO.
That's important because Google uses those common HTML tags to better understand the content of a page.
You can learn more about headings on this excellent page by Mozilla.
This is a screenshot of a default Notion page that's been shared to the web. It looks at the types of headings on the page and counts the number.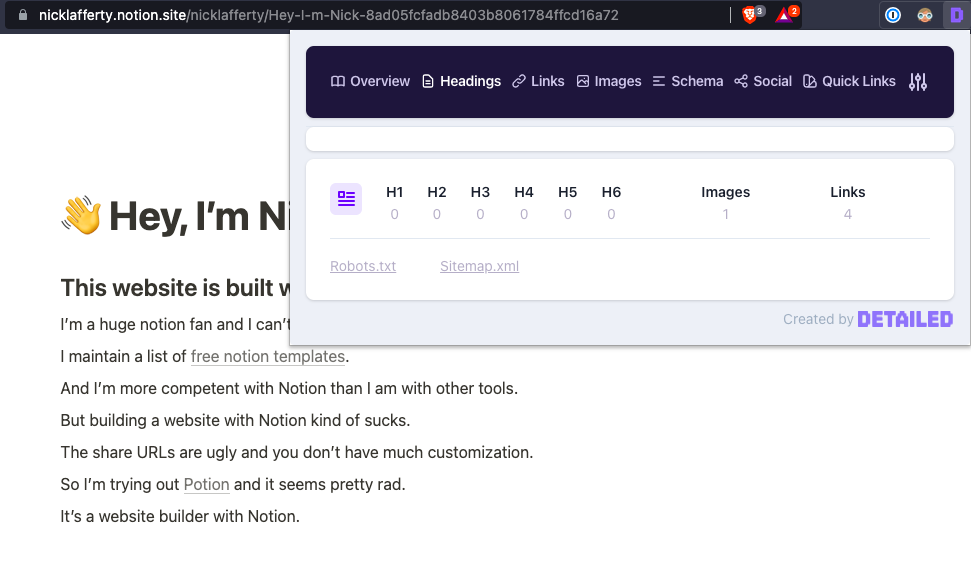 That page has an H1 and an H2 visible in the screenshot, but Notion doesn't code them correctly.
No URL Structure
By default, Notion pages don't pass the page structure to the URL.
Say you have a Notion workspace with many pages in it.
You have a page called Products.
Inside that page you have two pages:
On a normal website, those URLs would look like:
/products/product-1/
/products/product-2/
But in Notion they lose the folder structure and look like
No custom domains
This is probably my biggest gripe with Notion's default sharing feature.
You can't use a custom domain and your URLs will use the domain you chose in the Notion settings page.

That's why all of the Notion URLs I referenced here begin with nicklafferty.notion.site.
The lack of a true custom domain feature is a deal breaker for me.
Luckily there are third-party options to help you create a Notion website.
How To Create A Notion Website with Potion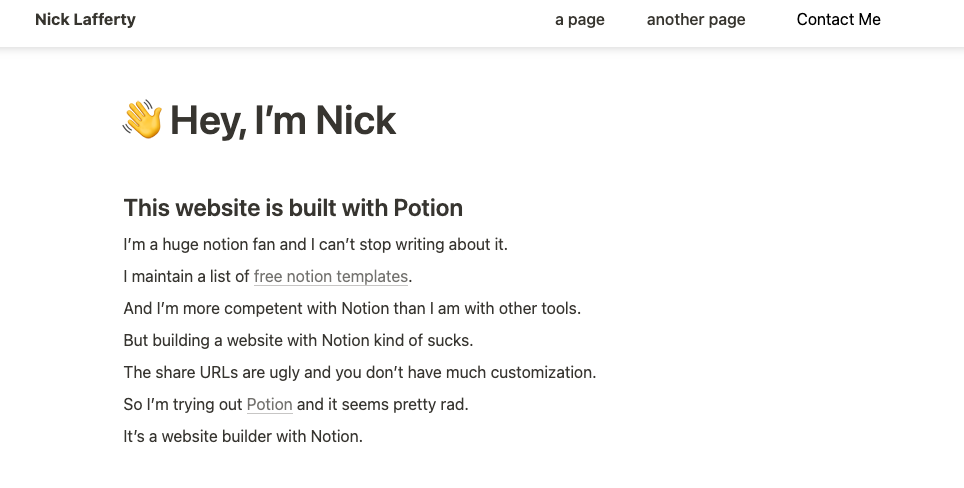 Potion is a website builder that solves all of Notion's problems with publishing pages.
It supports:
Custom domains
Editing SEO fields like title and meta description
Faster page speed
Better font support
Cleaner URLs
Before writing this guide I spent a lot of time building an example page with Potion so I could walk you through it.
The setup is really simple and easy to use.
Here's exactly how to get started.
Sign up for Potion
Head to the Potion website to sign up.
Each account comes with a free 7 day trial.
Then click Add New Site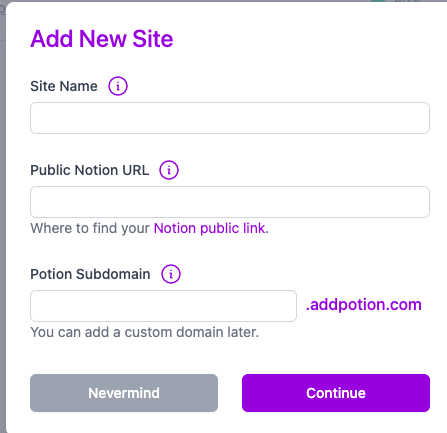 Add a name, paste the public URL of your Notion page, and select a subdomain to use. This is what I chose.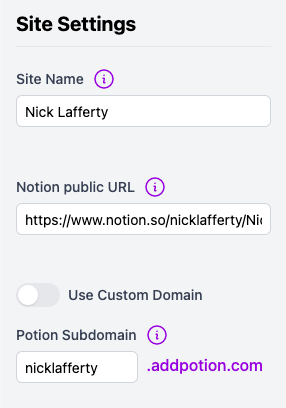 From there you get dropped into a website builder that updates automatically when your Notion page changes.
How to Configure Potion
Start by adding the title and description of your home page.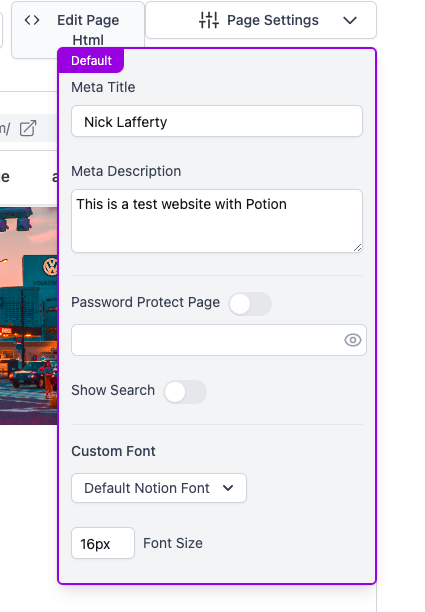 Google uses these values to understand what your website is about and they display in search results.
You can also change:
font type to many more options than Notion has by default
font size
background color
font color
and the content width, in pixels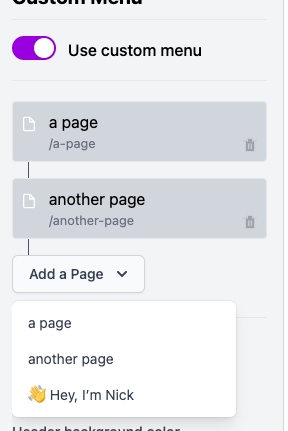 Every sub-page your add will be available to Potion. You can add them to the main navigation and create dropdowns.
Optimize your Notion website for speed
If you want the fastest website possible I'd avoid using a cover image.
In my testing it significantly slowed down page speed because the image at the top is very large, both in dimensions and in file size.
Here's the page speed score with a cover image.
65/100 on mobile isn't bad but it's not great either.
Here is the speed without the cover image.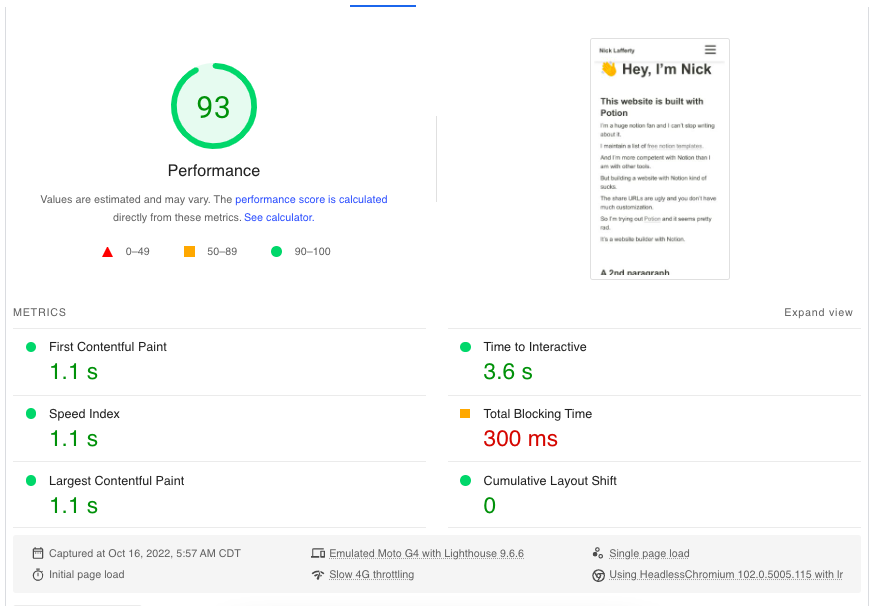 93/100 is much better.
Add your content
Once Potion is connected you can start building your website in Notion, the same way you'd build any other page.
And if you need help there are a ton of guides on the Potion website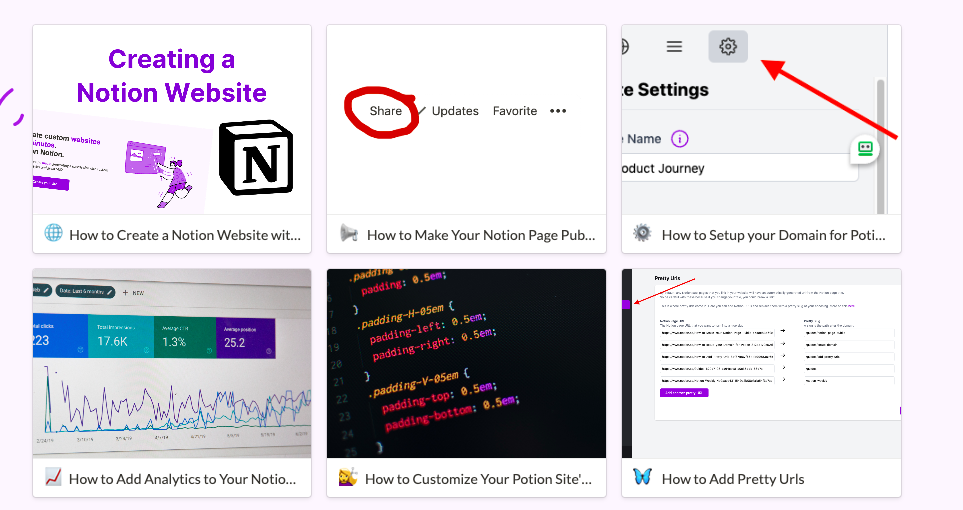 I prefer this over other types of Website builders because I know Notion really well.
I don't need to learn another CMS or tool which helps cut down on time required to ship a new website.
This is where you should spend most of your time.
Lay out all the content you need, add images, charts, databases, tables, or any other Notion feature.
Potion supports all Notion blocks out of the box.
Upgrade to a paid plan
Potion is free to use but you're limited to using a subdomain.
If you want to use a custom domain then you need to upgrade.
To me, upgrading is worth it because the custom domain feature is exactly what I want when building a Notion website.
Here's their pricing as of May 2023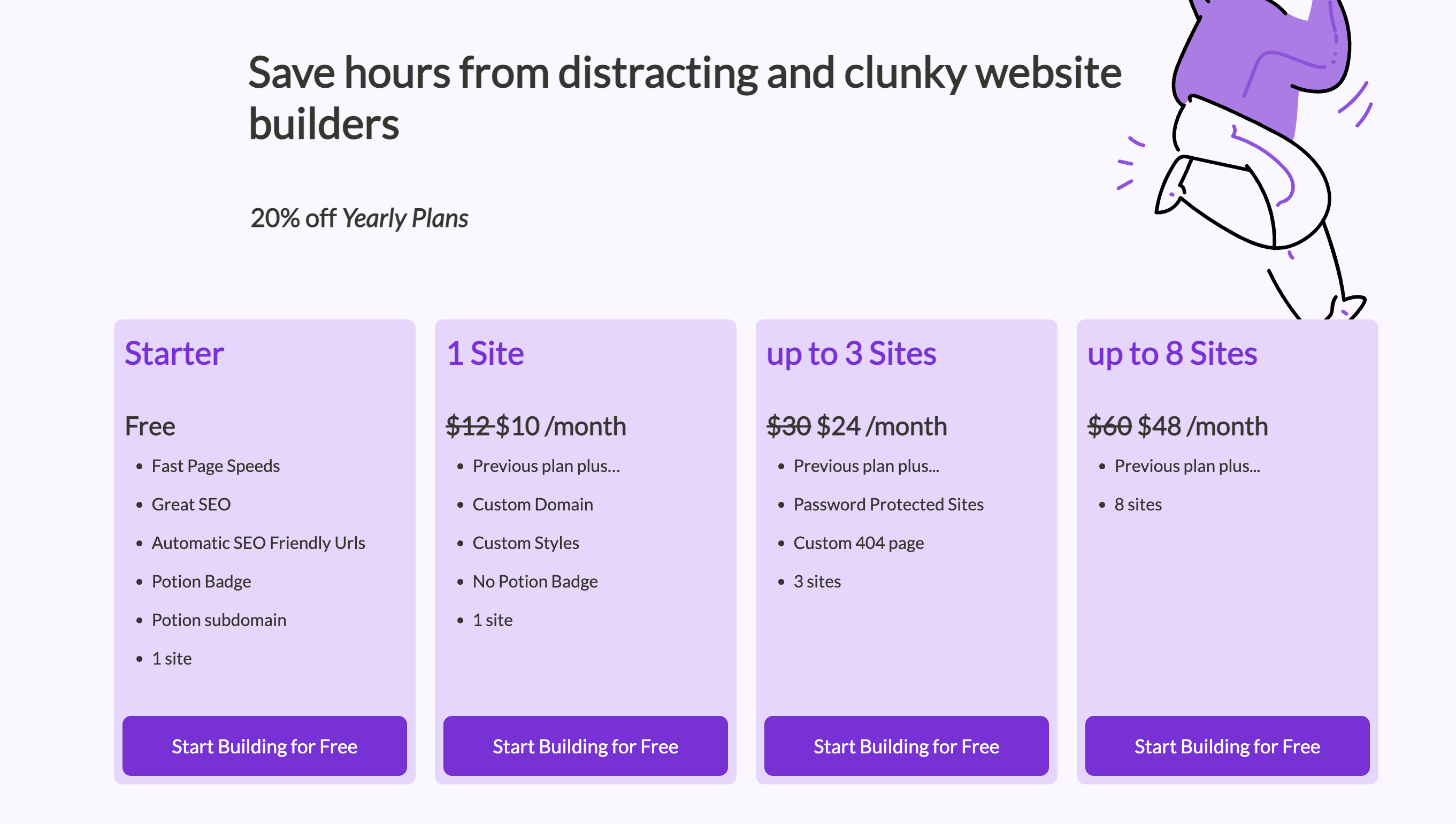 The $10/month plan is enough for most people.
But if you want to build more than one site you can upgrade plans at a later date too.
Notion Website FAQs
Can I build my website with Notion?
Yes! You can build an entire website with Notion if you use a 3rd-party tool like Potion. Notion by default doesn't support building full websites but you can publish individual pages.
Can I publish a Notion page as a website?
Yes! You can publish any Notion page as a website to the internet for free. In Notion, click share then check 'Publish to web' and make sure to turn on Search-Engine indexing.
Are Notion Pages SEO Friendly
No, Notion pages are not SEO friendly. Notion pages don't use standard heading tags and the overall document flow is not standard HTML. You can solve this with a Notion website builder like Potion.
Wrapping Up
Creating a website with Notion is honestly really easy as long as you have the right tool.
You can solve all of major problems with Notion's default web sharing option by using a tool called Potion.
Notion + Potion = the best combo for building Notion websites.
Give it a try today.
See Also