👋 Hey, I'm Nick.
For the past four years I've kept lists of the best Notion templates here on my website.
This list is the best Notion templates for students across middle school, high school, college, and university.
While I'm not in school anymore I am a guest lecturer at my local University where I talk about my experience with marketing at billion dollar startups.
Every lecture I ask the students if they use Notion and if so what their favorite templates are.
This list is compiled from all their feedback!
This page is one of my many Notion posts, here are a few others:
Best Notion Templates For Students (College + High School)
Life OS: The All-in-One Notion Template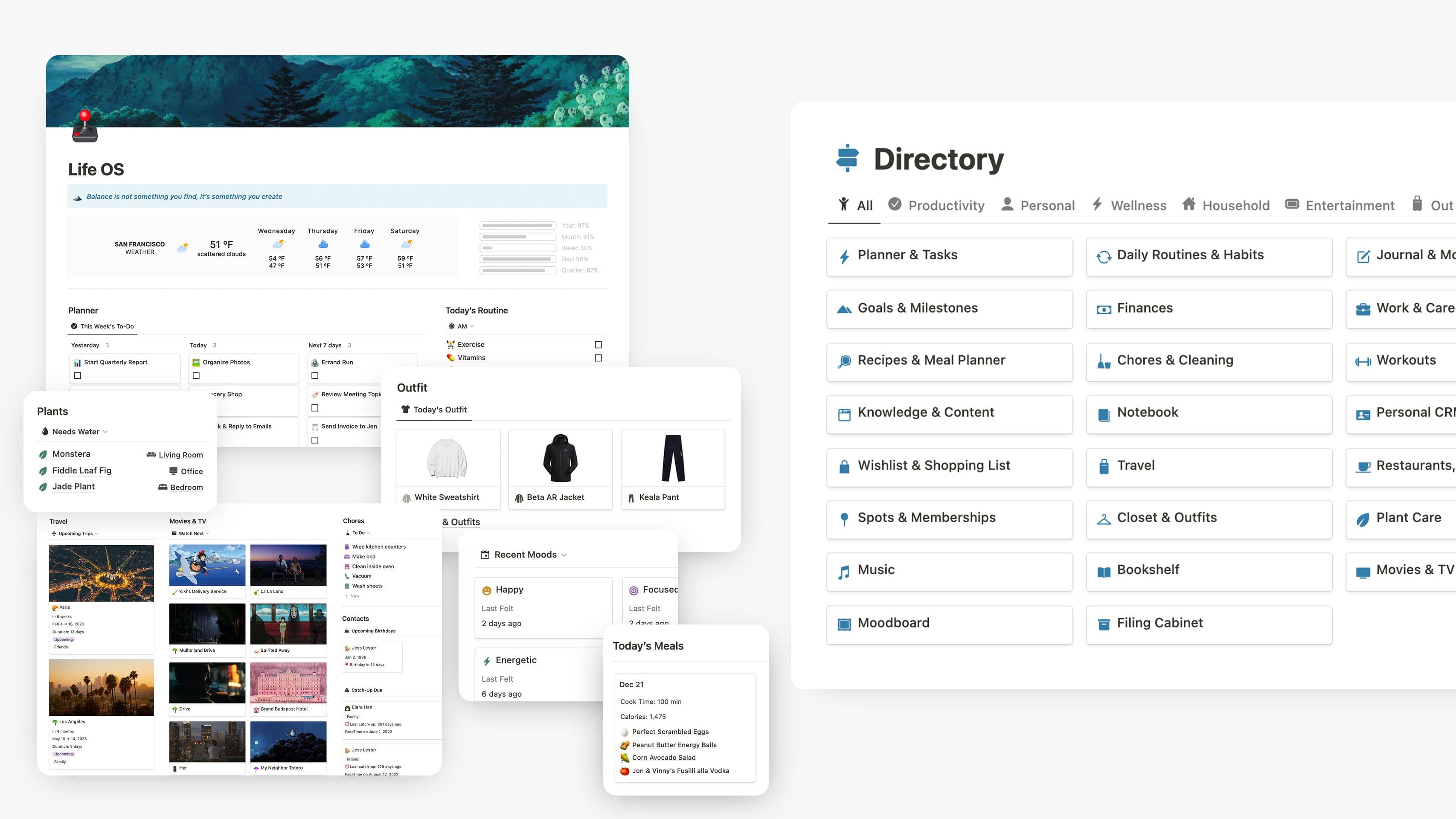 Author: Gridfiti
Introducing the brand new Life OS Notion template: the ultimate all-in-one planner for every aspect of your life!
With over 25+ interconnected templates included and a live and dynamic homepage dashboard – this is the only template you'll need to centralize everything in your life.
The magic of this template is that every page is integrated together.
The dynamic homepage is a live reflection of every bit of information stored elsewhere in the dashboard.
It includes sections for:
✅ Planner & To-Dos
🔄 Daily Routines & Habit Tracker
✍️ Journal & Mood Tracker
🎯 Goal-Setting
💰 Finances
💼 Work & Career
All their information is always updated on the homepage.
Learn more and grab the Life OS below.
Student OS: The All-in-One Student Dashboard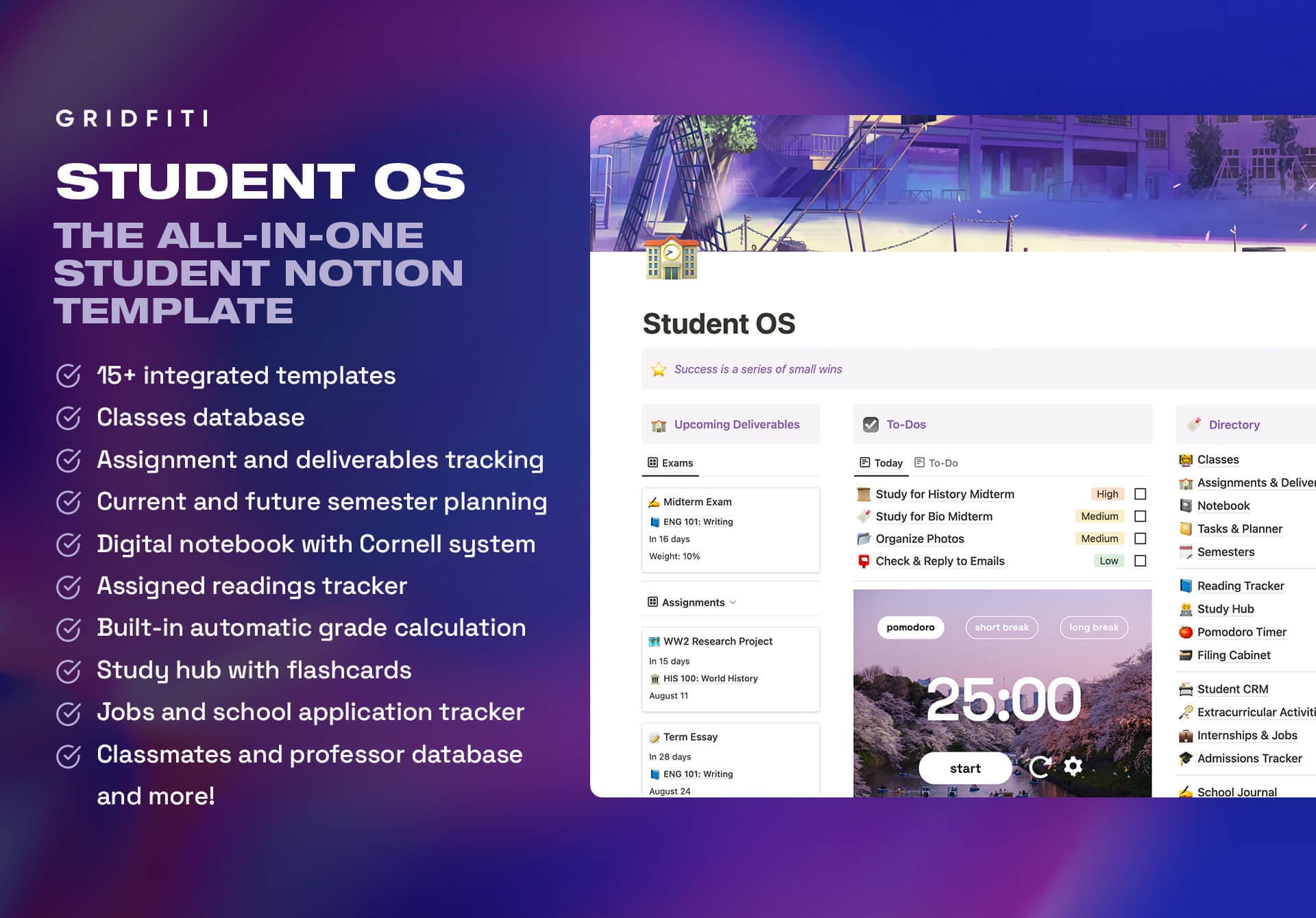 Author: Gridfiti
Student OS is the ultimate all-in-one workspace for everything you need for your academic career.
It brings together 15+ integrated templates into a centralized dashboard, including:
Robust class pages
Assignments and deliverable tracking
Semester planning
Built-in grade calculations & more
Available in both an aesthetic and minimalist theme.
Ultimate Notion Template for College Students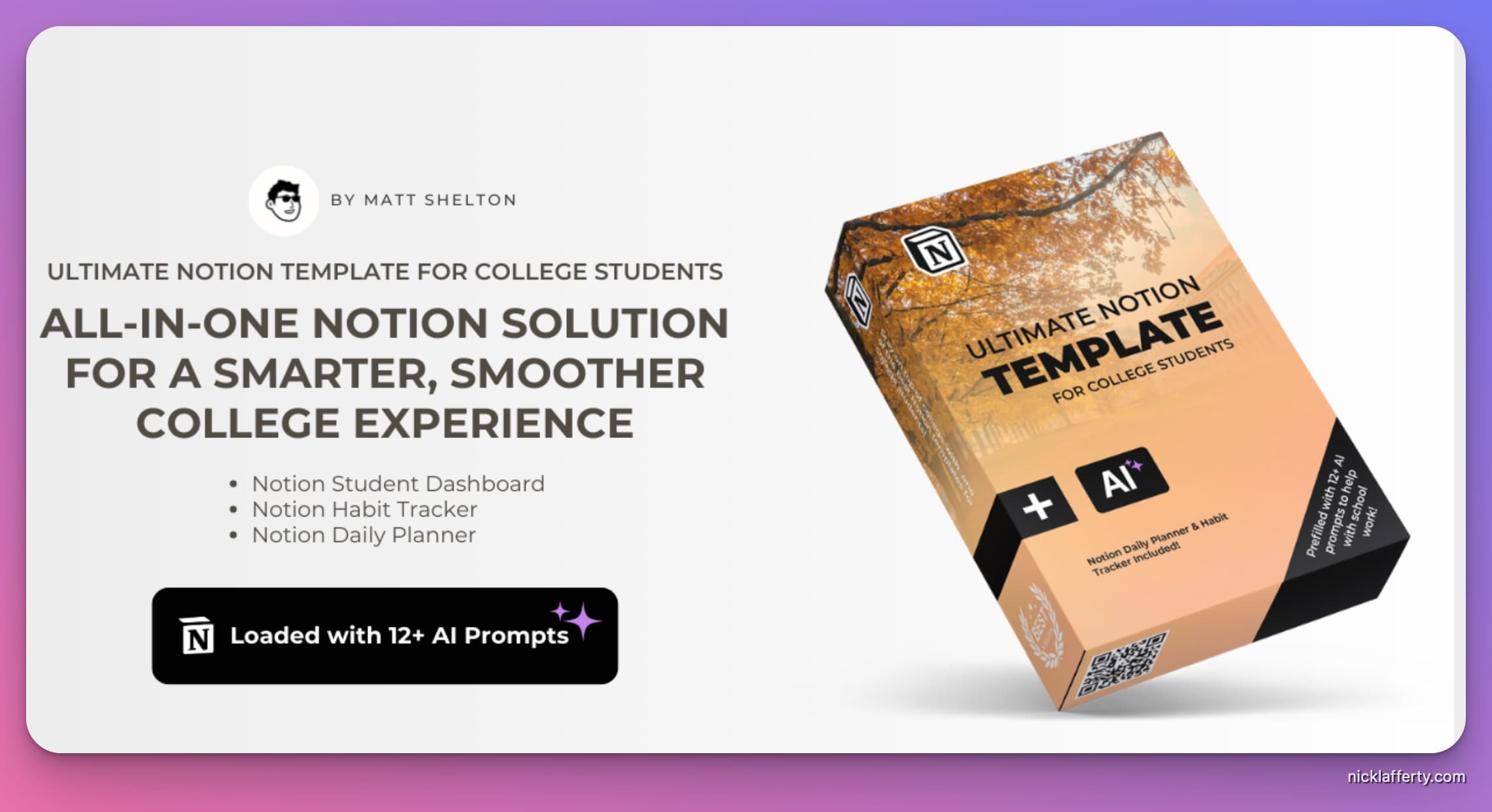 Author: Matt Shelton
All-in-One Notion Solution for a Smarter, Smoother College Experience 🏆
Navigating college life can feel like navigating a maze.
From managing multiple courses, keeping track of assignments, and finding balance in your personal life, the challenge is real.
Enter the Ultimate Notion Template for College Students - your all-in-one solution to turn the maze into a straight path.
Let's face it, college can be overwhelming.
The academic pressure, the deadlines, the projects - it's easy to feel lost.
The real problem? Traditional organization tools just don't cut it.
They're not designed to handle the multifaceted challenges of college life, leaving you in a perpetual cycle of stress and confusion.
Eve: Remember Everything you consume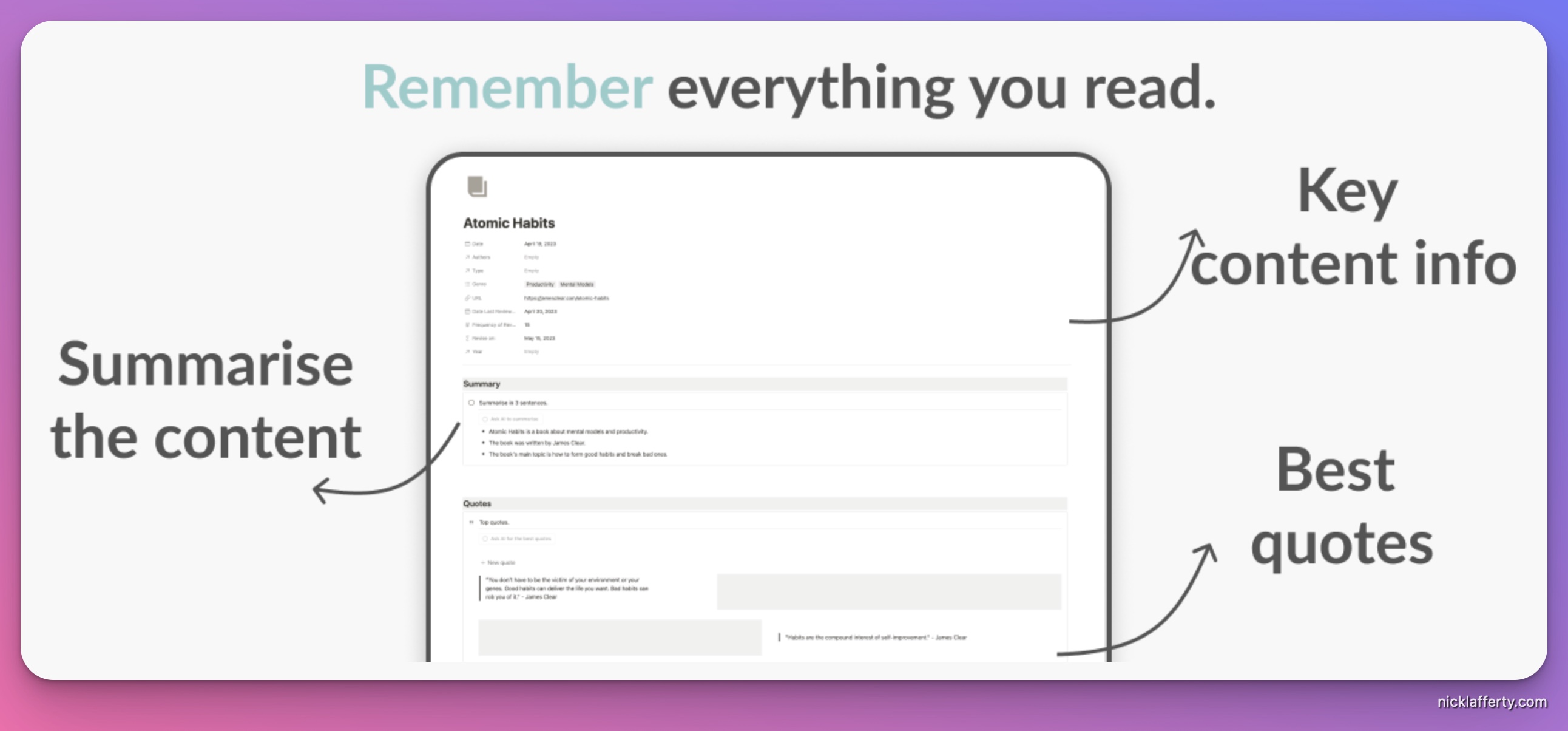 Author: NotesbyHugh
Do you struggle to remember everything you consume, from books to podcasts and articles?
Are your notes and bookmarks scattered, making it hard to recall important insights?
Enter Eve – a Notion template that centralises, organises, and reflects on all the knowledge you gain.
With AI-generated learnings, quotes, and action points, Eve helps you make the most of the content you consume.
Regularly scheduled reviews keep your memory fresh, and track your progress over time to motivate yourself to keep learning.
Don't just read – transform the way you consume and retain information with Eve.
Modern & Aesthetic Student Template (FREE)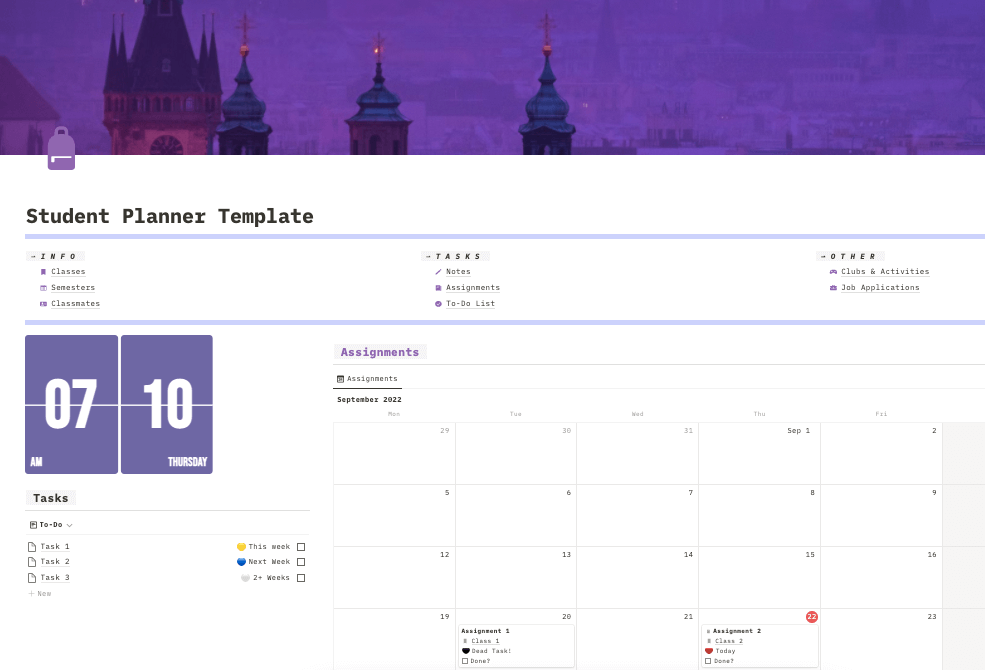 I custom built the perfect template for students start their semester organized and on-top of everything school will throw at them.
It has some of the the best Notion widgets too.
🎉 Start your semester off right
This template is an all-in-one workspace with everything you need to stay organized and on top of your school work. It's built with a modern and pleasing design so keeping track of your tasks is both fun and easy.
🕹️Semester Tracker
Start by adding your current semester and your classes in a centralized database.
🎒Class Tracker
Add details such as class location, professor, location, schedule, and more. Everything is connected with other databases in the template.
Capture and Organize Everything in Notion
This template is built for light mode but here's how you can enable Notions dark mode.
Aesthetic Student Planner Template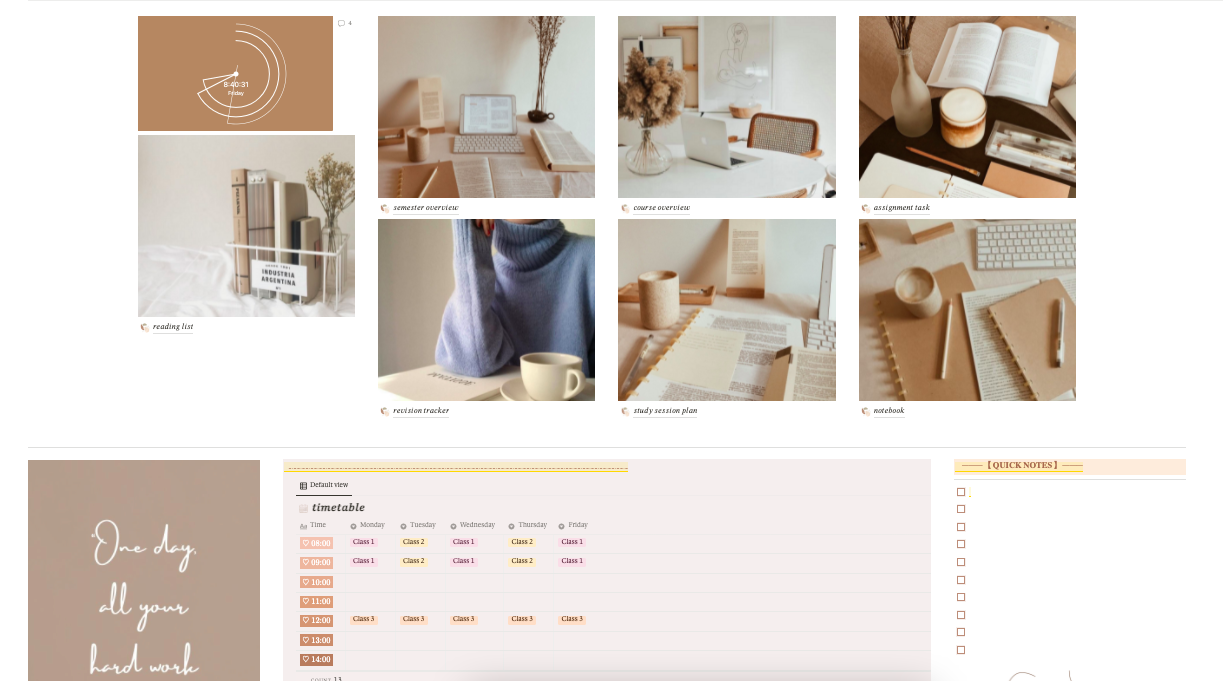 Author: EllasTemplates
Notes: OS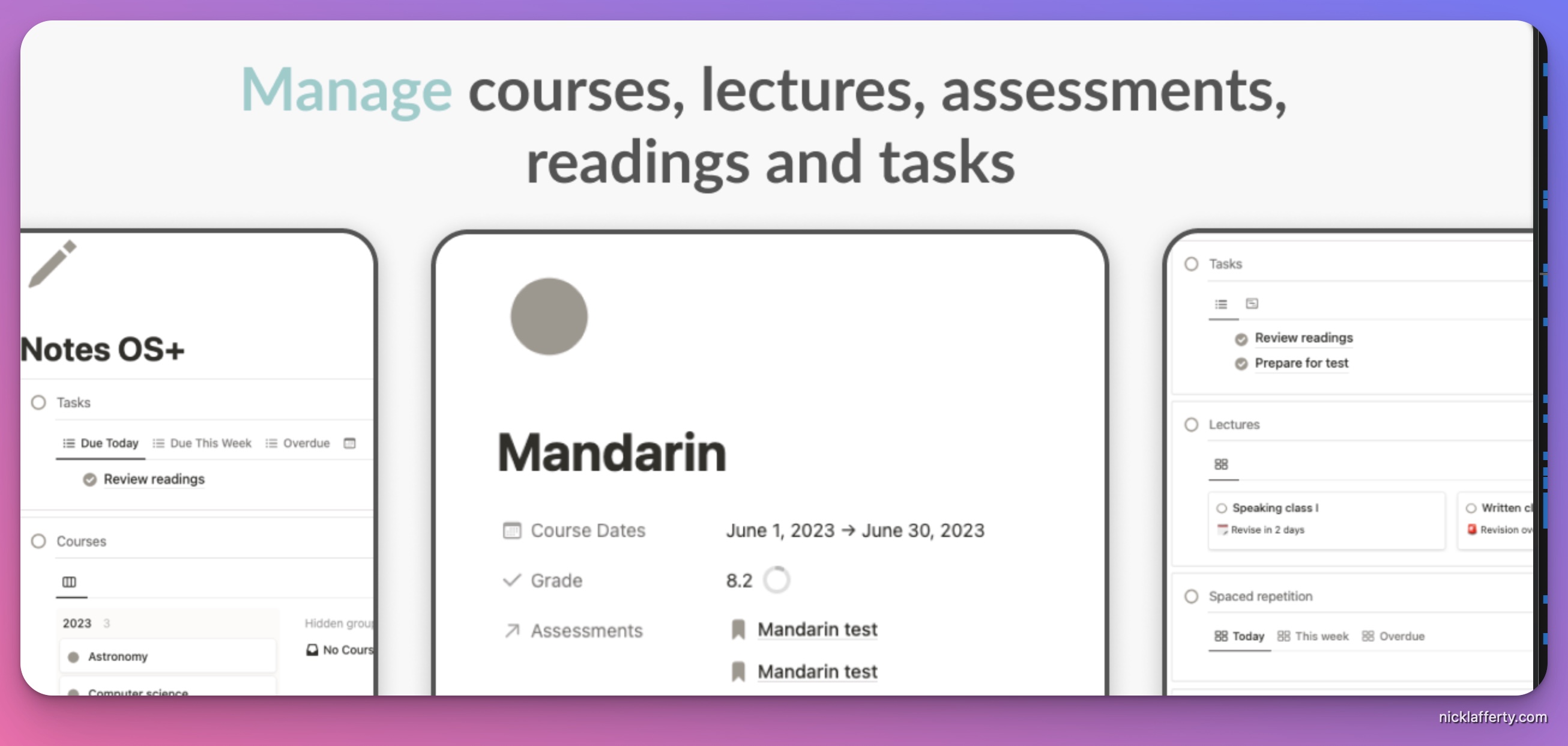 Author: NotesbyHugh
The all-in-one space to manage your courses, lectures, readings, assessments and tasks.
Transform your study routine with our meticulously designed template. From course overviews to lecture notes, assessment reminders to task management, take control of the way you learn. Perfect for university students, self-study and language learning ✨
NotesOS includes:
✔️ Overview page to track all your courses, lectures, readings, assessments, tasks and spaced repetition
✔️ Structured template for each course that automatically populates with tagged lectures, readings, assessments and tasks
✔️ Overview page to track all your lectures by calendar view
✔️ Automatically generated calendar for all assessments
✔️ Assessment due date reminders upcoming, overdue or submitted assessments so you always stay on top of the game
✔️ Dedicated task page categorised by course
Learn more at the link below.
Notion Student's Index Template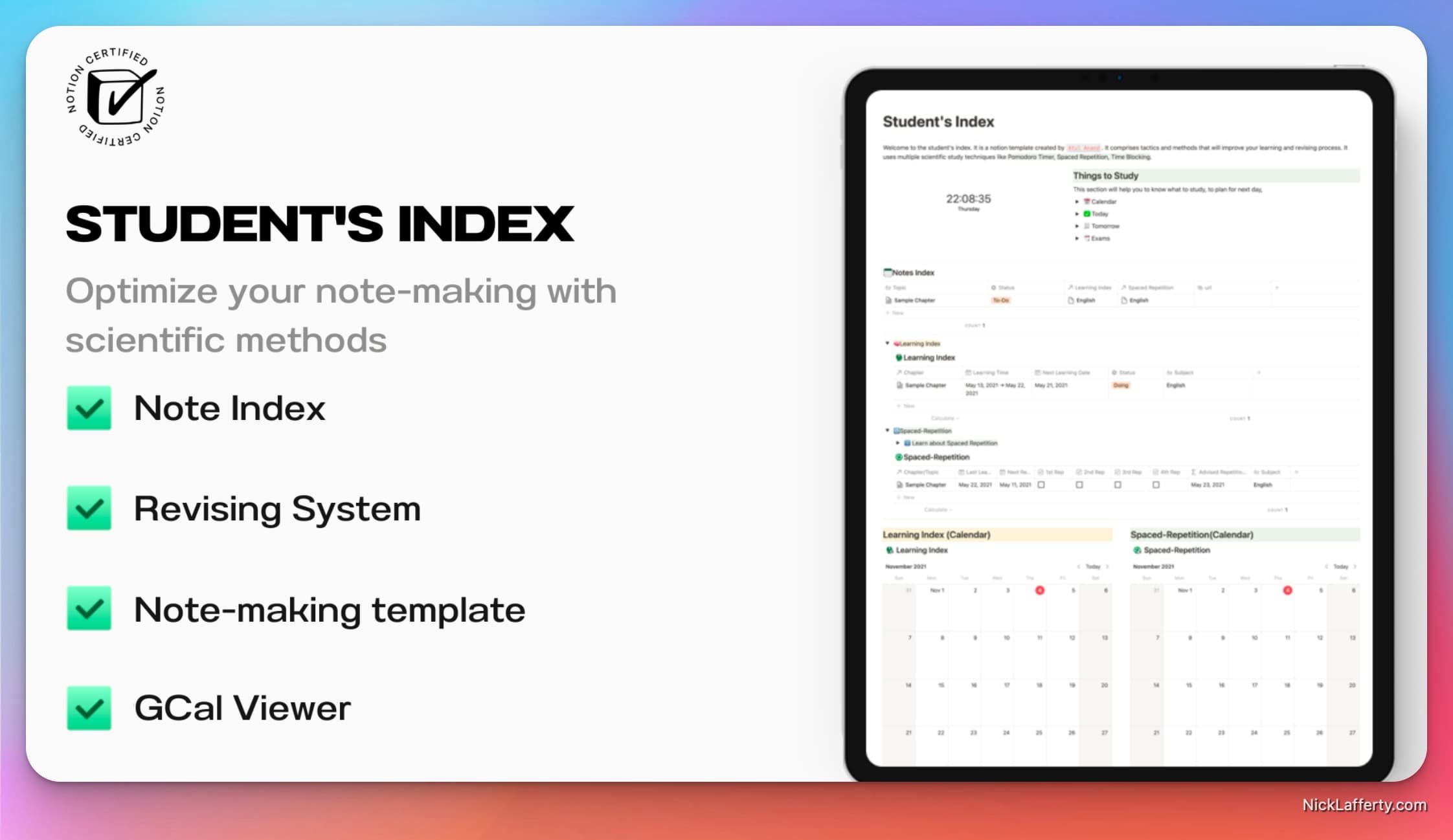 Author: Atul
Optimize your note-making with scientific methods
What's Inside
Planner
Notes Index
Learner's Index (Table/Calendar)
Spaced-Repetition(Table/Calendar)
GCal Viewer
Notion Campus Life Organizer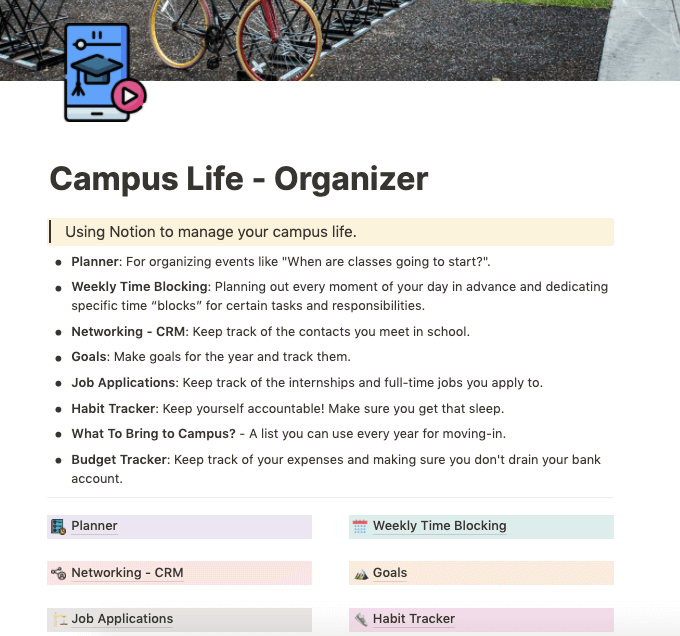 Author: Will Ma
Notion Resume Template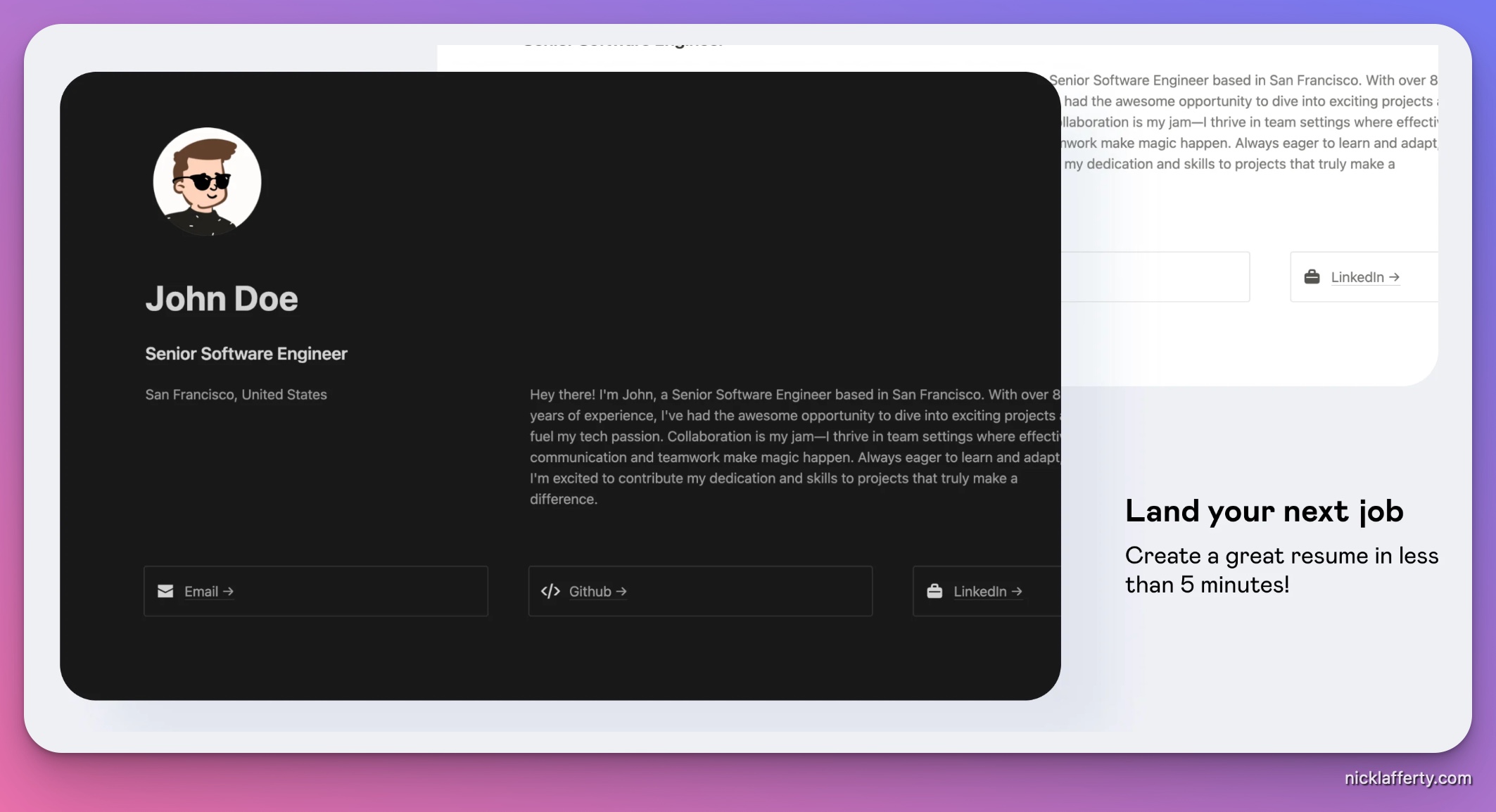 Author: Beto
Land your next job with ease with my Ultimate Resume Notion Template.
With just a few simple steps, you can create a great resume in less than 5 minutes, saving you valuable time and effort.
This template offers a high level of customization, flexibility, and ease of use:
Whether you prefer a dark or light mode, the template adapts seamlessly to your appearance settings, providing a visually appealing experience.
The full-width page size is perfect for sharing through a URL or private invitation. On the other hand, the default page size is recommended for exporting.
You can easily update your resume from any browser or device, making it incredibly convenient and accessible wherever you are.
Ultimate Tasks by Thomas Frank (free template)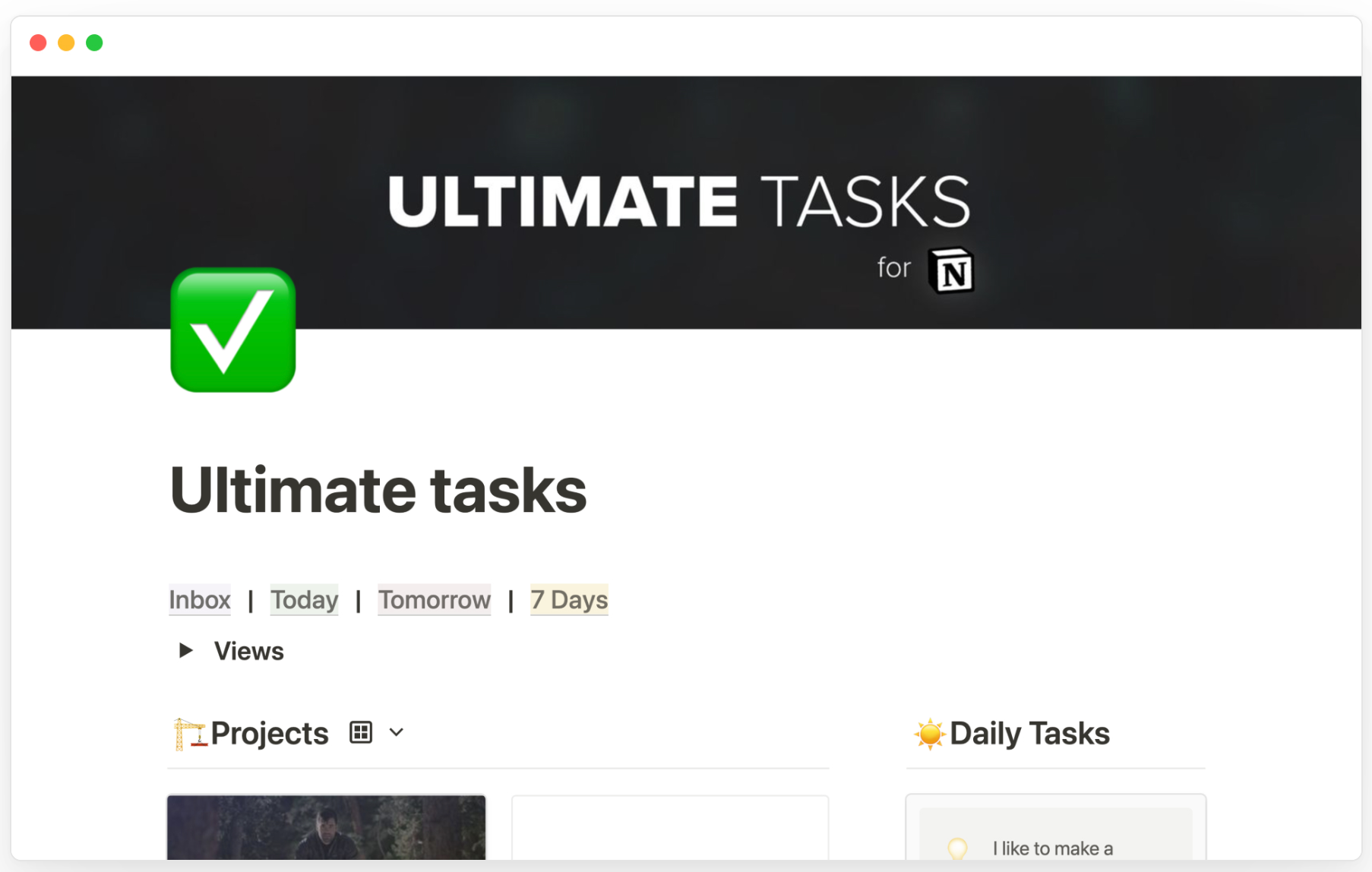 Ultimate Tasks adds robust task and project management to Notion and it's perfect for students.
It includes a master task database, along with all of the "smart views" that a user coming from traditional task management apps would expect - Today, Tomorrow, Next 7 Days, etc.
The Super Life Student Template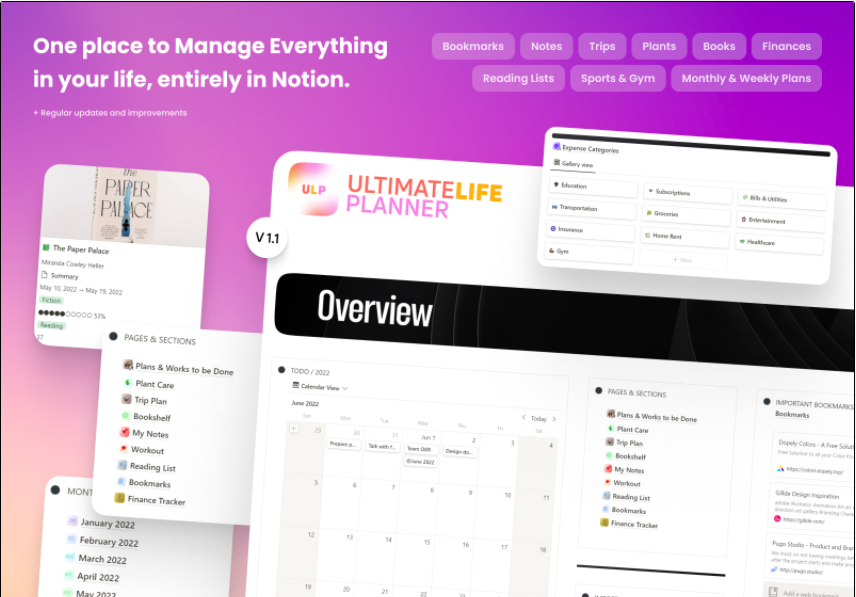 The Super Life (Ultimate Life Planner) is one place to manage everything in your life entirely in Notion.
It brings tasks, notes, plans, health, plant care, travel plans, finance, and more together in your favorite tool.
Here's a snapshot of what it covers:
Dashboard
Monthly planner
Personal & work daily planners
Bookmarks
Bookshelf & reading list
Student Essential Template
Author: Bodoboal
This template is made for you if you want to manage all your school life in a single dashboard.
Share it with your classmates, empower yourself in the classroom and have more time for yourself!
Features:
Manage all your courses in one place : All your notes are in one place. And no more forgetting where you put things, or having to go through a maze of apps to find old notes. It makes sense to centralize everything with a planner that's bug-free and easy-to-use.
Control access and sharing of your notes: Feel free to share your notes with other classmates. Pages can be easily shared with a set of pages or an entire document with your classmates if you want.
Centralizes important dates: Whilst organising important tasks can often be a time consuming process, with centralising all of your deadlines into one place you will be able to see them all on one simple page.
Get the Student Essential student Notion template today.
Ultimate Brain by Thomas Frank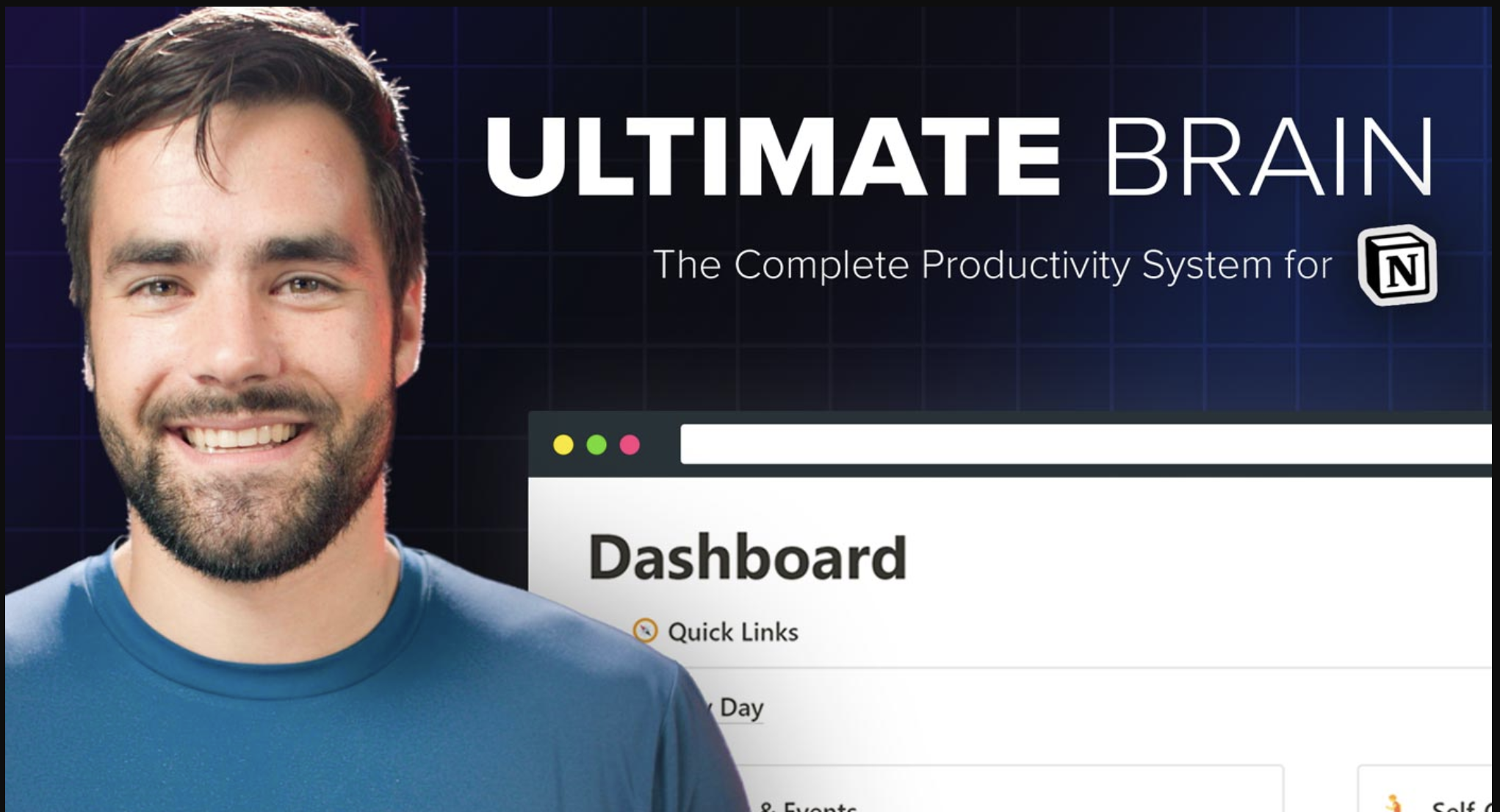 Author: Thomas Frank
Ultimate Brain is The ultimate productivity system and second brain for Notion and it's ideal for students looking to organize their life.
Ultimate Brain seamlessly combines tasks, projects, notes, and goals - turning Notion into your all-in-one task manager, note-taker, and planner.
Inside, you'll find advanced features like:
A My Day dashboard for perfectly planning out your day
A Quick Capture dashboard for quickly capturing notes and tasks, then getting on with your day
PARA-style organization (Projects, Areas, Resources, Archives) for tasks, projects, and notes. Ultimate Brain turns Notion into the perfect tool choice for Tiago Forte's Building a Second Brain course.
Recurring tasks (includes a tutorial on how to automate them for free)
This template also comes with extensive tutorials along with free lifetime access to a support community on Circle where you can ask questions.
Aesthetic Student Dashboard - Semester Planner/Tracker | Aesthetic Notion Template Download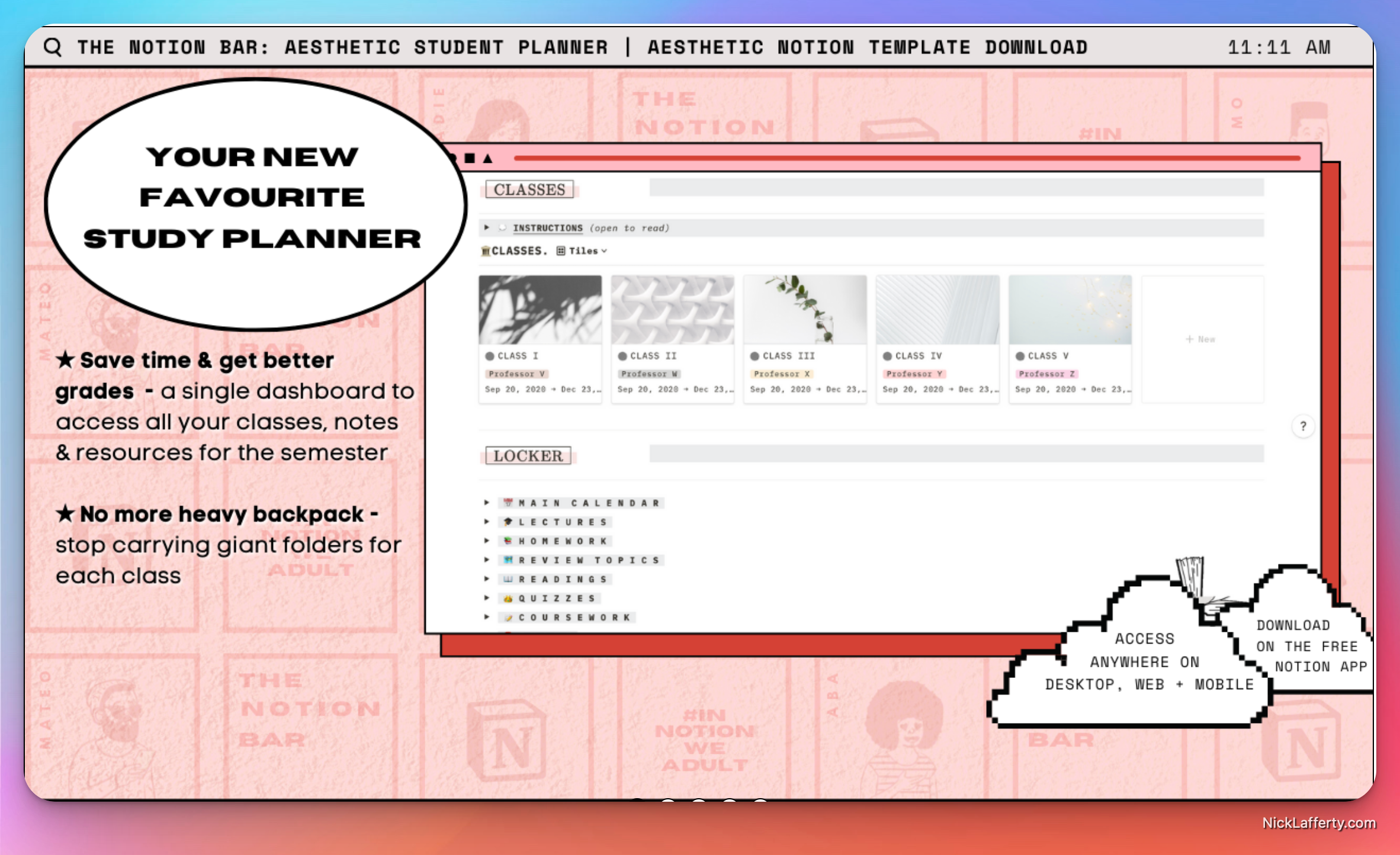 Author: The Notion Bar
Notion template for high school/college/university students or anyone taking a course!

Get better grades by staying organised

Organise everything in your 'locker': classes, lecture notes, homework, coursework, exams, review topics & quizzes + grades

Save time getting your notes set-up with pre-made lecture note templates
Free Sakura-Themed Study Zone Notion Template for Students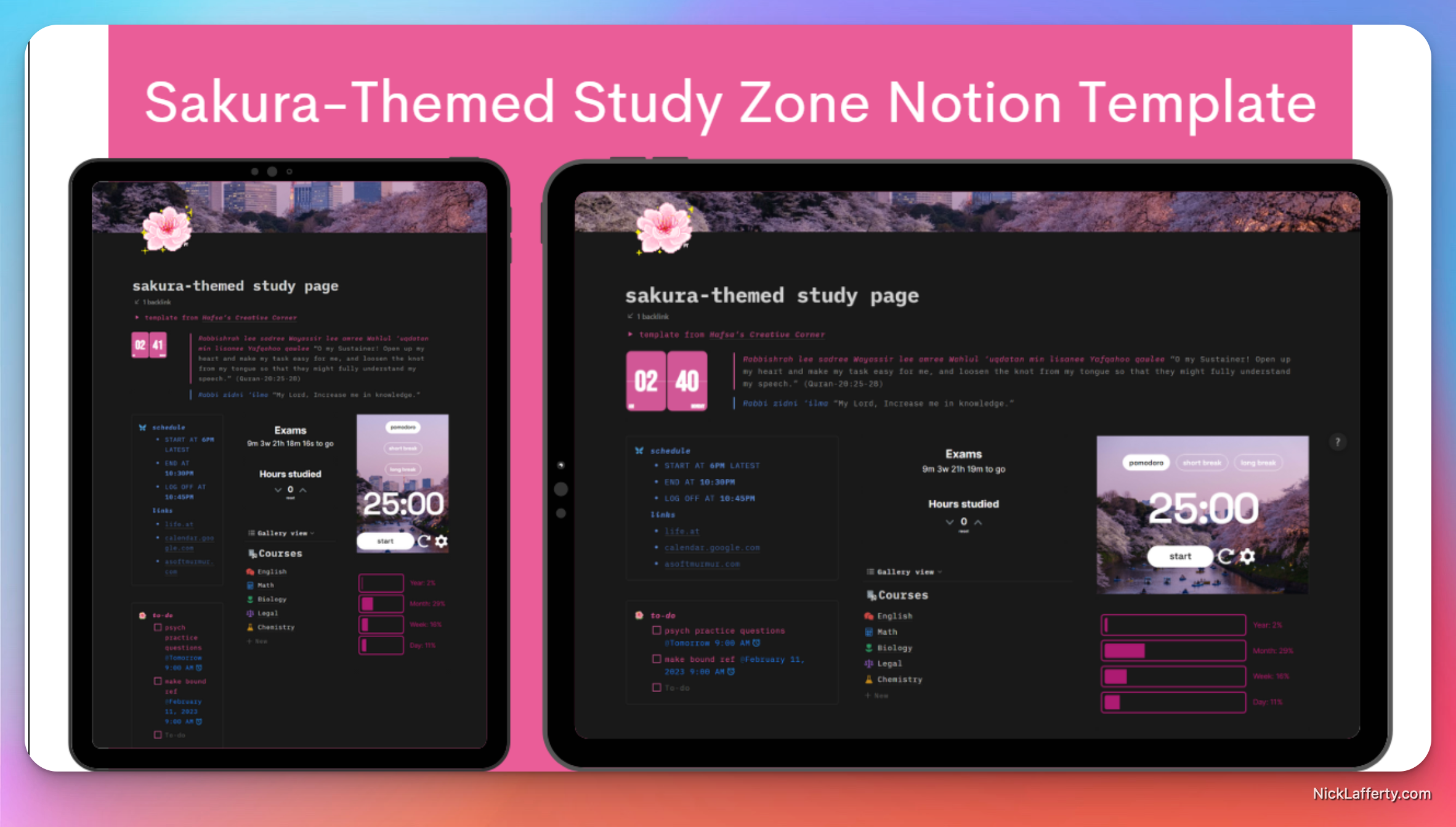 Author: Hafsah
This simple template is ideal for focusing and staying on task.
It includes a Pomodoro timer, pages for each subject, a to-do list, flip clock and more.
Notion Student Pack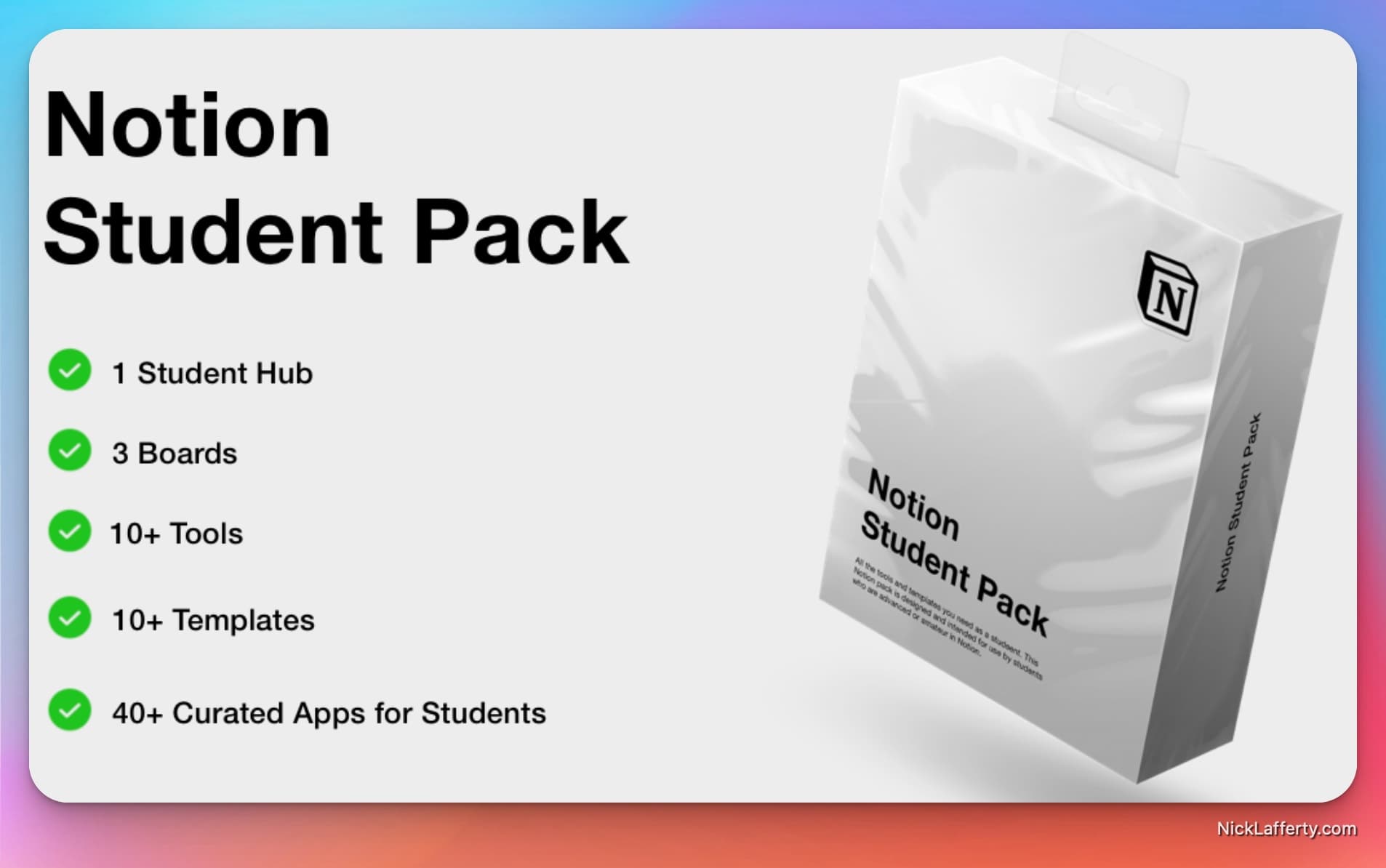 Author: Easlo
All the tools, templates and dashboards you need as a student.
Everything organised and integrated into one comprehensive student dashboard.
What you'll receive:
1 Student Hub
3 Boards
10+ Tools
10+ Templates
Notion Ultimate Student OS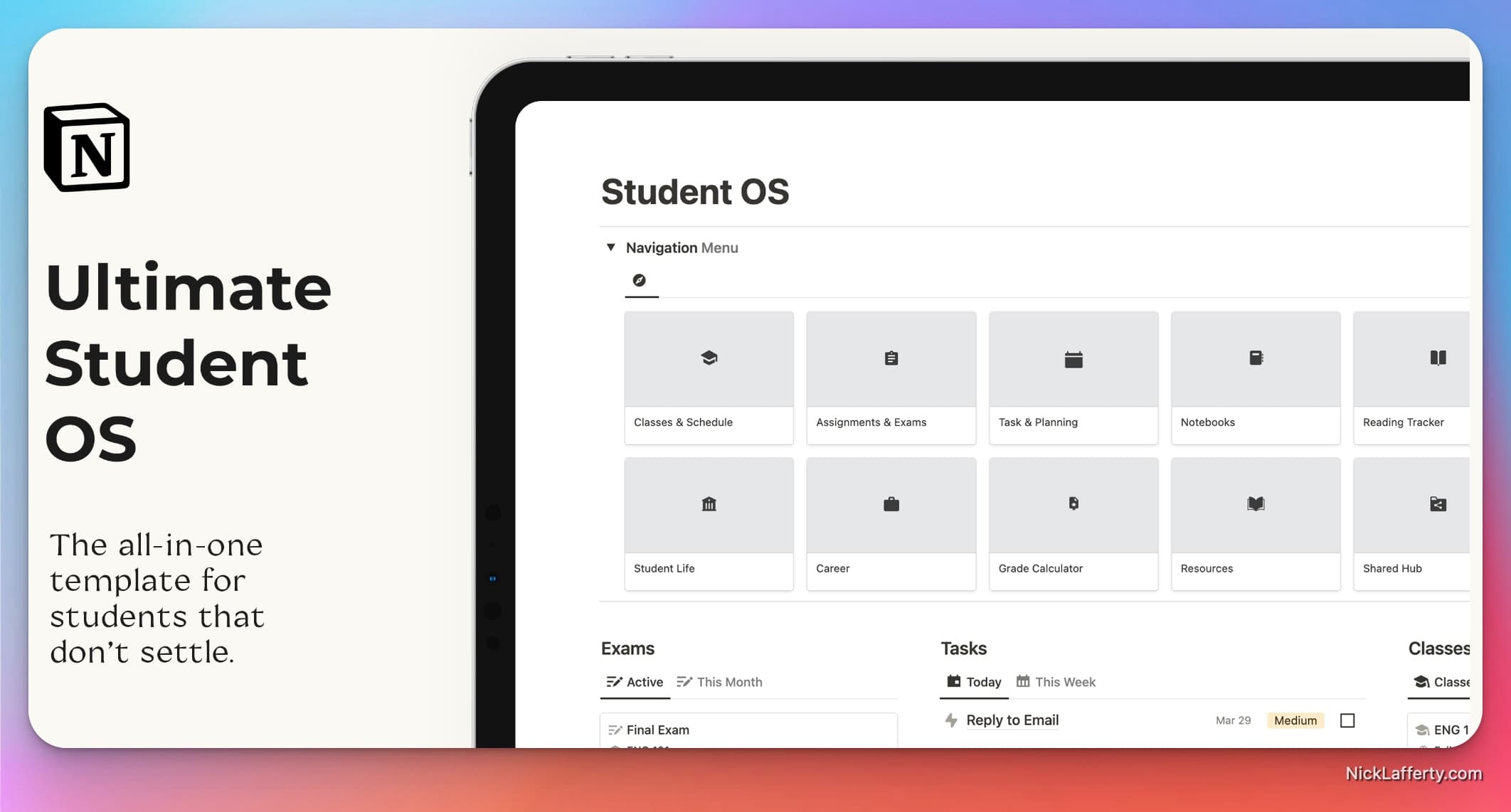 Author: Notion Avenue
Have your best academic year ever with the Ultimate Student Os for Notion.
Student OS: Your Ultimate Digital Student Planner.
Maximize your academic potential with Student OS, the all-in-one digital planner that streamlines your study routine and helps you stay on top of your tasks.
Private Tutor Dashboard: Lesson & Student Planner in Notion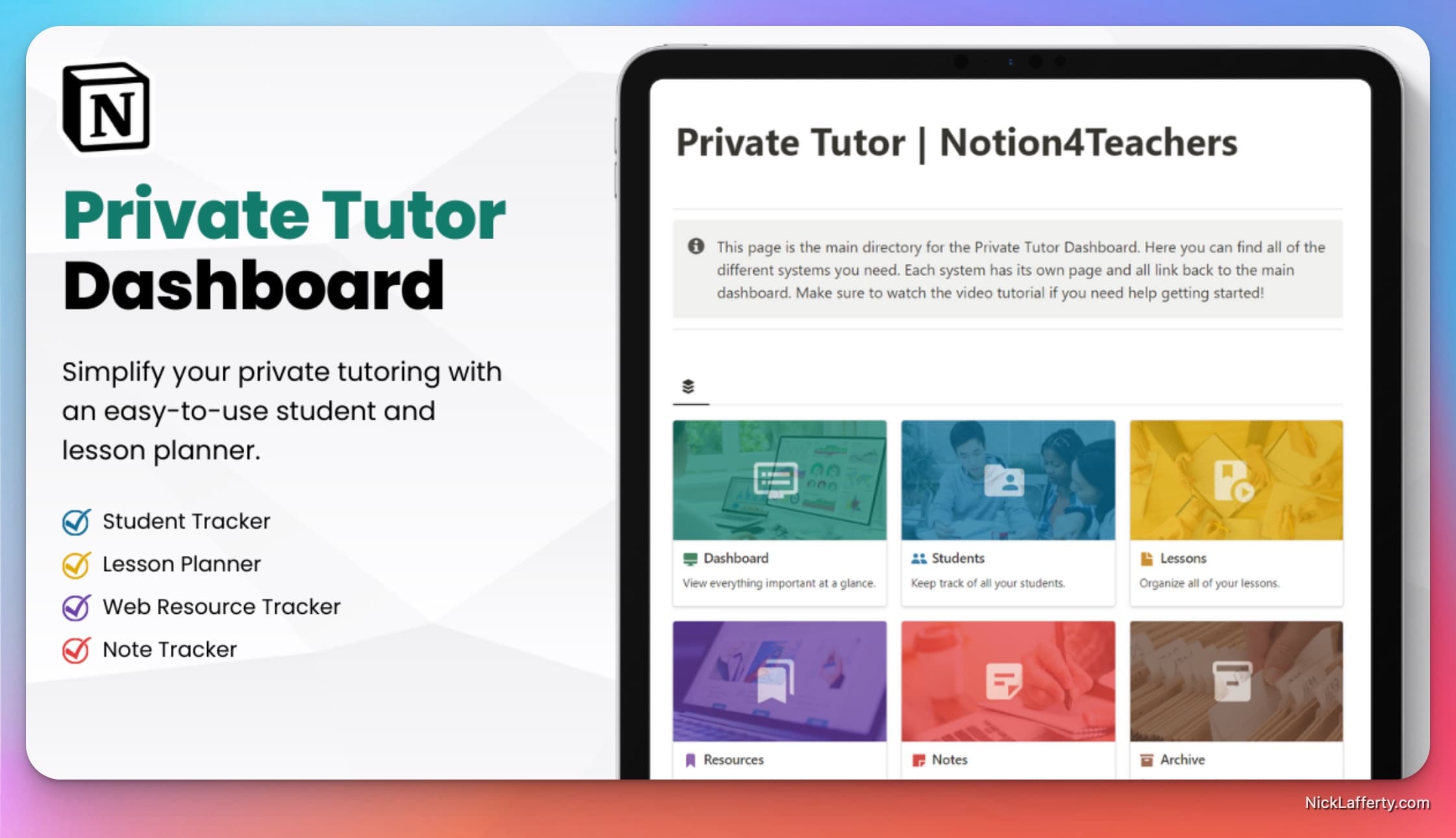 Author: Notion 4 Teachers
Organize your private tutoring business easily using a student tracker and lesson planner template.
Are you a private tutor looking for a better way to manage your lessons, students, and resources?
With this customizable student tracker and lesson planner, you can easily keep track of each student's progress, plan and tag individualized lessons, and never miss an appointment again.
Simple College/University Student Notion Dashboard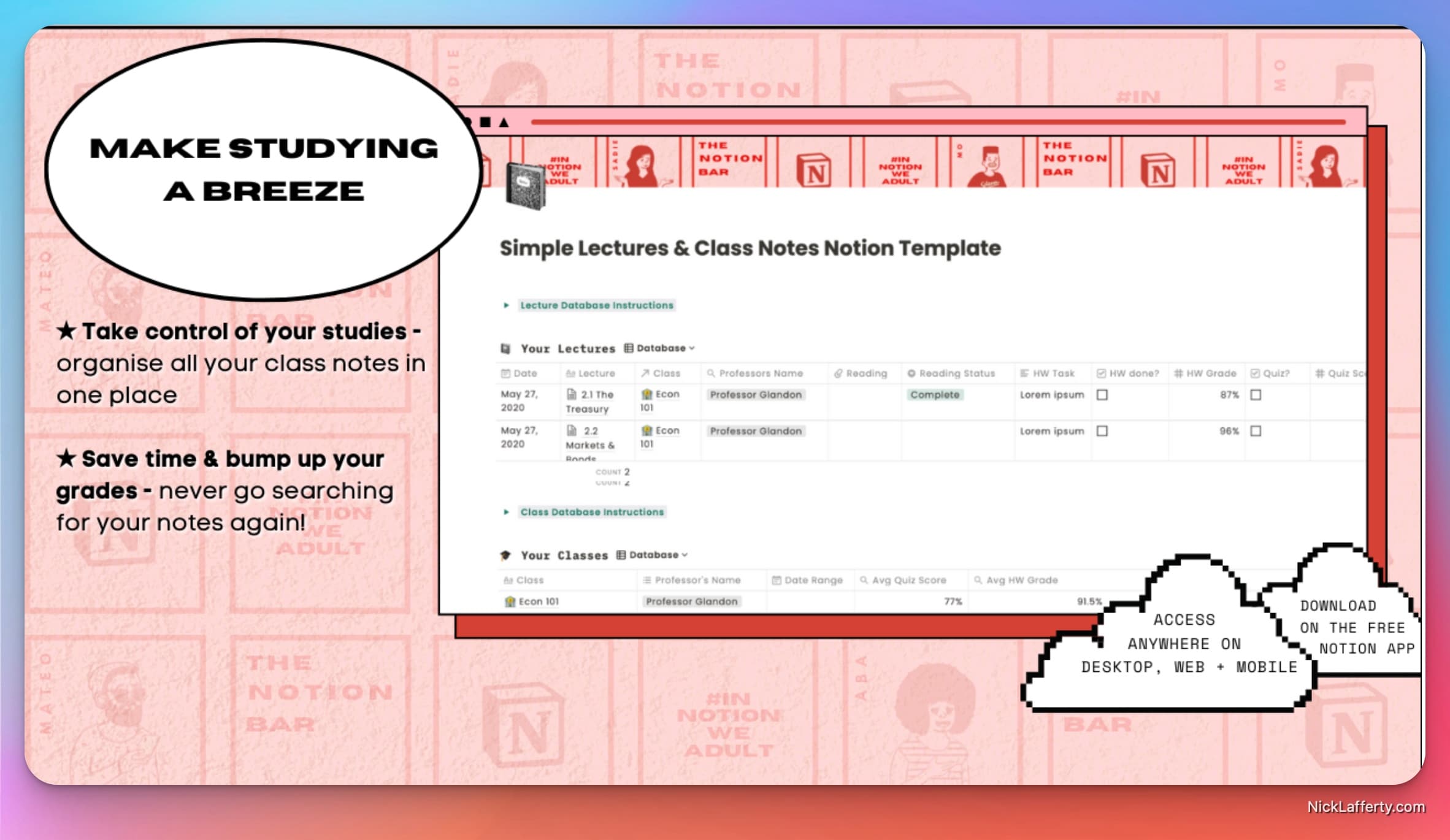 Author: The Notion Bar
A student Notion template to easily access all your lecture notes in one place for each class
Saves time getting your notes set-up for each lecture
Track your quiz/exam and homework grade for each class
Bump up your grades by saving time and staying organised!
Taking a course and need a simple or easy way to track all your notes?
This template is for you.
Student OS Dashboard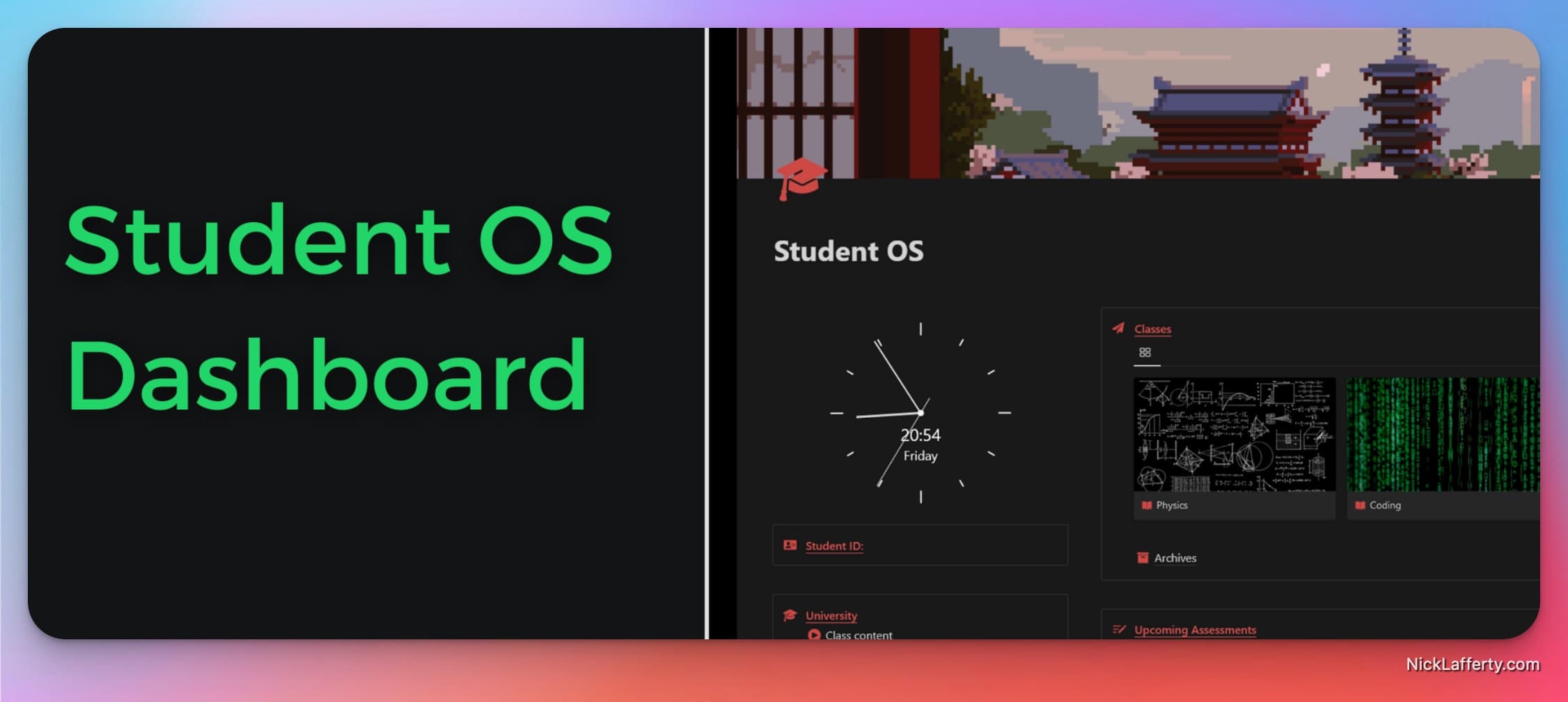 Author: Chris
Take your studies to the next level
Manage your student life as effectively as possible.
10x your productivity and save hours of time.
Notion Student Dashboard Template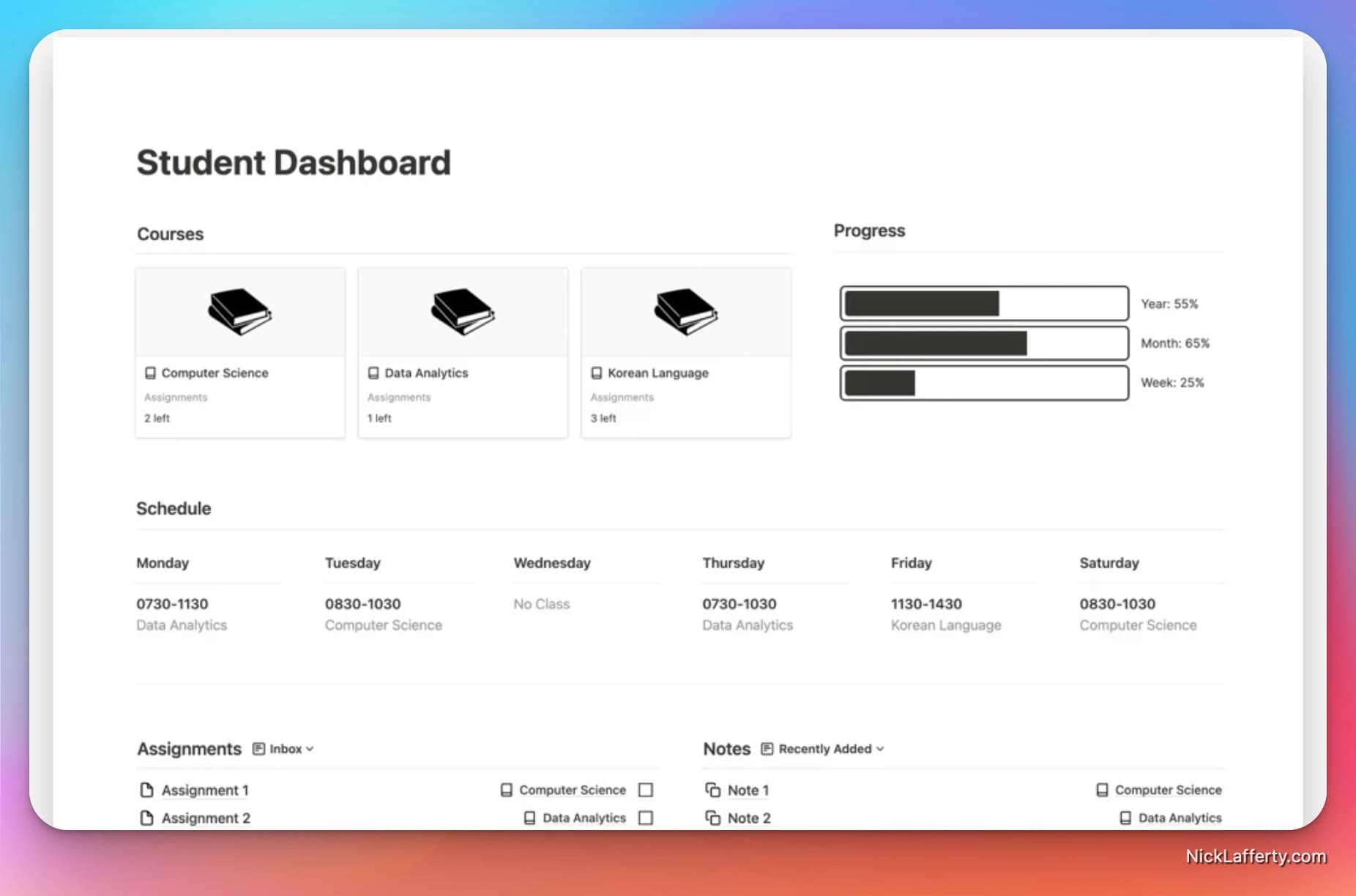 Author: Easlo
An all-in-one dashboard for high school/college/university students
Keep track of your course schedule
Keep track of your assignments
Keep track of your notes
Keep track of important dates
Share your dashboard and collaborate with friends
The Ultimate Student Productivity Pack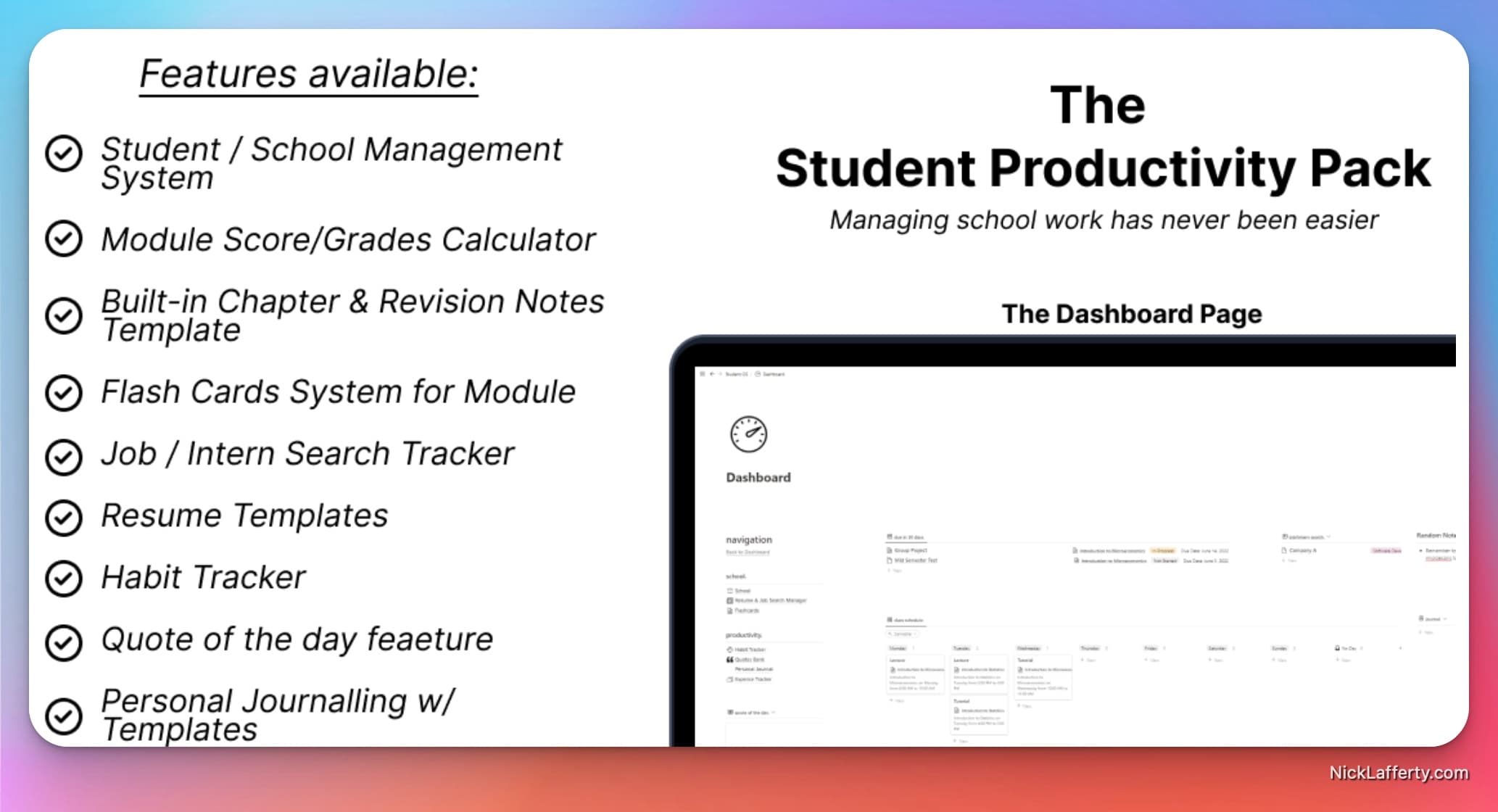 Author: Notion With Zon
Organize your school work and life together with our ultimate student Productivity Pack.
Many Notion users struggle to create an effective Notion workspace for school, which leads to a less effective workspace.
This template bundle for students aims to solve that for you by organizing your school life with an effective way to track your notes, assignments & tests with ease.
We also know that life isn't all about studying, so we've also included things like a finance tracker, habit tracker, and many more to ensure that you are productive, both in school and outside of school.
College OS - Academic Management System for Notion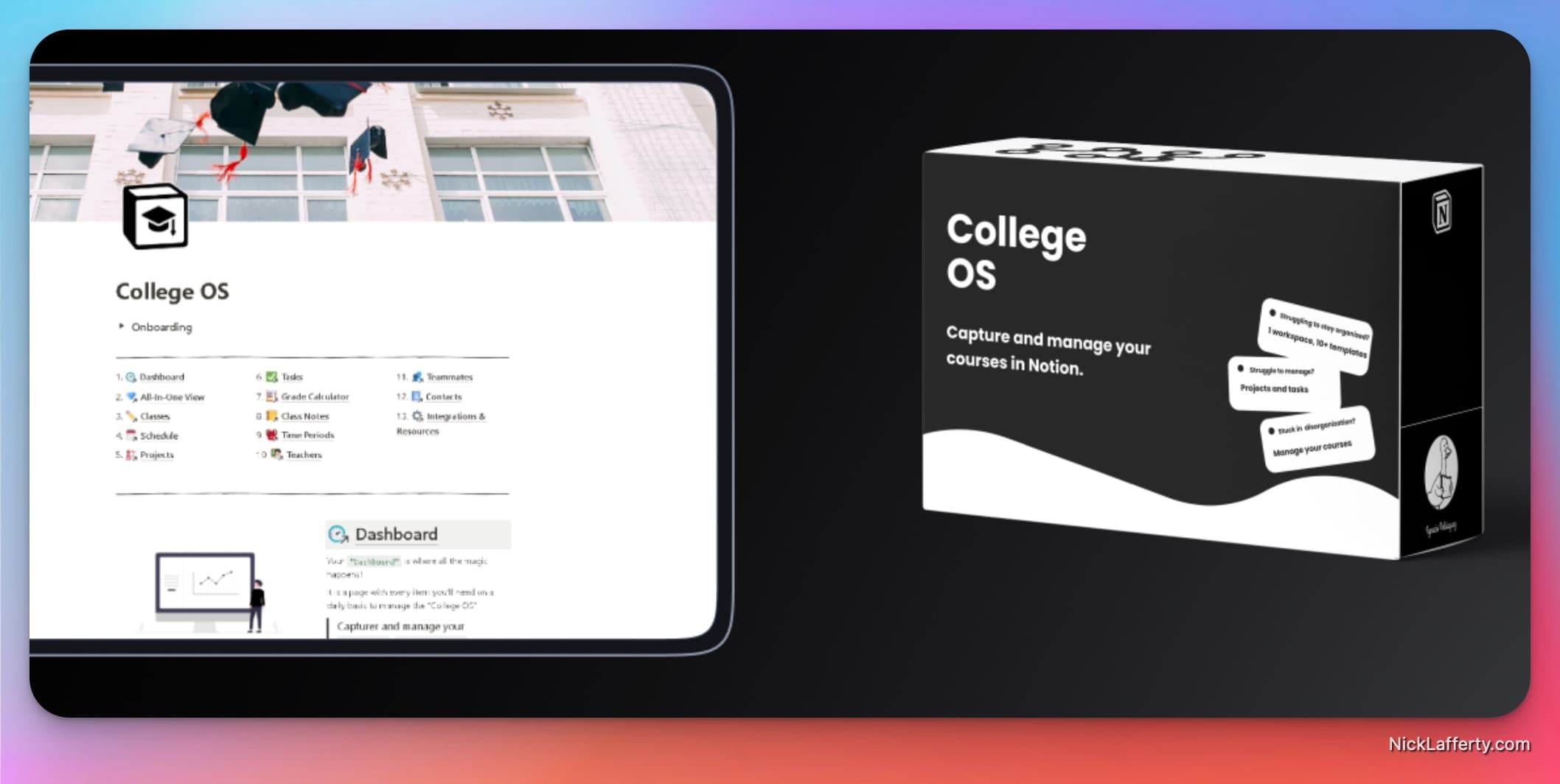 Author: The Veller
Capture and manage your courses in Notion.
College OS is an unparalleled academic system engineered to help you efficiently manage your coursework, allowing you to balance your academic commitments and excel in your studies.
University Dashboard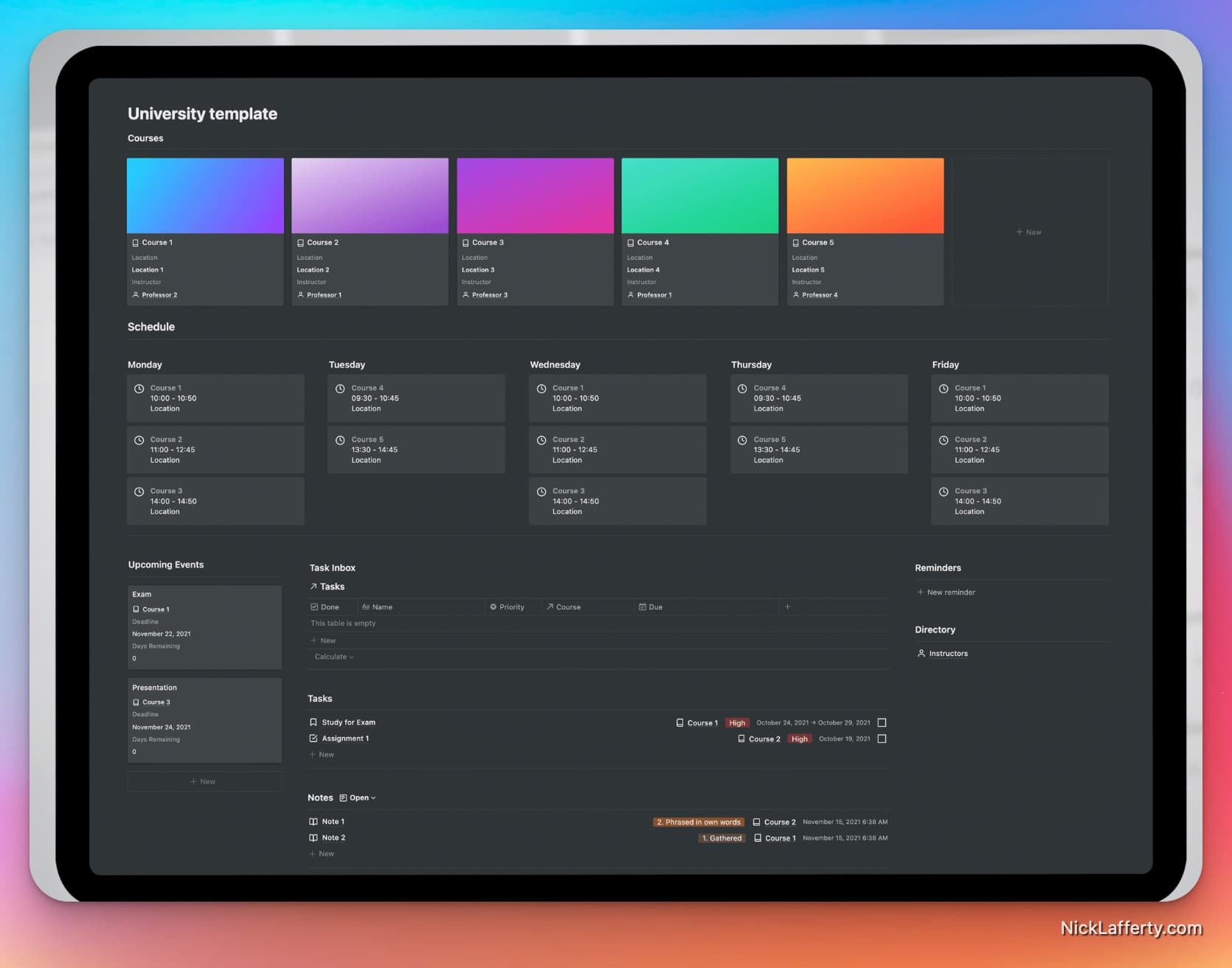 Author: Ren
Keep stress free in University while winning back extra time.
With this free and simple university template, keep track of tasks, notes, events, and more. Get more organized and get back some more time.
This template includes:
Filtered and organized course content
Integrated GTD (Getting Things Done) Todo list
Note progression and statuses
Quick reminders
Ultimate Study Planner Template

Introducing the Ultimate Study Planner Notion Template: Your Personalized Path to Academic Excellence
Embark on your academic journey with confidence using our all-inclusive Study Planner Notion template.
Meticulously designed to empower students, professionals, and lifelong learners to excel in their studies, one step at a time, this template is your key to mastering organization, productivity, and success.
Features: Features:
Timetable
To-Do Lists (Customized for Each Course)
Meal Planner
Journal
Calendar
Reminders
Course Pages (with Readings List & Syllabus)
Class Notes
Habit Tracker
Medical School → USMLE Step 1 Dashboard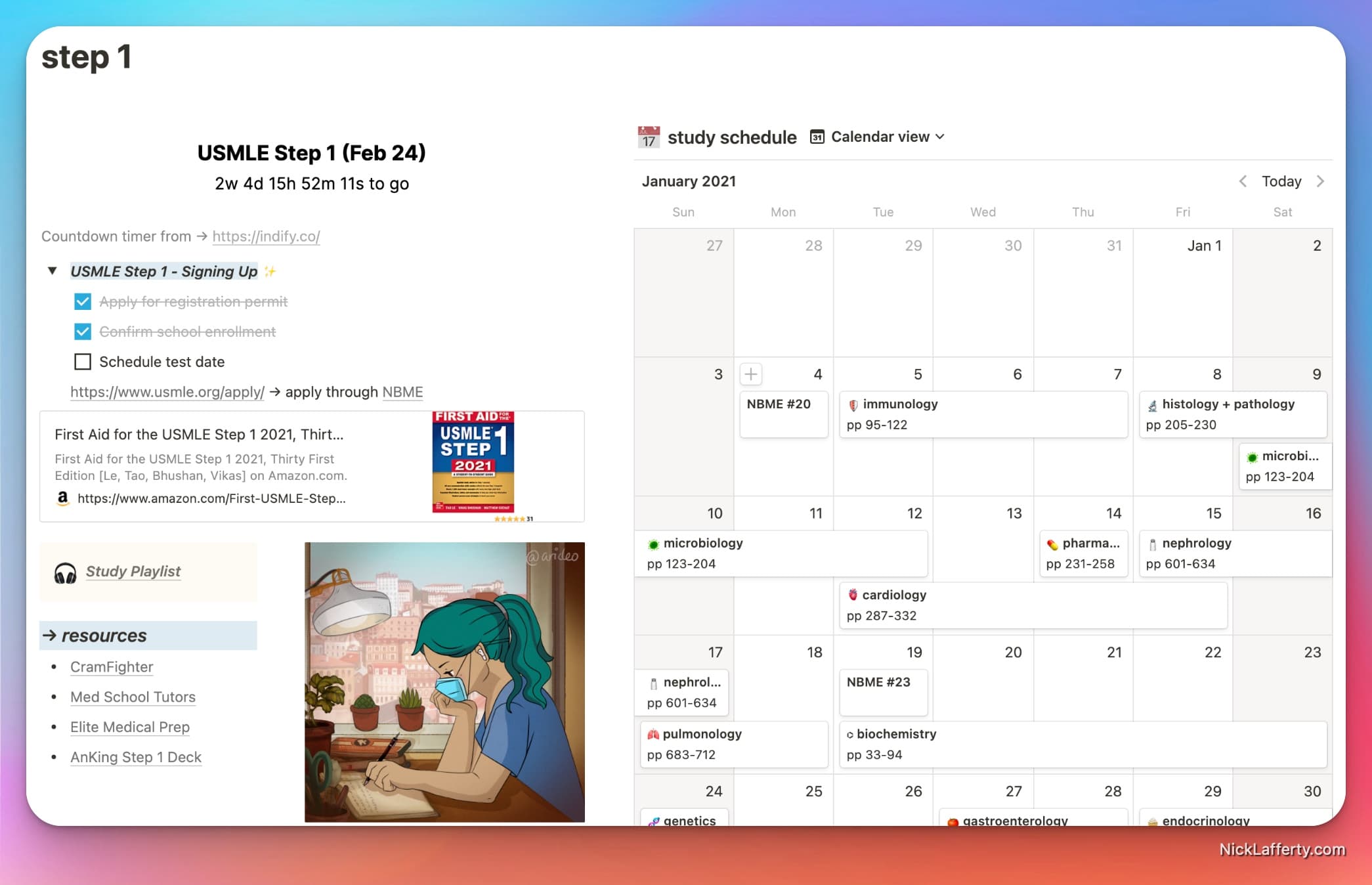 Author: Nina W's Notion Goodies
Having trouble keeping track of everything you need to ace your USMLE Step 1? Shooting for a 250+ but have too many BnB videos to remember?
This template includes:
Calendar database → All chapters (and major sub-units) of First Aid + the 2021 edition pages and several NBME self-tests you may be planning on taking, which you can drag to create your custom study schedule.
Resources database → Video names and runtimes for many key Step 1 study resources, tagged by key subjects, sub-units, and corresponding First Aid chapters, with a filtered view for working through your current unit.
Notion Template: School Dashboard (FREE)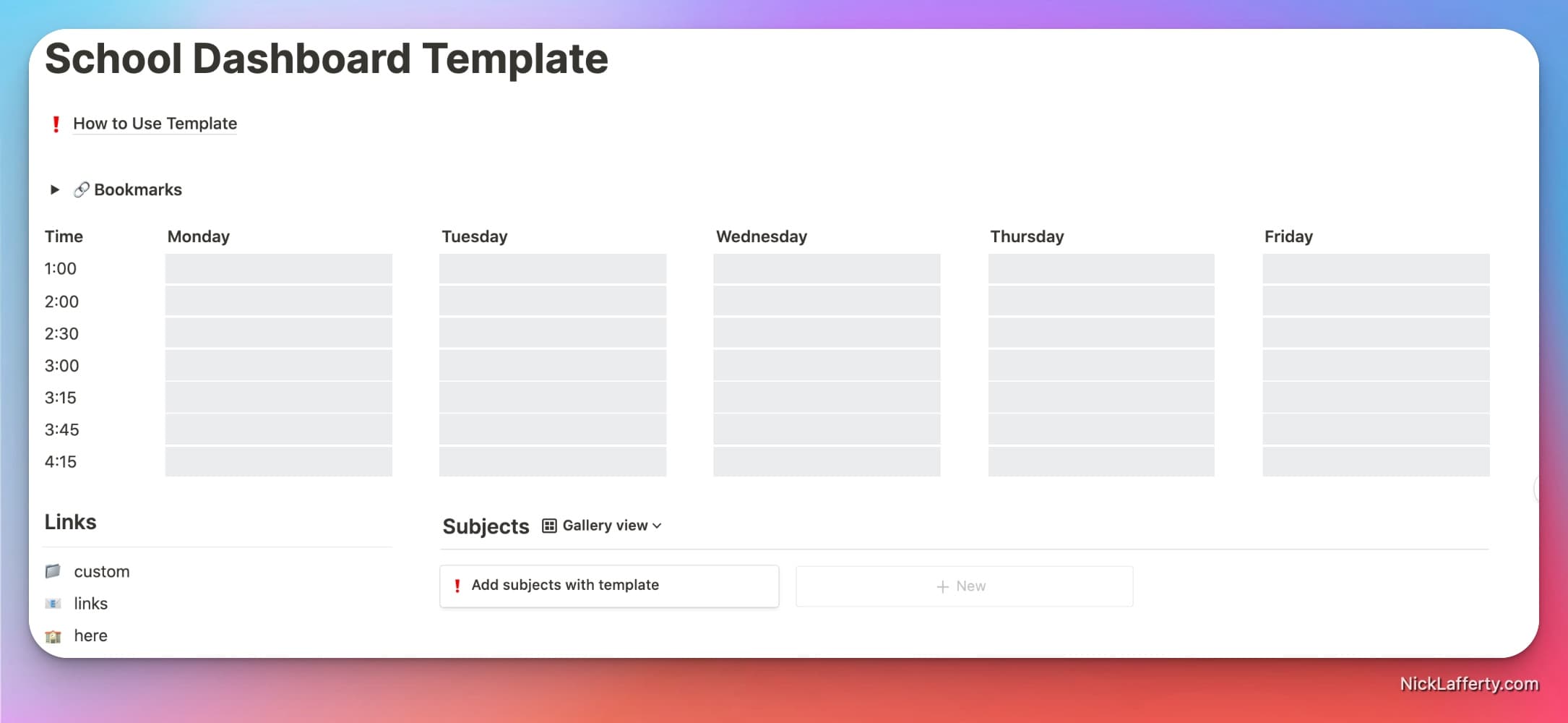 Author: sia
A customizable Notion template for your online classes, whether it be for university, college, or high school!
Complete with a class schedule, notes database, and directory to keep everything all in one place. Instructions are included!
See Also