Notion is the best tool to organize your life.
It's used be students, professionals, executives, and entire companies like Figma and Nike.
This page is a collection of my favorite life planning Notion templates, and is one of many posts I have.
Don't miss my other template pages:
Best Notion Life Planners
The Super Life (Ultimate Life Planner)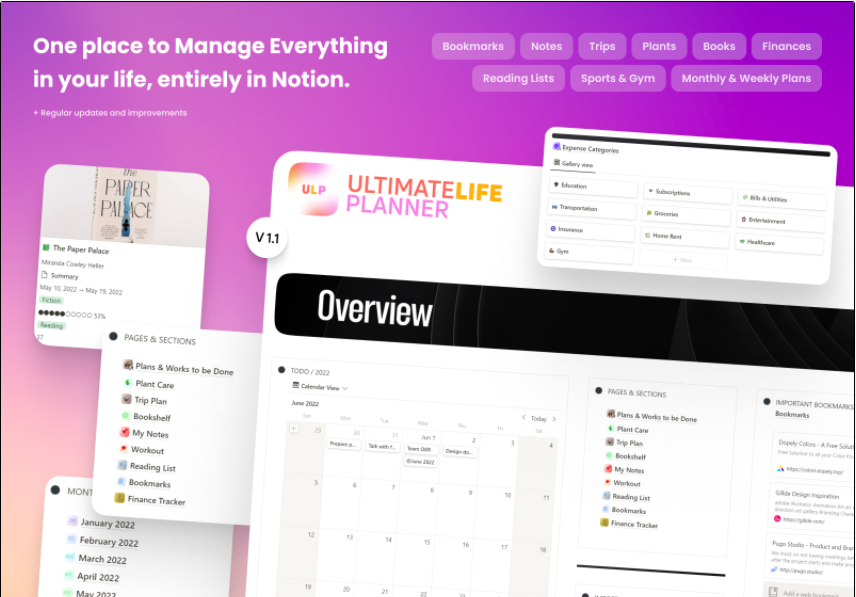 The Super Life (Ultimate Life Planner) is one place to manage everything in your life entirely in Notion.
It brings tasks, notes, plans, health, plant care, travel plans, finance, and more together in your favorite tool.
Here's a snapshot of what it covers:
Dashboard
Monthly planner
Personal & work daily planners
Bookmarks
Bookshelf & reading list
Workout
Plant care
Trip planner
Ultimate Brain by Thomas Frank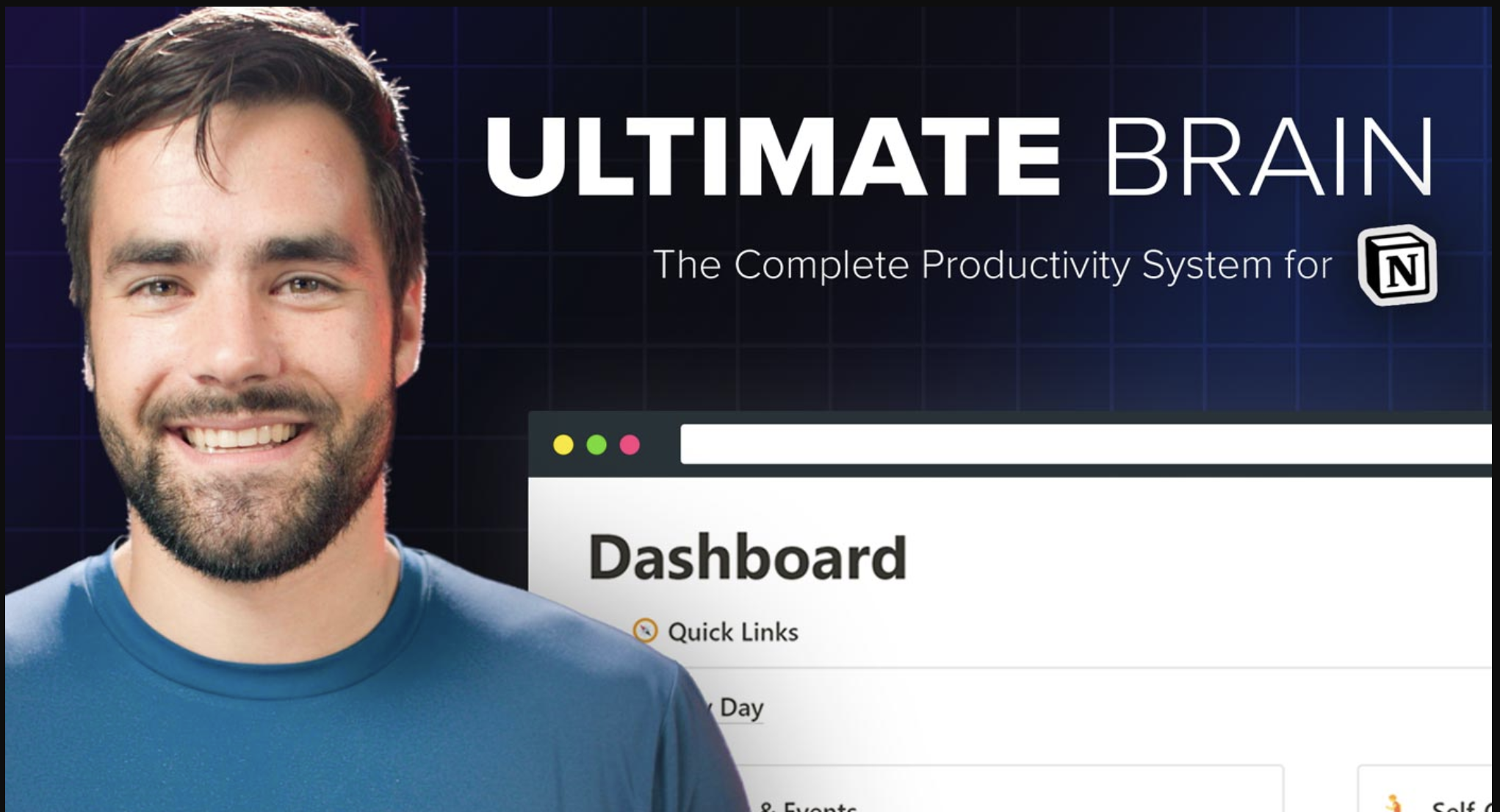 Author: Thomas Frank
The ultimate productivity system and second brain for Notion.
Ultimate Brain seamlessly combines tasks, projects, notes, and goals - turning Notion into your all-in-one task manager, note-taker, and planner.
Inside, you'll find advanced features like:
A My Day dashboard for perfectly planning out your day
A Quick Capture dashboard for quickly capturing notes and tasks, then getting on with your day
GTD-style task capture and processing
PARA-style organization (Projects, Areas, Resources, Archives) for tasks, projects, and notes. Ultimate Brain turns Notion into the perfect tool choice for Tiago Forte's Building a Second Brain course.
Recurring tasks (includes a tutorial on how to automate them for free)
Advanced archive features to help keep bloat at bay (like Cold Tasks, Snoozed Tasks, and a Someday list)
Ultimate Brain has gone through extensive testing and design in order to be optimized for all devices and screen sizes, unlike many other templates which are only designed for large computer screens.
This template also comes with extensive tutorials along with free lifetime access to a support community on Circle where you can ask questions!
Focal Life OS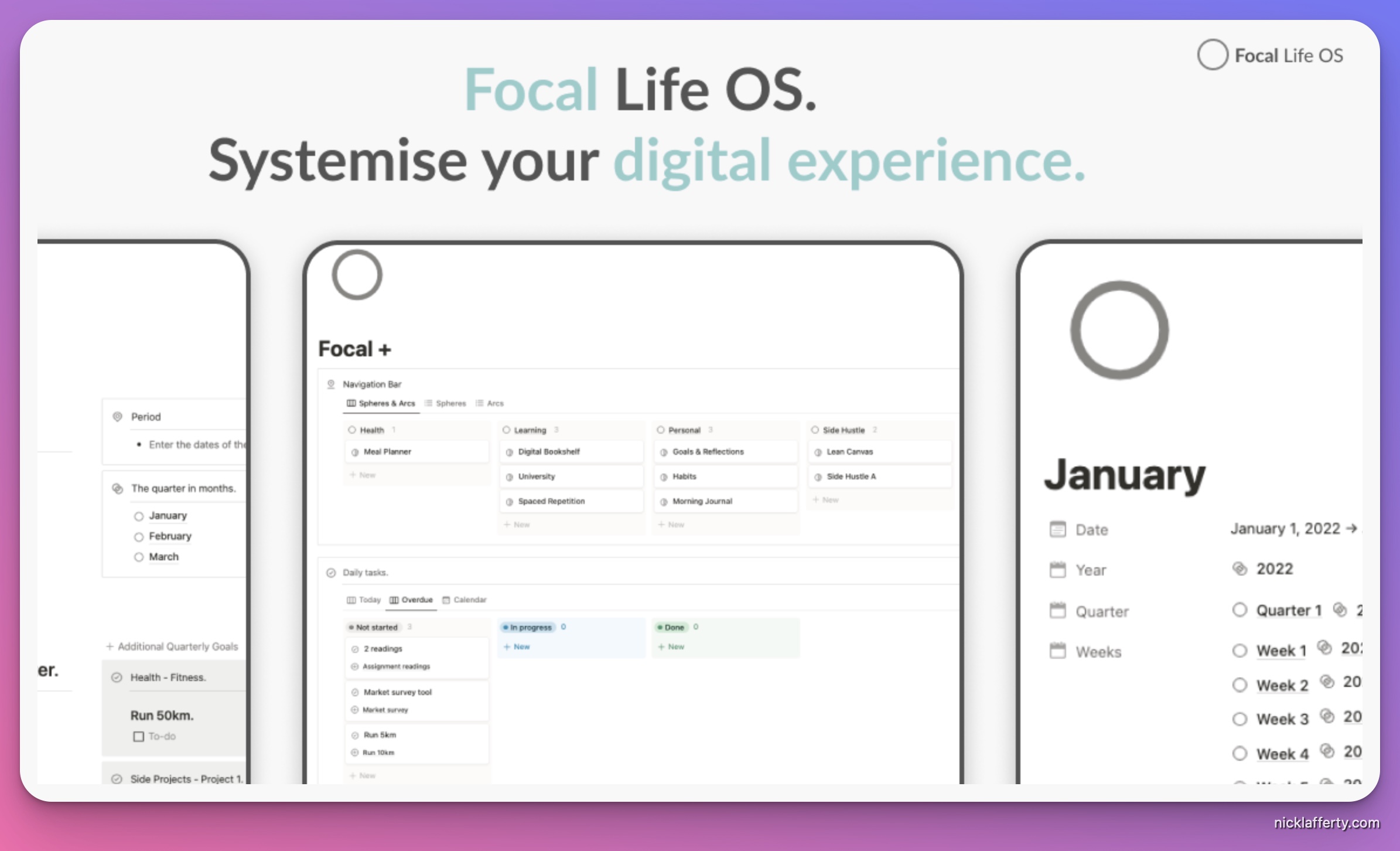 Author: NotesbyHugh
Stop being busy and start being purposeful. Bring clarity to digital chaos with Focal.
Does this sound familiar?
You're not clear on your priorities
You don't have a system for goal setting
You're bad at tracking progress
Focal is the supporting architecture your Notion workspace demands.
If you've tried (and failed) to keep on top of your productivity with to-do lists, planners and other methods only to find yourself in the same position a few weeks later, then Focal is for you.
Focal helps you to take a step back and look at the bigger picture by asking you the right questions to set goals that are aligned with your identity and breaking these goals down into manageable tasks that you can complete each day.
Core OS: The Foundational Life Operating System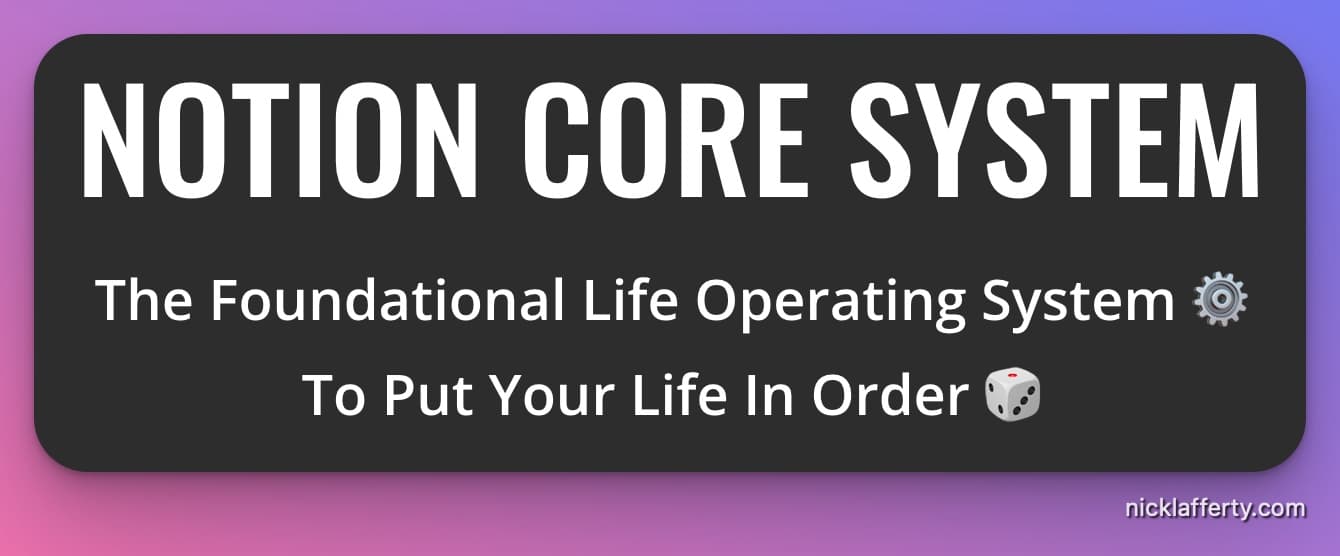 Author: Akshay Hallur
Manage all your tasks, projects, goals, people, notes, and bookmarks seamlessly in Notion, with everything interconnected.
What's included?
Smart Task Management
Strategic Habit Tracking
Project Management Designed For Clarity
Goals and Objectives Tracking
Purposeful Knowledge and Resource Management
Learn more at the link below.
Notion Side Hustle OS Template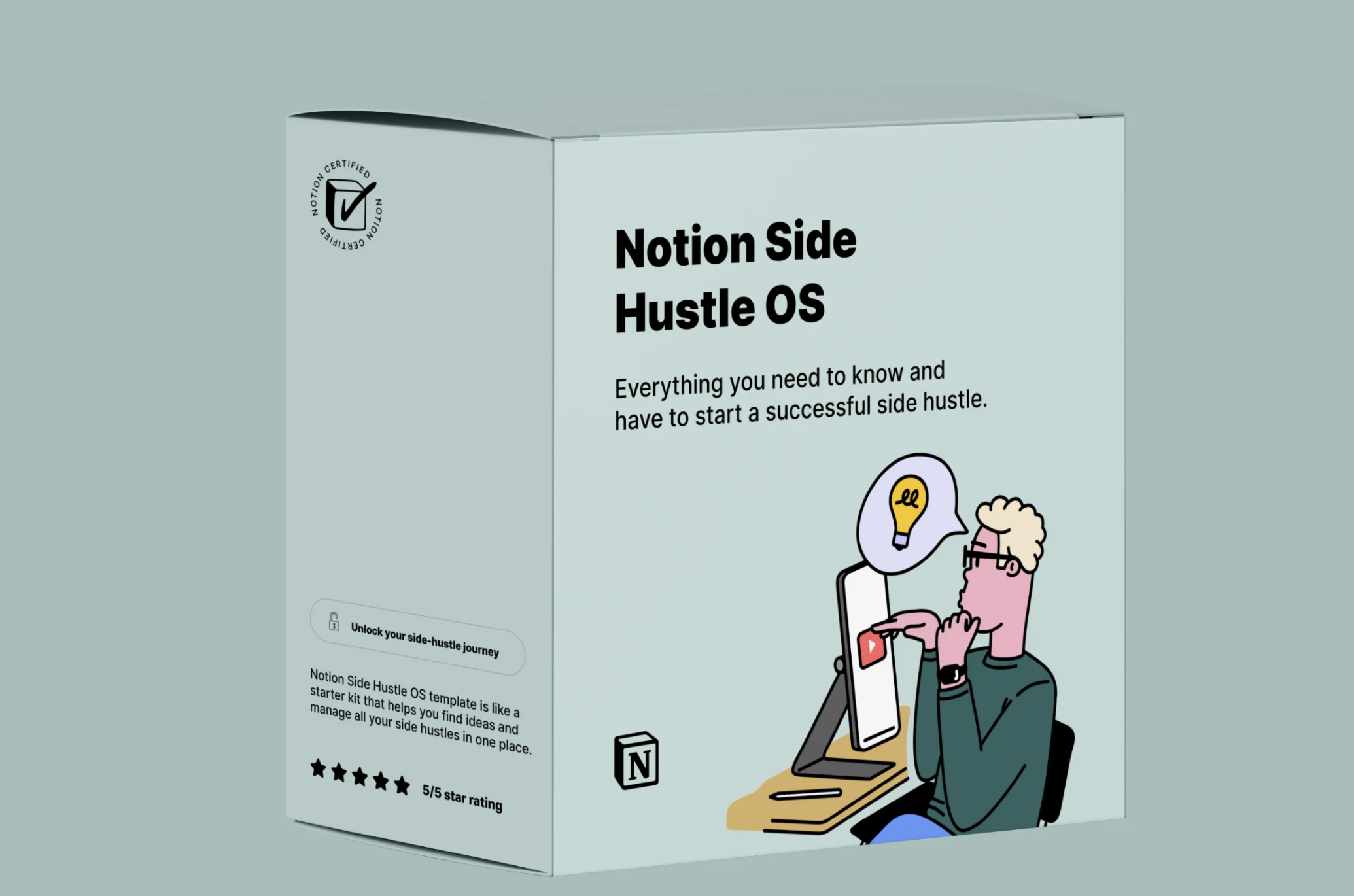 Explore a list of 60+ most popular side hustles.
Start making side income finding the best side hustle for You.
This Side Hustle OS has everything you need to know and have to start a successful side hustle.
If you've been looking for a Notion template to start making additional income, you're in the right place.
One of the best ways to increase your income is by getting into a side hustle. But, if you don't know what to do or don't have time, don't worry.
The Notion Side Hustle OS template is like a starter kit that helps you find ideas and manage all your side hustle daily things in one place. With this template, you'll have a nice and productive system to manage and grow your side hustle.
Also, an access to lists of the best tools and links. This whole Notion Side Hustle OS will be the one-time purchase that brings you clarity and actionable steps to your side hustle growth.
1. 2023 Notion Gratitude Journal (Paid)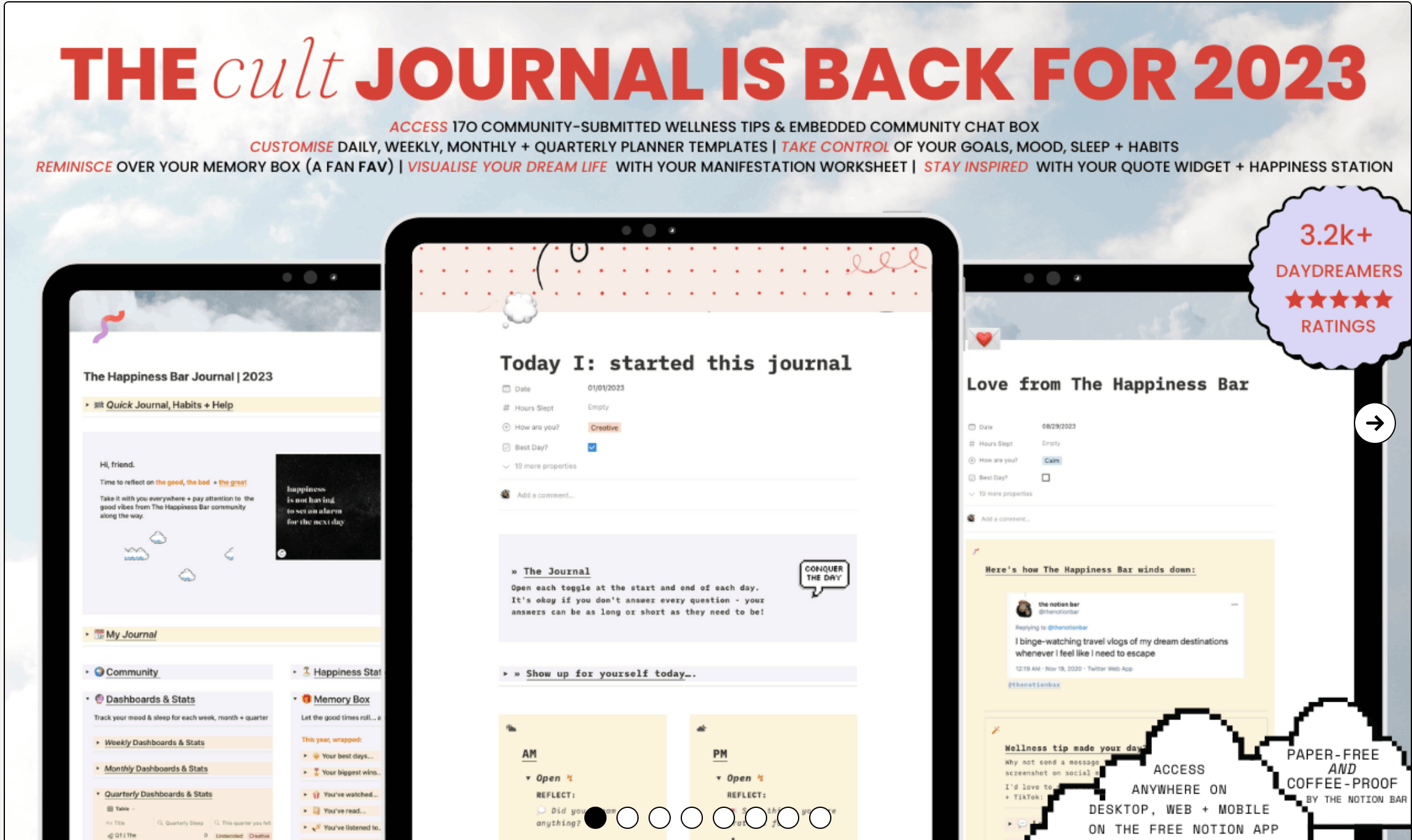 Author: Frances Odera Matthews
Updated for 2023, the cult journal with over 3,000 downloads is back for another edition this year.
Frances runs The Notion Bar and is a certified Notion consultant.
This year's edition includes a bunch of new features, including:
Beautiful & mobile-friendly design
Conveniently pre-filled dates
170 inspiring community-submitted wellness tips (submit your own for next year)
Mindful habit & task tracker/manager (Daydream and Power Journal only)
Insightful weekly, monthly & quarterly automated mood summaries (Daydream and Power Journal only)
4 x customisable & automated planner templates with pre-filled prompts, habits and tasks (Daydream and Power Journal only)
Daily Planner Notion Template
Weekly Planner Notion Template
Monthly Planner Notion Template
Quarterly Planner Notion Template
And honestly a ton more. Check it out below.
The Ultimate Goals Dashboard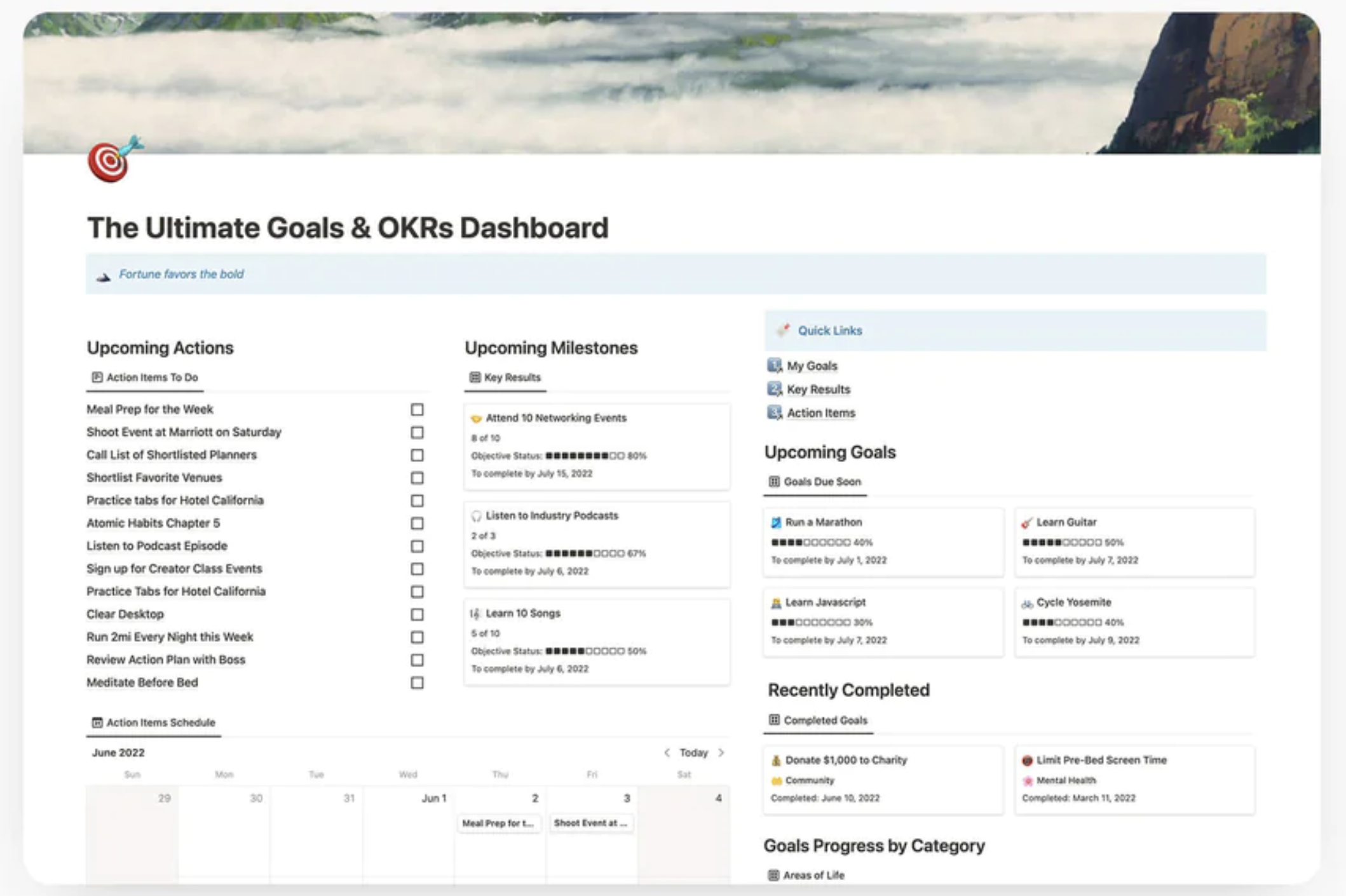 Author: Gridfiti
The Ultimate Goals & OKR Dashboard for Notion is designed to help you map out and actually achieve your goals – no matter how big or small – by breaking them up into an actionable system.
🎯 Set high level goals, by several different areas of life. Using the OKR (objectives and key results) system, there are 3 tiers to dissect your goals into manageable and tangible action items
🛠 Set specific metrics, deadlines, and to-dos per key results item, and watch yourself crush them!
📔 Each goal page includes a pre- and post-goal assessment journal worksheet inside. Using the SMART system and other built-in prompts, get more intentional with your goal setting to set yourself up for success!
The Ultimate Habit Dashboard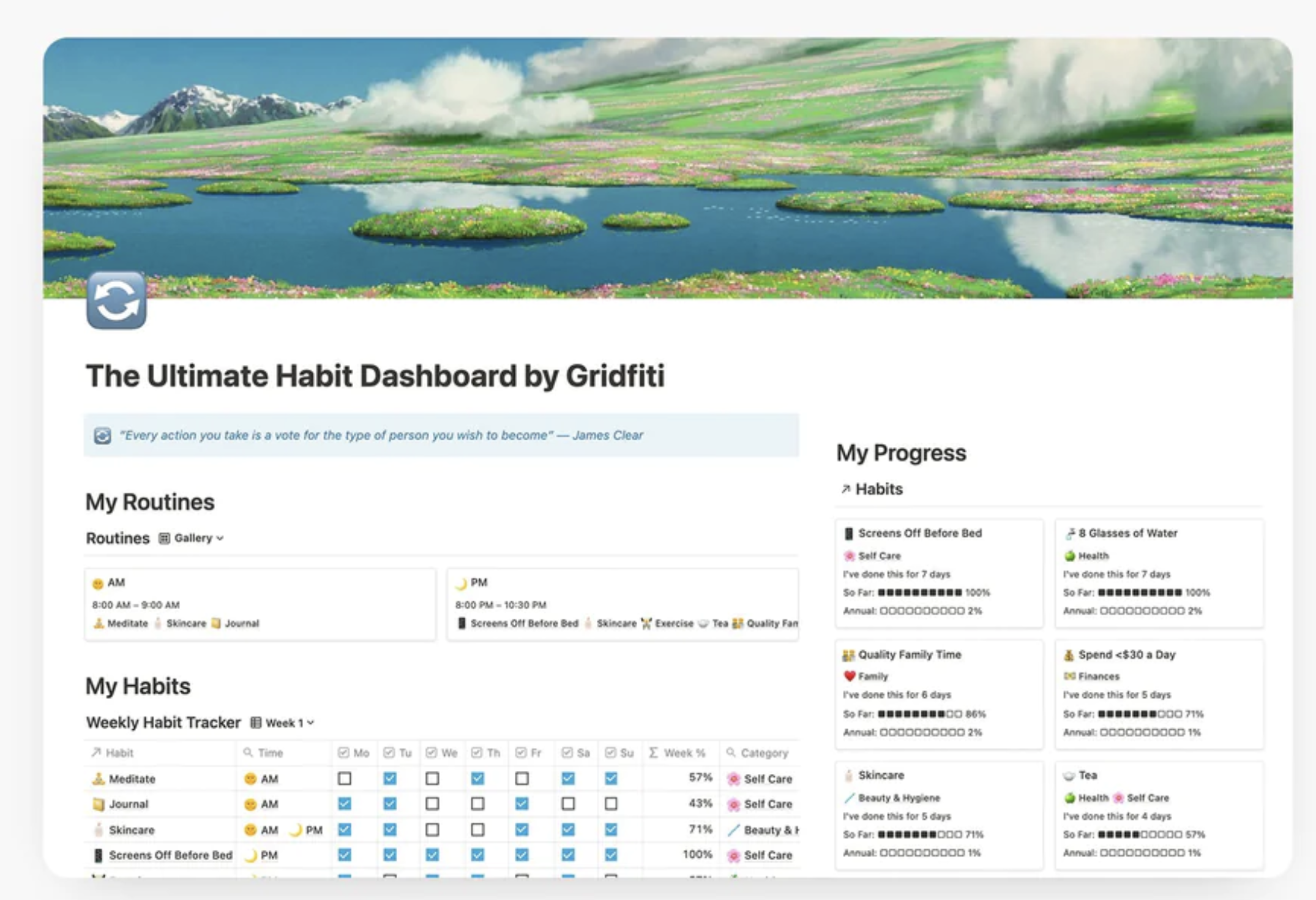 Author: Gridfiti
Create great habits and stick to them with The Ultimate Habit Tracker Dashboard for Notion!
✔️ Create, then track your habits every week with an easy-to-use checkbox system
🍎 Includes several built-in categories – from health, to self care, organization, finances, intellect, hygiene, and more
🚀 Get an overview of how you're doing by habit and by category throughout the year with progress bars – and even see how many days you've stuck to your habit so far
🌖 Set integrated AM & PM routines that connect to your habits
Life OS: The All-in-One Notion Template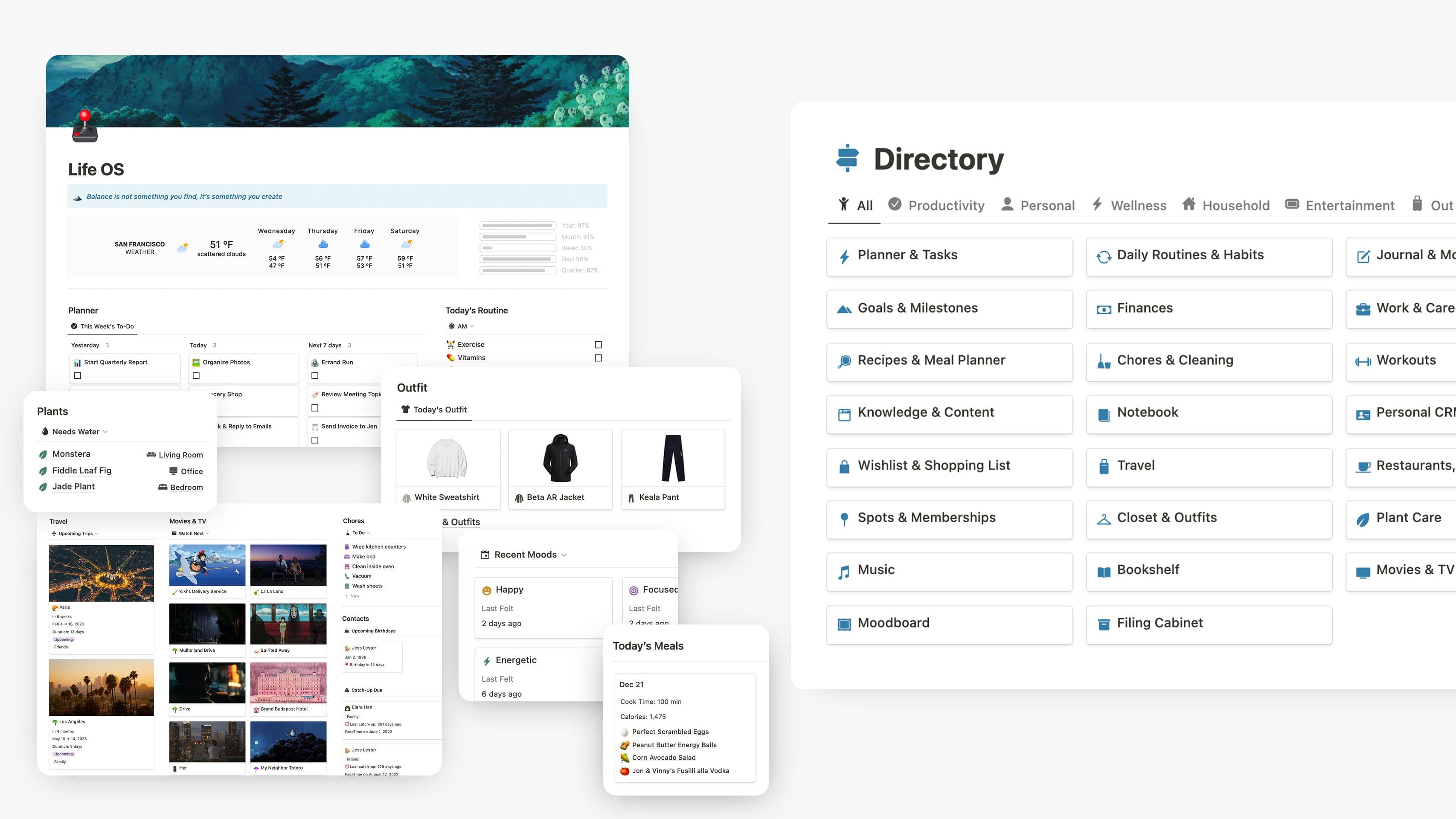 Introducing the brand new Life OS Notion template: the ultimate all-in-one planner for every aspect of your life!
With over 25+ interconnected templates included and a live and dynamic homepage dashboard – this is the only template you'll need to centralize everything in your life.
The magic of this template is that every page is integrated together.
The dynamic homepage is a live reflection of every bit of information stored elsewhere in the dashboard.
It includes sections for:
✅ Planner & To-Dos
🔄 Daily Routines & Habit Tracker
✍️ Journal & Mood Tracker
🎯 Goal-Setting
💰 Finances
💼 Work & Career
🍳 Recipes & Meal Planning
🧹 Chores & Cleaning
🏋️ Fitness
🧠 Content Queue & Knowledge Base, and much more
All their information is always updated on the homepage.
Learn more and grab the Life OS below.
Ultimate Planner Dashboard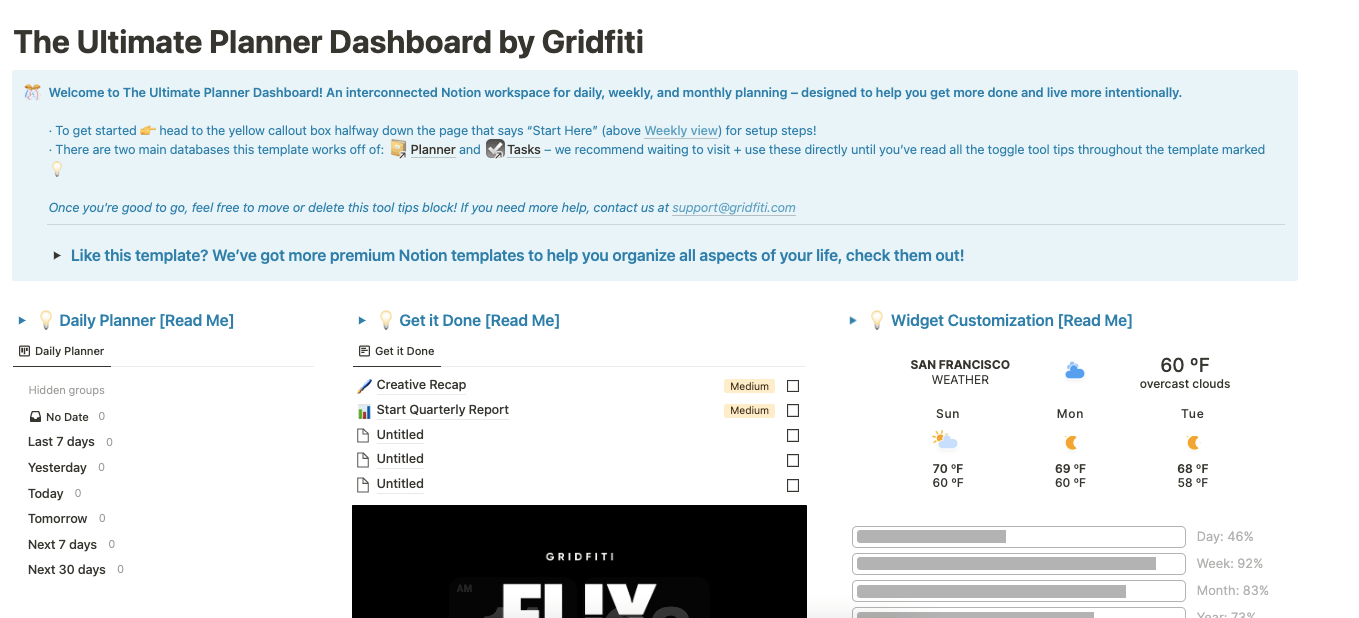 Author: Gridfiti
The Ultimate Planner Dashboard for Notion is designed to help you get more done with a fully integrated system for daily, weekly, and monthly planning.
🕹 Interconnected dashboard to get an overview of all of your daily, weekly, and monthly planning – with boards, task lists, widgets, and more
🛠 Master tasks database organized by days, priority, to-do, and more – plan your tasks by day, and even plan how long you want to spend on each task
⚡️ Productivity tracking based on hours allotted vs. hours used per task – automatically receive a rating per task and each day, and see your ratings in your daily, weekly, and monthly views!
Learn more by clicking the button below.
See Also