Notion is my favorite productivity tool of 2023 but it's not for everyone.
Notion's building block system for creating workspaces can take some time to master.
If you're still using Notion make sure to look at my free notion template library.
But if you're seriously considering Notion alternatives then here's my top picks, based on my own research as a working professional for B2B software companies.
Best Notion Alternatives
monday.com
ClickUp
Coda
Mem.ai
Slab
Microsoft Loop
Almanac
Slite
Notion Alternative for Project Management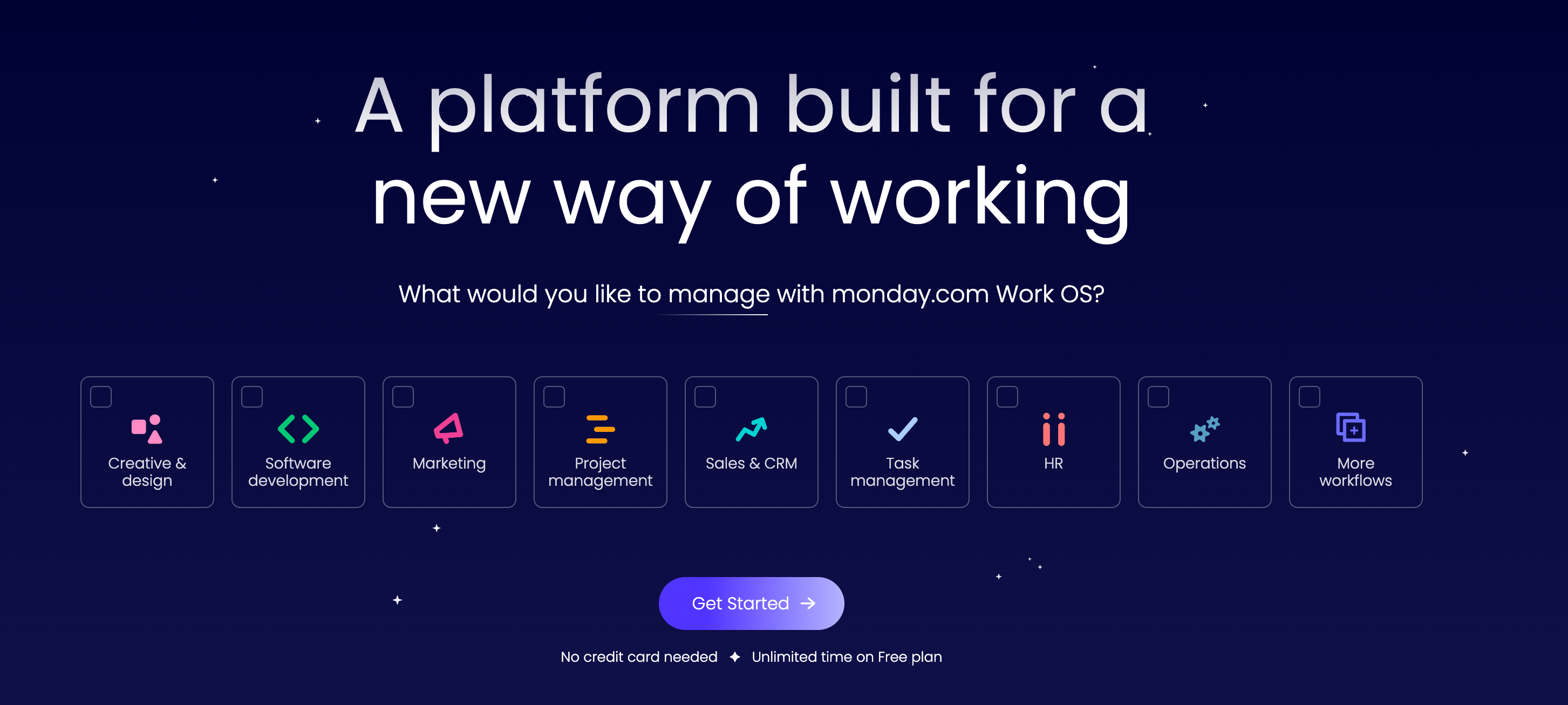 monday.com is my #1 choice for Notion alternatives that focus on project management.
Monday.com release now released a new Workdocs feature last year that tries to imitate the feel of a Notion document.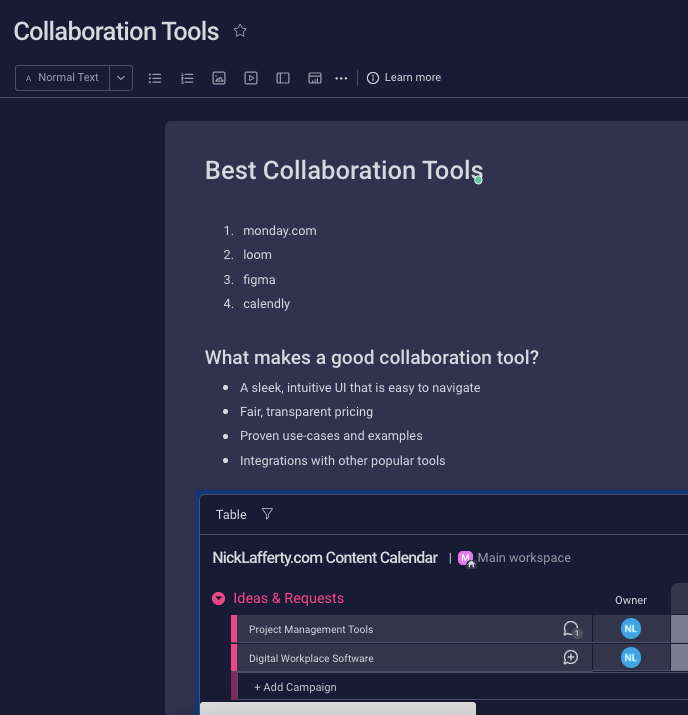 It works in a similar way to Notion's content blocks.
You can easily create a document and embed other monday.com objects within it, like tables and gantt charts.
monday.com has almost 1,000 employees, a valuation of over $2 billion, completed a successful IPO, and is used at companies like Nike, NBC, and Adobe.
You can get started with a free trial of monday.com right now.
I personally use their tool to plan out the content calendar for this blog and build out a roadmap of new features I want to add.
This blog is still something I work on as a side project so it's important for me to keep a list of what content I want to write about and what new features I want to build.
That way I can spend an hour or two at nights or on the weekends getting things done instead of wasting time on a brainstorming session instead.
If I have an idea I quickly write it down in a monday.com workdoc using the Android app on my phone.
I wrote a much longer review of monday.com that I recommend checking out if you want more details.
Notion Alternatives For Monday.com Haters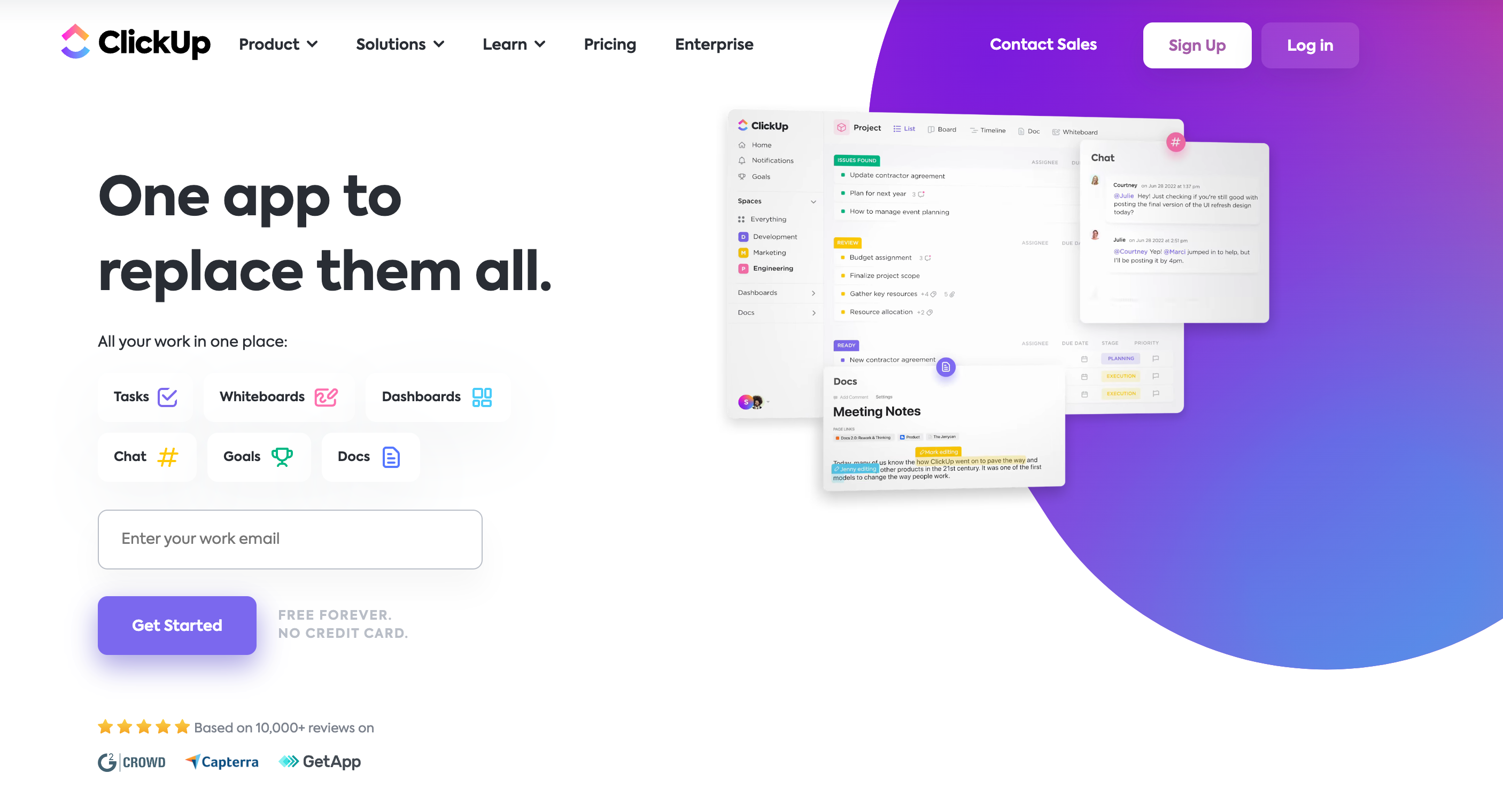 I've reviewed ClickUp before and it's a compelling Notion alternative but it has some drawbacks.
ClickUp really shines as a monday.com alternative, I wrote an entire post comparing Monday.com vs ClickUp
ClickUp's main downfall to Notion is price: it's almost double Notion's base pricing if you pay monthly.
ClickUp starts at $9/month and Notion starts at $5/month, paid monthly.
ClickUp's unlimited plan includes unlimited everything:
Unlimited Storage
Unlimited Lists, Boards, and Calendar Views
Unlimited Integrations
Unlimited Dashboards
and more
The difference between their Business and Unlimited plans is the Business plan includes single sign-on(SSO), private and protected views, the ability to add extra guests to your workspace, and all their automation features.
ClickUp does come with more features than Notion does.
They have a screen recorder tool called Clip .
They have a docs feature like Monday.com's new Workdocs feature.
They have a chat feature like Slack (why though?)
I find ClickUp tries to do too many things without doing many of them well.
But if you need a project management tool and Monday.com didn't click for your team (or you want to save money), then ClickUp seems like the right Notion alternative for you.
Notion Alternative for Company Wikis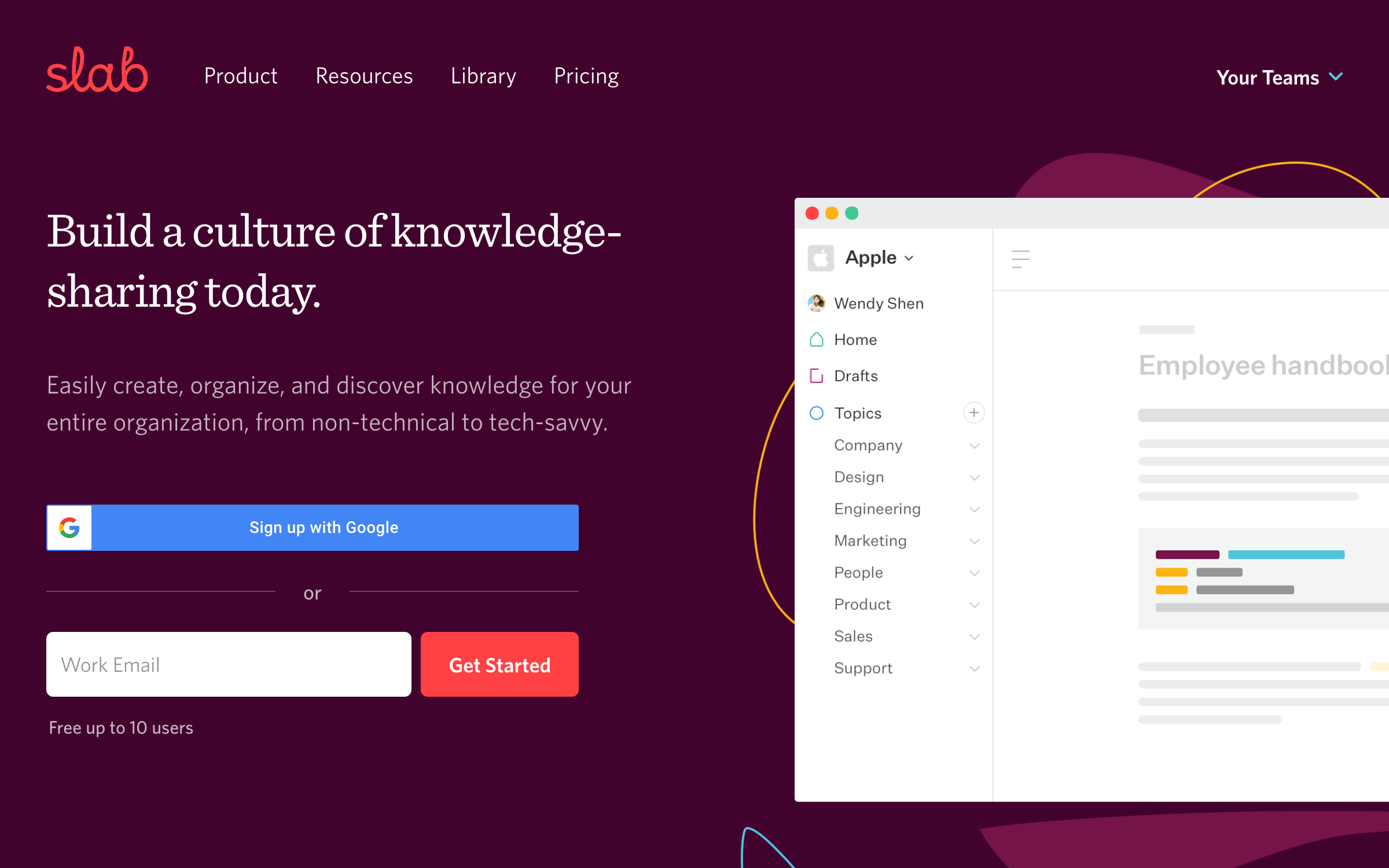 Slab is a modern wiki, purpose-built for creating, sharing, and discovering knowledge. The big differentiator between Slab and Notion (or Slite or Almanac) is the unified search. You can search all your connected tools from inside Slab.
If you've tried searching in Google Docs, Slack, or Notion you know how impossible it is to find what you're looking for. With Slab you can search all your connected tools from one place, and it finds matches in both the titles and body of your content.
Ideally, documentation for your whole team would already be in one place, and if you're moving from Confluence, Notion, or Quip you can import content into Slab, but the reality in most companies is that different teams use different tools, which is why unified search is so handy.
Slab also has post verification so everyone can trust that critical info is always up to date. You can set the frequency docs need to be verified, and the doc owner will be notified when critical info needs to be re-verified.
Slab also has one of the most generous free tiers. Slab is free without limits to the number of docs for up to 10 users. SSO is included in the free tier as is content verification, workplace analytics, and granular user permissions. These types of features are only available in paid plans for Notion and other tools.
Notion Alternative for Boomers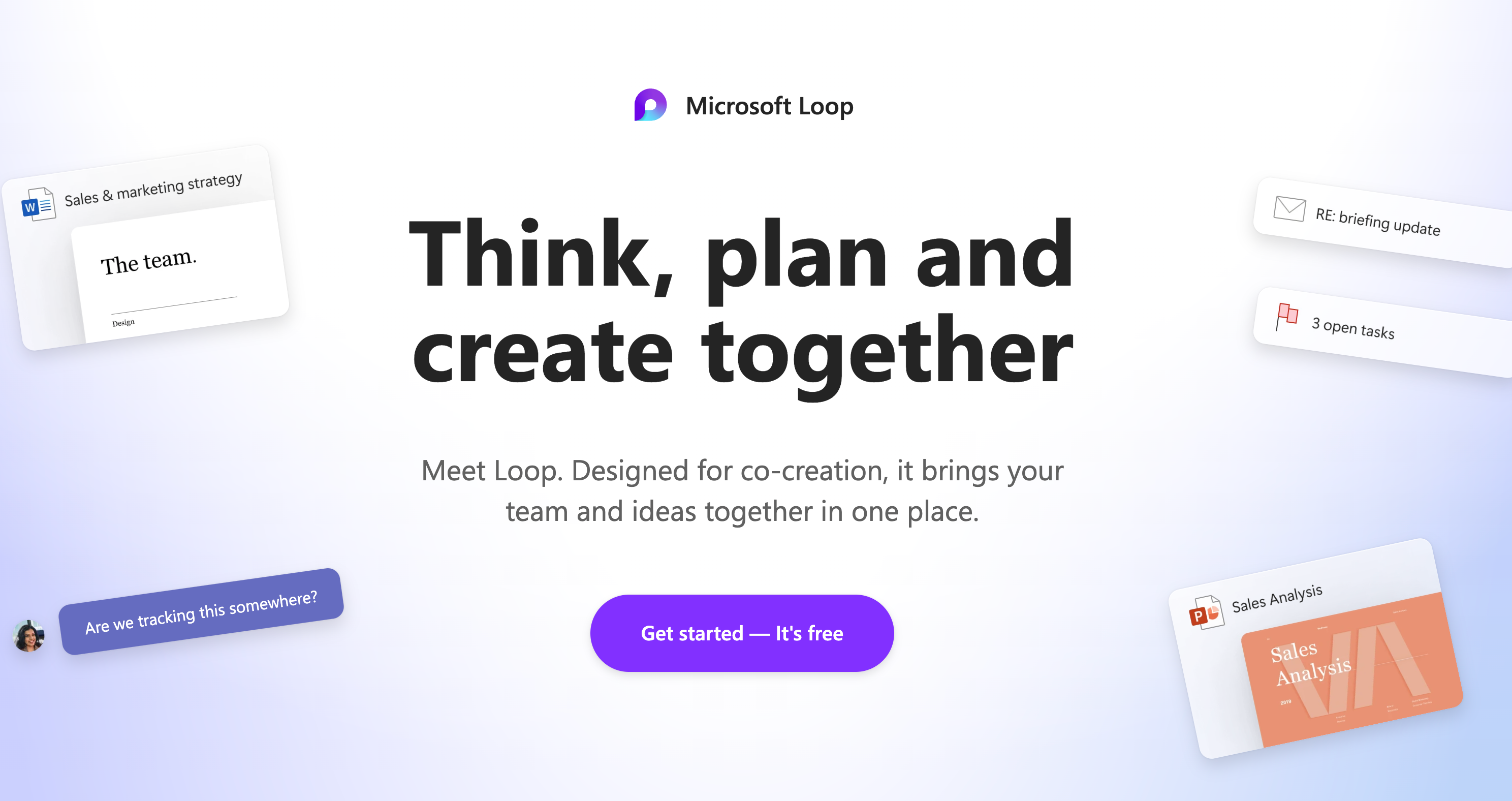 Ok that heading is pretty harsh but also objectively hilarious.
Microsoft Loop looks suspiciously like Notion.
But before we really begin, let me be honest with you.
I'm allergic to almost every Microsoft product.
I prefer Gmail to Outlook.
Mac to Windows.
Slack to Teams.
Google Docs to Office.
I have never vibed with a Microsoft product.
But for you, dear reader, I swallowed my pride and downloaded Loop to give you my honest thoughts.
I tried it so you don't have to.
Honest Thoughts

Meh.
Loop looks really good but the functionality is, perhaps unsurprisingly, not at parity with Notion yet.
In Microsoft's defense, Loop is still in public preview which means it's not fully released yet.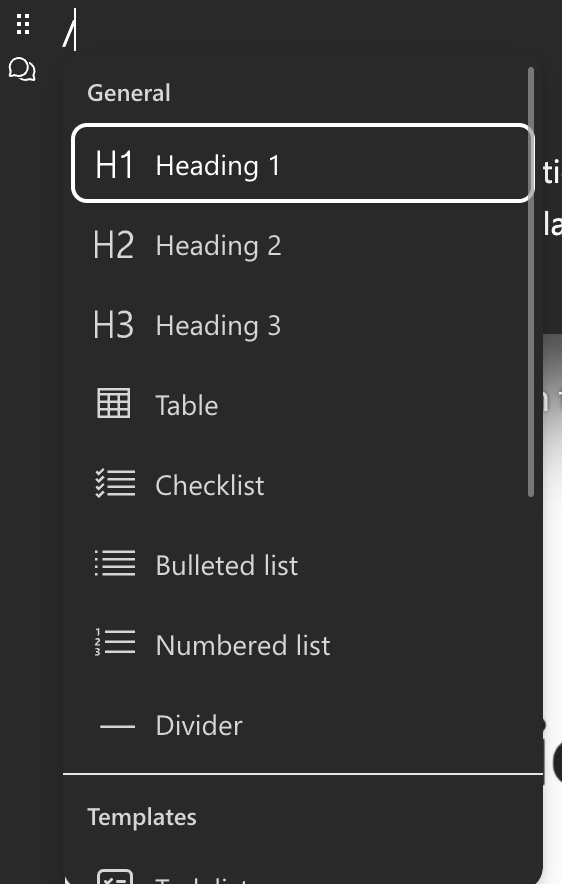 You'll find the familiar slash(/) commands to add new headings, paragraphs, and lists.
But missing is the ability to add a new page from that command.

You have to click the plus button to make a new page. Why?
I added an image to my document and resizing it was clunky. I couldn't properly grab the corner.

I created a task list and tagged myself in a bunch of them only to receive really confusing emails.

What the hell is welcome.fluid?
Why do I need an email saying I mentioned myself?
I would never use Loop unless my organization forced it on me.
Which is exactly what Microsoft has done to grow Teams to over 280 million daily active users.
Teams, and eventually Loop, gets bundled with the other tools that Microsoft sells to Enterprise companies.
Microsoft is really good at selling into the Enterprise, they've built their entire business off it.
So expect your parents to start using Loop before anyone in the Millennial generation or younger does.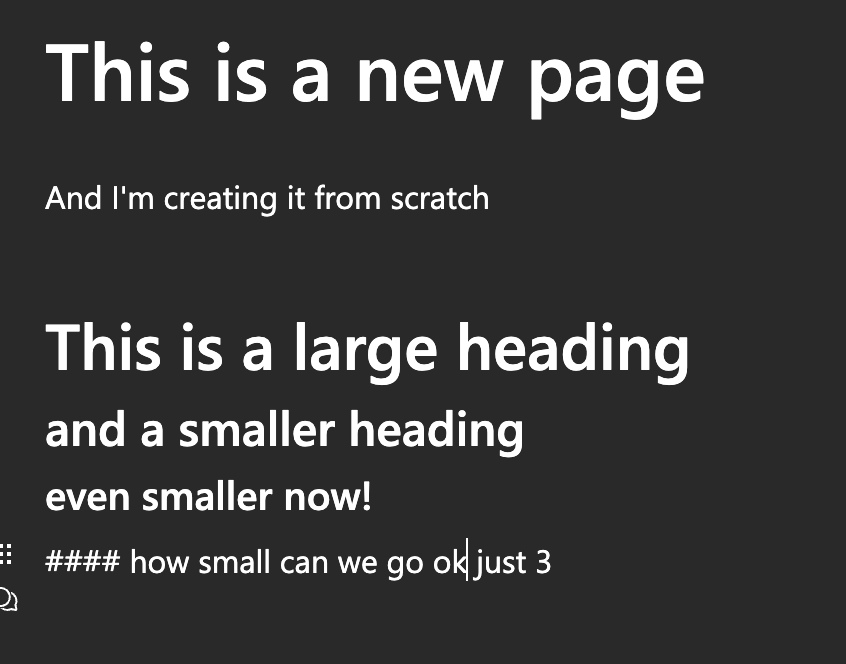 But at least you can make headings with the familiar # forma, until you want to make an H4.
Notion Alternative for Remote Companies
Let me walk you through my experience using Notion at a 200+ person start-up to help you understand some of Slite's benefits.
This start-up used Notion for everything. The founders were big on writing and sharing their thoughts on paper, so to speak.
That culture spread to the rest of the company too. I worked there for almost 2 years and created probably 100 different Notion documents.
If every employee currently working there also averages 100 documents, that's at least 20,000 Notion pages (not counting employees that have left).
Over time their workspace was huge.
And Notion's search feature isn't great in large workspaces like that.
It was impossible to find the document you needed.
And instead of editing an existing document, most people would create a brand new one.
Slite solves this problem by making company Wikis actual living documents that edit and change over time.
They also have a discussions feature aimed at driving to consensus on big decisions, documenting the decision, and then letting the team go execute.
It's a perfect setup for remote and asynchronous teams that can't schedule live meetings due to time zone differences.
Slite sums up their differences to Notion in this nice graphic.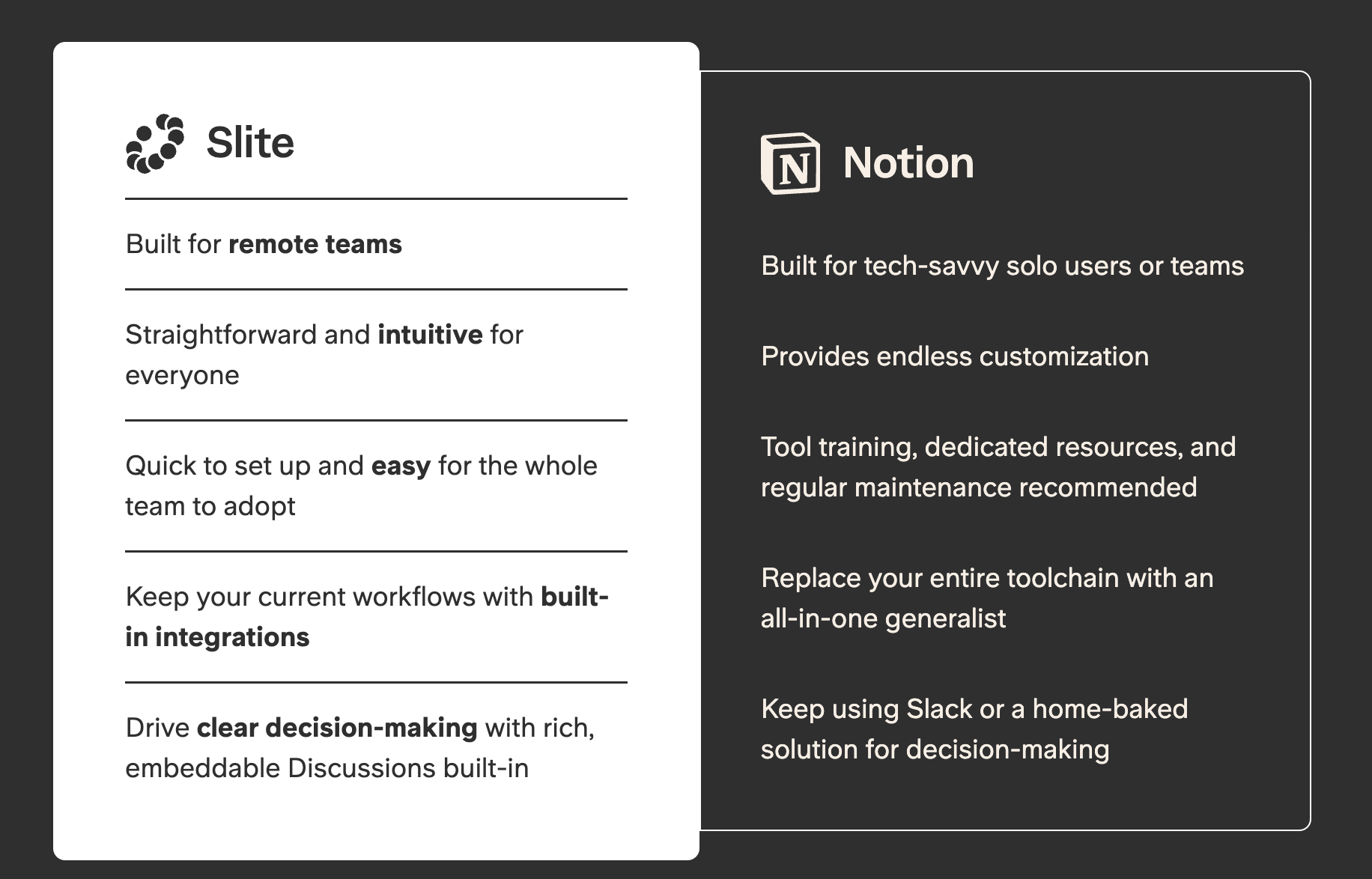 If you're a remote company looking for a Notion alternative, Slite is a great option.
Notion Alternatives for Task Management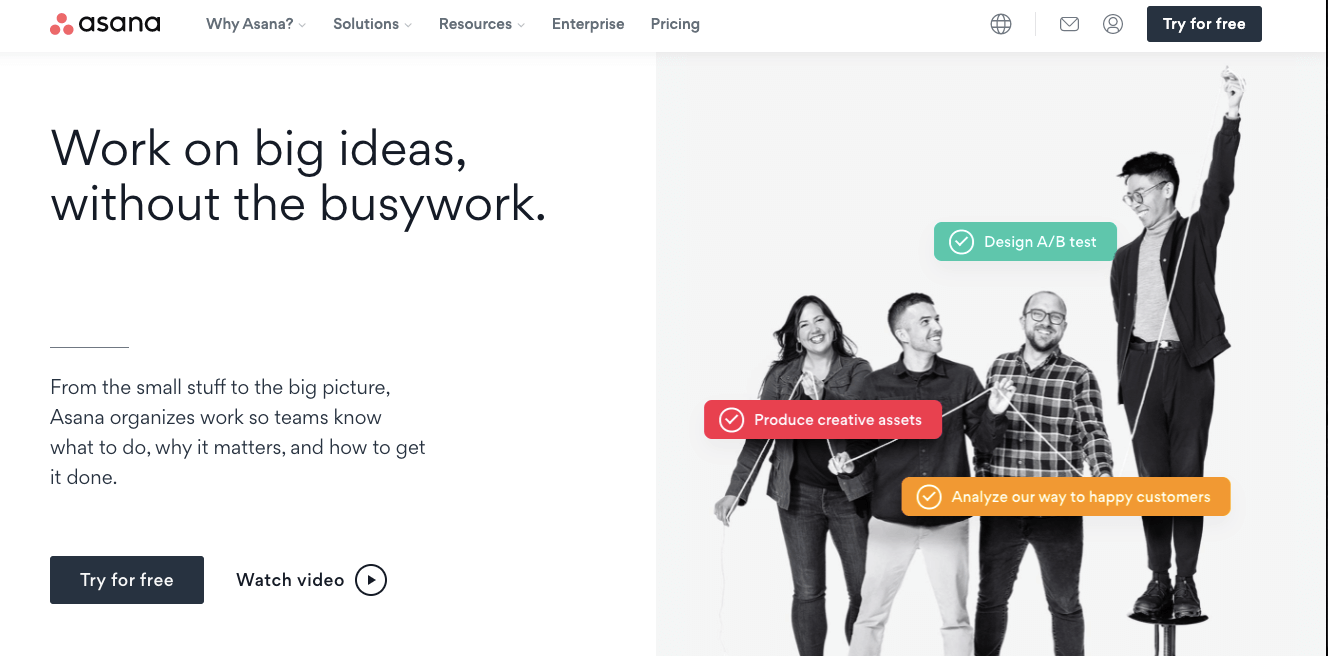 The teams I've seen be successful with Asana are either Content or Design teams coordinating projects internally across full-time employees and externally with freelancers.
Always a combination of both internal and external folks.
The head of content marketing at Mailgun is an Asana wizard and she manages the content calendar for three brands inside of it.
Mailgun;s visual designer also uses Asana to track new design requests.
Loom's design operations team also used Asana to keep brand design requests on track, including stakeholder requests from Marketing, Product, and Engineering.
Asana is much better at this than Notion in my experience.
Asana also came to market before Notion, although Notion was clearly inspired by some of Asana's features.
You can easily import Asana data into Notion, along with Evernote, Google Docs, Trello, and a few other places.
Asana does one thing really well. And if that's the one thing you need then Asana might be the best choice for you.
So if you're a Notion user looking for a project management tracker then Asana is the way to go.
Asana's plans start at $10.99/month and their basic plan is enough to get started with for most people.
Notion Alternative for Workspace Documentation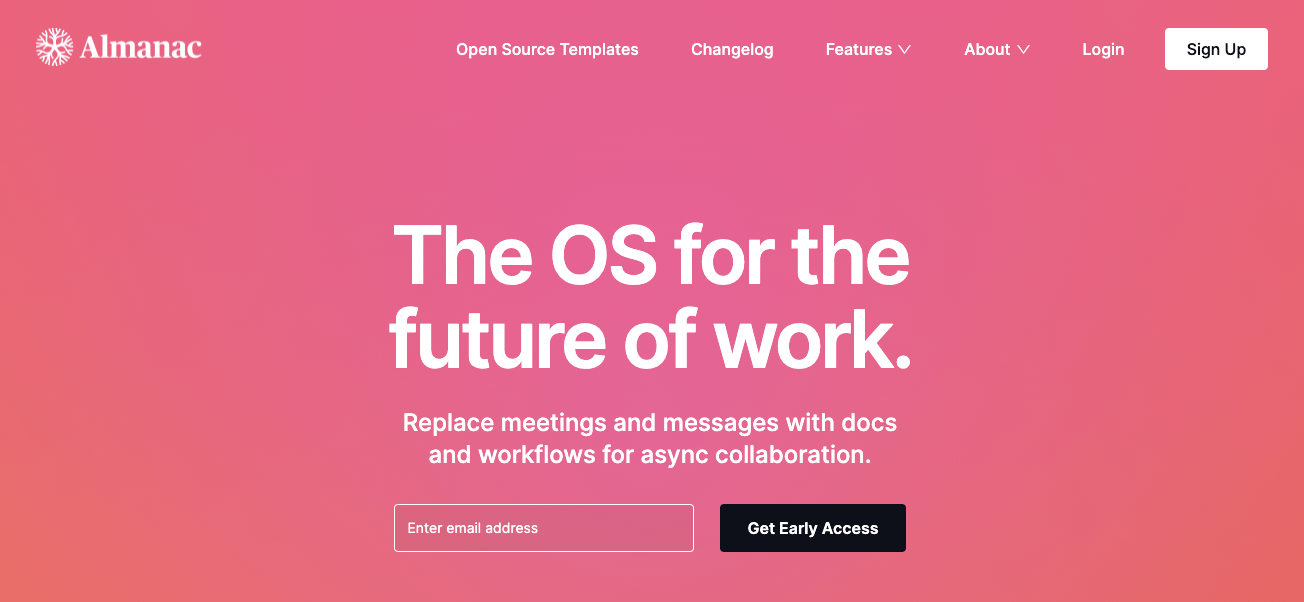 I learned about Alamanac recently and it's a really powerful alternative to Notion, specifically for creating and maintaining workplace documentation.
They're a 30 person company based out of San Francisco that has raised $11 million in seed funding. Compared to Notion's $2+ billion valuation as of April 2020, Almanac is much smaller in comparison.
But bigger is not always better. Take a look at Almanac's app.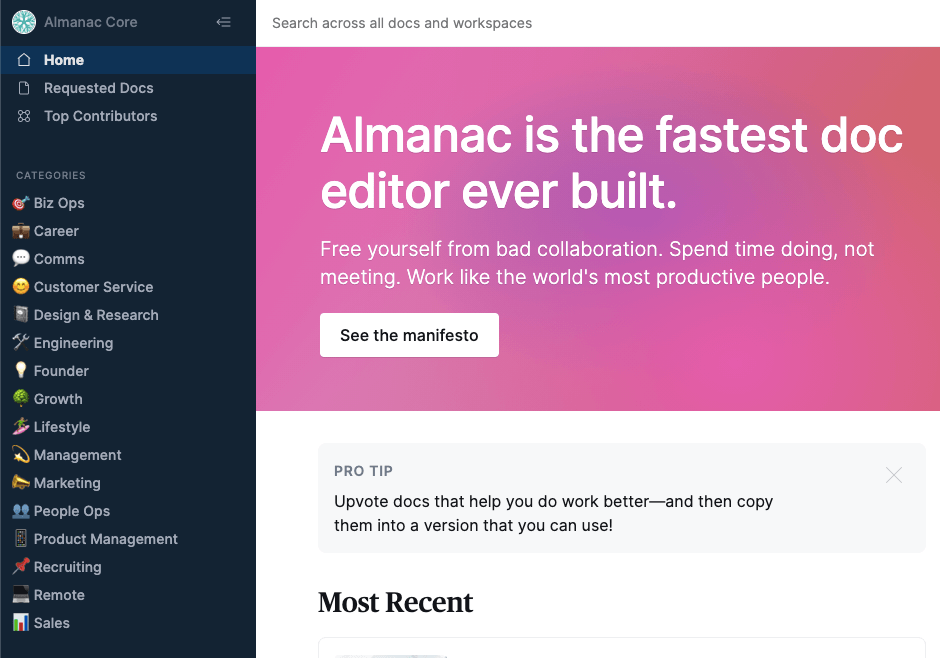 Almanac is designed strictly to create and share workplace documentation. I've personally used Confluence to create documentation for my team at work and it's never been a great experience.
Almanac feels like a hybrid of Confluence and Github. At the top of every Almanac doc is a way to upvote it (kind of like Github stars) and to make a copy (like forking a Github repo).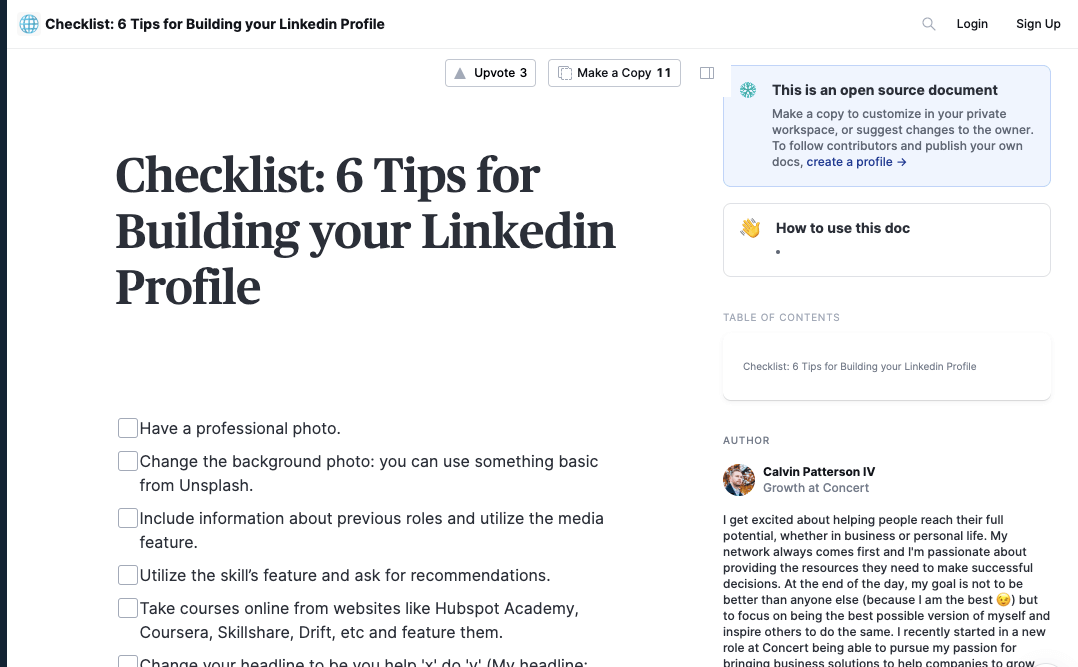 I plan on doing a more thorough review of Almanac soon and I'll make sure to update this space with a link.
Notion Alternative For Better Integrations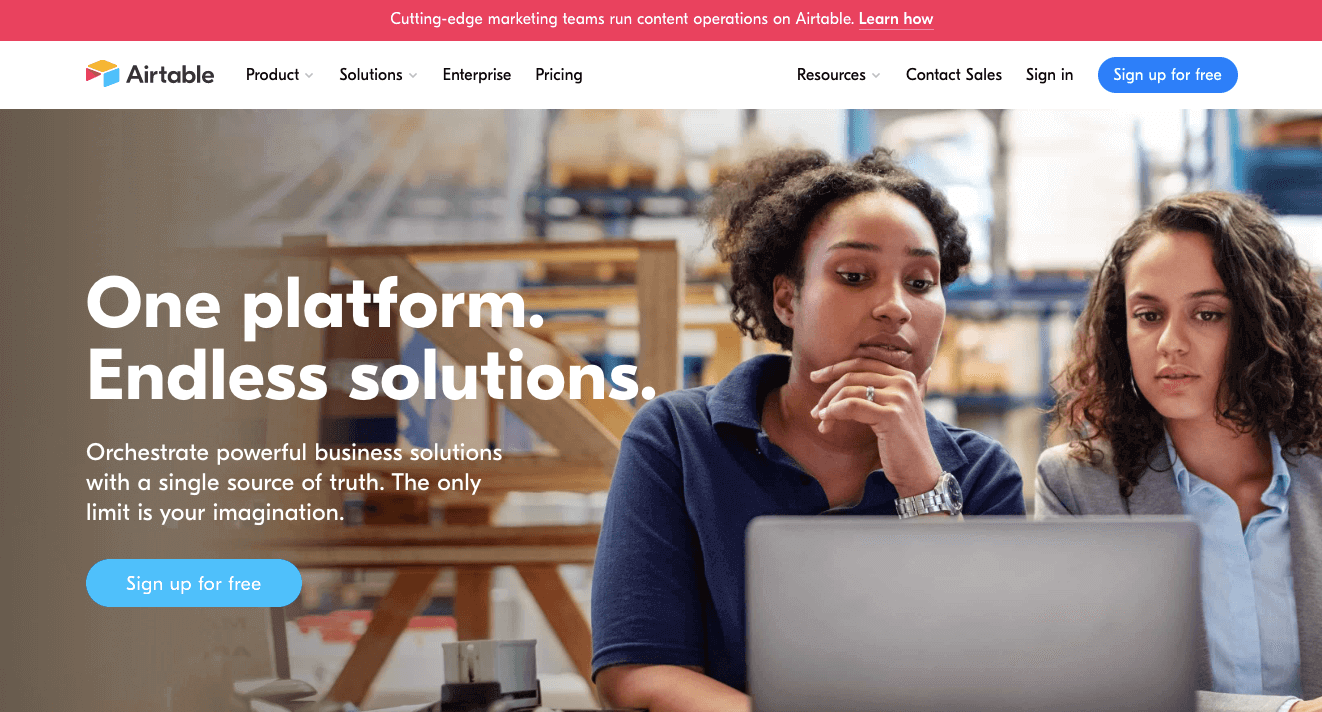 Airtable shines if you need to integrate it with other tools.
It's a flexible database system that you can hook into other APIs to do insane things like build a Programmatic SEO hub in Webflow.
I've also seen Airtable used for application forms on websites, like this example for Southpark Commons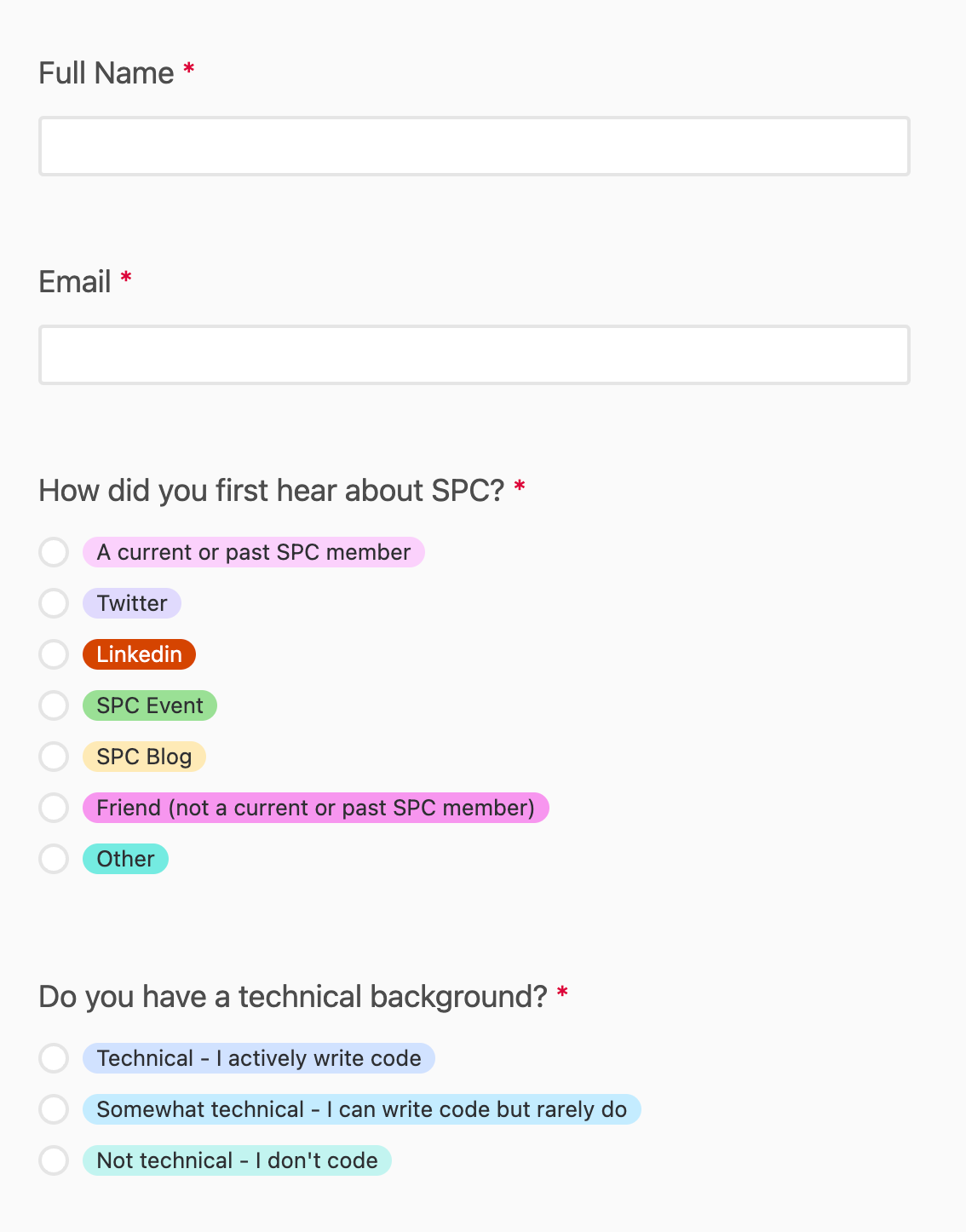 I cover Notion vs Airtable extensively in another article, but there are some key differences I'll highlight here.
A key difference between Airtable and Notion is their color palette.
Notion's is black and white while Airtable embraces color everywhere.
This follows through to their applications too: Notion's app is clean, almost sparse, minimal, and provides only what you need to get something done.
Airtable is like if the spreadsheet was designed in 2010, it's a connected databse with links, embeddable images, and multiple views of a single dataset.
All of that data combined in a colorful presentation can be honestly overwhelming to someusers.
Every time I've tried to learn Airtable I found it's learning curve to be much higher than Notion.
But if you need a flexible database to power other applications or integrations, Airtable is a perfect Notion alternative for that.
Conclusion
The best Notion alternative for project management is monday.com.
The best alternative for remote teams is Slite.
The best alternative for more experienced workers is Microsoft Loop.
The best Notion alternative for you is the one that solves the problem you care most about.
There's a ton of options out there but Monday.com has the most similar feature set to Notion and almost anything you can do in Notion you can also do in monday, especially after the launch of Workdocs.
And if you want a better alternative to Confluence for business documentation, I'd recommend Almanac .
See Also