Creating a second brain is a concept coined by researcher Tiago Forte.
It's a note-taking method that helps organize your digital life.
We all have so much information and content to keep track of between our personal and working lives.
Documents, videos, articles, websites, podcasts. It's ovewhelming.
To make the best use of that information we need to package it together for our future selves to use.
Building a Second Brain is a way to do that.
This list organizes my favorite second brain templates for Notion, by creators like Easlo, Thomas Frank, and many others.
This page is one of my many Notion posts, here are a few others:
Notion Second Brain Templates
Ultimate Second Brain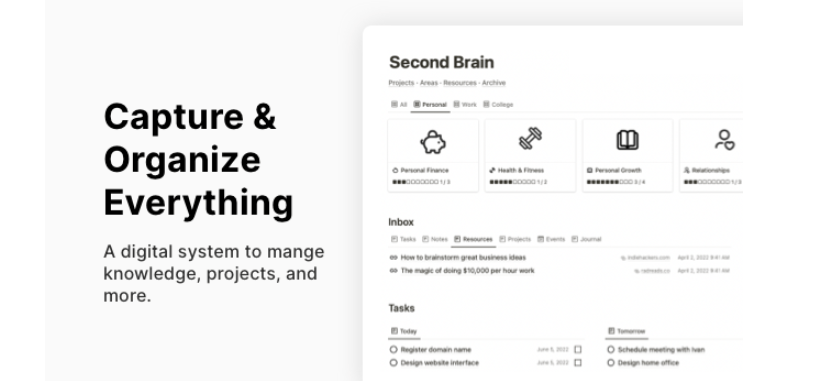 Author: Easlo
Capture and Organize Everything in Notion
All-in-one productivity system to capture and organize your knowledge, projects, tasks, goals, and more.
What's included?
All-in-one dashboard
PARA system: Projects, Areas, Resources, Archive
Weekly review
Additional components for habit tracking, goal tracking, and journaling
Tutorials and examples
Lifetime access
Access to private support community
The Super Life (Ultimate Life Planner)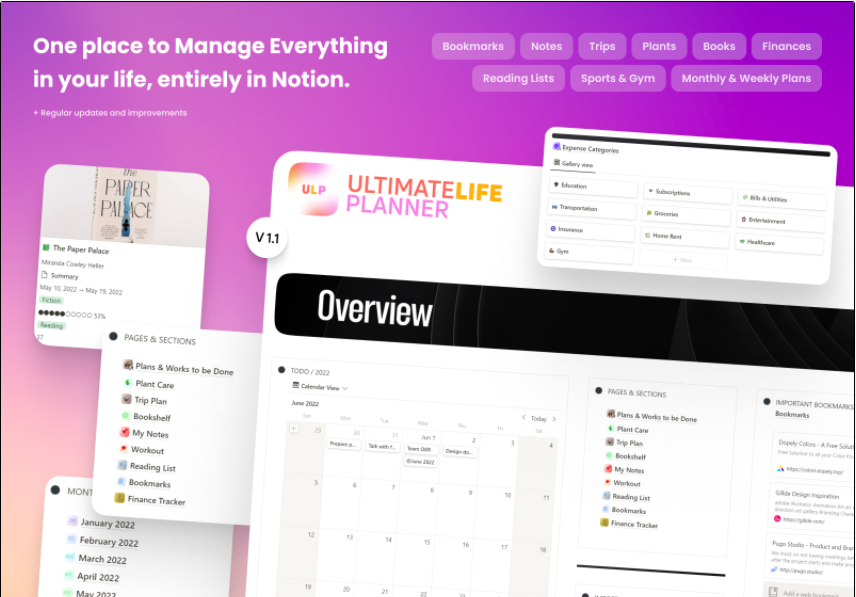 The Super Life (Ultimate Life Planner) is one place to manage everything in your life entirely in Notion.
It brings tasks, notes, plans, health, plant care, travel plans, finance, and more together in your favorite tool.
Here's a snapshot of what it covers:
Dashboard
Monthly planner
Personal & work daily planners
Bookmarks
Bookshelf & reading list
Workout
Plant care
Trip planner
Ultimate Brain by Thomas Frank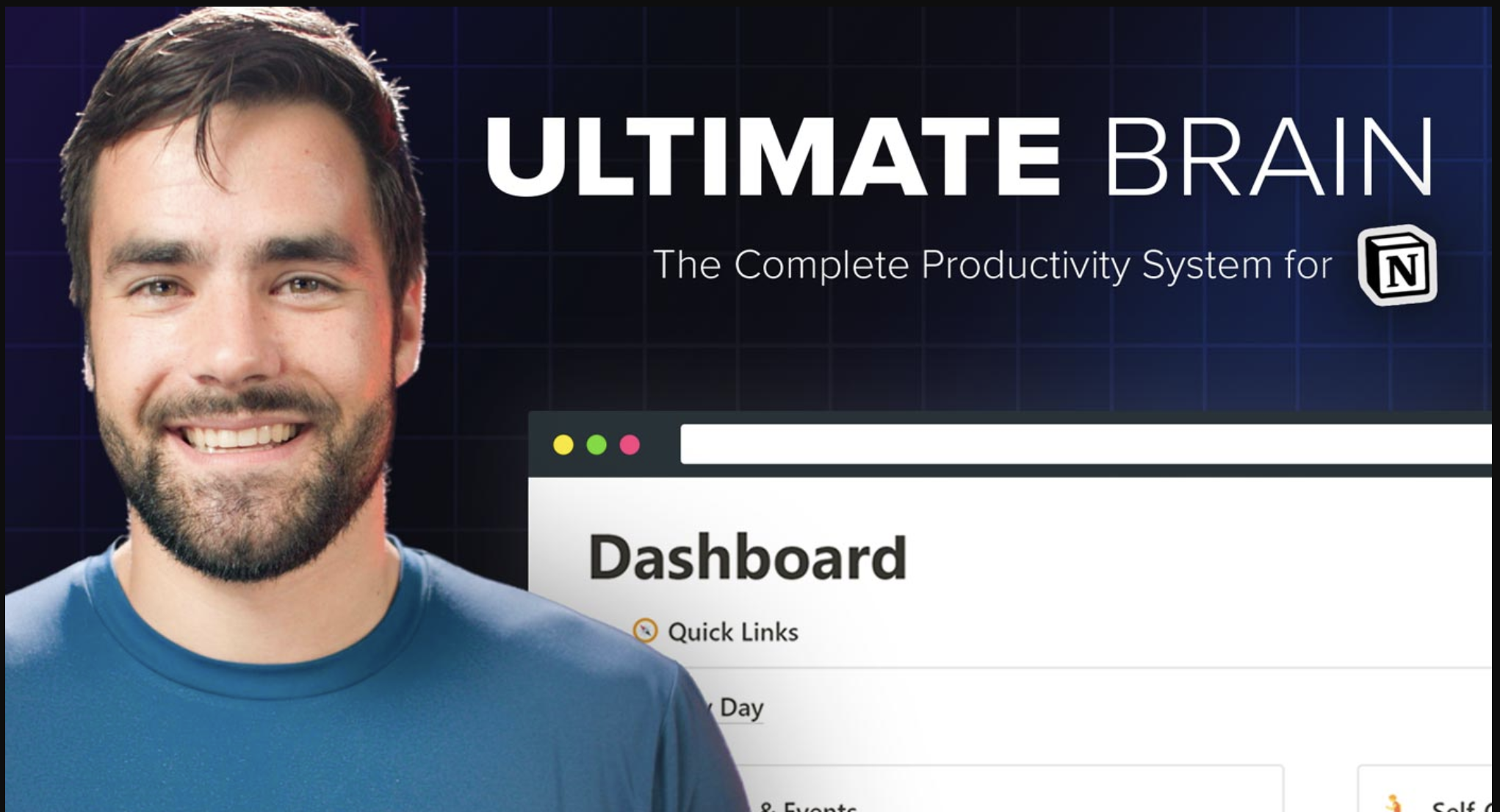 Author: Thomas Frank
The ultimate productivity system and second brain for Notion.
Ultimate Brain seamlessly combines tasks, projects, notes, and goals - turning Notion into your all-in-one task manager, note-taker, and planner.
Inside, you'll find advanced features like:
A My Day dashboard for perfectly planning out your day
A Quick Capture dashboard for quickly capturing notes and tasks, then getting on with your day
GTD-style task capture and processing
PARA-style organization (Projects, Areas, Resources, Archives) for tasks, projects, and notes. Ultimate Brain turns Notion into the perfect tool choice for Tiago Forte's Building a Second Brain course.
Recurring tasks (includes a tutorial on how to automate them for free)
Advanced archive features to help keep bloat at bay (like Cold Tasks, Snoozed Tasks, and a Someday list)
Ultimate Brain has gone through extensive testing and design in order to be optimized for all devices and screen sizes, unlike many other templates which are only designed for large computer screens.
This template also comes with extensive tutorials along with free lifetime access to a support community on Circle where you can ask questions!
Second Mind for Notion + Free Onboarding Call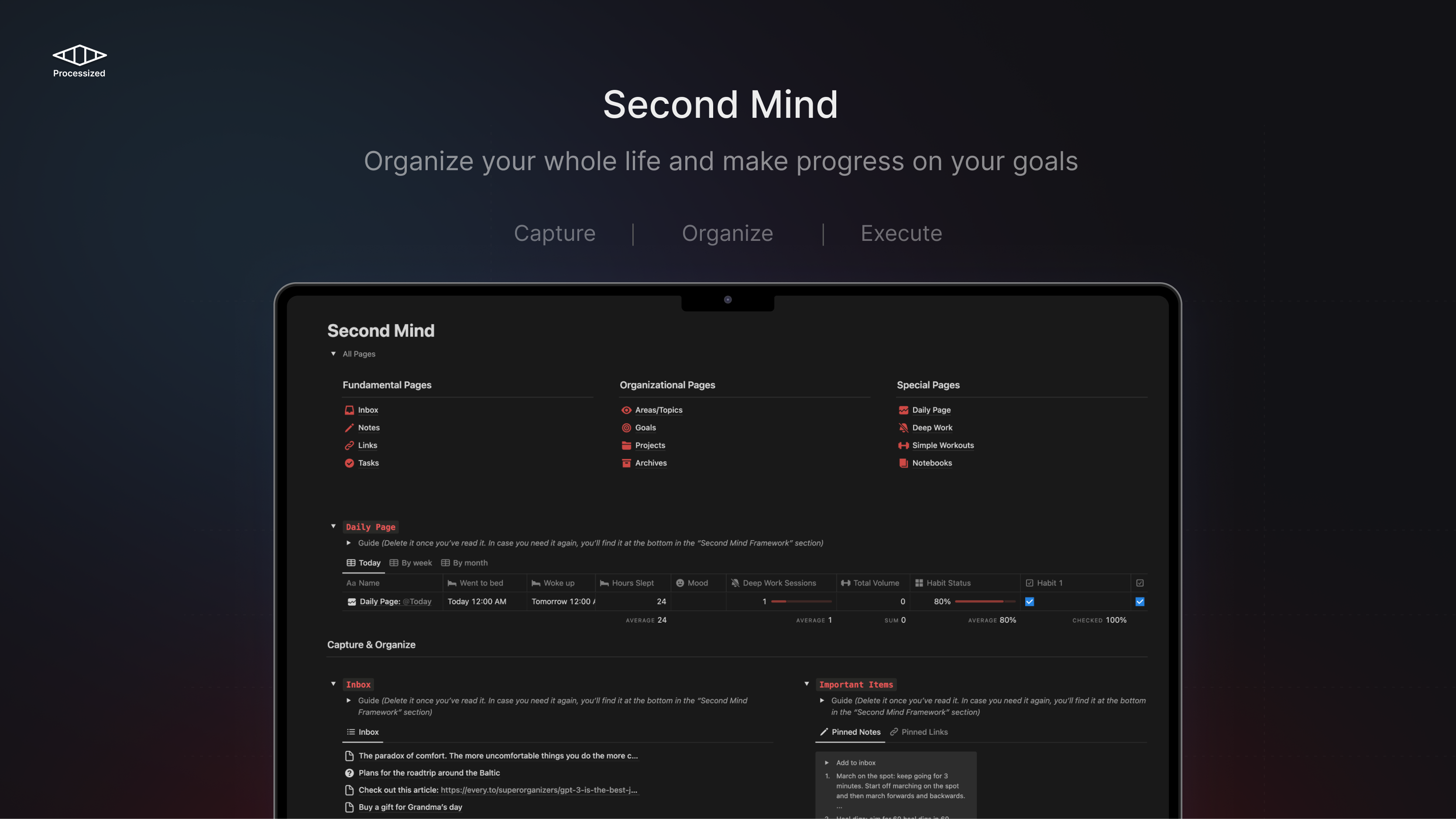 Slay information overload and transform your knowledge into results with the best knowledge management system for digital workers, creatives & entrepreneurs: The Notion Second Mind
Capture what matters, instantly
Second Mind is a trusted place for your resources:
Inbox: your notes, links, and tasks integrated with Notion Quick Capture and shortcuts to make capturing as seamless as possible. Capture and get on with your day.
Organize your resources for future use and never forget anything
The information you gather is only useful if you can find it in the future.
Second Mind helps you organize your resources:
PARA: Tiago Forte's knowledge management system (Projects, Areas, Resources, Archives) tweaked for actionability.
Pulled resources: In each Project, you can add relevant resources from different Areas or Topics to help you execute.
Build an idea goldmine that grows together with you
Your resources are useless when they're idly laying in your second brain.
Second Mind offers tools to help you process your resources for more clarity, focus, and creativity:
Quick daily review: A 5-minute process to keep your second mind tidy, find connections, and keep you up to date with your daily work.
Weekly review: A weekly ritual to review your resources and project results, plan your week, and find new connections and ideas. Progressive summarization : Tiago Forte's distilling method for making your resources more concrete and actionable for future use.
Start using it as soon as you download it
Say goodbye to hours-long tutorials and courses.
Second Mind offers a seamless way to start using it as soon as you download it.
1-minute guides: Under each page, you'll find a short instruction on how to use it most effectively.
15 min onboarding: A quick onboarding designed to help you get the most out of the second mind template.
(Bonus) Free onboarding call: Hop on a 30 min call with me to answer all of your questions and help you tailor the template to your needs.
Startup OS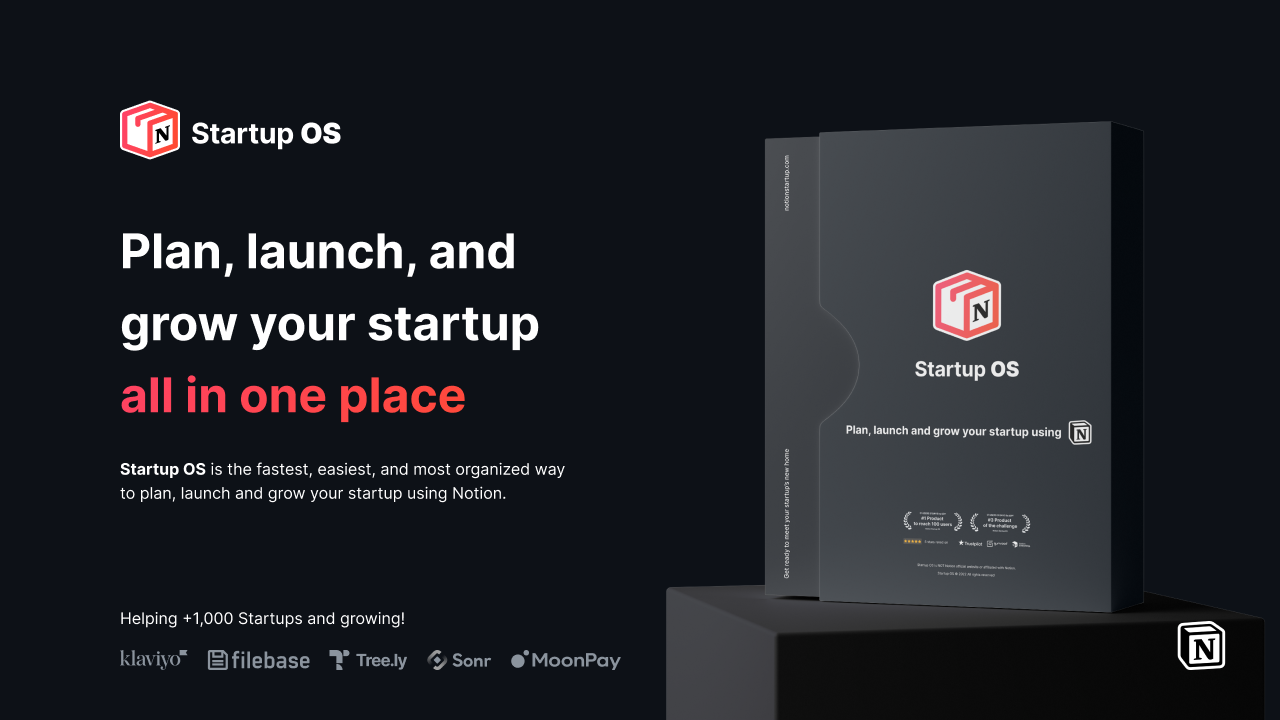 Plan, launch, and grow your startup all in one place!
Startup OS is the fastest, easiest, and most organized way to plan, launch and grow your startup using Notion.
The Startup OS has +60 ready-to-use and easy-to-customize templates including:
✅ Company Dashboard
✅ Business Model Canvas
✅ Value Proposition Canvas
✅ Company OKRs ➕ +56 Other Templates
A process-based approach to growing your startup.
Get the Startup OS today.
Notion Enterprise OS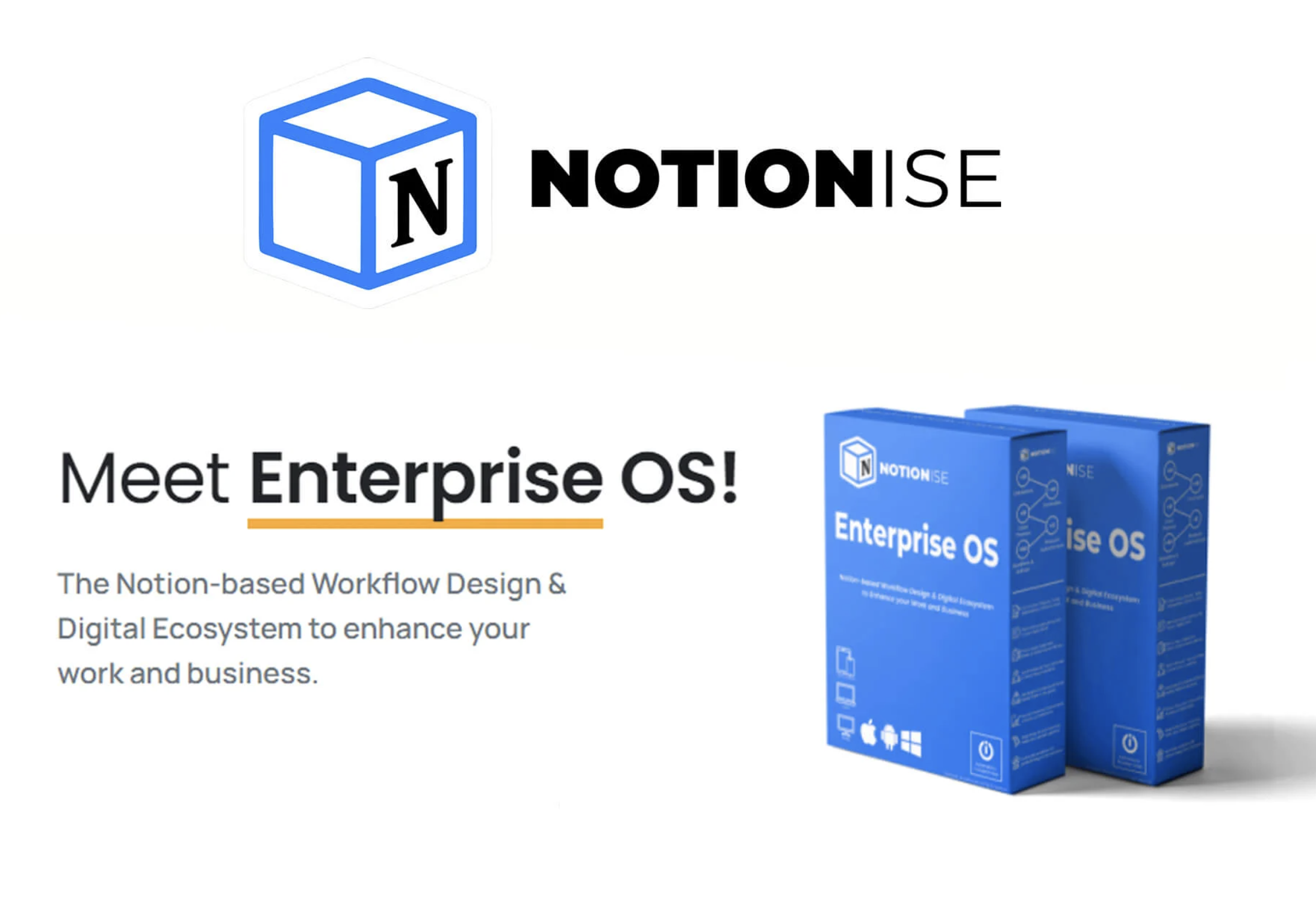 👉 Enterprise OS is an all-inclusive Notion-based company management system, guaranteed to streamline your business and save hours daily!
It includes:
Main Hub
Task Dashboard: Based on business best practices & leading productivity frameworks.
Project Roadmap: Stay on top of all parallel projects. Juggle deadlines like a pro.
📃 Plans
OKR Planning Hub: Align all day-to-day activities with your goals & always stay focused.
Social Media Scheduler: Schedule & automate all social media with this API powered tool.
🏦 Company Wiki
Company Profile: Stand out in competition with your brand's professional introduction.
Company Culture Map: Encourage better creativity, engagement, & collaboration.
📢 Marketing & Strategy
Competitor Analysis Dashboard: Keep track of the competition & always stay two steps ahead.
Canvases & Pitch Decks: Meet investors and secure funding with professional presentations.
💰 Financials
Financial Statements: Consolidate accounts & generate financial statements with ease.
Invoices: Pull transaction data & produce professional invoices in seconds.
🎁 Bonus Content:
Automation Downloads: Consolidate accounts & generate financial statements with ease.
The Enterprise OS has everything you need to run your business.
Try it today.
See Also