Best Notion Second Brain Templates
This list organizes my favorite second brain templates for Notion, by creators like Easlo, Thomas Frank, and many others.
This page is one of my many Notion posts, here are a few others:
Don't know what a second brain is or why you would want one?
Read on to learn more.
What is a second brain?
Creating a second brain is a concept coined by researcher Tiago Forte.
It's a note-taking method that helps organize your digital life.
We all have so much information and content to keep track of between our personal and working lives.
Documents, videos, articles, websites, podcasts. It's overwhelming.
To make the best use of that information we need to package it together for our future selves to use.
Building a Second Brain is a way to do that.
Here's the Google Trend data for Second Brain searches in the United States

You can see interest spiking around 2022.
How to pick the right Second Brain system for you
I'll be honest with you, 'Second Brains' are really hot right now in the Notion world.
People are building them because they're selling well.
But there's a few template builders that rise above the rest.
I'll help you pick the best one.
My Testing Methodology
I've tested all of the templates on this page.
I've been using Notion for the last 3 years, both to run this website and my blog calendar and at my day job doing growth marketing for start-ups.
I've been reviewing Notion templates and writing about them on my blog for the last three years too.
I now run a podcast called Template Titans that talks with Notion template creators to unpack their secrets.
Here's how I tested these templates
Authority: How authoritative is the author on this topic?
Experience: How much research did the template creator put into the Second Brain system?
Novelty: Are they putting a new spin on this idea?
There are two creators that rise above the rest:
Thomas Frank: Youtuber and Productivity System Builder
Easlo: The most successful Notion template creator
If you're looking for a Second Brain system, the templates by those two creators are who you should look at first.
But due to their authority and experience, those are also the two most expensive Second Brain systems on this list.
Notion Second Brain Templates
Ultimate Brain by Thomas Frank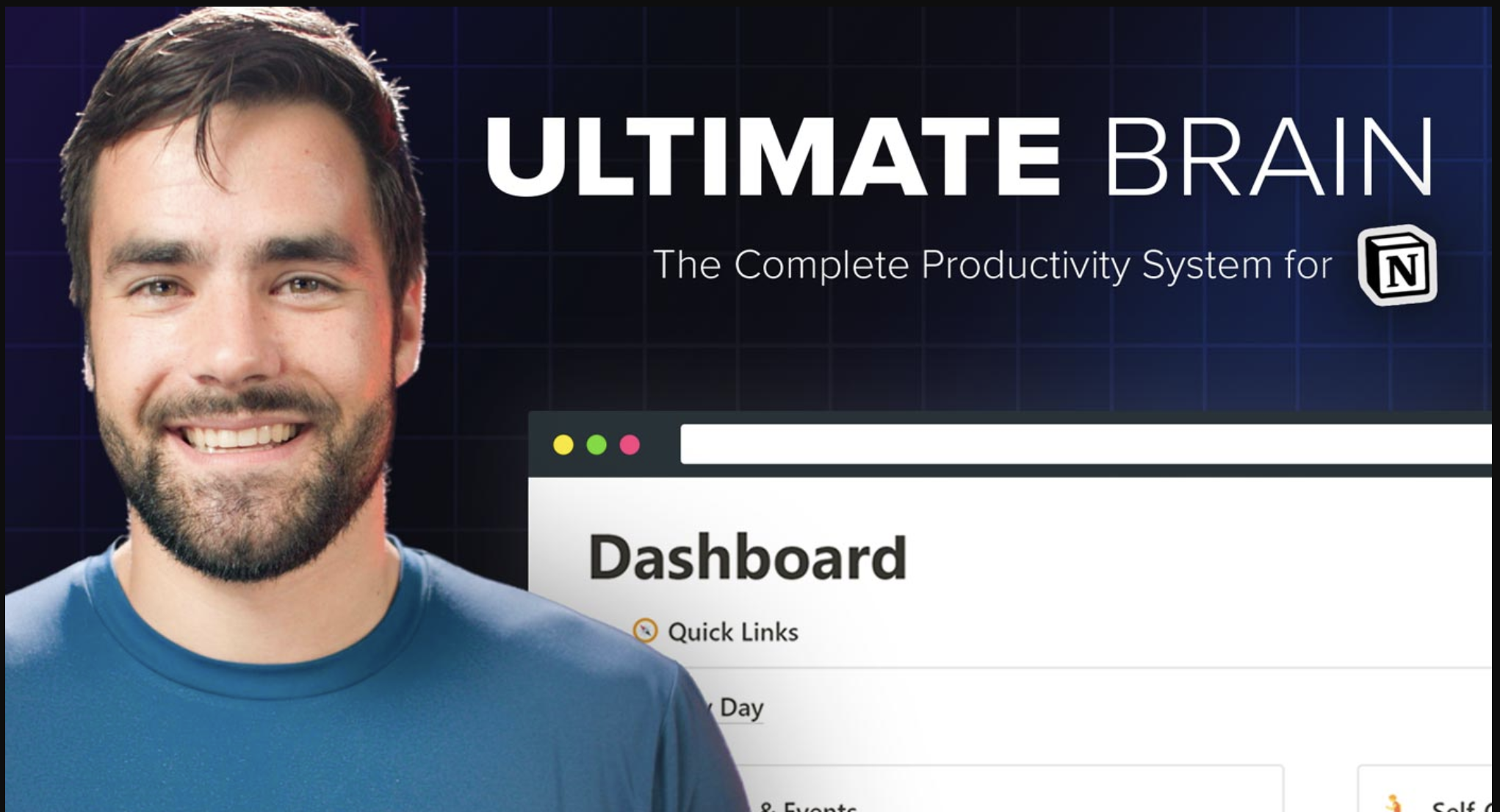 Author: Thomas Frank
Authority: A
Experience: A
Novelty: A
Thomas Frank gets top scores for one reason: He's interviewed Tiago Forte, the creator of this system.
You can watch the interview here:
He also gets top marks for experience because he runs a website with Notion tips and how-to guides.
Thomas really knows his stuff and it comes through.
His Ultimate Brain combines tasks, projects, notes, and goals - turning Notion into your all-in-one task manager, note-taker, and planner.
Here's a sneak peak of what you get in his Second Brain template:
A My Day dashboard for perfectly planning out your day
A Quick Capture dashboard for quickly capturing notes and tasks, then getting on with your day
GTD-style task capture and processing
PARA-style organization (Projects, Areas, Resources, Archives) for tasks, projects, and notes. Ultimate Brain turns Notion into the perfect tool choice for Tiago Forte's Building a Second Brain course.
This template also comes with extensive tutorials along with free lifetime access to a support community on Circle where you can ask questions!
Ultimate Second Brain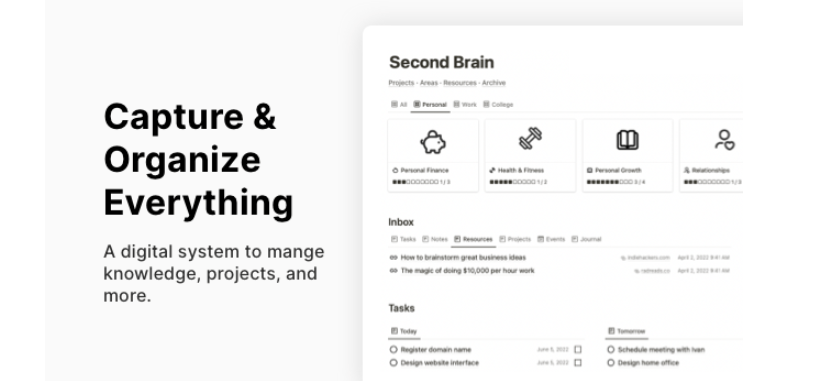 Author: Easlo
Authority: B
Experience: A
Novelty: A
Easlo ranks #2 on this list due to the fact that he's sold over $300,000 in Notion templates
Anyone who's made that much money knows how to build high quality templates.
However, he doesn't have as much authority on the Second Brain subject.
His template is an all-in-one productivity system to capture and organize your knowledge, projects, tasks, goals, and more.
What's included?
All-in-one dashboard
PARA system: Projects, Areas, Resources, Archive
Weekly review
It comes in at a lower cost compared to the Thomas Frank version, so if that matters to you then give this one a look.
The Super Life (Ultimate Life Planner)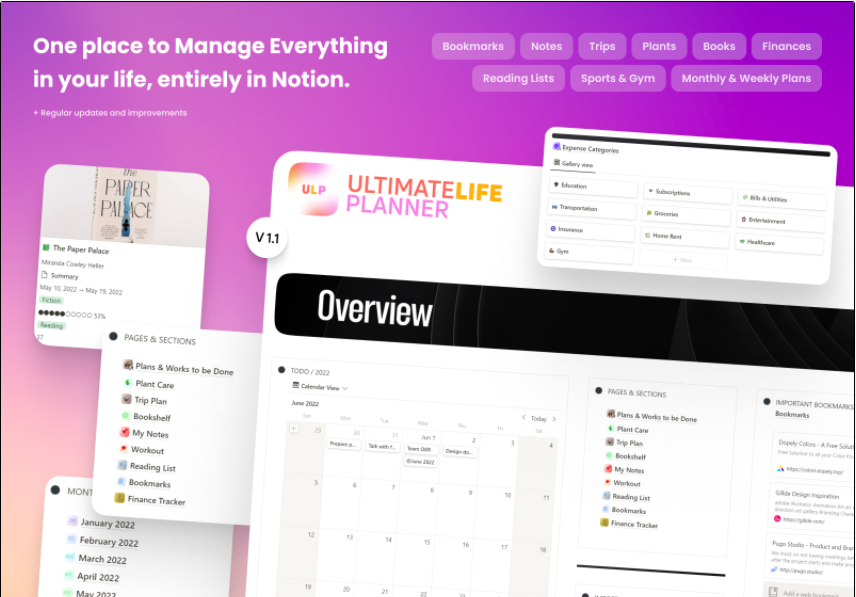 The Super Life (Ultimate Life Planner) is one place to manage everything in your life entirely in Notion.
It brings tasks, notes, plans, health, plant care, travel plans, finance, and more together in your favorite tool.
Here's a snapshot of what it covers:
Dashboard
Monthly planner
Personal & work daily planners
Bookmarks
Bookshelf & reading list
Workout
Plant care
Trip planner
Notion My Life OS - Second Brain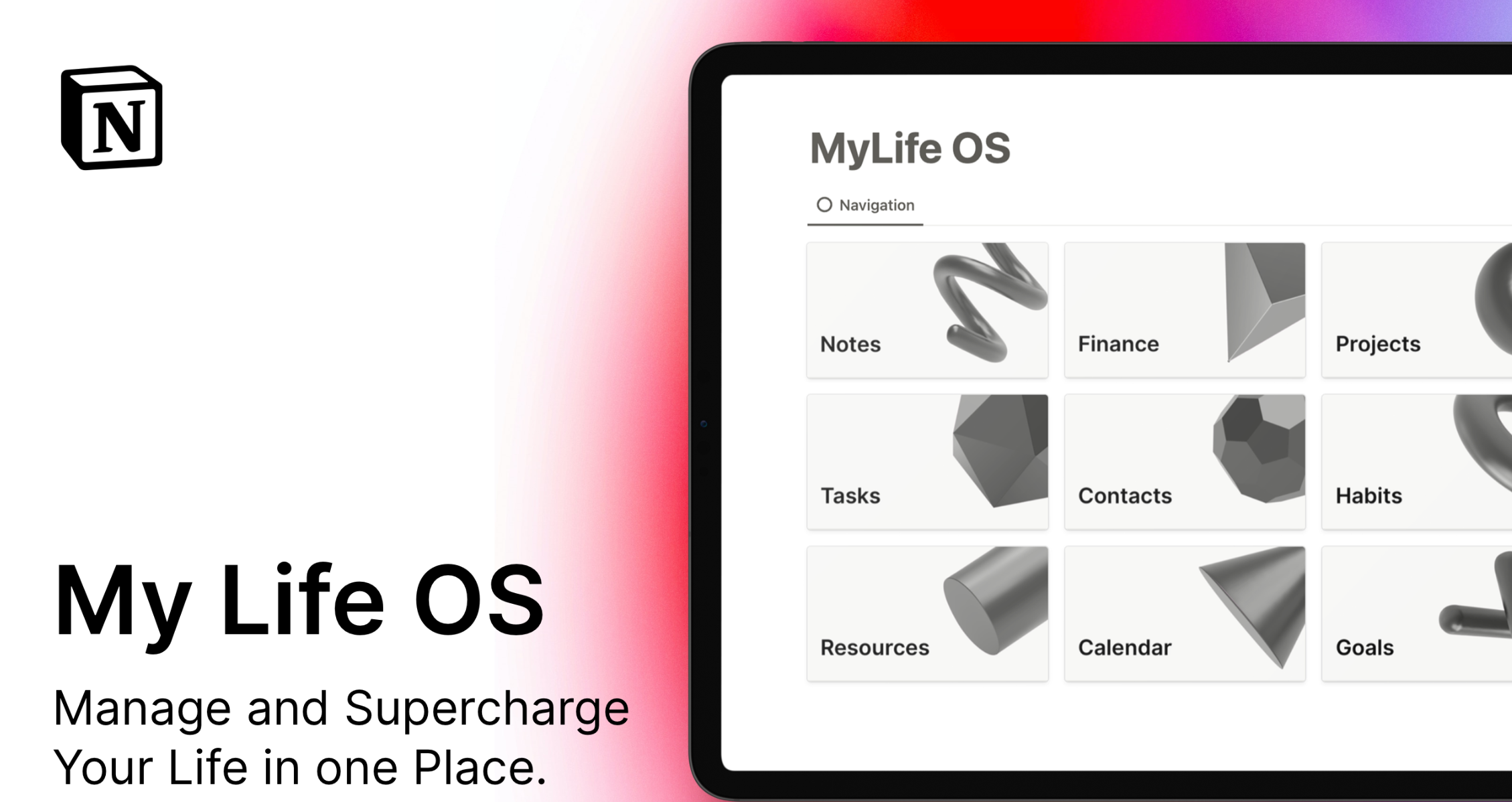 Author: Solt Wagner
Solt Wagner is one of the most exciting up-and-coming Notion template creators.
He's quickly grown to over 10,000 followers on Twitter and has been pumping out amazing Notion templates.
He's a Creative Director by trade which helps him make beautiful Notion templates.
This template helps supercharge and manage your life in one place:
Manage your Finance, income, expenses by categories and accounts
Manage your Projects by categories and the Tasks in the Projects
Manage your simple Tasks by categories
Manage your Contacts by categories with useful information
Track your Habits and see your progress
Core OS: The Foundational Life Operating System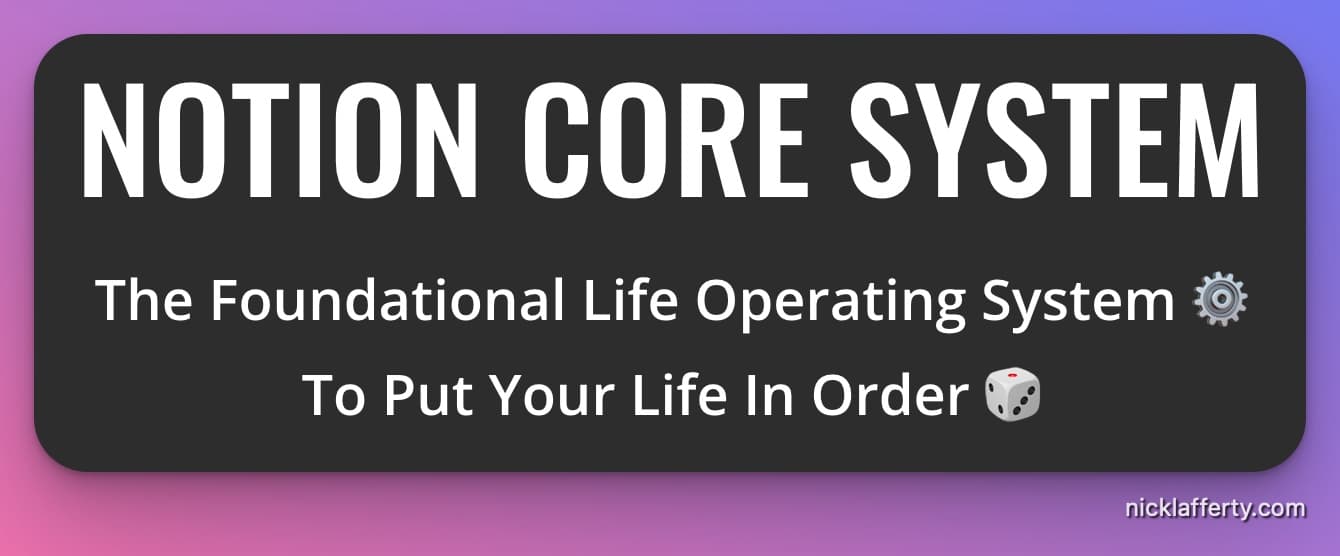 Author: Akshay Hallur
Manage all your tasks, projects, goals, people, notes, and bookmarks seamlessly in Notion, with everything interconnected.
What's included?
Smart Task Management
Strategic Habit Tracking
Project Management Designed For Clarity
Goals and Objectives Tracking
Purposeful Knowledge and Resource Management
Learn more at the link below.
Second Mind for Notion + Free Onboarding Call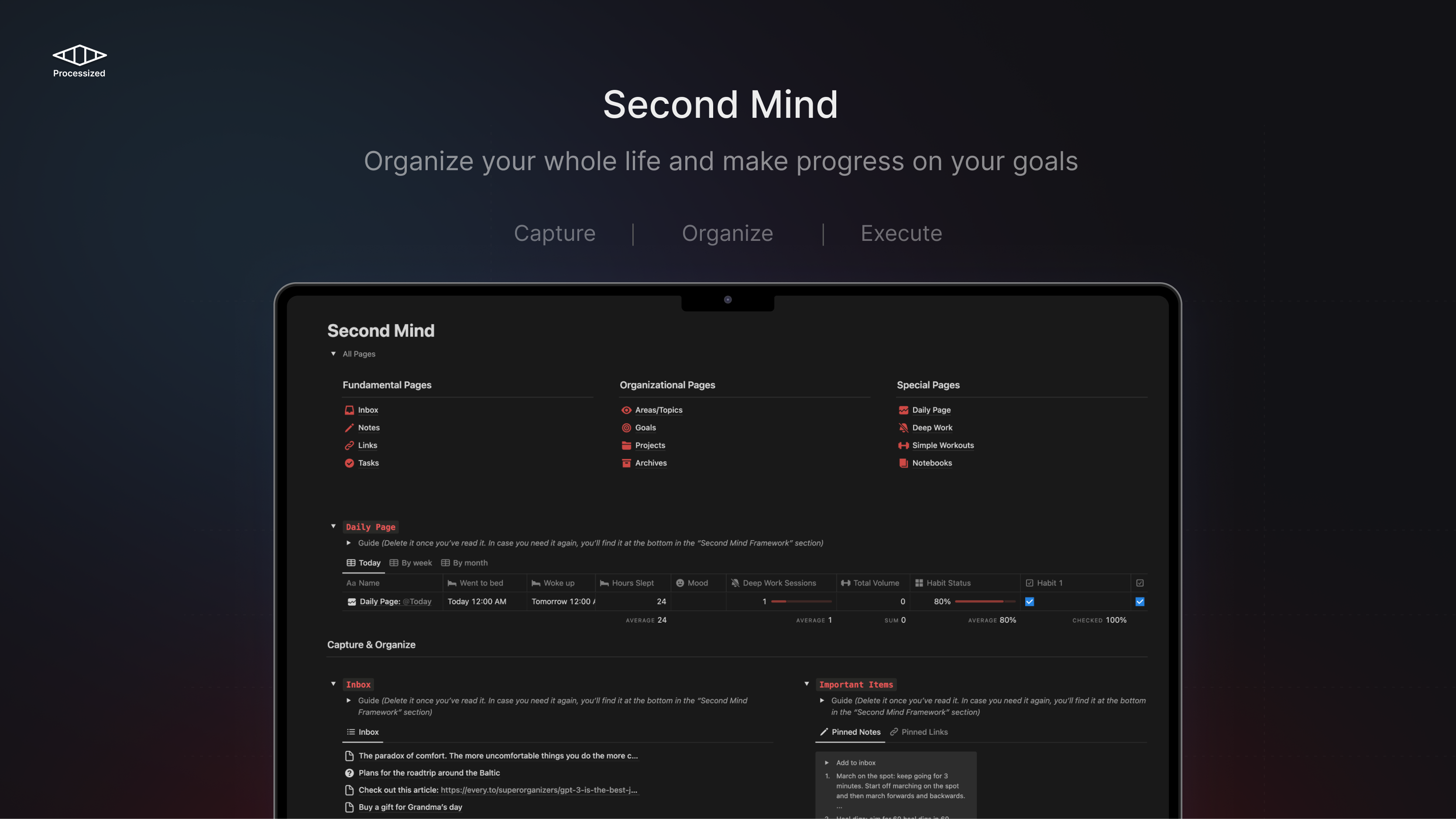 Slay information overload and transform your knowledge into results with the best knowledge management system for digital workers, creatives & entrepreneurs: The Notion Second Mind
Capture what matters, instantly
Second Mind is a trusted place for your resources:
Inbox: your notes, links, and tasks integrated with Notion Quick Capture and shortcuts to make capturing as seamless as possible. Capture and get on with your day.
Organize your resources for future use and never forget anything
The information you gather is only useful if you can find it in the future.
Second Mind helps you organize your resources:
PARA: Tiago Forte's knowledge management system (Projects, Areas, Resources, Archives) tweaked for actionability.
Pulled resources: In each Project, you can add relevant resources from different Areas or Topics to help you execute.
Build an idea goldmine that grows together with you
Your resources are useless when they're idly laying in your second brain.
Second Mind offers tools to help you process your resources for more clarity, focus, and creativity:
Quick daily review: A 5-minute process to keep your second mind tidy, find connections, and keep you up to date with your daily work.
Weekly review: A weekly ritual to review your resources and project results, plan your week, and find new connections and ideas. Progressive summarization : Tiago Forte's distilling method for making your resources more concrete and actionable for future use.
Start using it as soon as you download it
Say goodbye to hours-long tutorials and courses.
Second Mind offers a seamless way to start using it as soon as you download it.
1-minute guides: Under each page, you'll find a short instruction on how to use it most effectively.
15 min onboarding: A quick onboarding designed to help you get the most out of the second mind template.
(Bonus) Free onboarding call: Hop on a 30 min call with me to answer all of your questions and help you tailor the template to your needs.
Supreme Second Brain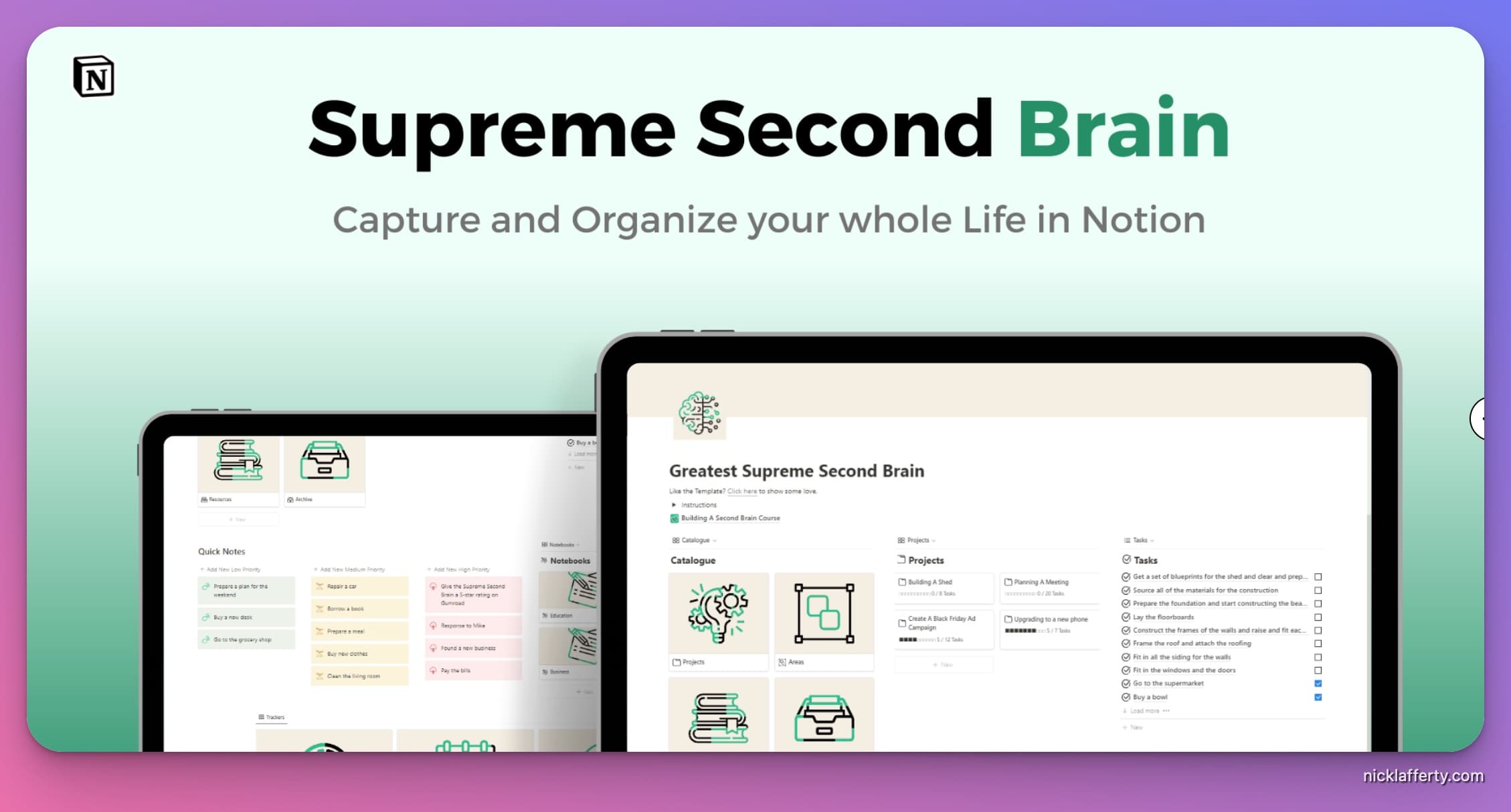 Author: iNotion
Capture and Organize your whole Life in Notion.
Are you tired of cobbling together multiple apps to form your second brain? Me too… Supreme Second Brain lets you capture and organize everything inside of Notion — turning it into a truly all-in-one workspace.
Best of all, everything in this template is seamlessly organized using the PARA organization method made by Tiago Forte and his Building a Second Brain course.
Supreme Second Brain helps knowledge workers, students, and productive people like you manage projects, get things done, take notes, track your habits, and learn new things as effectively as possible.
Get it today.
Systematic Brain - A Complete Second Brain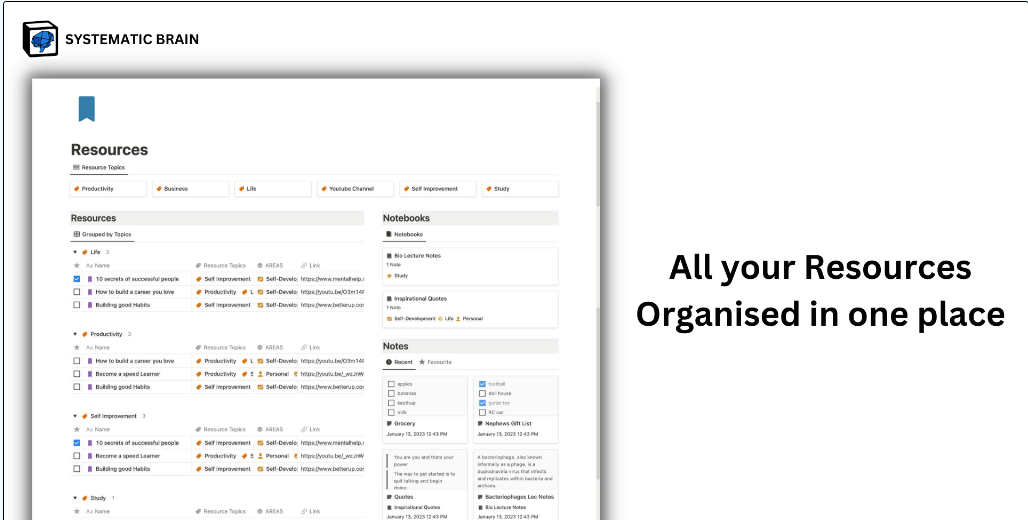 Author Hashim Sultan
Systematic Brain is an all-in-one second brain system built on the P.A.R.A organisation system proposed by Thiago Forte.
Organise your projects, tasks, projects, goals and resources all in one place.
A Proven Method to Organise Your Digital Life and Unlock Your Creative Potential
Features Include: ✔️ P.A.R.A organisation ✔️ Resource Hub ✔️ Projects and Tasks Management ✔️ Goals Tracker ✔️ Automatic Habit Tracker ✔️ Daily Journal area ✔️ Daily Schedule ✔️ Ultimate Finance Tracker ✔️ Book Library ✔️ Notes Manager ✔️ Archives
Notion Life OS v2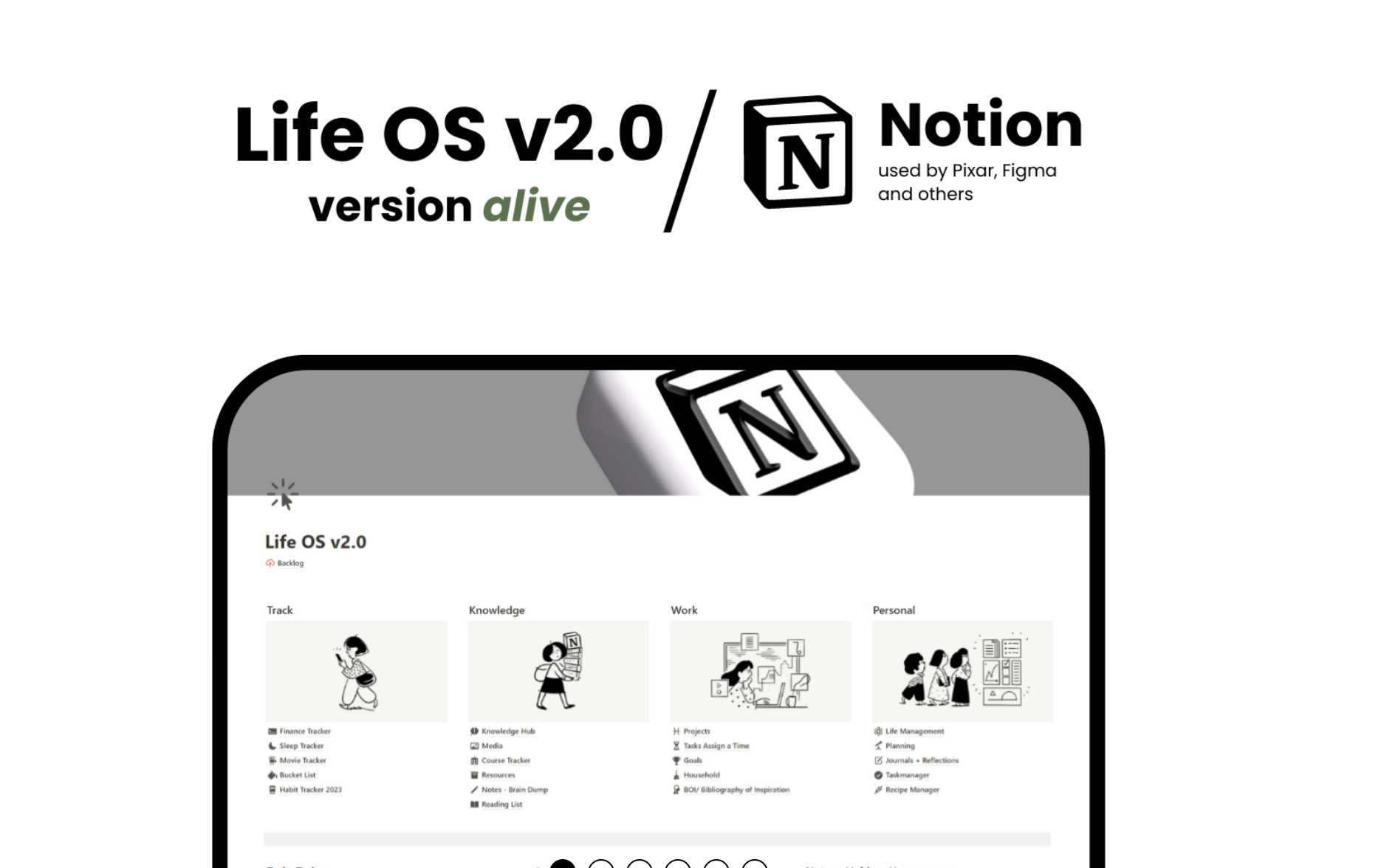 Author: Severin
Life os v2.0 alive is not another useless Life OS you give up after 2 weeks because it doesn't do what it promises.
It gives you more options in task and project management and gives you an all-in-one life operating system in which you can do everything
It allows you to track not only projects or tasks, but also recipes, goals, sleep, courses, and more.
Severin tested and improved this Life OS for over a year and still uses it to organize and manage their life.
And a Life OS helps you even more:
Automate: Streamline your life
Organize: Yanage your life
Track: Monitor your progress
Simplify: Reduce complexity
Connect: Link databases for more automation
Analyze: identify your weaknesses
Visualize: Gain clarity
Personalize: Customize to your needs
Ultimate Second Brain by Arsen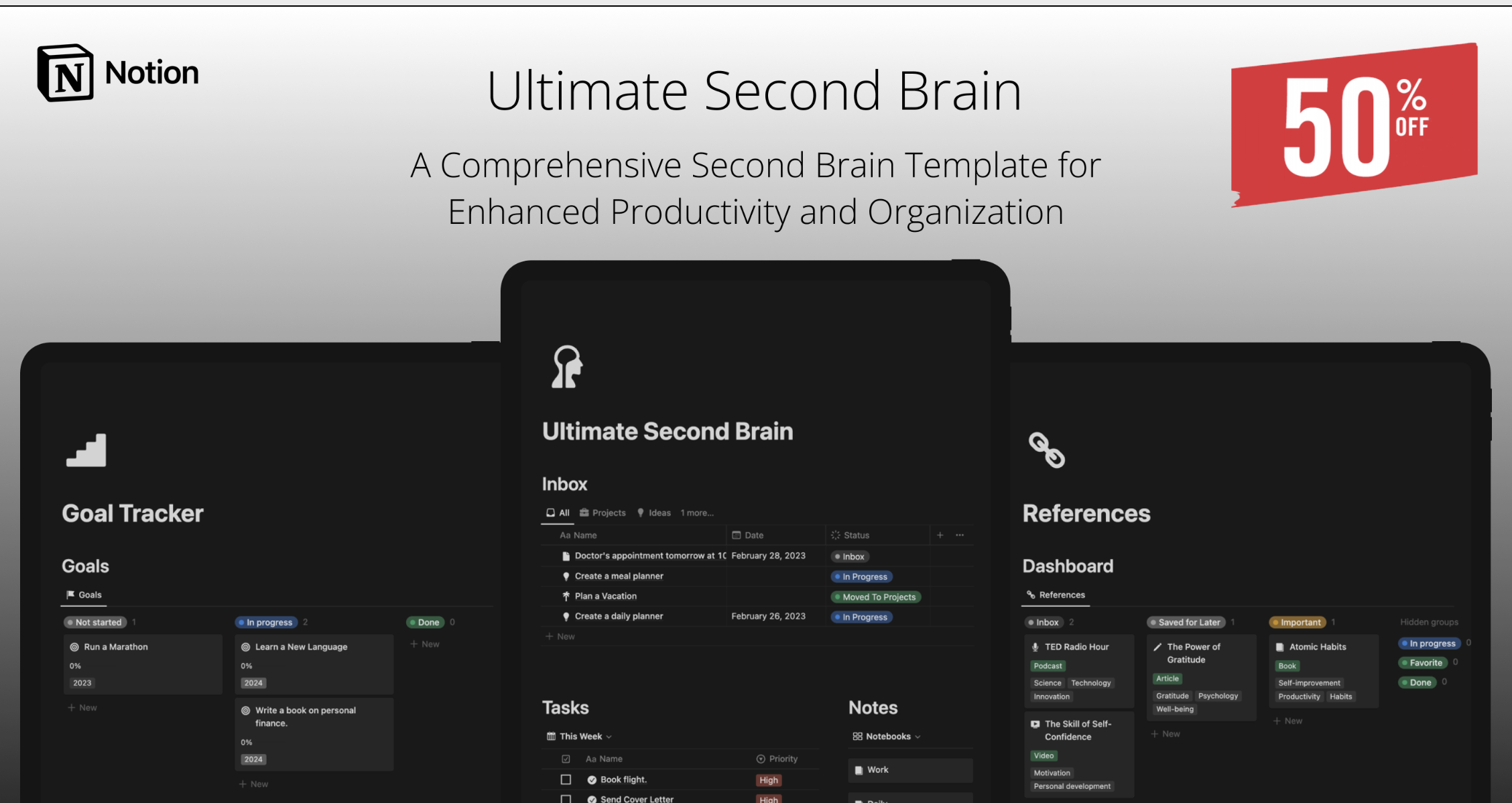 Author: Arsen Ablaev
Introducing the Notion Second Brain Template – the ultimate tool for building your digital brain and unleashing your full potential.
Here are some of the key features of this template:
A clean and customizable dashboard that gives you a bird's-eye view of your entire second brain, with links to your most important pages and databases.
A note-taking system that enables you to capture ideas, insights, and inspiration anytime, anywhere, and turn them into actionable items.
A task manager that allows you to prioritize your tasks, set deadlines, and track your progress, using the popular Eisenhower matrix.
Notion Second Brain by Matt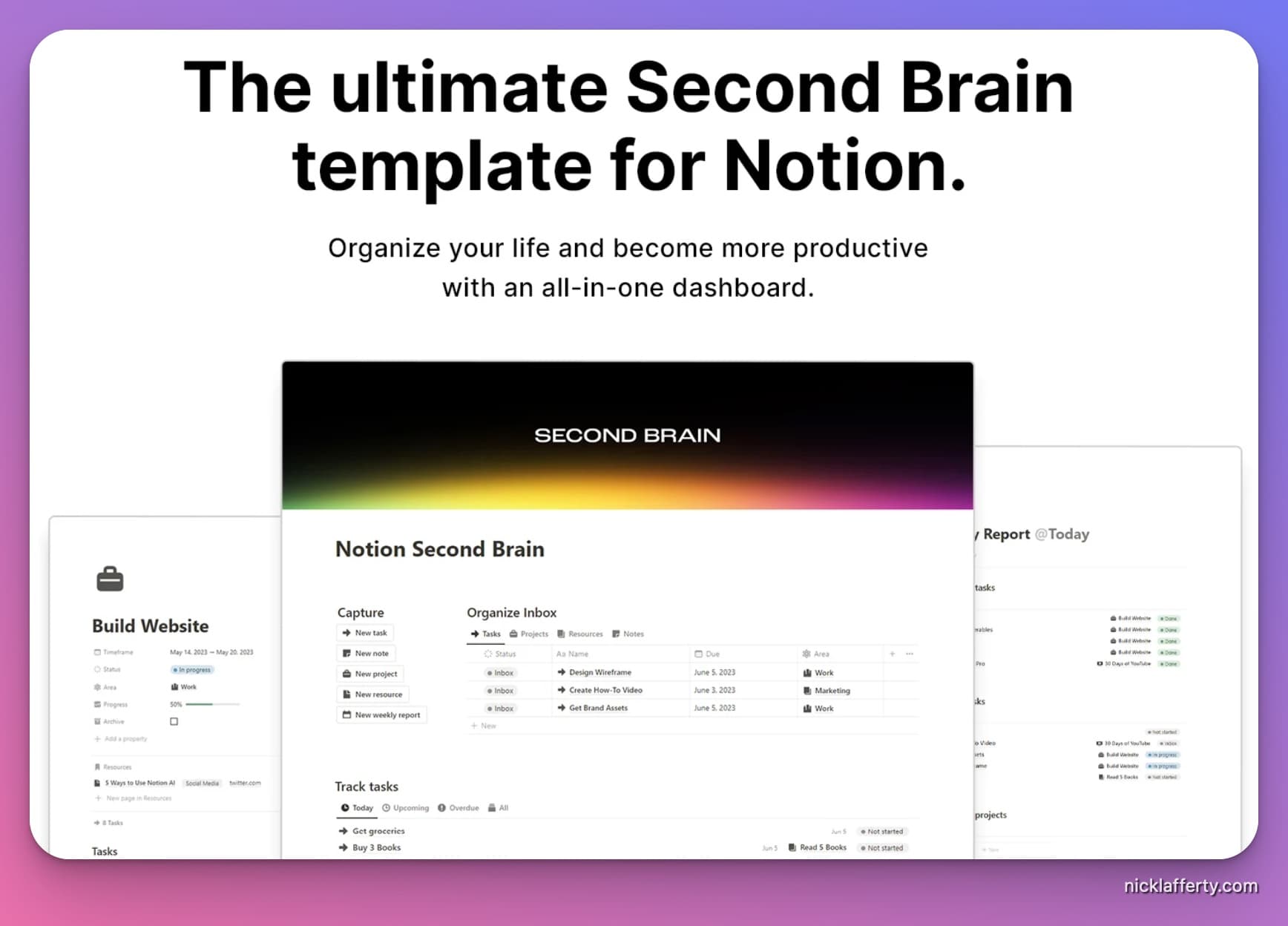 Author: Matt (Mr Bio)
Get productive & organize your life with Notion Second Brain
Organize every aspect of your life and plan your days with the Notion Second Brain template.
This dashboard will help you save time and get more things done by allowing you to prioritize tasks, manage your projects, track your goals, save important resources, etc.
Never used PARA/Second Brain? All good.
This template is created so you can pick it up and immediately start using it without any worry. As long as you have a basic understanding of how to use Notion, you'll be all set.
Startup OS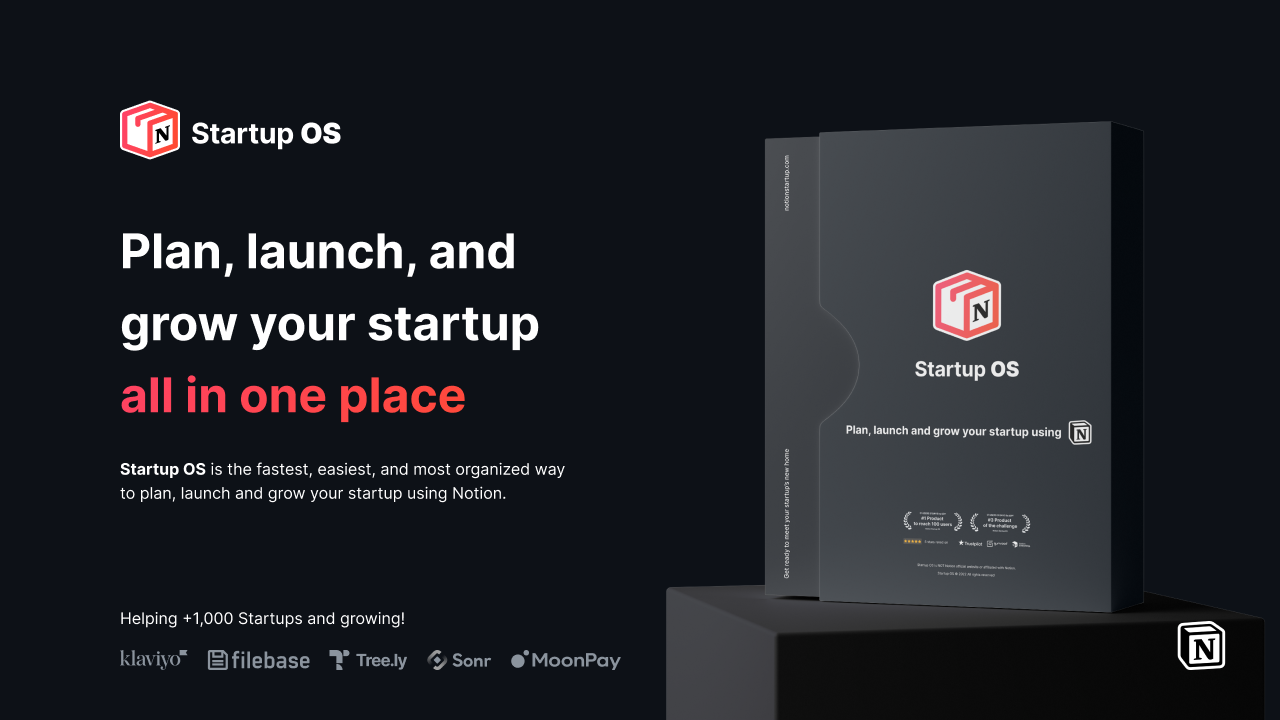 Plan, launch, and grow your startup all in one place!
Startup OS is the fastest, easiest, and most organized way to plan, launch and grow your startup using Notion.
The Startup OS has +60 ready-to-use and easy-to-customize templates including:
✅ Company Dashboard
✅ Business Model Canvas
✅ Value Proposition Canvas
✅ Company OKRs
A process-based approach to growing your startup.
Get the Startup OS today.
Notion Enterprise OS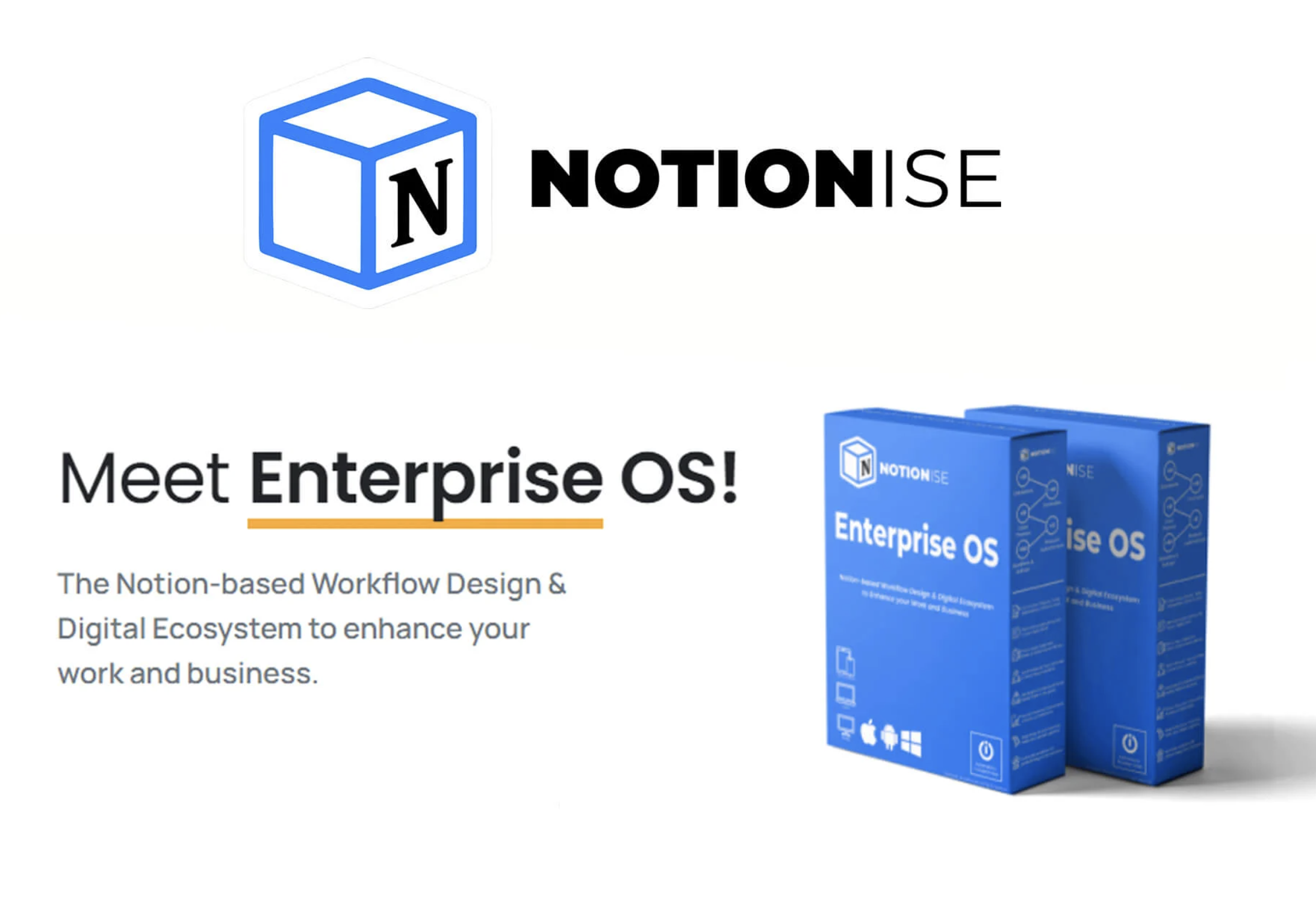 👉 Enterprise OS is an all-inclusive Notion-based company management system, guaranteed to streamline your business and save hours daily!
It includes:
Main Hub
Task Dashboard: Based on business best practices & leading productivity frameworks.
Project Roadmap: Stay on top of all parallel projects. Juggle deadlines like a pro.
📃 Plans
OKR Planning Hub: Align all day-to-day activities with your goals & always stay focused.
Social Media Scheduler: Schedule & automate all social media with this API powered tool.
🏦 Company Wiki
Company Profile: Stand out in competition with your brand's professional introduction.
Company Culture Map: Encourage better creativity, engagement, & collaboration.
📢 Marketing & Strategy
Competitor Analysis Dashboard: Keep track of the competition & always stay two steps ahead.
Canvases & Pitch Decks: Meet investors and secure funding with professional presentations.
💰 Financials
Financial Statements: Consolidate accounts & generate financial statements with ease.
Invoices: Pull transaction data & produce professional invoices in seconds.
🎁 Bonus Content:
Automation Downloads: Consolidate accounts & generate financial statements with ease.
The Enterprise OS has everything you need to run your business.
Try it today.
See Also