This post, and template, was written by my wife Cody. She specializes in crafts, DIYs, and everything cute and aesthetic. You can find her website here.
---
I didn't know it yet, but the idea for this plant planner started when we bought our house a couple of years ago.
We had a yard full of grass, but there wasn't much else in the way of plants. When we first purchased our home, we decided to do some large-scale renovations before moving in.
Since we weren't around, all of the grass in the front yard died which ended up being a blessing.
Notion Garden Template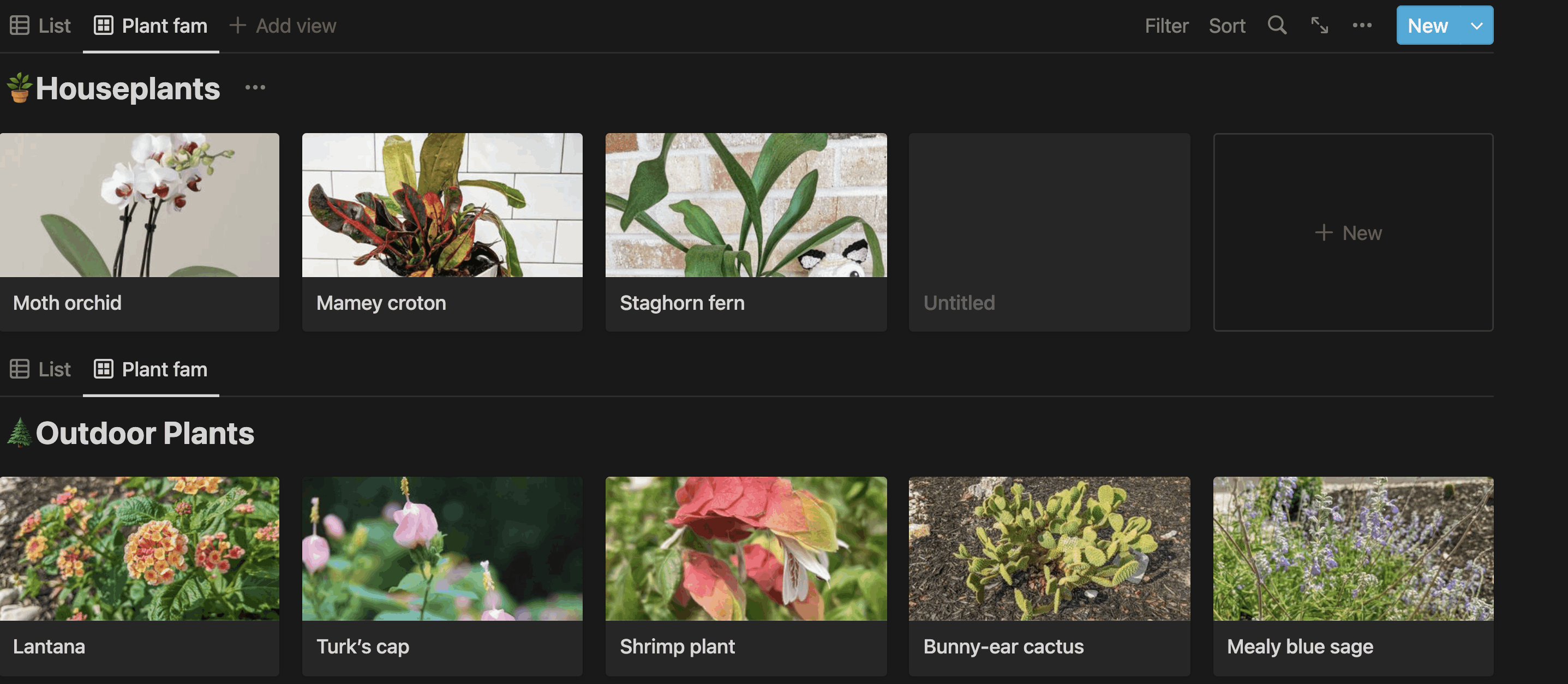 After some thinking, we decided to pull out the dead grass and went for a 'xeriscaped' landscape instead.
We filled our yard with rocks and native plants that could survive with little to no maintenence.
Then, the next year, we decided to do part of the backyard the same way. We created a small rock garden and planted even more plants.
Then, there's all of my houseplants. I love them. I buy sickly orchids from HEB and bring them home and save them.
I also get a new, small potted plant every time I go to Lowe's.
Needless to say, they've added up and I have a few dozen around the house. It started becoming difficult keeping up with everyone's needs.
Notion Plant Tracker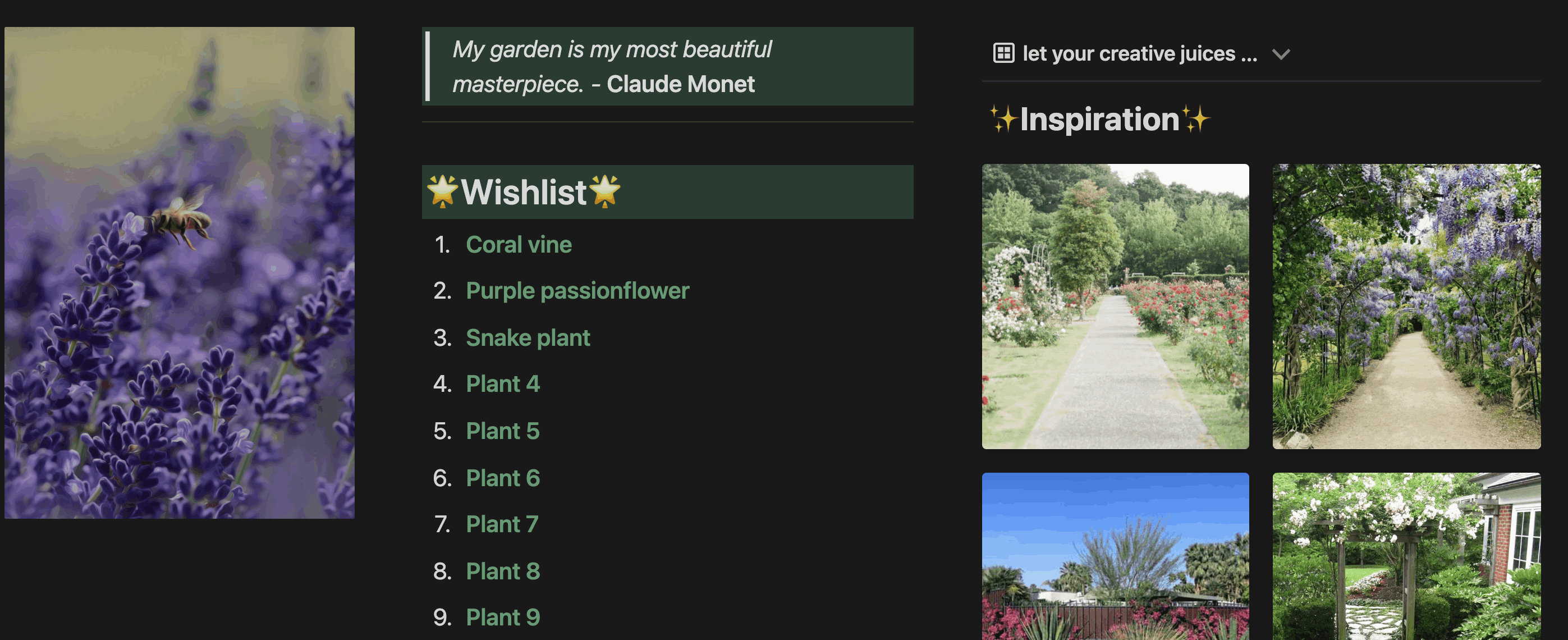 So, I started keeping tabs on everything in a spreadsheet, however it wasn't fun manually typing in everything each time I planted something new and it was kind of ugly.
My husband is the one that's really into Notion, but I resisted for awhile.
I didn't need to organize anything- I kept it all in my head or some janky spreadsheet.
That was until he told me how people create their own templates and personalize them. He didn't need to convince me any further.
My Plant Planner is my first dive into Notion templates so I figured it would be apt to start with something I'm passionate about: plants!
Plant Planner Features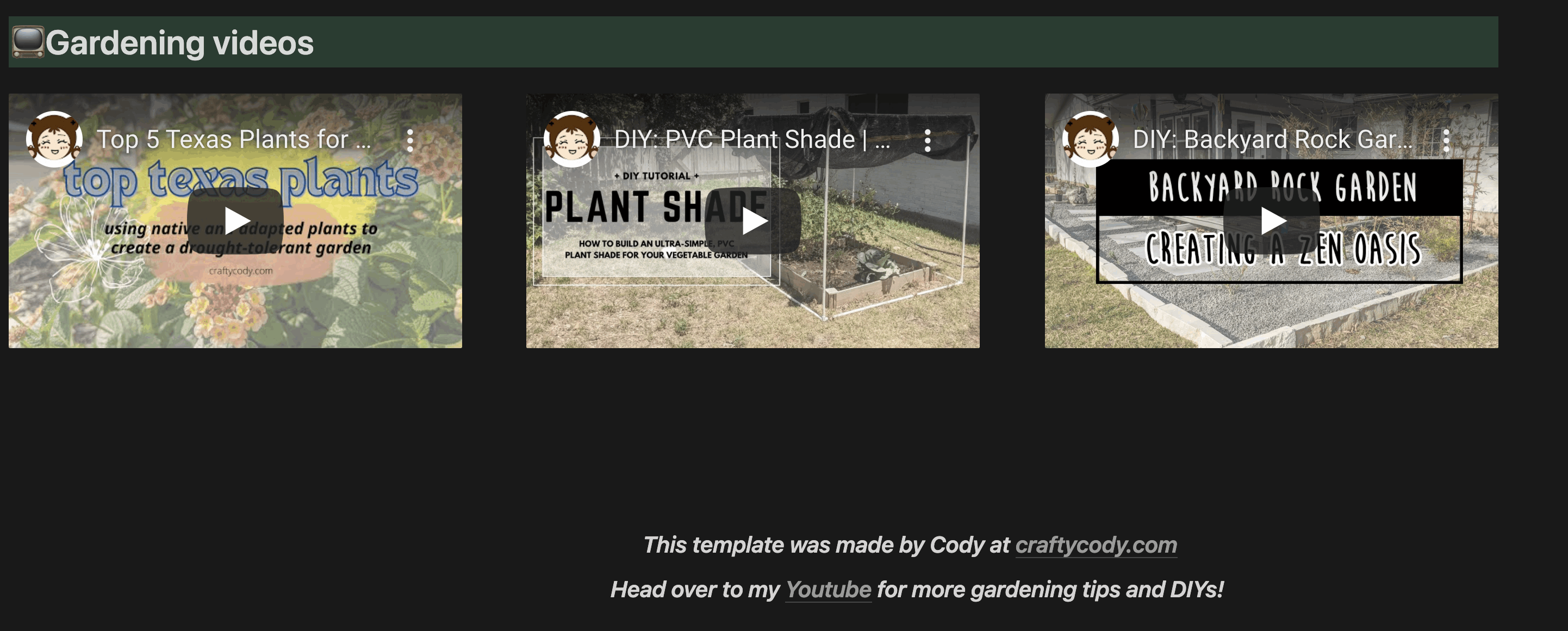 What all can this template help with? First and foremost, you can track plant care of both your indoor and outdoor plants within this template.
Categorize by name, water and light requirements, fertilizer needs, and more. You can also sort your plants to see which ones need the most care.
Having your outdoor plants listed also helps with landscape planning and design. Make notes about how far each plant should be planted from the next to create beautiful and healthy gardens.
One important thing to keep in mind when planting outdoors is which plants need frost protection.
You can quickly cross-check which plants need to be wrapped up when the weather gets too cold. Never lose another plant to frostbite again!
I've also added a couple of fun spots within the plant manager.
There's a 'wishlist' section where you can add cool plants you've seen and want to put in your garden. A great way to remember a plant that might have a weird name or if planting season is a few months away.
There's also an 'inspiration' board to add pictures. I use it for garden ideas.
I love English and Japanese-style gardens and want to incoporate elements into my own garden some day. This keeps all my ideas in one convenient spot.
Lastly, I added some helpful gardening videos to help jumpstart your landscape design if you need them.
They're my personal experiences into vegetable gardening and landscape design.
I wanted this template to be cute, cozy, and functional.
See Also