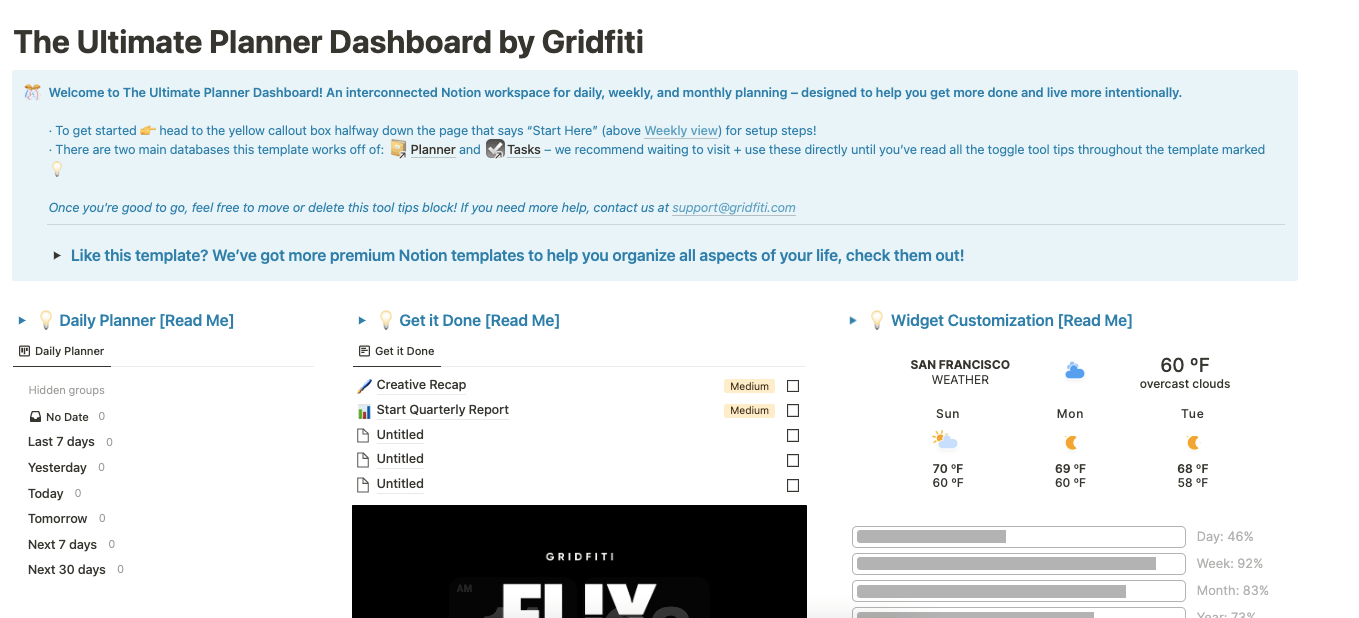 Get more done with the Ultimate Planner Dashboard .
Custom built to help you get more done with a fully integrated system for daily, weekly, and monthly planning.
🕹 Interconnected dashboard to get an overview of all of your daily, weekly, and monthly planning – with boards, task lists, widgets, and more
🛠 Master tasks database organized by days, priority, to-do, and more – plan your tasks by day, and even plan how long you want to spend on each task
⚡️ Productivity tracking based on hours allotted vs. hours used per task – automatically receive a rating per task and each day, and see your ratings in your daily, weekly, and monthly views!
–
I've journaled in Notion since 2020 and it's been the single best way to build a daily journaling habit.
And my love for Notion is no secret, I've written before how I use Notion to track my life, a Notion budget template, the best Notion widgets and more recently why I think it's the best productivity app of 2023.
Notion isn't everyone's cup of tea, so if that's you then checkout my best Notion alternatives post to see how it compares to ClickUp, monday.com, and others.
Best Notion Journal Templates
Today I'm going to share my favorite journaling templates in Notion, and also how I tag my journal entries to easily look them up later.
1. 2023 Notion Gratitude Journal (Paid)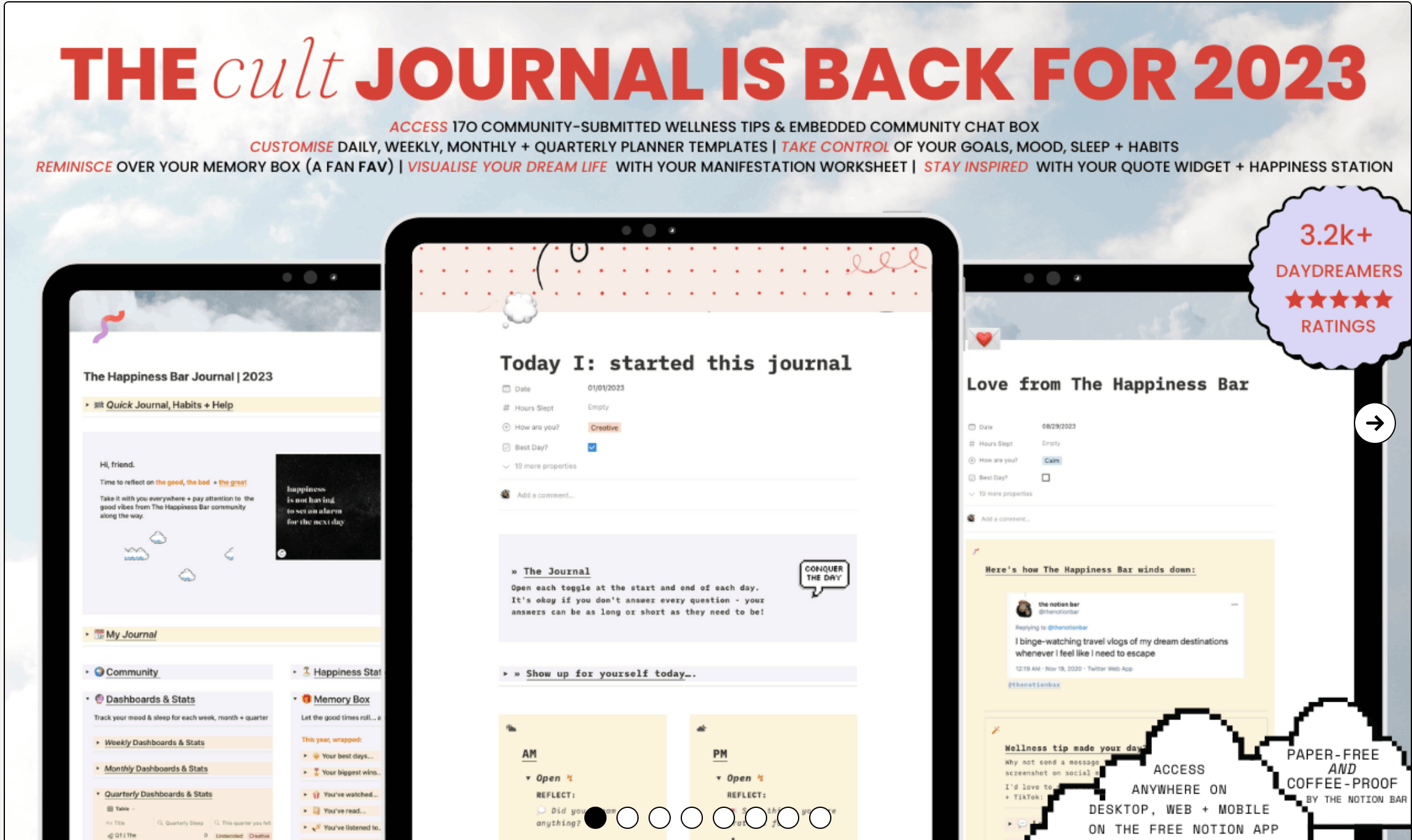 Author: Frances Odera Matthews
Updated for 2023, the cult journal with over 3,000 downloads is back for another edition this year.
Frances runs The Notion Bar and is a certified Notion consultant.
This year's edition includes a bunch of new features, including:
Beautiful & mobile-friendly design
Conveniently pre-filled dates
170 inspiring community-submitted wellness tips (submit your own for next year)
Mindful habit & task tracker/manager (Daydream and Power Journal only)
Insightful weekly, monthly & quarterly automated mood summaries (Daydream and Power Journal only)
And honestly a ton more. Check it out below.
2. The Relationship Journal (Paid)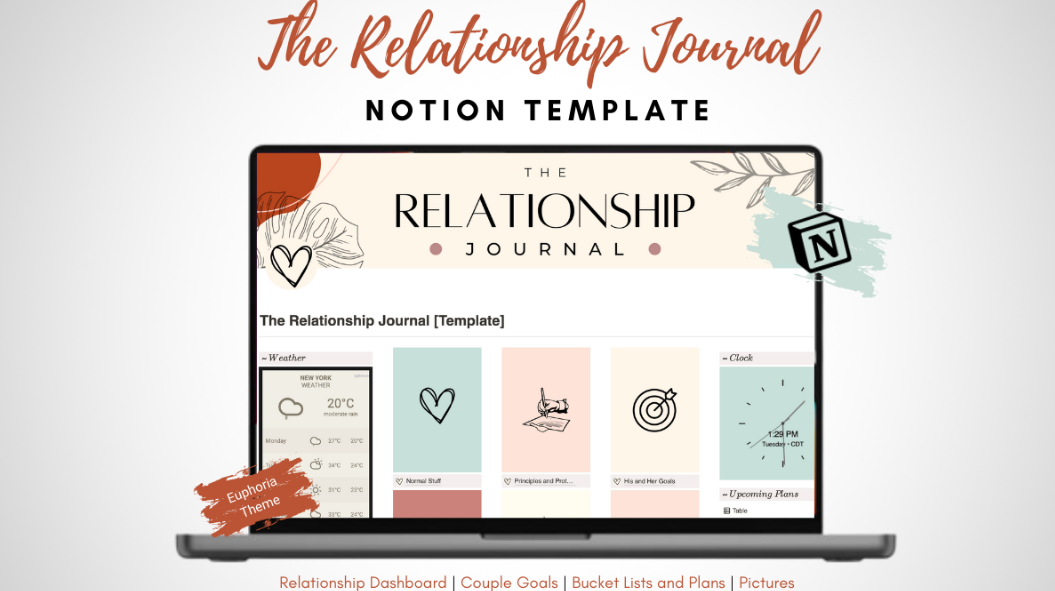 The Relationship Journal is a clean and beautiful Notion template that helps you document your journey with your partner and develop an even stronger relationship.
This is a brand new Euphoria theme with neutral pastel colors and a fresh tile-design that is suited for viewing in both light and dark mode.
Features:
Customize your ready-made relationship dashboard
Document your discussions and upcoming plans
Create your own photo albums
Set goals and hold each other accountable to them
Track important dates and milestones in your lives
Share your love for music through joint Spotify playlists
Maintain a timer of how long you've been together
Maintain a world clock, weather widgets for when you're apart
Maintain principles and protocols that guide you
Write down your travel wishlists
Note down your Netflix watch lists and reading lists
3. Premium Stoic Journaling Template for Notion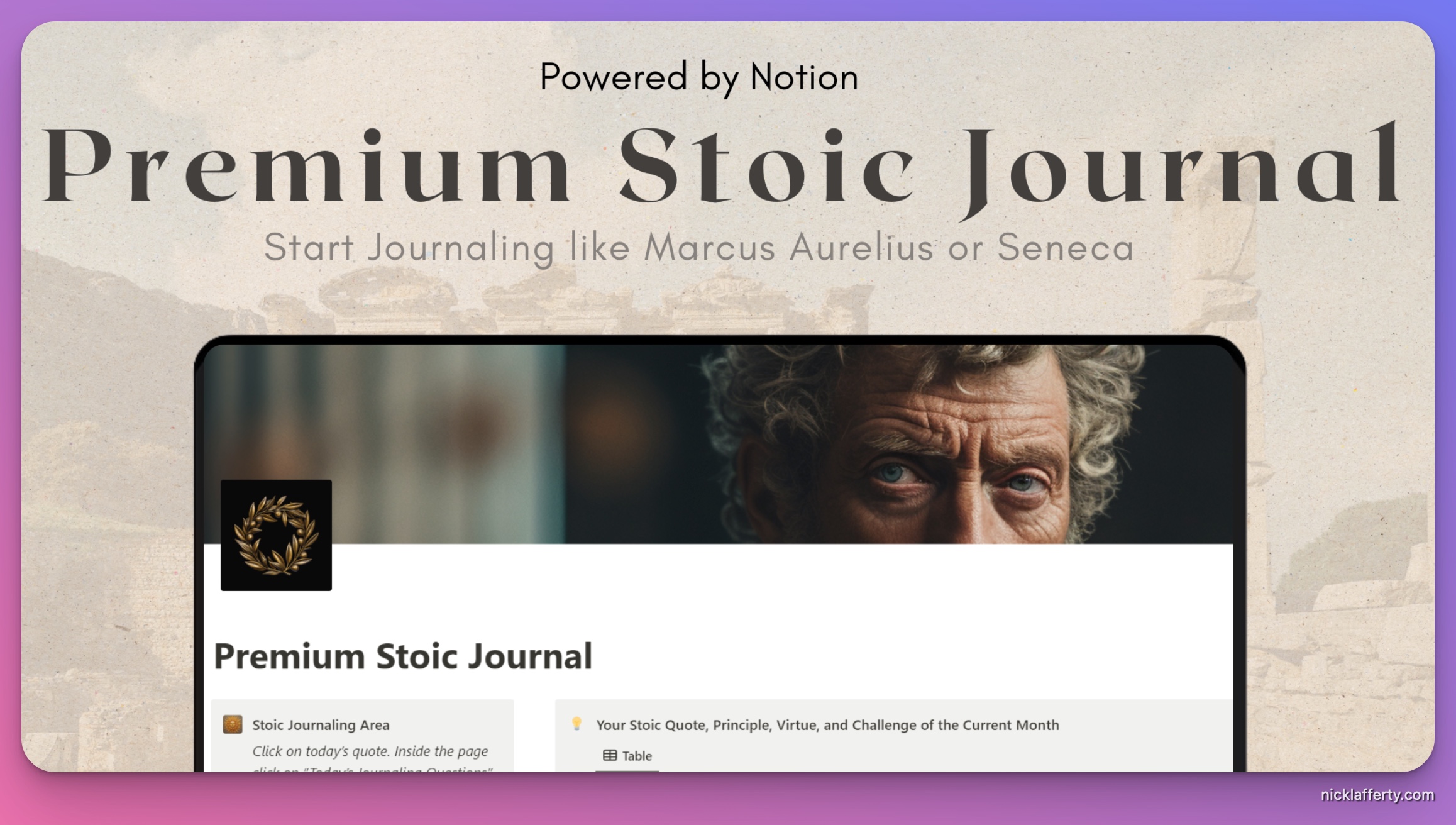 Author: Philipp Stelzel
Combine the philosophy of stoicism with journaling.
Journaling is the best technique for self-reflection, enhancing your personal development and improving your mental resilience.
This template consists of a database with 366 entries. One entry for each day of the year (and yes it supports leap years).
Each entry in the database represents a day of the year and allows you to journal your thoughts, experiences, and reflections for the day, serving as both an outlet for the present moment and a mirror to your past self because you will come back to this entry after one year.
This gives you an opportunity to review your past insights, struggles, and learnings.
Features:
Daily Journaling prompts
Record of your growth over time
366 Stoic quotes for each day of the year
Rate your daily commitment to Stoic principles
Weekly, monthly, and annual reviews
4. Nick's Notion Journal (Free)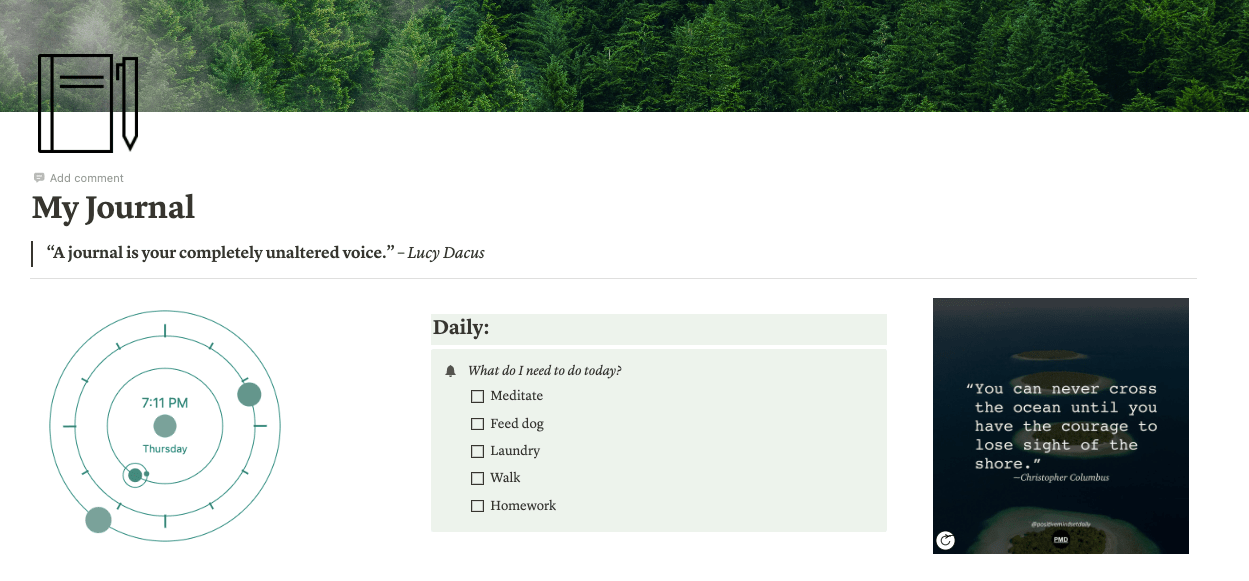 Author: Nick Lafferty
I started with Notion's default journal template but it quickly wasn't enough to suite my needs.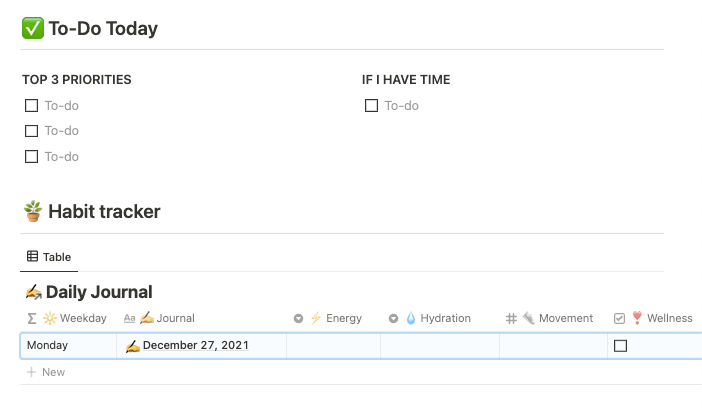 It starts with a short to-do list, a basic habit tracker, and areas to log your exercise, wellness, and daily routines.
I think it's a bit complicated for someone looking to start a journaling habit.
So I changed it. Here's the first page of my journaling template now:

It's a database with a new entry for each day.
It has a few several tags like Love, Travel, Life, Thoughts
Most of my entries are daily entries. Often these are steam-of-consciousness writing sessions in the morning, as I'm sitting on my couch having a cup of coffee.
They begin with one question:
Tell me about your day
And here's what that looks like in practice: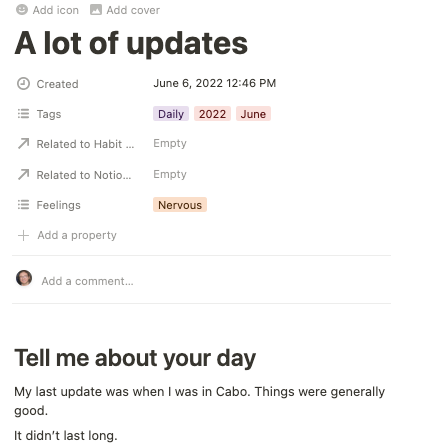 This specific entry wasn't a happy one, despite it coming after returning from a trip to Cabo.
After I open up a new entry and click my Daily template, I get to writing.
I have similar writing templates for Weekly, Monthly and Yearly reflections.
Monthly I try to write on the 1st of every month, and yearly I write sometime around New Years.
Weekly Journaling
I'm experimenting with Weekly journaling to compliment my daily entries.
Where my daily writings are raw explosions of emotion, the weekly ones are more organized.
I've incorporated some of Notion's default questions, and I added my own. Here's what my weekly template looks like:
What did you do this week?
What are you grateful for?
What do you want to do next week?
The first question is a high level summary of my week. What activities I did, where I went, anything interesting or noteworthy that happened.
It all goes there in short summarrized bullet points, which I feel are infinitely more appropriate for a weekly entry than a daily one.
What are you grateful for is a question that helps keep me grounded. It's one of my 4 tips for living a healthy life, and one that I practice religiously every week. Sometimes I don't always write down what I'm grateful for, but I'm constantly reminding myself mentally what I'm grateful for.
Just today I wrote a journal entry about how I'm grateful for the seemingly random life experiences that can be so unexpected and representative of being human.
One thing on gratefulness; it's not a competition. You can, and should, be as grateful for the little things in life like having coffee with a dear friend, as you are grateful for major life events like getting married, buying a house, or landing a better job.
Don't sell the small experiences short, your life is made up of far more small, seamingly insisgnificant, events than it is the big milestones.
The next question, what do you want to do next week, helps me map out my goals.
I do my best to write these entries every Sunday, which bookmarks the end of the week and helps me get ready for the next. This can be either pesonal or work related, and is often a mix of both for me.
Monthly Journaling
Honestly I'm not writing monthly summaries right now. I need to get back into it, but I got out of the habit.
When I was writing them they were often summarizied version of my weekly entries, which are already summaries themselves. It felt redundant, so I stopped.
If you have a good monthly template then please share it with me!
5. Stoic Life Journal ($15)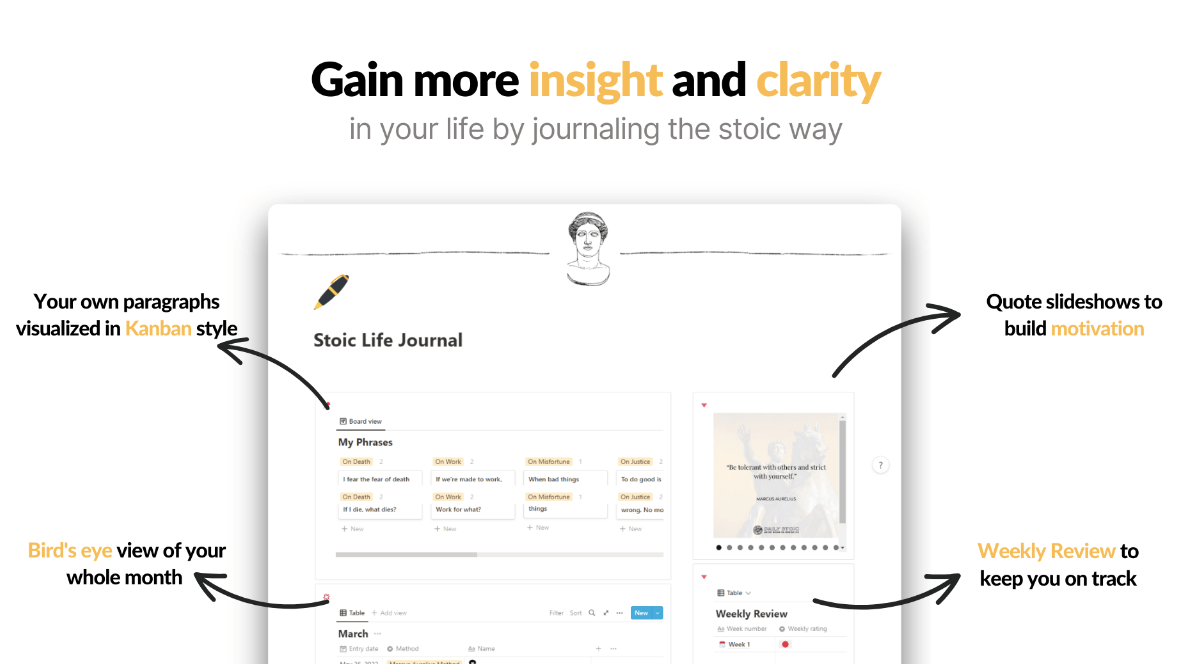 Author: Pascio
A life journal made to bring more insight and clarity to your life by journaling the stoic way.
That's how Pascio describes the Stoic Life Journal.
Anchoring on the known benefits of journaling combined with the 5 Stoic Methods, this template helps:
Calm and clear your mind
Make decisions more objectively
Embrace the events in your life
It includes:
Journal Dashboard
Personal phrase collection
Unlimited journal entries
Easy sorting and storage, and more
6. Your Daily Journal (Free)

Author: Ashley Howard
Your Daily Journal is very similar to my journaling template. A kindred spirit!
It starts as a basic database with fields for mood and weather that are best filled with emojis.
There are Daily and Weekly writing templates as well.
The daily template has a few prompts:
What I'm grateful for
What would make this day great?
Daily affirmations
Amazing things that happened today
How could I have made today even better?
The first three prompts are meant to be completed in the morning, and the last two completed at night.
I like this approach of revisiting your journal twice in one day to compare how you thought your day would go with how it actually ended.
7. Notion's Journal Template (Free)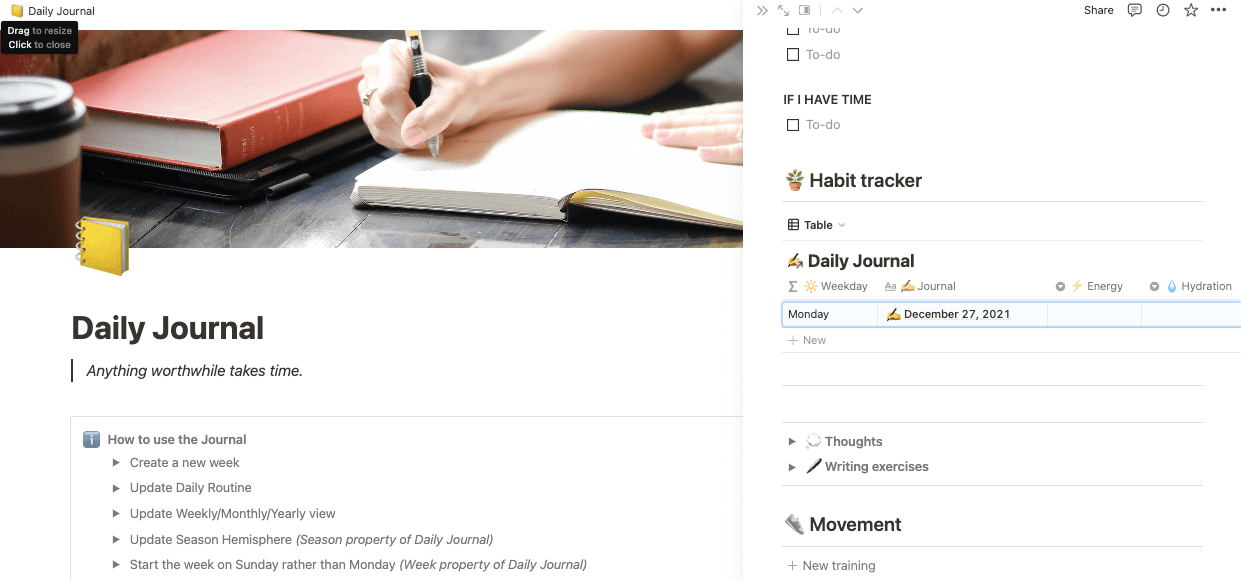 Author: Notion
This template has changed a lot over the years.
It used to be a simple database, much like how mine is above, but it's evolved to include other things like workout trackers, to-do lists, and wellness tracking.
Any list of journaling templates should at least include the ones Notion themselves create, but I feel like there are better ones out there.
8. Visual Journal (Free)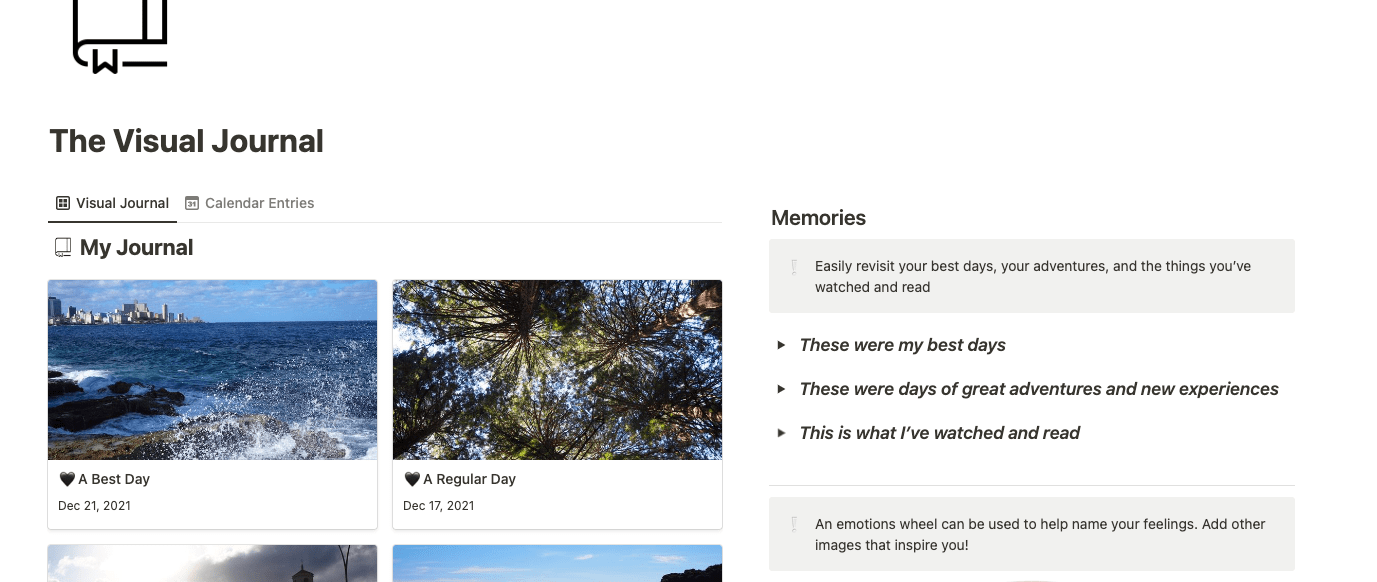 Author: Julie Cohen
The visual journal provides a place to capture daily inspiration, practice mindfulness and gratitude with the ultimate goal of taking care of yourself.
It prominently highlights images in more ways than other journaling templates, including my own.
It's anchored on color codes to highlight your feelings each day.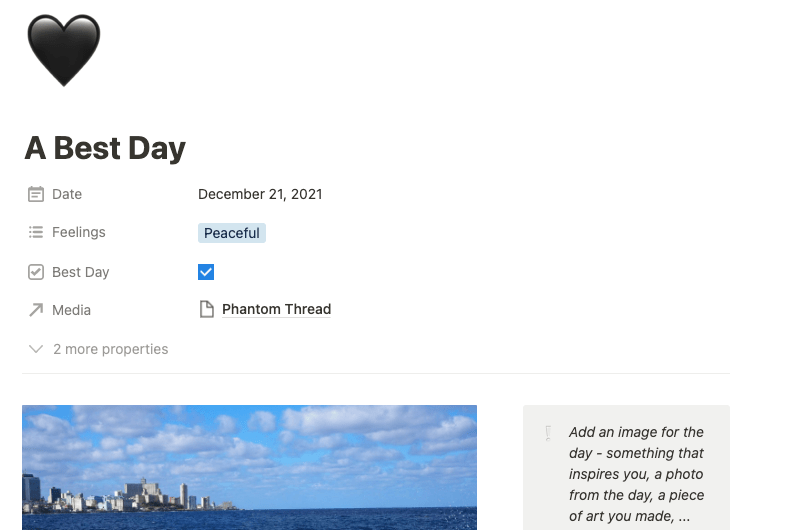 9. ADHD Life Planner (Paid)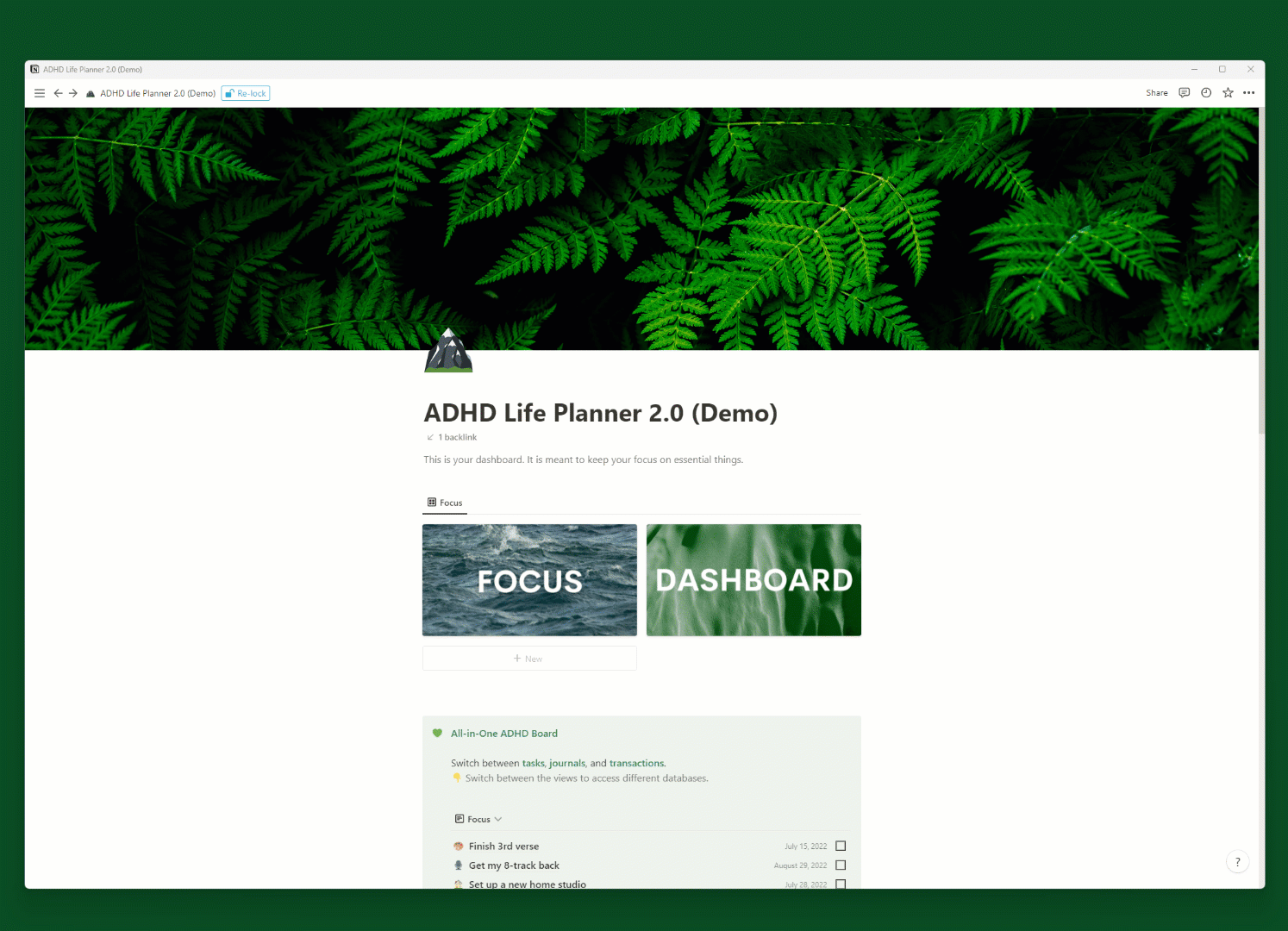 This template is $70.
That's a lot, but here's why it could be worth it.
It's the second version of the popular ADHD Life Template v1, and it's been updated based on lots of feedback.
If you're like most people with ADHD, you've probably tried a lot of different things to try to improve your life.
This template has areas for:
Focus mode
Personal Journal
Habit Tracker
Morning Routines, and more
The author says 100% of the profit will be donated to help Ukraine.
Wrapping Up
I hope this list helped you find a new Notion journaling template! If you have a template you'd like to include, send me an email: hey at nicklafferty dot com
See Also