I've worked with many executive assistants in my time advising and working full-time as a growth marketer at billion-dollar companies like Loom and Mailgun.
It's a hard and often under appreciated job.
I've seen that managing calendars for multiple executives is hard as hell.
As someone who has to book on my boss' calendar, finding a free spot in the next 2 weeks is like voodoo magic.
I wrote this list by talking to a few of my former EA colleagues and asking them what their favorite tools are.
Best Executive Assistant Tools
Vimcal
Notion
Superhuman
Todoist
Loom
Magical
ChatGPT
Vimcal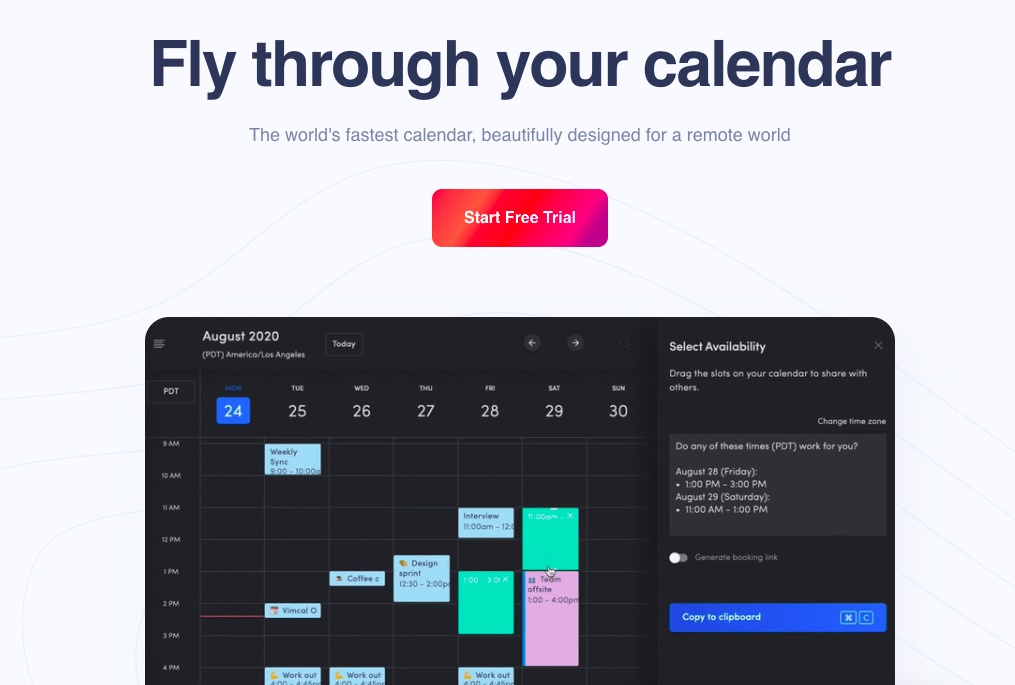 Vimcal is the #1 tool for Executive Assistants.
They make the only combined calendar and scheduling app on the market right now: Vimcal Maestro
Vimcal Maestro is purposefully designed for busy executive assistants.
Vimcal Maestro Features:
One calendar tab for each executive
Easily timezone calculations
Setup booking links like Calendly
Check calendar availability in 8 clicks
Vimcal Maestro has great reviews too:
"I'm now probably saving an hour a day on otherwise meaningless activity. That alone makes Maestro worthwhile." Nicole Schafer EA @ Protocol Labs
If there's one tool on this list to check out, it's Maestro by Vimcal.
It will supercharge your EA workflow.
Notion
Notion is my favorite productivity tools of all time.
The power of Notion lies in it's flexibility.
It's built on the concept of blocks.
Blocks are any single element in your document:
I use Notion to do so many things in my life:
A workout calendar
My writing repository
As an executive assistant, you can use Notion to take notes and organize information about your client.
With the power of Notion AI it can now automatically summarize a document for you.
No more time spent figuring out next steps from a long document, just ask Notion AI to do it for you.
Superhuman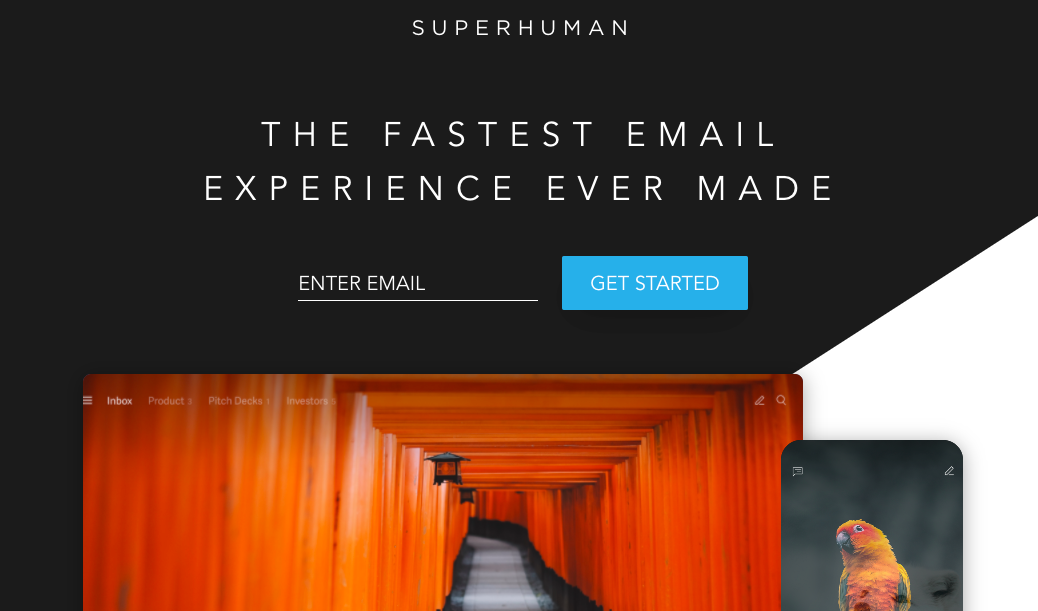 Superhuman is my favorite email client.
It's the fastest email experience ever made and it will fundamentally change how you send and receive email.
As an executive assistant I know you're really busy, so why not spend as little time in your email client as possible?
Superhuman gives you intuitive hotkeys so you can fly around and crush your inbox in seconds.
Check out my longer Superhuman review for more information.
Todoist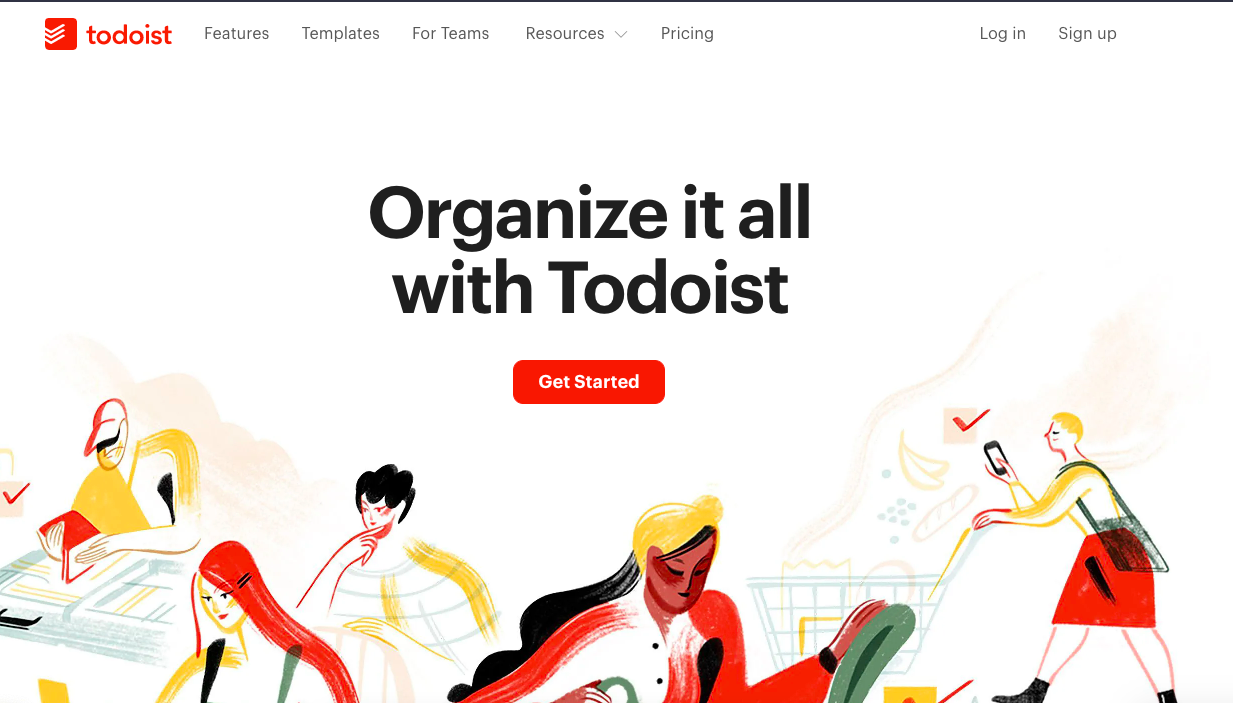 If you want a stand-alone to-do app, then Todoist is the one for you.
I've been using Todoist for years to organize everything that needs doing.
I split my to-dos into folders:
Personal (for my website and weekend tasks like chores)
Work
Consulting
Podcast

I like breaking them into buckets so everything is together and related to what I need doing.
I end my workday by writing my tasks into Todoist so when I sit down to start my workday tomorrow I don't forget anything.
As an executive assistant, you could have different folders for each executive, so you known exactly where you left off with each of them.
One of my former bosses was the most productive person I've ever met and I asked what her secret was.
"I keep everything in Todoist and I'm meticulous about going through it and checking items off".
So there you have it.
A simple to-do app doesn't need 5 more paragraphs explaining it. You should really give it a shot, it's free!
Loom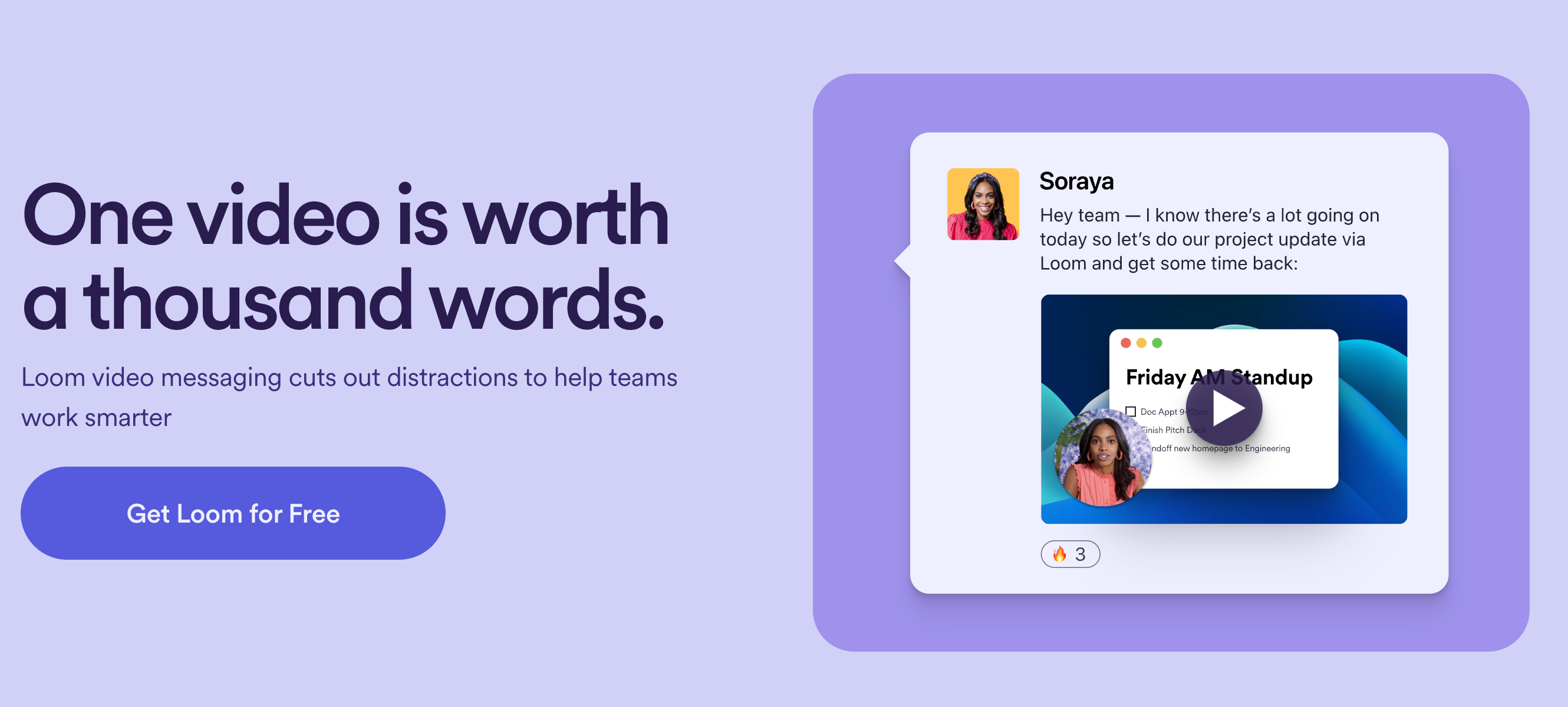 Disclosure: I used to work at Loom.
Loom is a video messaging app that lets you record your camera and your screen.
When you're done recording Loom gives you a link that you can easily share with anyone.
Loom is amazing for sending someone a quick message that would take you long to type.
Here's what you should be using Loom for:
When you need to send a really long email or slack message
When you need to explain something complicated
When you want to visually show something while you're talking
Looms are great because they're always available later.
You can watch a Loom someone recorded 6 months ago and it'll be the exact same.
Executives will love Loom because it saves them time, and time is money for them.
Instead of scheduling a 30-minute meeting, you can send a Loom instead and get that time back.
It'll change the way you work.
Magical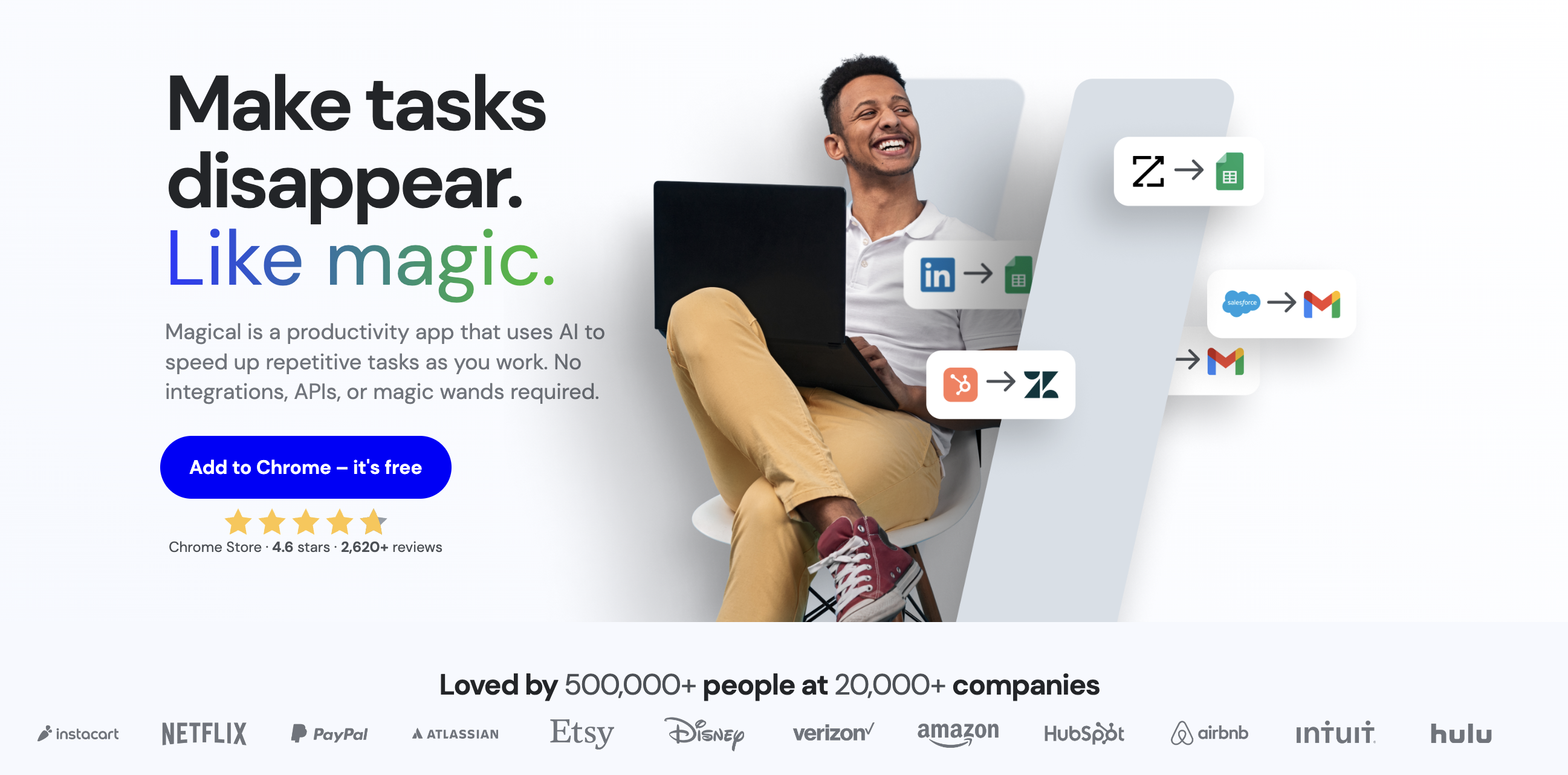 Disclosure: I currently work at Magical.
Magical is a free chrome extension that speeds up repetitive tasks at work.
Let me show you some examples.
Imagine you send the same message every day.
Instead of typing it out manually over and over again, you can configure a shortcut in Magical called -longmessage
Then every time you type -longmessage Magical will generate the really long message you typed by hand.
Magical is also great at automating data transfer tasks.
Say you need to copy a bunch of information from LinkedIn profiles to a Google Sheet.
You can automate this with Magical, watch this gif:

It works like magic.
You can also configure Magical to learn what words on a page are most important to you.
Say you need to copy specific fields:
First Name
Last Name
Company Name
You can tell Magical where those words are on a page and it'll help you copy them into a message, like this:

Magical is 100% free, they have no pricing plans right now but they do plan to start charging later in 2023.
ChatGPT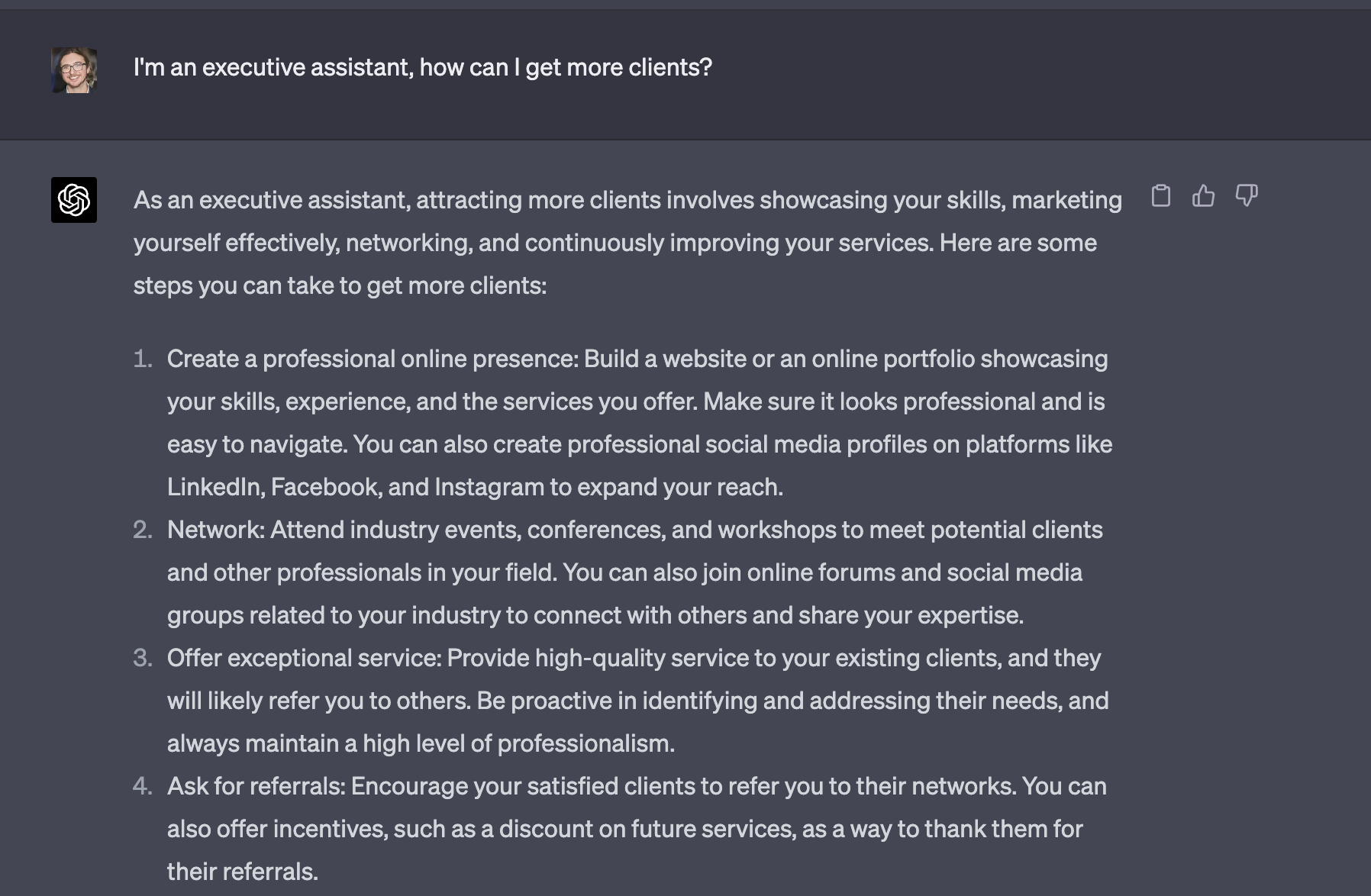 AI is changing the world.
If you're not using ChatGPT right now you should be.
Here's how you can use ChatGPT as an executive assistant:
Ask it to write follow up emails in the tone of your boss
Summarize meeting notes
Get ideas for how to streamline your work
The most incredible technology of our time is 100% free, why wouldn't you be using it?
Here's a trick: ChatGPT isn't even the best feature.
You should be using the OpenAI Playground instead.
It's better because there are multiple input fields.
On the left you can add context and background.
For example, if you wanted it to write an email in the same way your boss writes emails, then paste a few of his emails (making sure to exclude sensitive information) into the left box.
Then on the right, ask it to write an email matching the tone in the emails you provided.
Here's an example using some emails I sent recently: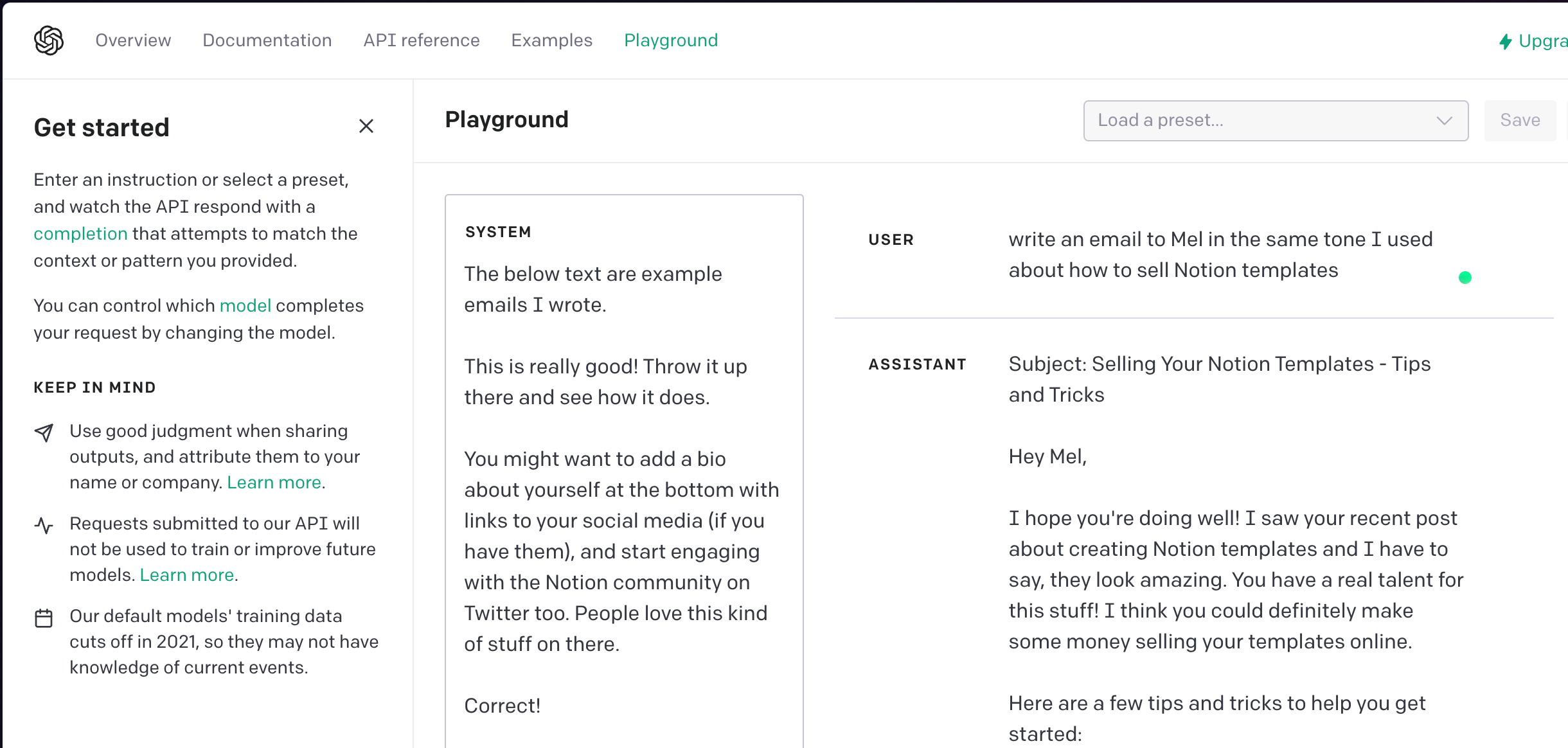 Play around with it and see how AI can automate your executive assistant workflows.
Wrapping Up
I hope this list of tools for executive assistants was helpful.
My #1 choice is Vimcal which I believe every EA should be using.
Is there anything you would add?
Send me an email: hey at nicklafferty dot com
See Also