The Notion template gallery is a great repository for pre-built, beautiful templates, but I wanted to curate a list of free Notion templates that inspire me.
I've created a list of templates for students, personal finance, work, productivity, and more. Each is categorized by section with a free download link and proper attribution to the creator.
Make sure to check out my list of the most aesthetic Notion templates, why Notion is the best productivity tool, and the best Notion budget templates.
Notion Templates For Students
Life OS: The All-in-One Notion Template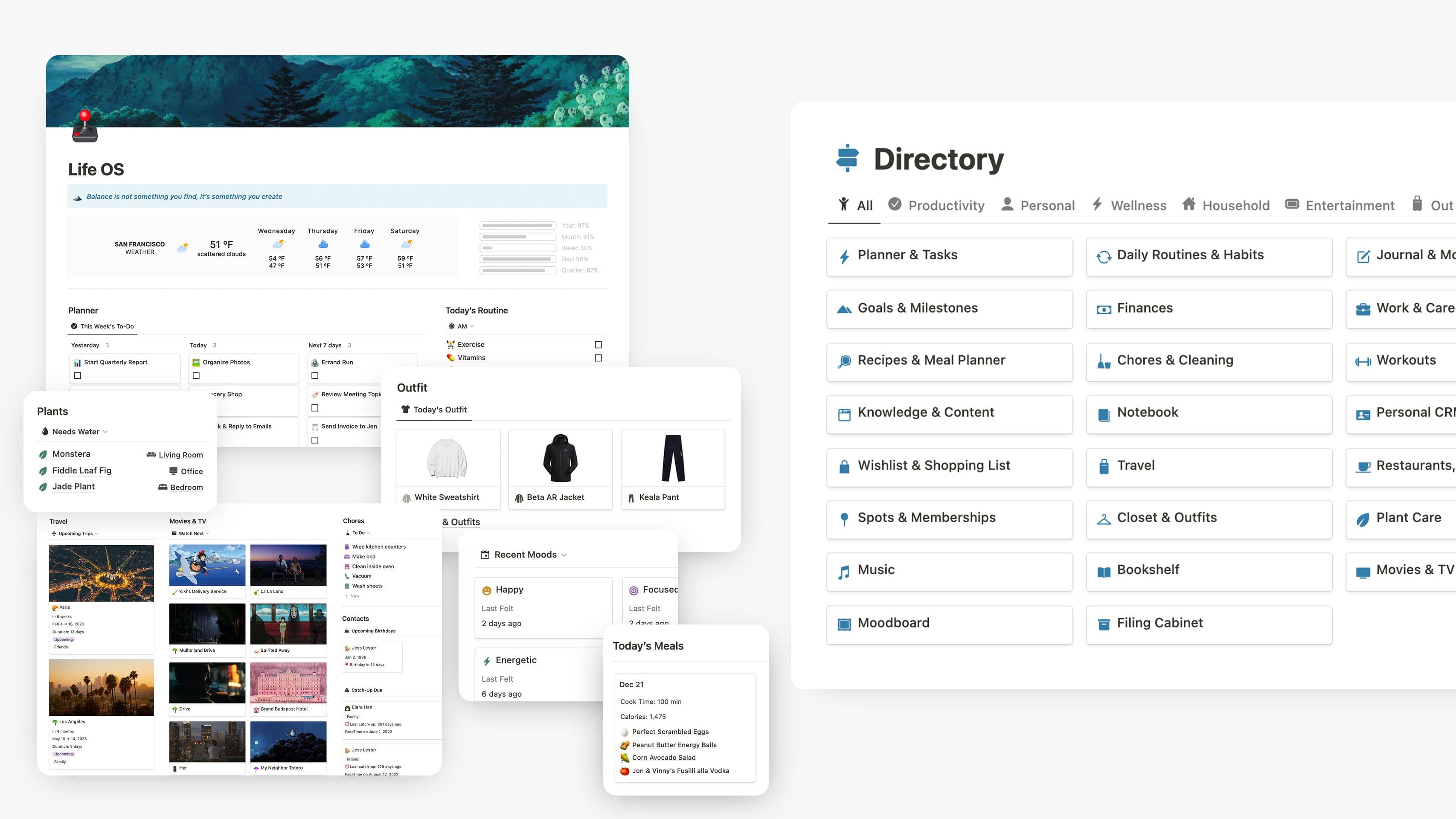 Author: Gridfiti
Introducing the brand new Life OS Notion template: the ultimate all-in-one planner for every aspect of your life!
With over 25+ interconnected templates included and a live and dynamic homepage dashboard – this is the only template you'll need to centralize everything in your life.
The magic of this template is that every page is integrated together.
The dynamic homepage is a live reflection of every bit of information stored elsewhere in the dashboard.
It includes sections for:
✅ Planner & To-Dos
🔄 Daily Routines & Habit Tracker
✍️ Journal & Mood Tracker
🎯 Goal-Setting
💰 Finances
💼 Work & Career
🍳 Recipes & Meal Planning
🧹 Chores & Cleaning
🏋️ Fitness
🧠 Content Queue & Knowledge Base, and much more
All their information is always updated on the homepage.
Learn more and grab the Life OS below.
Student OS: The All-in-One Student Dashboard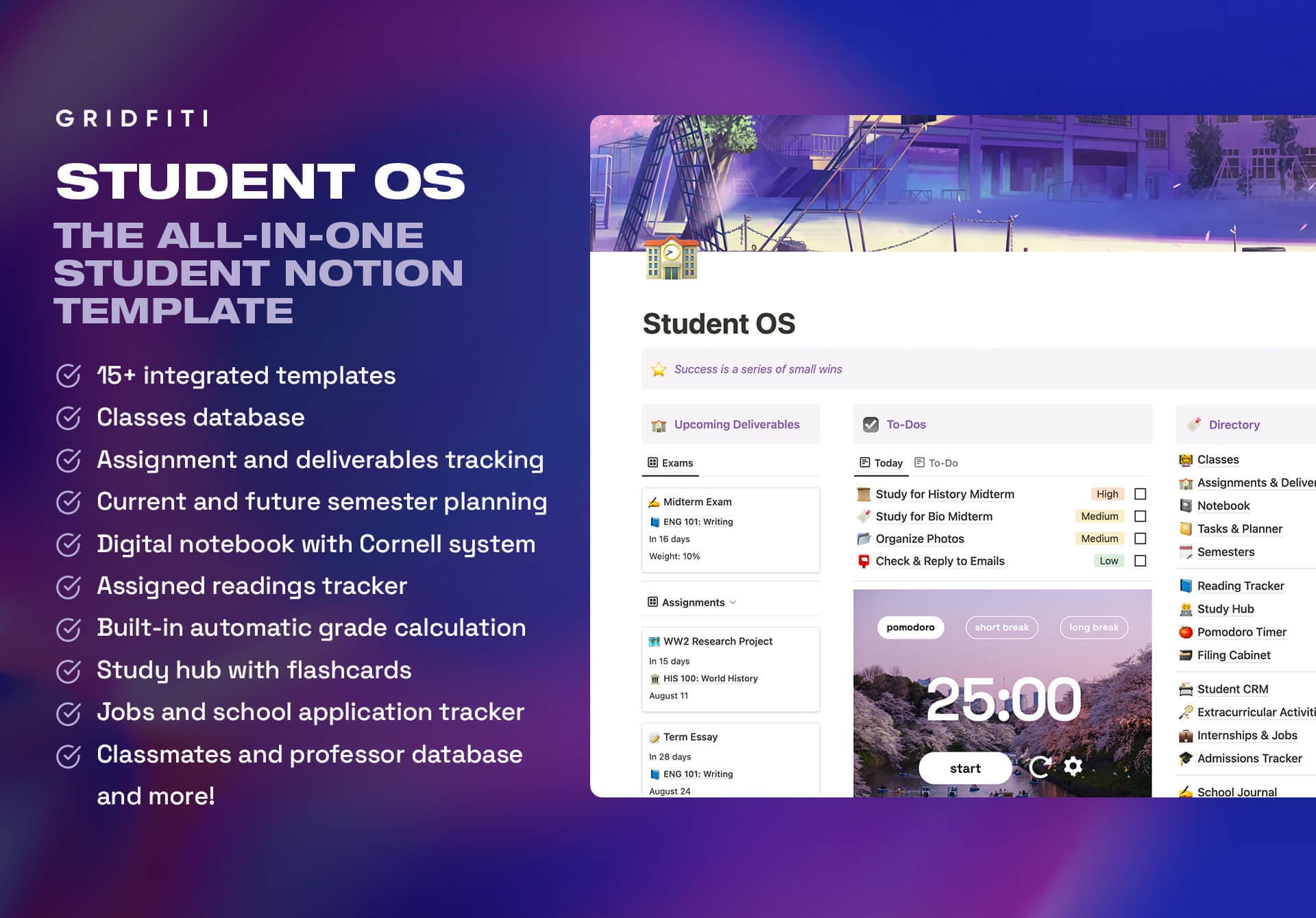 Author: Gridfiti
Student OS is the ultimate all-in-one workspace for everything you need for your academic career, both in and out of the classroom.
It brings together 15+ integrated templates into a centralized dashboard, including:
Robust class pages
Assignments and deliverable tracking
Semester planning
Built-in grade calculations
A digital notebook using the Cornell note-taking system
Job and school application hubs
Extracurricular tracking and more
Available in both an aesthetic and minimalist theme.
Sponsor: Monday.com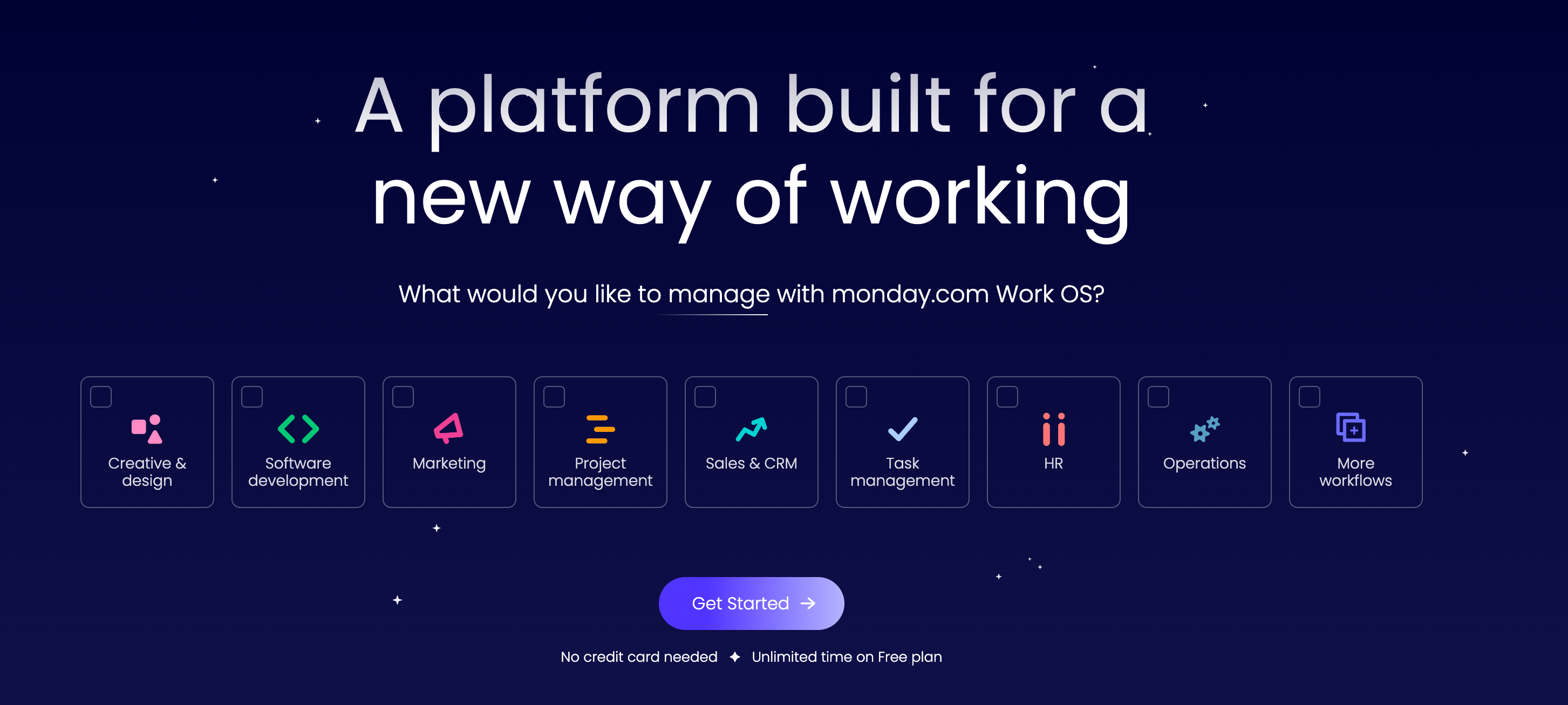 This list is sponsored by monday.com , a Notion alternative.
monday.com helps students and teams stay organized, track projects, and create and share documents.
1. Limitless OS: The All-In-One Notion Template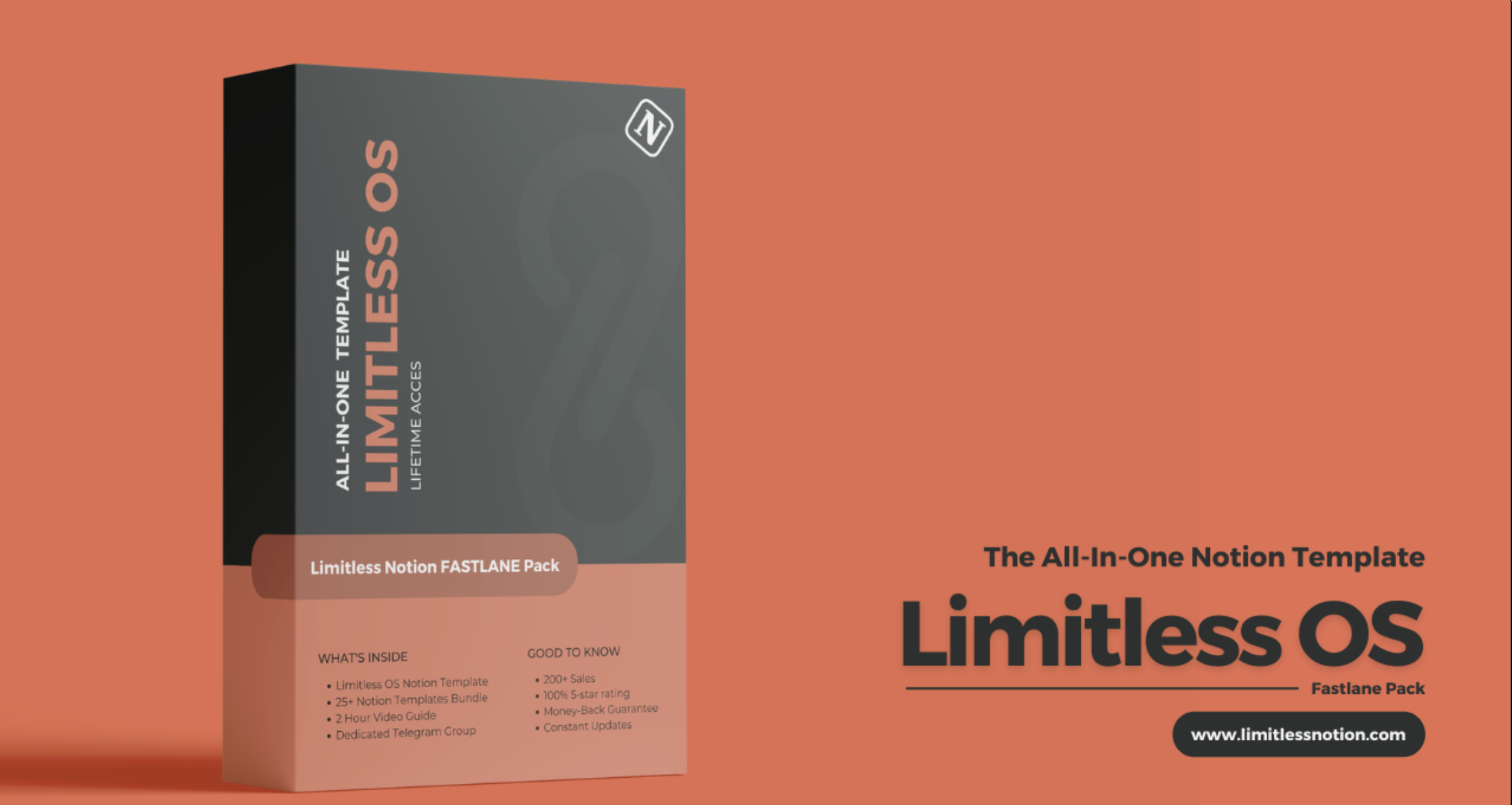 Limitless OS is the Ultimate, All-In-One Notion Template.
With One Purchase, you'll get everything that you may need to build your dream Notion Setup.
What you'll get:
Limitless OS with 30+ Built-in Templates Working Smoothly Together
2-Hour Video Guide for Easier Template Setup
Dedicated Support on Telegram for Assistance
Lifetime Access & Lifetime Updates (current version 2.0.9)
Get the Limitless OS today at the link below.
2. Ultimate Personal Finance Dashboard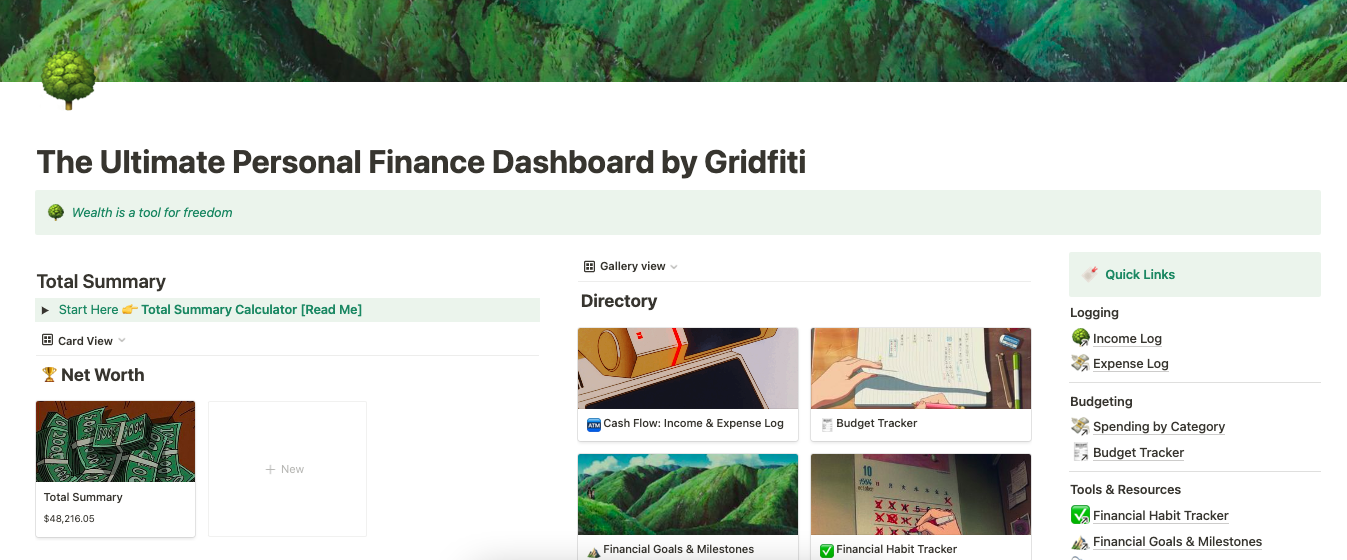 Author: Gridfiti
This template has:
🌳 Income Tracker by Category – track several income streams (salary, investments, side hustles, and more), attach paystubs, invoices, and more
💸 Expense Tracker – track by several pre-built categories, emoji sentiment, date, attach receipts
🧾 Budget Status Tracker – set your monthly budget per category and see where you're at by monthly average (automatically pulls from the dashboard expense tracker!)
💳 Recap of top income by streams, and top spending by category – by monthly average or all-time stats. See where you're making and spending the most!
3. The Cozy Life Dashboard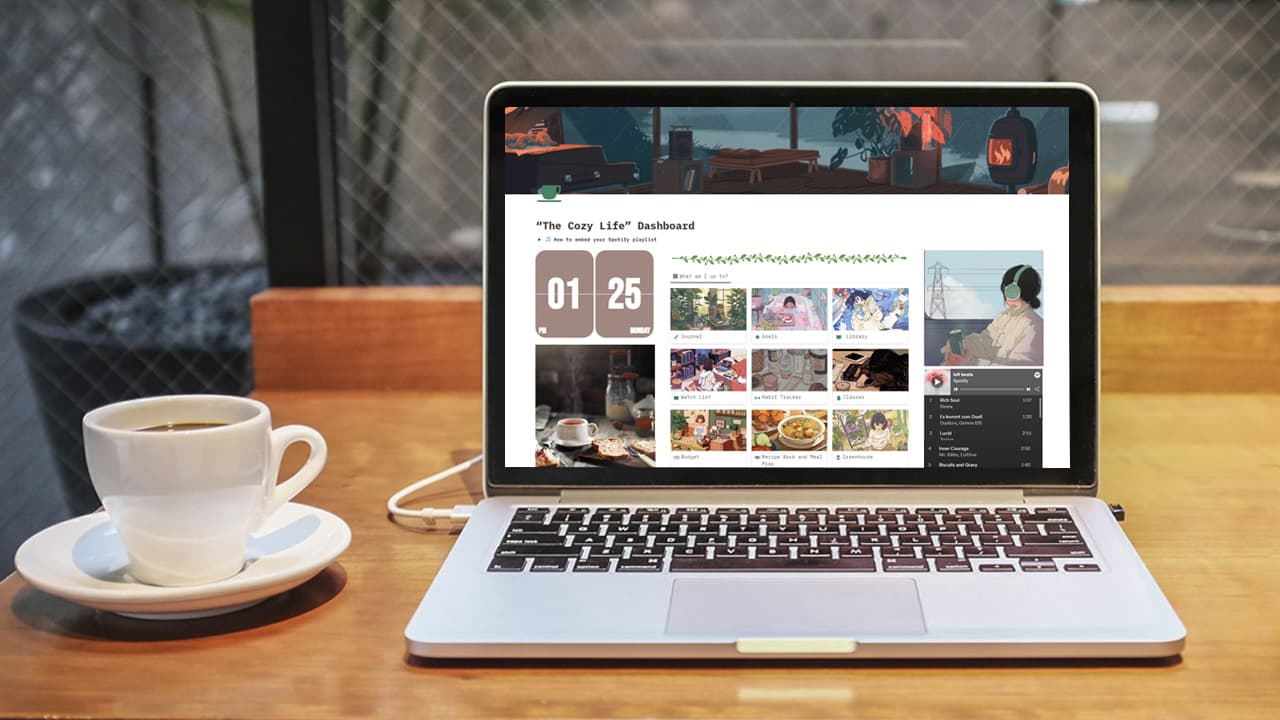 Author: Nick & Cody
It just started raining outside. You can hear the rain pitter-pattering outside your window.
You poured a fresh cup of coffee and there's music playing softly in the background.
I tried to capture these little moments in a single Notion template.
This is a cozy, aesthetic dashboard to help you keep track of everything in your daily life.
And it's the best template I've ever made.
4. The Super Life (Ultimate Life Planner)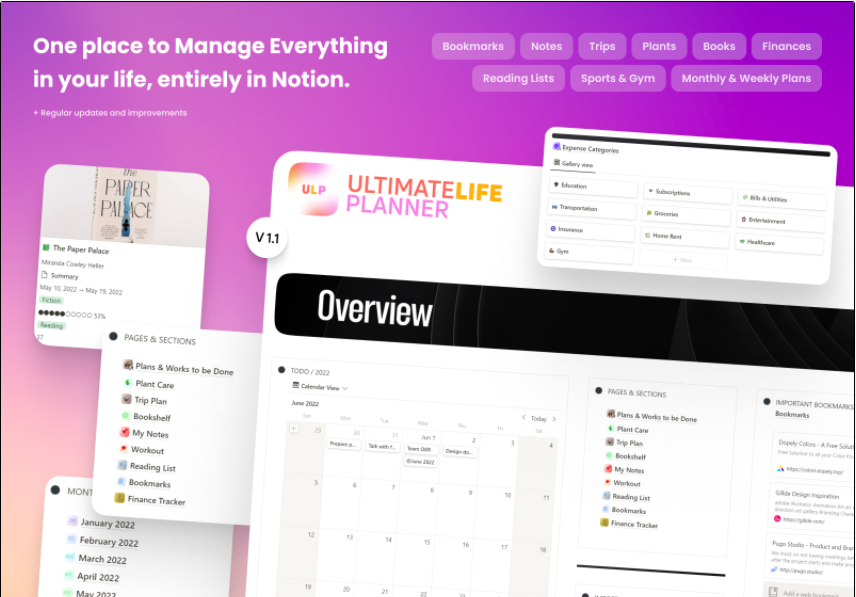 The Super Life (Ultimate Life Planner) is one place to manage everything in your life entirely in Notion.
It brings tasks, notes, plans, health, plant care, travel plans, finance, and more together in your favorite tool.
Here's a snapshot of what it covers:
Dashboard
Monthly planner
Personal & work daily planners
Bookmarks
Bookshelf & reading list
Workout
Plant care
Trip planner
---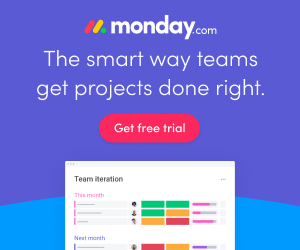 This post is sponsored by monday.com, project management software that will actually make your more productive.
Try Monday.com Today For Free
---
5. Ultimate Second Brain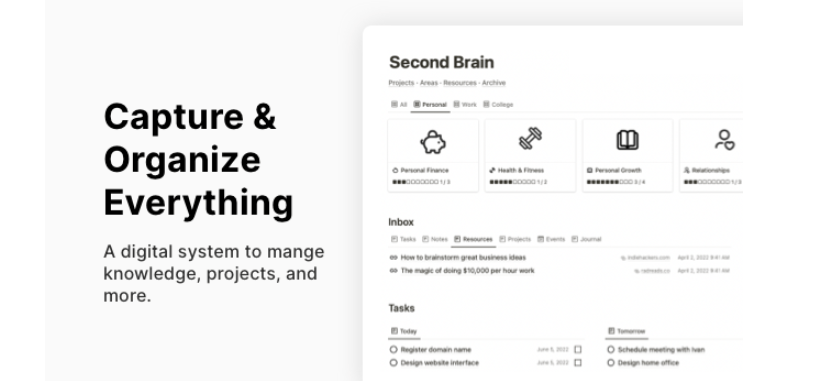 Author: Easlo
Capture and Organize Everything in Notion.
Notion second brain templates are designed to capture, store, and easily retrieve information you gather throughout your life.
This template is an all-in-one productivity system to capture and organize your knowledge, projects, tasks, goals, and more.
What's included?
All-in-one dashboard
PARA system: Projects, Areas, Resources, Archive
Weekly review
Additional components for habit tracking, goal tracking, and journaling
Tutorials and examples
Lifetime access
Access to private support community
6. Ultimate Notion Travel Dashboard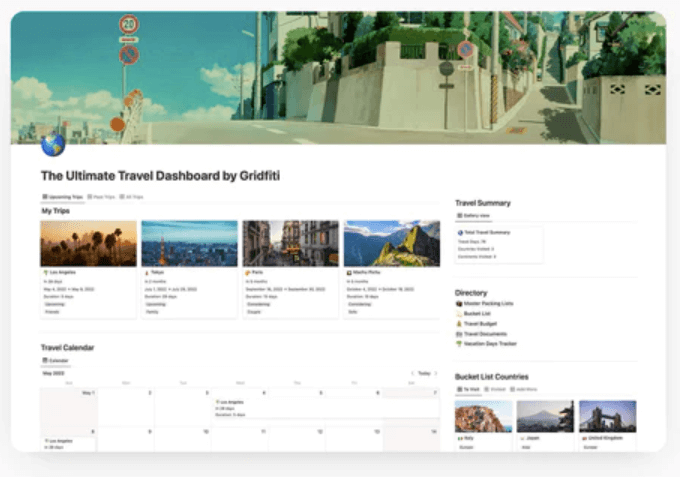 The Ultimate Travel Dashboard for Notion is a feature-rich, all-in-one template to track everything related to your travels. This is one of our most robust templates to date, built by seasoned travelers who don't skip the details.
🕹 Centralize your travel with an all-in-one travel dashboard to see all of your trips at a glance, along with everything else listed below
🌏 Main trip database to tag each trip by status, date range, trip type, and country – along with a countdown to the trip
7. Limitless Notion Template Bundle [25 Templates]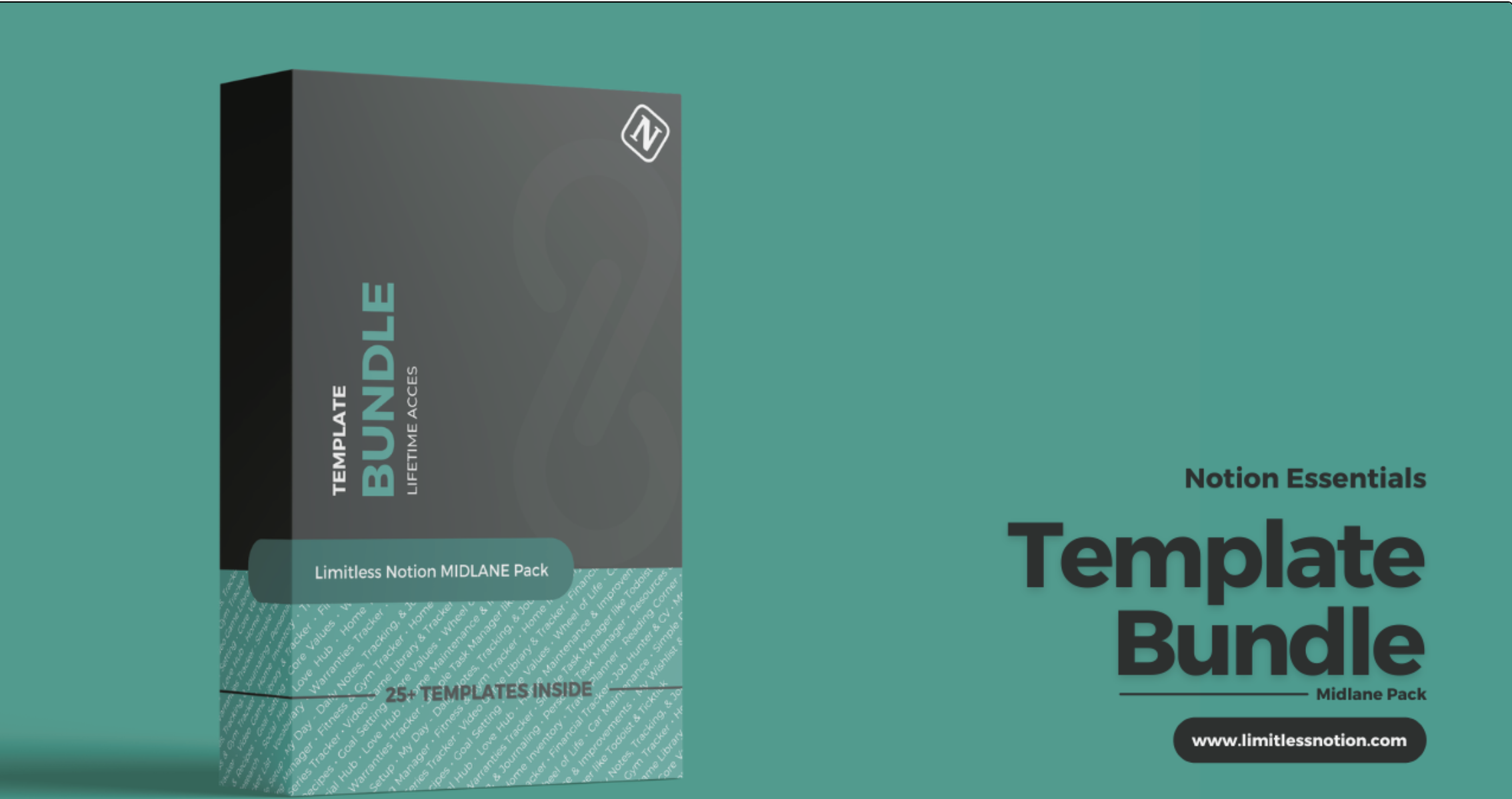 Supercharge your Notion template library with 25 easy to use Notion templates.
Here's exactly what's inside.
Life Setup Notion Template - $15
My Day - Daily Notes, Tracking, & Journaling - $10
Personal Task Manager Notion Template - $10
Resources & Learning Manager Notion Template - $10
Fitness & Gym Tracker Notion Template - $10
Travel Planner Notion Template - $10
19 other templates valued over $55
Includes lifetime access to these and all future templates.
Get the Notion template bundle at the link below.
8. The Ultimate Habit Dashboard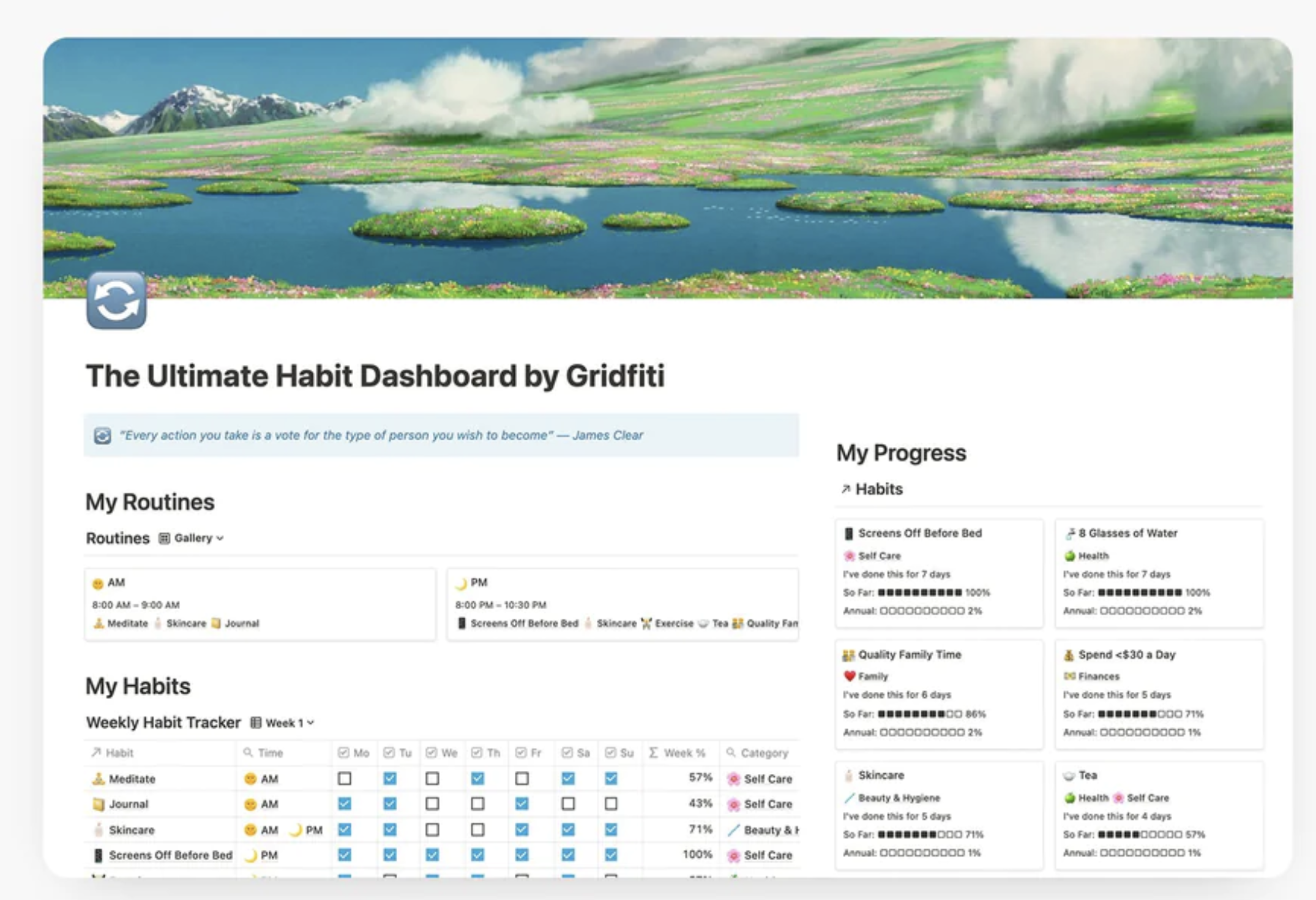 Author: Gridfiti
Create great habits and stick to them with The Ultimate Habit Tracker Dashboard for Notion!
✔️ Create, then track your habits every week with an easy-to-use checkbox system
🍎 Includes several built-in categories – from health, to self care, organization, finances, intellect, hygiene, and more
🚀 Get an overview of how you're doing by habit and by category throughout the year with progress bars – and even see how many days you've stuck to your habit so far
🌖 Set integrated AM & PM routines that connect to your habits
9. Ultimate Planner Dashboard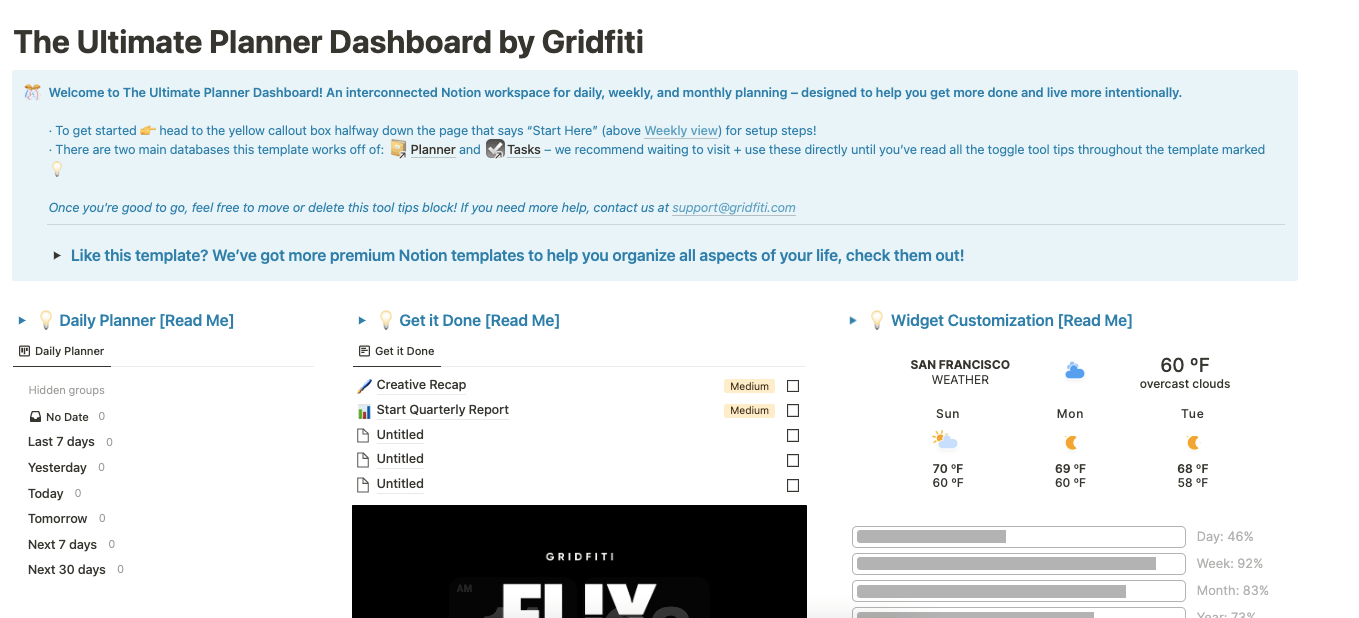 Author: Gridfiti
The Ultimate Planner Dashboard for Notion is designed to help you get more done with a fully integrated system for daily, weekly, and monthly planning.
🕹 Interconnected dashboard to get an overview of all of your daily, weekly, and monthly planning – with boards, task lists, widgets, and more
🛠 Master tasks database organized by days, priority, to-do, and more – plan your tasks by day, and even plan how long you want to spend on each task
⚡️ Productivity tracking based on hours allotted vs. hours used per task – automatically receive a rating per task and each day, and see your ratings in your daily, weekly, and monthly views!
Learn more by clicking the button below.
10. Build $4000+/month in passive income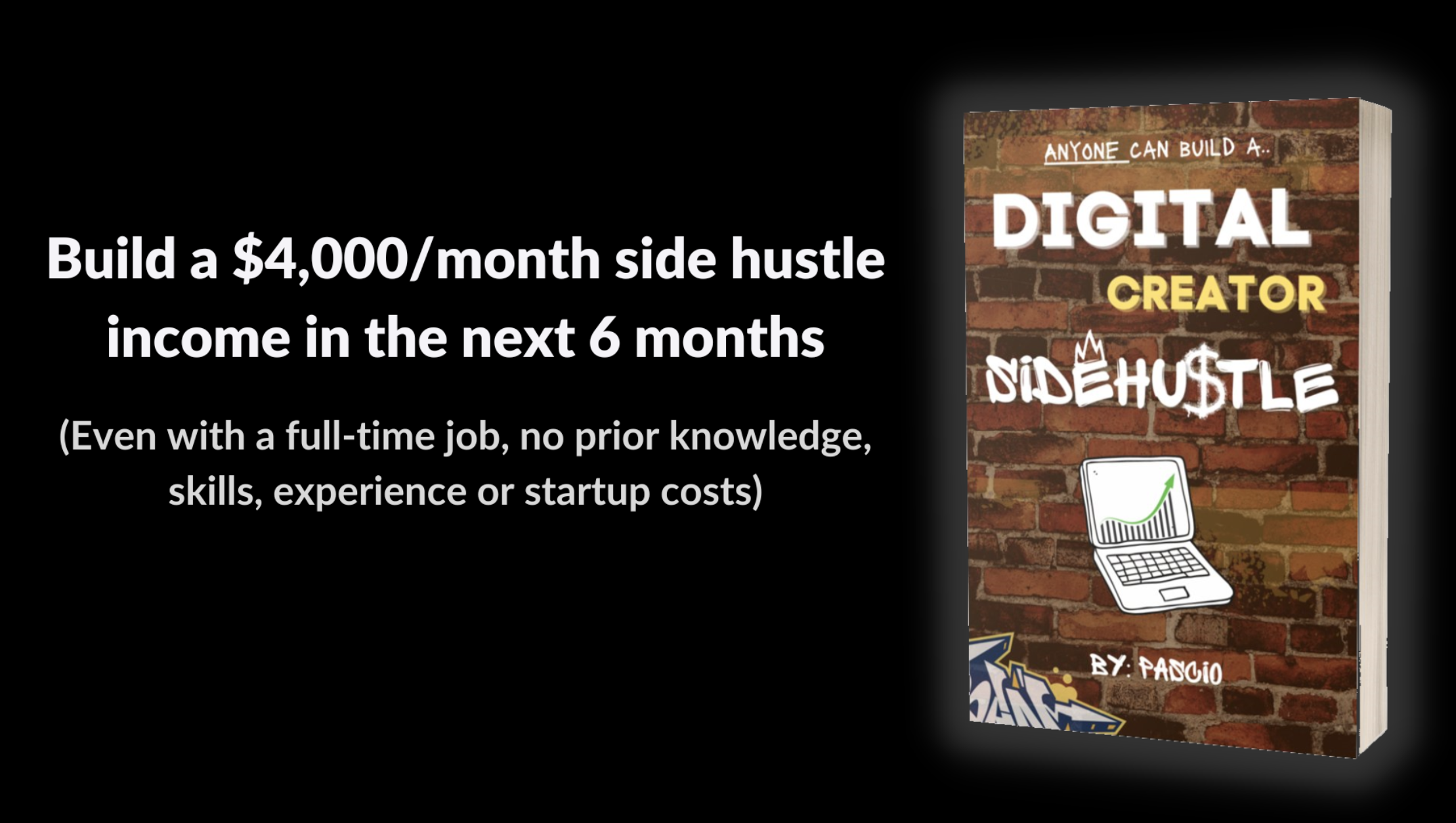 Anyone can be a digital creator. It's never been easier to start your own business.
Learn to make money online by creating and selling Notion templates and generate more than $4000+/month in passive income.
Start asking yourself:
✅ What would an extra $500/month do to your finances?
✅ How would life look with $1,000 extra coming in consistently every month?
✅ How would having the security of a $2,000 income stream benefit you?
What you'll be learning
After reading this guide, you'll have familiarized yourself with the essential knowledge to help you build, launch and sell Notion templates consistently to create passive income for yourself just as I did to generate more than $20,000+ in revenue in 10 months:
✅ How to start a side hustle that actually pays ✅ How to build an online audience and the value of it ✅ How to set up systems to help you do more faster. ✅ How to build a product with no knowledge ✅ How to package and prepare your product
This isn't some internet guru bullshit. It's something me and hundreds of other people are doing right now.
And you can too.
11. Notion Health Hub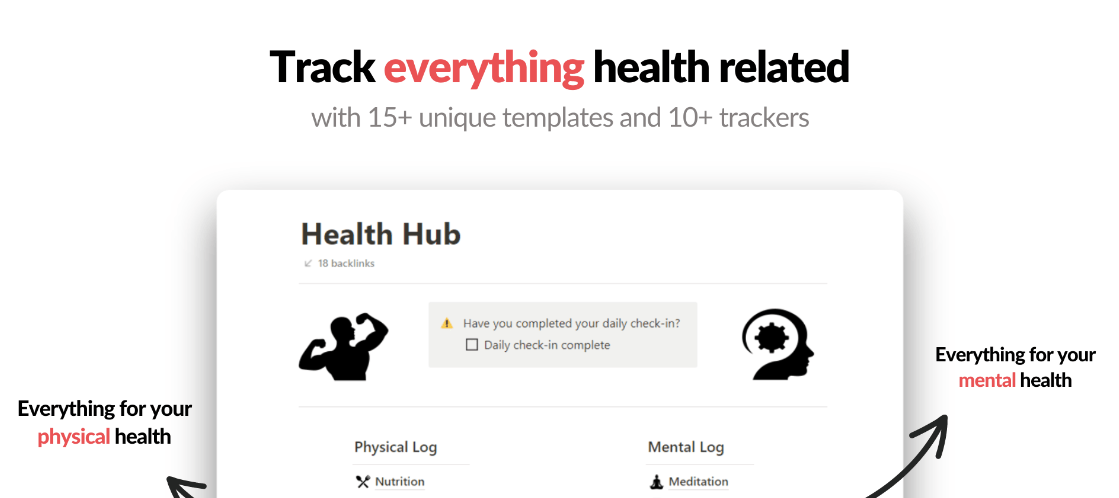 Author: Pascio
Managing your health can be a real hassle unless you've got a system for it.
Do you know how much water you drank yesterday? How many calories you've eaten this morning?
Sure you can try to track, but where would you do it? Probably in an old notebook or on a piece of paper, right?
Well, that doesn't work long-term. What if there was a way to store, input, track and monitor all that information digitally?
This is where Health Hub comes in. Learn more at the link below.
Ultimate Template Bundle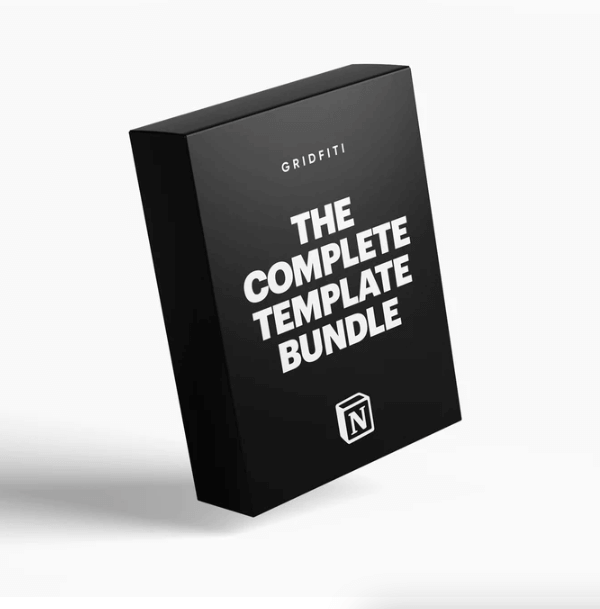 I've partnered with Gridfiti to offer their Ultimate Notion Templae Bundle for a discounted rate.
Get 13 templates, worth $139, for a discounted rate of $59.
The Ultimate Bundle includes:
📔 The Ultimate Planner Dashboard
🎯 The Ultimate Goals Dashboard
🏫 Student OS: All-in-One Dashboard
And 9 more high-quality templates.
There's no better way to jump start your personal Notion workspace.
Notion Productivity Templates
12. The Ultimate Goals Dashboard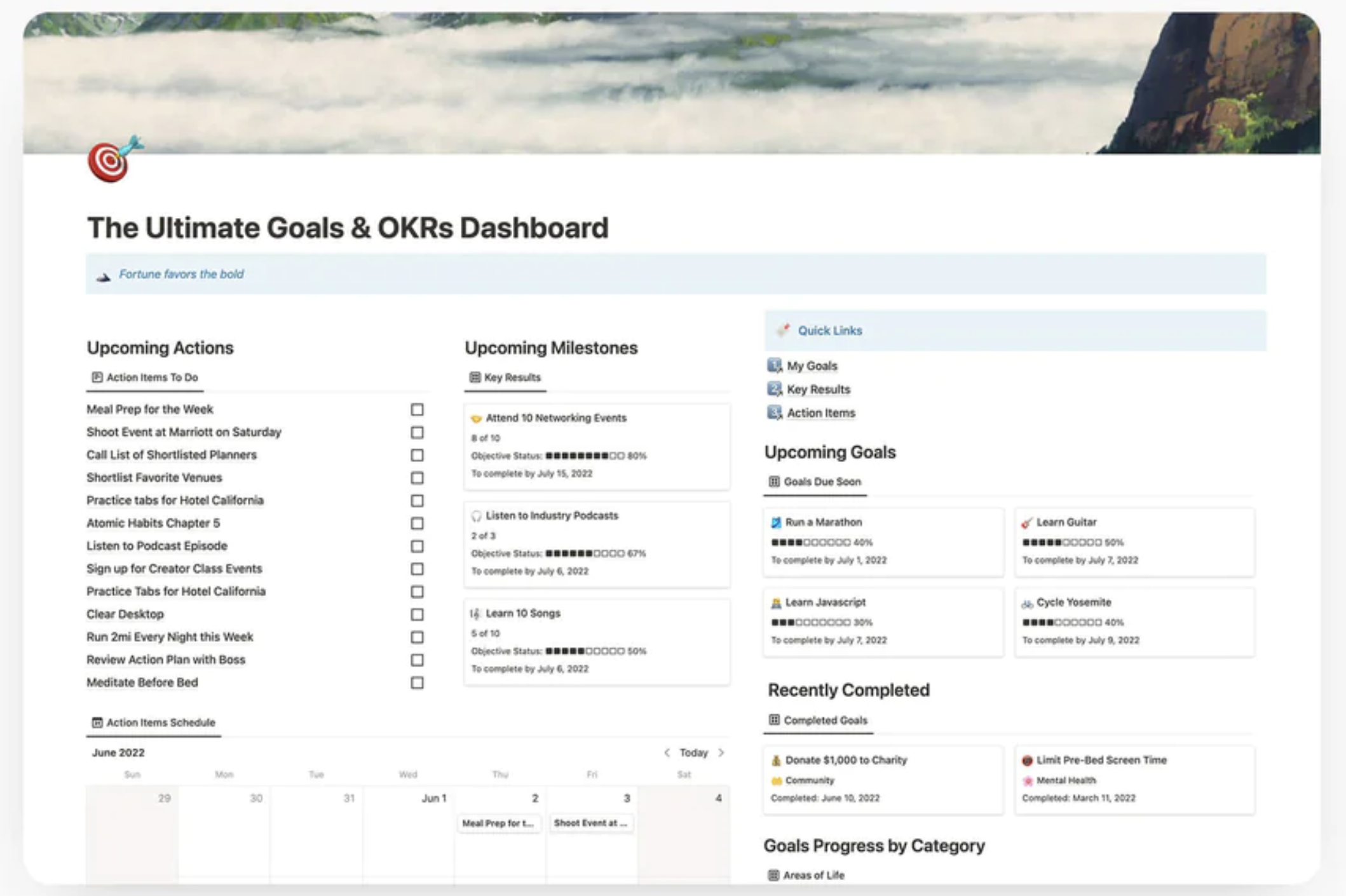 Author: Gridfiti
The Ultimate Goals & OKR Dashboard for Notion is designed to help you map out and actually achieve your goals – no matter how big or small – by breaking them up into an actionable system.
🎯 Set high level goals, by several different areas of life. Using the OKR (objectives and key results) system, there are 3 tiers to dissect your goals into manageable and tangible action items
🛠 Set specific metrics, deadlines, and to-dos per key results item, and watch yourself crush them!
📔 Each goal page includes a pre- and post-goal assessment journal worksheet inside. Using the SMART system and other built-in prompts, get more intentional with your goal setting to set yourself up for success!
Get all that and more at the link below.
13. Creator Starter Pack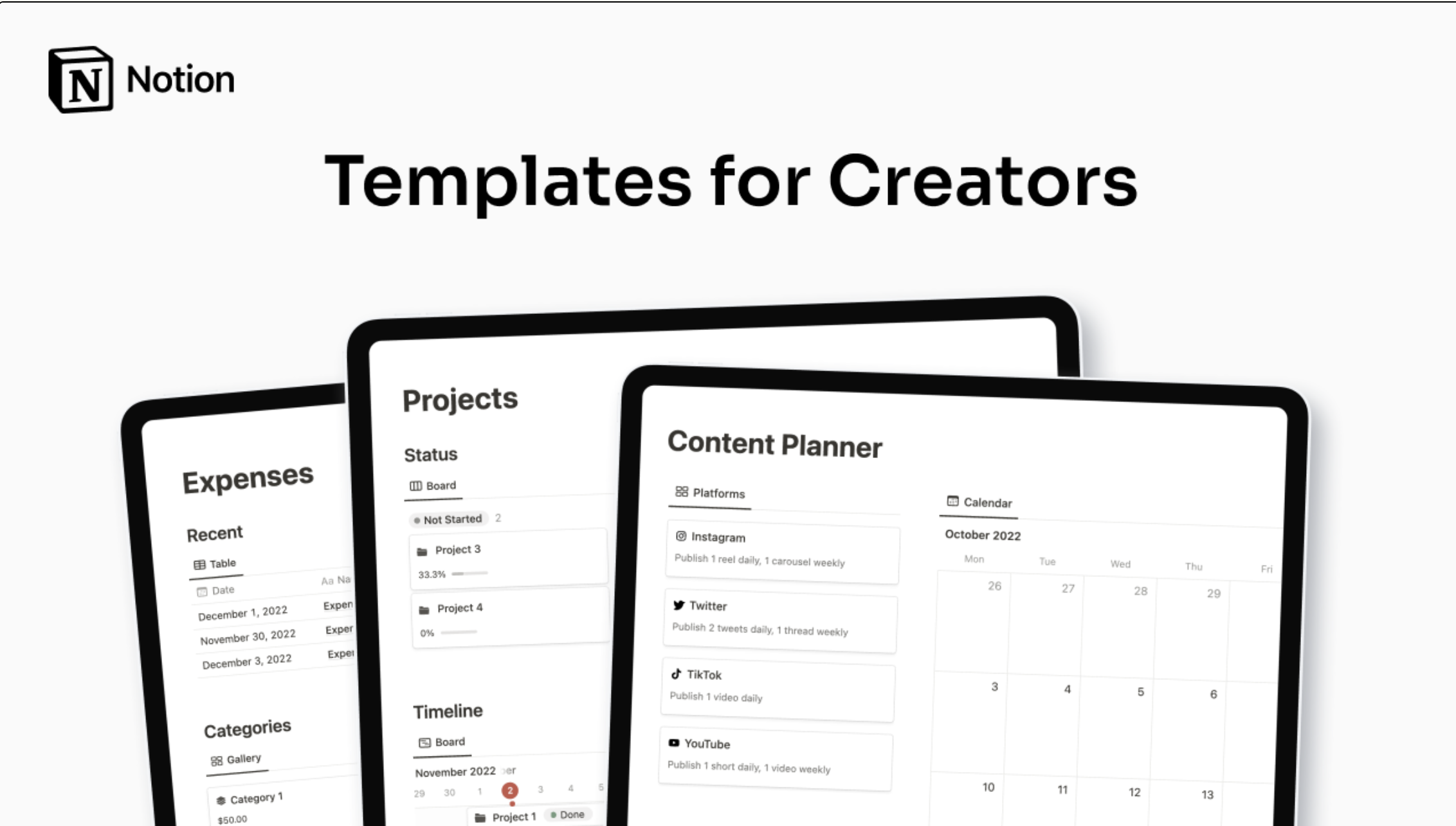 Feeling overwhelmed by everything you need to get done? This product is for you.
Introducing Creator Pack. Creator Pack is here to help you stay organized and on top of your deadlines.
With these templates, you can easily track your projects, expenses, and social media content calendar. Plus, our templates are designed to help you save time and be more productive.
What's Inside?:
Projects Tracker
Tasks Manager
Content Planner
Personal CRM
Expense Tracker
14. Notion Business Hub
Your Business Hub, entirely in Notion.
One place for Everything in your Business.
Tired of cobbling together multiple apps to form your Business? Me too. Business Hub lets you capture and organize everything inside of Notion - turning it into an all-in-one workspace.
Business Hub is the most advanced business & startup Notion template that helps you manage every aspect of your SaaS product, Digital product, Startup, and in general your online business.
Don't miss my longer list of business Notion templates.
15. Stoic Life Journal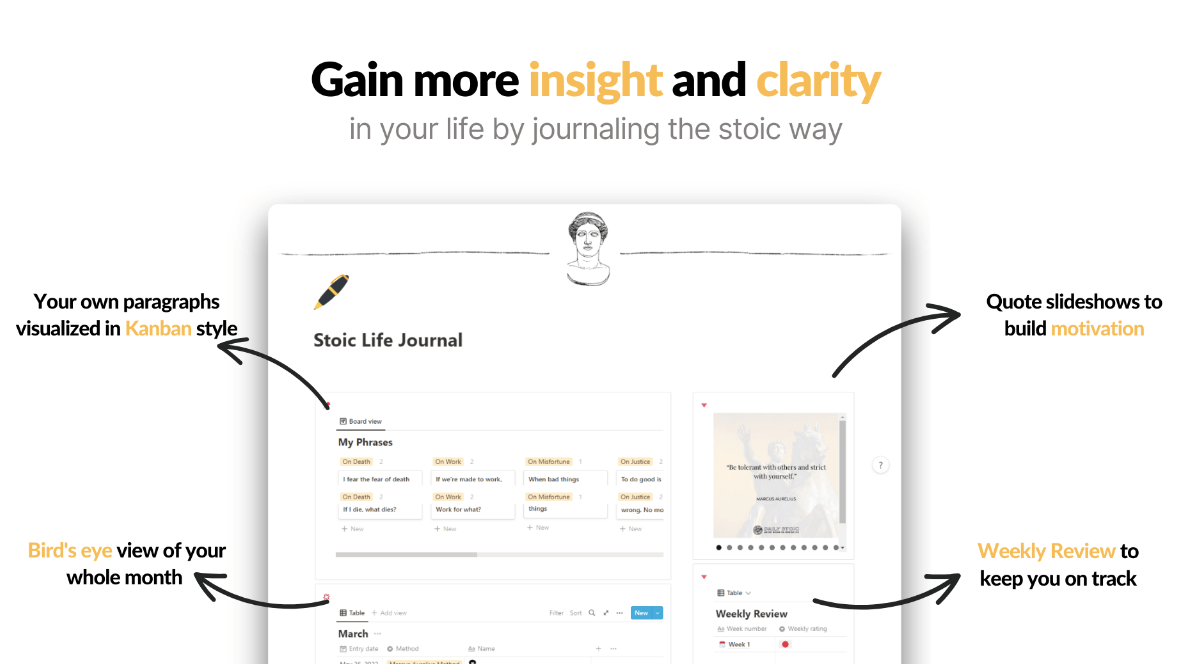 Author: Pascio
A life journal made to bring more insight and clarity to your life by journaling the stoic way.
That's how Pascio describes the Stoic Life Journal.
Anchoring on the known benefits of journaling combined with the 5 Stoic Methods, this template helps:
Calm and clear your mind
Make decisions more objectively
Embrace the events in your life
I've journaled in Notion for the last few years and I started a list of my favorite Notion journal templates if you want to look at other options.
It includes:
Journal Dashboard
Personal phrase collection
Unlimited journal entries
Easy sorting and storage, and more
16. Productivity System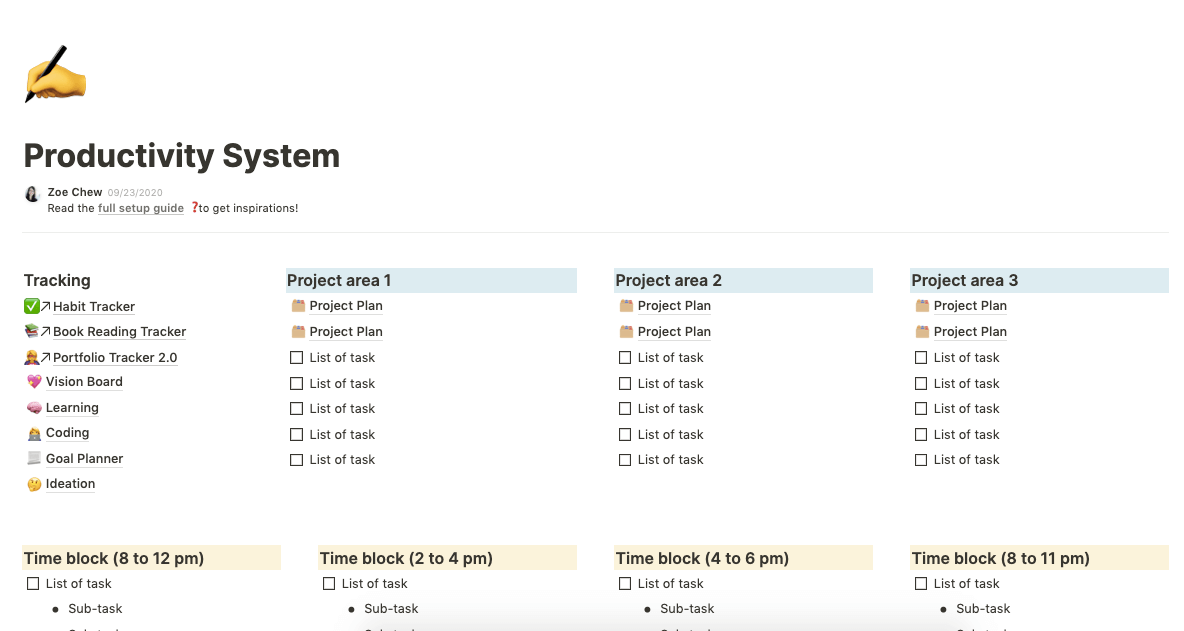 Author: Zoe Chew
17. Portfolio Tracker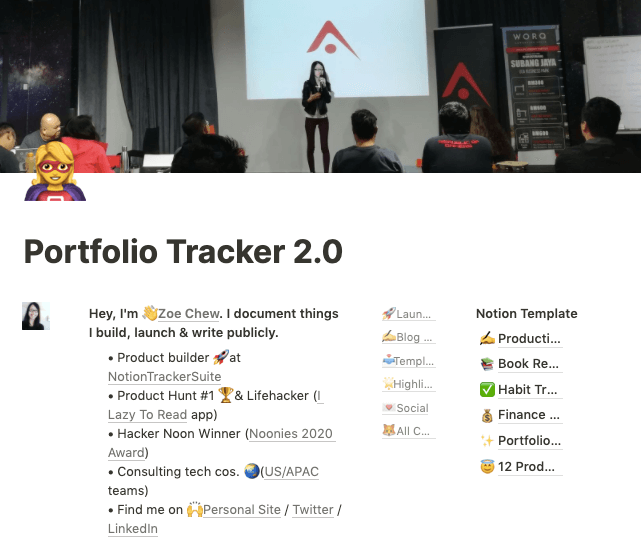 Author: Zoe Chew
Notion Personal Templates
18. Kanban Board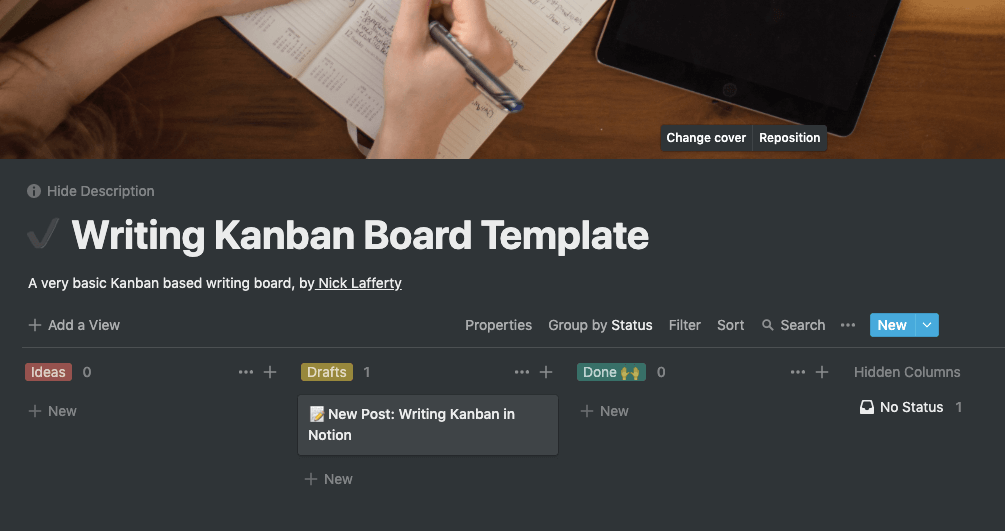 Author: Nick Lafferty
19. Spaced Repetition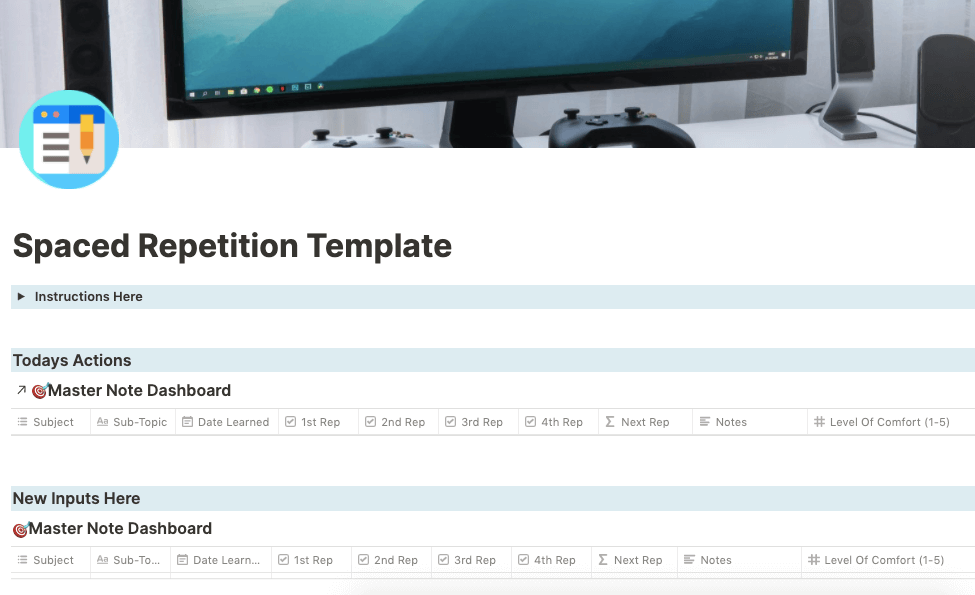 Author: Brandon Zhang
20. Campus Life Organizer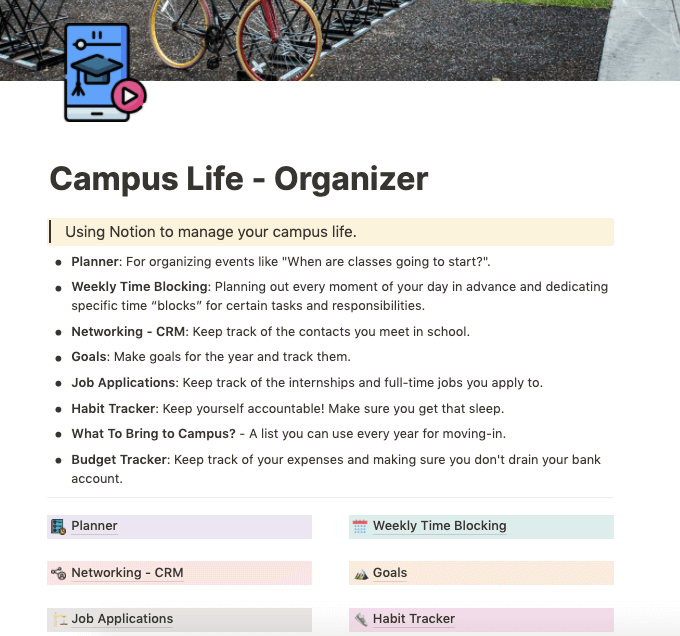 Author: Will Ma
21. Workout Tracker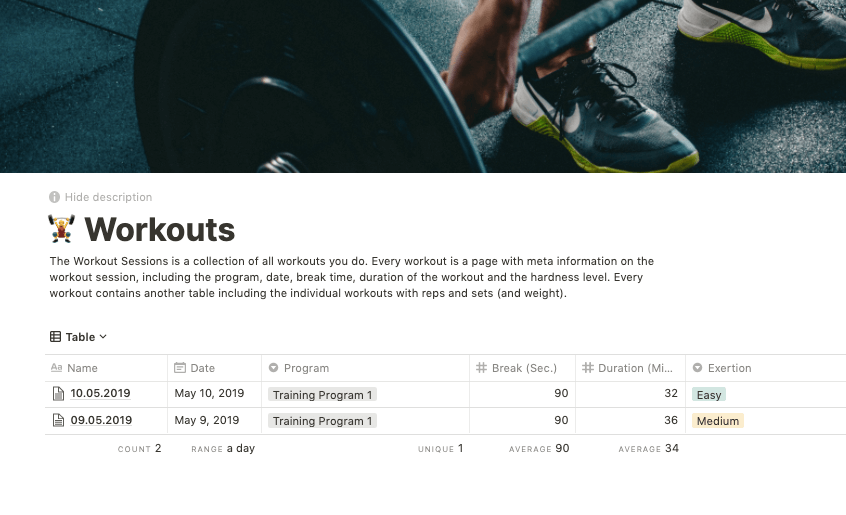 Author: Stefan Imhoff
22. Resume Template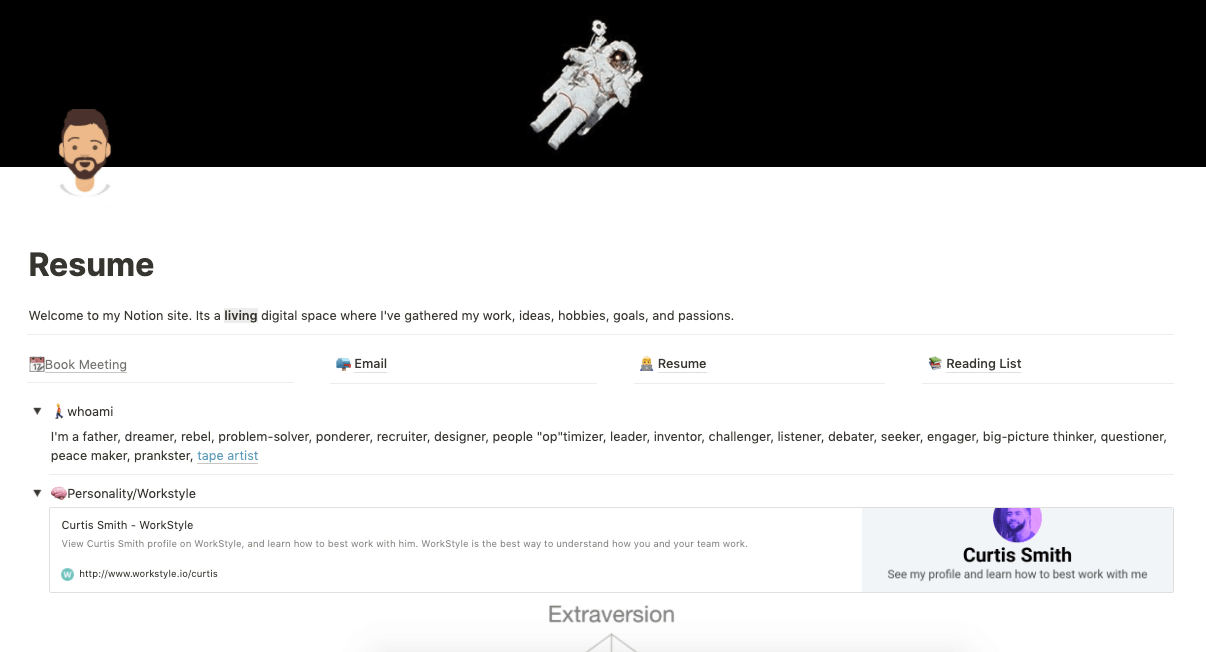 Author: Curtis Smith
23. CRM Template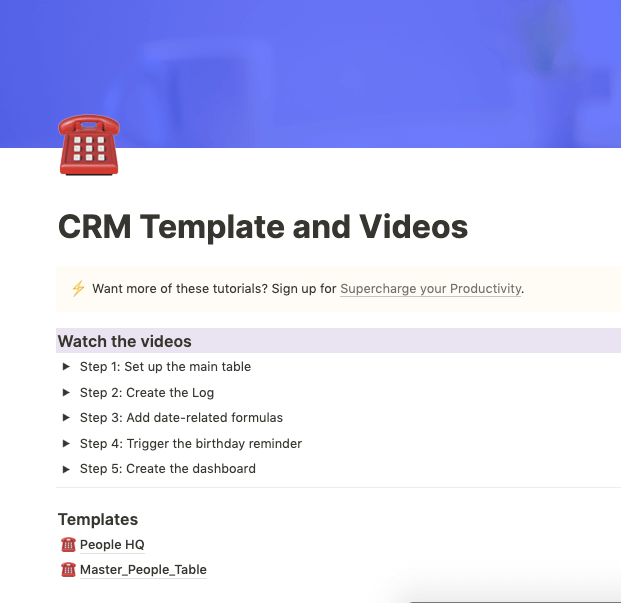 Author: Notion.Courses
24. Meal Planner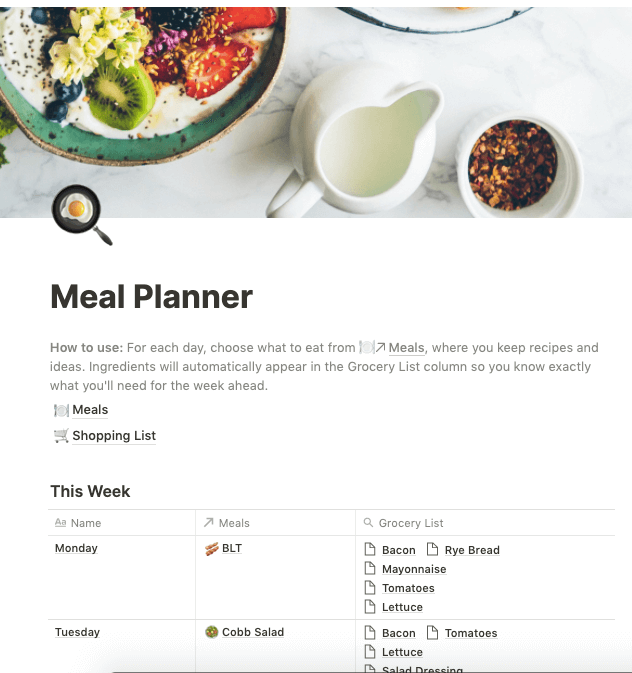 Author: Notion Team
25. Notion Plant Tracker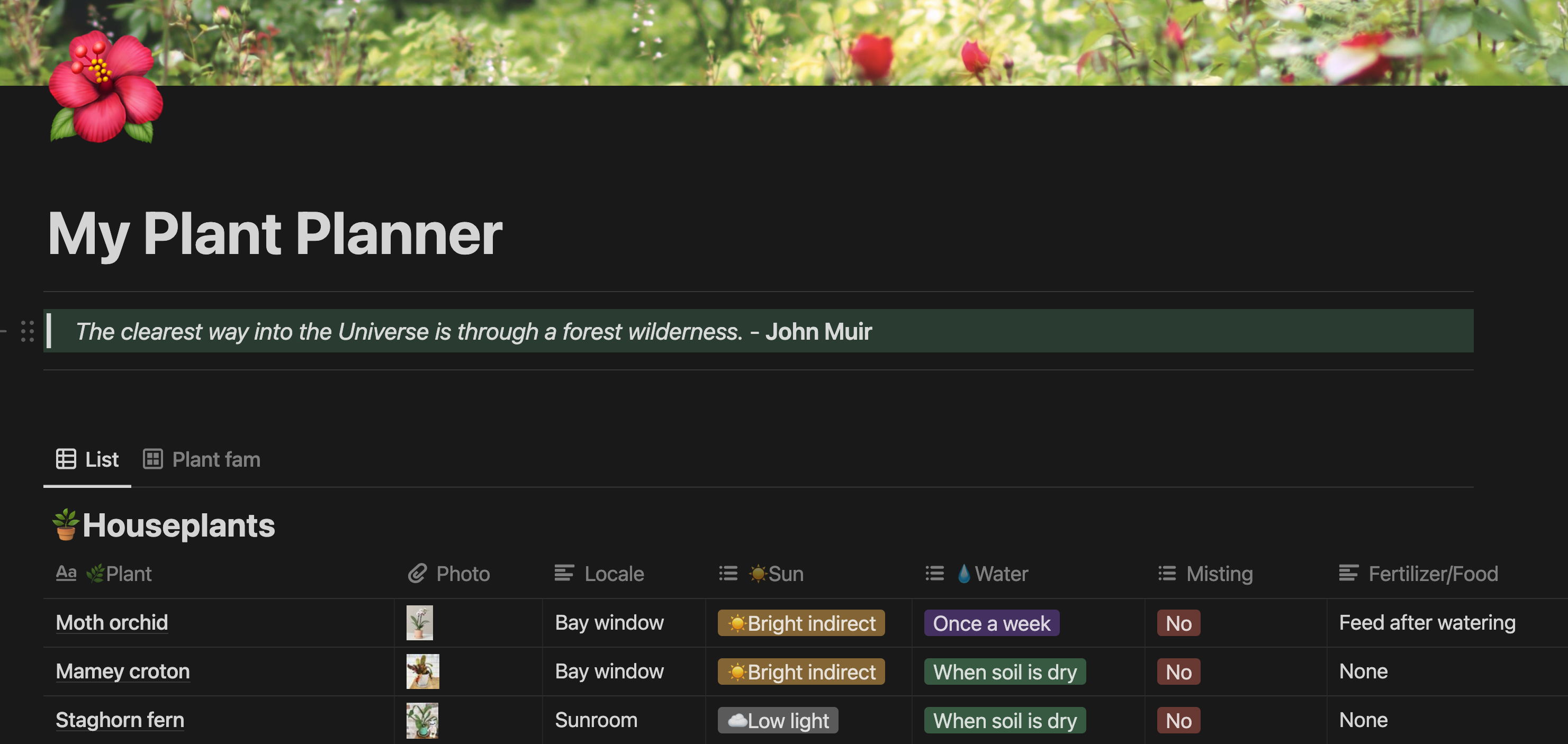 Author: Crafty Cody
26. Daily Journal

Author: Nick Lafferty
27. Bullet Journal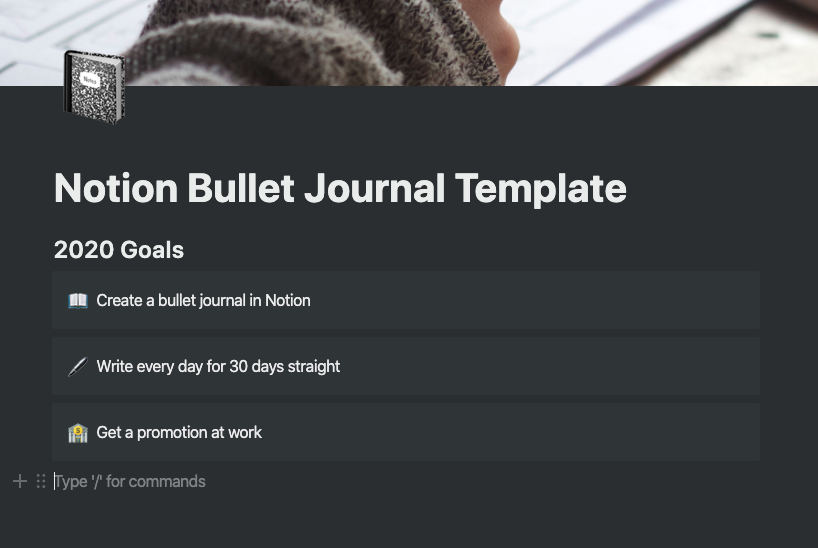 Author: Nick Lafferty
28. Habit Tracker

Author: Nick Lafferty
Notion Templates For Personal Finance
29. Notion Finance Tracker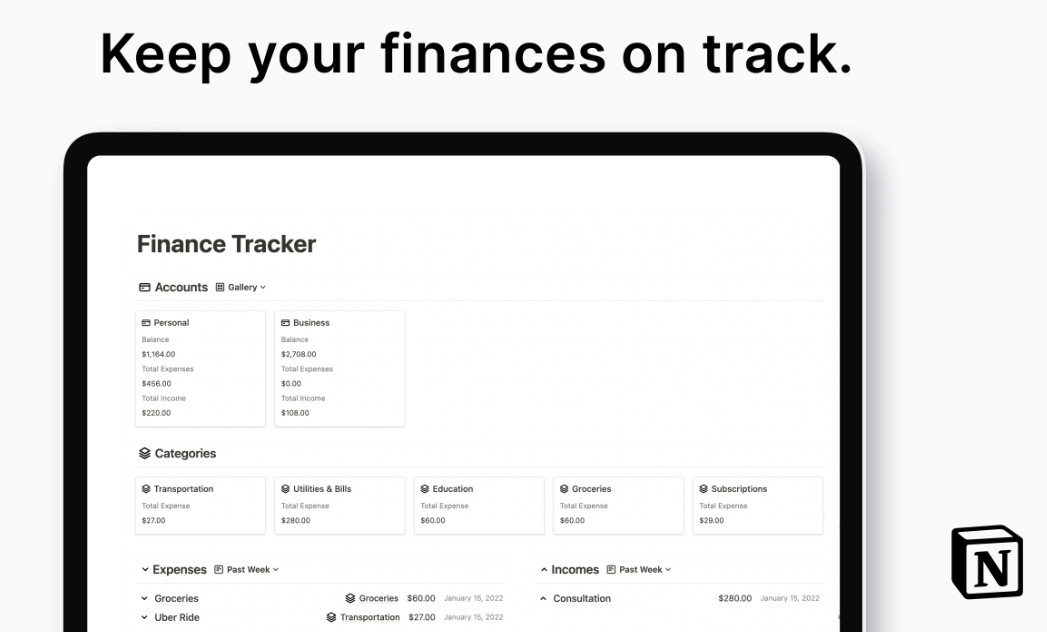 Author: Easlo
30. Budget Tracker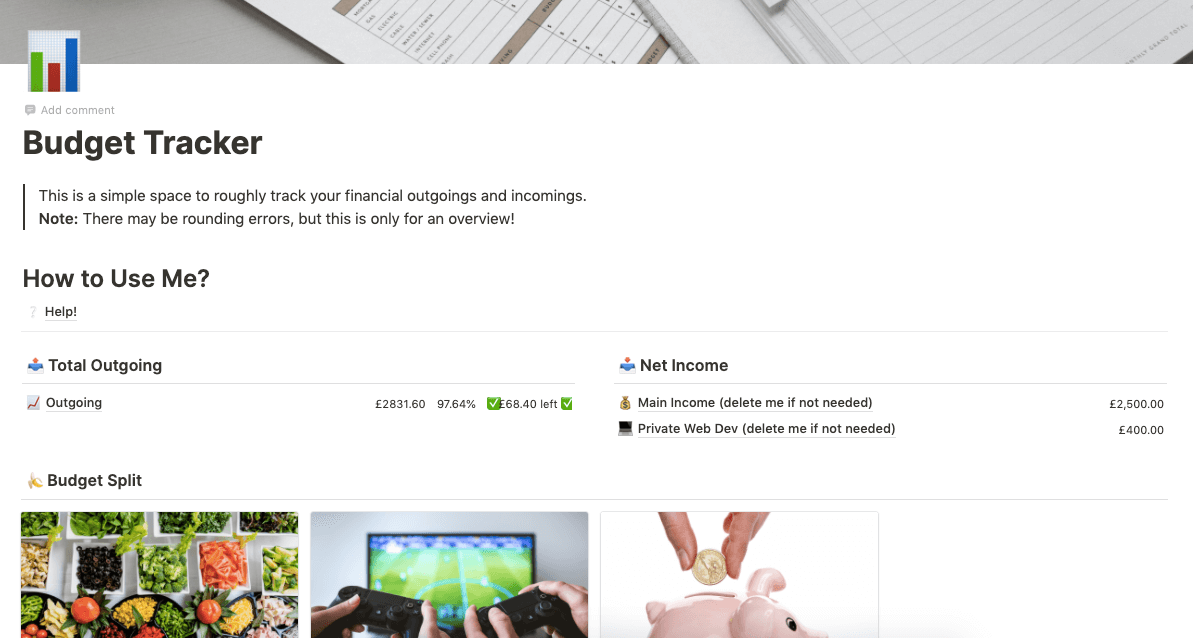 Check ouy my longer list of the best best notion budgeting templates.
Author: Benjamin Gowers
31. Personal Budget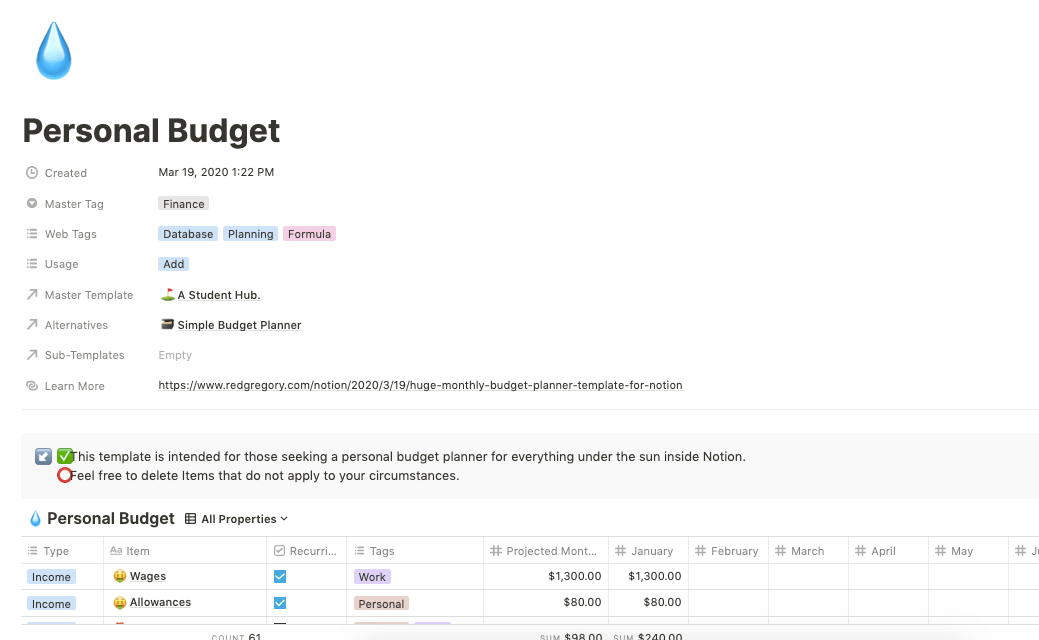 Author: Red Gregory
32. Notion Expense Tracker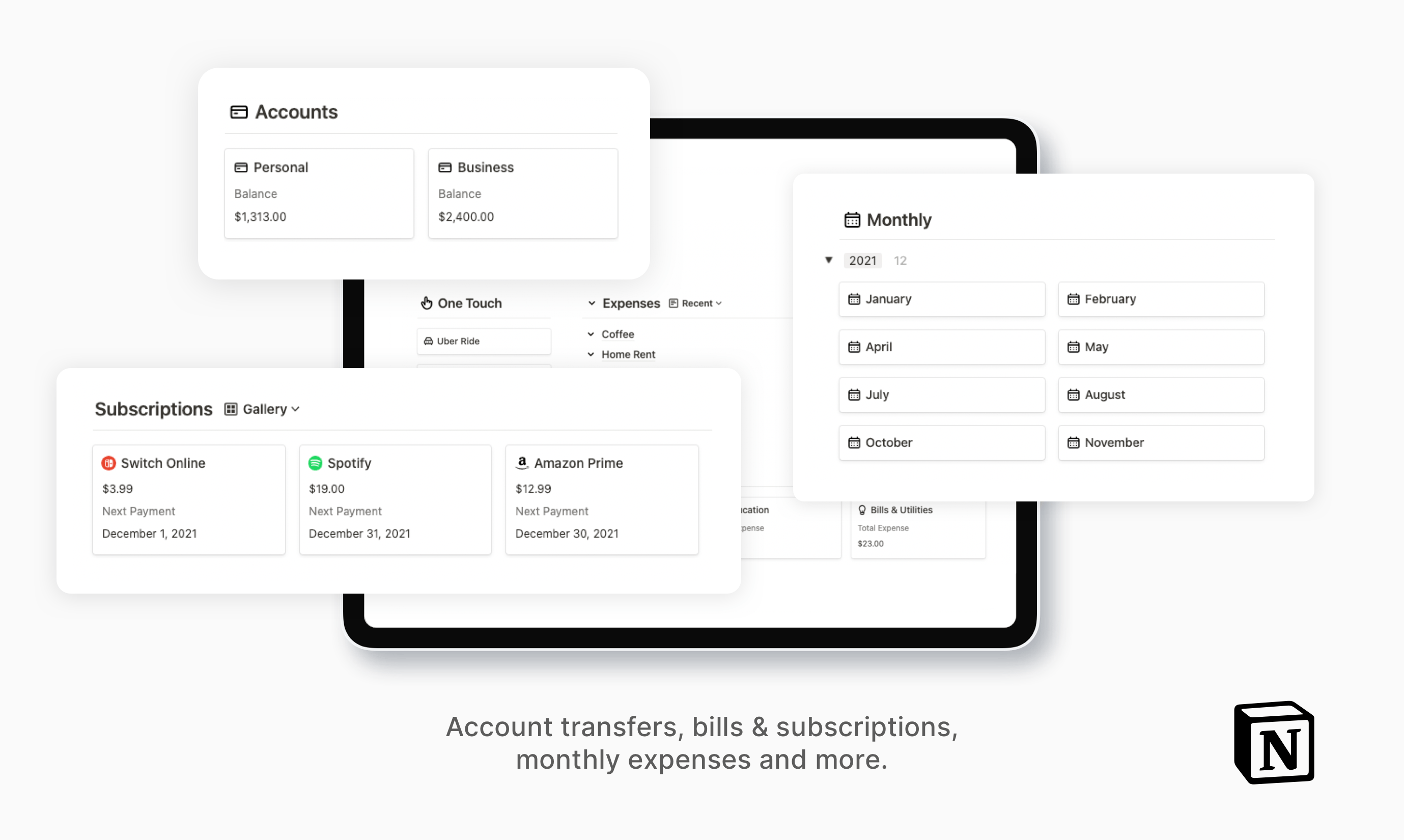 Author: Easlo
Notion Templates For Work
33. CRM + Invoice Notion Tracker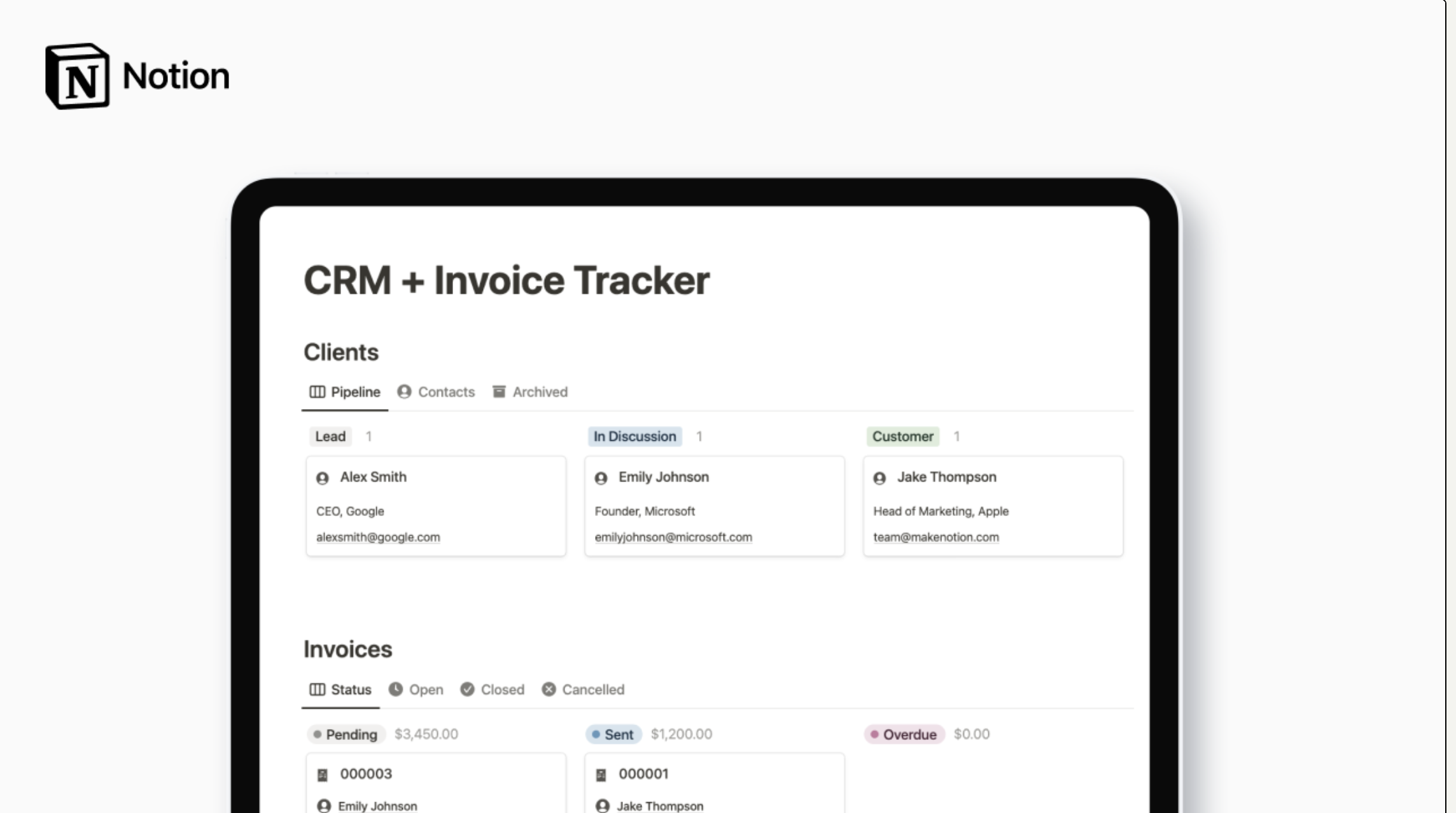 The Ultimate CRM and Invoice tracking solution.
With this Notion template, managing your customer relationships and tracking your invoices has never been easier.
Say goodbye to the stress of administrative tasks and hello to a more efficient, streamlined business.
Try our template today and see the difference it can make in your business!
34. Weekly Agenda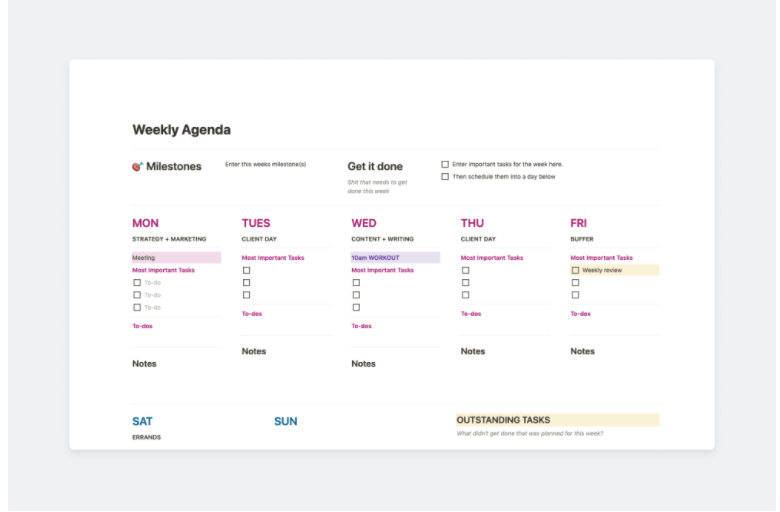 Author: Marie Poulin
35. Company Wiki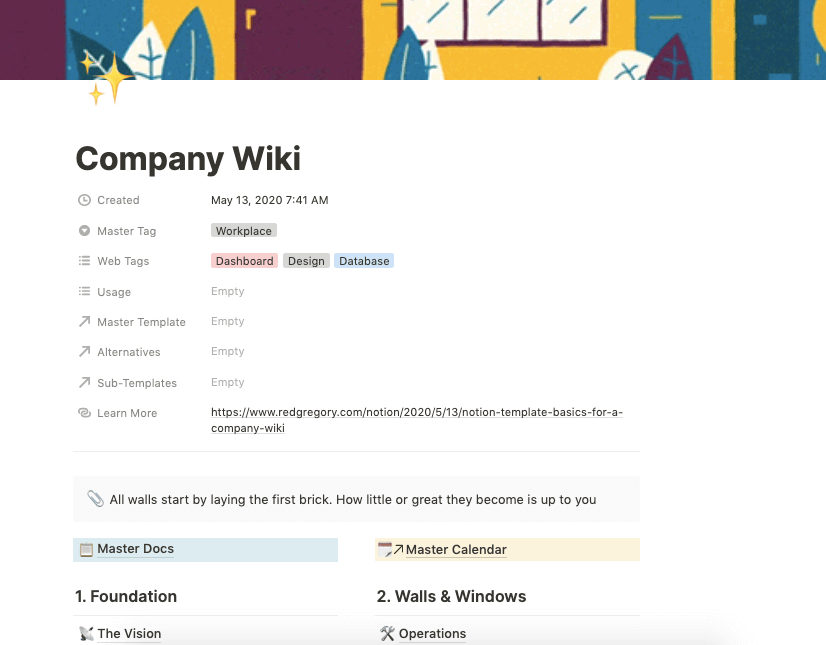 Author: Red Gregory
---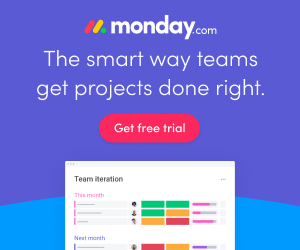 This post is sponsored by monday.com, project management software that will actually make your more productive.
Try Monday.com Today For Free
---
36. Employee Hiring System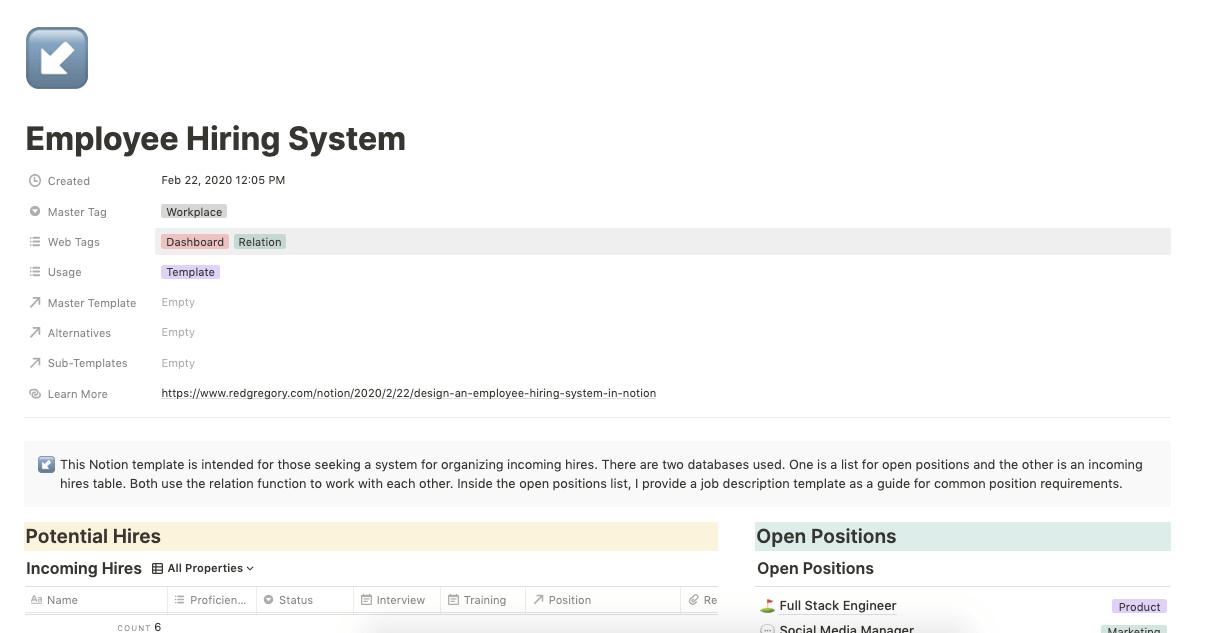 Author: Red Gregory
37. Invoice Template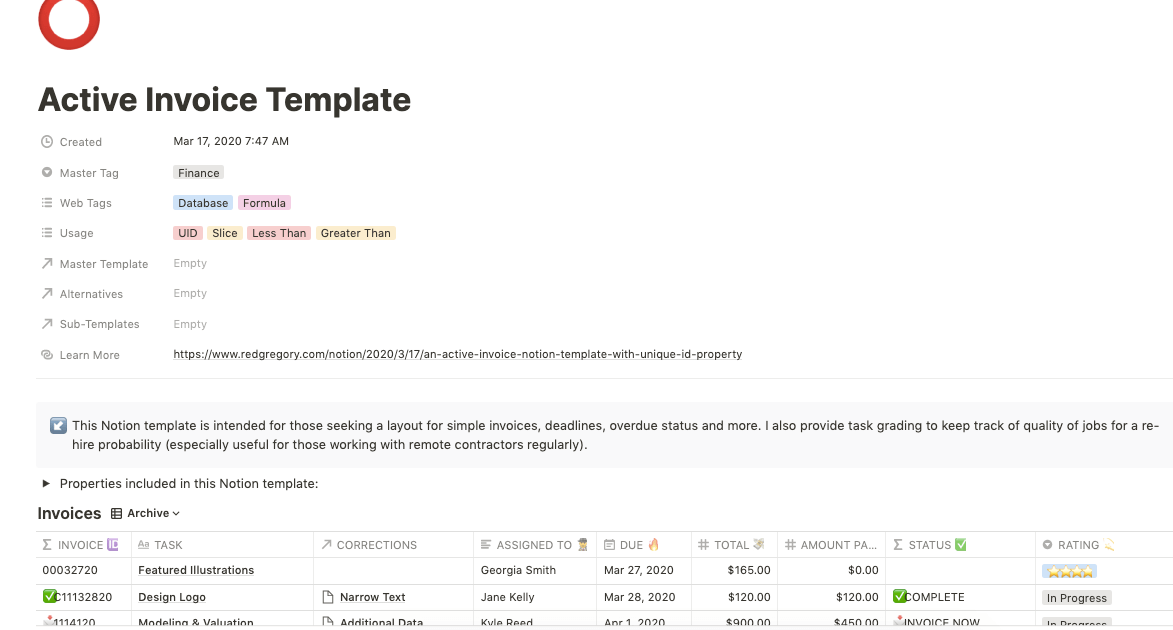 Author: Red Gregory
38. Notion OKR Template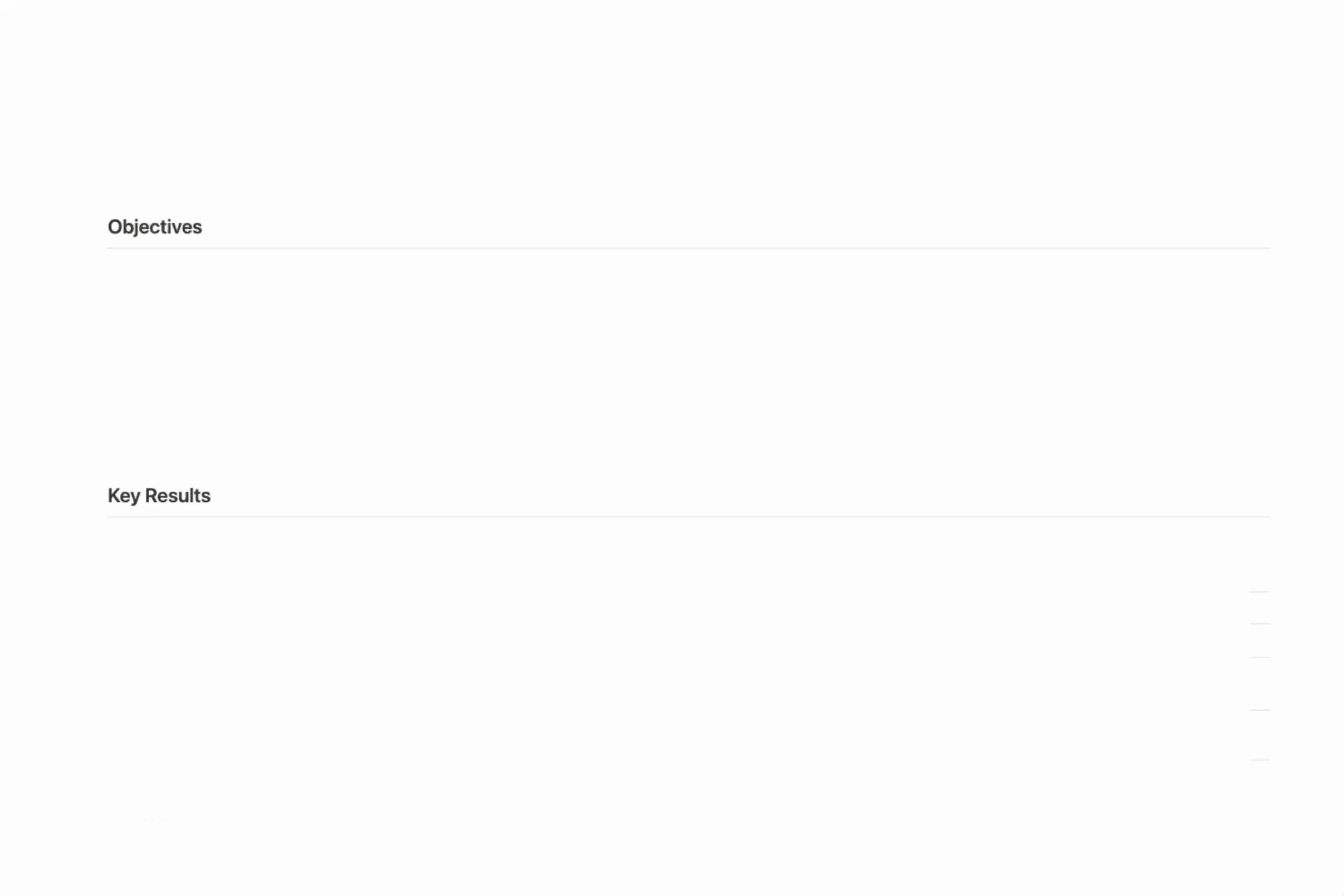 Author: Easlo
OKRs is a popular framework to keep track of your priorities and goals in Notion.
Set up your personal or company OKRs dashboard in minutes.
Aesthetic Notion Templates
Check out my bigger post of aesthetic notion templates.
39. Aesthetic Homepage Template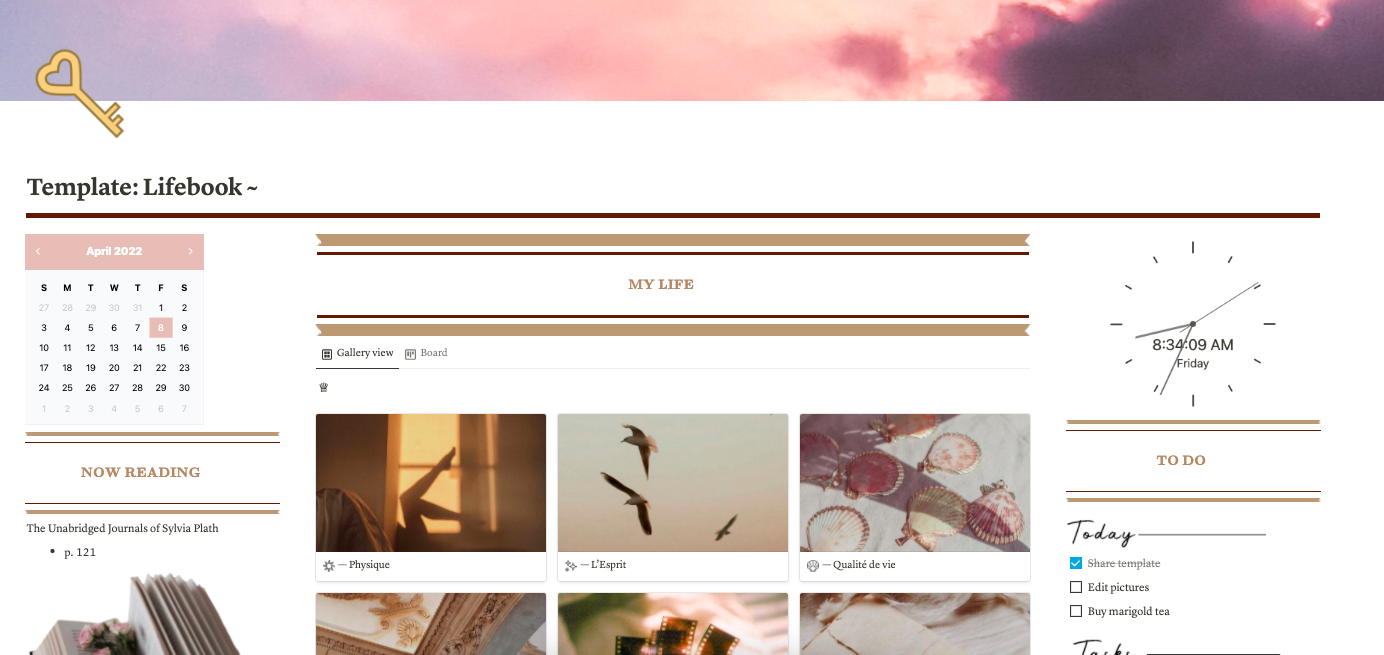 Author: Reddit User StarryAmbrosia
40. Aesthetic High School Template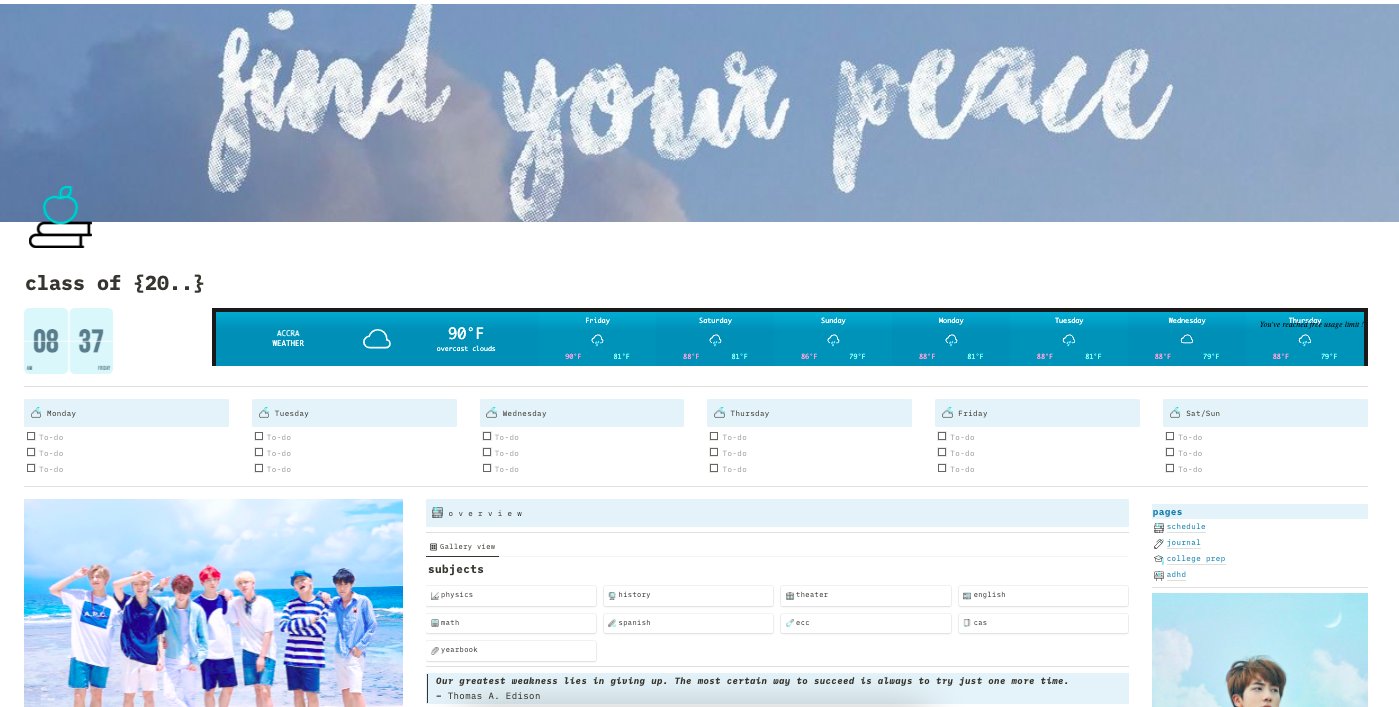 Author: Reddit User izzybee____
41. Aesthetic Student Planner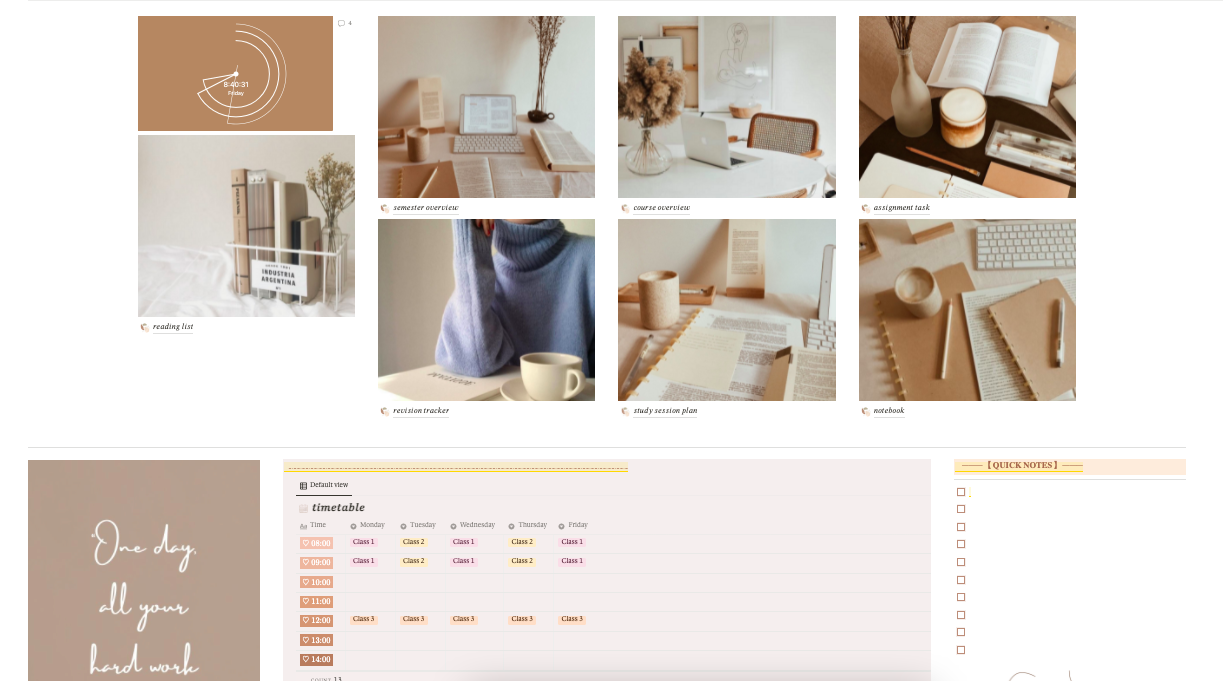 Author: EllasTemplates
42. Sobriety Hub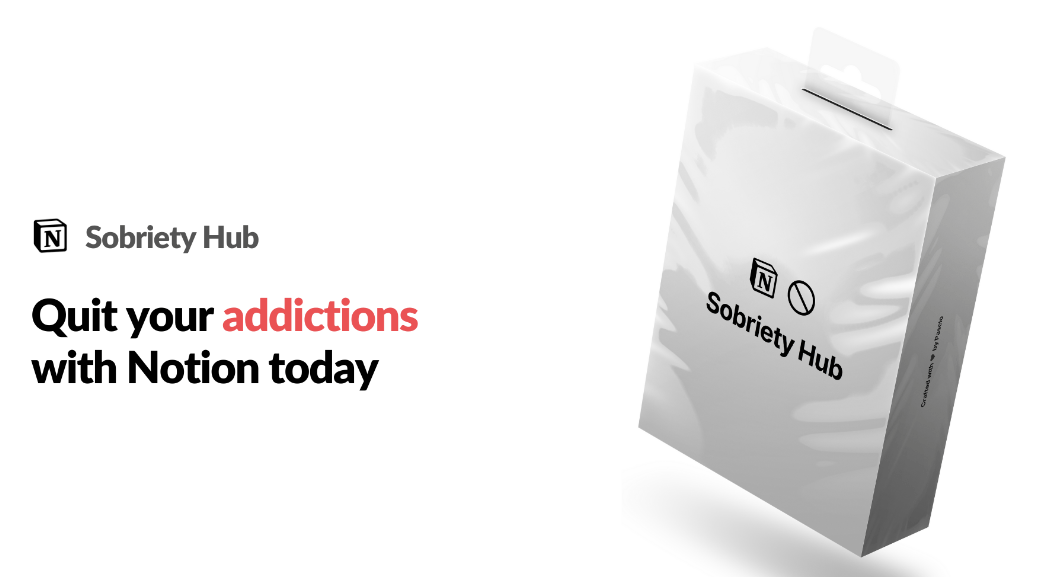 Author: Pascio
43. New Years Resolution Board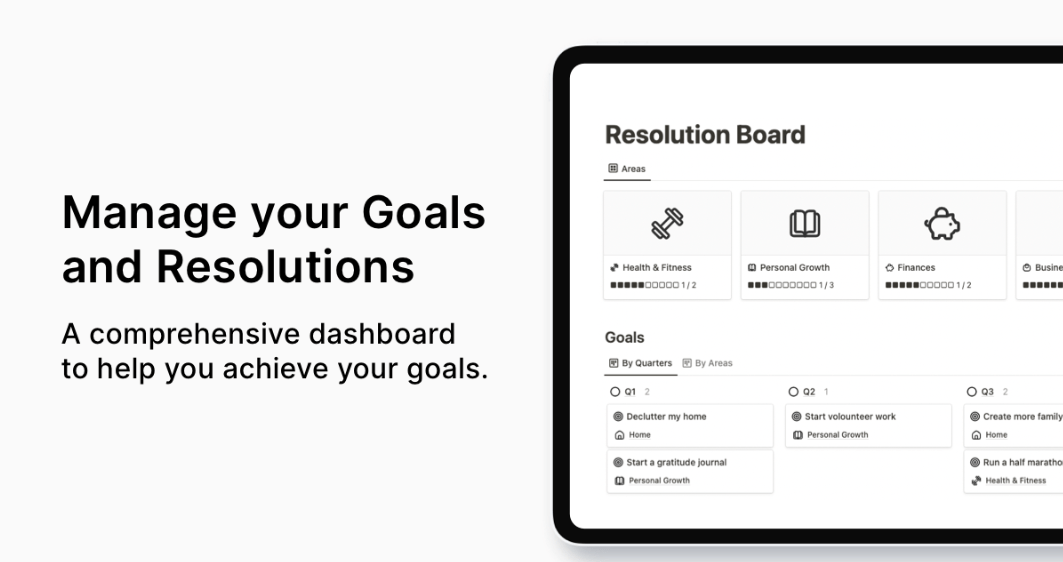 Author: Easlo
44. Course Plan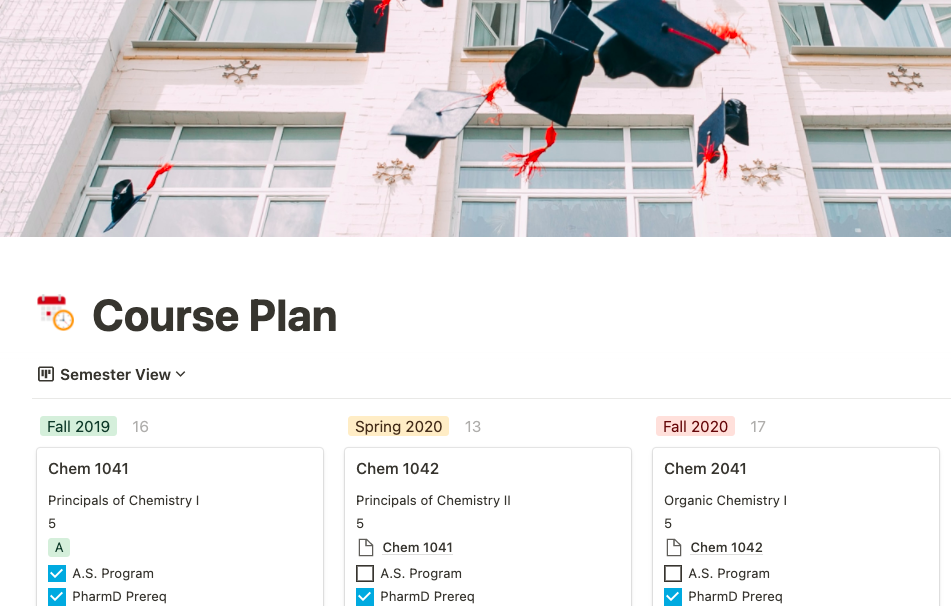 45. Airbnb + Property Rental Dashboard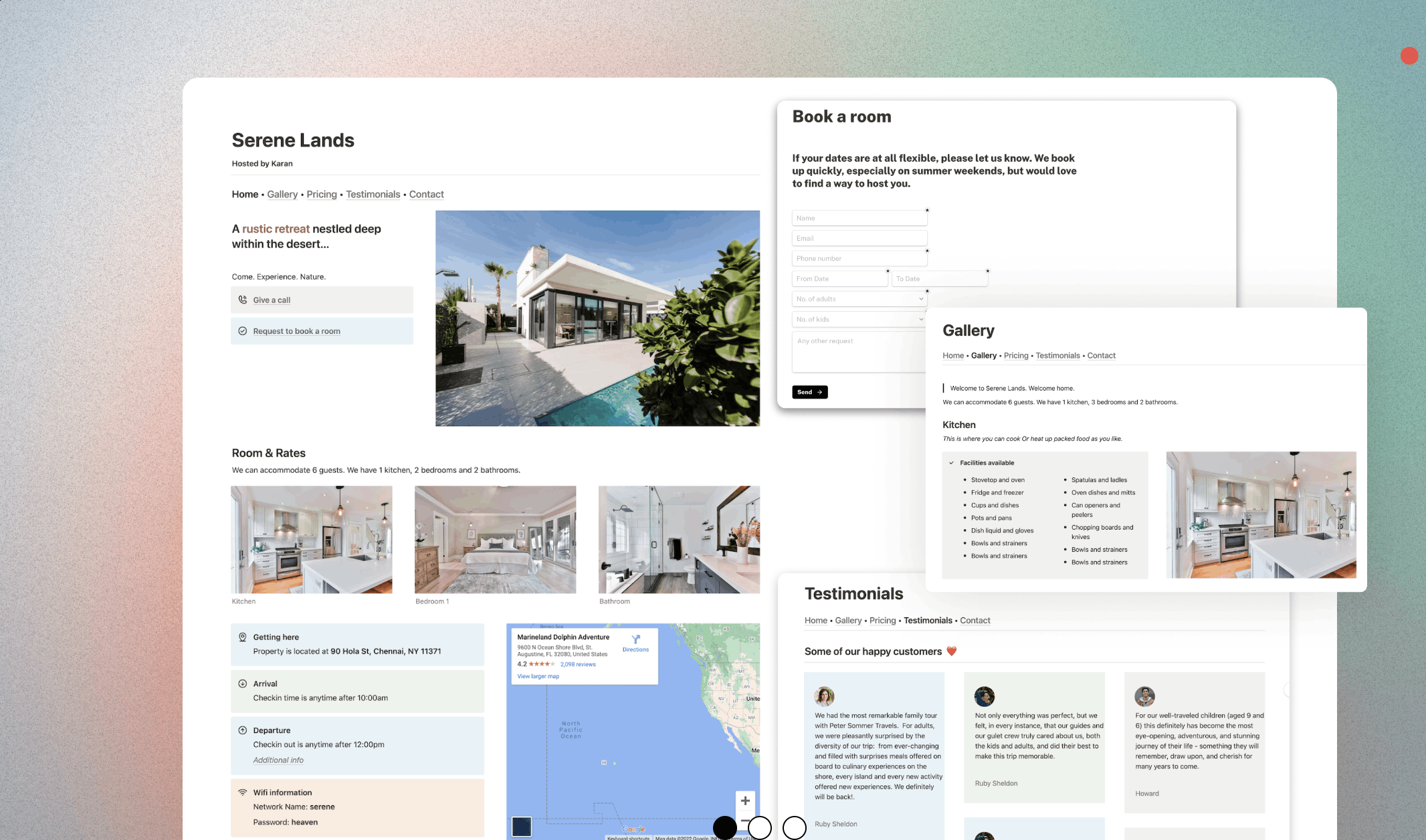 Author: Go Limitless
46. Airbnb Super Pack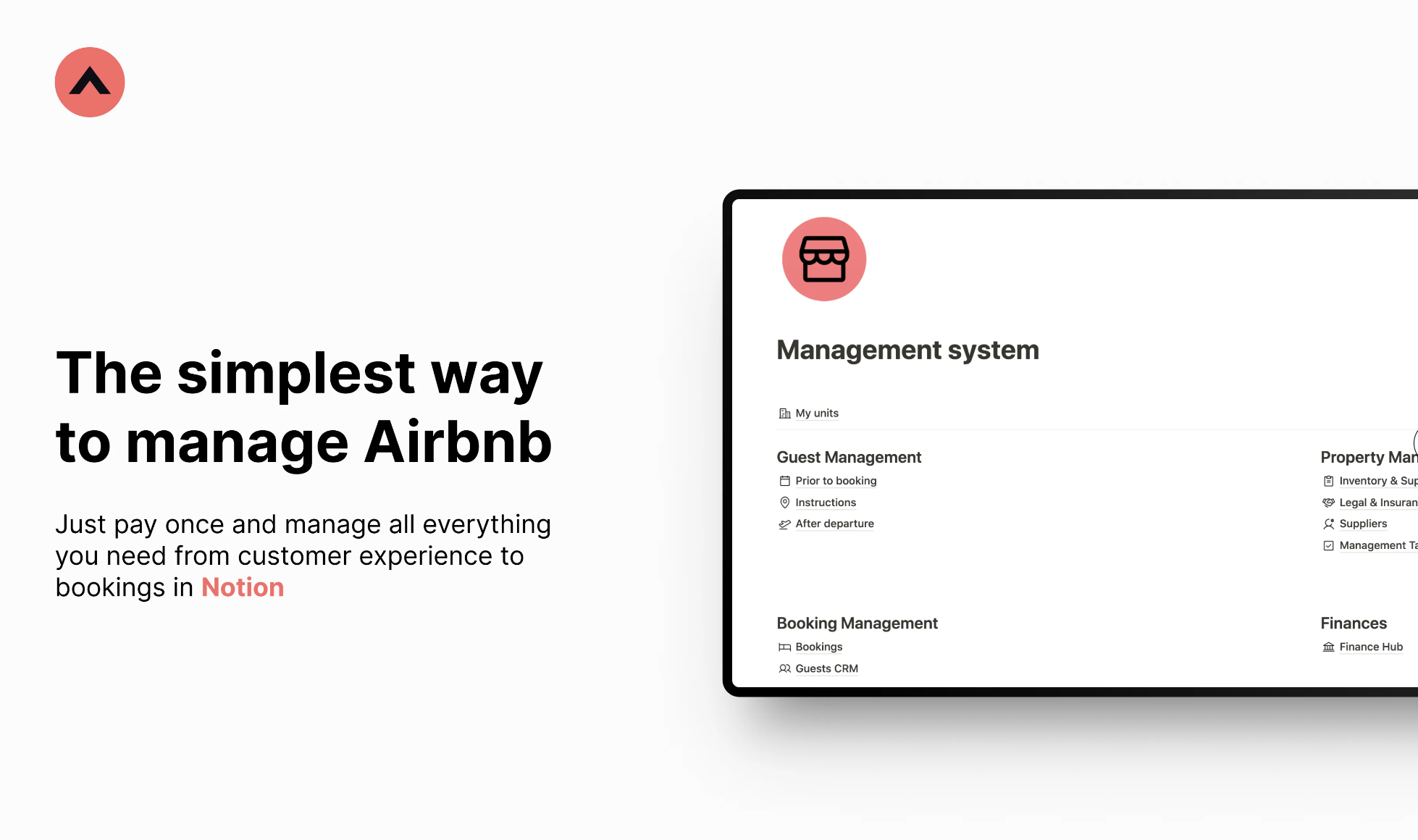 Author: Notionologia
A Notion Tool to manage your Airbnb like a pro.
Get rid of expensive software, Airbnb Super Pack is a Notion template built for Airbnb hosts.
You will have everything in a very effective management space: bookings, calendar events, supplies checklists, and many more. All in one place.
**Why this template? ** There are amazing tools to manage your rentals in the market, however, these options have three problems:
They are usually expensive
You have to pay monthly
They limit the rentals you can manage.
With this Notion Template you'll only have to pay once, you can manage unlimited rentals and you'll obtain an all-in-one management space. Save time, save money and guarantee your guests the best Airbnb experience.
47. Notion Book Tracker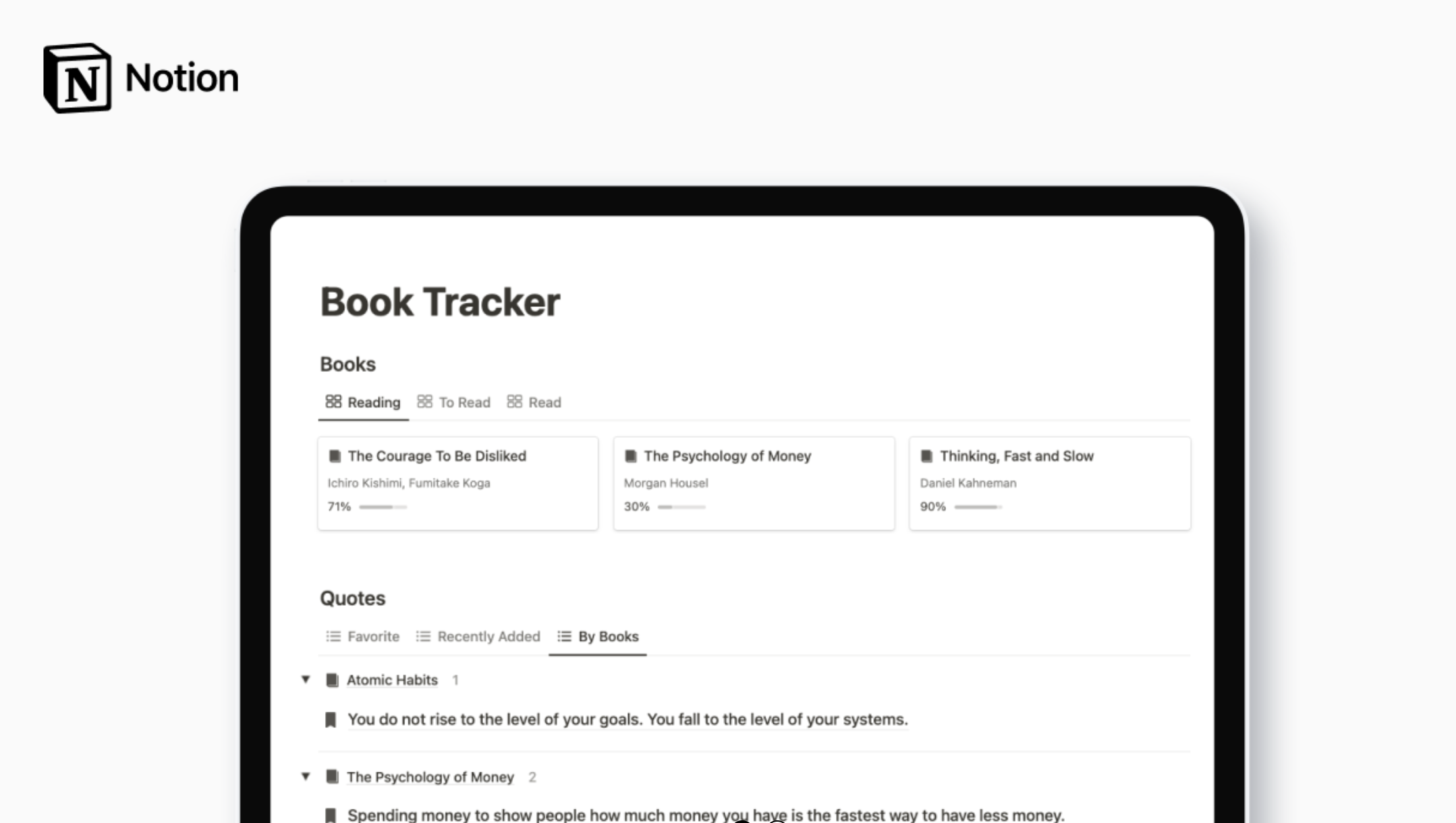 Author: Easlo
48. My Home Improvement Tracker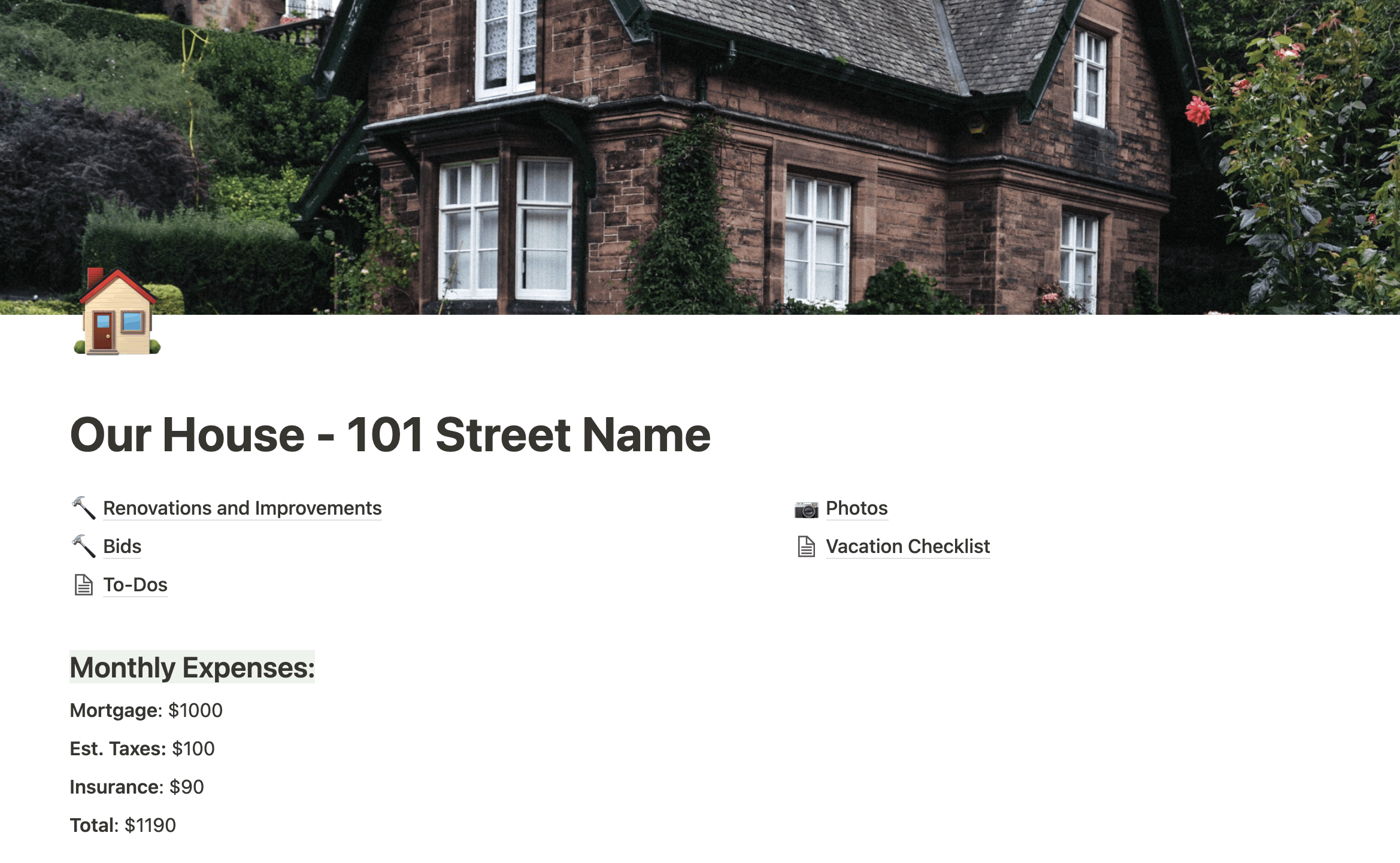 Track everything important with your house in one template. Perfect for first-time homeowners!
Features: 💸Track finances
💵 Record offers and bids from contractors
📄 Important documents filing cabinet
🔨Renovations and reno schedule
✔ To-dos
✈ Vacation checklist
49. Gamification Project
Author: Conrad Lin
50. Crochet All Day Notion Template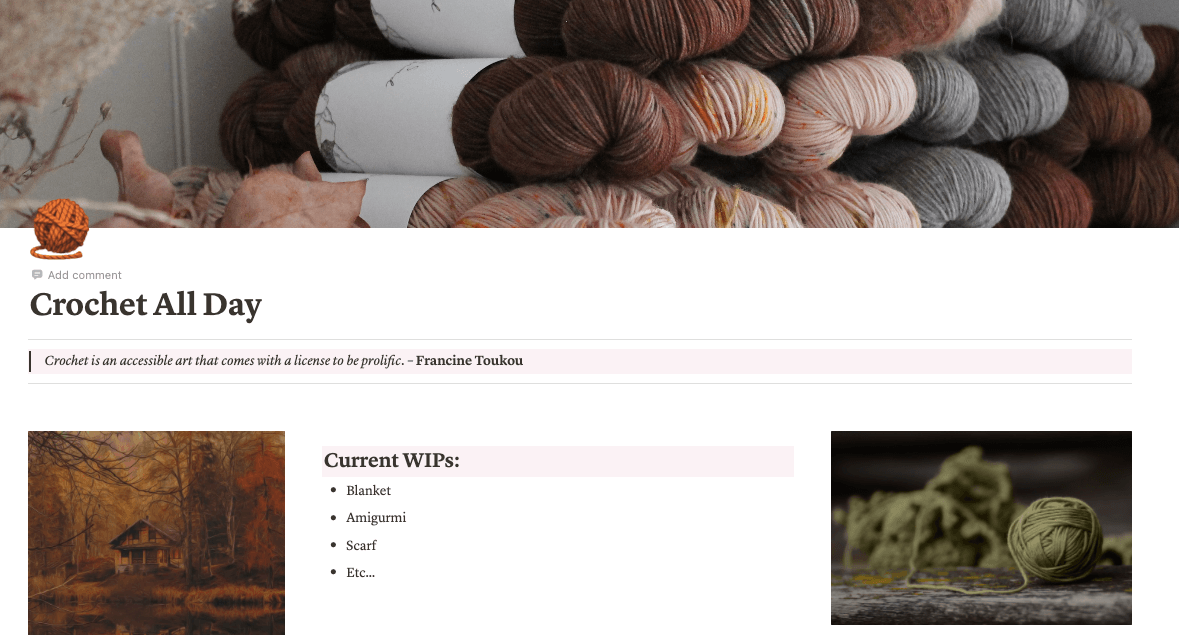 Author: Crafty Cody
My wife made this template to keep track of her crochet projects!
Crochet All Day is a Notion template for crochet lovers. Organize your favorite patterns, plan your next project, and build an inspiration board.
🧵Project tracker to plan your upcoming, in progress, and finished crochet projects.
🧶 Yarn tracker to keep track of your skeins, their weights, colors, and fibers. Give them ratings so you can easily find your favorite yarn, or avoid yarn you had a bad experience with.
❤️ Pattern tracker to store all your favorite patterns and ideas!
✨ Wishlist to store any patterns you want to purchase in the future. I'm coming back for you, cute Minnie Mouse pattern.
51. Notion Health Bundle
A bundle of Notion Health templates, designed to help the dedicated Health practitioner live easier, better, and healthier.
What's inside? Health Hub OS
Complete Health Operating System including intuitive dashboard as well as more than 15+ different templates and 10+ trackers designed for a healthier life.
Sobriety Hub
A complete addiction management dashboard that not only helps you get sober, but stay sober. You can track progress, set milestones, count days and even journal, right at the touch of your fingertips.
Transformation Board A dashboard made to help you achieve your goals in just one year. Imagine goal-setting simplified in an intuitive and easy-to-use dashboard
52. Minimal Dashboard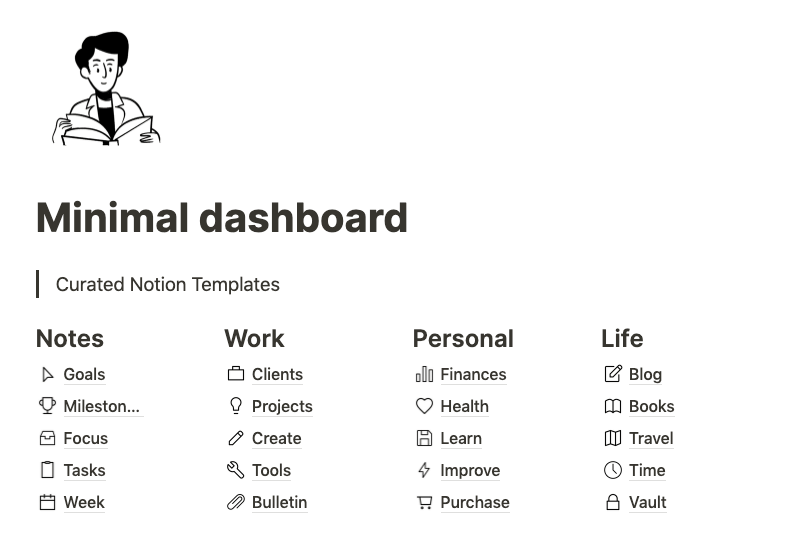 Author: Maas Lalani and Darshil
53. Notion Small Business Kit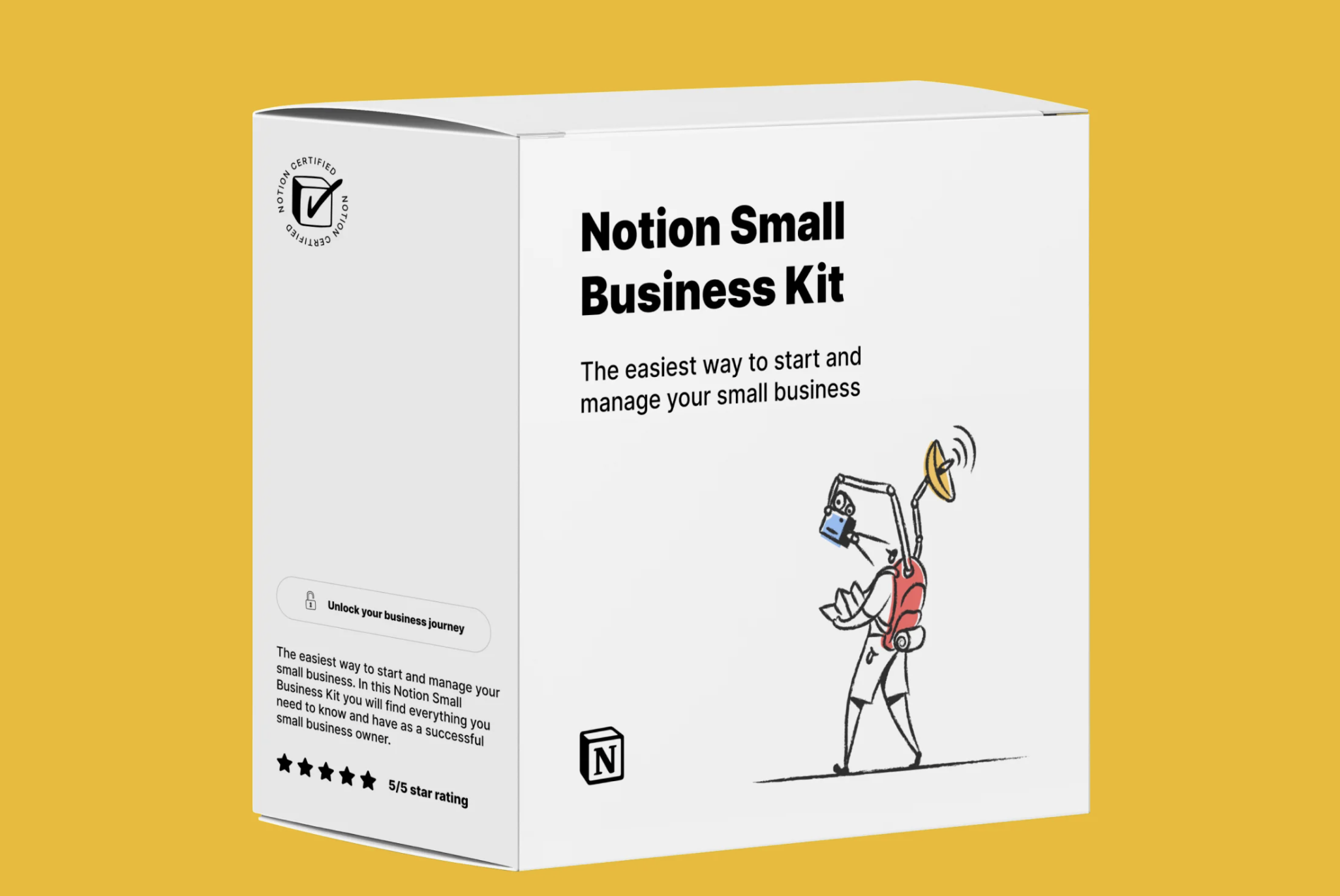 Your ultimate guide and management tool to help you start and manage your small business.
In this Notion Small Business Kit you will find everything you need to know and have as a successful small business owner.
So you are looking for the easiest way to start or manage your small business.
Well, this kit is designed exactly for you.
No matter if your business is online or offline, e-commerce or service provider agency you will find this kit extremely beneficial.
This guide will help you to start/manage your entire small business.
54. Notion Enterprise OS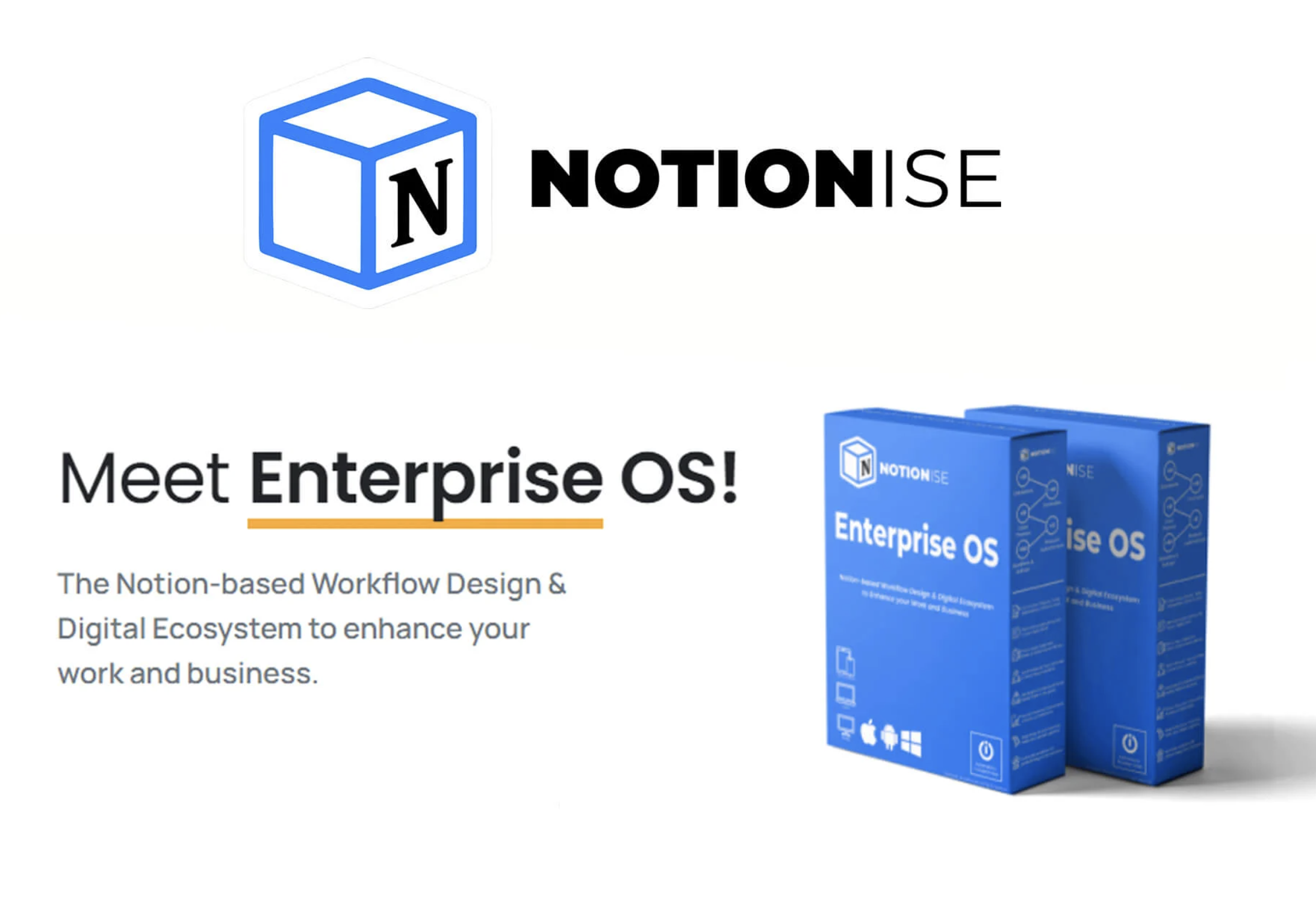 👉 Enterprise OS is an all-inclusive Notion-based company management system, guaranteed to streamline your business and save hours daily!
It includes:
👉 Enterprise OS is an all-inclusive Notion-based company management system, guaranteed to streamline your business and save hours daily!
It includes:
Main Hub
Task Dashboard: Based on business best practices & leading productivity frameworks.
Project Roadmap: Stay on top of all parallel projects. Juggle deadlines like a pro.
📃 Plans
OKR Planning Hub: Align all day-to-day activities with your goals & always stay focused.
Social Media Scheduler: Schedule & automate all social media with this API powered tool.
🏦 Company Wiki
Company Profile: Stand out in competition with your brand's professional introduction.
Company Culture Map: Encourage better creativity, engagement, & collaboration.
📢 Marketing & Strategy
Competitor Analysis Dashboard: Keep track of the competition & always stay two steps ahead.
Canvases & Pitch Decks: Meet investors and secure funding with professional presentations.
💰 Financials
Financial Statements: Consolidate accounts & generate financial statements with ease.
Invoices: Pull transaction data & produce professional invoices in seconds.
🎁 Bonus Content:
Automation Downloads: Consolidate accounts & generate financial statements with ease.
The Enterprise OS has everything you need to run your business.
Try it today.
55. Notion Side Hustle OS Template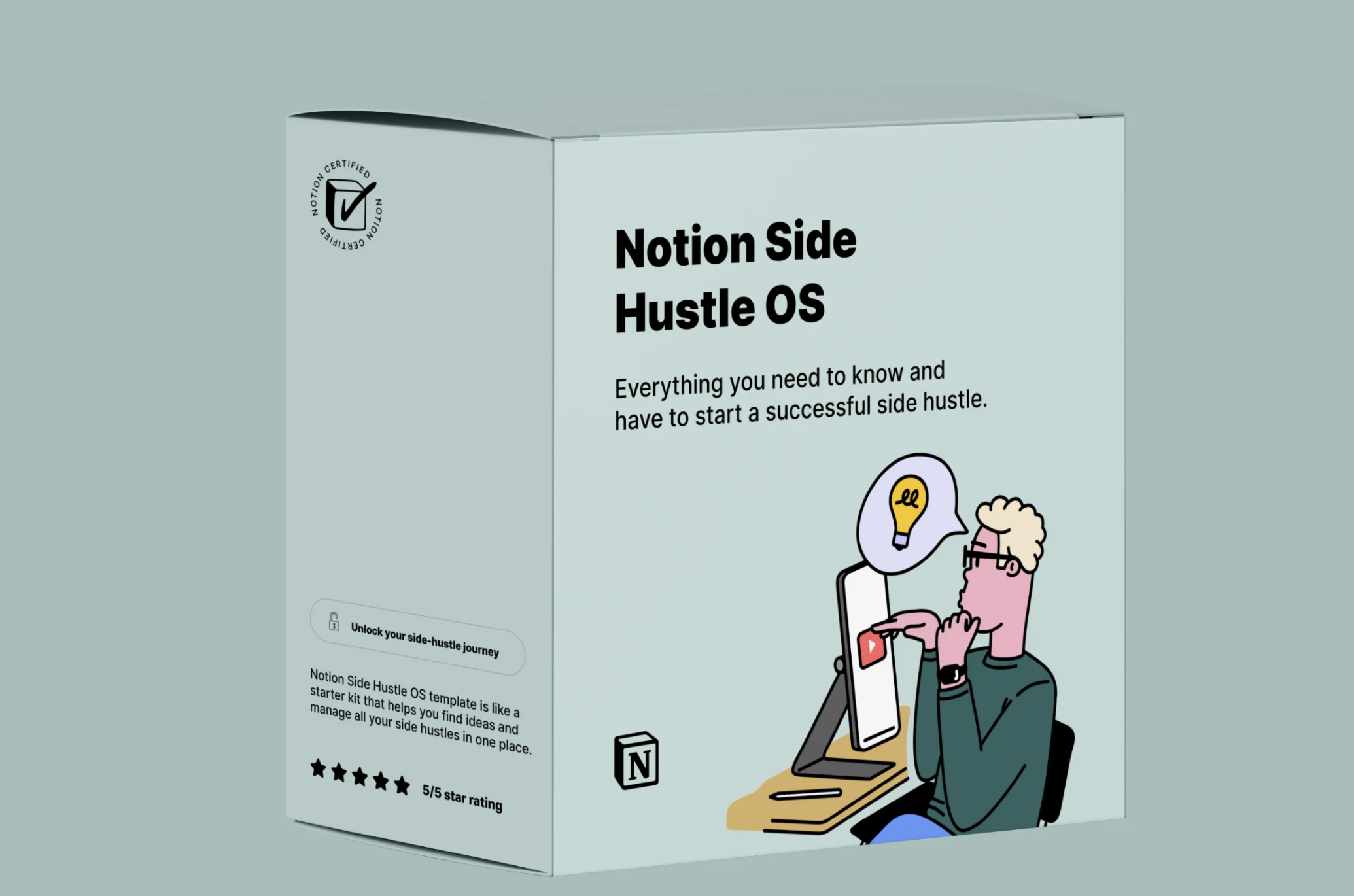 Explore a list of 60+ most popular side hustles.
Start making side income finding the best side hustle for You.
This Side Hustle OS has everything you need to know and have to start a successful side hustle.
If you've been looking for a Notion template to start making additional income, you're in the right place.
One of the best ways to increase your income is by getting into a side hustle. But, if you don't know what to do or don't have time, don't worry.
The Notion Side Hustle OS template is like a starter kit that helps you find ideas and manage all your side hustle daily things in one place. With this template, you'll have a nice and productive system to manage and grow your side hustle.
Also, an access to lists of the best tools and links. This whole Notion Side Hustle OS will be the one-time purchase that brings you clarity and actionable steps to your side hustle growth.
57. Minimalist Habit Tracker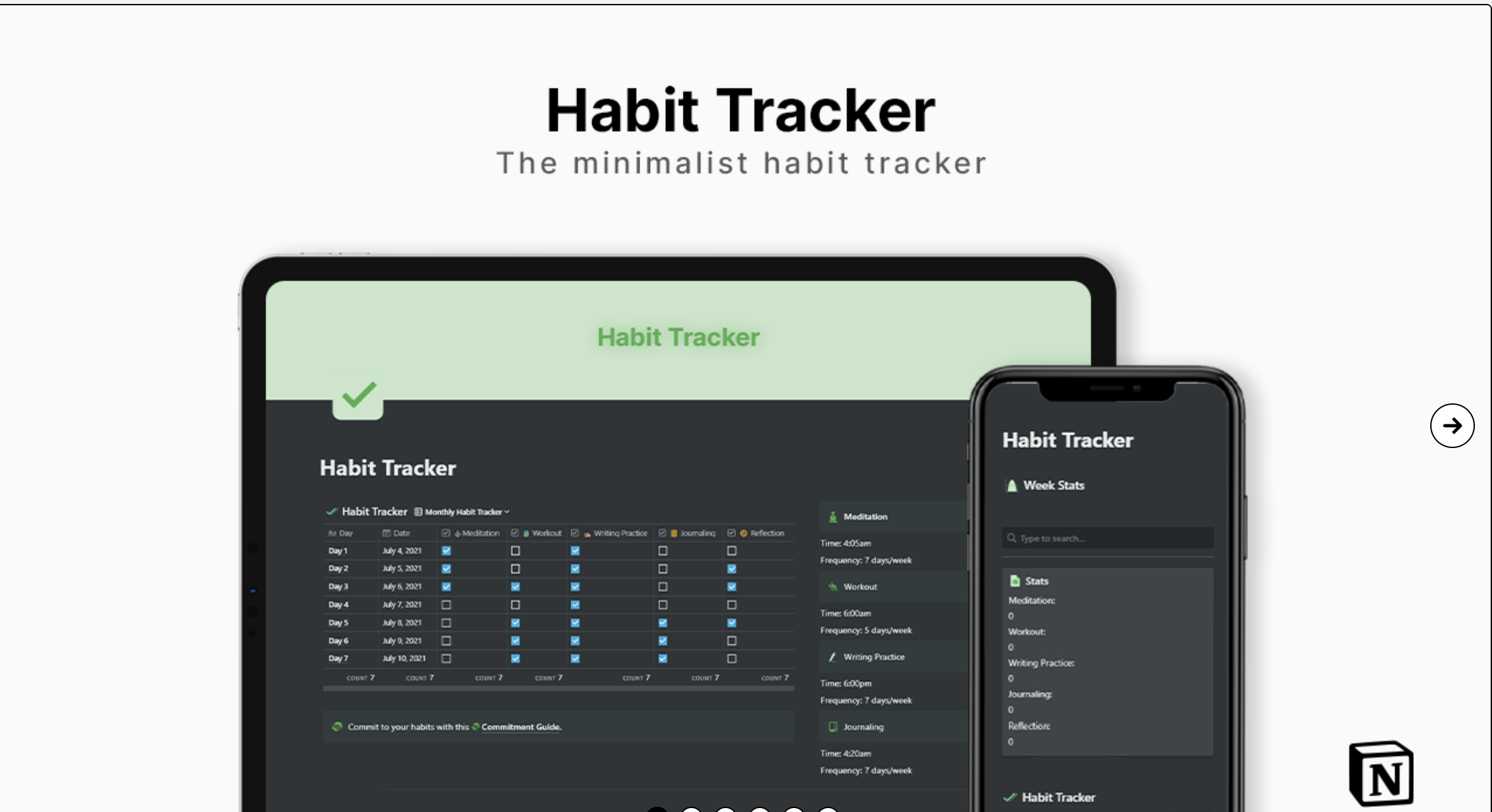 Author: Atul Anand
Create, track and reflect on your habits in a minimalist notion environment with a help of this notion template.
Latest Update 🙌
Track your habits weekly and monthly now.
Commitment Guide by Vecham Ram( a new template added)
Features:
Habit Tracker
Weekly Goal Stats
Reflection Board
A commitment guide with scientifically proven techniques to stick your habits longer.
Reflection Questions
Custom Icon Pack and Cover
Compatible with both light and dark modes
Guide For the template
Grab this template at the link below.
58. 💸 Smart Finance Tracker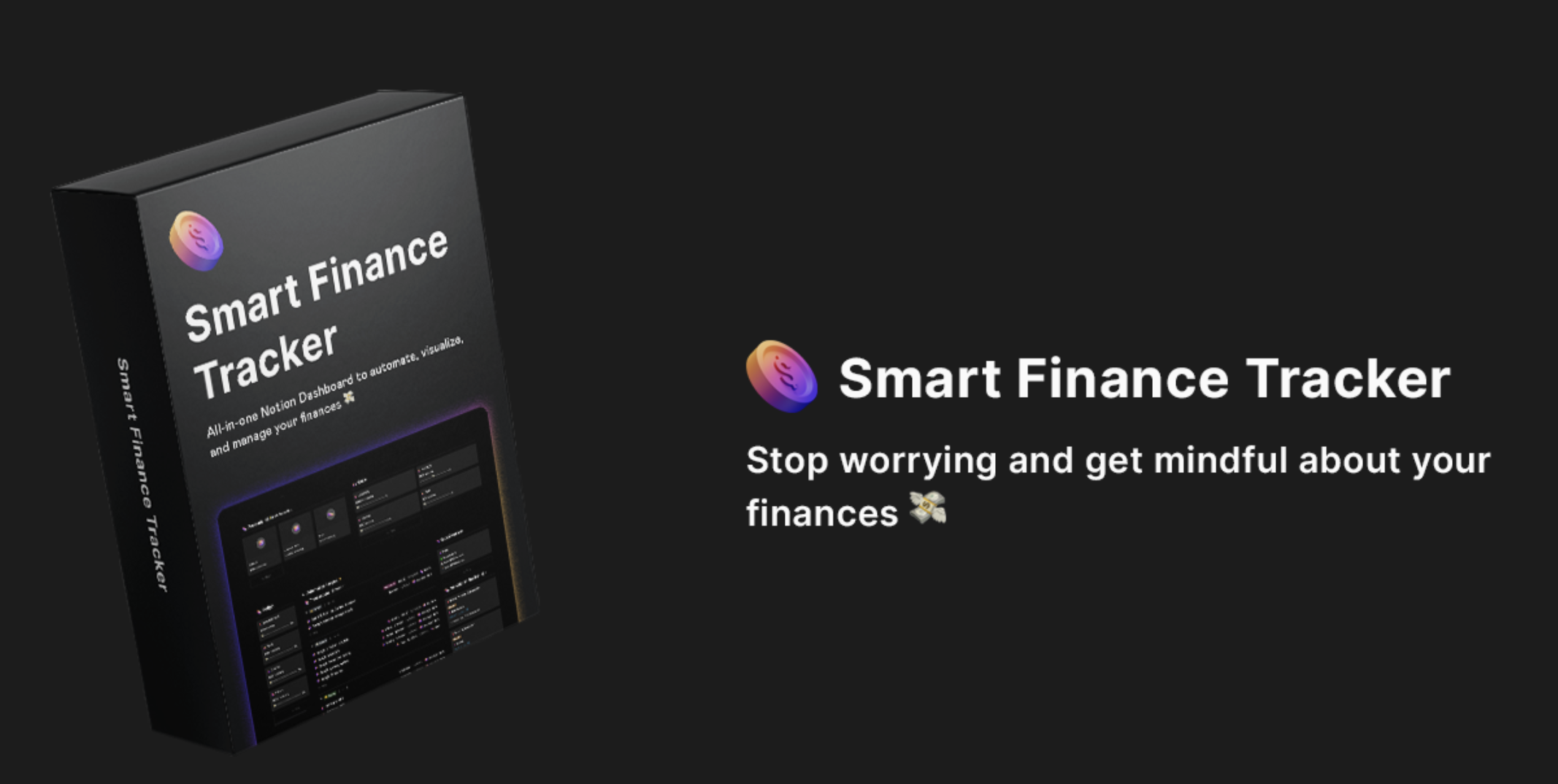 Author: Atul Anand
Never lose track of your finances with this all-in-one Notion Dashboard to automate, visualize, and manage your finances 💸
This tracker is designed to minimize most of the friction that you usually get while inputting your transactions, managing finances, etc.
What's Inside
✅ Track your transactions (automated for smart and ultimate version only)
✅ Internal Automations
✅ Accounts (Banks & Cards)
✅ Set your budget
✅ Happiness Tracker
✅ Subscription Tracker
✅ Automation capabilities
✅ Financial Goals Tracker
✅ Finance Planner (Annual, Quater, Monthly view)
✅ Investment Tracker
✅ Debt Tracker
✅ Visualization (charts, graphs, etc.)
Get the smart finance tracker today at the link below.
59. Content Creation Hub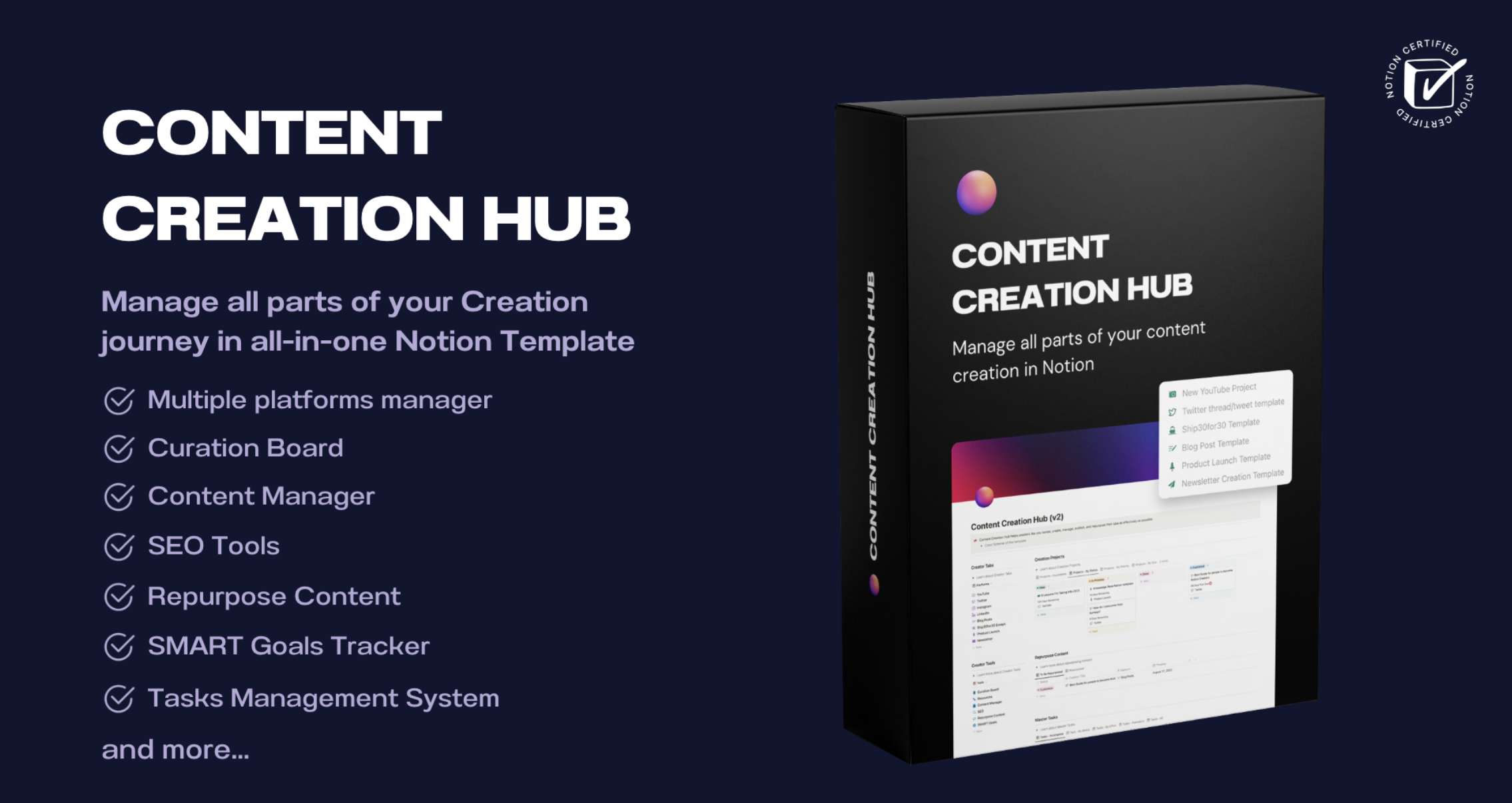 Author: Atul Anand
Manage all parts of your Content Creation in Notion.
This template hub helps creators like you curate, create, manage, publish, and repurpose ideas as effectively as possible.
Over 300+ creators are already using this Notion Workspace.
Never start your content from scratch again.
Content Creation Hub is integrated with systems that help you curate content from anywhere on the internet and create your ideas and notes.
And all this can be easily used as an inspiration for your creative projects.
Grab it at the link below.
60. Thomas Frank's Minimal Habit Tracker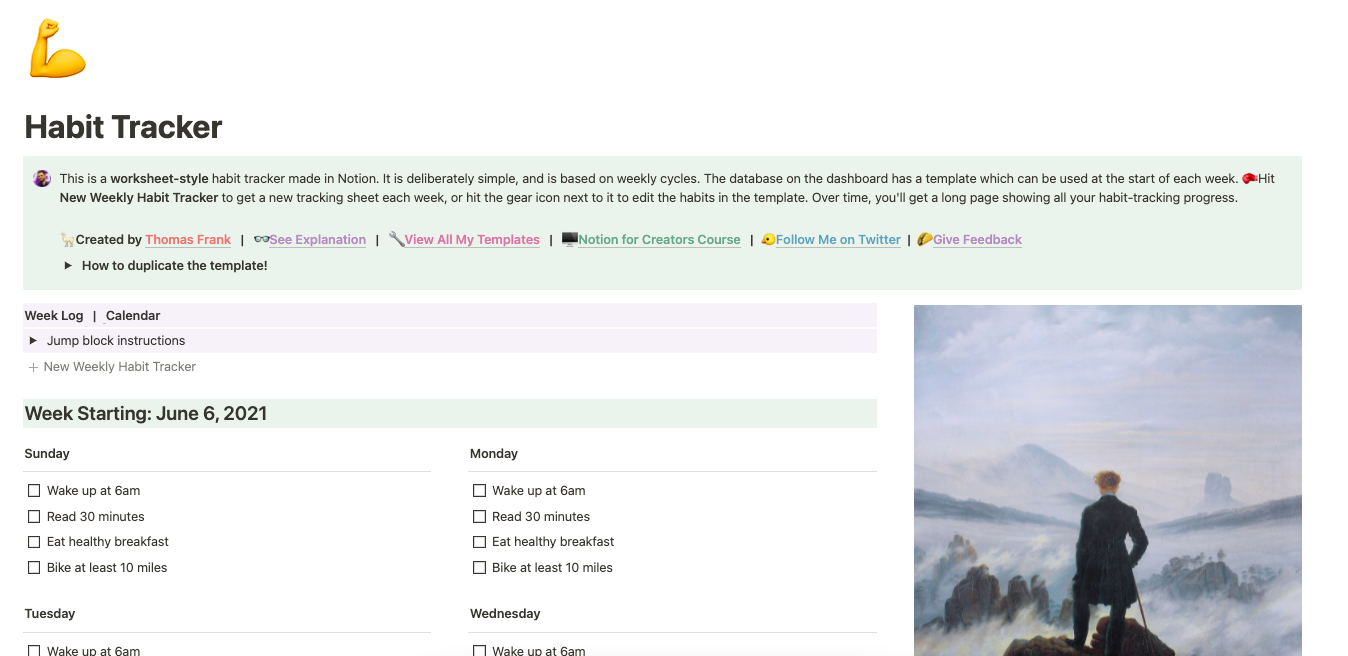 Thomas Frank is a popular Notion and productivity Youtuber.
He created this template himself to track his habits on a daily and weekly basis.
What I respect about Thomas is that his ideas have sparked tons of other Notion content, and he gives away his template for free.
61. Habits Template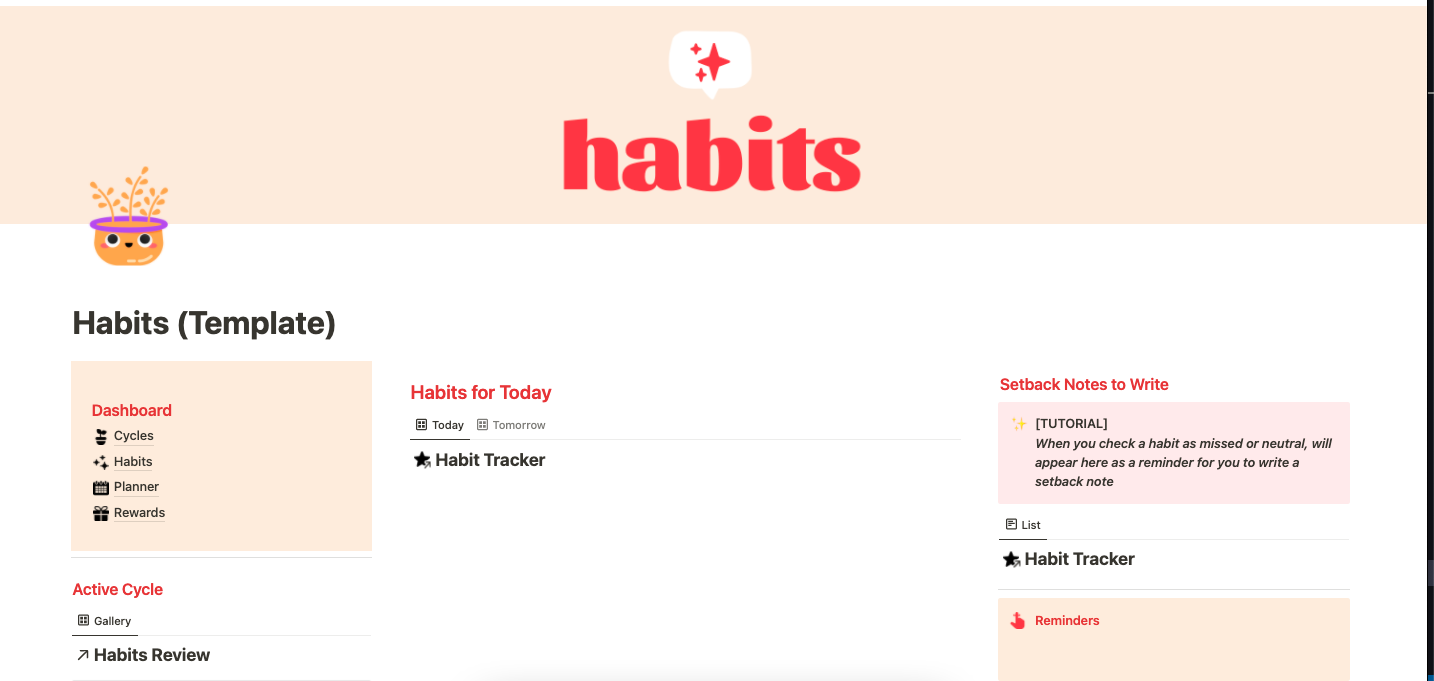 This is probably the most aesthetically pleasing template I've found for tracking habits in Notion.
It's by Reddit User EllieGons and was inspired from Thomas Frank's habit tracker, which I'll include below.
62. Notion Document Library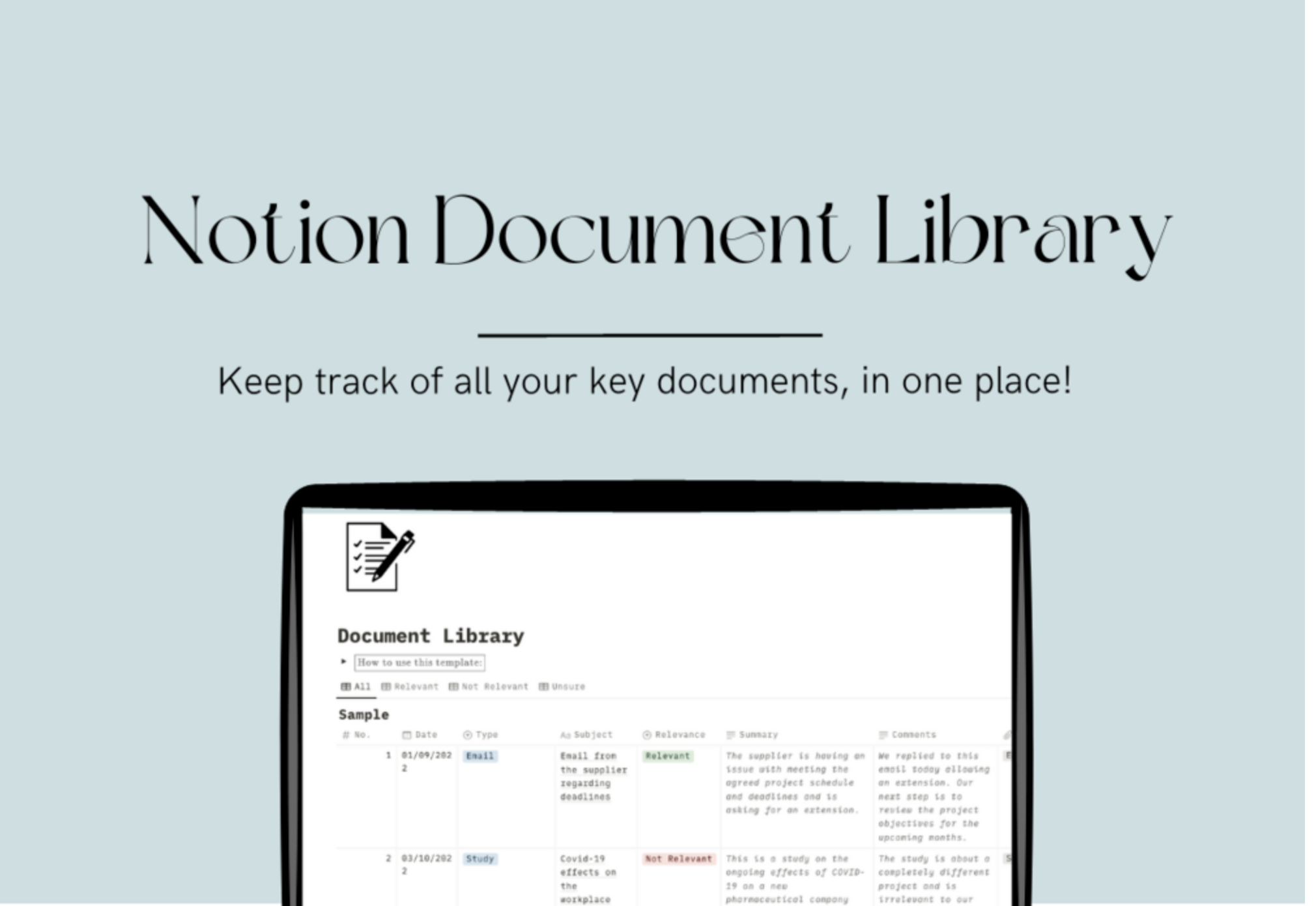 Author: Farah
Keep track of all your key documents, all in one place.
This template is an easy-to-use document tracker with the following features:
Organise documents chronologically.
Keep note of document dates.
Add a subject for each entry.
Rate relevance, allowing you to view four table views on the same database ( All, Relevant, Not Relevant, and Unsure table views).
Summarise and comment on each entry.
Attach documents to the table for straightforward access.
63. 90's Horror Aesthetic Notion Dashboard Template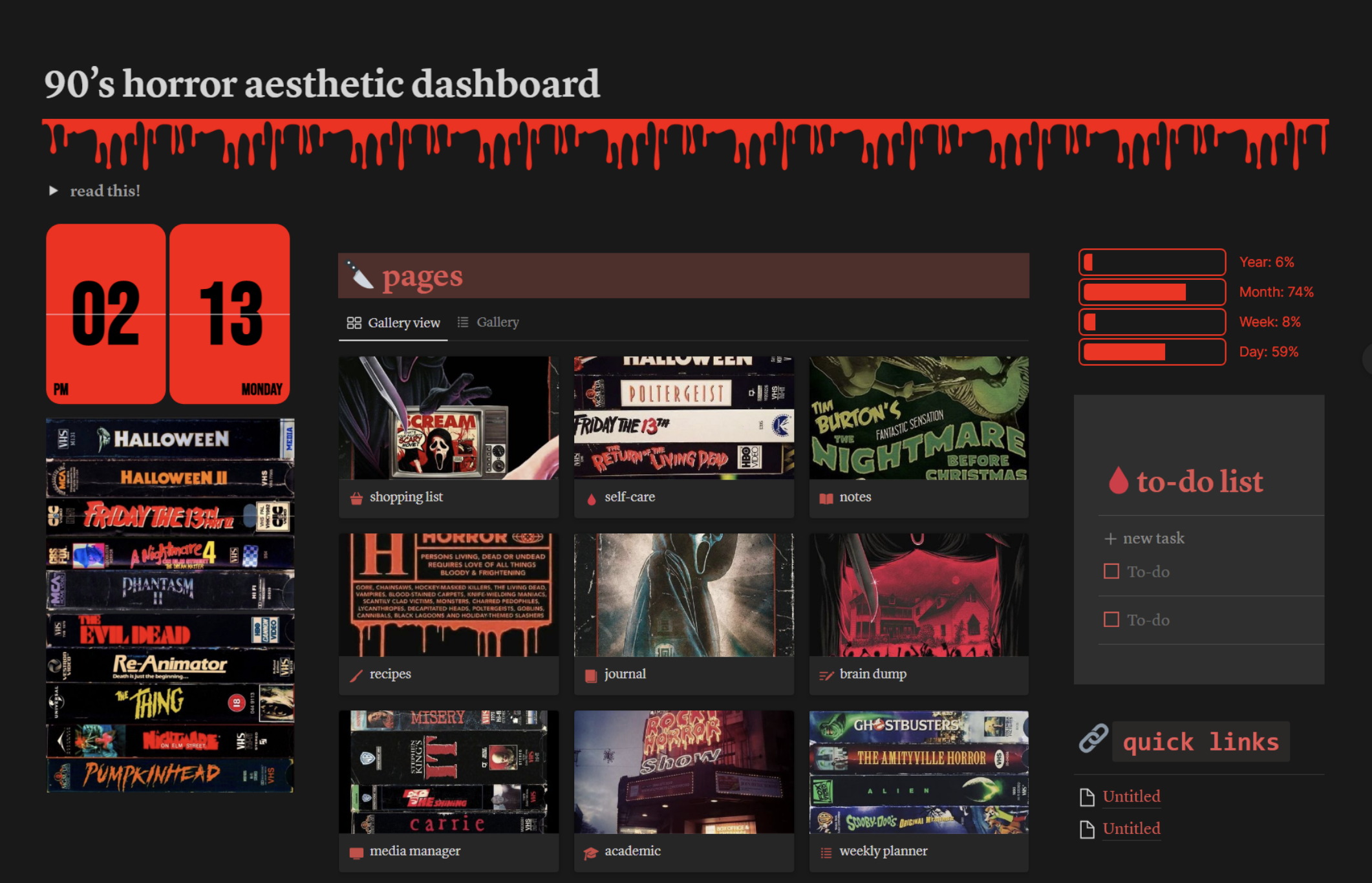 64. Dark Green Academia/Urban Fantasy Notion Dashboard Template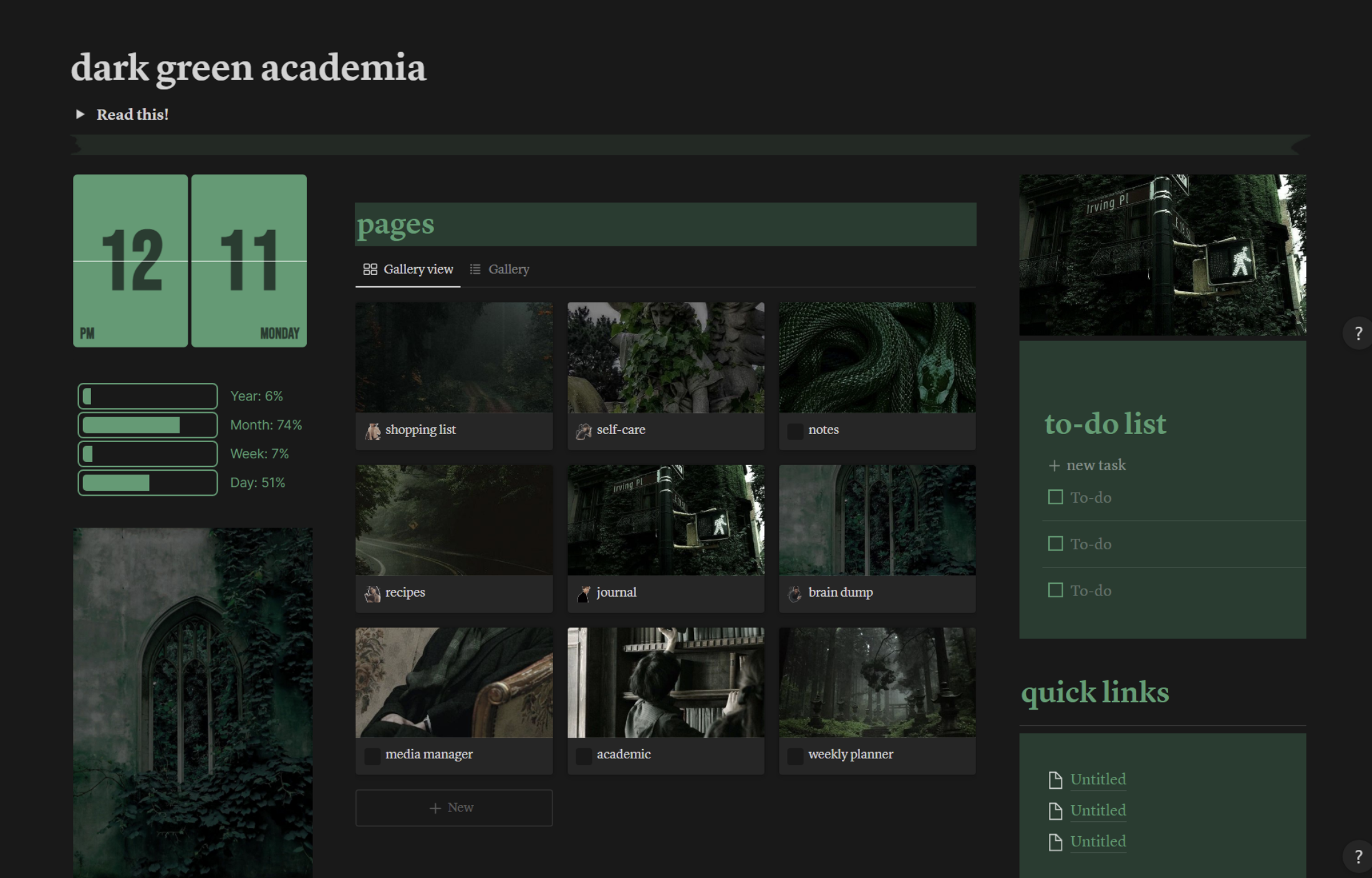 Designed for dark mode, this template is perfect if you're looking for a simple way to organise your life on Notion. You can link your existing pages so you can access everything from one place.
65. Earthy Cottagecore Notion Dashboard Template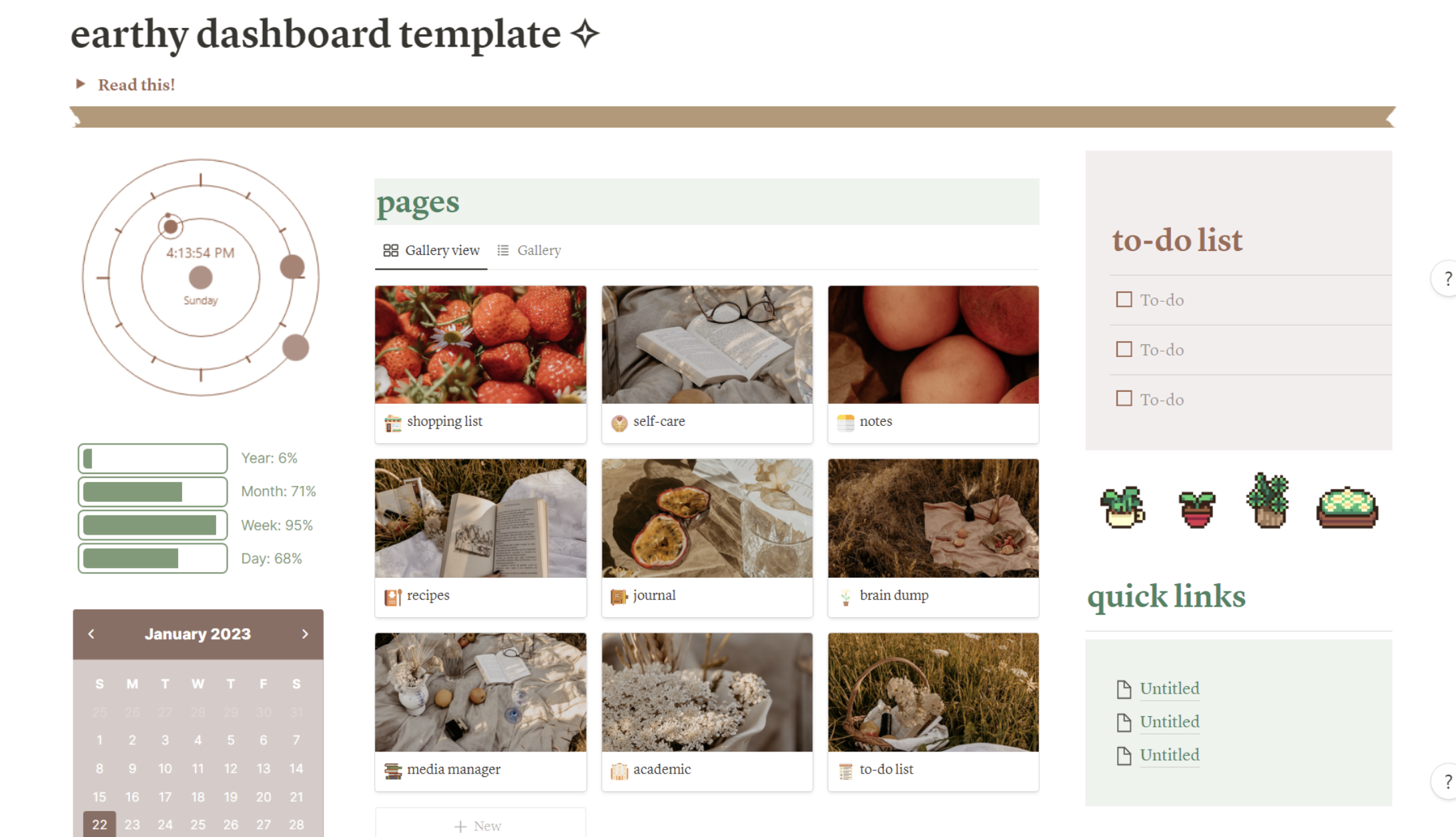 This template is perfect if you're looking for a simple way to organise your life on Notion. You can link your existing pages so you can access everything from one place!
66. Notion Startup Templates Bundle
50+ ready-to-use templates to launch & grow your business.
Launching a business is hard. So why not use the best templates?
Over the last 10 years, the folks behind BaseTemplates have launched and scaled tens of businesses. And in that time, we created simple templates for ourselves that we could reuse over and over again.
They are all based on best practices from the most successful founders and cover every area - from aligning on a shared vision to setting up a job board.
This bundle includes: 💡 Idea & Validation templates for value propositions, ideas to MVP, and business model planning. ⛰️ Strategy templates for SWOT analysis, mission vission and values, OKRs, and more. ⚙️ Operations templates for daily stand-ups, weekly retros, and 1:1s 💸 Fundraising & Investor templates, including pitch decks 📣 Marketing & Sales templates for PR, sales, social media, Product Hunt launches. 📦 Product templates for user research, a/b testing, go-to-market plans 💻 Tech templates for website launches and issue trackers. 🔢 Finance templates for invoicing, expenses, budgets, and P&Ls ☎️ Customer Experience for Internal FAQs and Help Center 📊 Data & Analytics including a Data Dictionary and Tracking Links 🤝 HR templates for Applicant tracking, Employee Database, Job Boards, and more.
Grab the bundle at the link below.
67. Second Mind for Notion + Free Onboarding Call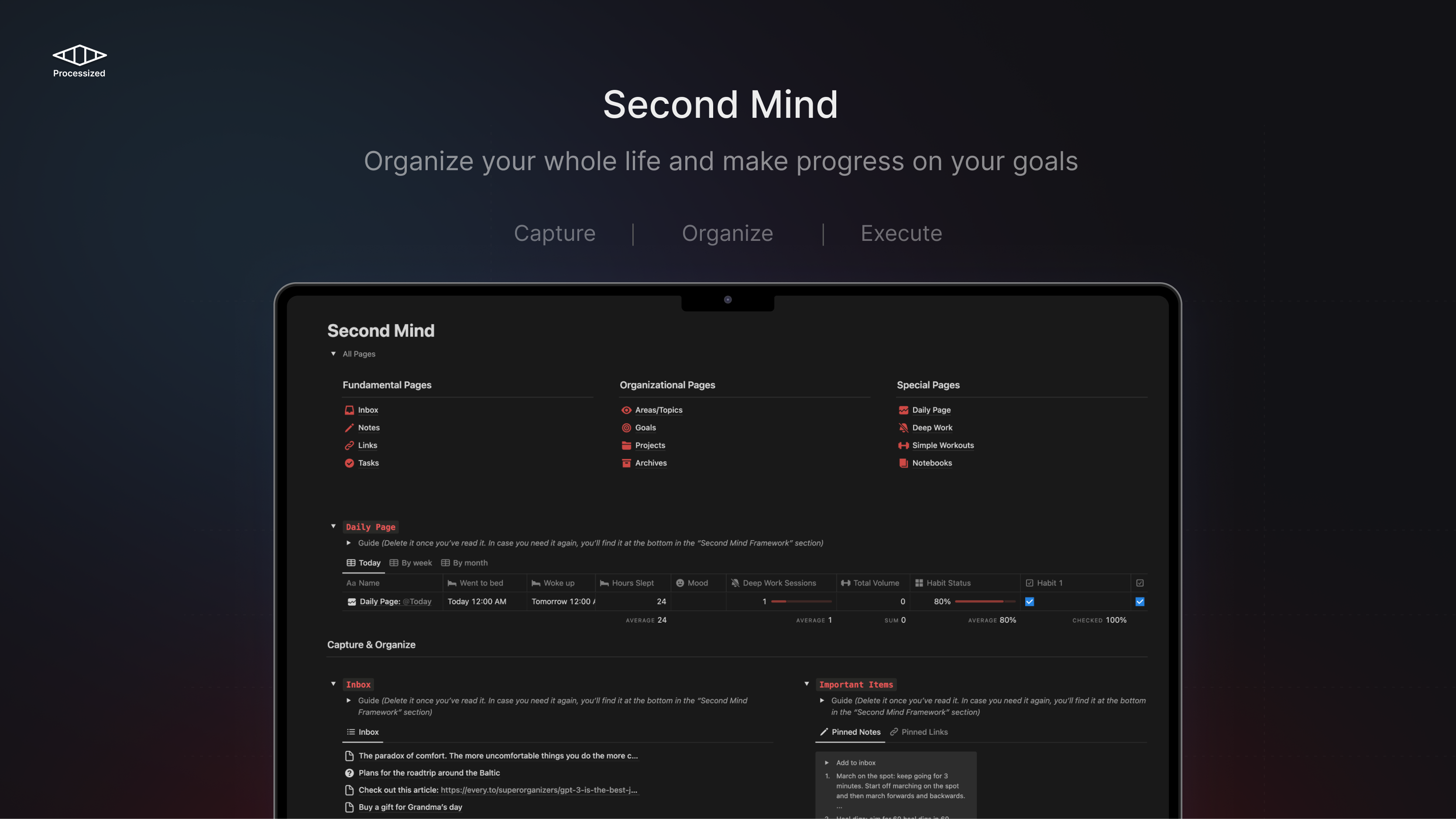 Slay information overload and transform your knowledge into results with the best knowledge management system for digital workers, creatives & entrepreneurs: The Notion Second Mind
Capture what matters, instantly
Second Mind is a trusted place for your resources:
Inbox: your notes, links, and tasks integrated with Notion Quick Capture and shortcuts to make capturing as seamless as possible. Capture and get on with your day.
Organize your resources for future use and never forget anything
The information you gather is only useful if you can find it in the future.
Second Mind helps you organize your resources:
PARA: Tiago Forte's knowledge management system (Projects, Areas, Resources, Archives) tweaked for actionability.
Pulled resources: In each Project, you can add relevant resources from different Areas or Topics to help you execute.
Build an idea goldmine that grows together with you
Your resources are useless when they're idly laying in your second brain.
Second Mind offers tools to help you process your resources for more clarity, focus, and creativity:
Quick daily review: A 5-minute process to keep your second mind tidy, find connections, and keep you up to date with your daily work.
Weekly review: A weekly ritual to review your resources and project results, plan your week, and find new connections and ideas. Progressive summarization : Tiago Forte's distilling method for making your resources more concrete and actionable for future use.
Start using it as soon as you download it
Say goodbye to hours-long tutorials and courses.
Second Mind offers a seamless way to start using it as soon as you download it.
1-minute guides: Under each page, you'll find a short instruction on how to use it most effectively.
15 min onboarding: A quick onboarding designed to help you get the most out of the second mind template.
(Bonus) Free onboarding call: Hop on a 30 min call with me to answer all of your questions and help you tailor the template to your needs.
68. The Relationship Journal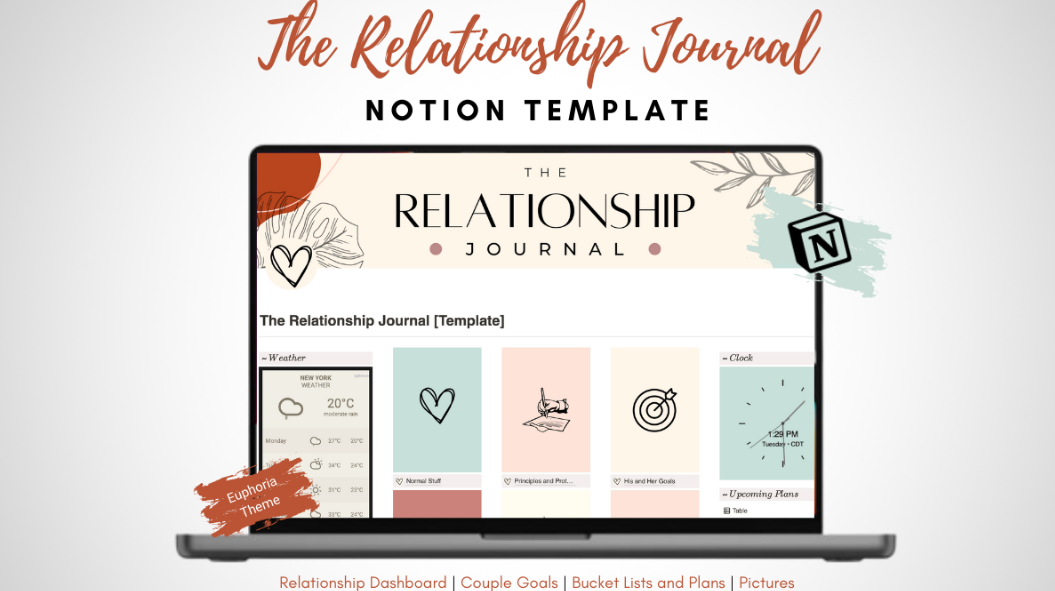 The Relationship Journal is a clean anbd beautiful Notion template that helps you document your journey with your partner and develop an even stronger relationship.
This is a brand new Euphoria theme with neutral pastel colors and a fresh tile-design that is suited for viewing in both light and dark mode.
Features:
Customize your ready-made relationship dashboard
Document your discussions and upcoming plans
Create your own photo albums
Set goals and hold each other accountable to them
Track important dates and milestones in your lives
Share your love for music through joint Spotify playlists
Maintain a timer of how long you've been together
Maintain a world clock, weather widgets for when you're apart
Maintain principles and protocols that guide you
Write down your travel wishlists
Note down your Netflix watch lists and reading lists
69. Trip Planner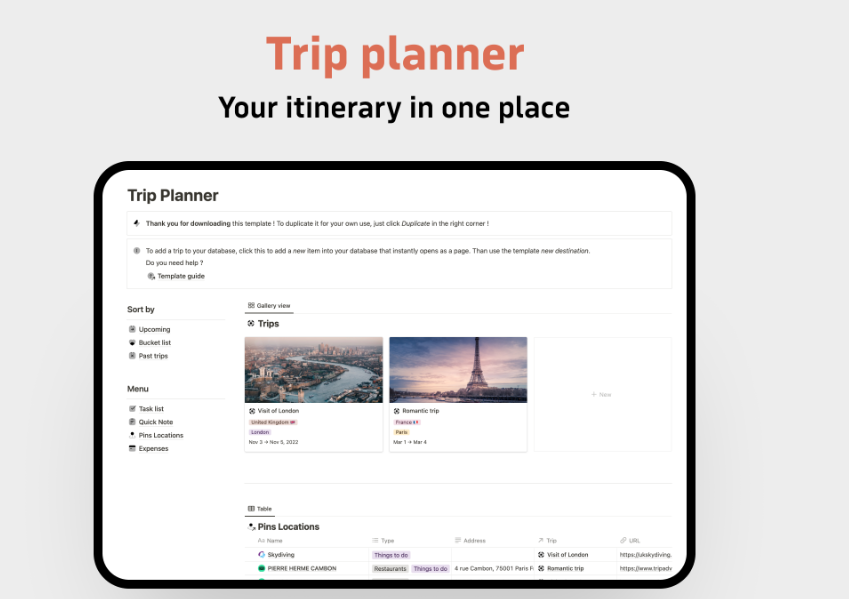 Author: Bodoboal
A trip planner so good you'll never travel without it again!
Add, organize and map your itineraries in a notion template designed for vacations, road trips, and more.
Whether it's a local trip alone, a family holiday, or a getaway with your friends, this trip planner is all you'll need to get things sorted.
From adding a trip to creating dream tips to mapping out your entire day, is there anything it can't help with? Take a look:
The Perfect Dream Trip: After you've decided on the country/city to visit, you can easily set up the destination in the template to keep it separate and organized from other trips you've taken.
Share with Friends: Share your plan for the entire trip – sunsets to see, beaches to unwind on, funfairs to attend, narrow streets to explore, food to eat – so everyone in the group knows what's coming next.
Planning Your Visits: You can now plan your visits by day, meaning each day can be mapped out within the same category for keeping things neat.
Calculate Expenses: Whether you're trying to sketch things out beforehand or continue to do so during the trip, the expenses calculator is a fine addition that'll help you keep track of your expenses.
Checklist of Items: Forgot your good 'ol fur jacket on your trip to the North the last time? Never again. The checklist option allows you to write any and every item or document you should bring along.
Get the Trip Planner template today.
70. Entertainment Tracker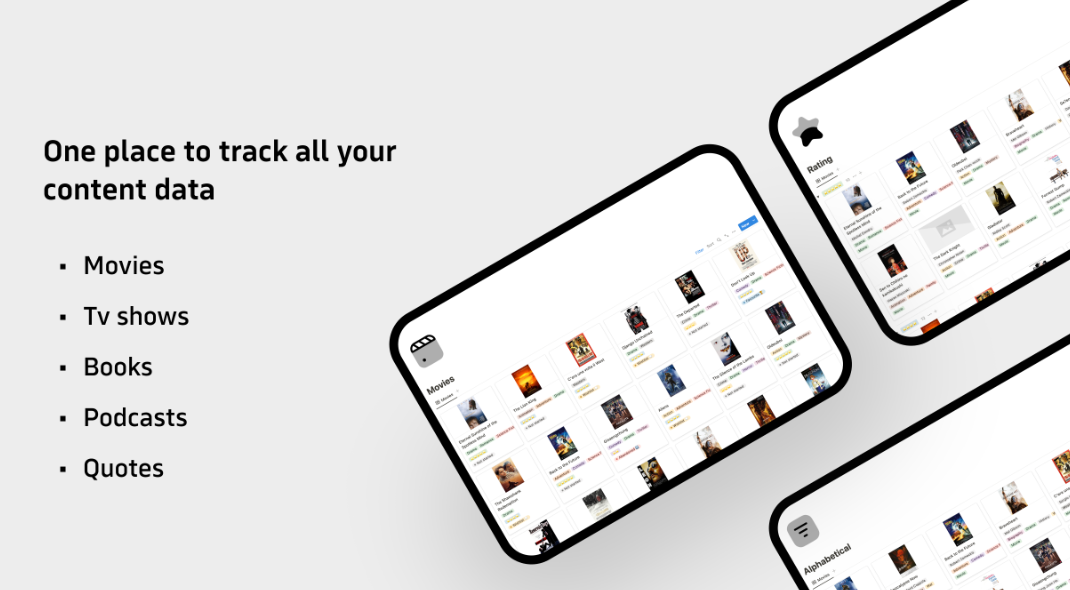 Author: Bodoboal
Entertainment Tracker – Track Movies, Series, Quotes, Podcast, Books
Let's face it, in this day and age, getting through all the movies you want to watch, the podcasts you want to listen to, and the books you want to read, requires planning of military precision.
And with only so many waking hours a day, the last thing you want is to repeat the same content you already consumed once.
That's why you need our Entertainment Tracker.
This small, nifty template lets you keep track of the 3 things you love: watching, listening, and reading. Here's how it does it so efficiently!
71. Student Essential Template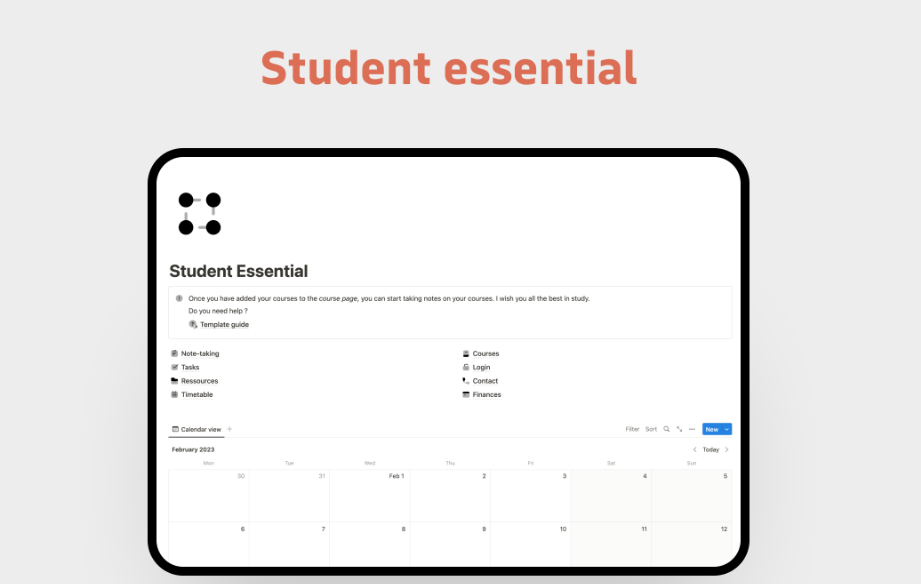 Author: Bodoboal
This template is made for you if you want to manage all your school life in a single dashboard.
For the school year, the template includes a calendar and a to-dos list that remind you of everything that needs to be done.
Share it with your classmates, empower yourself in the classroom and have more time for yourself!
Features:
Manage all your courses in one place : All your notes are in one place. And no more forgetting where you put things, or having to go through a maze of apps to find old notes. It makes sense to centralize everything with a planner that's bug-free and easy-to-use.

Control access and sharing of your notes: Feel free to share your notes with other classmates. Pages can be easily shared with a set of pages or an entire document with your classmates if you want.

Centralizes important dates: Whilst organising important tasks can often be a time consuming process, with centralising all of your deadlines into one place you will be able to see them all on one simple page.
Get the Student Essential template today.
72. Sales CRM Notion Template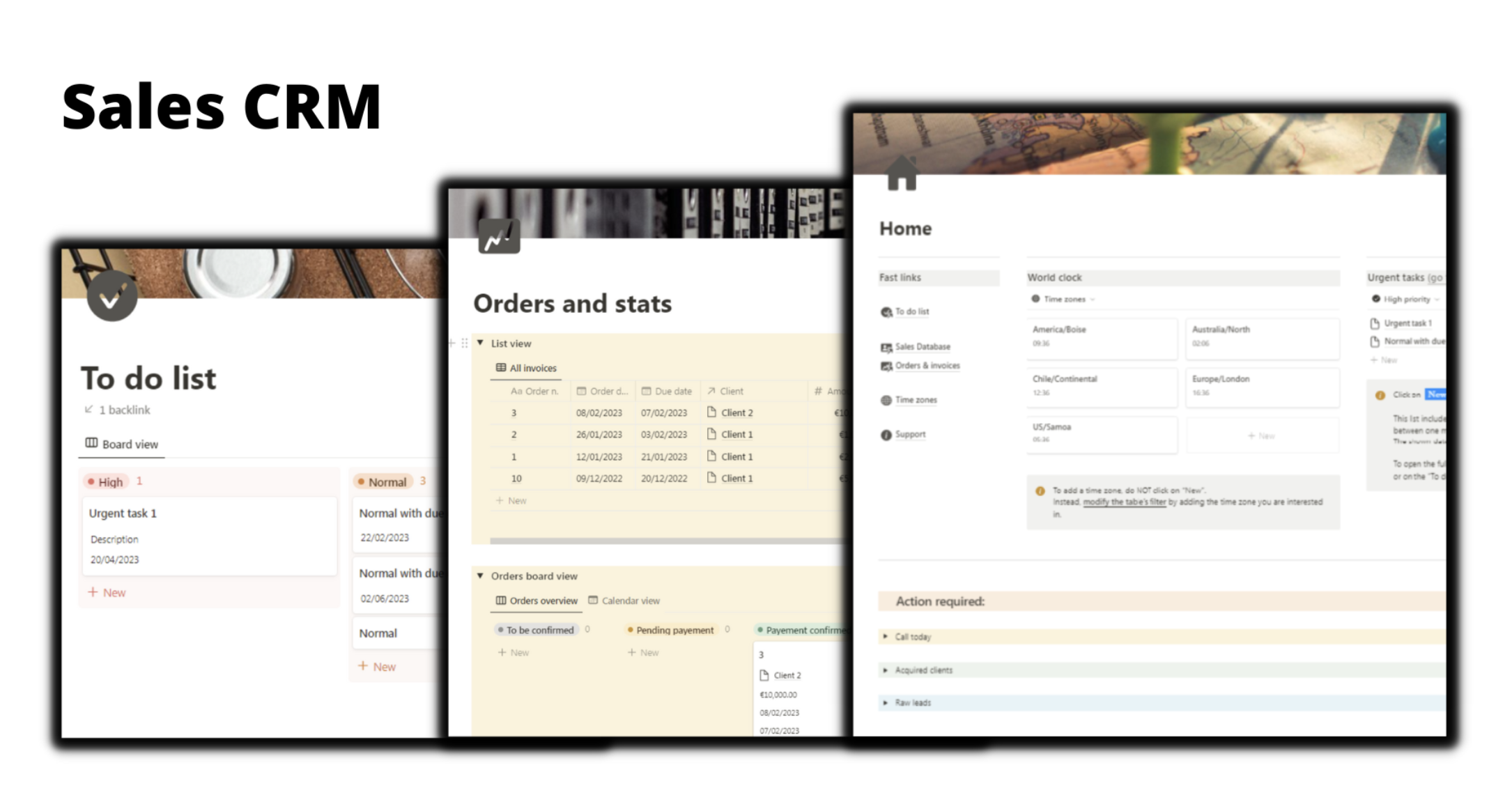 This Advances Sales CRM Notion Template is optimized for expert sales.
Suitable for every salesman, freelancer or startup who wants to grow their customer base and keep track of their progress.
Core Features:
Client manager: Keep track of your calls, Schedule tasks, and Meeting Calendar
Client database: Organize by area, status and much more, most useful views in the Home Page
Daily tasks: Task manager, Easy and practical view of urgent tasks
Orders and invoices: Keep an eye on your orders' status, Get an overview of your sales results
See Also