There are two ways to make money with Notion templates:
Sell your own templates
Sell someone else's templates
I've done both and it's easier than you think.
I've been doing it for the last 12 months and I've sold over $80,000 of Notion templates.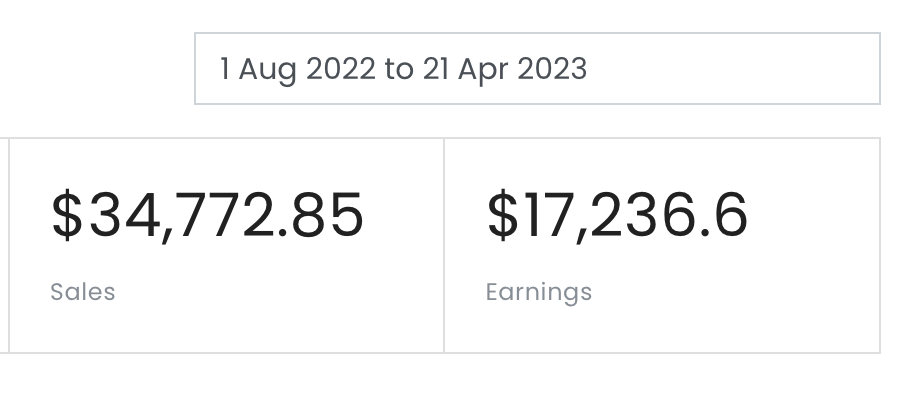 I'm building a course to teach you exactly how I built my Notion affiliate business.
And you can start with my free list of 30+ Notion template creators that accept affiliates.
It's 100% free – get it by clicking the button below.
If you want to create and sell Notion templates then you should listen to Easlo.
He's made over $300,000 selling Notion templates in the last year.
Easlo put together the most comprehensive guide on how to make money selling Notion templates I've ever seen.
And you can grab it here.
But if you don't want to pay for a guide you can follow my instructions below.
What Good Notion Templates Look Like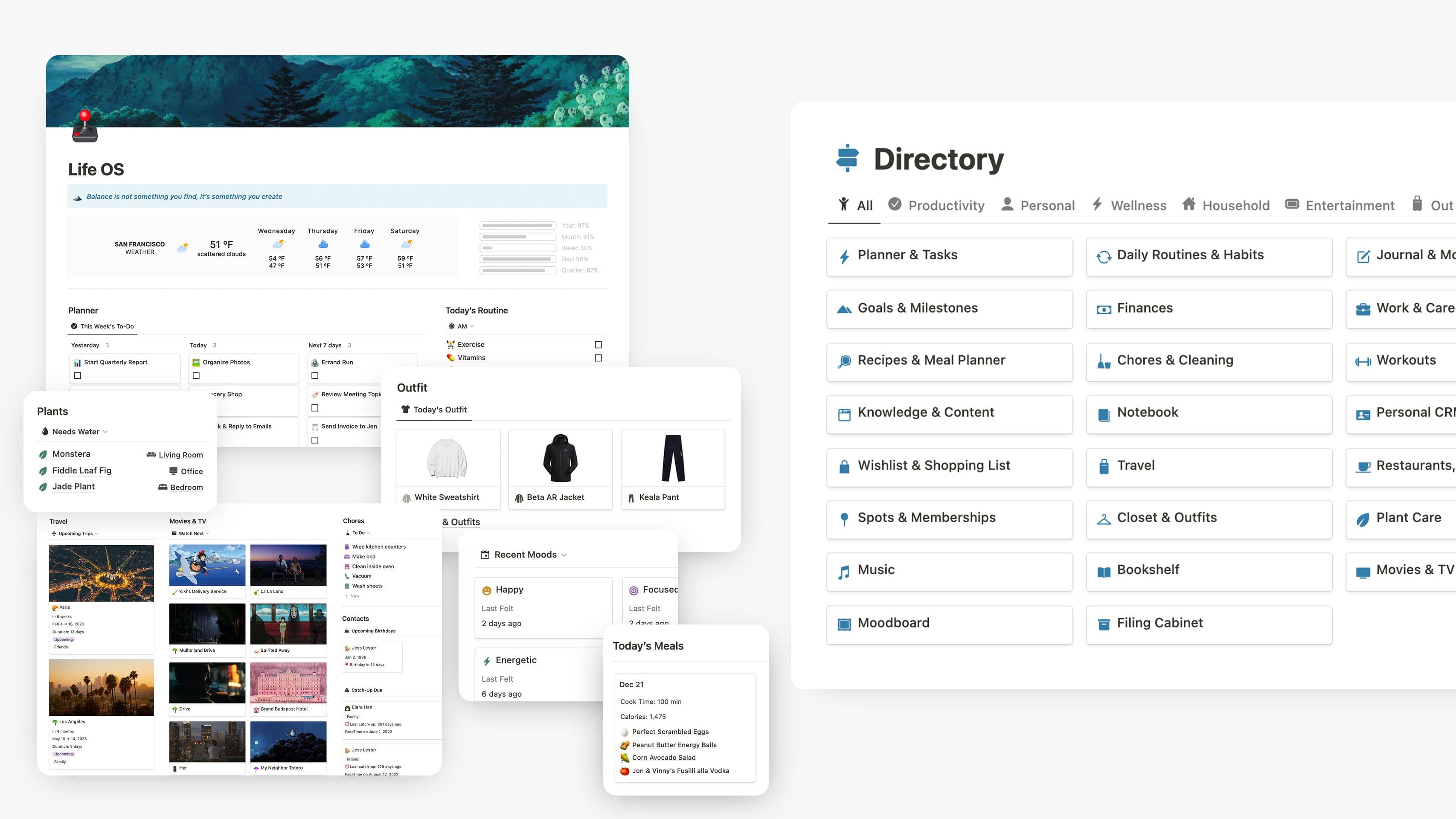 Here's an example of a top-tier Notion template that sells for $60.
The Life OS is the ultimate all-in-one planner for every aspect of someone's life.
It has over 25 interconnected templates and a live and dynamic homepage dashboard.
The magic of this template is that every page is integrated together.
It includes sections for:
✅ Planner & To-Dos
🔄 Daily Routines & Habit Tracker
✍️ Journal & Mood Tracker
🎯 Goal-Setting
💰 Finances, Work, Meal planning, and a lot more
Your first template doesn't have to be like this.
And honestly it shouldn't be like this one at all.
This template is way too complicated for beginners.
Start small and work your way up to something more complicated.
Click the link below if you want to see more about it, or keep reading for my guide on how to sell Notion templates.
How To Sell Notion Templates
Learn Notion inside and out
Research popular template types
Create your own template, or pay someone to create one
Create a Gumroad account
Add your templates to Gumroad
Market your templates on social media
Build an audience and repeat
Learn Notion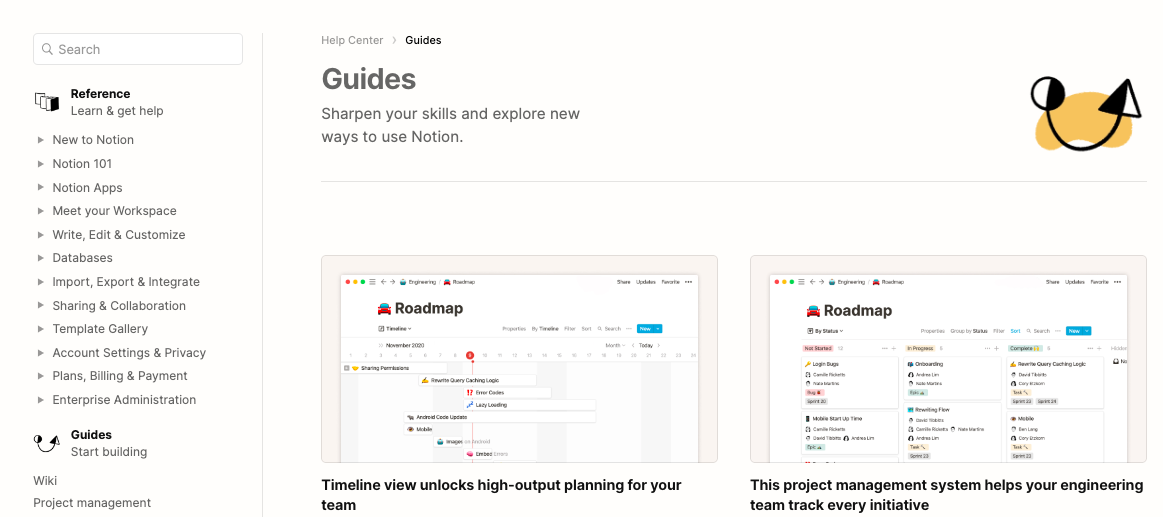 You can't make and sell Notion templates without knowing the tool extremely well.
The easiest way to learn Notion is to use Notion. A lot.
Here are some of my favorite resources for learning.
Notion has curated a great set of guides to help get you started.
Thomas Frank also has a ton of resources, templates, and videos.
You can even become a Notion Ambassador if you have a passion for teaching the community.
The company I work for uses Notion, so I create a lot of Notion documents every week at work.
My company has thousands of Notion documents, and if I'm being honest it's all a little unweieldy.
But I get to see how the 200 other people I work with create, maintain, structure, and design their Notion templates.
Each team has a hub that centralizes their team's documents.
My team, the Marketing team, has hubs for Product Marketing, Growth Marketing (that's me!), Communications, Brand, and Demand Generation.
Notion skills are becoming a must-have ability in the modern workplace, especially if you work in tech and SaaS like I do.
So whether you're young or old, learning this tool can benefit you now and in the future.
And you honestly can't skip this step. If you don't know Notion, or you're not secure in your knowledge, spend some time learning.
It'll be worth it.
Research popular template types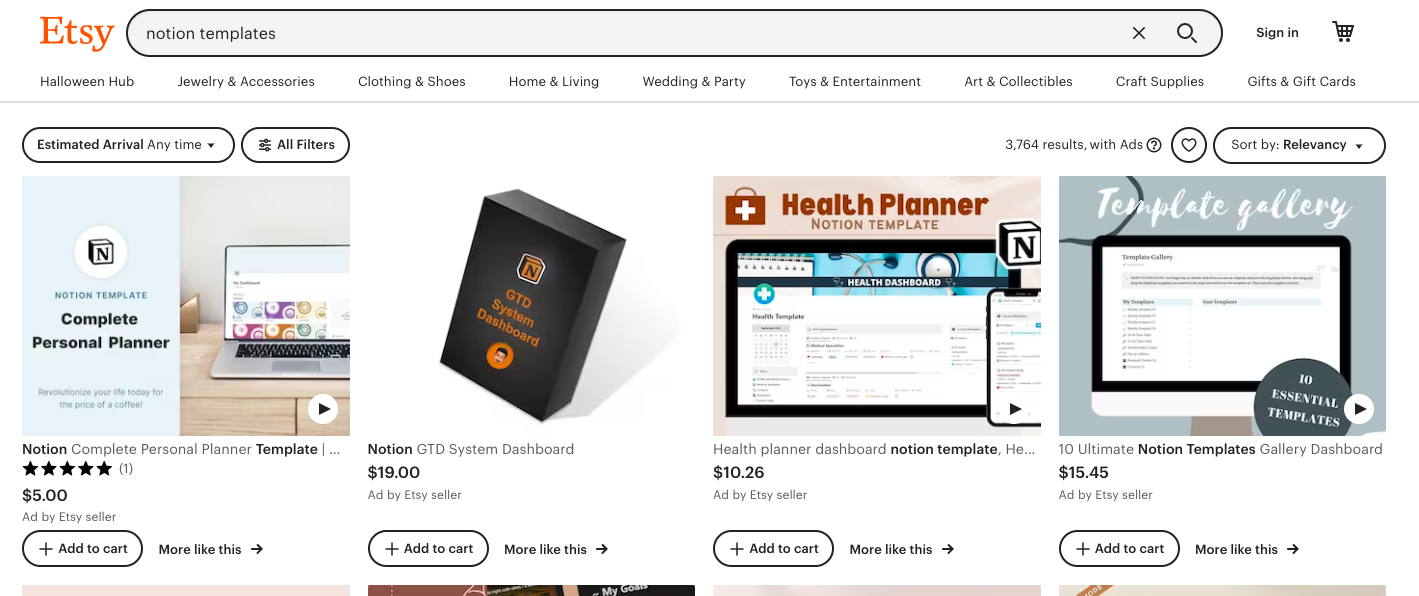 Once you've beefed up your Notion skills, it's time to research.
Look at popular Notion templates. Start bookmarking templates you like the style of and research the best Notion widgets to spice up to your templates.
Maybe you like more aesthetic Notion templates.
Here are a few places to start your research:
Google
TikTok
Etsy
Gumroad
There are some fantastic templates on Etsy and Gumroad is where most people sell their templates.
On Gumroad, go to their Discover section.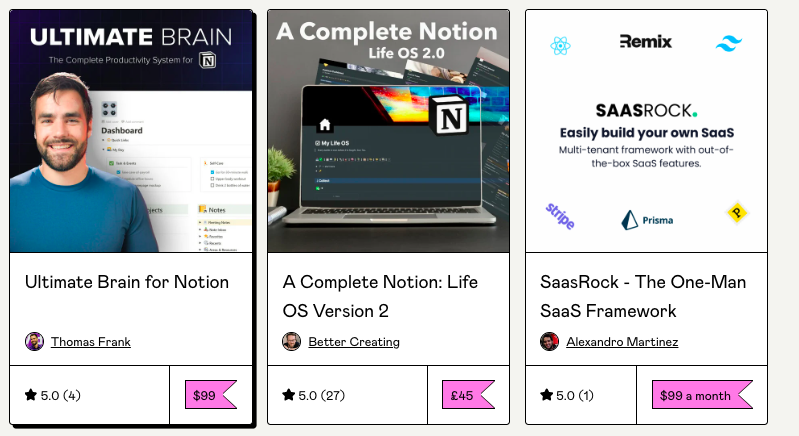 Search for Notion templates.
Find a couple creators you vibe with and look at all their products on Gumroad.
Most creators have a ton of Notion templates for sale so you can get a good feel for what is working well for them.
While you're there, most creators will include a link to become one of their affiliates.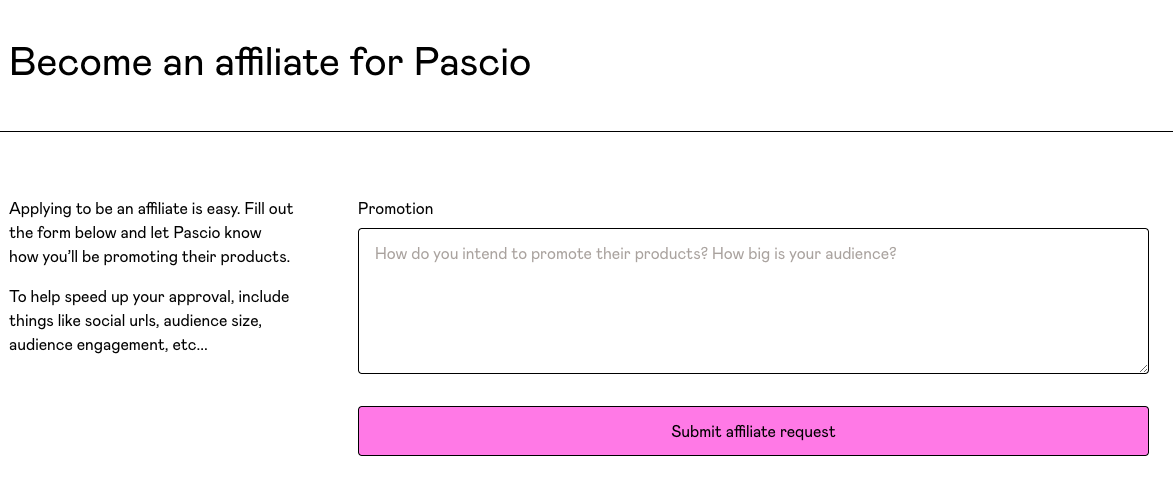 Include a message with how and where you intend to promote their products.
You can keep it short, mine are often one or two sentences. I send them a link to my website and often ask to split the commission 50/50.
How to Create Notion Templates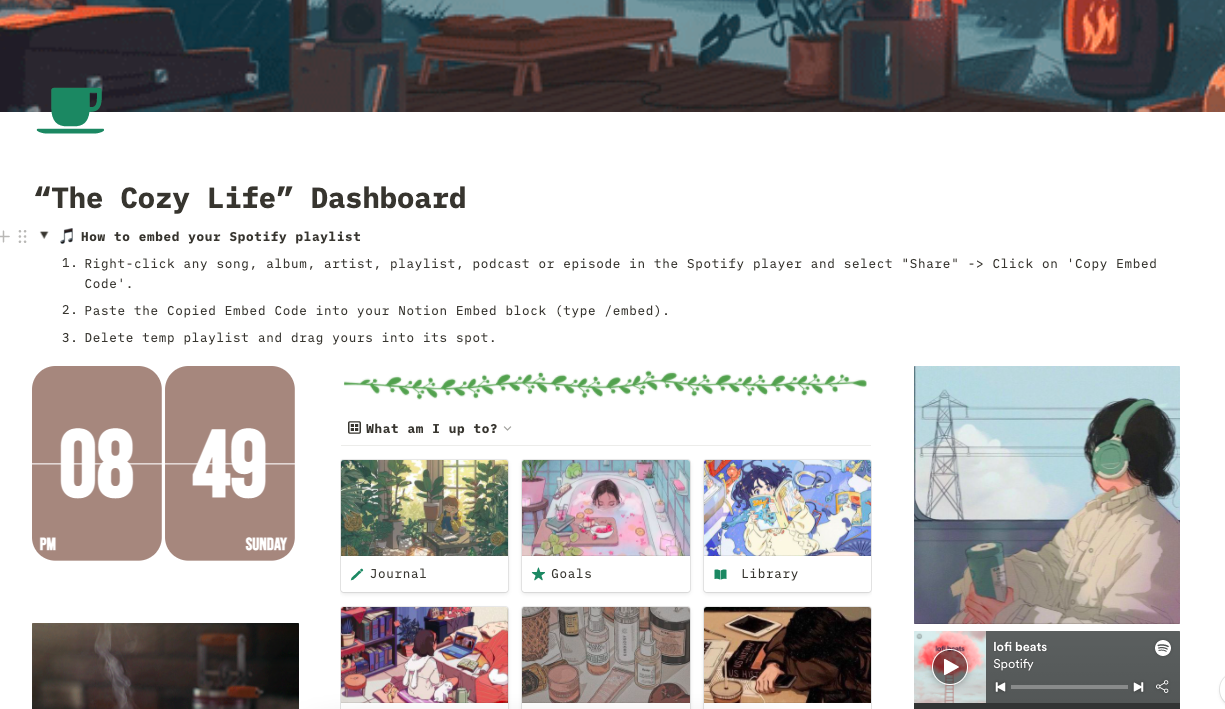 I recommend buying or downloading several templates to understand what makes a good and bad template.
A good template is:
Good looking
Easy to understand
Seeded with basic content
Instructions on how to use it
Keep your user in mind when creating your template.
They'll have no idea what your thought process was when building it, so you need to be as clear as possible.
I like using callouts or toggles to explain what a section is about.
Here's a section on how to embed a Spotify playlist.

Someone with zero knowledge should be able to come in and understand how your template works.
When in doubt, over explain.
Create a Gumroad account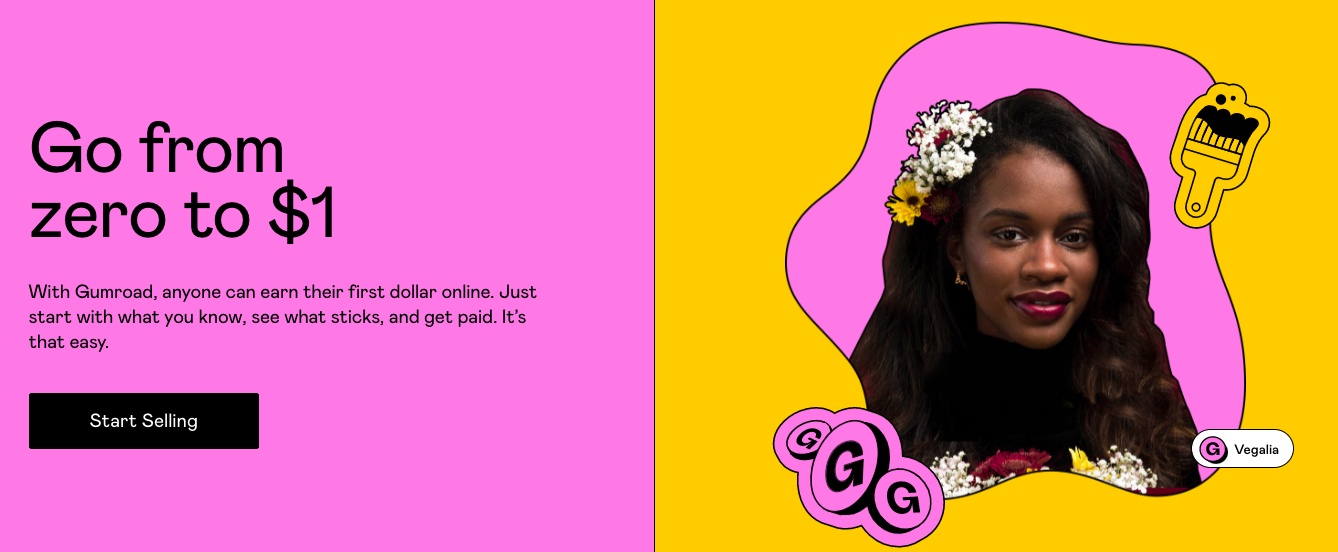 Creating a Gumroad account is easy.
Gumroad is free for everyone and there is no monthly fee.
They only charge a fee based on your sales. It starts at 9% and decreases based on your lifetime earnings on Gumroad.

Affiliate income counts as earnings, and you don't get charged a fee for earning it.
The first $500 I made on gumroad I kept 100% of it, they didn't take their 9% fee.
It's entirely possible to earn income without being subject to their fees, which is incredible.
Add your templates to Gumroad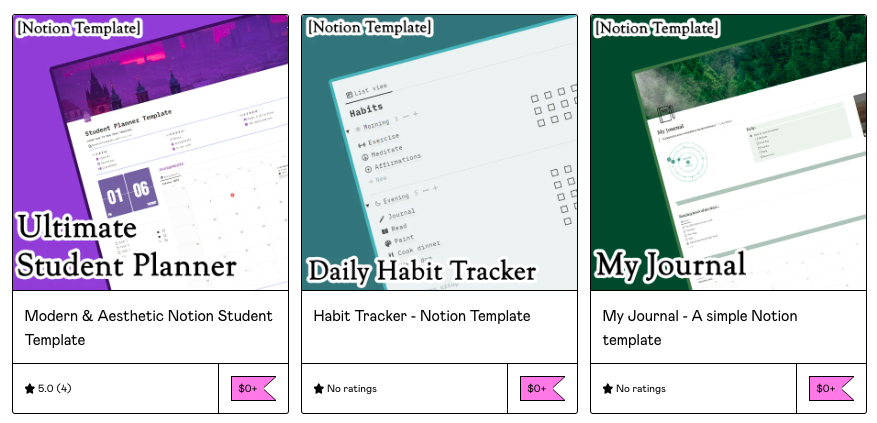 Adding templates to your store is easy, but the more work you put in the nicer it'll look.
If you look at the stores of popular Gumroad creators, you'll notice that:
All of their products have a unifying product image
They have detailed product descriptions
They mention what is included
They include testimonials
Here's an example from Pascio's Sobriety Hub.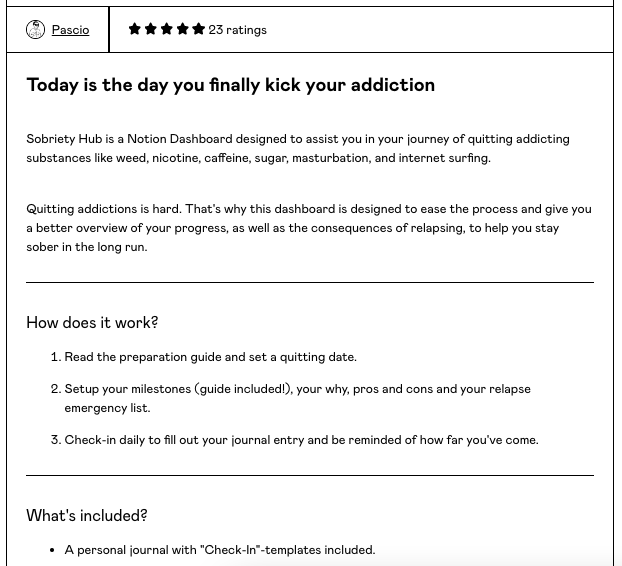 Tip: Add emojis to your product descriptions
They're an easy way to make bullet points stand out in a sea of text and paragraphs.
Make sure you've enabled 'Share to web' in your Notion document and 'Allow duplicate as template' is checked!
Launching Templates
How to make money with Notion?

• Sell templates like @heyeaslo
• Start a blog like @RedGregory1
• Create a course like @mariepoulin
• Be a consultant like @thenotionbar
• Make YouTube videos like @TomFrankly

Learn Notion and make money in 2023.

— Easlo (@heyeaslo) October 7, 2022
Everyone has a different strategy for launching templates.
This is an area you'll need to experiment with to find what works for you.
It depends on if you have an existing audience, email list, blog, or access to a community or not.
But here are some tips:
Build and share things in public (post on Twitter)
Join Notion communities and share things for free (add value)
Follow other creators and engage in the community
Look at Product Hunt launches
Here's my strategy:
Build a blog (this took years)
Advertise templates
Use Gumroad to collect emails
Build an email marketing strategy
There's no one way to do this. What works for me will be different than what works for you.
Try and try again until you figure it out.
Can you actually make money selling Notion templates?
Yes, absolutely. Easlo, the largest Notion template creator, has made over $500,000 selling Notion templates. I've interviewed many Notion creators on my podcast, Template Titans, and they average between $1,000 and $3,000/month by selling templates.
What if I don't have a big social media following?
You don't need a big social media following. I don't have one.
But what you do need is a desire to build an audience online. It can be a blog, an email list, or a podcast.
My best tip is to start something and be consistent with it.
If you want a social media following, start posting on social media.
Search #notion hashtags, find other creators, and start messaging them.
Engage with the existing community and start making a name for yourself.
What if I'm not good at marketing?
Good news: no one is born with infinite knowledge.
Everyone you've ever met has learned how to do something the first time.
Starting your own business is the perfect time to learn new skills, including marketing.
It may seem overwhelming at first. You may feel behind other creators who are already successful.
It doesn't matter. Everyone started from nothing.
And you can too.
Stop making excuses and try it.
What Notion templates should I make?
Here are my most popular templates:
Will people actually buy Notion Templates?
Yes. Easlo has made over $500,000 selling Notion templates.
There is a market for these and it'll only get bigger as Notion continues to grow.
But what will set you apart from everyone else is experience and authority.
What do you know more about than anyone else?
Use that experience to create your own unique templates.
If you're an accountant then make finance and budgeting templates.
If you're a marketing professional then make templates to organize influencer brand deals.
Because Notion templates are frankly easy to create, the best way to make something unique is to position it behind your life experiences.
Why are you specifically qualified to make this?
Lean into that experience and you'll have a lot of success.
How much should I charge?
Most Notion templates sell between $1.99 to $19.99.
But they can sell for as much as $130, which is what Thomas Frank sells his templates for.
That's a big range, but you also don't have to charge at all.
But isn't the point to make money?
Yes, absolutely. But consider giving your first few templates away for free.
This let's you get feedback from your customers while collecting their email addresses.
So when you have a really amazing template or offer, you can email people who are already familiar with your products.
But consider giving your first templates away for free in exchange for collecting emails.
Gumroad makes this really easy.
Then you can email your customers when you launch your next product.
I hope this guide on selling Notion templates was helpful.
If you make a template and want to feature it on my website, send me an email.
See Also