The best time to start working on your goals is right now.
Not tomorrow, not next week, or not next year.
Right. Now.
This is a collection of the best Notion templates for goal setting.
Don't miss my other templates:
Best Notion Goal Templates
The Ultimate Goals Dashboard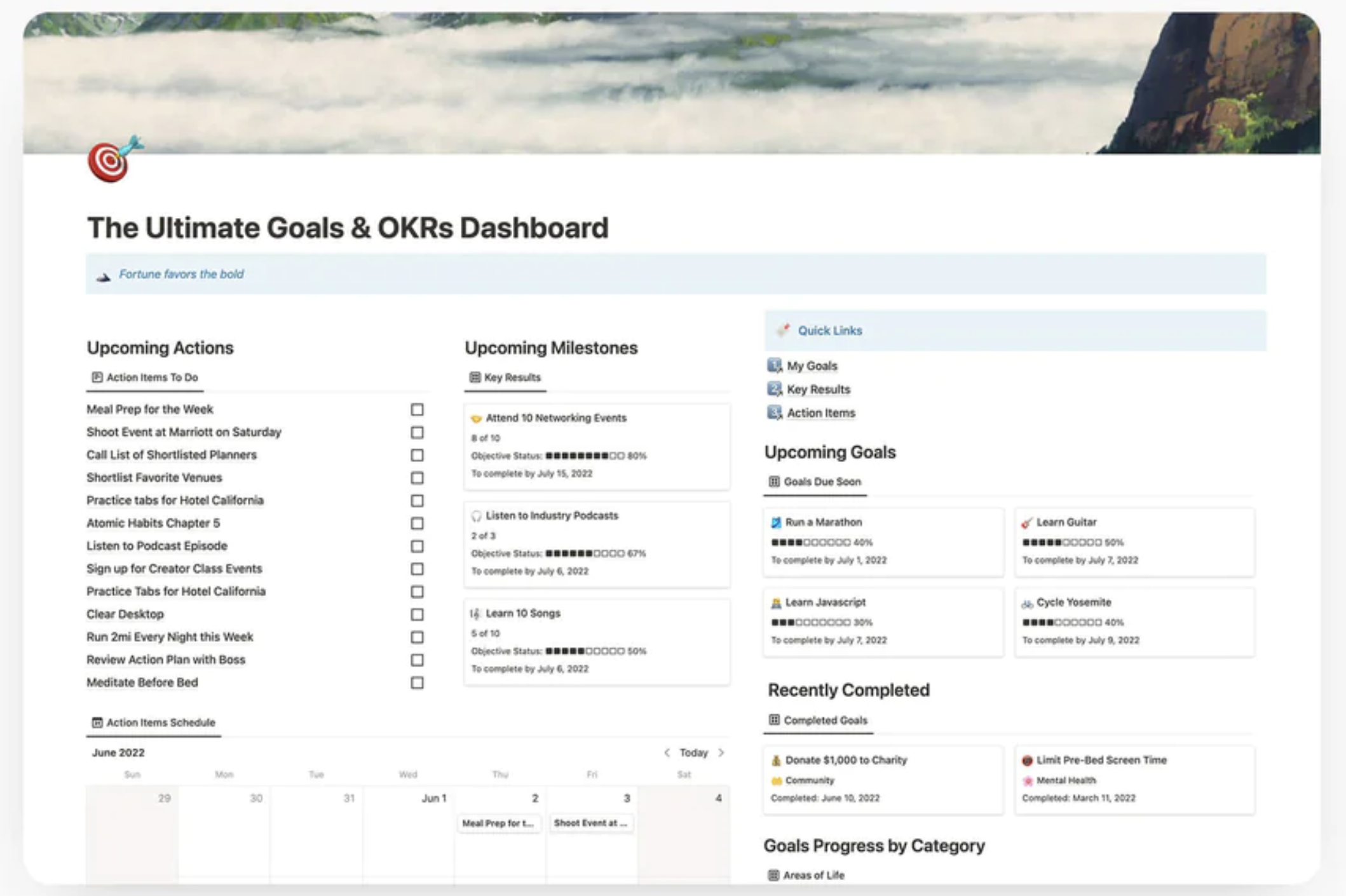 Author: Gridfiti
The Ultimate Goals & OKR Dashboard for Notion is designed to help you map out and actually achieve your goals – no matter how big or small – by breaking them up into an actionable system.
🎯 Set high level goals, by several different areas of life. Using the OKR (objectives and key results) system, there are 3 tiers to dissect your goals into manageable and tangible action items
🛠 Set specific metrics, deadlines, and to-dos per key results item, and watch yourself crush them!
📔 Each goal page includes a pre- and post-goal assessment journal worksheet inside. Using the SMART system and other built-in prompts, get more intentional with your goal setting to set yourself up for success!
Notion Personal Goals Planner | Barbie Aesthetic 💅🏻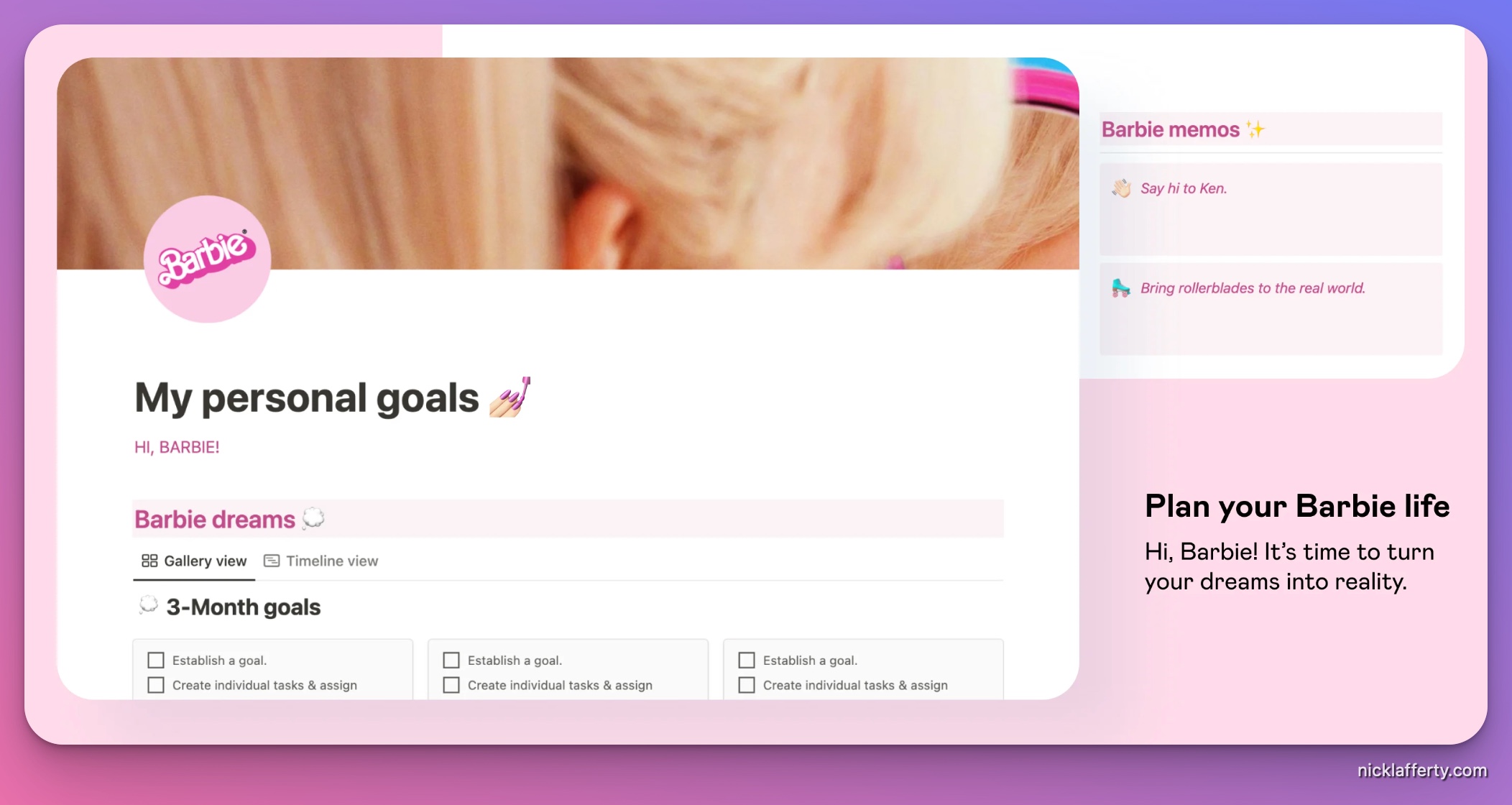 Author: Beto
Description Hi, Barbie! Turn your dreams into reality with my Notion Personal Goals Planner | Barbie Aesthetic 💅🏻.
This template combines Barbie's iconic aesthetic with effective goal-planning tools:
Set 3-month goals: Be the Barbie you've always wanted to be. Establish each goal, and create individual tasks.
Add individual tasks to the weekly planner: Stay on track and reach your milestones.
Prioritize self-care: Goals are great, but so is your well-being. Ensure a balanced and fulfilling journey to success.
Ready to be your own dream Barbie?
Download the Notion Personal Goals Planner | Barbie Aesthetic 💅🏻 now and turn your dreams into reality.
The Ultimate Habit Dashboard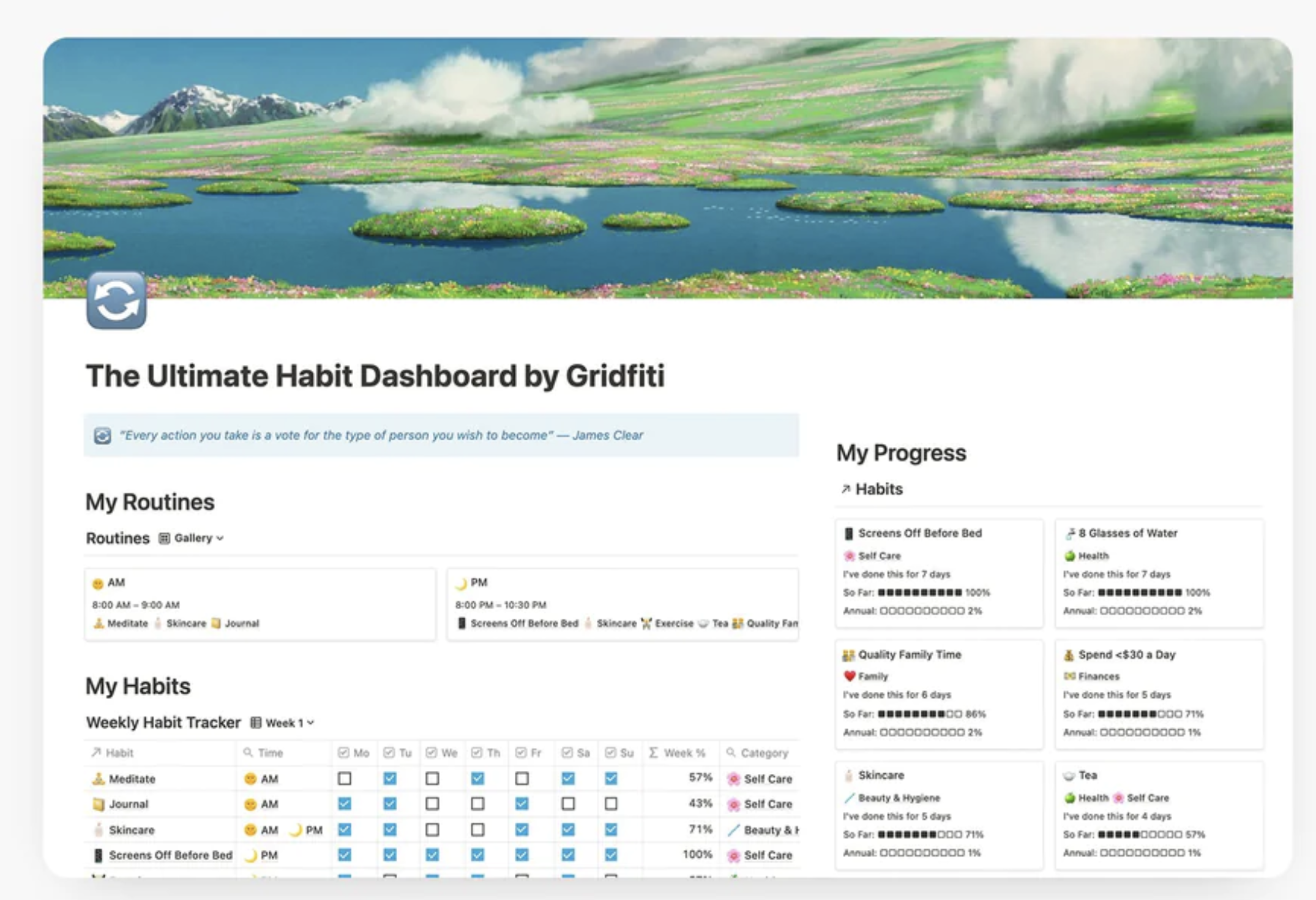 Author: Gridfiti
Create great habits and stick to them with The Ultimate Habit Tracker Dashboard for Notion!
✔️ Create, then track your habits every week with an easy-to-use checkbox system
🍎 Includes several built-in categories – from health, to self care, organization, finances, intellect, hygiene, and more
🚀 Get an overview of how you're doing by habit and by category throughout the year with progress bars – and even see how many days you've stuck to your habit so far
🌖 Set integrated AM & PM routines that connect to your habits
Notion Business Hub
Your Business Hub, entirely in Notion.
One place for Everything in your Business.
Tired of cobbling together multiple apps to form your Business? Me too. Business Hub lets you capture and organize everything inside of Notion - turning it into an all-in-one workspace.
Business Hub is the most advanced business & startup Notion template that helps you manage every aspect of your SaaS product, Digital product, Startup, and in general your online business.
Notion OKR Template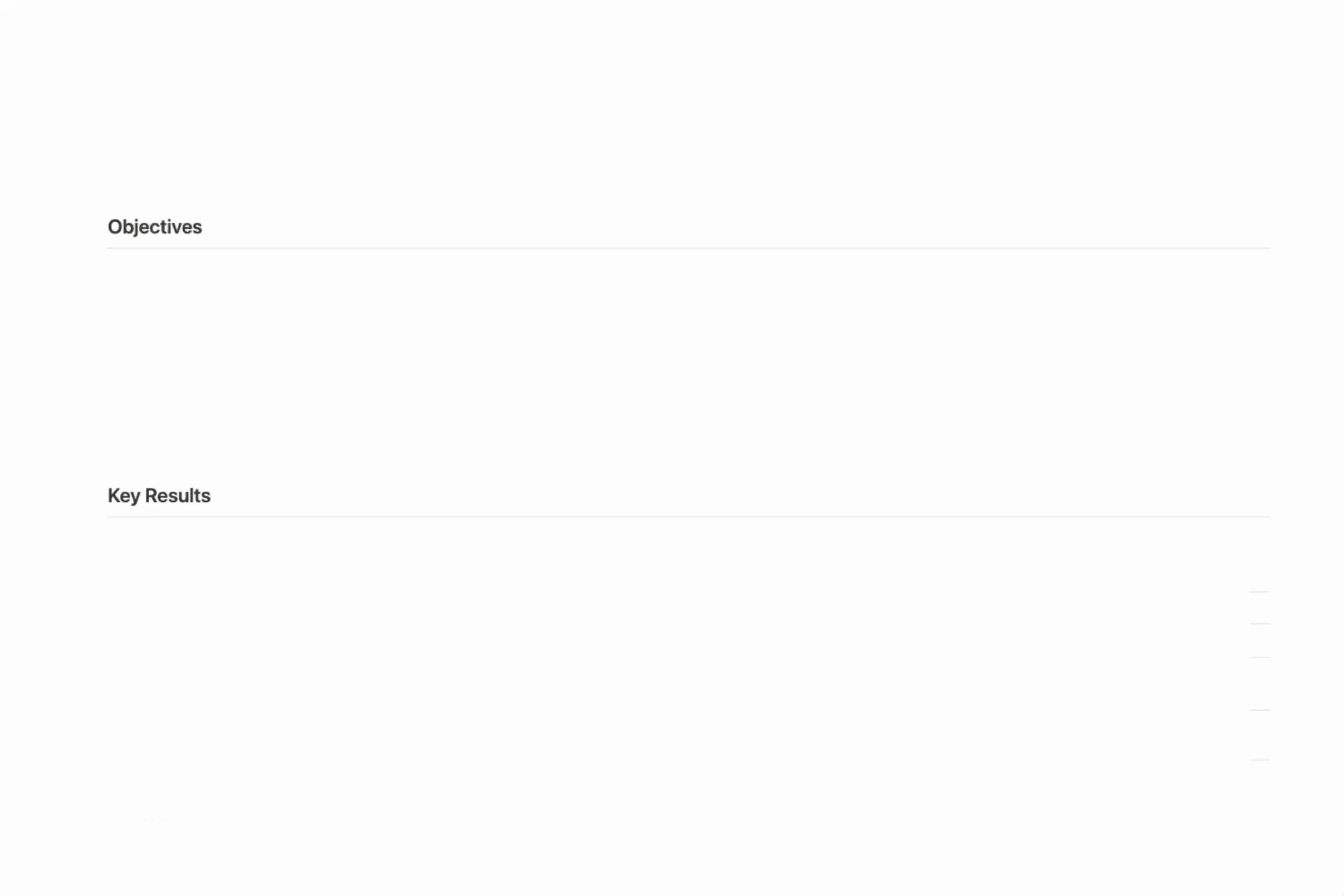 Author: Easlo
OKRs is a popular framework to keep track of your priorities and goals in Notion.
Set up your personal or company OKRs dashboard in minutes.
The Relationship Journal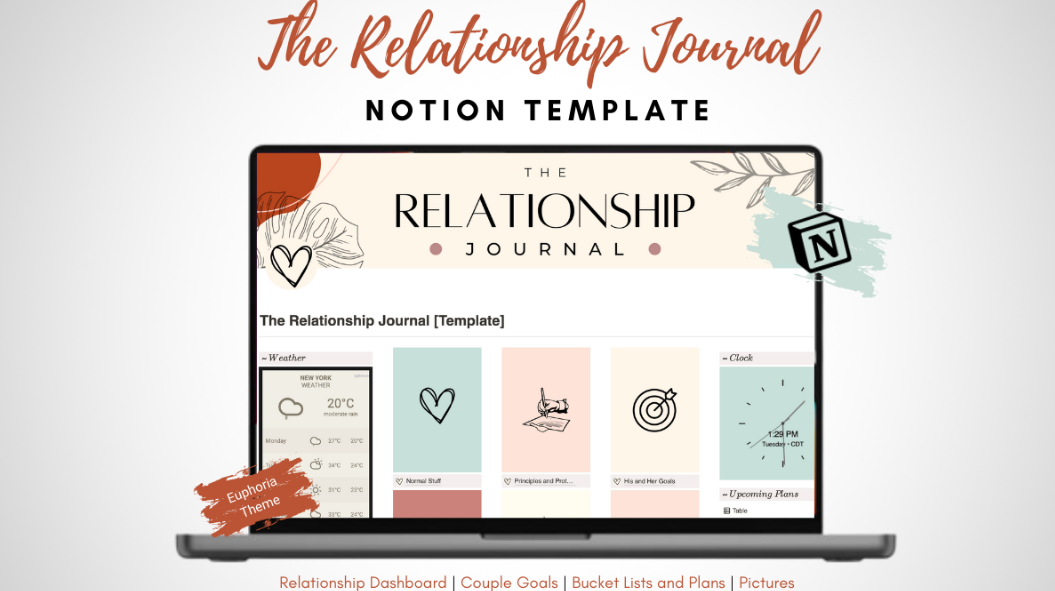 The Relationship Journal is a clean anbd beautiful Notion template that helps you document your journey with your partner and develop an even stronger relationship.
This is a brand new Euphoria theme with neutral pastel colors and a fresh tile-design that is suited for viewing in both light and dark mode.
Features:
Customize your ready-made relationship dashboard
Document your discussions and upcoming plans
Create your own photo albums
Set goals and hold each other accountable to them
Track important dates and milestones in your lives
Share your love for music through joint Spotify playlists
Maintain a timer of how long you've been together
Maintain a world clock, weather widgets for when you're apart
Maintain principles and protocols that guide you
Write down your travel wishlists
Note down your Netflix watch lists and reading lists
Notion Side Hustle OS Template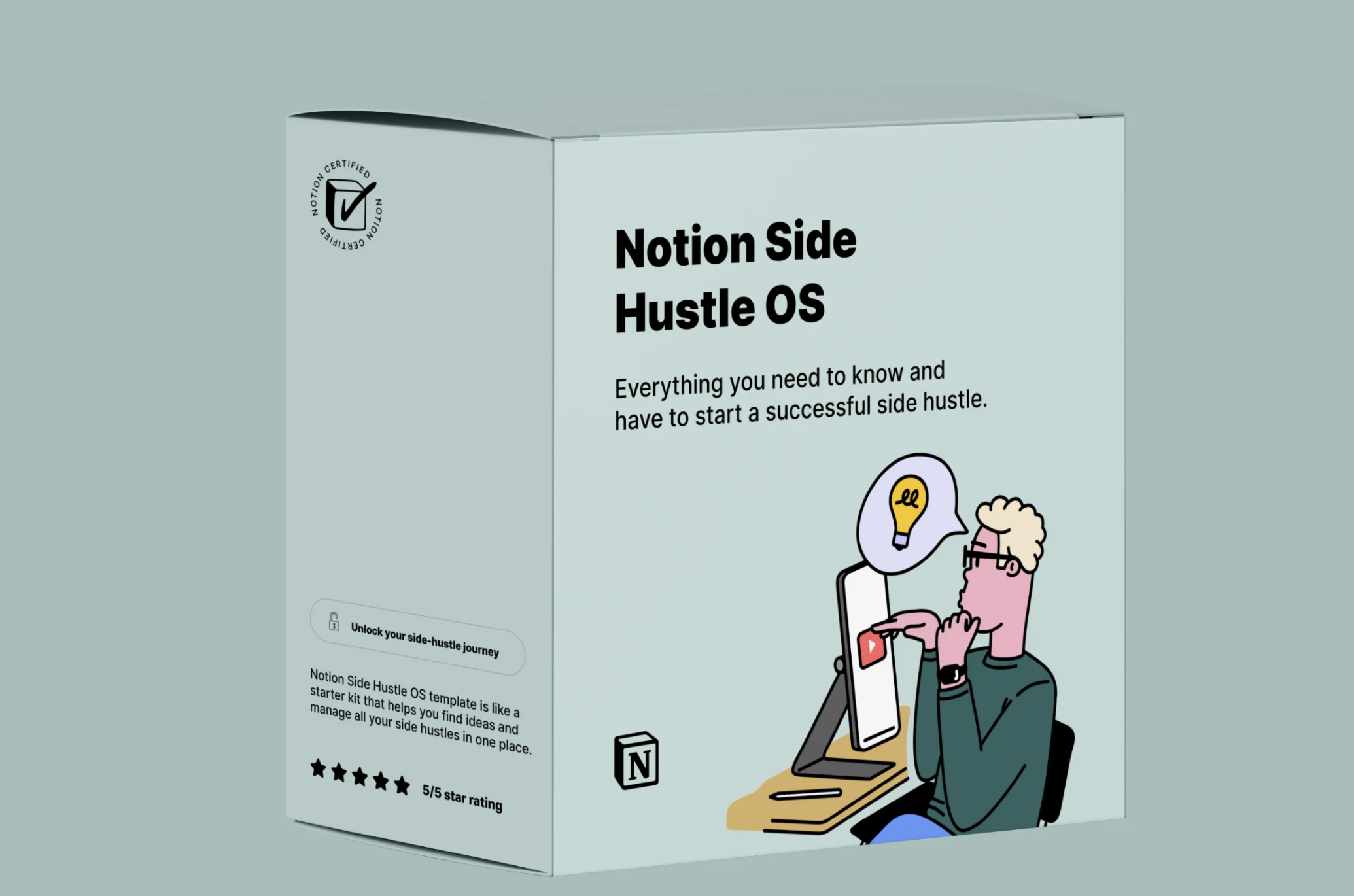 Explore a list of 60+ most popular side hustles.
Start making side income finding the best side hustle for you.
This Side Hustle OS has everything you need to know and have to start a successful side hustle.
If you've been looking for a Notion template to start making additional income, you're in the right place.
One of the best ways to increase your income is by getting into a side hustle. But, if you don't know what to do or don't have time, don't worry.
The Notion Side Hustle OS template is like a starter kit that helps you find ideas and manage all your side hustle daily things in one place. With this template, you'll have a nice and productive system to manage and grow your side hustle.
Life OS: The All-in-One Notion Template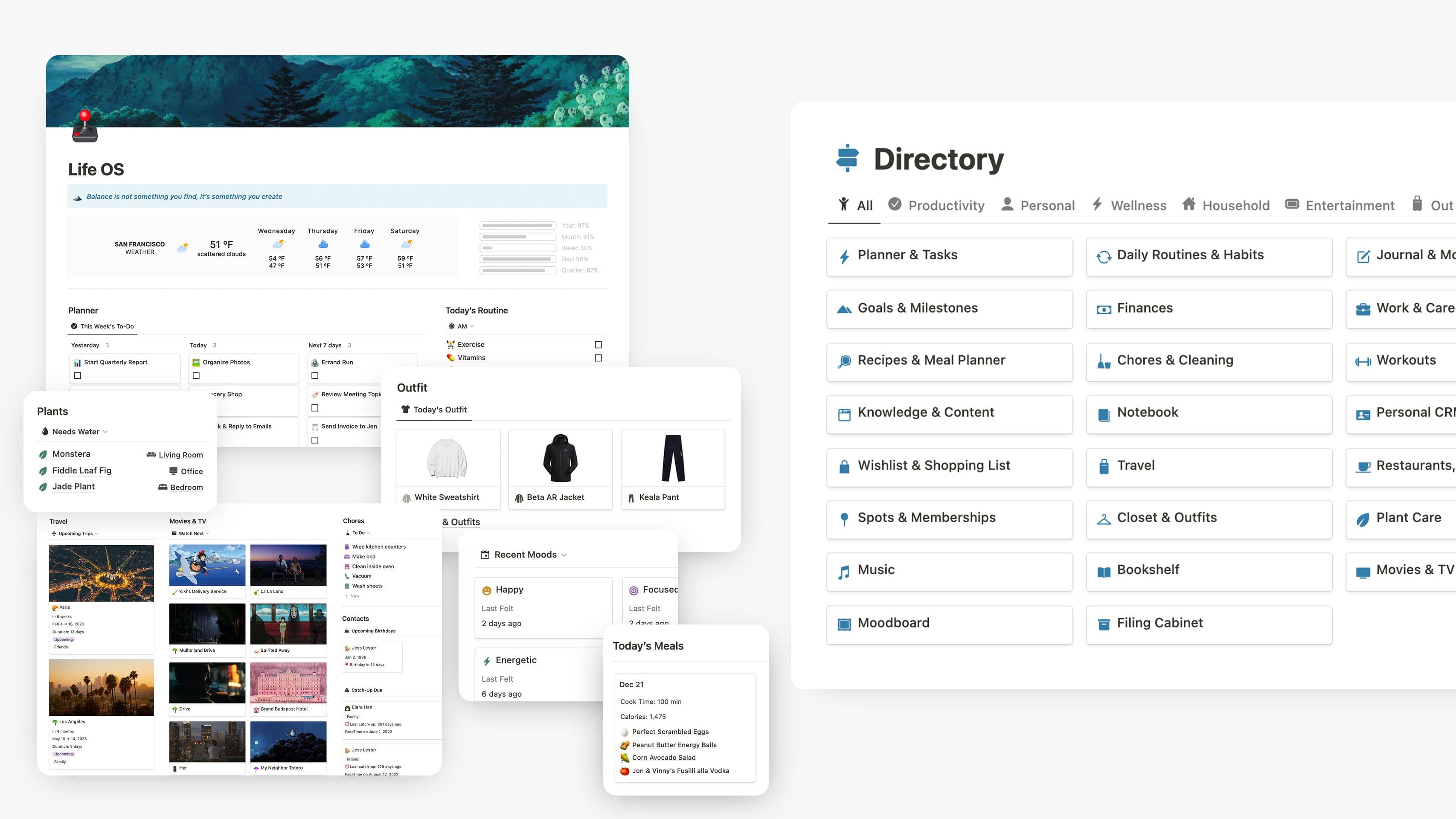 Introducing the brand new Life OS Notion template: the ultimate all-in-one planner for every aspect of your life!
With over 25+ interconnected templates included and a live and dynamic homepage dashboard – this is the only template you'll need to centralize everything in your life.
The magic of this template is that every page is integrated together.
The dynamic homepage is a live reflection of every bit of information stored elsewhere in the dashboard.
It includes sections for:
✅ Planner & To-Dos
🔄 Daily Routines & Habit Tracker
✍️ Journal & Mood Tracker
🎯 Goal-Setting
💰 Finances
💼 Work & Career
🍳 Recipes & Meal Planning
🧹 Chores & Cleaning
🏋️ Fitness
🧠 Content Queue & Knowledge Base, and much more
All their information is always updated on the homepage.
Learn more and grab the Life OS below.
Notion Health Bundle
A bundle of Notion Health templates, designed to help the dedicated Health practitioner live easier, better, and healthier.
What's inside? Health Hub OS
Complete Health Operating System including intuitive dashboard as well as more than 15+ different templates and 10+ trackers designed for a healthier life.
Sobriety Hub
A complete addiction management dashboard that not only helps you get sober, but stay sober. You can track progress, set milestones, count days and even journal, right at the touch of your fingertips.
Transformation Board A dashboard made to help you achieve your goals in just one year. Imagine goal-setting simplified in an intuitive and easy-to-use dashboard
Creator Starter Pack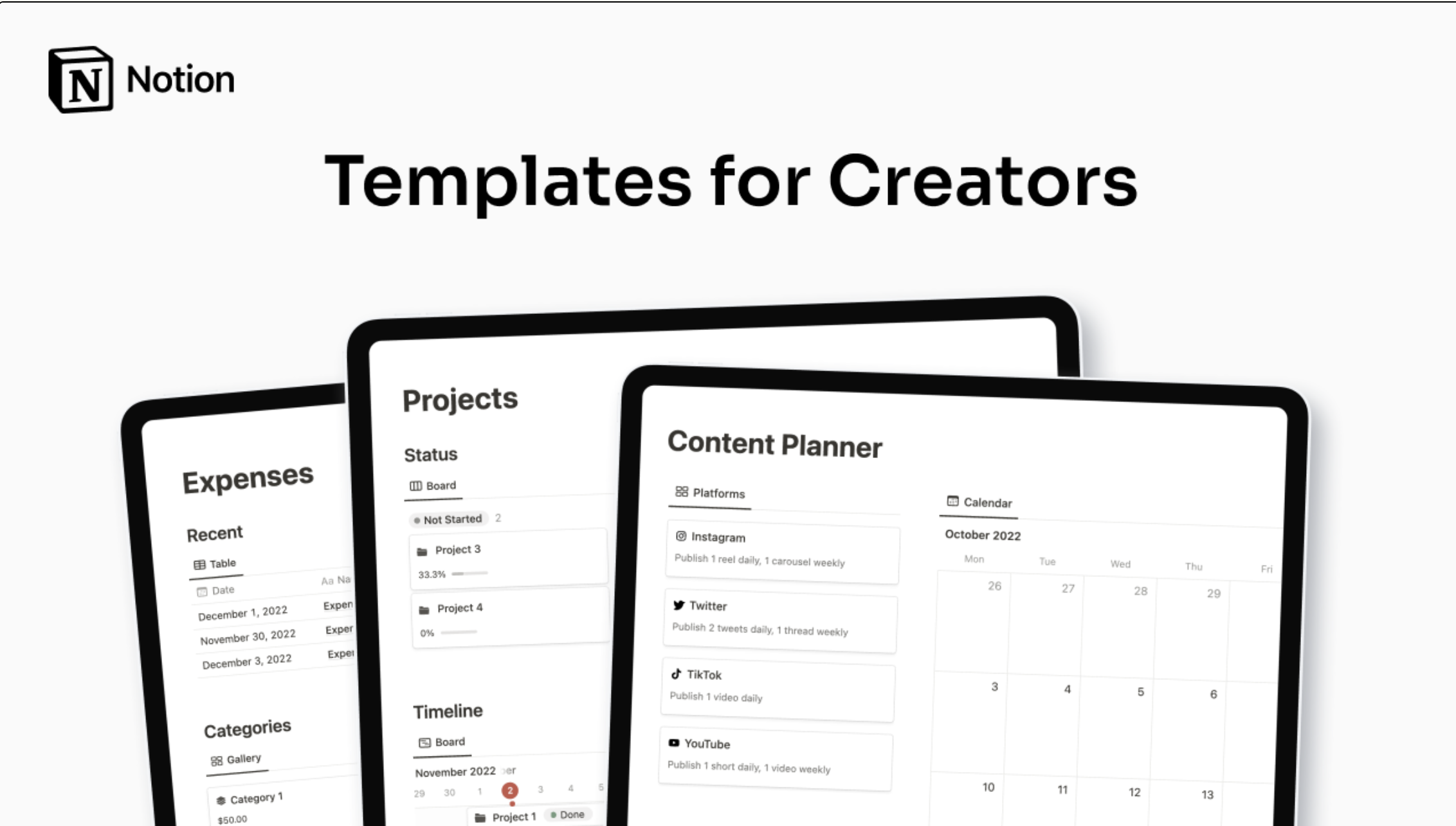 Feeling overwhelmed by everything you need to get done? This product is for you.
Introducing Creator Pack. Creator Pack is here to help you stay organized and on top of your deadlines.
With these templates, you can easily track your projects, expenses, and social media content calendar. Plus, our templates are designed to help you save time and be more productive.
What's Inside?:
Projects Tracker
Tasks Manager
Content Planner
Personal CRM
Expense Tracker
The Cozy Life Dashboard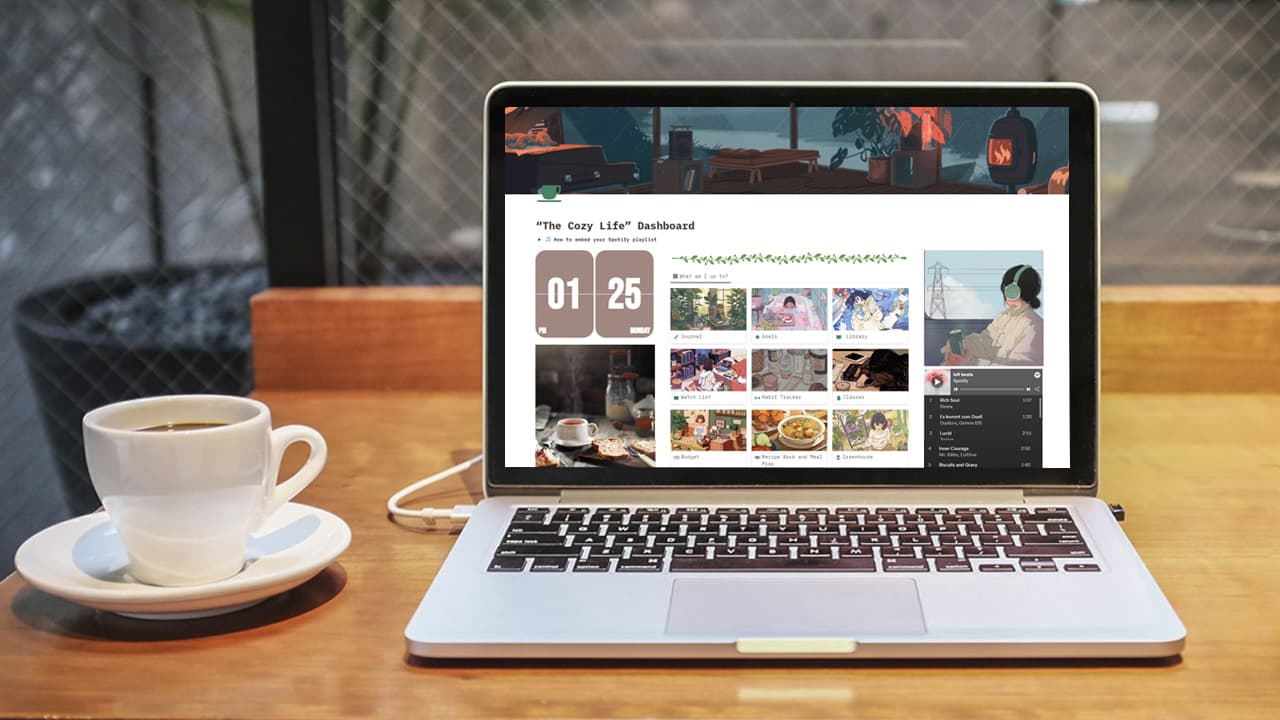 Author: Nick & Cody
It just started raining outside. You can hear the rain pitter-pattering outside your window.
You poured a fresh cup of coffee and there's music playing softly in the background.
I tried to capture these little moments in a single Notion template.
This is a cozy, aesthetic dashboard to help you keep track of everything in your daily life.
And it's the best template I've ever made.
The Super Life (Ultimate Life Planner)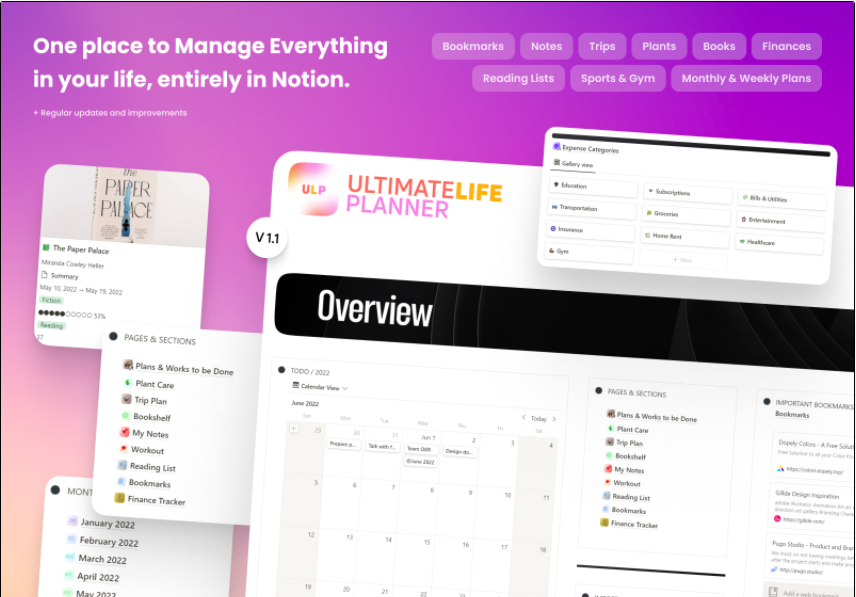 The Super Life (Ultimate Life Planner) is one place to manage everything in your life entirely in Notion.
It brings tasks, notes, plans, health, plant care, travel plans, finance, and more together in your favorite tool.
Don't miss my longer list of business Notion templates.
1-Year Transformation Board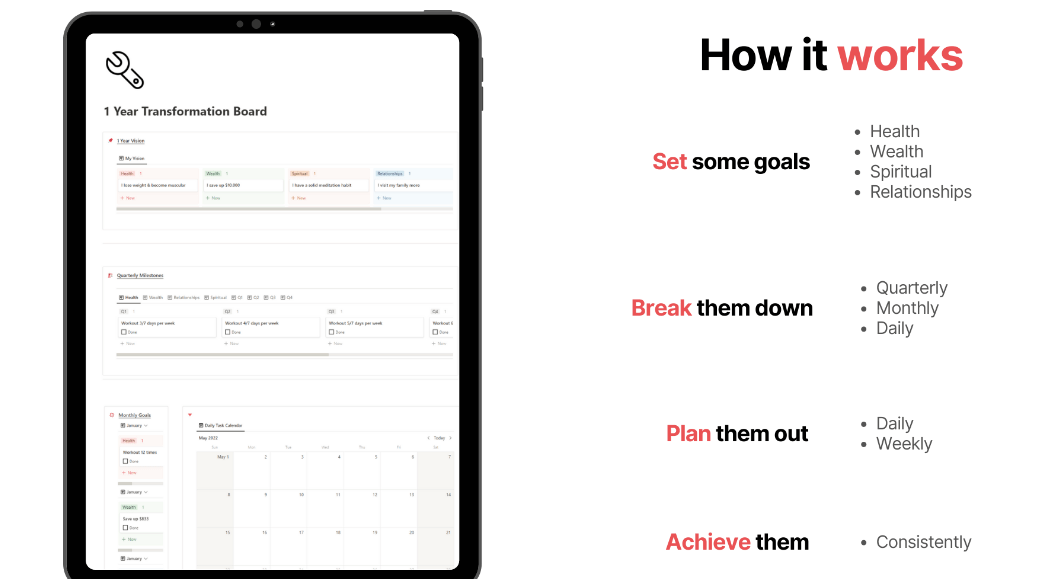 Author: Pascio
A dashboard designed to help you break down and achieve your goals in just one year.
If you really focus your mind for the coming year on accomplishing the goals you set, this digital intuitive lightweight Dashboard made with love in Notion, serves as your personal assistent on that journey.
See Also