monday.com and Clickup are two leading project management tools in the market today.
But they have some key differences that you should consider before selecting a tool for your team.
Adding a project managment tool to your team is a long term commitment.
Once you start adding projects, tasks, and due dates you're creating a sunk cost should you ever move to a different tool.
I'll walk you through how I've used monday.com and ClickUp in my professional career as a growth marketer and help you select the best tool for you.
Let's go.
What is monday.com?
monday.com is a project management software that enables teams and organizations to build custom, automated workflows to get more done.
It's useful for teams of all types and sizes, including:
Marketing
Sales
Customer Support
Engineering
and more
But don't take my word for it, read one of their recent reviews on G2:
Monday is a great option for anyone looking for a simple project management solution with automation features to make their job simpler
I wrote a longer look at monday.com alternatives that you can read if you want a deeper dive into this topic.
What is ClickUp?
ClickUp is a workplace productivity tool built to save you time.
It can manage your projects and tasks and it's built as one tool to replace them all.
ClickUp can do everything from:
Complex project management
Simple task lists
Create spreadsheets, reminders, and even emails
300+ integrations
Here's their most recent G2 review:
ClickUp is one of the best project management tool for companies whether small or big. It's a platform that allows teams to manage projects from start to finish.
Not into ClickUp? Read my best ClickUp alternatives post.
Why Should You Trust Me?
This isn't your average software review website.
My name is the domain. You can look me up on LinkedIn and see where I'm working and what I'm posting.
I review software that I've personally used and can vouch for.
But this website is also my side hustle, and this post contains affiliate links.
No brand has control over my content, but some of the links here could make me money if you click them and purchase something.
Ok, back to the review
Monday.com vs ClickUp
My process for evaluating tools is simple.
I need to use them first.
So that's exactly what I did here.
I've used both monday.com and ClickUp personally to run this blog and professionally to track, manage, and ship projects on time.
Both tools are solid Notion alternatives, which is another one of my favorite productivity tools.
Each section below will compare ClickUp and monday.com on the following attributes, click to jump to a specific section:
Pricing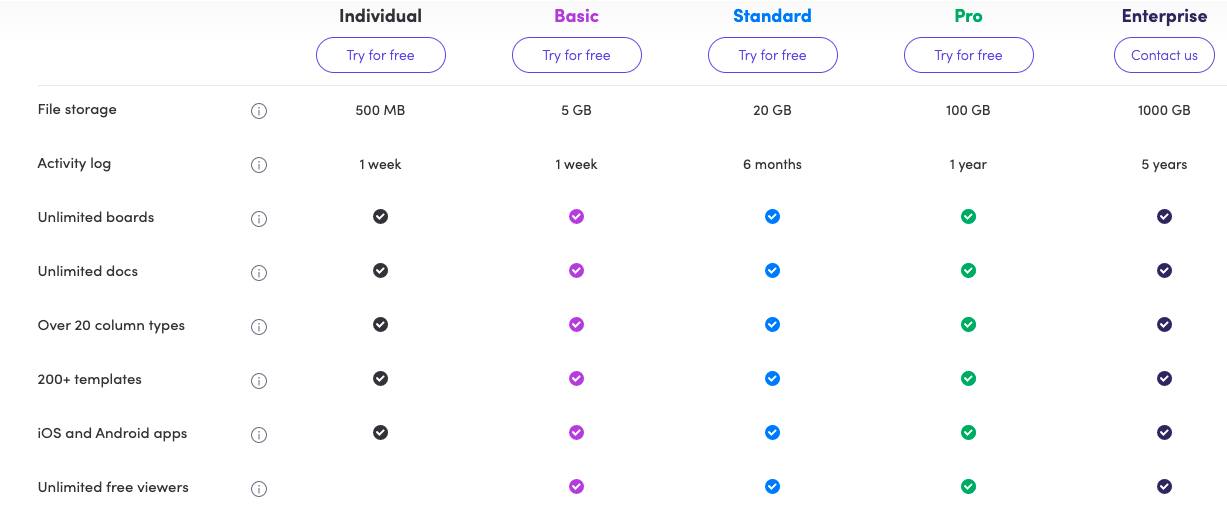 Screenshot above is from monday.com's pricing plans.
There is one major difference between monday.com and ClickUp's pricing.
monday.com requires you to purchase a minimum of 3 seats.
ClickUp lets you purchase just one seat.
So the prices below are reflective of the minimum seat requirements for both tools, priced monthly.
| | Basic | Standard | Pro |
| --- | --- | --- | --- |
| monday.com | $30 | $36 | $60 |
| ClickUp | $9 | $19 | $29 |
monday.com's lowest paid tier is 3x more expensive than ClickUp because they require you to purchase 3 seats.
But when you take out the seat threshhold (and that's a big but), monday is much more competitive on price.
So why is monday.com priced like that?
The answer is pretty simple: both tools are better when you can collaborate with other people.
Most projects can't be completed by one person.
It takes many people, working in different roles with different specialties, to get complex work over the finish line.
So monday forces you to purchase 3 seats so you invite two other people to collaborate with you.
It's a turn off for small teams or freelancers, but it's effective for driving denser workspaces.
ClickUp does not require that kind of minimum. You can purchase a single paid seat for any tier.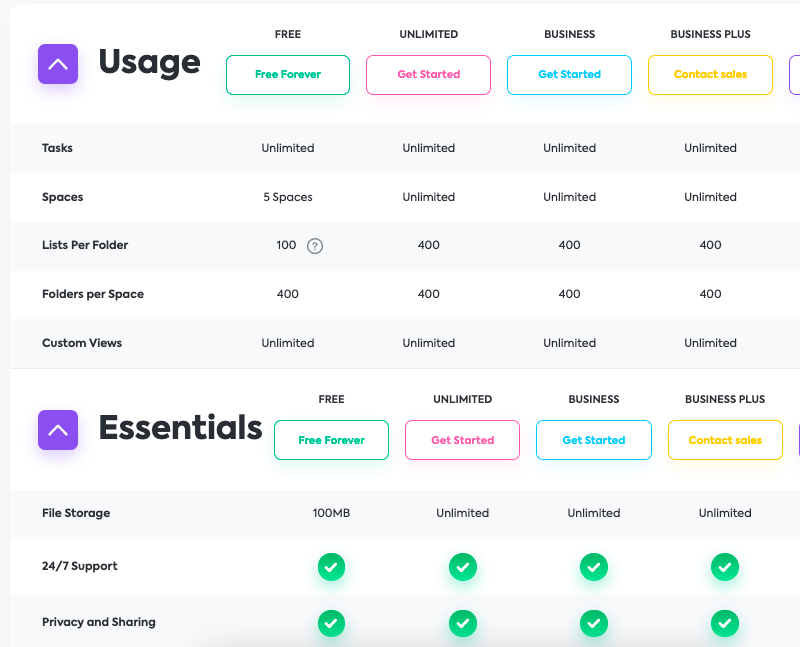 That strategy seems more like a land an expand motion.
They're trying to get one person at a company to start using ClickUp, then they try and add more users by building a great product and having positive support experience.
Both pricing structures are perfectly valid, but I thought the context was important when evaluating based only on the monthly number.
If I had to choose, I prefer ClickUp's pricing model. I want to pay for myself and then invite my team members.
Free Plans
People rarely sign up directly for a paid plan.
That's why the freemium model is so common with SaaS companies.
Try it before you buy it.
So that's why I wanted to compare both monday.com and ClickUp's free plans.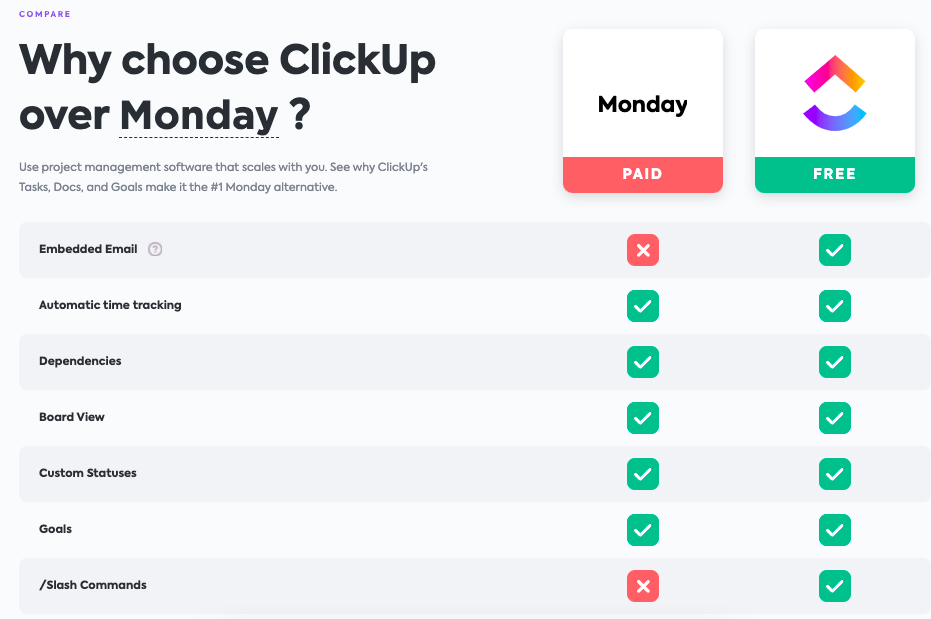 ClickUp has a pretty handy table on that compares their free features to monday.com's paid features.
| | monday.com | ClickUp |
| --- | --- | --- |
| Storage | 500mb | 100mb |
| Unlimited Tasks | ✅ | ✅ |
| Unlimited Members | ❌ | ✅ |
| Unlimited Boards | ✅ | ✅ |
| Unlimited Docs | ✅ | ✅ |
| Free Templates | ✅ | ✅ |
| Guest Access | ❌ | ✅ |
| Forms | ✅ | ❌ |
| Integrations Access | ❌ | ✅ |
| Time Tracking | ❌ | ✅ |
| Timeline View | ❌ | ✅ |
| Calendar View | ❌ | ✅ |
| 2-Factor Authentication | ✅ | ✅ |
That table might look weighted towards ClickUp, and that's true.
ClickUp's free plan is better than monday.com's based on what features are available.
However monday.com does have a few free features that ClickUp doesn't:
Access to shareable forms
More free storage (500mb vs 100mb)
But for almost everywhere other feature you'd want, ClickUp has the better free plan.
Paid Features
Free plans aside, how do their paid features stack up?
Strap yourself in for another comparison table because oh lawd it's coming.
But first, a message from our sponsor, Squarespace.
Squarespace is the online platform haha you thought I was serious.
Ok here's the table.
| | monday.com | ClickUp |
| --- | --- | --- |
| Storage | 5-20gb | Unlimited |
| Unlimited Free Viewers | ✅ | ✅ |
| Automations | 250 actions/month(on $36/month plan) | 1,000+ actions/month |
| Timeline, Calendar, and Map Views | ✅ | ✅ |
| Guest Access | 4 guests billed as 1 seat | ✅ |
| Zoom Integration | ✅ | ✅ |
The list of differences for paid plans is smaller than for the free plan.
And that's simply because the free plans have more users and it's the entry point into their ecosystem.
The deciding factor comes down to what tool you like using more and what tool is the best value for you.
I prefer monday.com.
Integrations
Both tools have hundreds, if not over a thousand, integrations.
How do they compare?
Before we get to them, one thing to mention is both tools have an API.
That means the company allows developers access to build apps that can connect and use features built into each platform.
Here's a quote from monday.com's API documentaiton
The monday GraphQL API is part of the monday apps framework and allows developers to programmatically access and update data inside a monday.com account.
And a similar line from ClickUp's
Build your own custom integrations and ClickUp apps with our public API.
Let's get into the table.
| | monday.com | ClickUp |
| --- | --- | --- |
| Zoom | ✅ | ✅ |
| Slack | ✅ | ✅ |
| GitHub | ✅ | ✅ |
| GitLab | ✅ | ✅ |
| Gmail | ✅ | ✅ |
| Zapier | ✅ | ✅ |
| Adobe Creative Cloud | ✅ | ❌ |
| Salesforce | ✅ | ✅ |
| Zendesk | ✅ | ✅ |
| Twilio | ✅ | ✅ |
| Stripe | ✅ | ❌ |
You get the point.
They have almost the same integrations.
But ClickUp doesn't have an Adobe Creative Cloud integration or a Stripe integration.
Both integrate with Zapier which makes the integration possibilities almost infinite.
Company Information
This is a minor difference but I find it interesting how companies can be built and structured differently.
So here's a quick look at their company structure, number of employees, and funding rounds.
Note: monday.com IPO'd in June 2021. Their stock deputed around $175/share and now trades for $358 as of October 2021.
| | monday.com | ClickUp |
| --- | --- | --- |
| Headquarters | Tel Aviv, Israel | San Diego, California |
| # Employees | 1,000 | 567 |
| Funding | $384 million | $137 million |
| Last Round | Series D | Series B |
| IPO | ✅ | ❌ |
Reviews
Last table, I promise.
How do their reviews on sites like G2, TrustPilot, and Trust Radius compare?
Before we begin, a note on these B2B software review websites.
I have a healthy distate for all of them.
I wouldn't go as far to say they're all pay to play, but they appear to favor brands that pay them money over brands that don't.
Websites like G2 have built their business around making it attractive and almost necessary for brands to work with them.
They say the voice of the customer matters.
And it does. I'm being honest.
But is it worth paying $40,000+ thousand/year for?
I'm not sure.
Yes, that's a reasonable estimate of how much it costs to subscribe to either G2 or TrustRadius.
I've received quotes from them.
But here are the review scores anyway so you can be the judge.
| | monday.com | ClickUp |
| --- | --- | --- |
| G2 | 4.5 (3,060 reviews) | 4.5/5 (3,416 reviews) |
| TrustPilot | 4.4 (2,839 reviews) | 4.1 (138 reviews) |
| TrustRadius | 8.6/10 (2,199 reviews) | 9/10 (172 reviews) |
Summary
So, is ClickUp Better than Monday?
The answer: it depends
It depends on what you value.
It depends on how much you want to pay.
It depends on if you're a free user or want to use them with your 20-person team at work.
I like them both for different reasons, but if I had to choose one I'd choose monday.com .
I like their new workdocs feature and I find their UI easier to use.
See Also