Why buy one Notion template when you can get a bunch in a template bundle?
This is a list of my favorite Notion template bundles.
I've partnered with some of the best Notion creators to offer them to you in one place.
Don't miss my other Notion templates:
Best Notion Template Bundles
Notionway Essential Bundle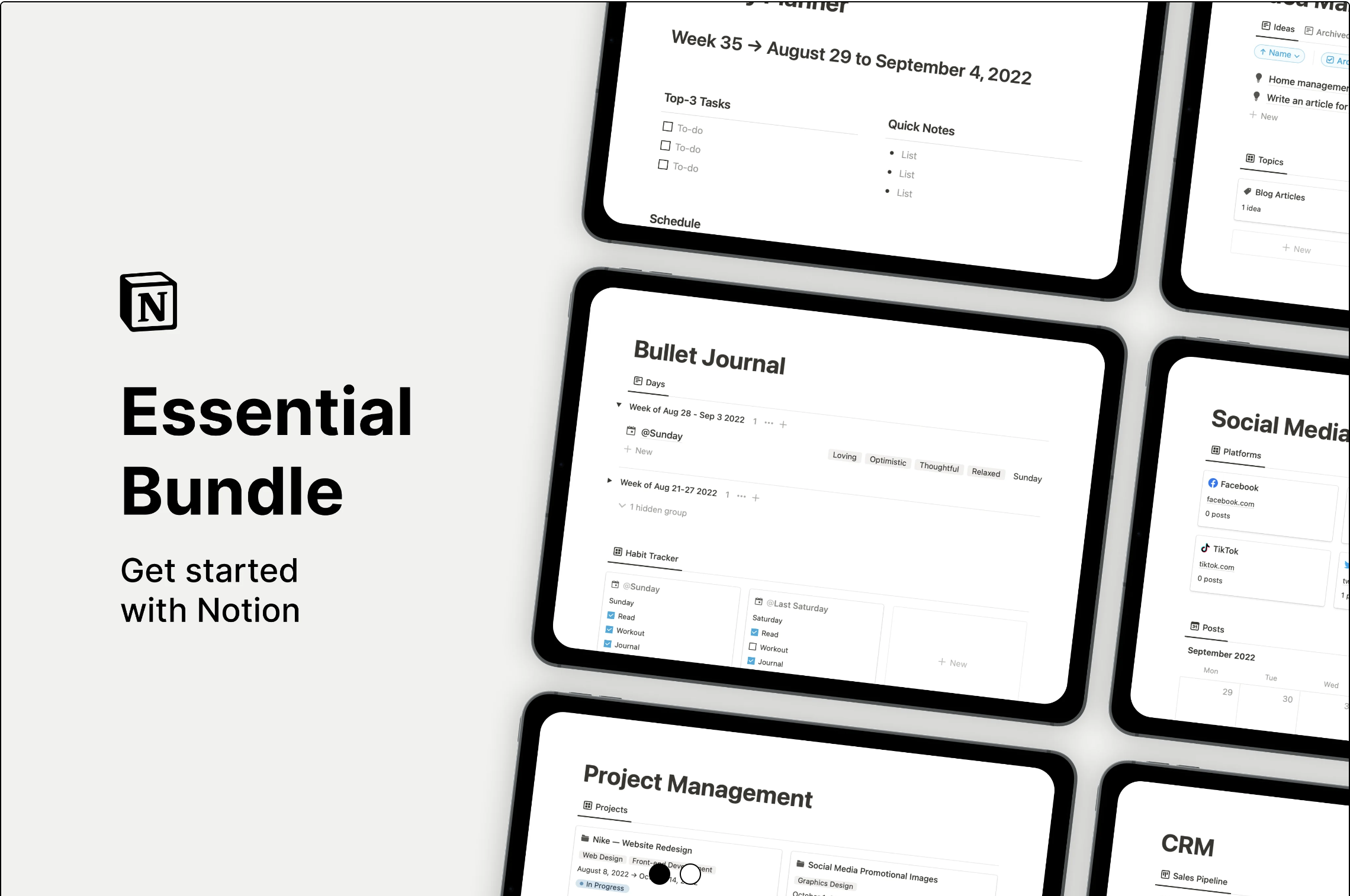 Author: Notionway
Inside this bundle, you will find more than 20 Notion templates for personal and work purposes.
What you'll get:
Notion Bullet Journal ($9)
Notion Project Management ($9)
Notion Task Manager ($9)
Notion Daily Journal ($9)
Notion Goal Tracker ($9)
Notion Book Tracker ($9)
Notion Notebook Manager ($9)
Notion Finances Tracker ($9)
Notion Task Manager ($9)
Notion Habit Tracker ($9)
Plus 10 more…
Limitless Notion Template Bundle [25 Templates]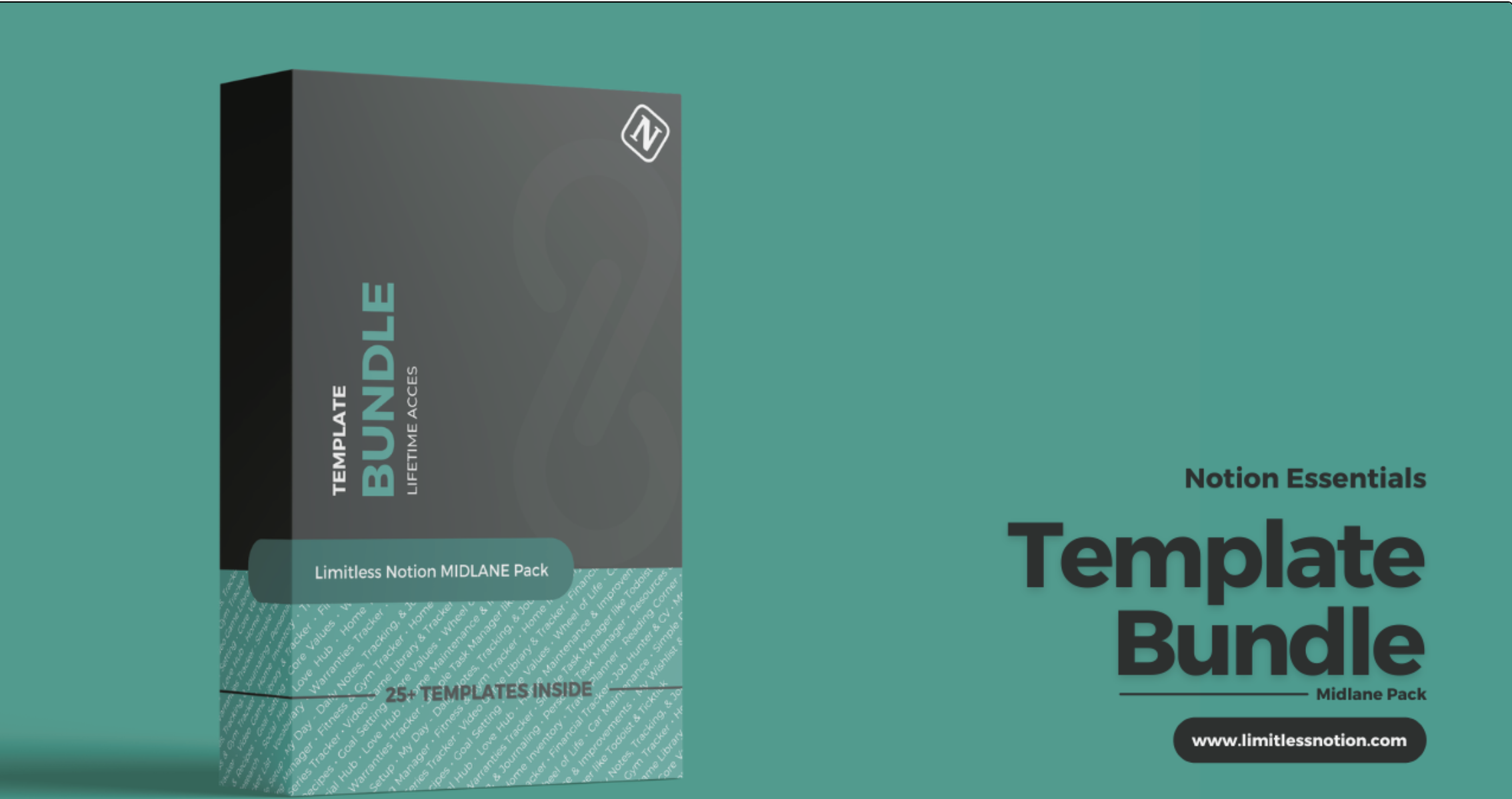 Supercharge your Notion template library with 25 easy to use Notion templates.
Here's exactly what's inside.
Life Setup Notion Template - $15
My Day - Daily Notes, Tracking, & Journaling - $10
Personal Task Manager Notion Template - $10
Resources & Learning Manager Notion Template - $10
Fitness & Gym Tracker Notion Template - $10
Travel Planner Notion Template - $10
19 other templates valued over $55
Includes lifetime access to these and all future templates.
Get the Notion template bundle at the link below.
Ultimate Template Bundle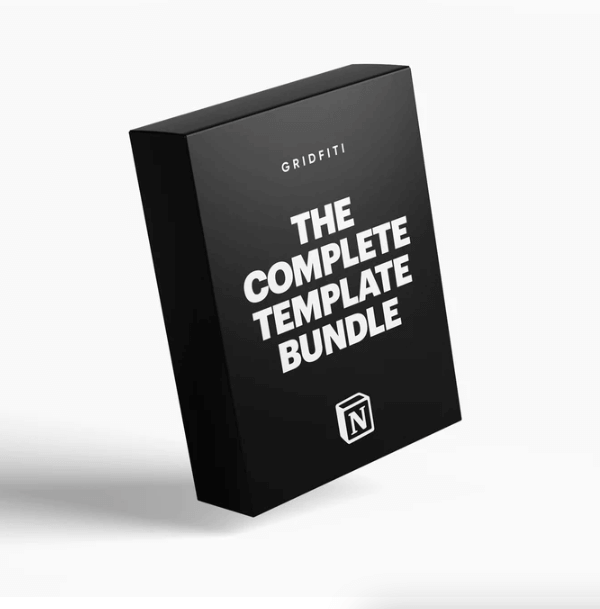 I've partnered with Gridfiti to offer their Ultimate Notion Template Bundle for a discounted rate.
Get 13 templates, worth $139, for a discounted rate of $59.
The Ultimate Bundle includes:
📔 The Ultimate Planner Dashboard
🎯 The Ultimate Goals Dashboard
🏫 Student OS: All-in-One Dashboard
And 9 more high-quality templates.
There's no better way to jump start your personal Notion workspace.
Notion Health Bundle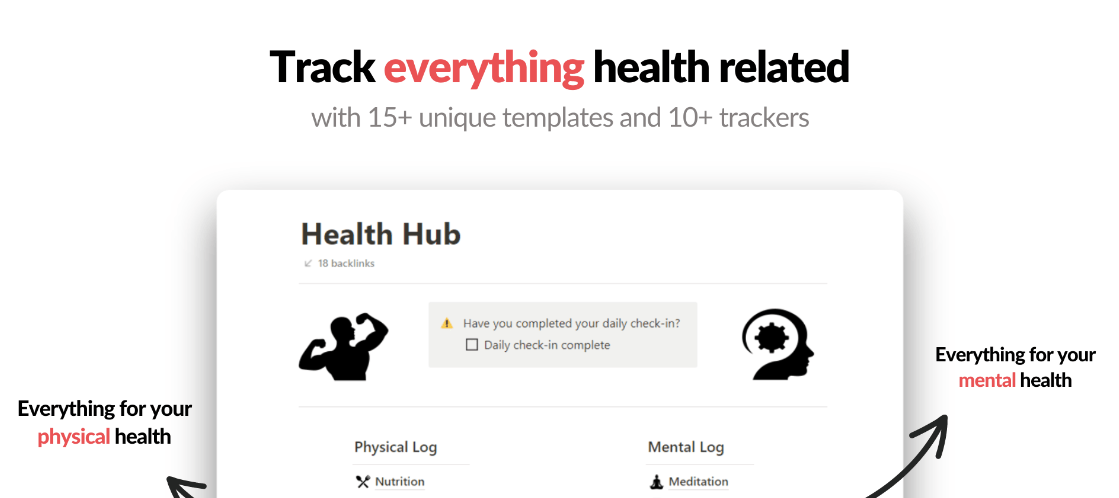 Author: Pascio
A bundle of Notion Health templates, designed to help the dedicated Health practitioner live easier, better, and healthier.
What's inside? Health Hub OS
Complete Health Operating System including intuitive dashboard as well as more than 15+ different templates and 10+ trackers designed for a healthier life.
Sobriety Hub
A complete addiction management dashboard that not only helps you get sober, but stay sober. You can track progress, set milestones, count days and even journal, right at the touch of your fingertips.
Transformation Board A dashboard made to help you achieve your goals in just one year. Imagine goal-setting simplified in an intuitive and easy-to-use dashboard
Creator Starter Pack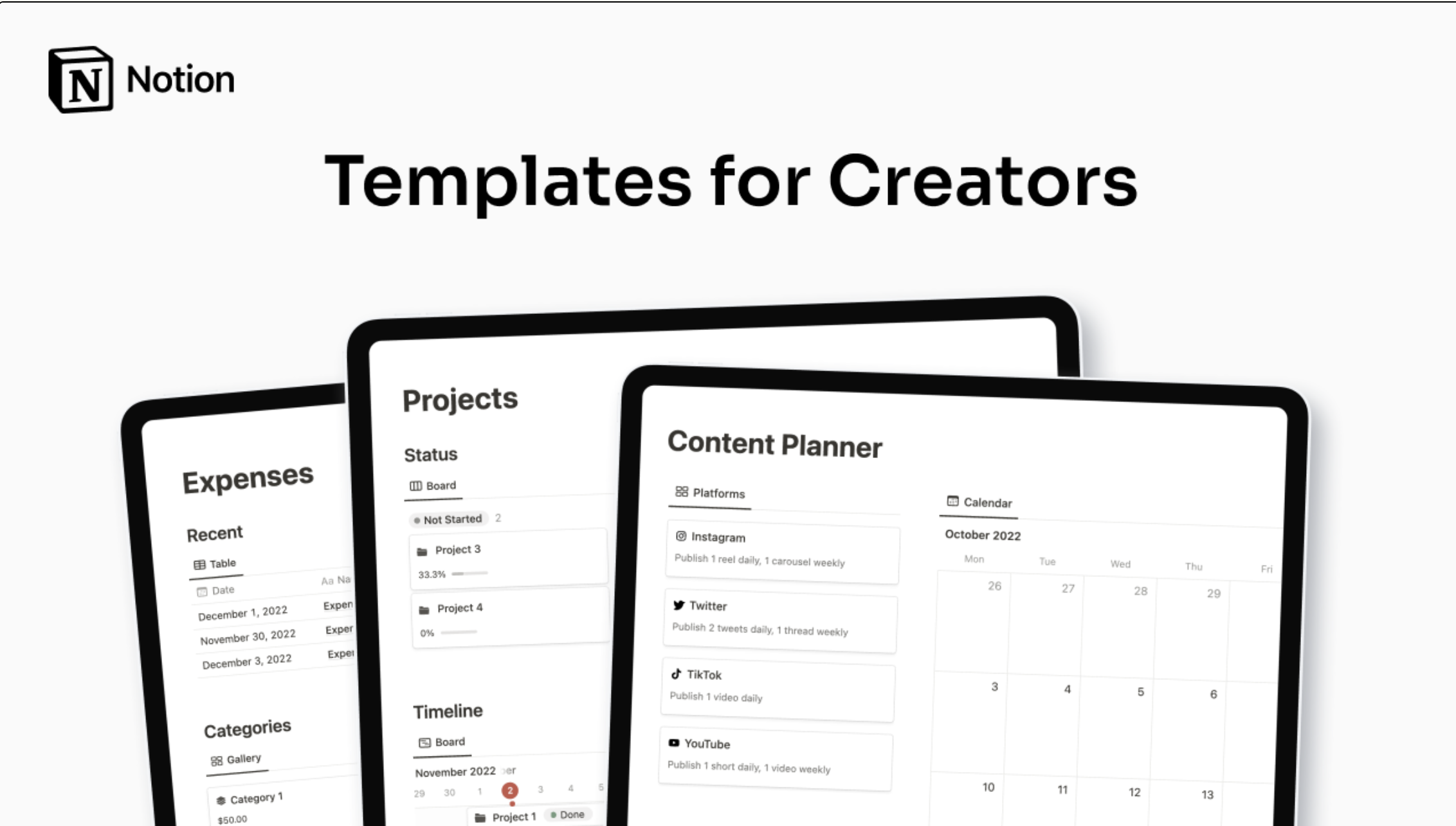 Feeling overwhelmed by everything you need to get done? This product is for you.
Introducing Creator Pack. Creator Pack is here to help you stay organized and on top of your deadlines.
With these templates, you can easily track your projects, expenses, and social media content calendar. Plus, our templates are designed to help you save time and be more productive.
What's Inside?:
Projects Tracker
Tasks Manager
Content Planner
Personal CRM
Expense Tracker
Notion Startup Templates Bundle
50+ ready-to-use templates to launch & grow your business.
Launching a business is hard. So why not use the best templates?
Over the last 10 years, the folks behind BaseTemplates have launched and scaled tens of businesses. And in that time, we created simple templates for ourselves that we could reuse over and over again.
They are all based on best practices from the most successful founders and cover every area - from aligning on a shared vision to setting up a job board.
This bundle includes: 💡 Idea & Validation templates for value propositions, ideas to MVP, and business model planning. ⛰️ Strategy templates for SWOT analysis, mission vission and values, OKRs, and more. ⚙️ Operations templates for daily stand-ups, weekly retros, and 1:1s 💸 Fundraising & Investor templates, including pitch decks 📣 Marketing & Sales templates for PR, sales, social media, Product Hunt launches. 📦 Product templates for user research, a/b testing, go-to-market plans 💻 Tech templates for website launches and issue trackers. 🔢 Finance templates for invoicing, expenses, budgets, and P&Ls ☎️ Customer Experience for Internal FAQs and Help Center 📊 Data & Analytics including a Data Dictionary and Tracking Links 🤝 HR templates for Applicant tracking, Employee Database, Job Boards, and more.
Grab the bundle at the link below.
Notion Enterprise OS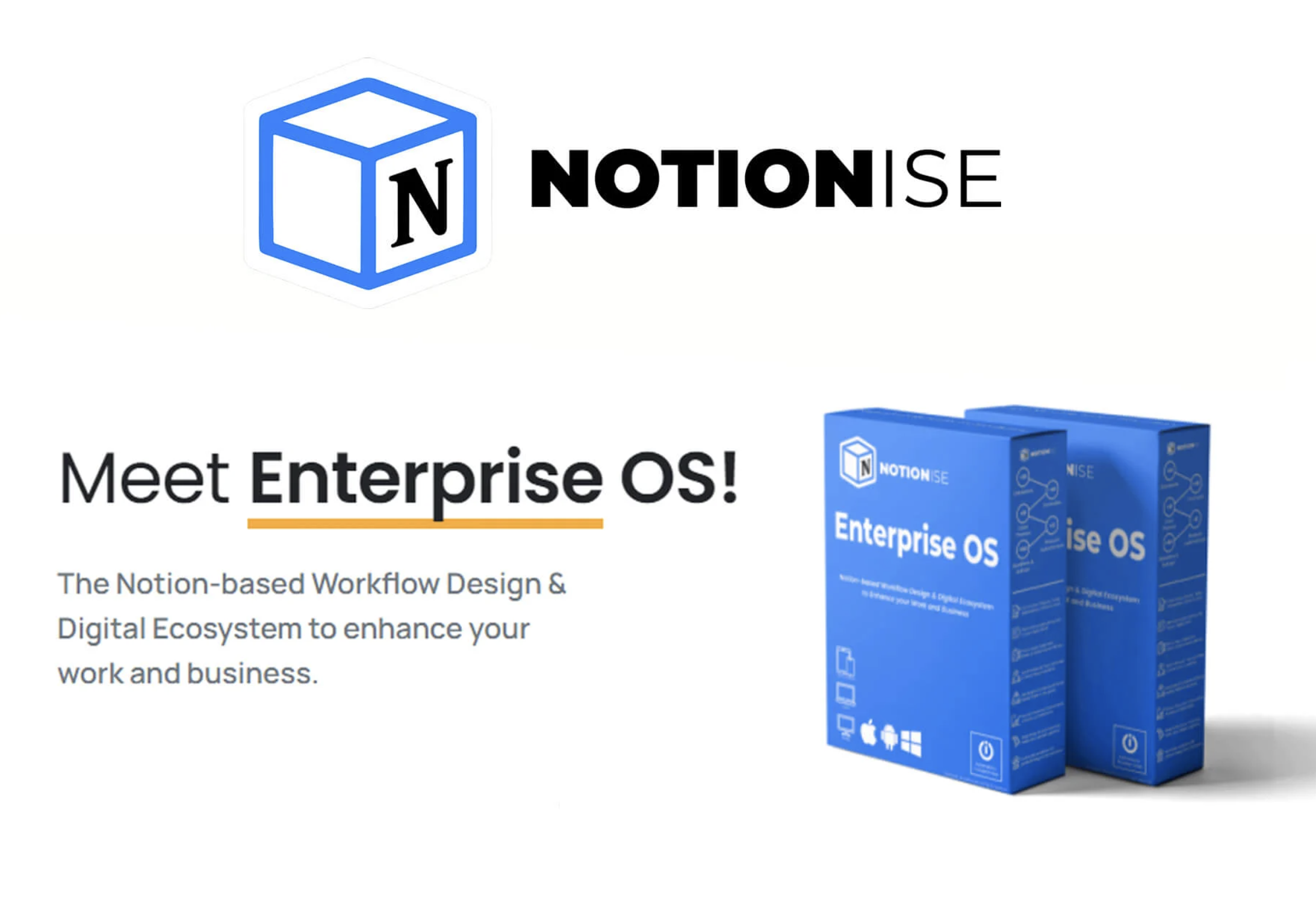 Author: Notionise
👉 Enterprise OS is an all-inclusive Notion-based company management system, guaranteed to streamline your business and save hours daily!
It includes:
Main Hub
Task Dashboard: Based on business best practices & leading productivity frameworks.
Project Roadmap: Stay on top of all parallel projects. Juggle deadlines like a pro.
📃 Plans
OKR Planning Hub: Align all day-to-day activities with your goals & always stay focused.
Social Media Scheduler: Schedule & automate all social media with this API powered tool.
🏦 Company Wiki
Company Profile: Stand out in competition with your brand's professional introduction.
Company Culture Map: Encourage better creativity, engagement, & collaboration.
📢 Marketing & Strategy
Competitor Analysis Dashboard: Keep track of the competition & always stay two steps ahead.
Canvases & Pitch Decks: Meet investors and secure funding with professional presentations.
💰 Financials
Financial Statements: Consolidate accounts & generate financial statements with ease.
Invoices: Pull transaction data & produce professional invoices in seconds.
🎁 Bonus Content:
Automation Downloads: Consolidate accounts & generate financial statements with ease.
The Enterprise OS has everything you need to run your business.
Try it today.
See Also