I've partnered with the best Notion creators to curate a list of the most useful Sales & CRM Notion templates.
These templates will help you with everything from managing current clients, organizing your prospect lists, tracking what stages deals are in, and much more.
Don't miss my other Notion templates:
Best Sales CRM Notion Templates
Notion Sales OS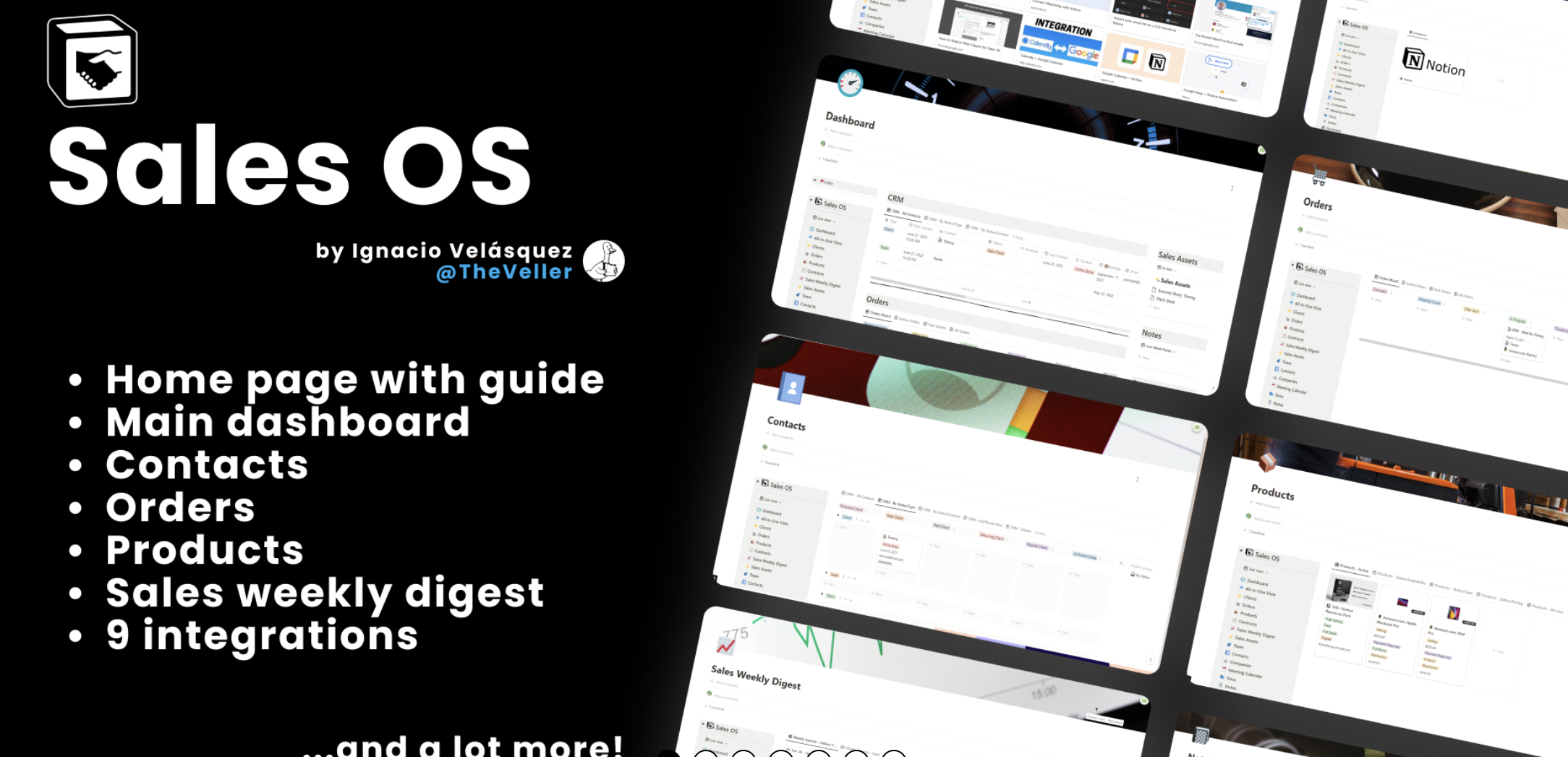 Capture and Manage your Sales in Notion that was a #4 product of the day on Product Hunt.
A kick-ass and aesthetic sales management system that centralizes all your clients, orders & products into your digital workspace.
How does it work?:
Create a contact and organize it by customer, lead, or team
Import your contacts from Google Contacts or Mailchimp
Capture and manage your products. Track your sales and make prognostics.
Manage your client's orders to never miss a thing.
Create meetings with your contacts for discovery or follow-up.
Store your sales assets.
Create docs, contracts, and notes and manage them in different notebooks.
What's included?
Home page with guide
Main dashboard
All-In-One view of the system
Contacts
Orders
Products
Sales Weekly Digest
Meeting System
Notes System
9 Integrations
Sales CRM Notion Template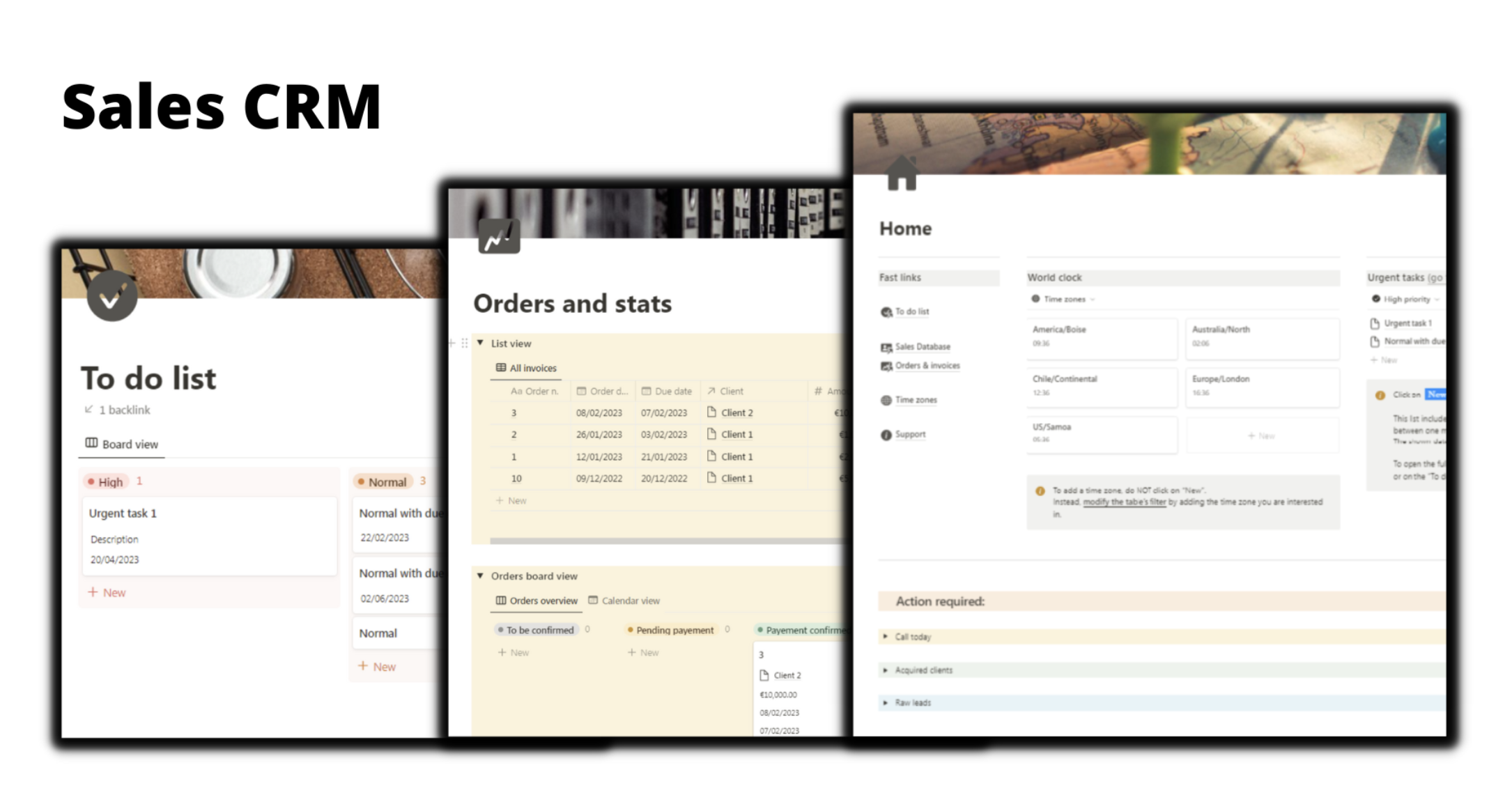 This Advances Sales CRM Notion Template is optimized for expert sales.
Suitable for every salesman, freelancer or startup who wants to grow their customer base and keep track of their progress.
Core Features:
Client manager: Keep track of your calls, Schedule tasks, and Meeting Calendar
Client database: Organize by area, status and much more, most useful views in the Home Page
Daily tasks: Task manager, Easy and practical view of urgent tasks
Orders and invoices: Keep an eye on your orders' status, Get an overview of your sales results
Notion Startup Templates Bundle
50+ ready-to-use templates to launch & grow your business.
Launching a business is hard. So why not use the best templates?
Over the last 10 years, the folks behind BaseTemplates have launched and scaled tens of businesses. And in that time, we created simple templates for ourselves that we could reuse over and over again.
They are all based on best practices from the most successful founders and cover every area - from aligning on a shared vision to setting up a job board.
This bundle includes: 💡 Idea & Validation templates for value propositions, ideas to MVP, and business model planning. ⛰️ Strategy templates for SWOT analysis, mission vission and values, OKRs, and more. ⚙️ Operations templates for daily stand-ups, weekly retros, and 1:1s 💸 Fundraising & Investor templates, including pitch decks 📣 Marketing & Sales templates for PR, sales, social media, Product Hunt launches. 📦 Product templates for user research, a/b testing, go-to-market plans 💻 Tech templates for website launches and issue trackers. 🔢 Finance templates for invoicing, expenses, budgets, and P&Ls ☎️ Customer Experience for Internal FAQs and Help Center 📊 Data & Analytics including a Data Dictionary and Tracking Links 🤝 HR templates for Applicant tracking, Employee Database, Job Boards, and more.
Grab the bundle at the link below.
CRM + Invoice Notion Tracker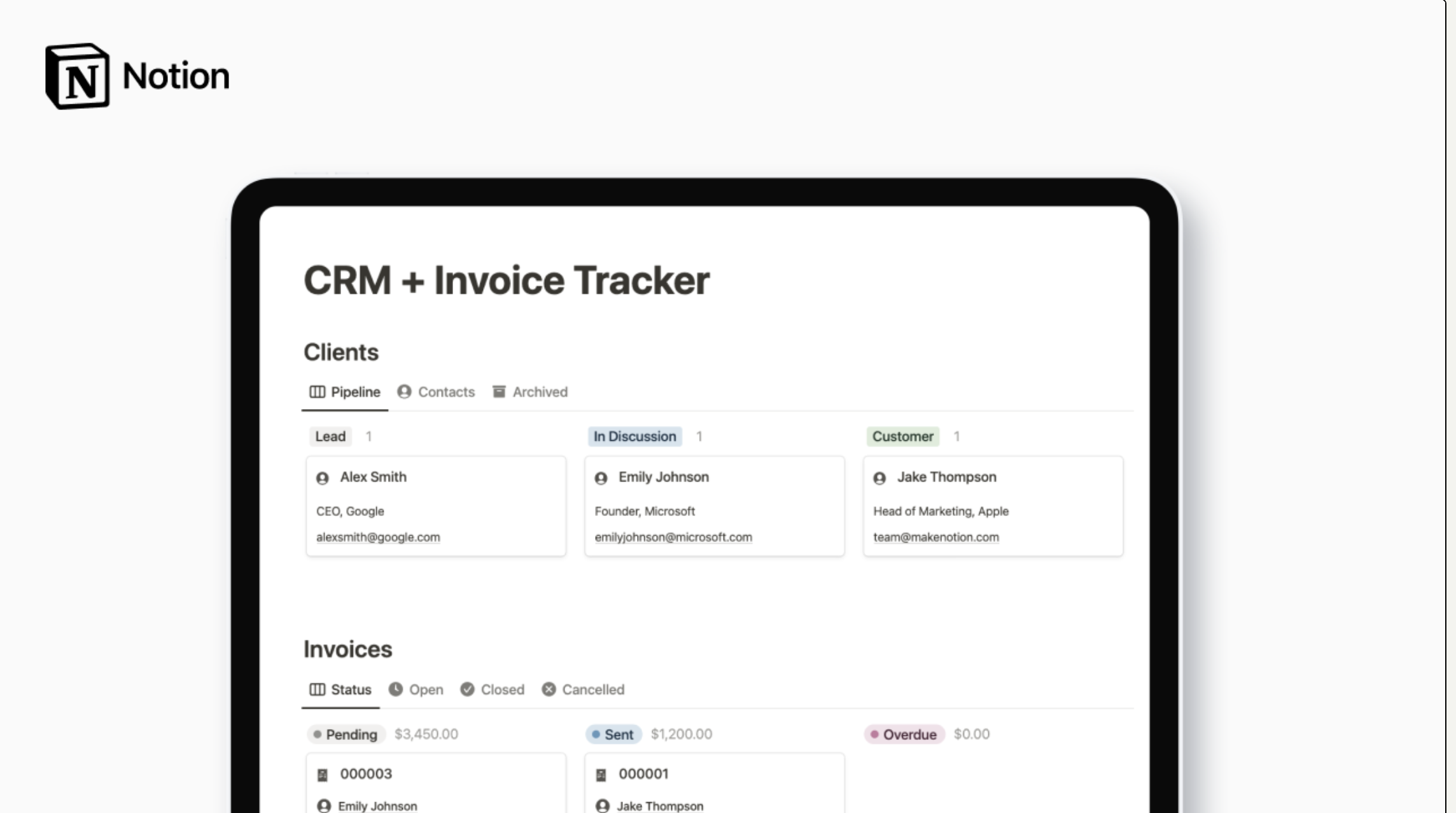 The Ultimate CRM and Invoice tracking solution.
With this Notion template, managing your customer relationships and tracking your invoices has never been easier.
Say goodbye to the stress of administrative tasks and hello to a more efficient, streamlined business.
Try our template today and see the difference it can make in your business!
Business CC - Notion CRM Template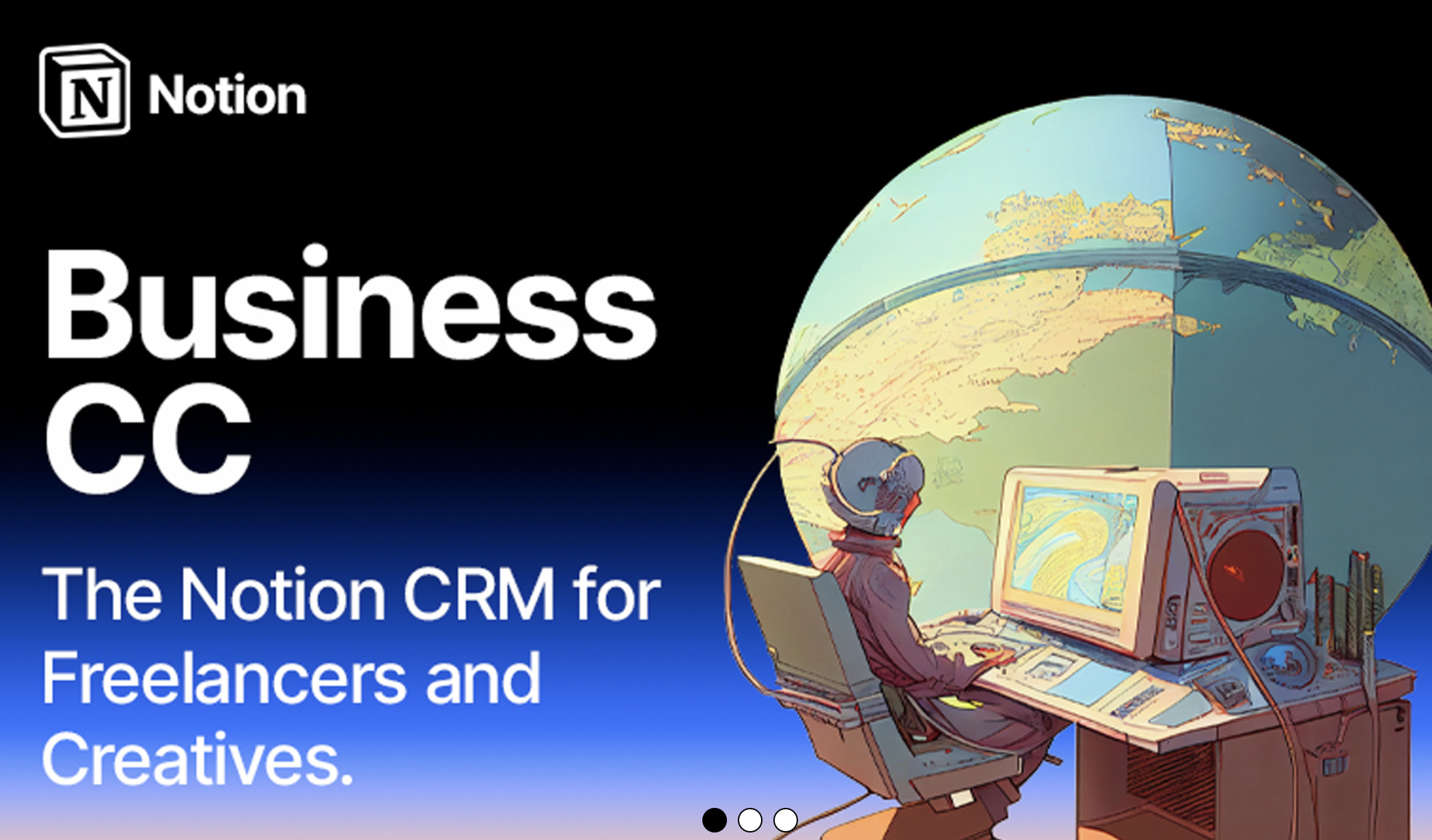 The all-in-one workspace for freelancers and digital service providers.
Are you a freelancer or solopreneur who is looking for an easy and light weight way to manage and track your business? Look no further than Business CC, the ultimate Notion CRM template designed specifically for you!
With Business CC, you can easily keep track of your clients, projects, tasks, and finances in one convenient location. And, because it's a digital download, you can access and use it from anywhere with an internet connection.
Not only is Business CC easy to use, but it's also highly customizable so you can tailor it to fit your unique business needs. Plus, its sleek and intuitive design makes it a pleasure to use on a daily basis.
Key Features:
Client CRM
Project Management
Invoice Tracking
Task Lists
Timesheet Tracking
Custom Views
Automated Formulas
Notion Business Hub
Your Business Hub, entirely in Notion.
One place for Everything in your Business.
Tired of cobbling together multiple apps to form your Business? Me too. Business Hub lets you capture and organize everything inside of Notion - turning it into an all-in-one workspace.
Business Hub is the most advanced business & startup Notion template that helps you manage every aspect of your SaaS product, Digital product, Startup, and in general your online business.
Don't miss my longer list of business Notion templates.
Getting Things Done(GTD) Dashboard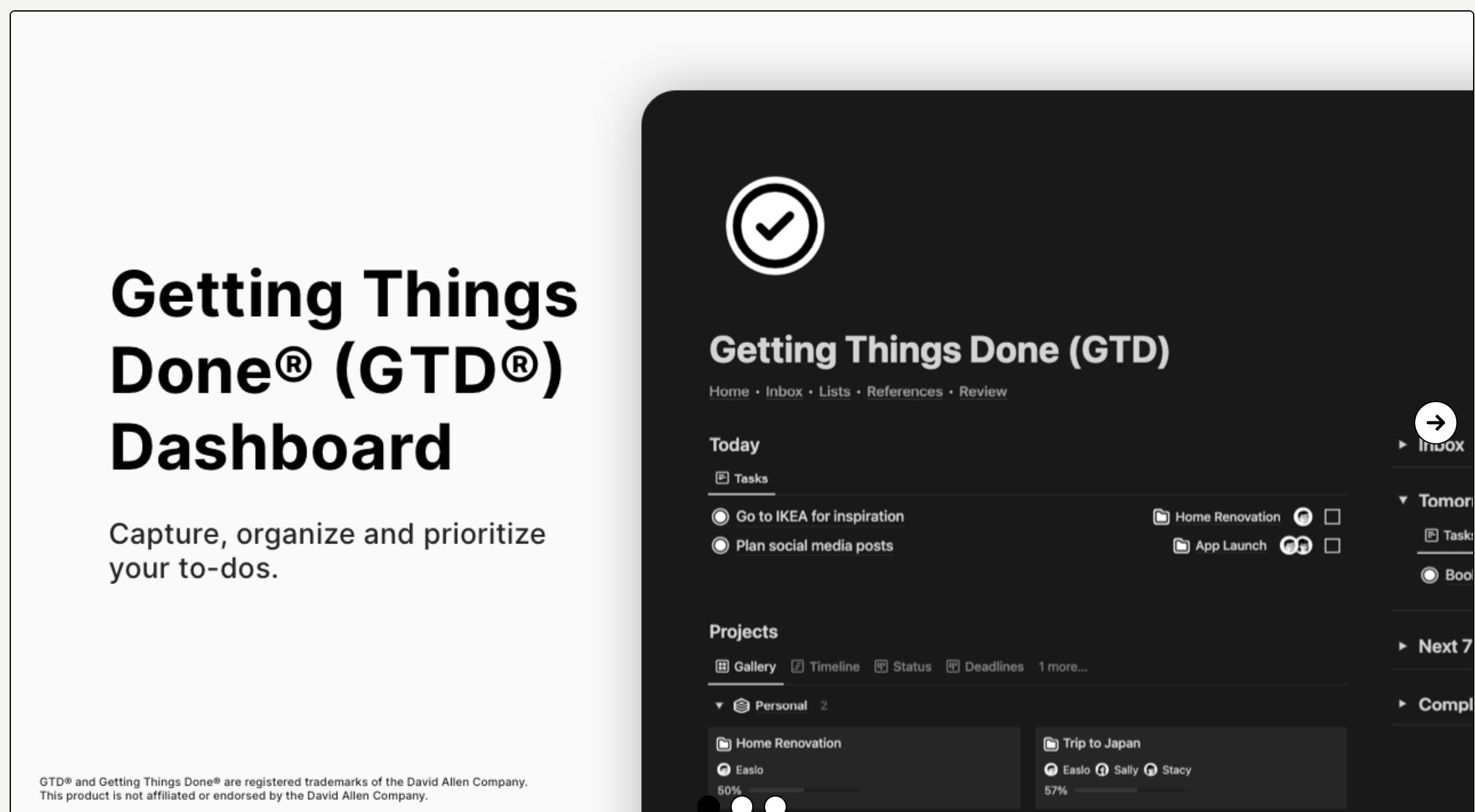 The best Notion template to capture, organize and prioritize your to-dos.
Getting Things Done® (GTD®) is a popular task management system created by productivity consultant David Allen.
Grab this Notion template today.
Limitless OS: The All-In-One Notion Template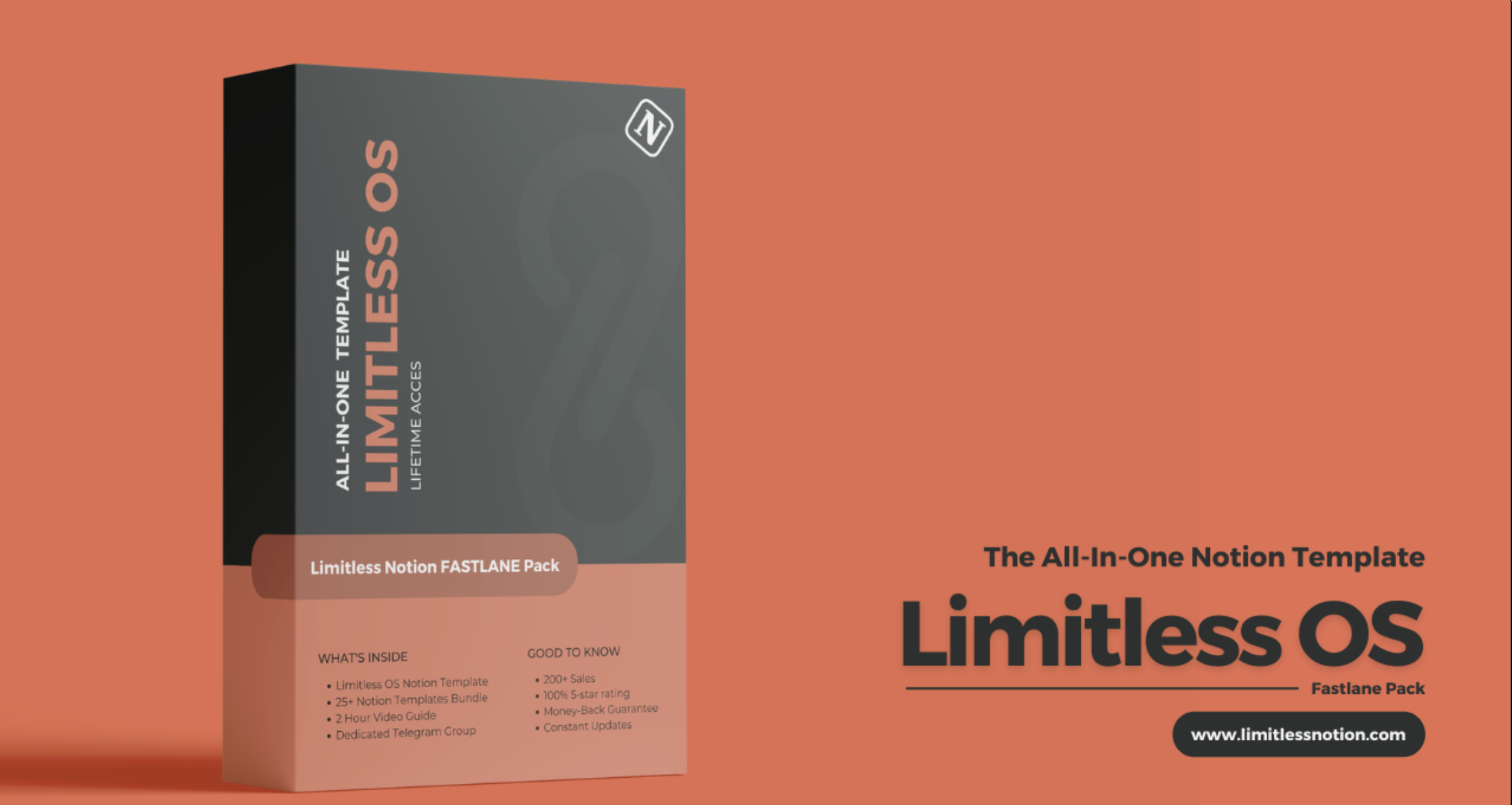 Limitless OS is the Ultimate, All-In-One Notion Template.
With One Purchase, you'll get everything that you may need to build your dream Notion Setup.
What you'll get:
Limitless OS with 30+ Built-in Templates Working Smoothly Together
2-Hour Video Guide for Easier Template Setup
Dedicated Support on Telegram for Assistance
Lifetime Access & Lifetime Updates (current version 2.0.9)
Get the Limitless OS today at the link below.
See Also