The shift to online and remote learning changed everything for teachers and educators.
I often present to students at my local university and more than 50% of them have used or currently use Notion to manage their coursework.
Teachers can take advantage of this too, and it could help them connect more with students as well.
The students I met are really into Notion, so imagine if your teacher created a template and distributed it on the first day of class?
I recently partnered with a Notion creator who specializes in building Notion templates for teachers.
Below are his four most popular templates.
This page is one of my many Notion posts, here are a few others:
Best Notion Templates for Teachers
Course Creator: Modular Course Builder in Notion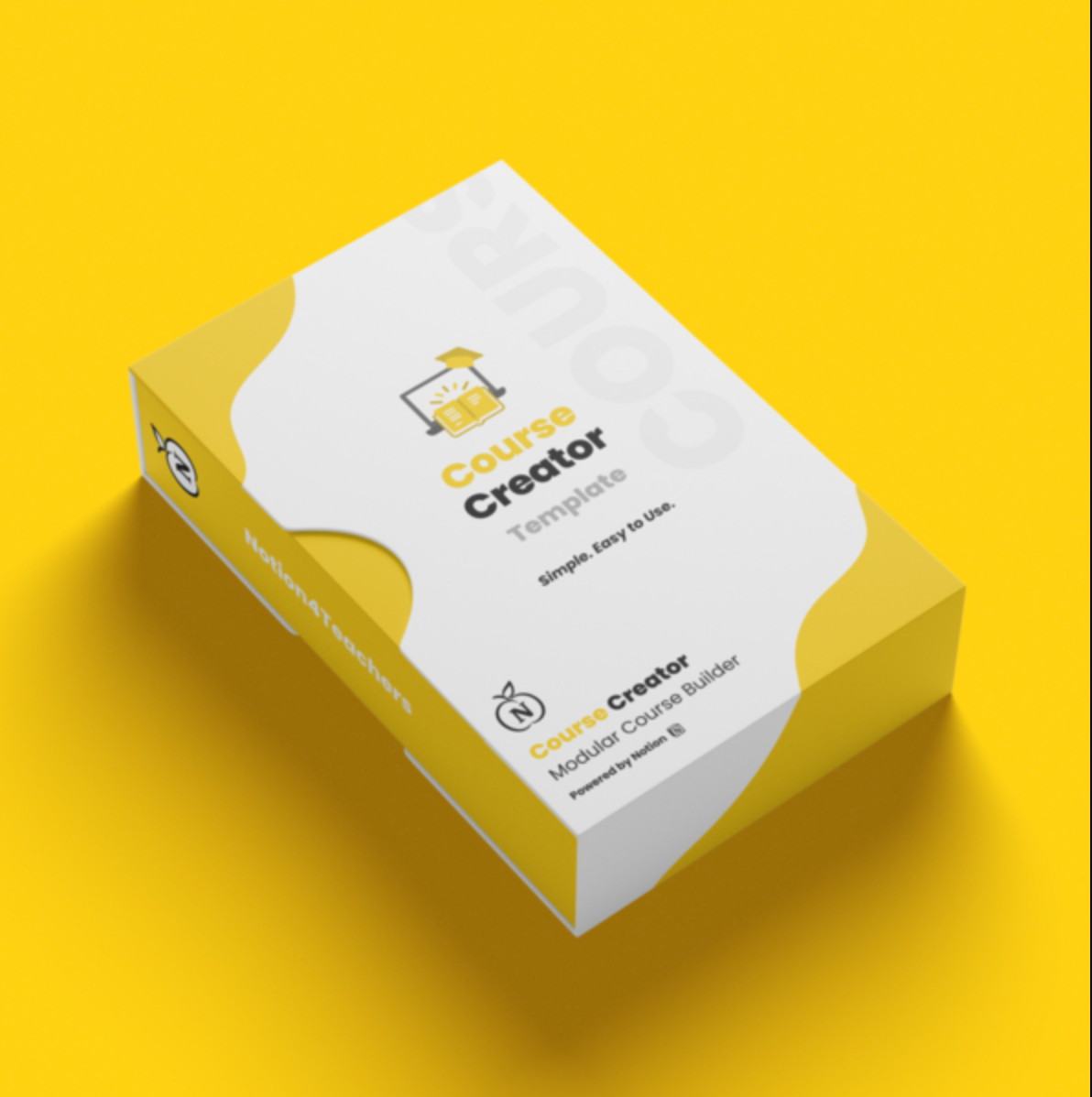 Author: Notion 4 Teachers
Easily create your own courses with this Notion template.
Have you ever wanted to create your own online courses but found the process overwhelming and time-consuming?
Do you struggle to structure your courses effectively and engage your audience with valuable content?
Here is where the Course Creator can jump in—the ultimate tool for designing and organizing your courses with ease.
Course Creator could be used for:
Educational courses (Language learning, coding, business)
Resource library of curated content (Articles, Videos, Tutorials)
Create product tutorials (Canva, Figma, Adobe)
Collection of eBooks
EMStudio Pro: Education Management System in Notion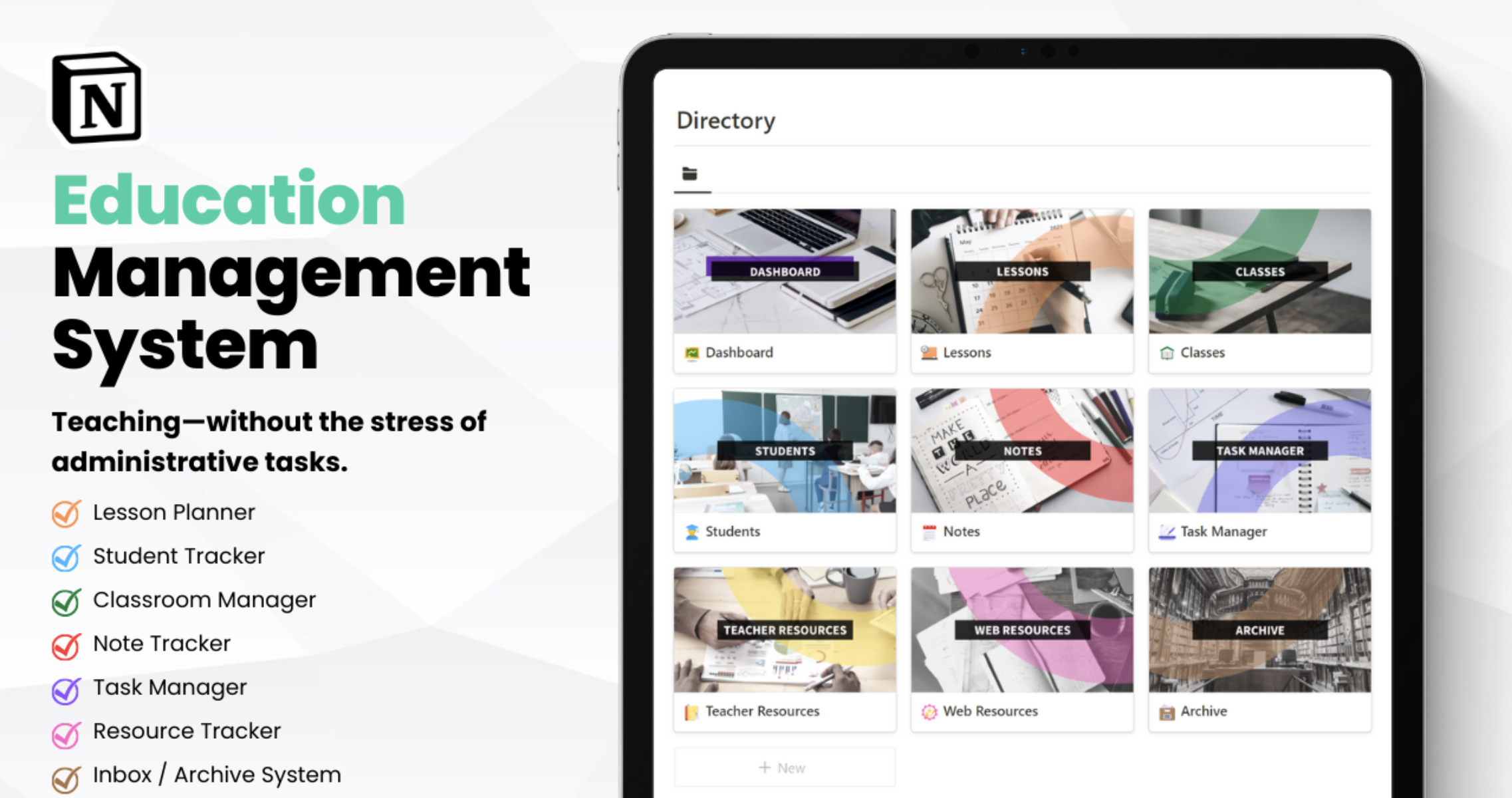 Author: Notion 4 Teachers
An all-in-one educational management system (powered by Notion) designed to help you manage and organize any type of teaching you do full-time or part-time.
As teachers, we can sometimes find ourselves having multiple attendance lists for our students, calendars to keep track of important dates, spreadsheets for lesson planning, and sticky notes all around our desk.
EMStudio puts this all together for you in one manageable system. No matter what kind of teaching you do, take the stress out of the administrative side of teaching with an all-in-one dashboard.
Canva Tutorials, Tips & Tricks: Design Resource in Notion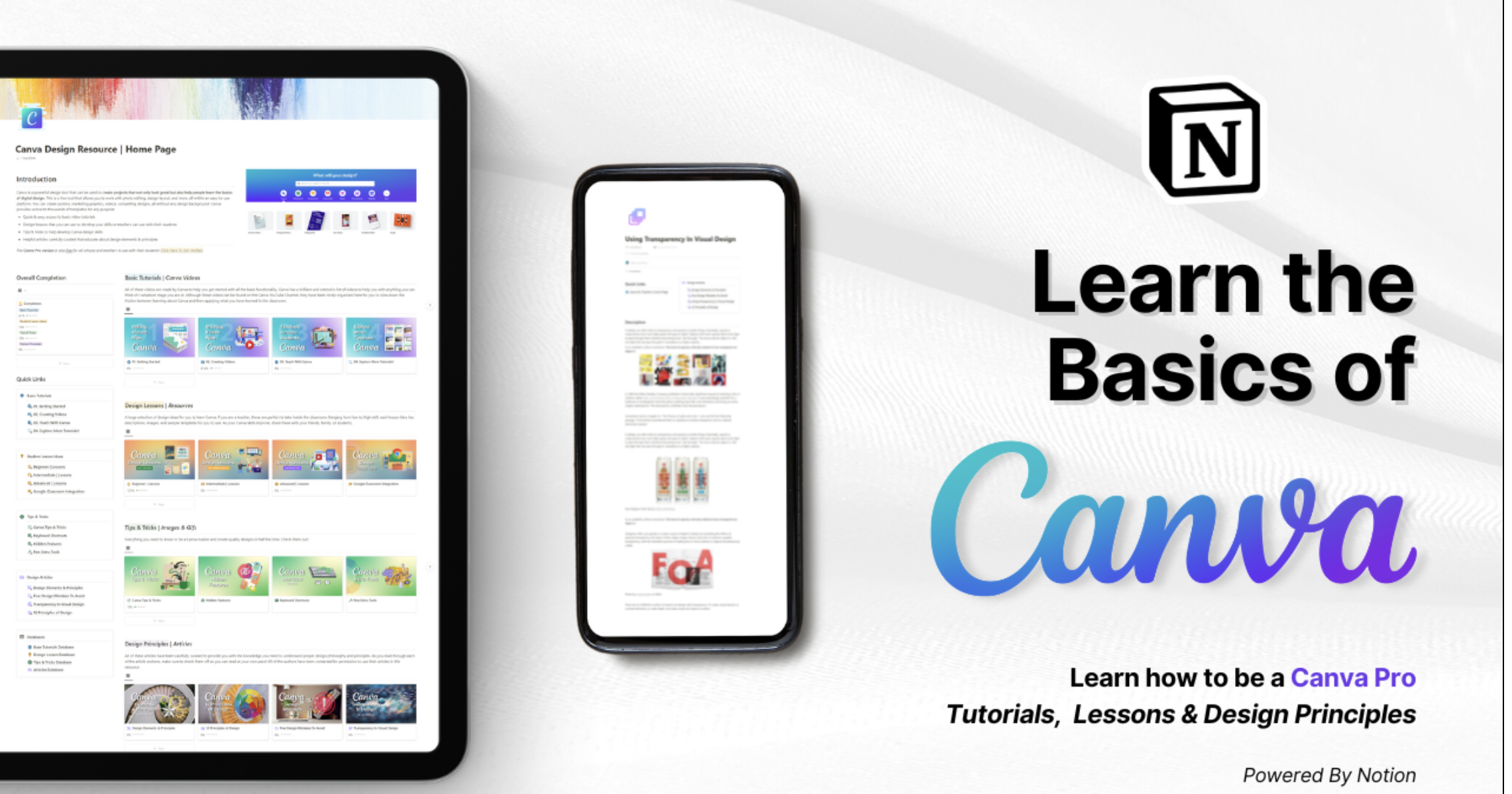 Author: Notion 4 Teachers
Canva is a powerful design tool that can be used to create projects that not only look great but also help people learn the basics of digital design.
This is a free tool that allows you to work with photo editing, design layout, and more, all within an easy-to-use platform.
You can create posters, marketing graphics, videos, compelling designs, all without any design background. Canva provides access to thousands of templates for any purpose.
About the Template The template is a Canva resource directed towards people who are looking to create engaging content and to learn the basics of the most powerful free design tool out there.
The resource provides numerous tips & tricks to help you use Canva more effectively with easy to follow gifs and instructions.
The template also contains a handful of design ideas, templates & helpful resources.
Lesson Planner: Notion Template for Teachers (FREE)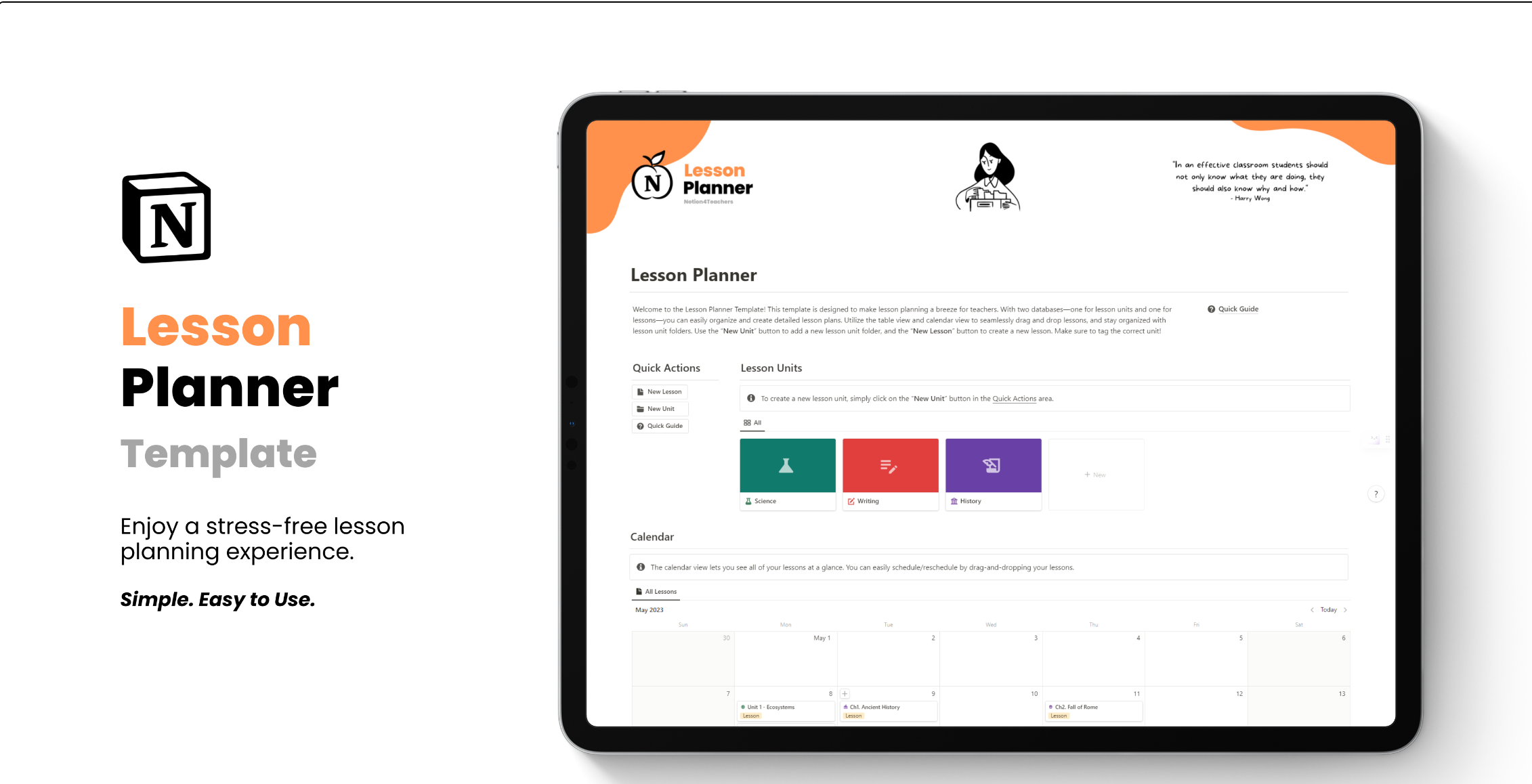 Author: Notion4Teachers
This all-in-one template equips teachers with the tools they need to effortlessly create, organize, and modify lesson plans, saving valuable time and eliminating the stress of manual record-keeping.
With two dedicated databases for lesson units and individual lessons, along with an intuitive table view and calendar view, teachers can easily navigate through their curriculum, drag and drop lessons, and stay meticulously organized.
Say goodbye to the overwhelming paperwork and experience the joy of streamlined lesson planning.
Education Video Library: Learning Resource in Notion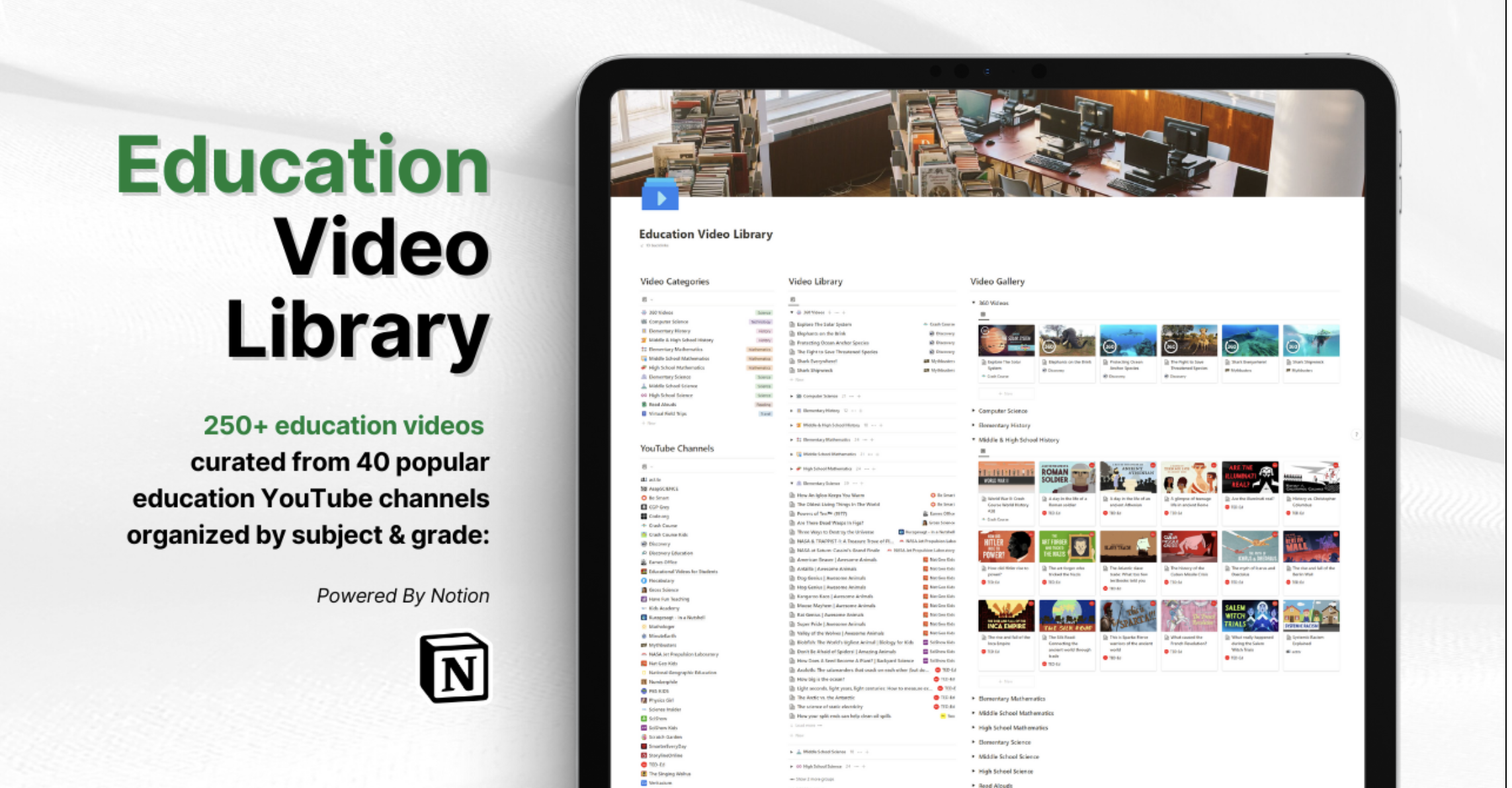 Author: Notion 4 Teachers
About the Template This template is a library of the best educational videos on YouTube.
No need to waste time searching for educational material—it has all been put together in one easy-to-find place.
There are over 250 videos from 40 different educational YouTube channels organized by subject and grade.
This is the perfect resource for any teacher needing educational material for their students or if you are just looking to educate yourself.
What is included?
250+ Videos
Curated from 40 popular education YouTube channels
Organized by subject & grade:
360 videos, computer science, history, mathematics, science, read alouds, virtual field trips
Elementary, Middle School, High School
Private Tutor Dashboard: Lesson & Student Planner in Notion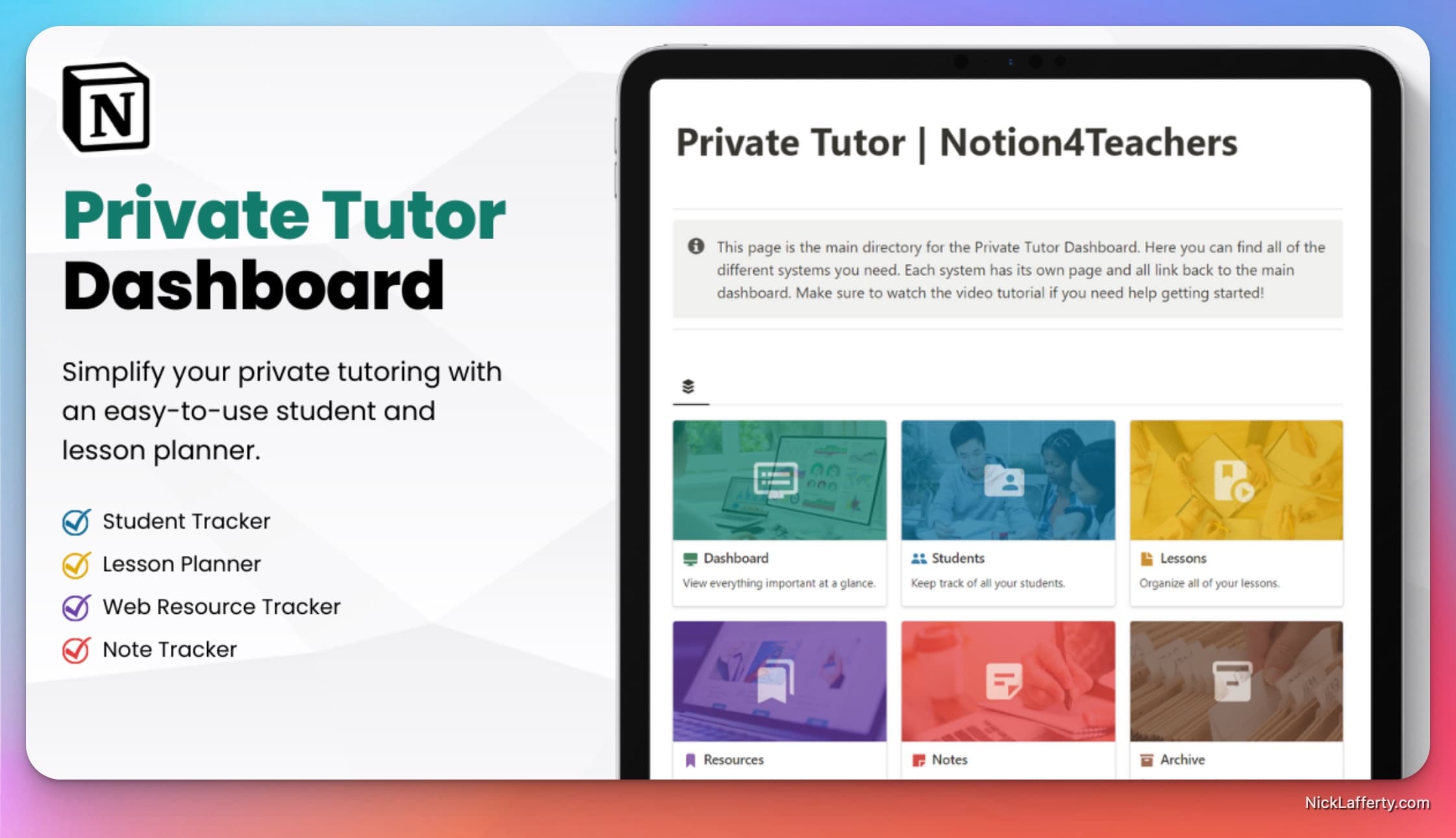 Author: Notion 4 Teachers
Organize your private tutoring business easily using a student tracker and lesson planner template.
Are you a private tutor looking for a better way to manage your lessons, students, and resources?
With this customizable student tracker and lesson planner, you can easily keep track of each student's progress, plan and tag individualized lessons, and never miss an appointment again.
About the Template The template is designed specifically for private tutors who need an efficient way to manage their teaching
You can easily create a customized student profile that allows you to keep track of each student's progress, view their lesson history, and plan and tag individualized lessons to one or multiple students.
The calendar feature ensures you never miss an appointment or lesson, and you can quickly view which students are being taught that day and what lessons are planned for them.
Teacher Home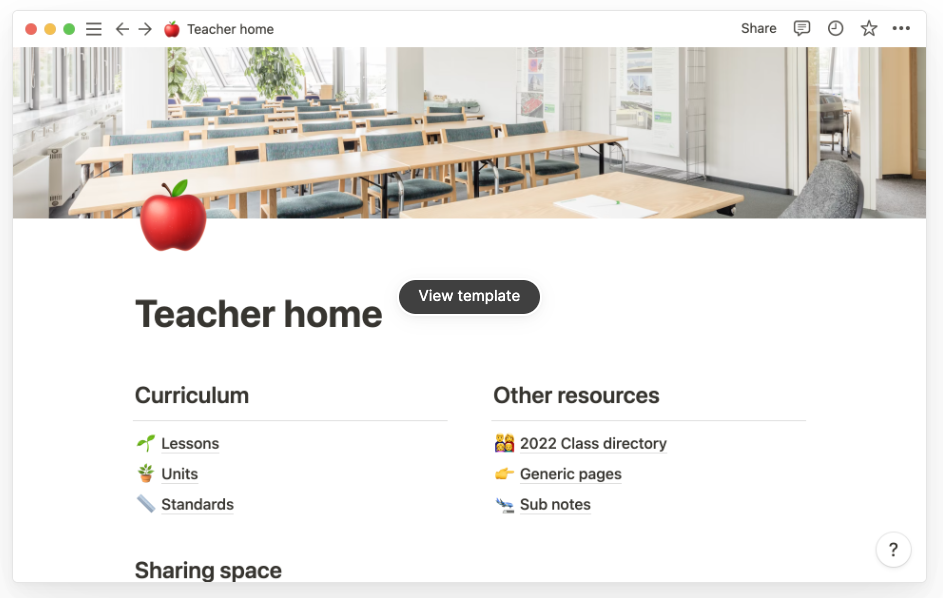 Author: Notion
From tracking student progress to building a class website, this template allows you to streamline the entire teaching process for you and your students.
Add your class syllabus, lesson plans, notes for substitutes, and more! Use this template as a home for all things teaching related.
Student Attendance Tracker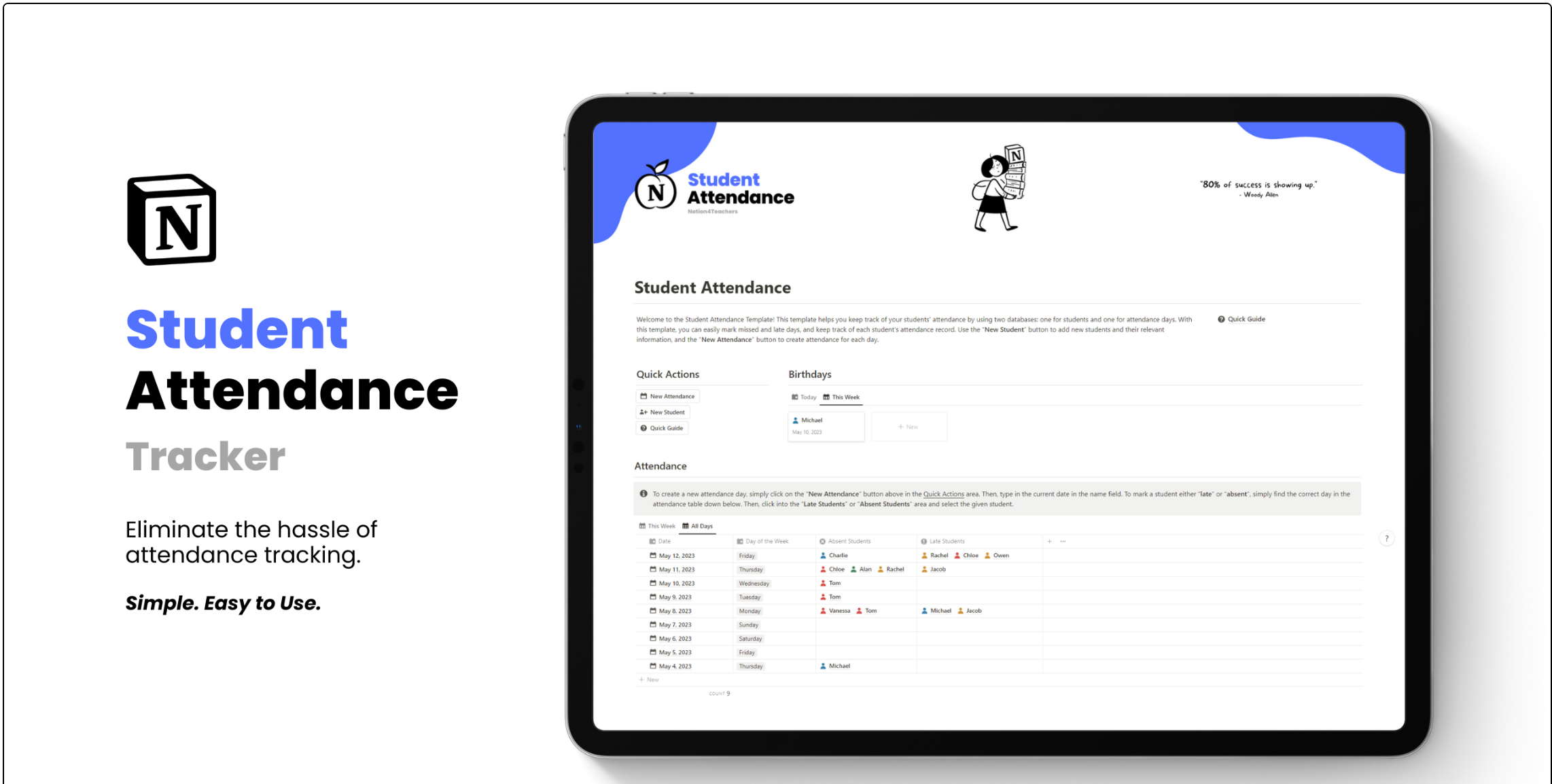 Author: Notion 4 Teachers
The Student Attendance Template is designed to help teachers keep track of their students' attendance with ease.
With two databases—one for students and one for attendance days—this template simplifies the process of attendance tracking and record-keeping, freeing up more time for teaching and other important tasks.
Using the student database, you can quickly and easily add new students to your class, along with their relevant information such as name, grade level, and contact information. You can also customize the database to fit your specific needs by adding additional fields for notes, parent/guardian contact information, and more.)
Freelance Music Teacher Template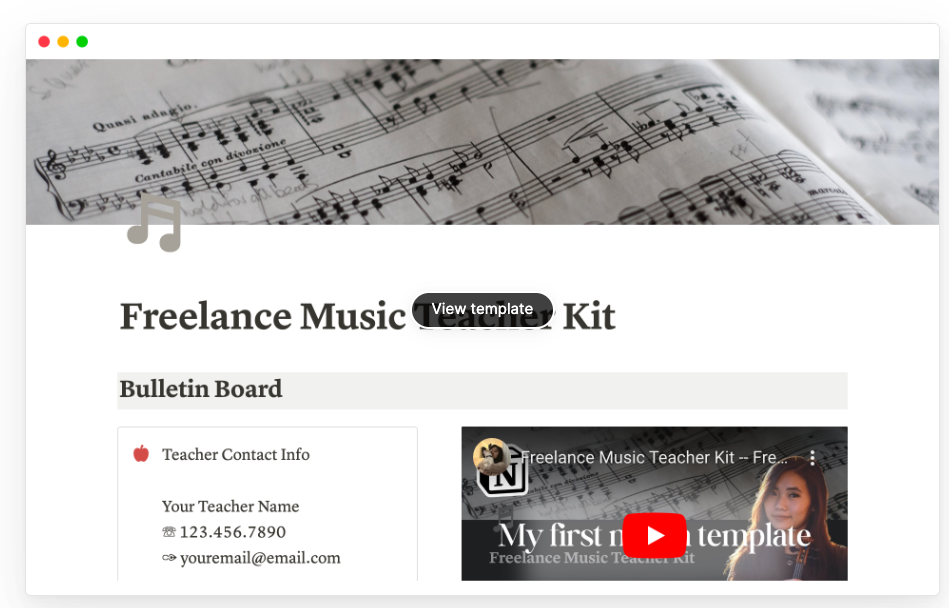 Author: Leah Froyd
It helps freelance teachers organize their students and gives students a portal to view all their work for the week.
It also centralizes all the students information making it easy to send out invoices and keep track payments.
Lecturer Notion Dashboard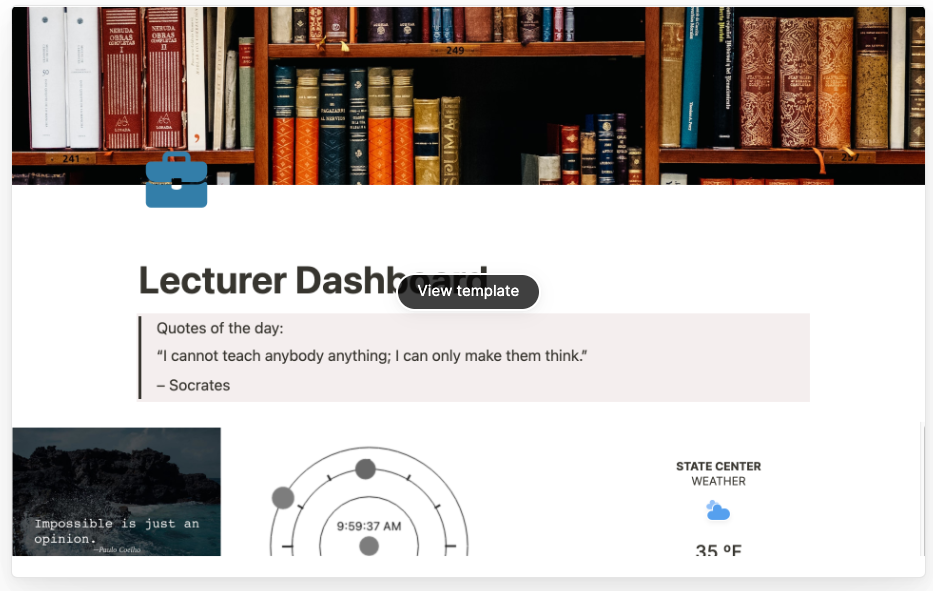 Author: Nur Nabila Mohd Nazali
This template help individuals such as lecturer or teachers to plan their teaching schedule.
Secondly, the template also can track the students' performance and attendance. All of the records can be exported for your personal records.
Class Masterguide for Teachers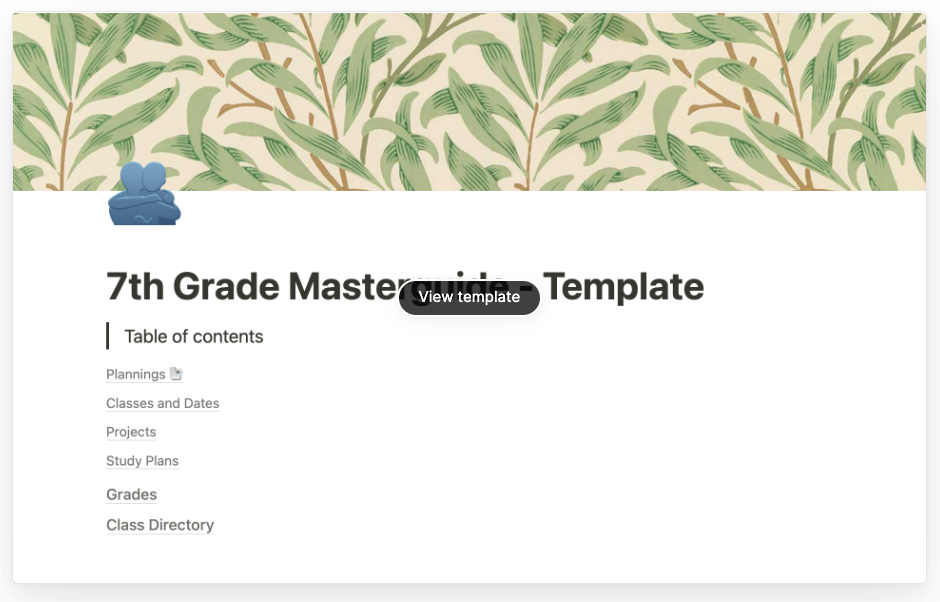 Author: Mariana
It allows teachers that work in basic education and need to plan very frequent classes with a big number of students.
It allows the teacher to access all different plans and schedules in one place.
Lecture management system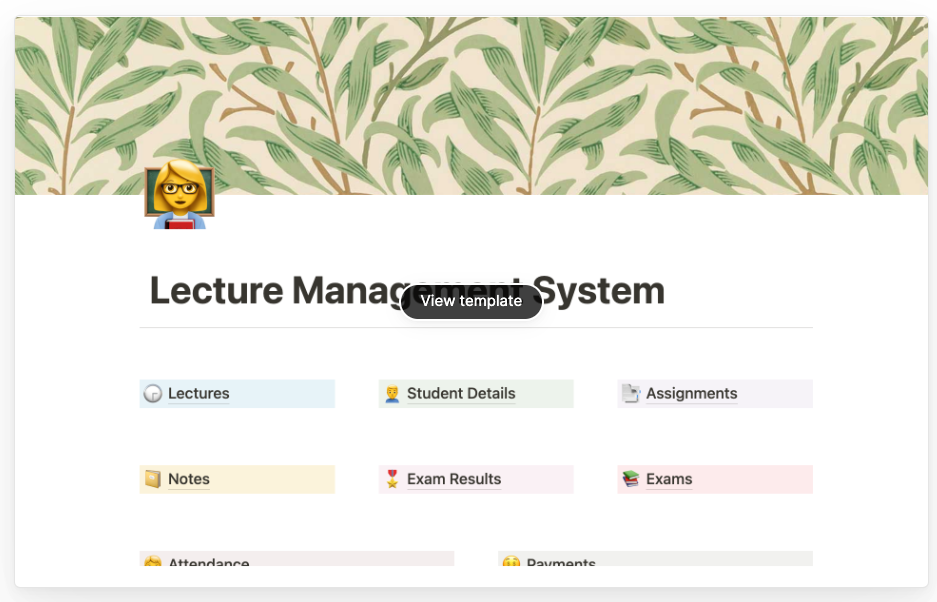 Author: Ashan Chandrasekara
This is the best template of manage your lectures, classes, courses, and related things.
This template is for lecturers and teachers. You can easily manage your student details, lectures, attendance, research, etc.
See Also