It's hard to stay healthy when you're busy. Between school, work, and actually having fun in your life, making time for health and wellness is honestly hard.
This is a list of my favorite Health and Wellness Notion templates.
You can track eveything from your mental health, overall wellness, workouts, and sobriety with the templates on this page.
Don't miss my other Notion template pages:
Wellness and Better Health Notion Templates
The Super Life (Ultimate Life Planner)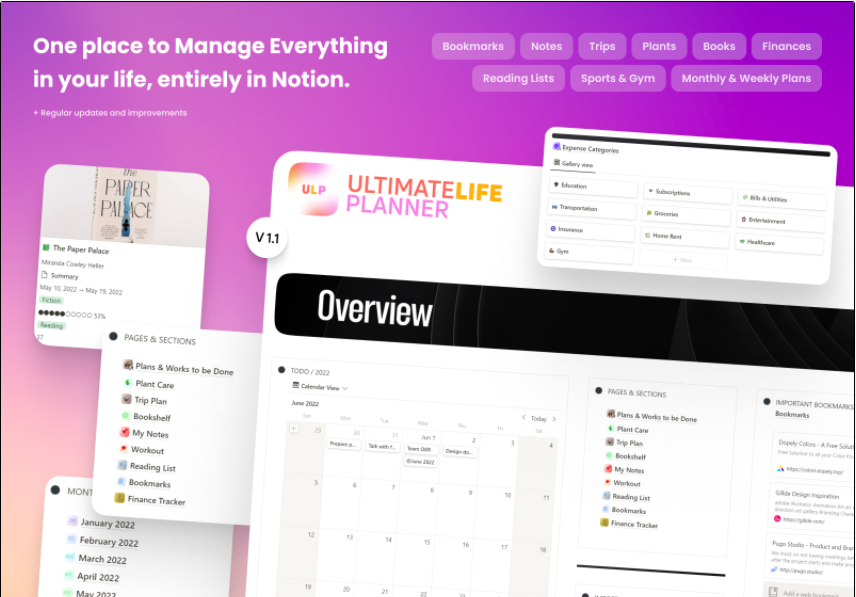 The Super Life (Ultimate Life Planner) is one place to manage everything in your life entirely in Notion.
It brings tasks, notes, plans, health, plant care, travel plans, finance, and more together in your favorite tool.
Here's a snapshot of what it covers:
Dashboard
Monthly planner
Personal & work daily planners
Bookmarks
Bookshelf & reading list
Workout
Plant care
Trip planner
The Ultimate Habit Dashboard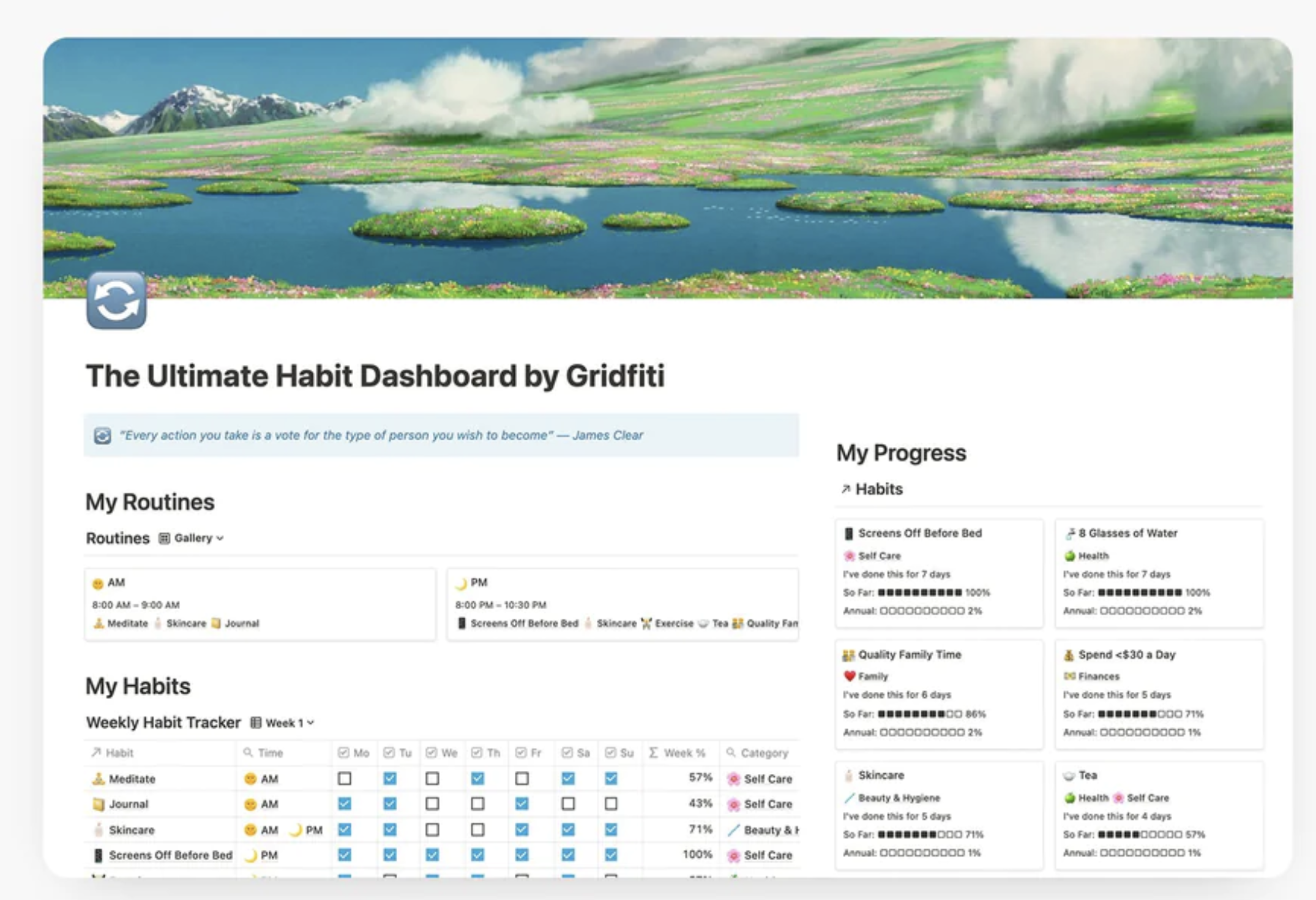 Author: Gridfiti
Create great habits and stick to them with The Ultimate Habit Tracker Dashboard for Notion!
✔️ Create, then track your habits every week with an easy-to-use checkbox system
🍎 Includes several built-in categories – from health, to self care, organization, finances, intellect, hygiene, and more
🚀 Get an overview of how you're doing by habit and by category throughout the year with progress bars – and even see how many days you've stuck to your habit so far
🌖 Set integrated AM & PM routines that connect to your habits
Notion Health Hub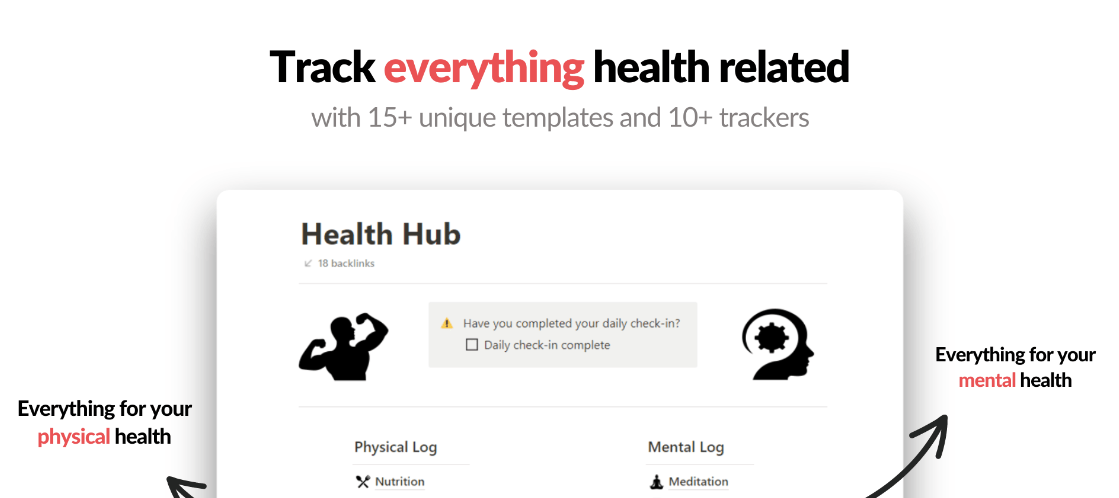 Author: Pascio
Managing your health can be a real hassle unless you've got a system for it.
Do you know how much water you drank yesterday? How many calories you've eaten this morning?
Sure you can try to track, but where would you do it? Probably in an old notebook or on a piece of paper, right?
Well, that doesn't work long-term. What if there was a way to store, input, track and monitor all that information digitally?
This is where Health Hub comes in. Learn more at the link below.
Notion Workout Tracker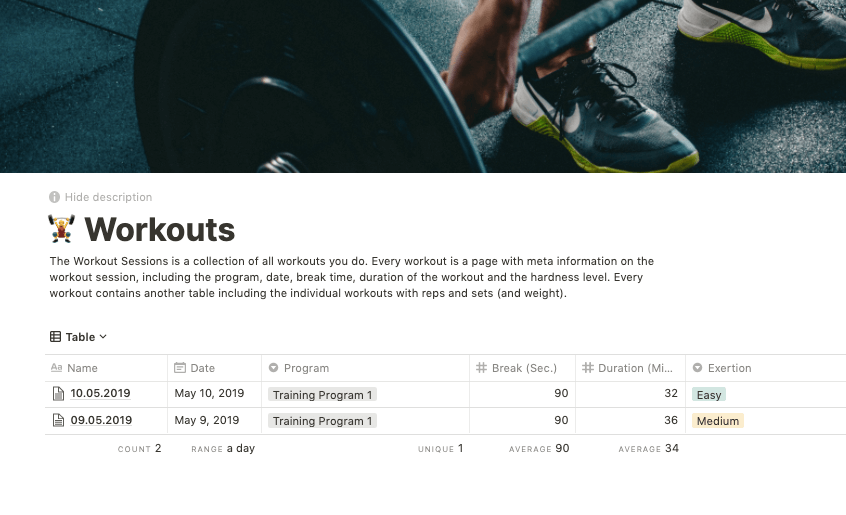 Author: Stefan Imhoff
Notion Health Bundle
A bundle of Notion Health templates, designed to help the dedicated Health practitioner live easier, better, and healthier.
What's inside? Health Hub OS
Complete Health Operating System including intuitive dashboard as well as more than 15+ different templates and 10+ trackers designed for a healthier life.
Sobriety Hub
A complete addiction management dashboard that not only helps you get sober, but stay sober. You can track progress, set milestones, count days and even journal, right at the touch of your fingertips.
Transformation Board A dashboard made to help you achieve your goals in just one year. Imagine goal-setting simplified in an intuitive and easy-to-use dashboard
Notion Sobriety Hub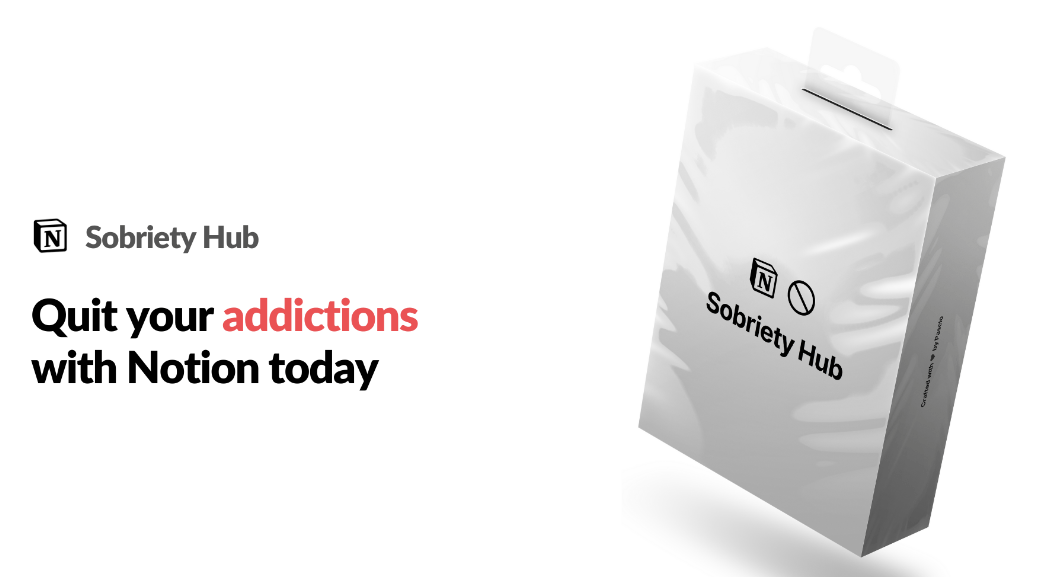 Author: Pascio
New Years Resolution Board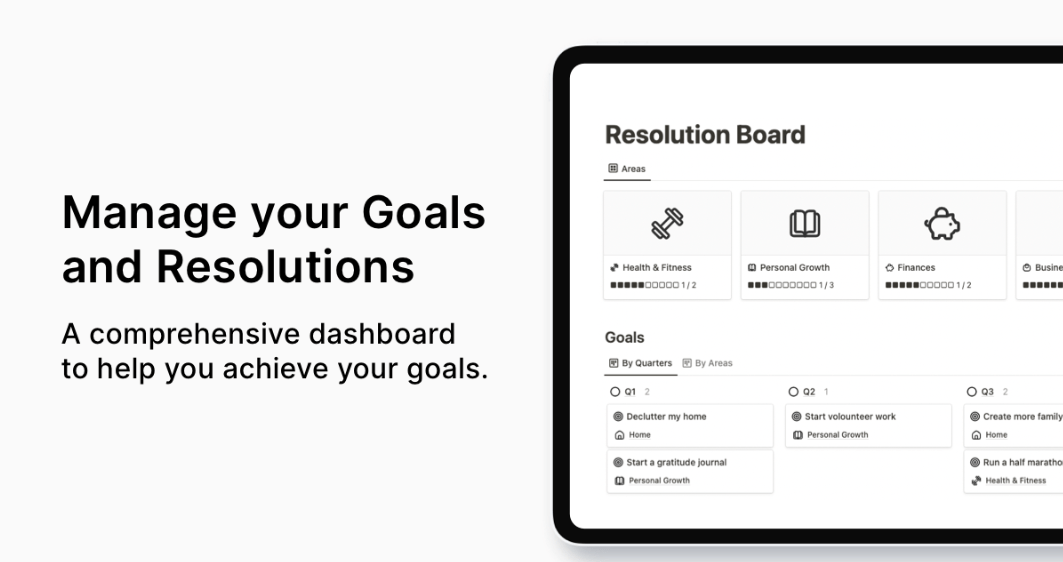 Author: Easlo
The Ultimate Goals Dashboard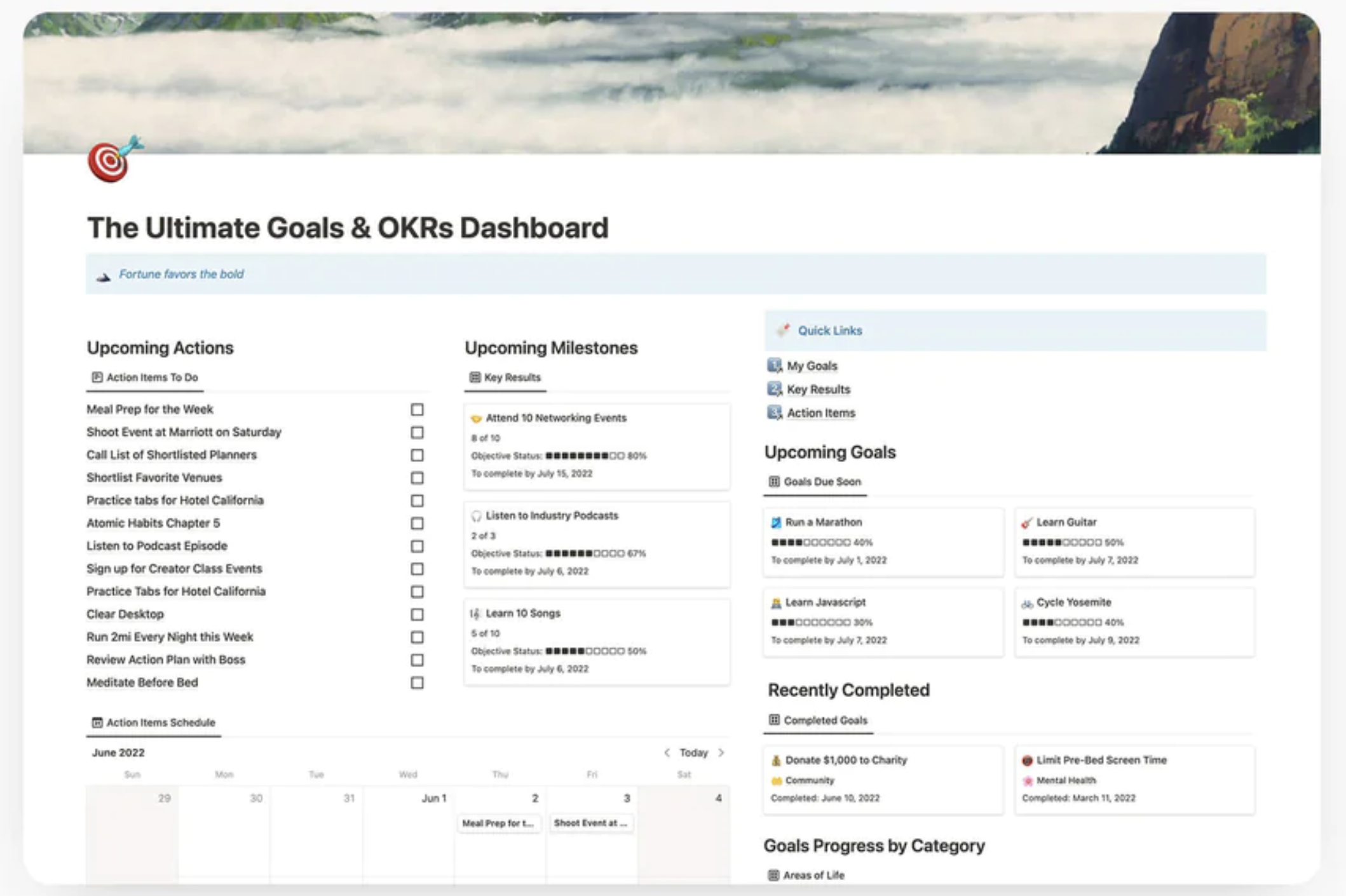 Author: Gridfiti
The Ultimate Goals & OKR Dashboard for Notion is designed to help you map out and actually achieve your goals – no matter how big or small – by breaking them up into an actionable system.
🎯 Set high level goals, by several different areas of life. Using the OKR (objectives and key results) system, there are 3 tiers to dissect your goals into manageable and tangible action items
🛠 Set specific metrics, deadlines, and to-dos per key results item, and watch yourself crush them!
📔 Each goal page includes a pre- and post-goal assessment journal worksheet inside. Using the SMART system and other built-in prompts, get more intentional with your goal setting to set yourself up for success!
Get all that and more at the link below.
See Also