This is a collection of the best Notion templates for content creators, social media, and freelancers.
Whether you're simply looking to map out your Twitter content for the rest of the month or you want to grow and monetize a social media following, there's a Notion template here for you.
Don't miss my other Notion template pages:
Notion Templates for Content Creators
Creator's Companion by Thomas Frank ($50 OFF)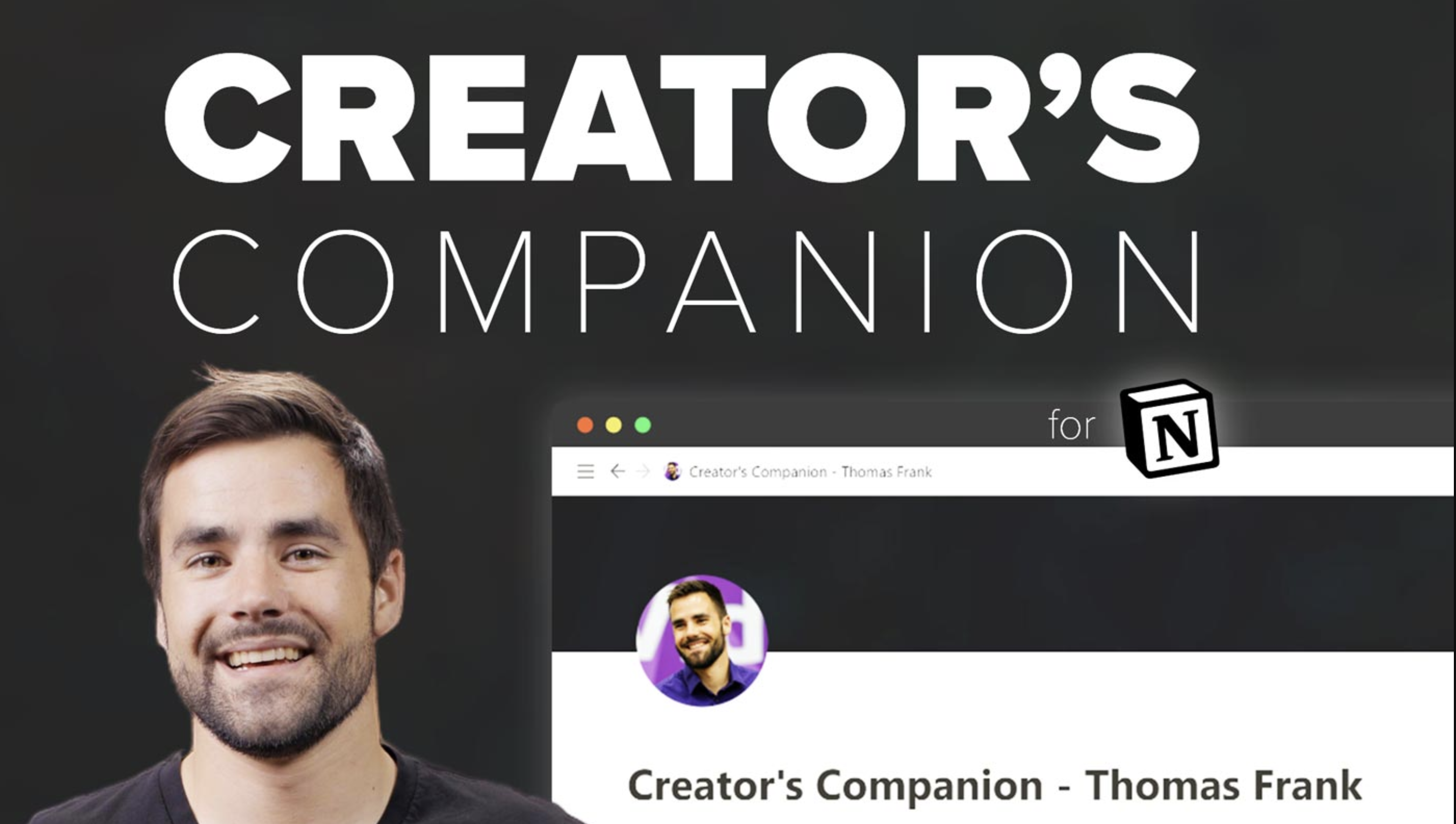 Author: Thomas Frank
Manage your entire content creation process in Notion.
Thomas Frank is a Notion & Productivity content creator with over 2 million subscribers. He grossed over $1 million from Notion templates last year.
His template, the Creator's Companion, turn Notion into a centralized hub for creating content.
It can be used for:
Youtube videos
Blog posts
Podcast Episodes
Social media management and more
Capture ideas and prioritize the best ones, plan your editorial calendar, collect research, write scripts, optimize for SEO, analyze content performance, and even manage your brand deals from one place.
Notion Social Content Planner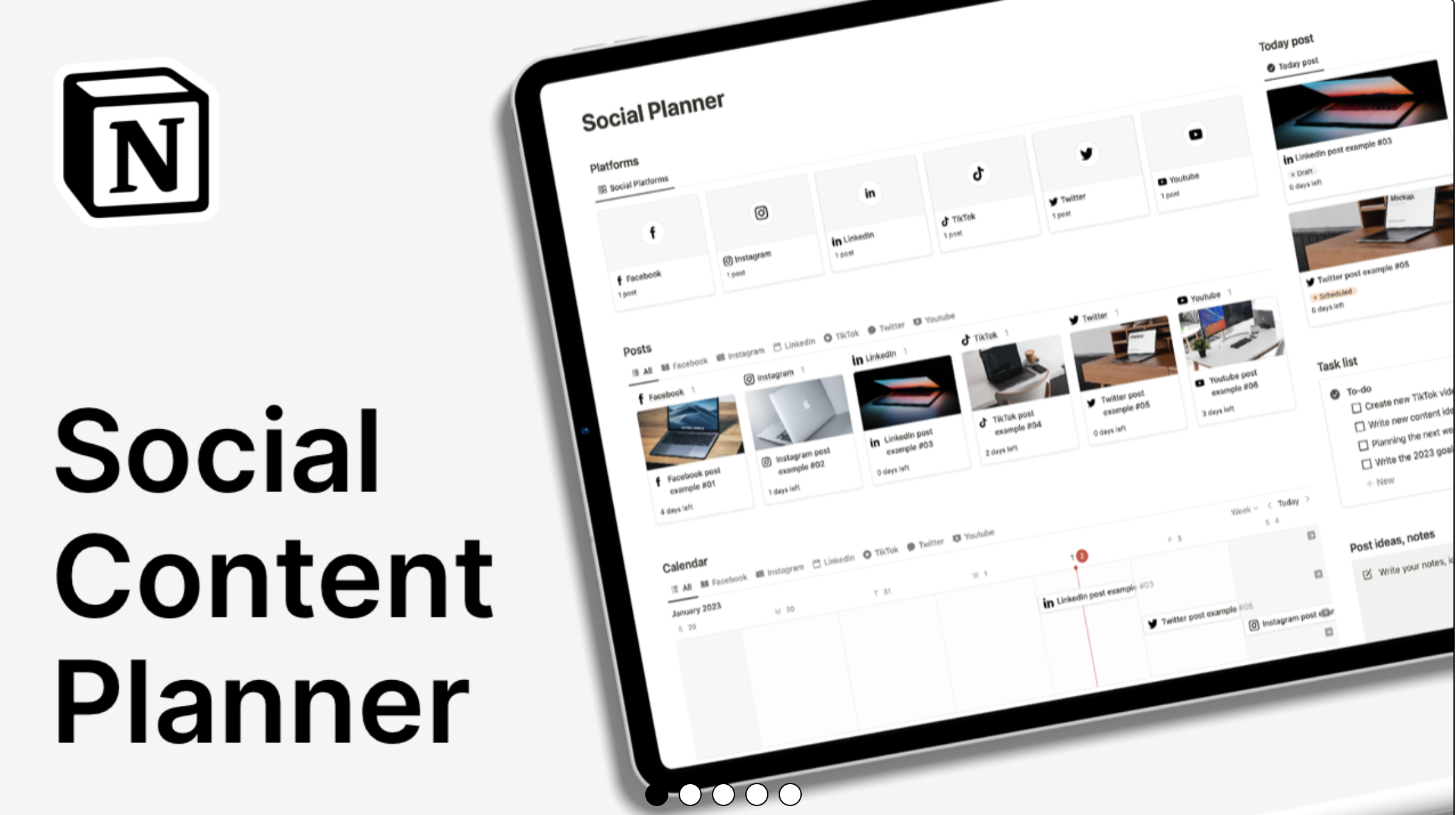 Author: Solt Wagner
Boost your Social Media Content easy with this Planner.
This social media content planner template is a powerful tool for managing and organizing your social media presence. With a sleek and intuitive design, this template makes it easy to plan, schedule, and track your content across all of your social media platforms.
Whether you're a marketing professional or a small business owner, this template will help you streamline your social media strategy and increase your online reach.
The template includes sections for defining your target audience, setting your content goals, brainstorming ideas, and tracking performance metrics. With its user-friendly interface and robust features, this template is the perfect solution for anyone looking to maximize their social media impact.
Content Creation Hub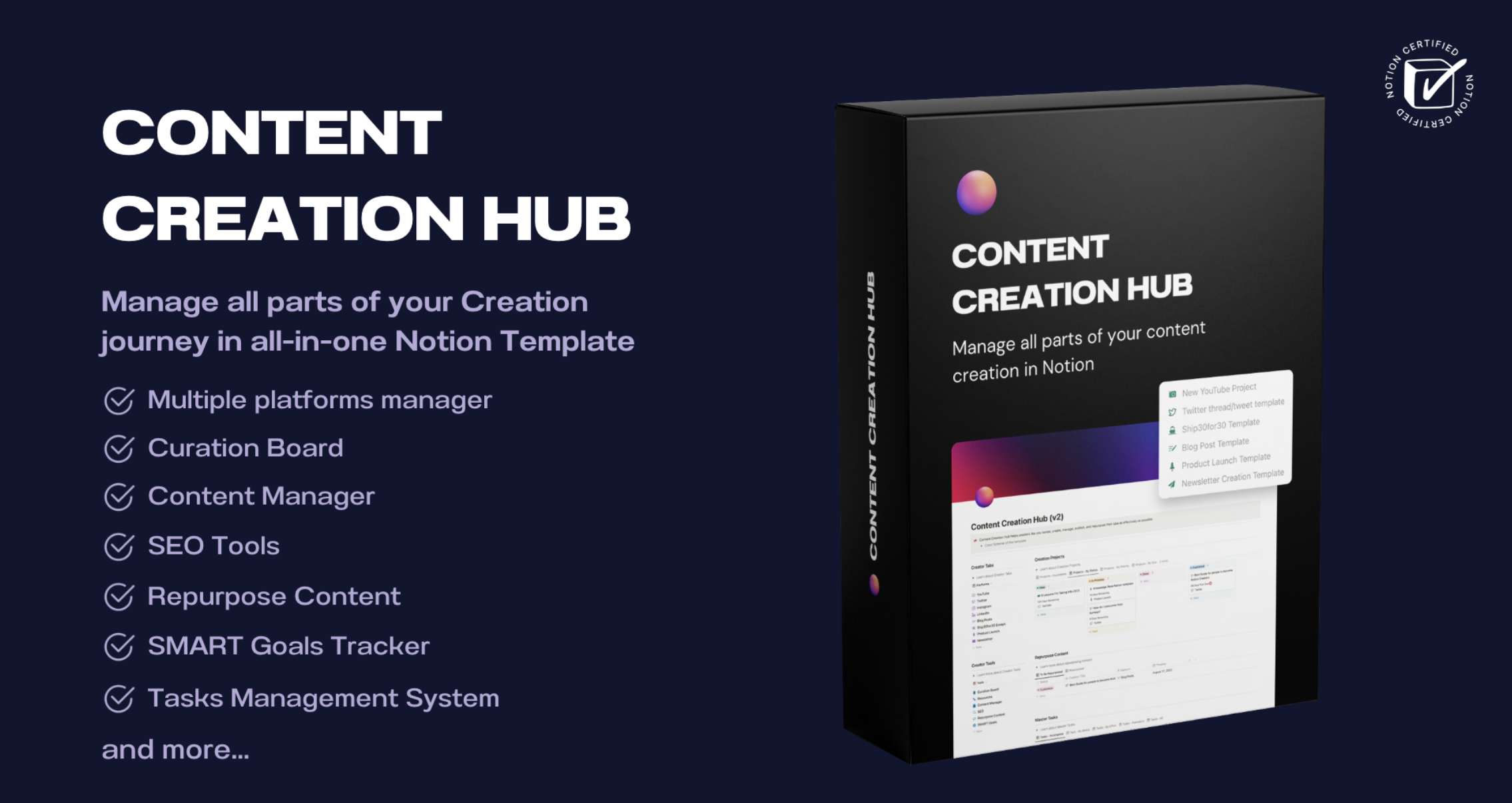 Author: Atul Anand
Manage all parts of your Content Creation in Notion.
This template hub helps creators like you curate, create, manage, publish, and repurpose ideas as effectively as possible.
Over 300+ creators are already using this Notion Workspace.
Never start your content from scratch again.
Content Creation Hub is integrated with systems that help you curate content from anywhere on the internet and create your ideas and notes.
And all this can be easily used as an inspiration for your creative projects.
Grab it at the link below.
Social Media Manager (Notion Template)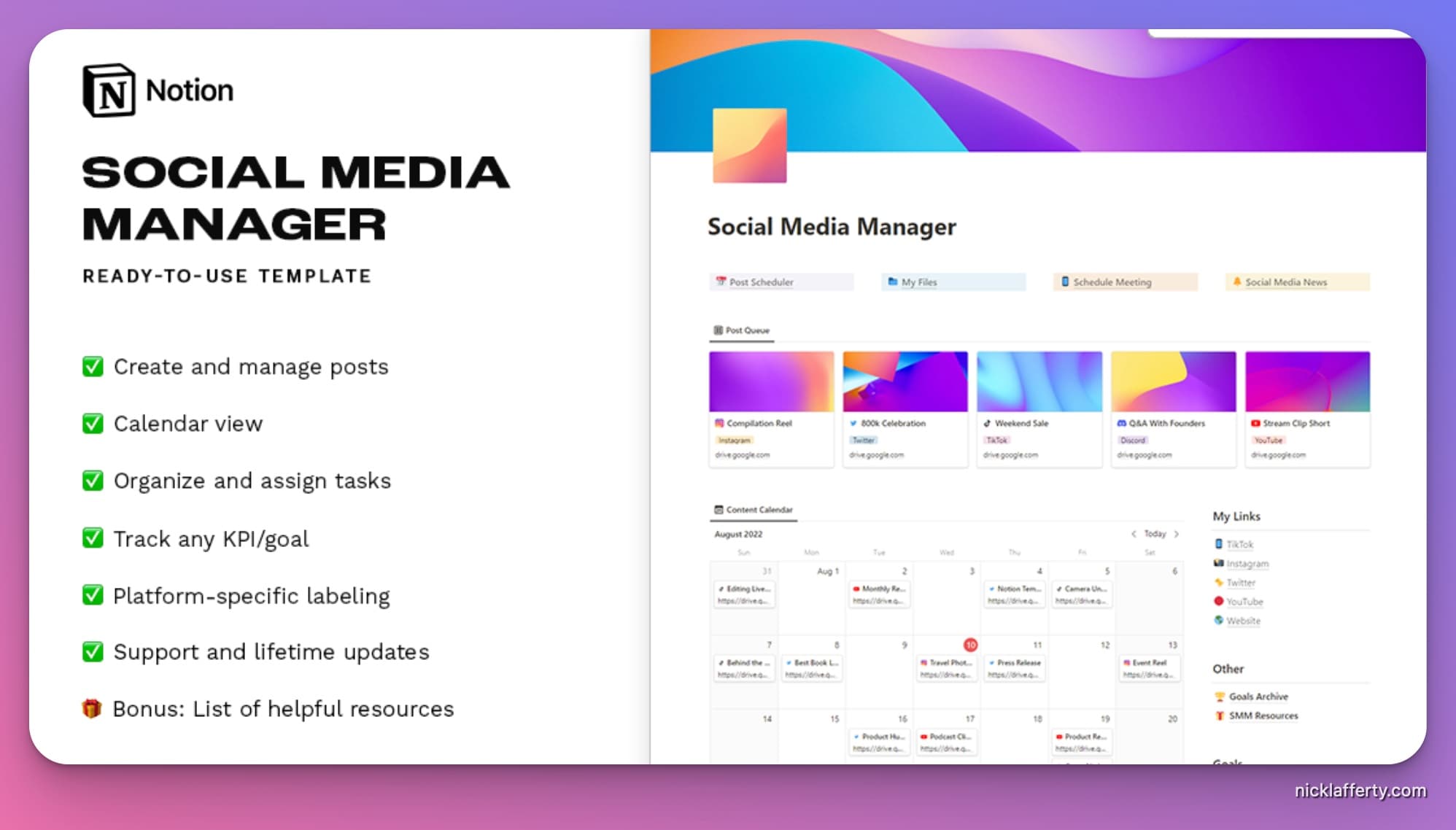 Plan Your Social Media Content on All Platforms.
Easily manage your posts, tasks, content, goals, and more. I've taken my 10+ years of social media marketing experience to create this easy-to-use template with so you can grow your brand on social media.
What's included:
✅ Post manager
✅ Content calendar
✅ 5x Post templates (Instagram, TikTok, YouTube, Twitter, Discord)
Life OS: The All-in-One Notion Template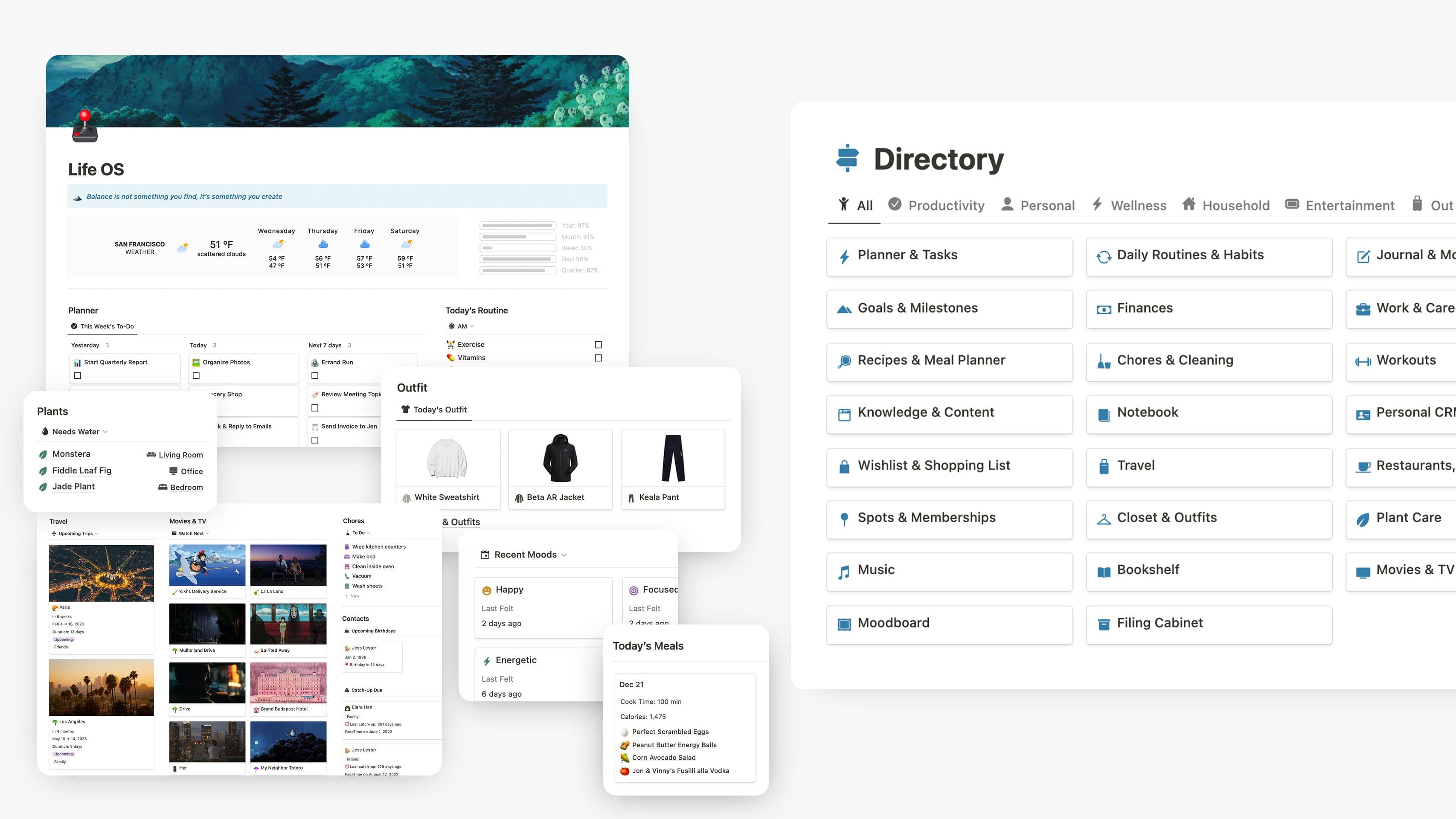 Author: Gridfiti
Introducing the brand new Life OS Notion template: the ultimate all-in-one planner for every aspect of your life!
With over 25+ interconnected templates included and a live and dynamic homepage dashboard – this is the only template you'll need to centralize everything in your life.
The magic of this template is that every page is integrated together.
The dynamic homepage is a live reflection of every bit of information stored elsewhere in the dashboard.
It includes sections for:
✅ Planner & To-Dos
🔄 Daily Routines & Habit Tracker
✍️ Journal & Mood Tracker
🎯 Goal-Setting
💰 Finances
💼 Work & Career
🍳 Recipes & Meal Planning
🧹 Chores & Cleaning
🏋️ Fitness
🧠 Content Queue & Knowledge Base, and much more
All their information is always updated on the homepage.
Learn more and grab the Life OS below.
Product Launch OS 🚀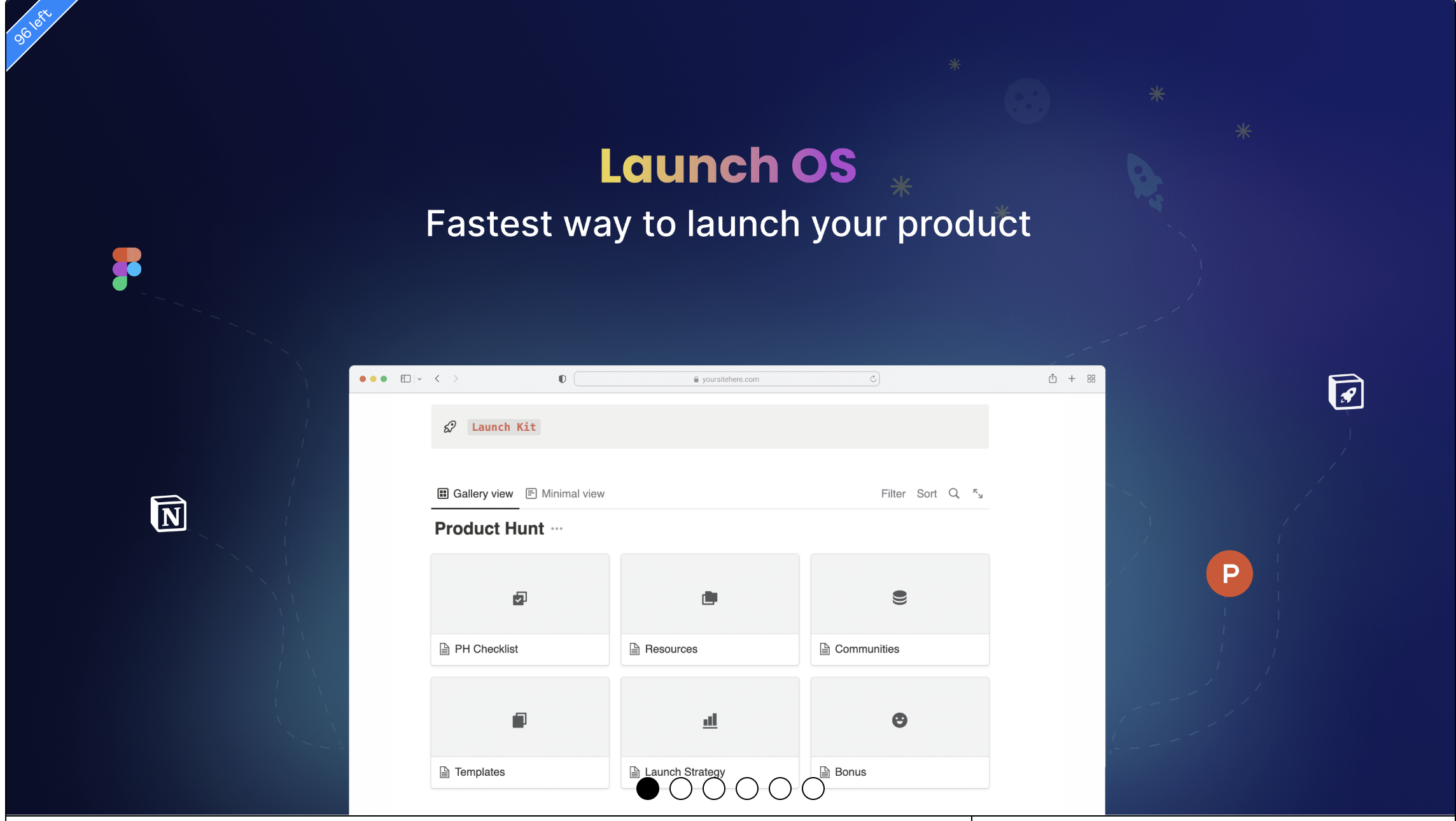 Get the most powerful bundle of practical launch strategies, 1000+ resources, and iconic design templates to ensure that you always have the most efficient product launch.
This strategy kit has been tested and proven 100+ times, along with templates for all your future product launches.
Our kit will help you lay the groundwork for a smooth product launch throughout all the important stages to capture all the aspects for a successful product launch.
Pre Launch:Get access to multiple tried and tested templates of strategies that you can put to work.
Launch: Get to implement the planned launch strategy by splitting your tasks with your team.
Mid-Launch: Keep control of the momentum of your launch by scheduling the launch distribution.
Post Launch: Get to turn your supporters into loyal customers who start paying for your product.
Notion Side Hustle OS Template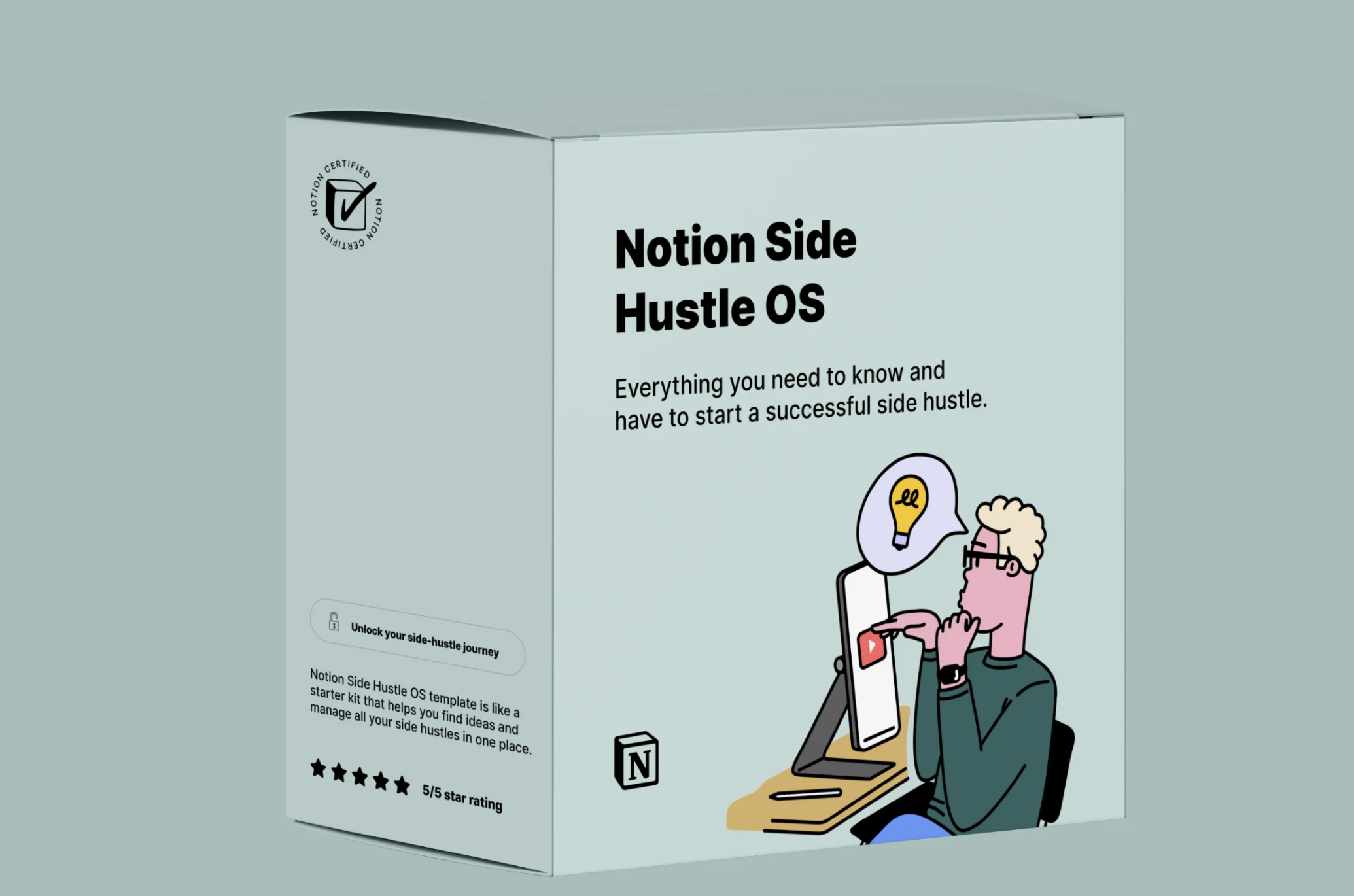 Explore a list of 60+ most popular side hustles.
Start making side income finding the best side hustle for You.
This Side Hustle OS has everything you need to know and have to start a successful side hustle.
If you've been looking for a Notion template to start making additional income, you're in the right place.
One of the best ways to increase your income is by getting into a side hustle. But, if you don't know what to do or don't have time, don't worry.
The Notion Side Hustle OS template is like a starter kit that helps you find ideas and manage all your side hustle daily things in one place. With this template, you'll have a nice and productive system to manage and grow your side hustle.
Also, an access to lists of the best tools and links. This whole Notion Side Hustle OS will be the one-time purchase that brings you clarity and actionable steps to your side hustle growth.
Creator Starter Pack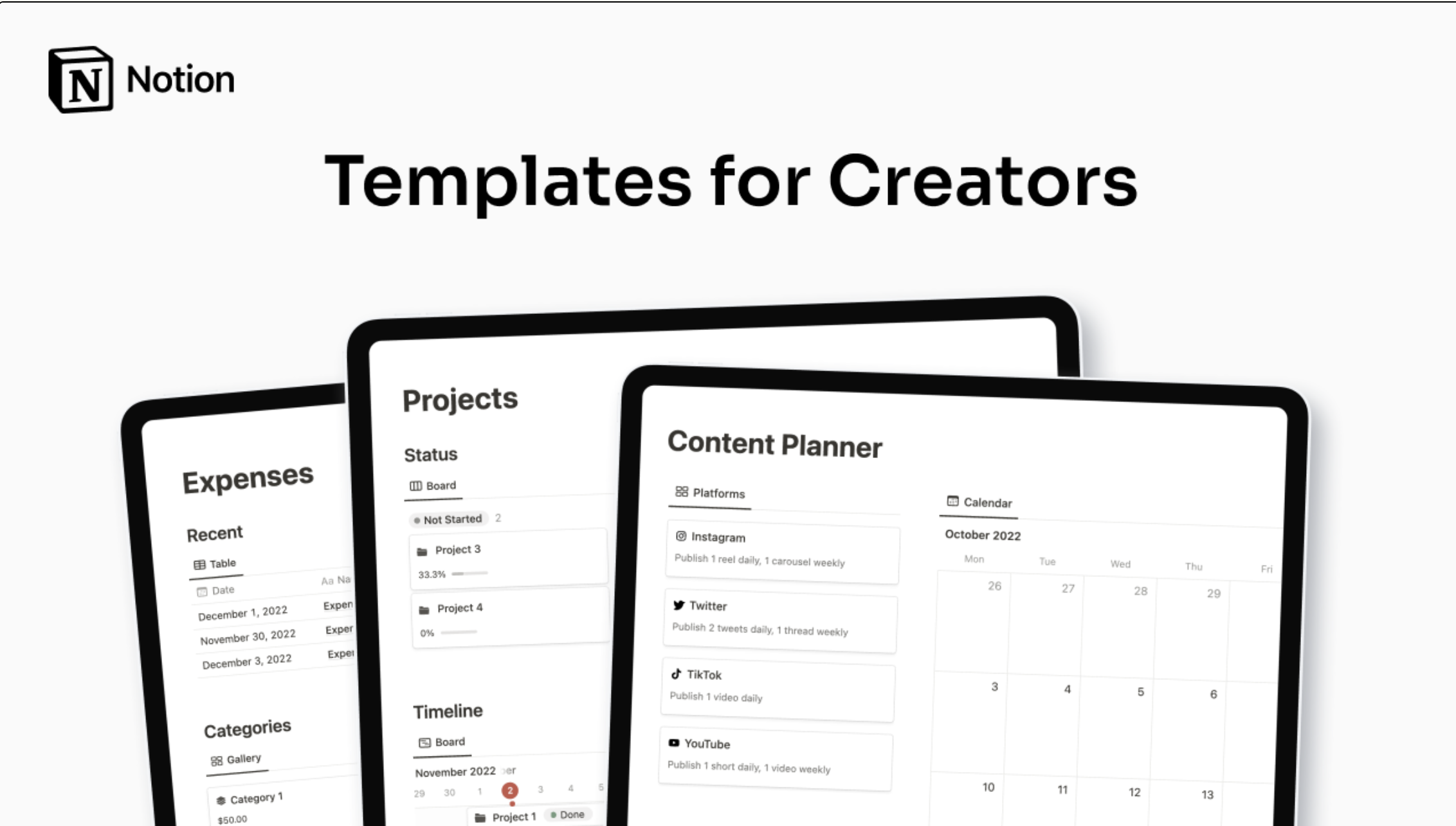 Feeling overwhelmed by everything you need to get done? This product is for you.
Introducing Creator Pack. Creator Pack is here to help you stay organized and on top of your deadlines.
With these templates, you can easily track your projects, expenses, and social media content calendar. Plus, our templates are designed to help you save time and be more productive.
What's Inside?:
Projects Tracker
Tasks Manager
Content Planner
Personal CRM
Expense Tracker
Notion Templates for Freelancers
Notion Freelancer Board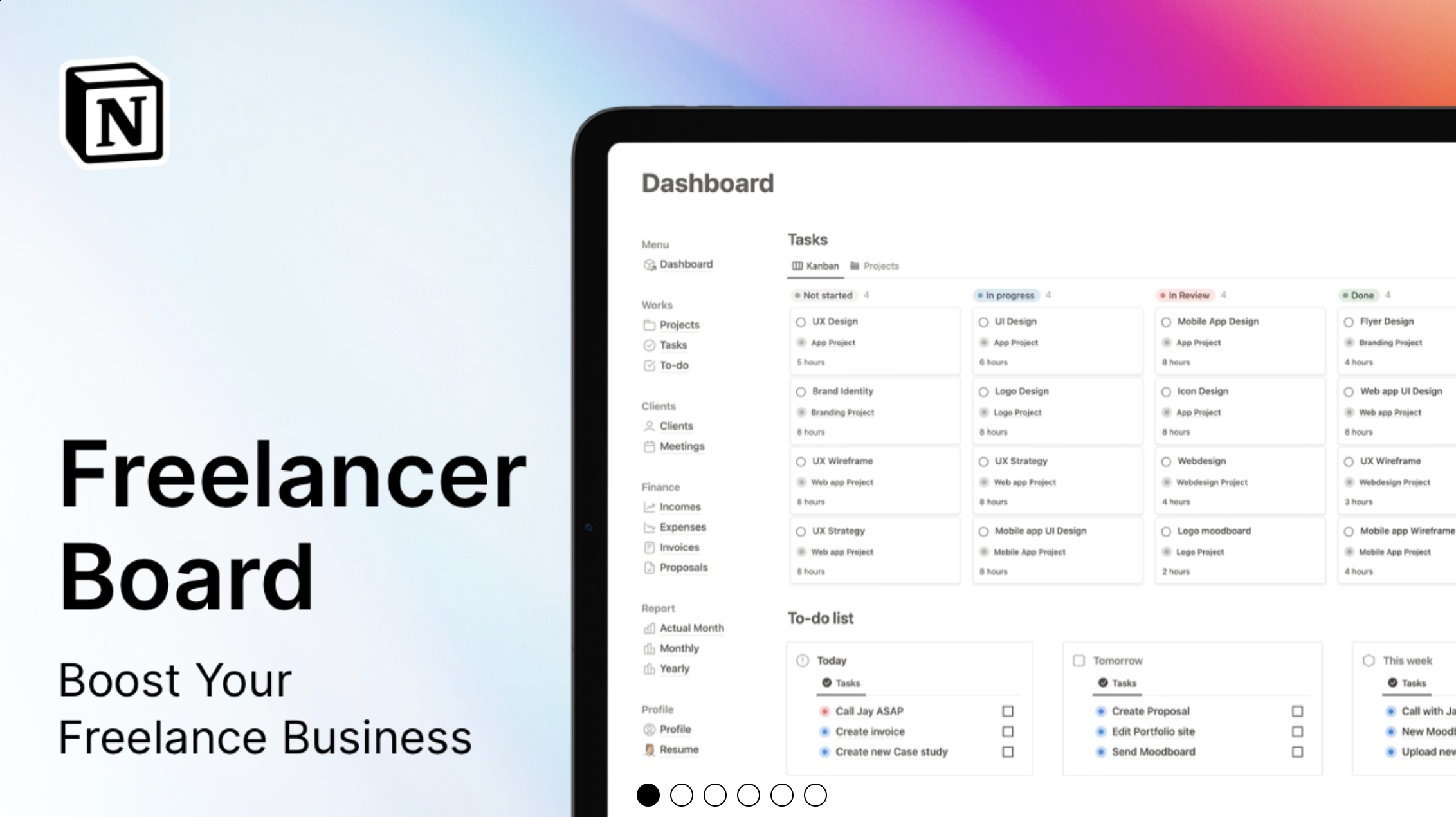 Author: Solt Wagner
Boost Your Freelance Business with this All-in-One Notion Template for Project Management, Task Manager, Finance Tracker, Meetings and CRM!
This Freelancer Board Notion Template is the perfect solution for freelancers looking to streamline their work processes and stay organized. It includes a comprehensive set of tools to help manage your projects, tasks, finances, clients, and meetings with ease.
All in one tool to your Freelance Business ✔ Project Management ✔ CRM ✔ Finance Tracker ✔ Finance Reports ✔ Clients manager ✔ To-do list ✔ Meetings ✔ and much more
Notion Business Hub
Your Business Hub, entirely in Notion.
One place for Everything in your Business.
Tired of cobbling together multiple apps to form your Business? Me too. Business Hub lets you capture and organize everything inside of Notion - turning it into an all-in-one workspace.
Business Hub is the most advanced business & startup Notion template that helps you manage every aspect of your SaaS product, Digital product, Startup, and in general your online business.
The PMM Productivity Hub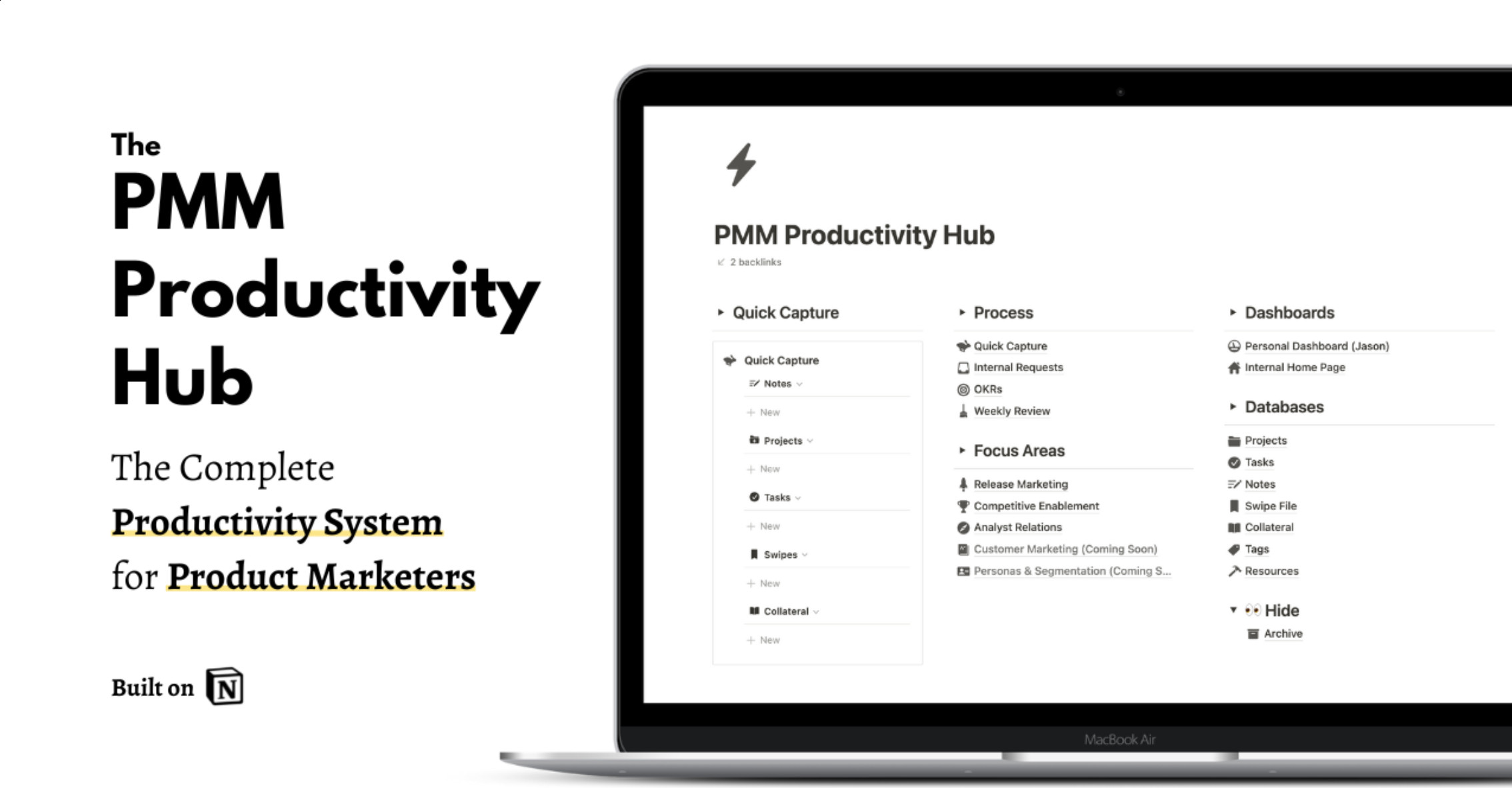 Author: Jason Oakley
The complete productivity system for product marketers.
Created by Jason Oakley who previously lead Product Marketing at Klue and Chili Piper, he now runs Productive PMM.
His first product is the PMM Productivity Hub, a central place for managing your work, your team, and your sanity.
✅ Stay on top of your goals, projects, and tasks
💡 Easily capture and recall notes and inspiration
⚡️ Never start a project from scratch again PMM Productivity Hub is a system built on Notion that helps small product marketing teams and solo PMMs be more productive.
It provides one central hub for managing your projects, tasks, goals, collateral, swipe file, and more. It also comes complete with resources and templates you can use to deliver great work, faster.
Notion Company OS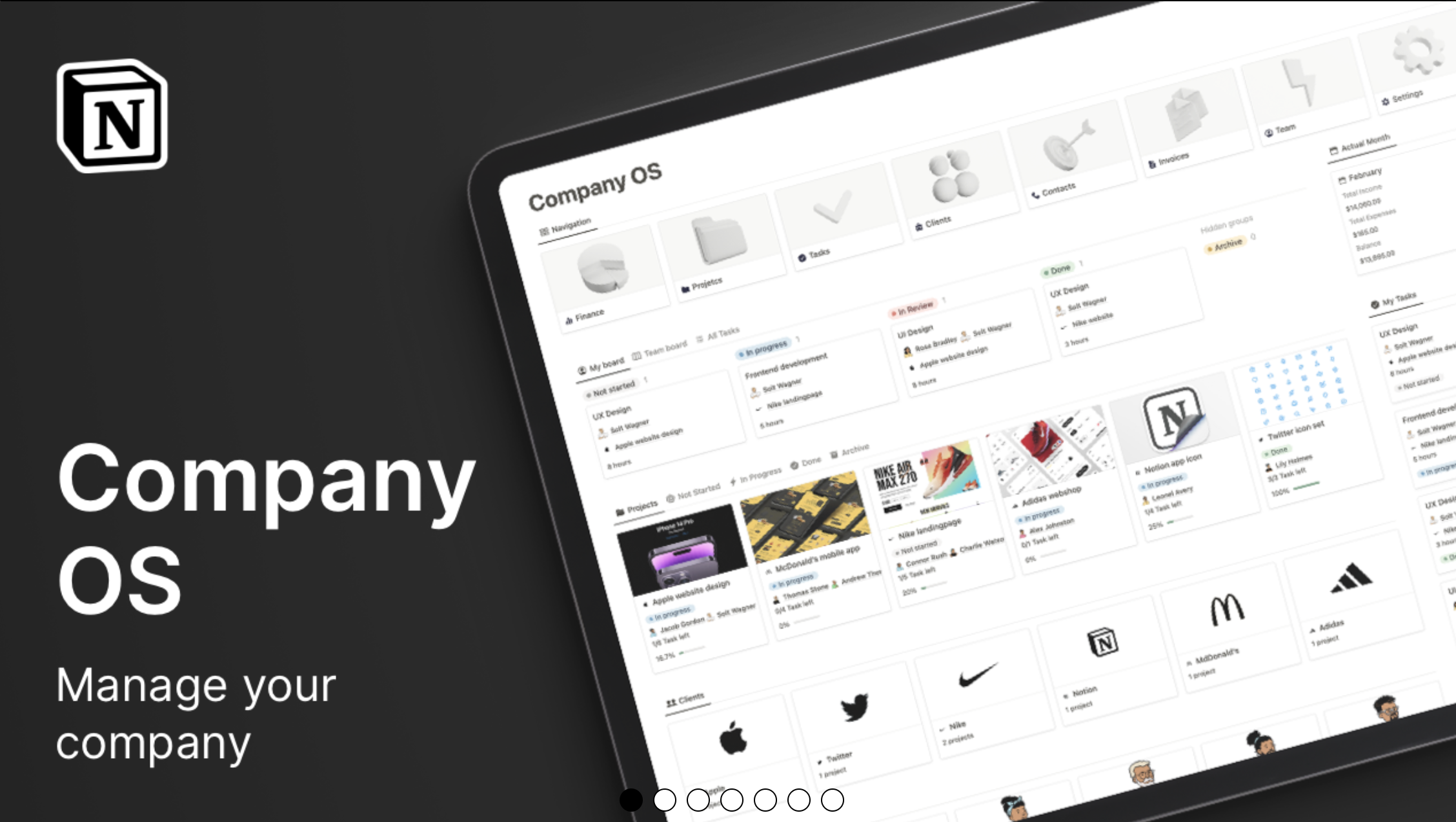 Author: Solt Wagner
Manage your Company in one place, from the Lead through the Project and Task management to the Invoicing.
Introducing the ultimate solution for your business needs - The Notion Company OS Template! This comprehensive template has everything you need to streamline your operations and take your business to the next level.
Leads » Contacts » Clients » Projects » Tasks » Invoice » All Done with the Company OS
Notion Small Business Kit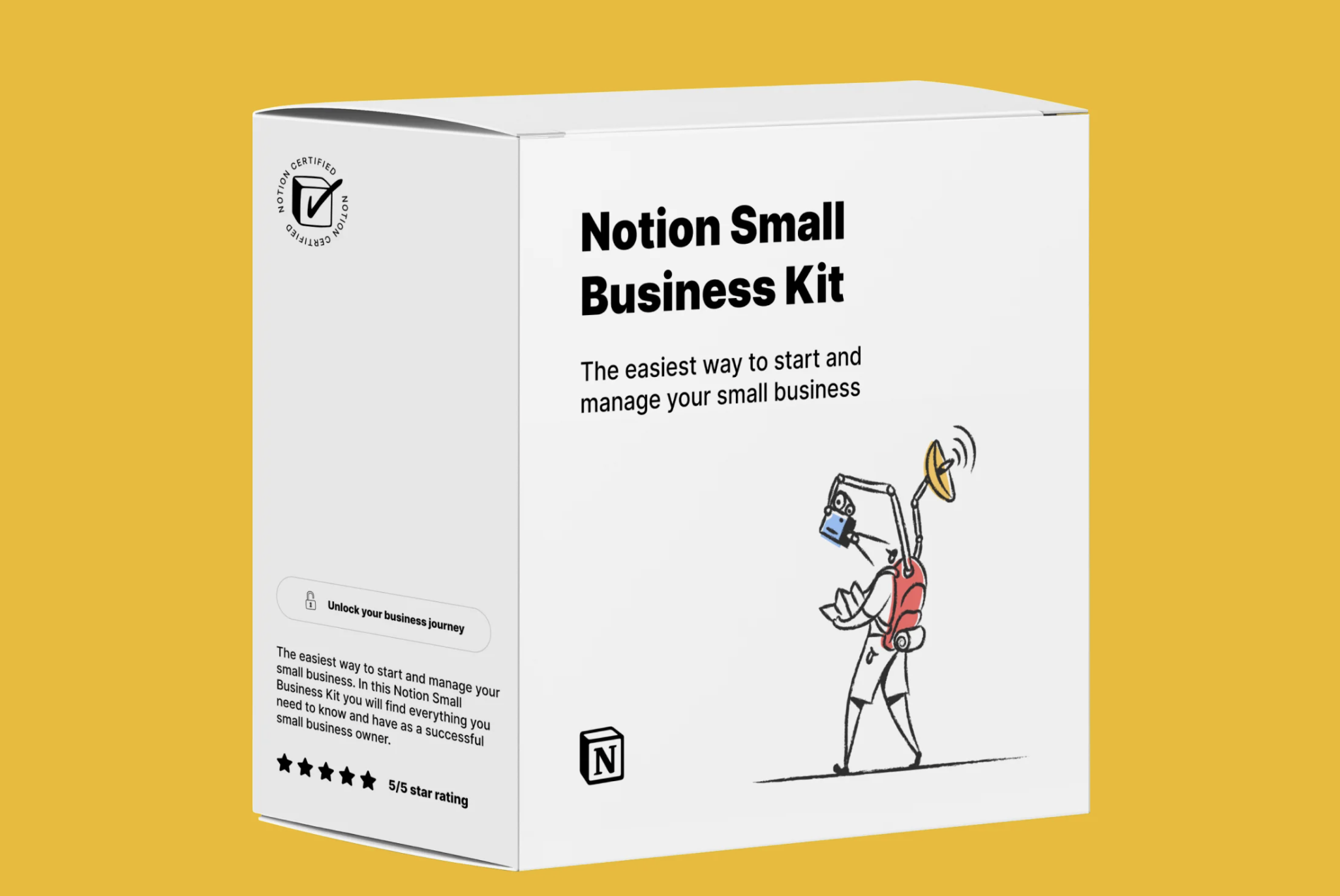 Your ultimate guide and management tool to help you start and manage your small business.
In this Notion Small Business Kit you will find everything you need to know and have as a successful small business owner.
So you are looking for the easiest way to start or manage your small business.
Well, this kit is designed exactly for you.
No matter if your business is online or offline, e-commerce or service provider agency you will find this kit extremely beneficial.
This guide will help you to start/manage your entire small business.
Creator Planner - Social Media Manager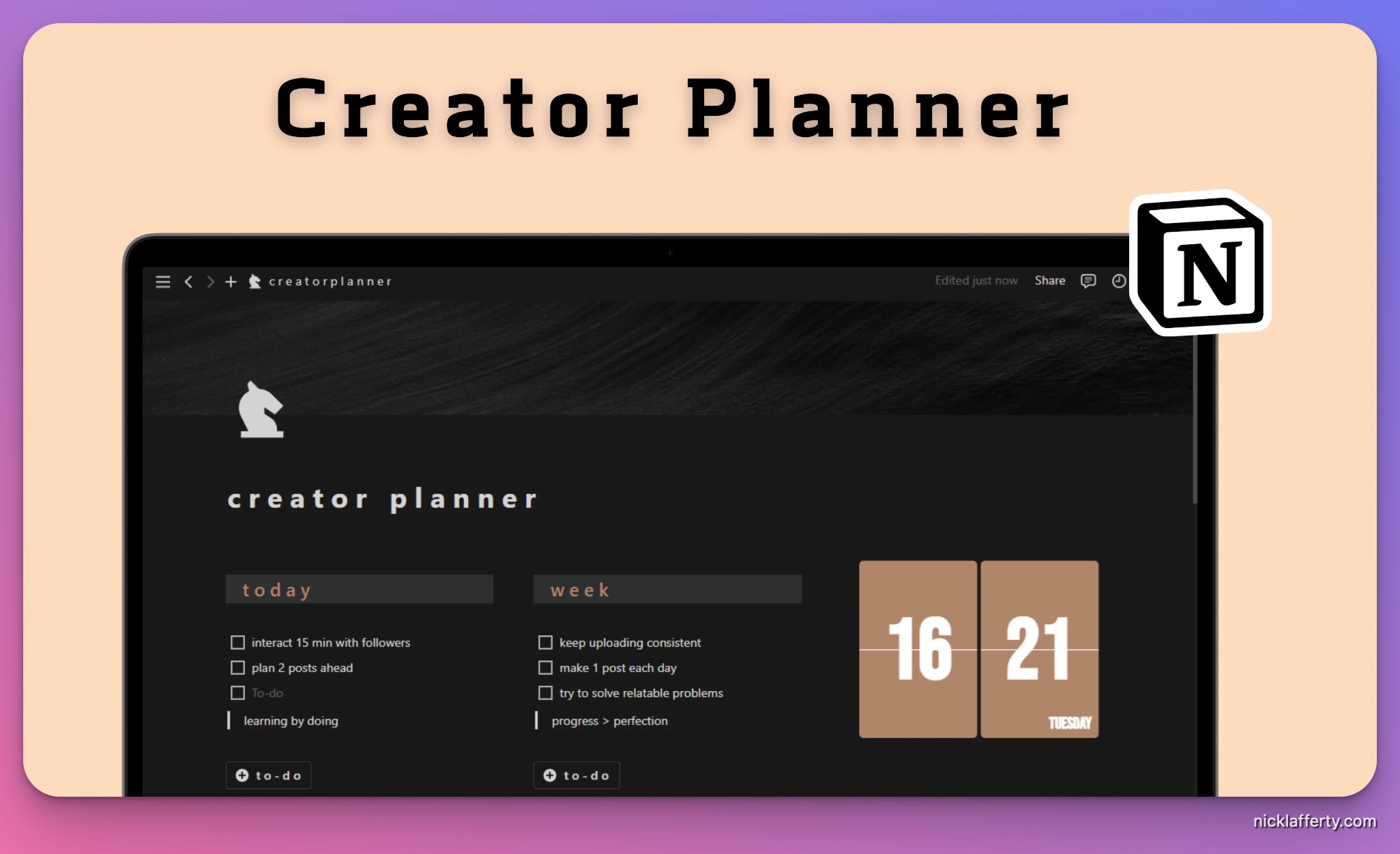 Author: Notion Plates
Minimal Creator Notion Template - Social Media Planner
The Creator Planner Template will help you plan out your content for Instagram, YouTube, Facebook, Pinterest, TikTok, Twitter, Blogs and other places.
With this minimal planner, you'll be able to stay organized and productive, so you can focus on creating amazing content.
Notion Freelancer Template Pack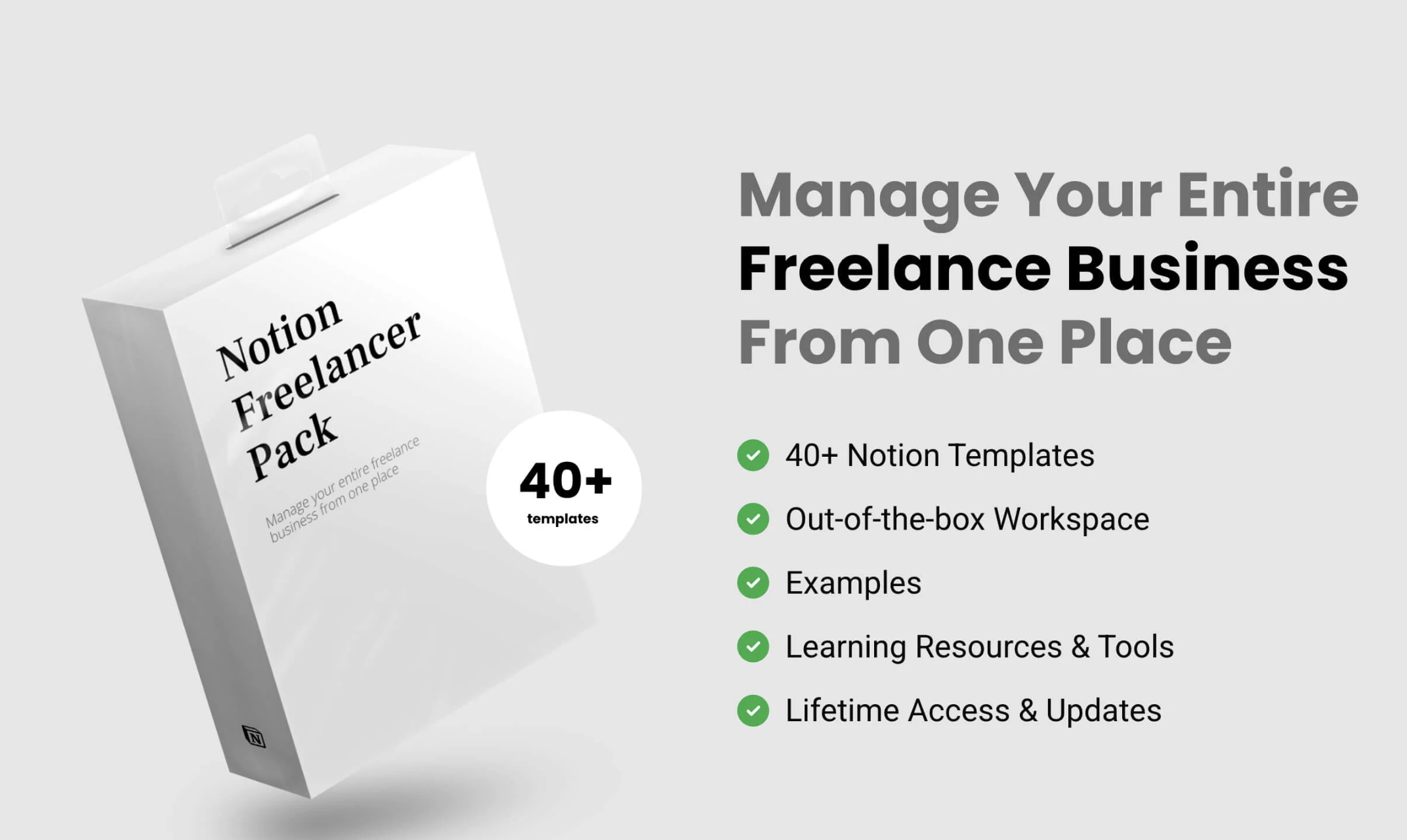 More than 40+ ready to use templates for your freelance business
The Notion Freelancer Pack is a template pack, a system that has everything you need to successfully start, run and manage your entire freelance business from one place.
It's made for all niches of freelancers, who want to manage their entire freelance business from one place.
When you are working on yourself, time and productivity are really important. For you to feel good and use the time in the right direction, you must have a system that helps you move forward not backward.
With this pack, you can manage your entire freelance business from one place and feel in control of having the right system.
Social Media Prompts
30-Day Twitter Fiesta Challenge 🎉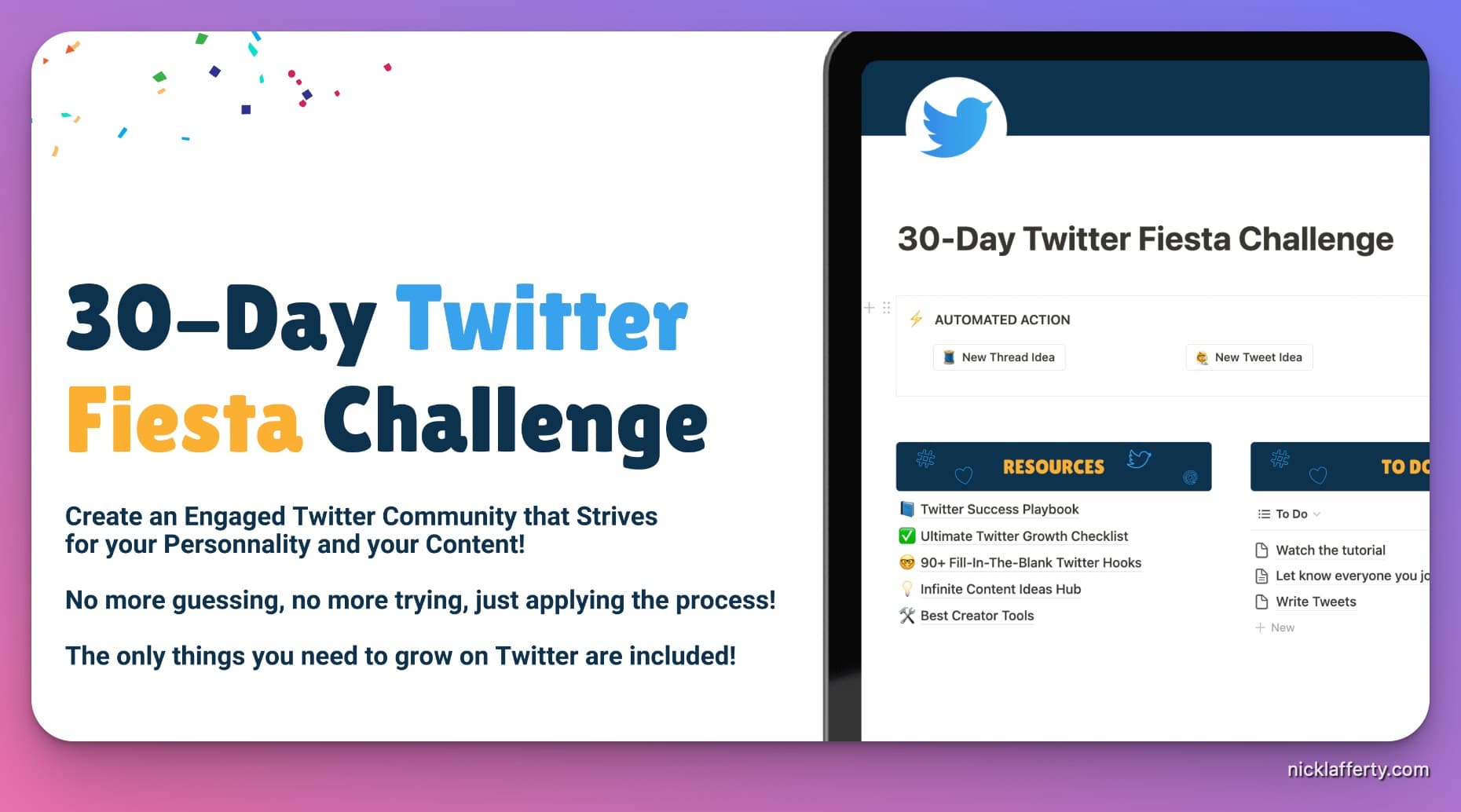 Author: Marlene
Create an Engaged Twitter Community That Strives for Your Content!
Crush self-doubt & unlock the secrets to creating a Twitter account where your followers will always ask for more.
No more guessing, no more trying, just applying the process!
Includes:
🚀 Twitter Success Playbook: Your go-to guide for all things Twitter - from setting up a winning profile to understanding the mysterious Twitter algorithm.
📝 90+ Fill-in-the-Blank Hooks: No more writer's block! These easy-to-use, customizable hooks will grab your audience's attention and keep them hooked.
🗓️ Infinite Content Ideas Hub: Get ready to be inspired with a treasure trove of content ideas, designed to keep your Twitter feed fresh and engaging for months to come.
90+ Fill-In-The-Blank Twitter Hooks 🎣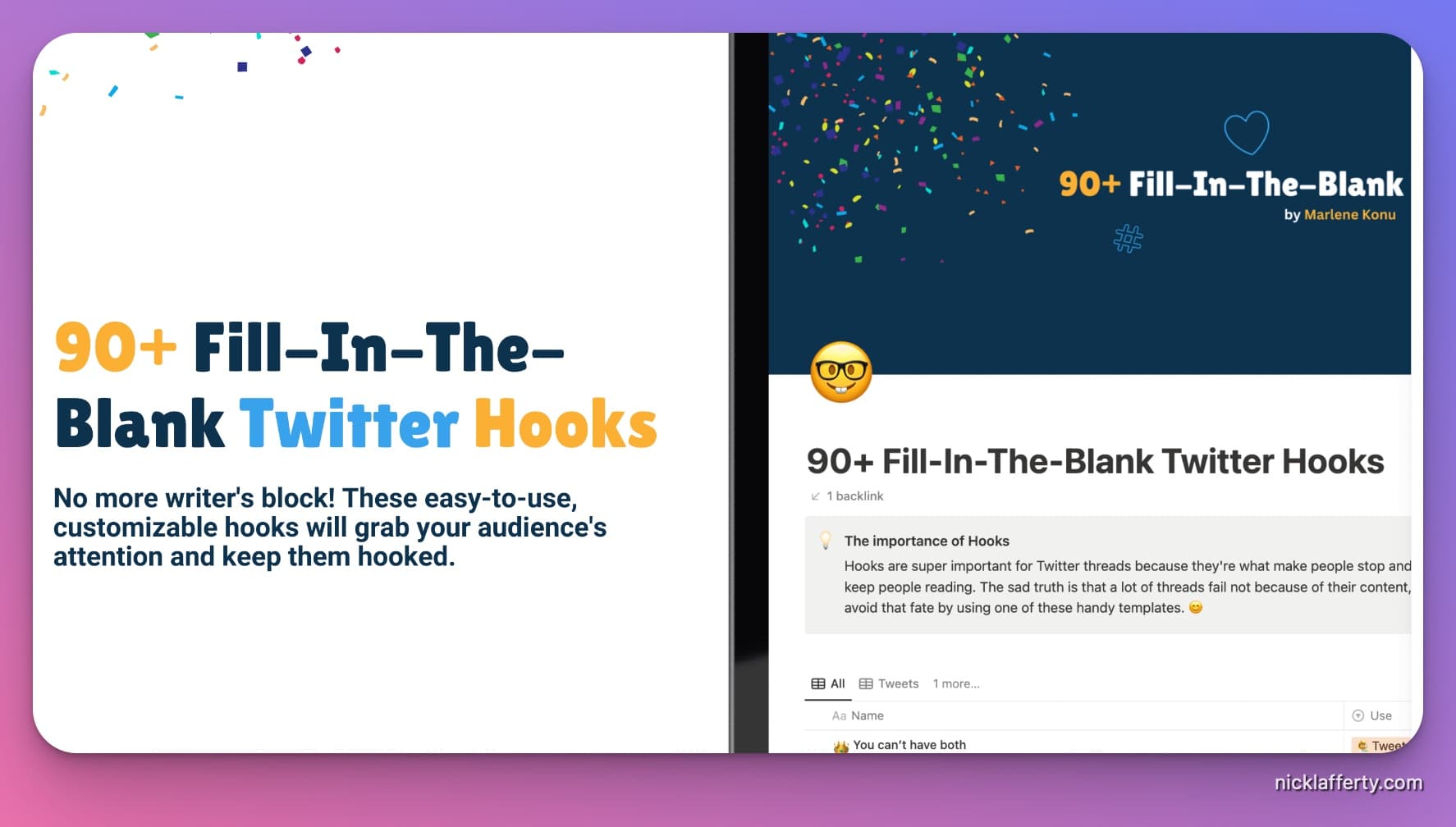 Author: Marlene
Introducing the 90+ Fill-in-the-Blank Hooks - your ticket to Twitter stardom!
Here's what's inside:
🎯 90+ high-converting hooks from the top 1% of content creators
💬 Fill-in-the-blank templates to make crafting hooks a breeze
📈 Proven strategies that skyrocket engagement and impressions
See Also