---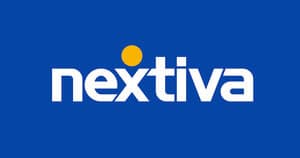 This post is sponsored by Nextiva, software that helps simplify your business with an all-in-one customer communication platform.
Try Nextiva Today
---
Team collaboration has never been more important.
In the era of hybrid and remote work, collaborating with people you've probably never met in person is critical not only to the sucess of the company you work for, but also for your career.
I've been a fully remote employee for about four years so I had a little headstart before the pandemic forced remote work on most knowledge workers.
During that time I've struggled to build meaningful connections with my peers.
The conversations that used to happen organically in person are very difficult to replicate over a Slack chat or email.
Digital messages can be misunderstood, context can be missed, and time can too often be wasted.
Thankfully there are tools like Nextiva and other team collaboration tools to help cut through the noise and simplify communication.
What is team collaboration software?
Team collaboration software provides a single space for team members to communicate, collaborate, and share documents with each other and customers.
The right tool will simplify your business by bringing all conversations across calls, texts, emails, and meetings into one easy to access location.
It goes beyond project management software by enabling, tracking, and organizing customer communication.
Here's why that's important.
Why is team collaboration important?
You can communicate with customers on their terms. Do they prefer a phone call, text message, or email?
When used correctly, team collaboration software can take your business communication to the next level.
All-in-one tools, like Nextiva, are becoming increasingly popular.
There's nothing worse than switching between multiple tools to find information, talk to your team, or send a customer email.
And there's a huge market for it. In 2022 , worldwide spending on enterprise software is expected to reach $675 billion.
Selecting the right tool for your business can be a game changer for your team's productivity.
Here's my list of collaboration tools for teams.
Best Team Collaboration Software
Nextiva
monday.com
Clickup
Loom
Figma & Figjam
Notion
Asana
1. Nextiva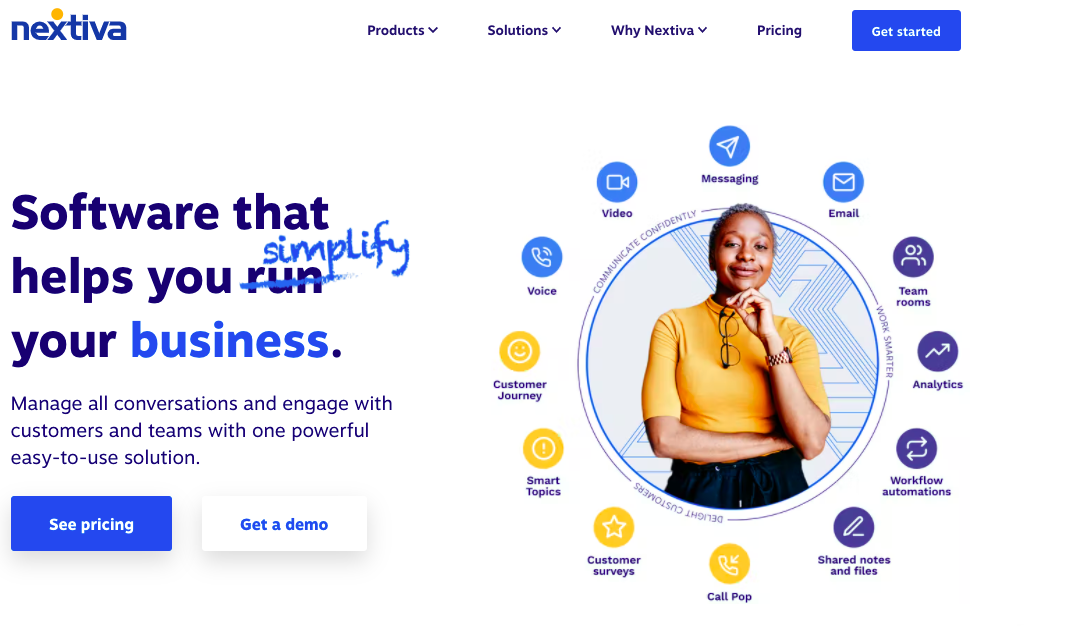 Nextiva builds business software that helps simplify work with an all-in-one customer communication platform.
It combines business phone, video conference, team collaboration, and customer communication within one easy-to-use software package.
Every Nextiva plan offers unlimited voice calling within the US and Canada and unlimited video calling.
And it's competitively priced: starting at $18.95/user/month when you pay annually.
But how do users rate Nextiva on sites like G2?
Nextiva Reviews

Real user reviews are important to look at when evaluating new tools, and Nextiva's G2 reviews are excellent.
With over 1,200 reviews Nextiva has a 4.5 star rating and it's VoIP features are constantly rated the highest among reviewers.
Here's one direct quote from a G2 Review:
Overall, our company has been extremely pleased with Nextiva. We have had very minimal issues (most attributed to internet woes on our end) and the cell phone integration and app work flawlessly.
But how do their features stack up?
Nextiva Features & Pricing
Nextiva has a slew of very compelling features for the price:
| | Essential | Professional | Enterprise |
| --- | --- | --- | --- |
| Pricing | $18.95 | $22.95 | $32.95 |
| Unlimited Calls | ✅ | ✅ | ✅ |
| Unlimited Conference Calls | ❌ | 40 Participants | Unlimited participants |
| Unlimited Video Calling | ✅ | ✅ | ✅ |
| Unlimited Voice Calling (US & Canada) | ✅ | ✅ | ✅ |
| Toll-free Minutes | 1,500 | 3,000 | 12,500 |
| Voicemail to SMS Notifications | ❌ | ✅ | ✅ |
| Private Group Messaging | ❌ | ✅ | ✅ |
| Nextiva CRM | ❌ | ✅ | ✅ |
| Salesforce Integration | ❌ | ✅ | ✅ |
Nextiva Summary
Nextiva is a great tool for businesses looking to improve their customer communication and team collaboration abilities.
They have great reviews from users at G2 and are competitively priced.
Simplify your business by trying Nextiva today.
2. Monday.com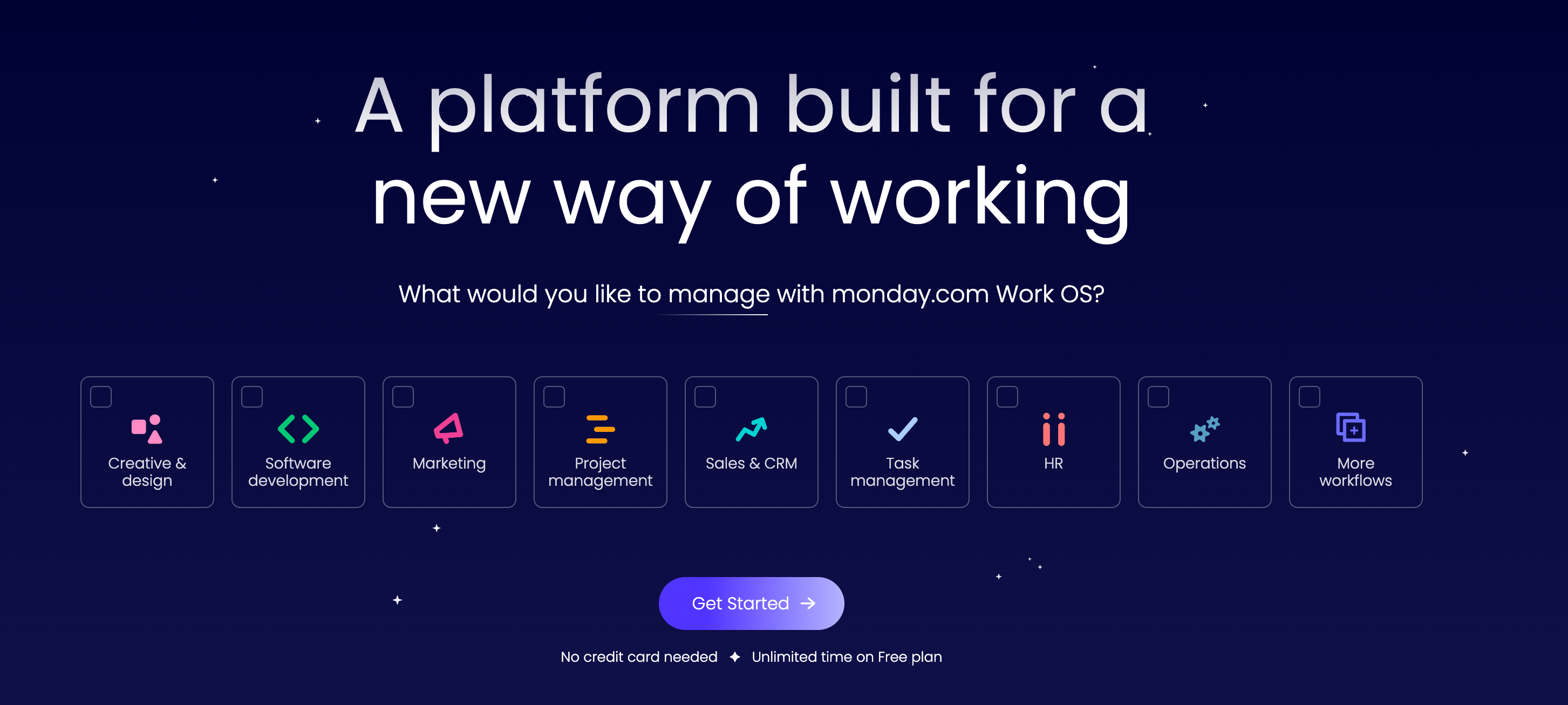 Monday.com is a project management tool that doesn't have the range of features that Nextiva does.
The main difference in features comes down to a lack of VoIP, which Nextiva has and excels at.
Monday.com is strictly a project management tool. You can't communicate with customers and it can't make calls for you.
As a collaboration tool for teams, monday.com is great if all you're looking for is project management.
I wrote a longer look at monday.com alternatives that you can read if you want a deeper dive into other options, including Nextiva .
3. Clickup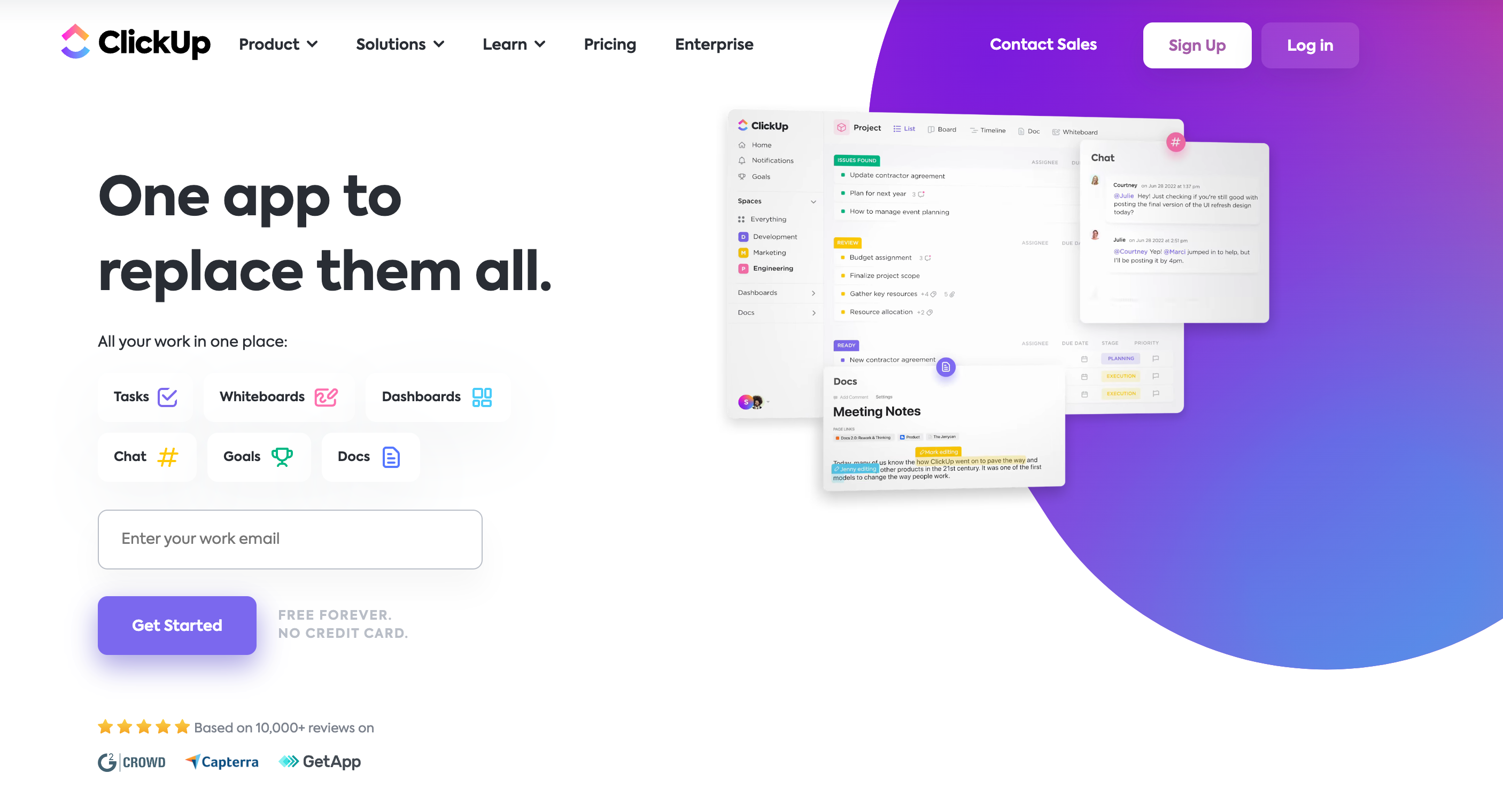 Clickup is a workplace productivity tool built to save you time.
Like monday.com, it can manage your projects and tasks. It's part of a new generation of all-in-one tools, tools that literally do everything.
ClickUp can do everything from:
Complex project management
Simple task lists
Create spreadsheets, reminders, and even emails
300+ integrations
Not into ClickUp? Read my best ClickUp alternatives post.
If you want a deeper dive into this topic then checkout my comprehensive monday.com vs Clickup post.
And finally read my dedicated ClickUp review if you want to go all-in on ClickUp.
4. Loom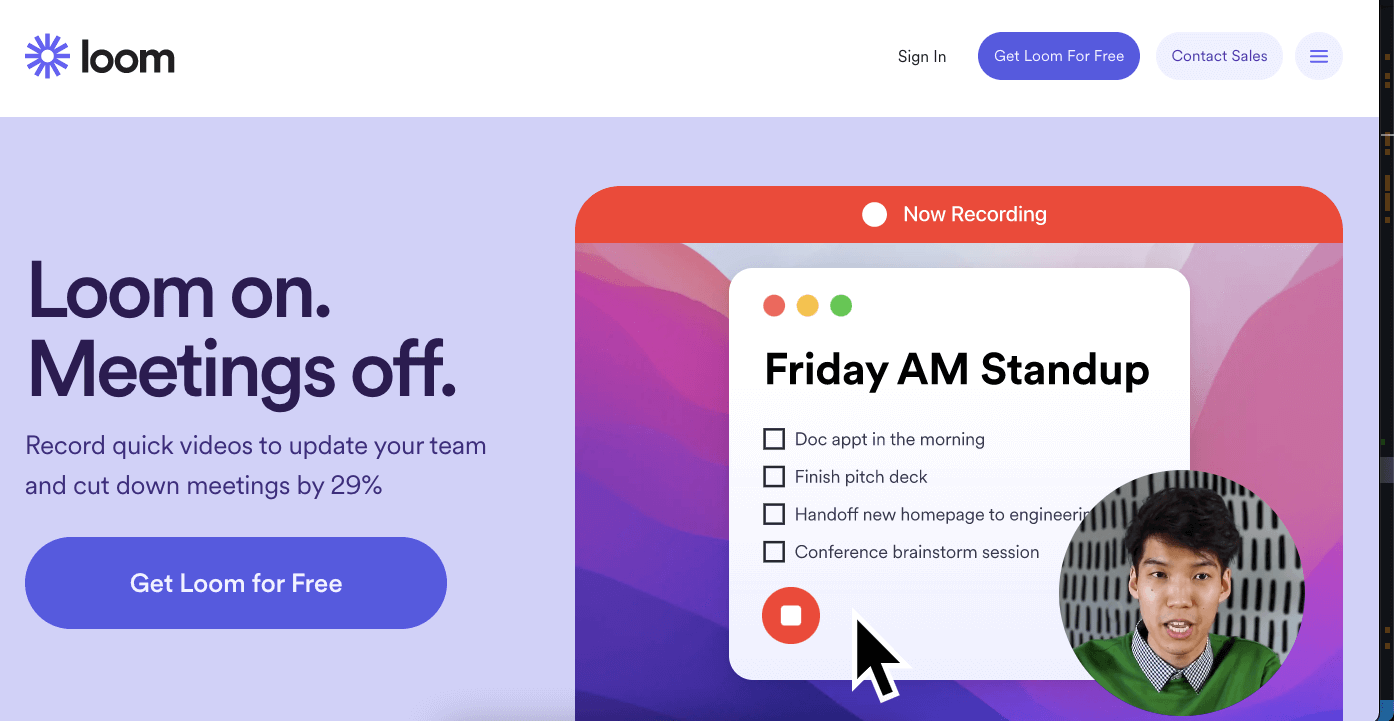 Disclosure: I work for Loom
But I'm a true believer in how async communication will change the way people work and it's exactly why I work here.
Loom is a video messaging tool for work.
Instead of sending a long email or slack message you use Loom to record yourself and your screen to create a video message.
When you're done you instantly get a link you can share with your team.
Your facial expressions, tone of voice, and personality get embedded in your video.
And whoever you send it to can watch it on their own time, which is perfect for fully-remote or hybrid working teams.
It's one of the most useful remote work tools on the market for how it speeds up communication between teams.
5. Figma & Figjam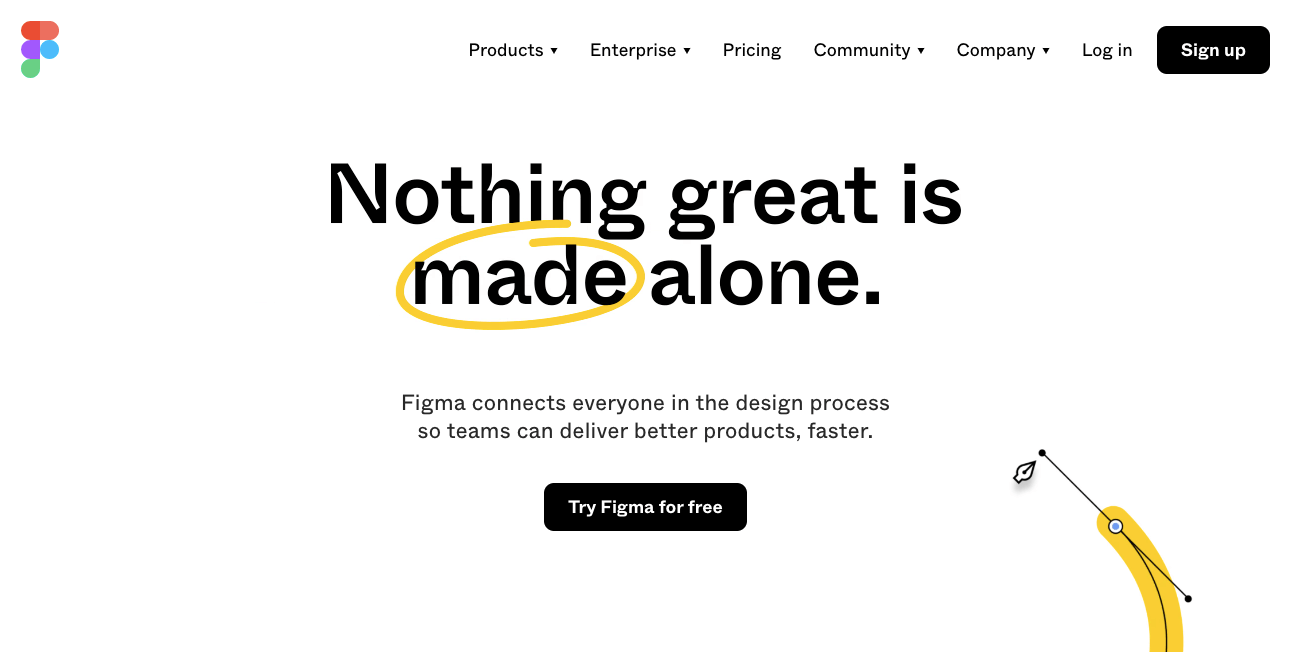 This might seem like a weird choice for team collaboration, but hear me out.
Figma is awesome, even for non-designers.
I've created entire presentations in both Figma, their online design tool, and Figjam, their new whiteboarding tool.
I've even played pictionary with my remote team over Figjam, which was surprisingly fun.
Figma isn't just a tool for designers. It's helped democratize design so anyone can start building something that looks good.
I use Figma a lot to give feedback to my design team. We do a lot of async design brainstorms, where designers will mockup designs or show product ideas, and the entire company will vote on what direction to go.
It's been a great way to involve more teams in the product-design feedback cycle because Figma is available to anyone with an internet connection.
Figma is seriously one of my favorite tools and it is super underrated for team collaboration.
6. Notion
I've spilled a lot of digital ink on my blog talking about Notion:
I'm only a little obsessed.
But while Notion is great, Nextiva has them beat if you need to communicate with your customers over multiple channels.
Notion can't make calls which is a main selling point for Nextiva.
But if all you need is a flexible way to build modern looking documents, then give Notion a shot.
7. Asana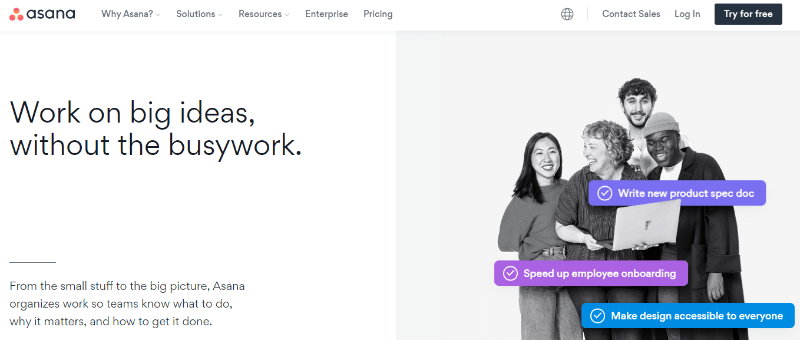 I use Asana as my content management calendar at work.
I manage 7 freelance writers and have built an Asana board to track my current and upcoming content, which writer is assigned it, the topic of each post, and other details.
It's all organized in one place so I can easily share it with my boss or other people I work with.
And Asana is great for that level of organization.
There are a few downsides, though. I wish the custom fields were better.
For example, each writer has a specific rate they charge. I want to make a column that displays the cost of each article by multiplying their rate times the word count I've assigned each topic.
But that's not possible in Asana right now.
Still, it's a great tool for what I use it for despite some of the shortcomings.
Wrapping Up
Saying team collaboration is important now feels like a massive understatement. Remote work is here to stay and teams that adapt faster to modern working norms will thrive.
Tools like Nextiva make it easy to do that, with a focus on growing your business through centralized communication.