System 76 Keyboard Review
The Launch is an Open Source TKL keyboard from System76, maker of the Linux operating system Pop_OS and open source laptop and desktops.
They're based in Denver, Colorado and manufacture and mill their hardware products in house.
The System76 Launch comes with RGB LED's, n-key rollover, Kailh MX hotswap sockets, and dye-sub PBT keycaps.
You can choose from two avilable switches: Kailh Box Jades (clicky) or Box Royals (tactile).
It's only offered in an ANSI US layout but is fully customizable with the System76 Keyboard Configurator.
You can configure any key on the keyboard to do anything, including the dual space bar.
The Launch comes with an integrated high-speed transfer hub with:
2x USB 3.2 Gen 2 Type C (up to 10 Gbps)
2x USB 3.2 Gen 2 Type A (up to 10 Gbps)
The System76 Launch starts at $285 with free shipping and is made in Denver, Colorado.
But is it worth the price?
Yes, and I'll tell you exactly why.
Is This Sponsored?
No.
I'm not sponsored by or affiliated with System76.
I always fully disclose if a post is sponsored or contains affiliate links.
I was just really excited about this keyboard and wanted to share my experience with others.
Background
I've been using mechanical keyboards for over 10 years but I'm not a card carrying member of r/mechanicalkeyboards.
My daily driver during that time has been a Das Keyboard Ultimate with Cherry MX blue switches.
But I recently started a new job and wanted a more modern keyboard with quieter switches.
I dove into the world of custom mechanical keyboards by spending entirely too much time on the r/mechanicalkeyboards subreddit.
Users there aren't afraid to drop hundreds of dollars on custom machined keyboards and are fine with waiting months, and sometimes over a year, for their group buy GMK keycaps to be produced and shipped to them.
GMK is regarded as one of the highest quality manufacturers of custom keycaps. They're based in Germany but you can't order directly from them.
You have to organize a group buy. Once the group buy has closed you're unable to order the same keycap designs again in the future, so they're often limited time release.
Participating in group buys and building a keyboard from the ground isn't appealing to me.
I want to order something that is in stock and receive it either fully built or with all parts included with easy assembly.
The System76 Launch checked that box for me but I did have to wait about a month for them to process and build my keyboard because they had a significant backlog when I ordered.
System76 Launch: What's Included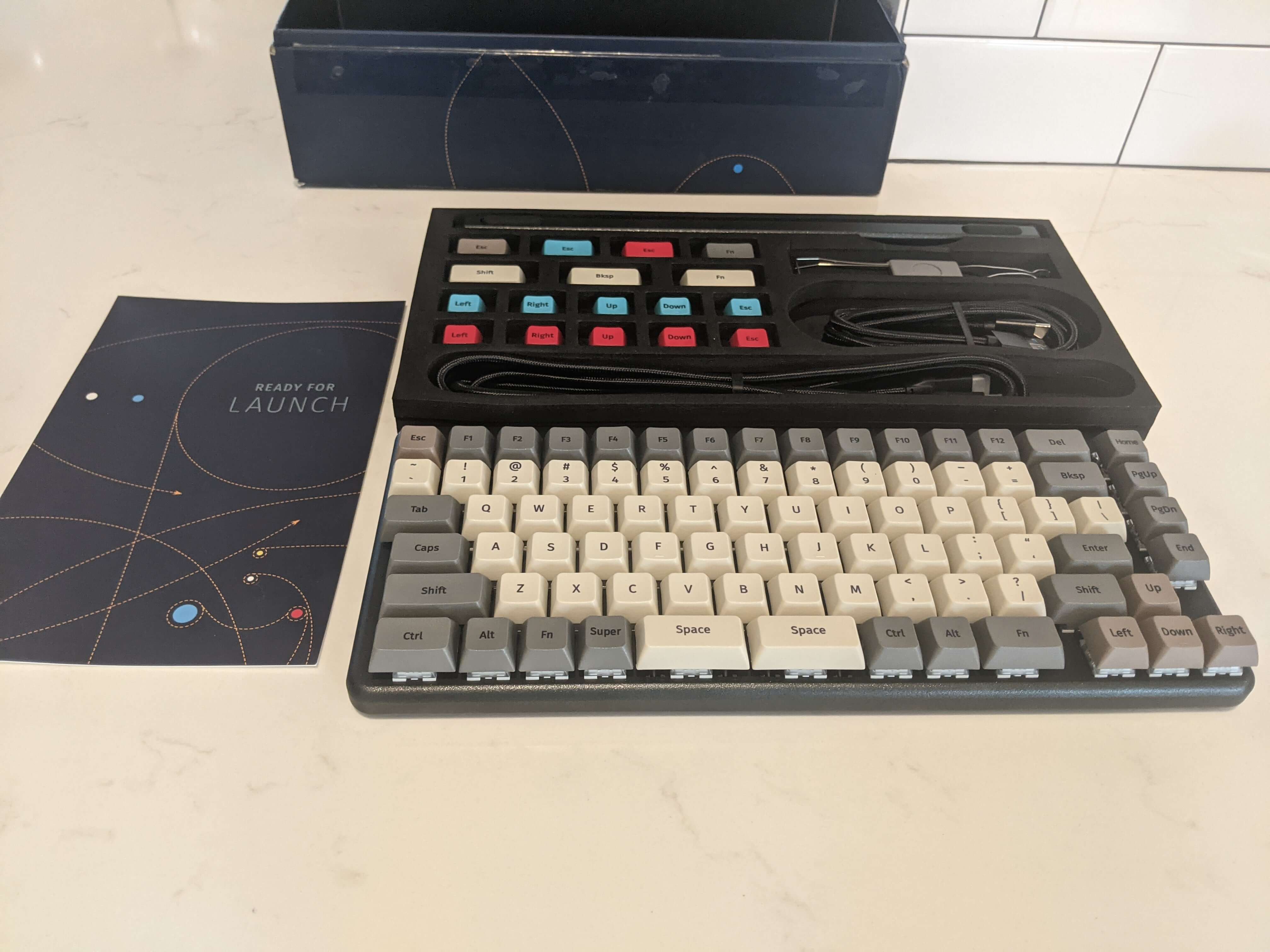 Extra keycaps for Enter, Shift, Backspce, Up, Left, Right, Down in a few colors
Usb-C to Usb-A cable
Usb-C to Usb-C cable
Keycap and key switch puller
Detachable lift bar to raise the angle by 15 degrees
System76 Launch Review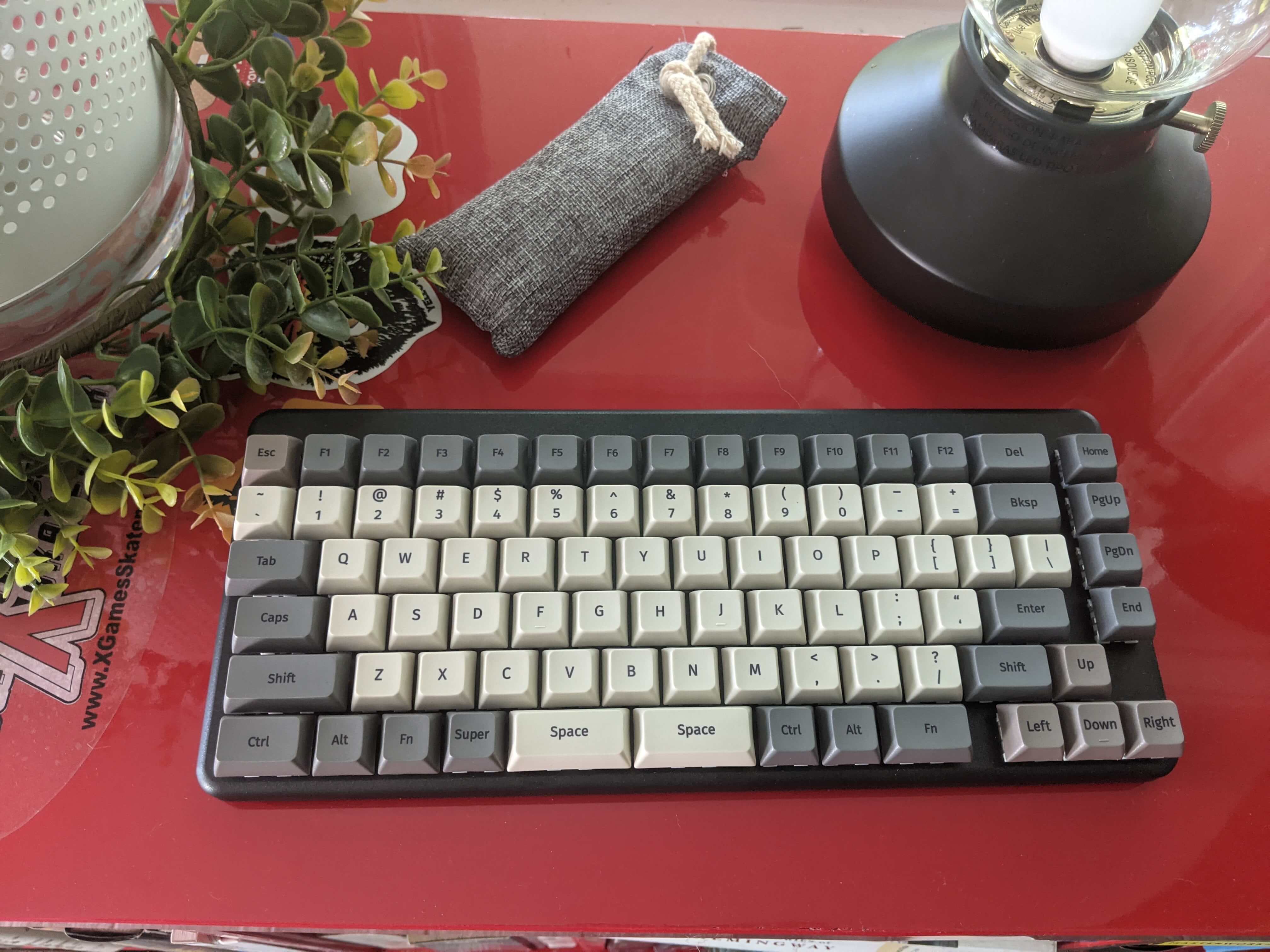 So, how is it?
I've had my Launch for a few days and typing on it is a joy.
As with any new keyboard it takes a moment to get used to the new layout but I'm already typing at about 100 WPM with 90% accuracy.
The keycaps, which are dye-sub PBT, feel better than any other keyboard I've owned and have a very premium feel and look to them.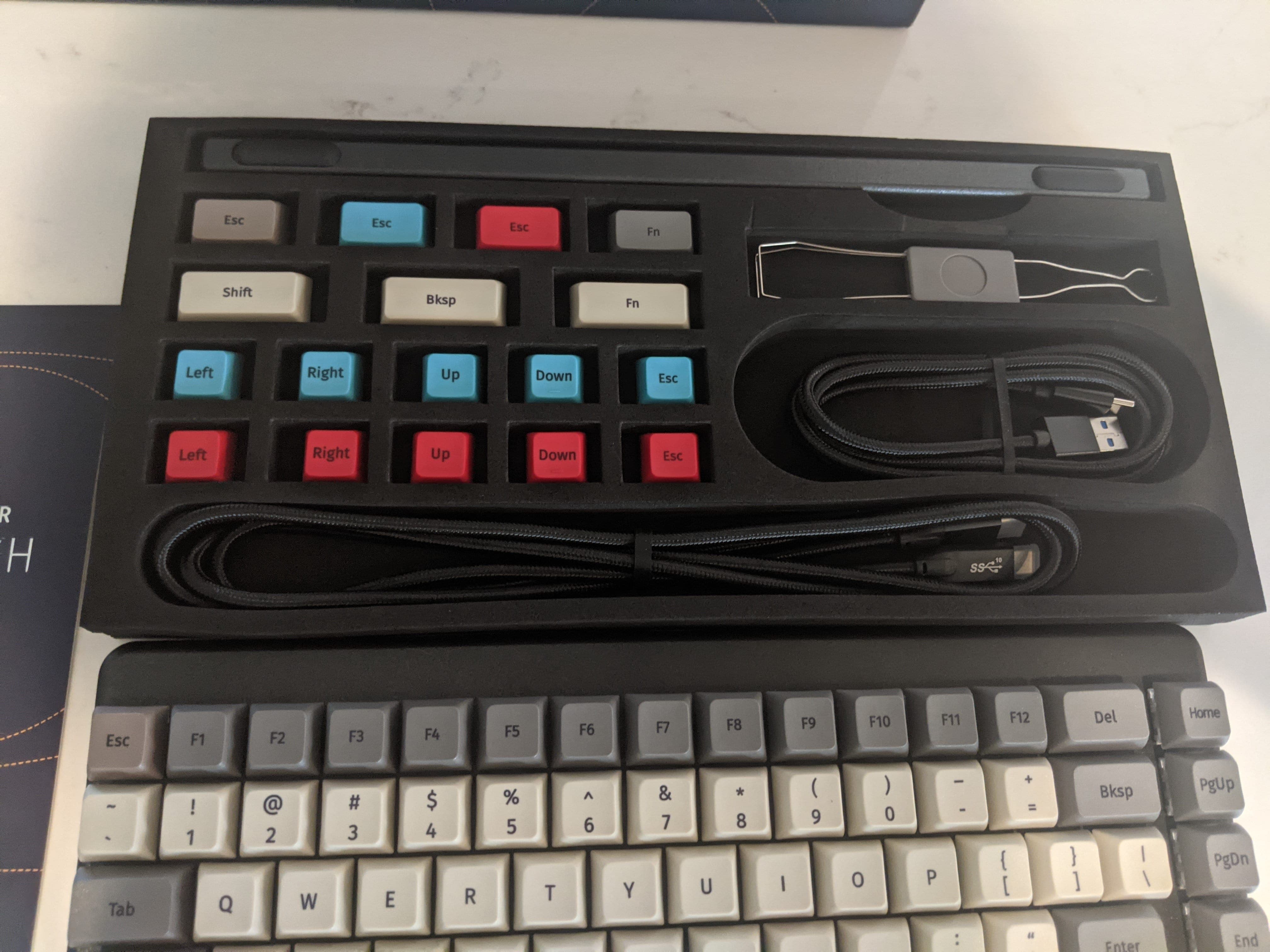 It also comes with some extra keycaps in different colors that you can swap out.
The Launch only uses three different sizes of keycaps so you can easily swap in other MX compatible keycaps without having to hunt for weird sizes.
The switches I picked, Kailh Box Royals, have a clear tactile bump but are not loud at all. They're certainly not silent, but coming from MX Cherry Blues, they are much quieter in comparison.
The other option are Kailh Box Jades, which are known to be very clicky.
The switches feel a little heavy when pressed, but maybe that's me having weak boy fingers or the switches needing to get broken in a bit.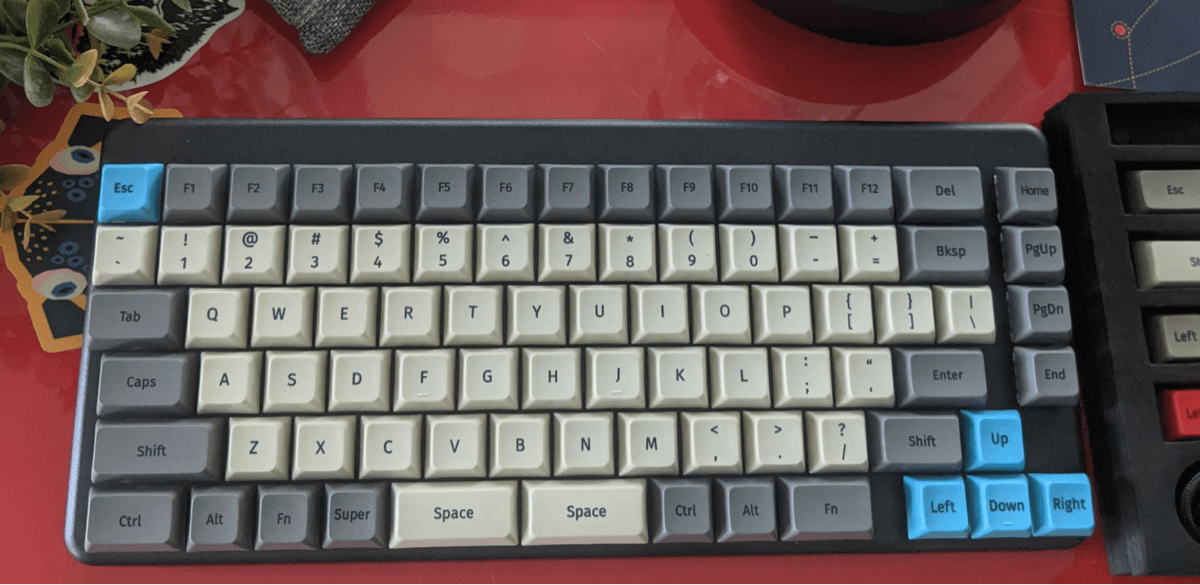 I've had my Das Keyboard for over 10 years so I'm very used to how those switches feel after years and years of heavy use.
I don't plan to game on this keyboard but doing so wouldn't be a problem in terms of how the keycaps or switches feel.
The Launch is my first keyboard with a split spacebar layout which I'm still getting used to.
I'm surprised how much I use the right spacebar. I thought I would use the left one more often but my right thumb or index finger is how I most often press the space bar.
Eventually I will try remapping one of the spacebars to another frequently used key, like backspace, so I don't have to reach for it as much.
My hands are on the smaller side, so even though this a TKL keyboard, my initial impression is that it's slightly too big for me.
Reaching up for the numbers is a stretch and hitting the Function row is a big stretch.
That's not a problem for me because I rarely use the Function keys outside of a few standard Mac shortcuts, and the distance exists of my old Das Keyboard as well.
I will always need easily accessible arrow keys because I use them most often when typing to select or delete an entire line or a single word.
My most used keyboard shortcuts involve deleting or jumping around various words using cmd/alt and the arrow keys.
The RBB, while not a feature I sought out, is tactfully done.
There are 13 default RGB animations that should satisfy anyone looking for that cool RGB look.
I played around with them and ultimately settled on a very slow transition of colors every few seconds.
Almost immediately I moved two of the keys around, Fn and Alt, to better accomodate a muscle memory I've developed over time.
Doing that was super easy in the free System76 Launch Configurator software.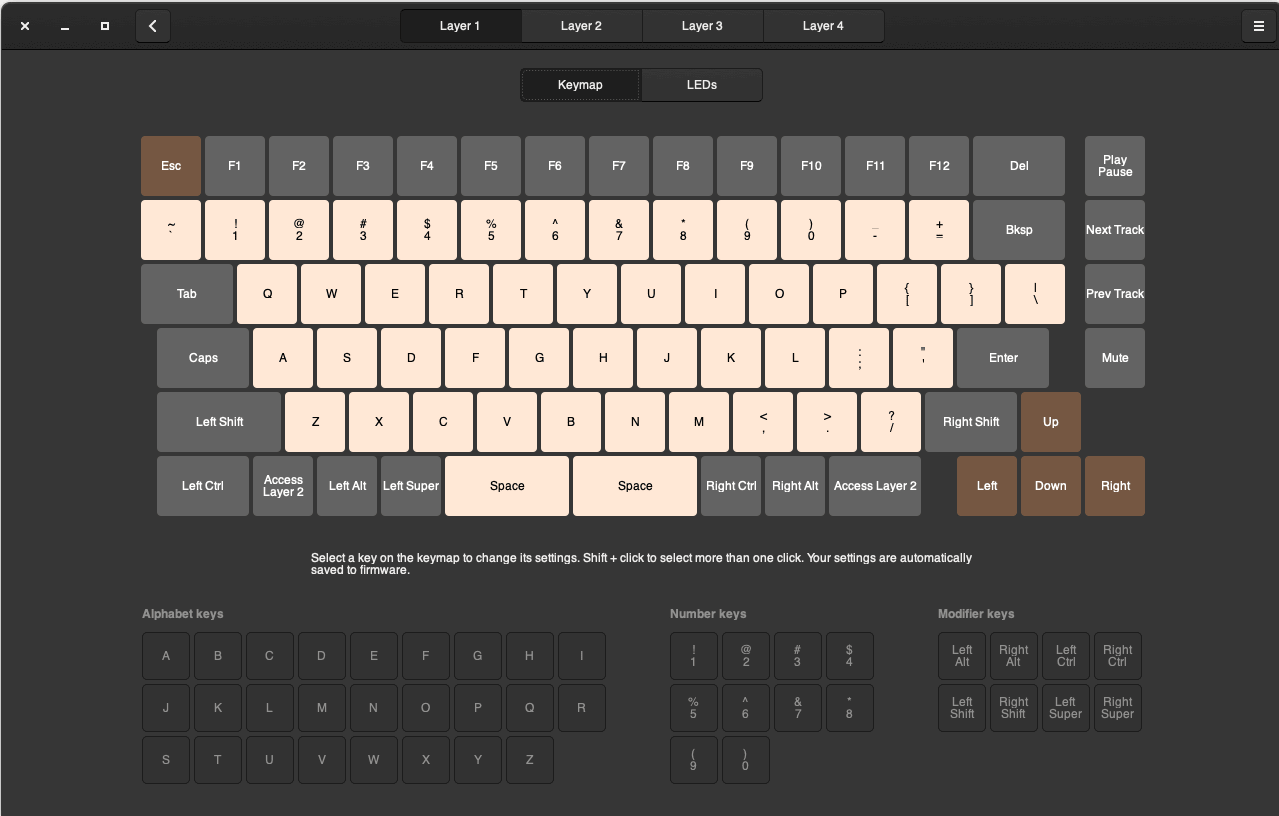 You can remap any key to do anything with a few clicks. It automatically saves to the firmware of the keyboard so your layouts will travel with you if you change computers.
Comparisons
If you're looking to spend almost $300 on a mechanical keyboard then it makes sense to shop around to make sure you're getting exactly what you want.
Two popular budget keyboards on the market right now are the GMMK Pro (not to be confused with GMK) and the Keychron Q1.
The System76 Launch is priced in between those two options, depending how you configure the GMMK pro.
| Keyboard | Price (w/ shipping) | |
| --- | --- | --- |
| Keychron Q1 | $199 | |
| System76 Launch | $285 | |
| GMMK Pro (Gateron Reds + white keycaps) | $324.95 | |
| GMMK Pro (Glorious Pandas, lubed + white keycaps) | $254.97 | |
System76 Launch vs GMMK Pro
I purposely configured the GMMK Pro two ways:
With the more expensive Glorious Pandas switches
With the cheaper Gateron Red switches
Both switches are linear, which means there is a smooth actuation of the switch when pressed.
The other ways of describing switches are clicky, which means they have a noticeable (and maybe satisfying) click to them, and tactile, which don't click but have a tactile bump when pressed.
The GMMK Pro on the other hand, despite having a configuration that is more expensive than the System76 launch, shipped with poorly lubed stabilizers.
Stabilizers are what is placed on larger keys, like space bars and backspace keys, to keep the systems from shaking or rattling.
GMMK has fixed the issue for all new keyboards, but it doesn't change the fact that early units shipped with malfunctioning stabilizers that were significantly over lubed.
System76Launch vs Keychron Q1
The Keychron Q1 is the cheapest keyboard of the bunch and it's not without some issues.
Early reviews dinged it for having a hollow sound.
Most reviewers observed a hollow sound profile for the Keychron Q1 in stock configuration. Several reviewers observed that you can decrease the hollow sound as you add more foam inside the case.
However some reviewers also believe that the Keychron Q1 is the best budget mechanical keyboard on the market right now.
One thing to note is that the Keychron Q1 is manufactured in China and ships from there.
That means you have to pay a $30 shipping fee which makes the keyboard effectively cost $200.
Is the System76 Launch worth an extra $85 on top of the Keychron Q1?
Here's why I purchased the Launch instead:
It's made in america
It has a high-powered USB hub
It's made by a company that promotes open source software and hardware (even the chasis design CAD files are on GitHub)
It has a split space bar
I think it looks better
Paying $200 or $300 for a keyboard is expensive no matter the features.
But the two most important factors to me were that the Launch was American made and had a high-powered USB hub.
My personal laptop is a 2013 Macbook Air with only 2 USB ports, so anytime I'll take any extra ports I can get.
I've also enjoyed using System76's Keyboard Configurator to modify key maps.
I swapped the Alt and Function keys for an easier typing experience (I frequently press alt-backspace to delete an entire word, and I prefer hitting alt with my thumb).
I also modified Home, PgUp, PgDn, and End to be media controls instead. They're now Pause/Start, Volume Up, Volume Down, and Mute, respectively.
The Keychron Q1 is compatible with both VIA and QMK software, so that type of modification is also possible on that keyboard.
Summary
I'm very happy with my System76 Launch keyboard and would recommend it to anyone looking for an American made, fully open source, fully assembled mechanical keyboard with a high-powered USB hub.
I think you'll be hard pressed to find a similar keyboard that checks all four of those boxes at a cheaper price point.
The Launch is a great quality keyboard made by a great company with a solid reputation in the Linux and open source community.
Supporting them feels good and typing on their keyboard feels even better.
See Also