Screen recording software will change the way you work.
What if instead of writing a long email or Slack message you could quickly record a video message?
With the pandemic forcing the adoption of remote work we need new tools to communicate more effectively and expressively that allow our personalities to shine through.
Plus you can use them to replace a few Zoom calls too.
At their core screen recording tools enable you take charge of your communication at work which can honestly make you a better employee.
One of best pieces of advice is to set professional goals and improving your communication is one of the best goals you can have.
Screen recording tools are a form of asynchronous communication, meaning your communication happens at a different time than when your recipient watches it.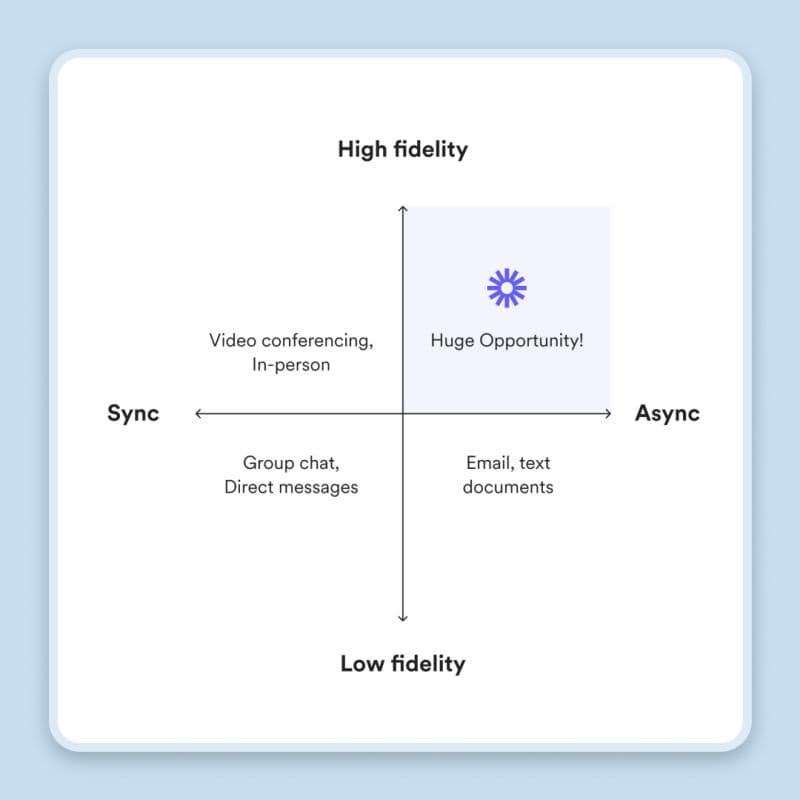 Have a question for your boss? Don't send them a Slack message where your context, tone of voice, and personality are stripped away.
Record a quick video message instead.
Want to welcome a new person to your team?
Send them a welcome video message to say how excited you are they joined the team.
Nervous about presenting a big update in front of a large Zoom audience?
Record your presentation instead. And hey, if you screw up then just start over.
No big deal.
In this article I'll walk through my #1 choice for screen recording tools, why you should be using them, and how you can use them to replace meetings.
Best of all? My #1 pick is totally free.
Boom. Let's go.
Who are screen recorders for?
Screen recorders are for anyone that sits in front of a computer all day to get their job done.
Designers. Engineers. Marketers.
Managers. Individual contributors.
Attorneys. Accountants. Startup founders and CEOs.
If you use a computer to work then screen recorders can 100% improve your ability to work faster and communicate better with your peers.
I lead a digital marketing team and I use software to record my screen multiple times a day.
Now that I've established that these tools are for literally anyone, why should you use one?
Why use a screen recorder?
Communicating effectively is hard.
Taking the jumbled mess of thoughts in your brain and translating them into words that another human with completely different life experiences can understand is frankly not easy.
It's hard as shit to clearly explain things to someone else.
Even harder if you're explaining a complicated idea to someone without the same work experience as you.
Imagine a software engineer trying to explain their code to a marketer.
You have to distill your complex and nuanced information to someone who has no freaking idea what you're talking about.
And you have to do it all over text, because everyone uses Slack or Microsoft Teams these days.
But there's a better way.
What if you could just record yourself talking, just like you'd talk to a colleague in a physical office.
But you could do it on your own time and your own terms.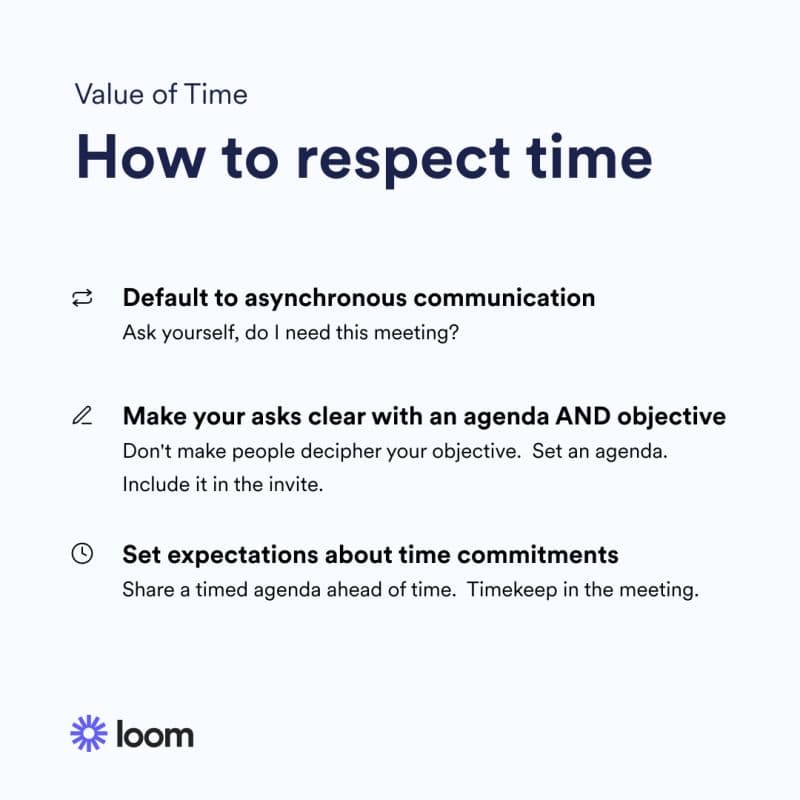 That's what screen recording tools enable you to do.
At their core, screen recording tools create a more human form of communication in the workplace.
It may seem daunting at first to record yourself talking at a computer screen but the end result is entirely worth a few awkward recordings initially.
Here are some more specific examples of how I use screen recording in my daily life.
When should you use a screen recorder?
Welcoming a new person to your team
Recording a presentation for your boss
Asking a question to an external vendor or marketing agency
Creating a video for a LinkedIn post
The ways you could use these tools are limitless.
But enough with the hows and the whys, what screen recorder should you use?
First a quick note on my review methodology.
My review methodology
Look, most content on Google is trash.
It's all overly optimized for SEO, filled with obnoxious display ads, optimized more towards revenue than producing actual good content, and is hidden behind a generic URL like Best Software Reviews.
My website is different.
It uses my actual name. You can Google me, find my LinkedIn profile, and see where I work.
Here's how I approach software reviews differently:
I only review software I've personally used and had experience with
I pay for all software myself
I don't run standard display ads that fill up a page with garbage no one wants
Some reviews contain affiliate links
The presence of an affiliate link does not alter my opinion in any way
Thanks for coming to my TED talk.
Best screen recorder software for Mac, Windows, And Chromebooks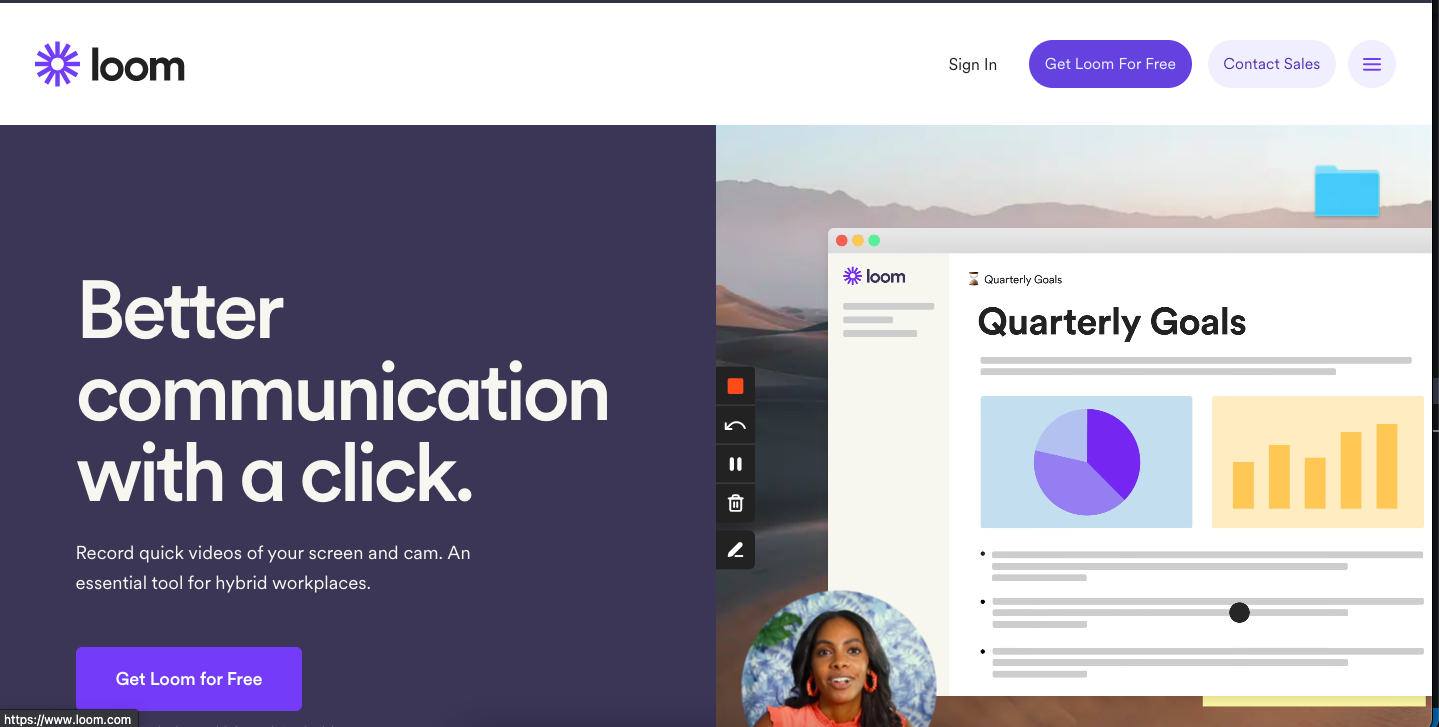 Loom.
Loom is hands down the best screen recording software on the market today.
I'm taking the Wirecutter approach with this topic and hitting you with the single best tool for the job.
And yeah, there are some Loom alternatives.
There are two main categories of Loom alternatives:
Those that only work inside an existing app, like Slack
Universal screen recorders, like Loom
Here are some if you want to check them out:
Vimeo Screen Recorder (Universal)
Slack Clips (Only works inside Slack)
Clickup Clips (Only works inside ClickUp)
But the honest truth is if you're looking for screen recorder software and you want to get started for free, Loom is your best bet.
To date I've recorded over 200 looms, and published over 20 to the internal Loom workspace, but I still wouldn't consider myself a Loom power user.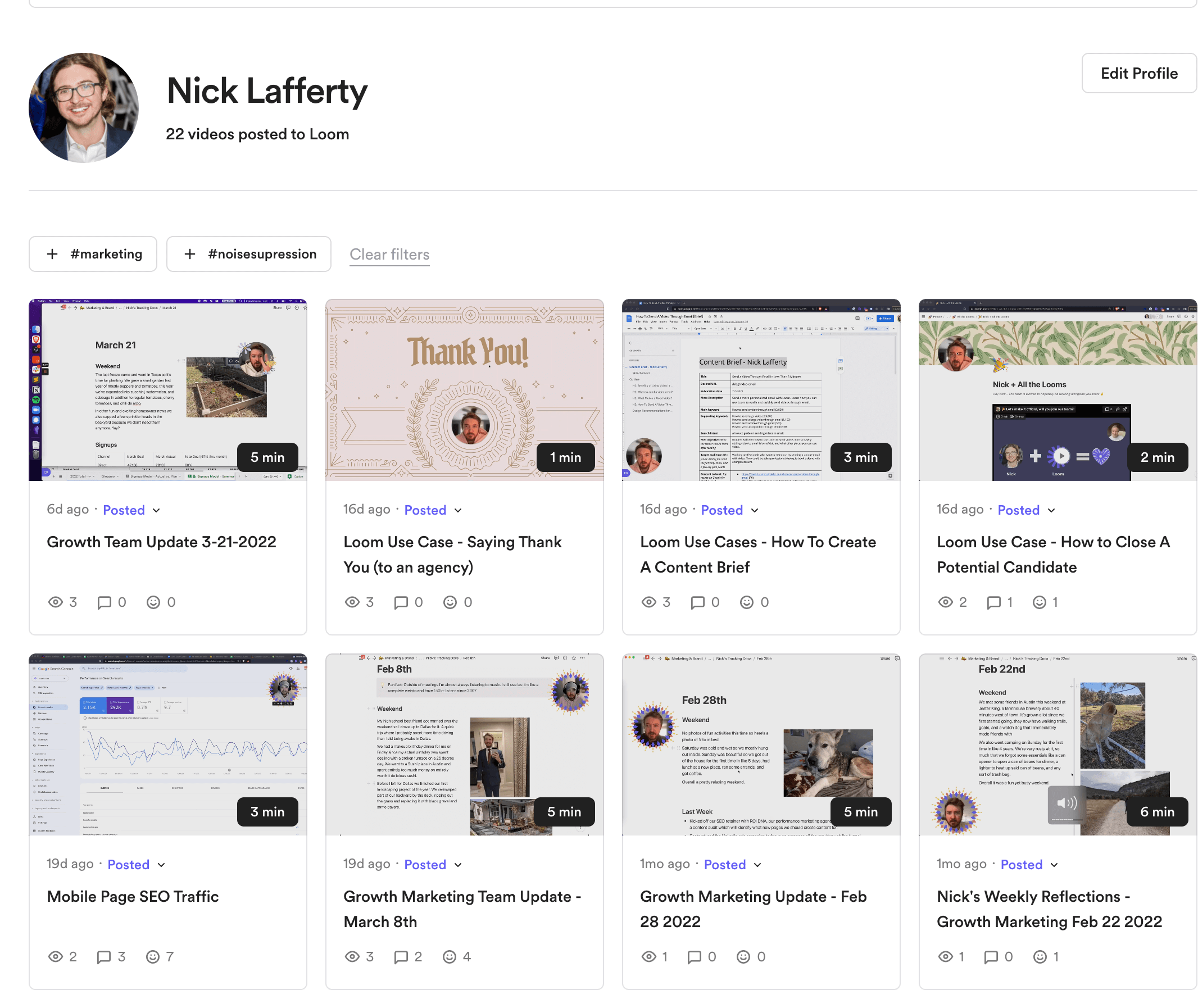 I am fully bought into the vision of modern work that Loom is helping enable for millions of workers around the world.
Here are some of my favorite Loom features and a quick blurb about what I use them for.
Remove background noise
I have an air purifier in the main room of my house. I keep it on high almost all the time because I live with the harriest dog in the universe.
Sometimes the sound of the air purifier can be heard in the background of my calls and videos.
That is until I started using Loom's remove background noise feature.
After you record a Loom go into video preferences and click remove background noise.
Easy.
Remove filler words like umms and ahhs with a single click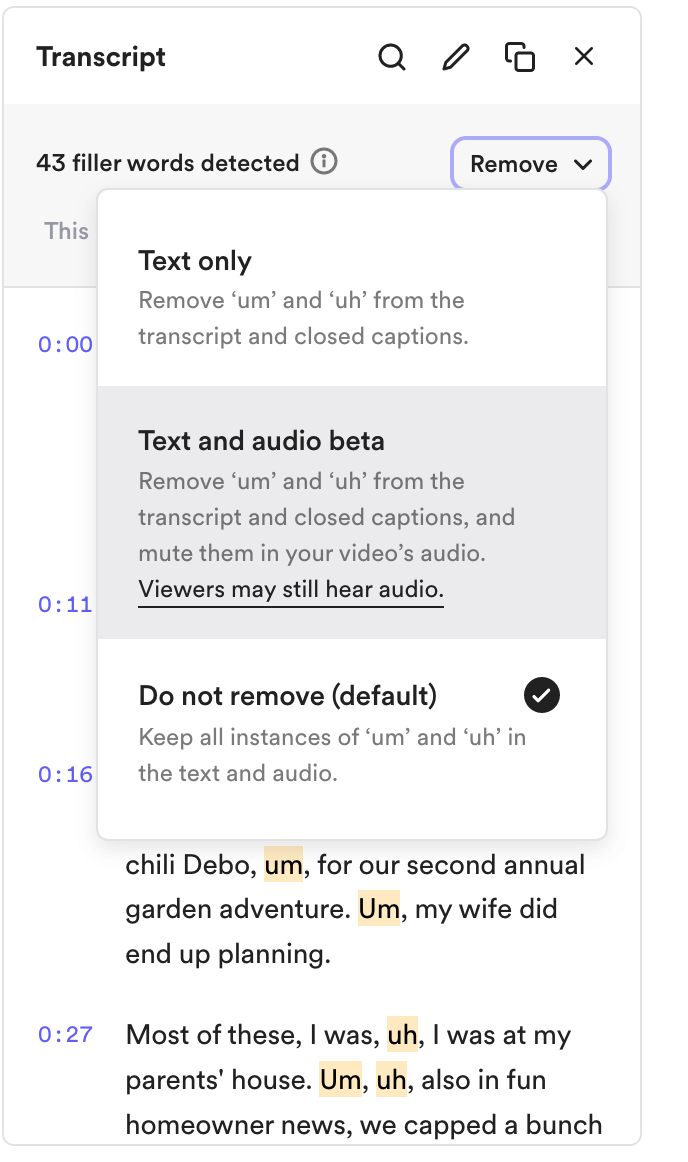 Just look at how many umms and uhhs there are in that screenshot above.
If you're like me then you use filler words all the time without even noticing.
Loom has two options for removing them:
Removing them from the written transcript only
Remove them from the audo and wirrten transcripts
When you remove them from audio Loom mutes your umms for you.
Either option will improve the final result of your recording, all with a single click.
Generate a transcript automatically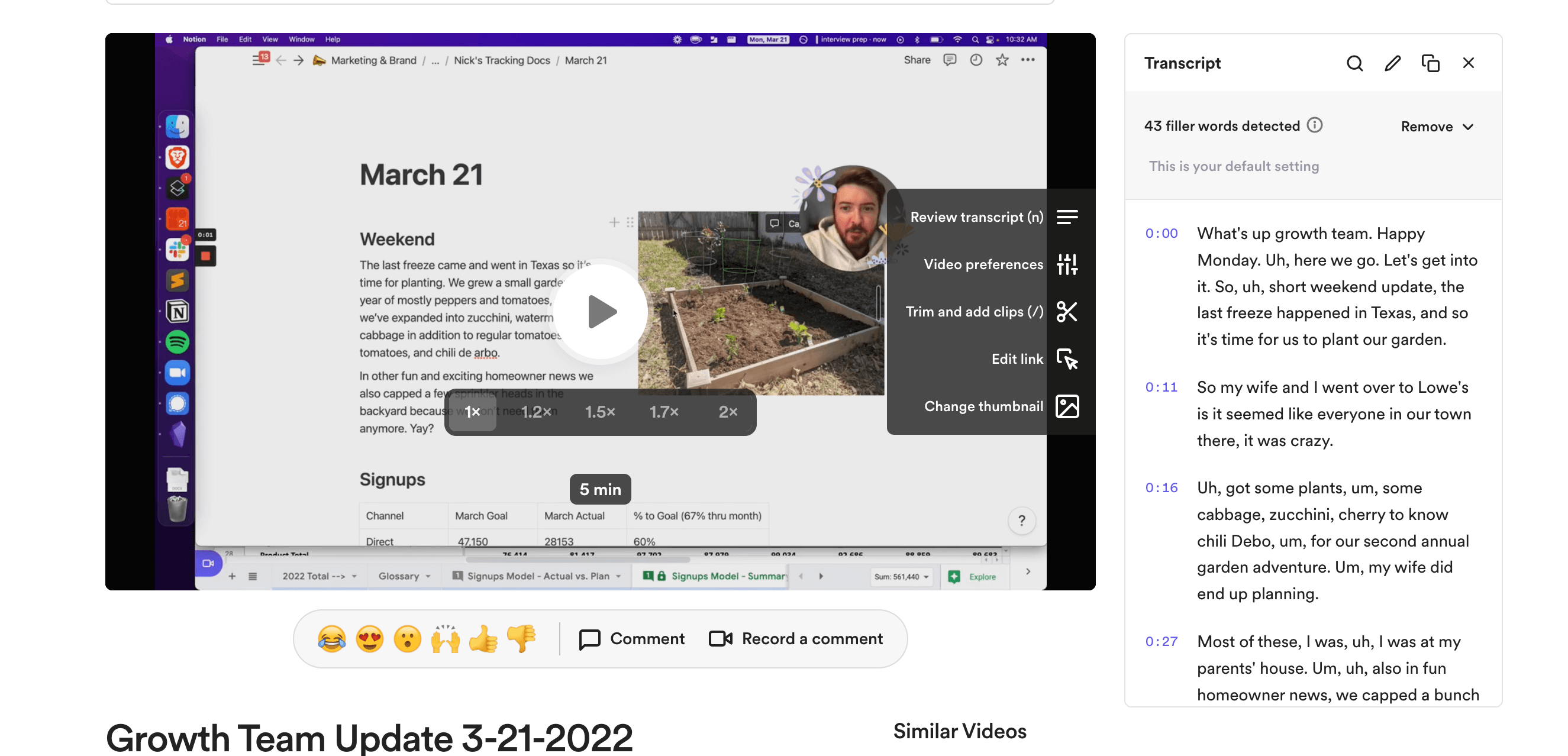 Little known Loom fact: these transcripts are all AI generated.
And they're also quite expensive to generate from a cost perspective.
But transcripts are great of accessability and should be a standard feature for all video communication tools.
I've used the transcript to quickly generate a description text for my Loom videos, or to quickly create some supporting copy for a LinkedIn post.
Camera frames and backgrounds add personality and flair to your videos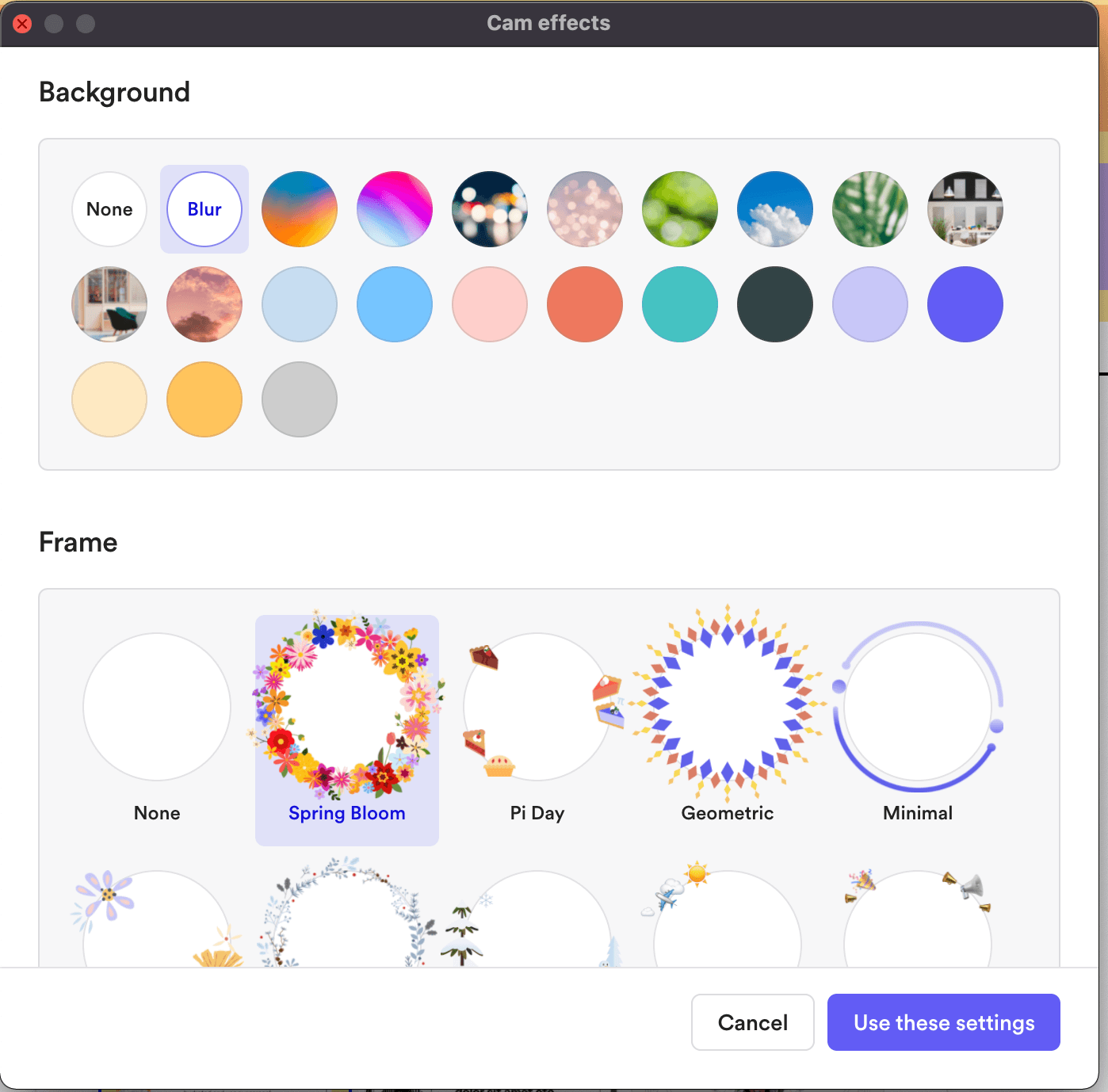 Probably my favorite Loom feature are camera frames and backgrounds.
They really help spice up a video and keep it interesting.
A camera frame is a unique design that surrounds your camera bubble. They're custom made by Loom's design team and often coincide with holidays or seasonal events.
They even had one for Pi Day, 3.14, this year.
Backgrounds change the background of your camera feed. I usually use the Blur background but there are other options if you want something more interesting.
Embed your Loom inside Notion with /loom

I embed Looms within Notion docs all the time.
It's become second nature for me to embed a Loom at the top of a Notion doc to quickly run through the information available.
Tyler, a data scientist I work with, is the aboslute king of doing this.
His work is very data intensive, complicated, and contains a lot of nuance. While he's great at writing about data science, his looms to me are so much more useful to the average person trying to decipher what's going on.
Try embedding a Loom within your next Notion doc with /loom.
Screen Recorder Best Practices
Ensure you have good lighting
Sit in a quiet room without distractions or other sounds
Speak as you normally would to a friend
Don't fret about umms, mistakes, or looking weird.
Be your authentic self
Summary and Disclaimer
I work for Loom but Loom didn't pay me to write this post.
While they do pay me a salary, the content I put in my blog is my own thoughts and opinions.
I wouldn't write this review if I thought Loom was trash.
You don't even have to take my word for it.
Loom is used by over 14 million people and 200,000 companies.
I hope this post compelled you to give Loom a shot.
Send me an email after you've recorded your first Loom. Hell, send your first Loom to me.
I'd love to see it.
See Also