I've been working remotely since before the pandemic started.
Finding a remote job was a priority for me because I wanted to take back my time.
I used to commute an hour each way to my job in Austin, Texas.
I'd leave my house around 7 in the morning to catch a bus headed for downtown.
Then I'd hop on that same bus around 5 to get back home around 6 or 6:30, depending on traffic.
I did that every weekday for almost five years.
Thankfully I now work from home for a fully remote company called Loom, and I couldn't imagine going back to a daily commute.
I've used a lot of software in the past few years to try and optimize how I communicate, collaborate, and work efficiently with colleagues around the world.
I've built this list of my favorite remote work tools, and my goal is to introduce you to new software that can help you be more productive too.
What is remote work software?
Remote work software tools help improve online collaboration, communication, and work efficiency for distributed teams. Loom, Figma, and Notion are some examples. These tools help with both synchronous and asynchronous communication because not everyone lives in the same time zone.
Best Remote Work Software
monday.com
Loom
Calendly
Figma
Notion
Superhuman
Vimcal
Clickup
Toggl
Twist
Linear
monday.com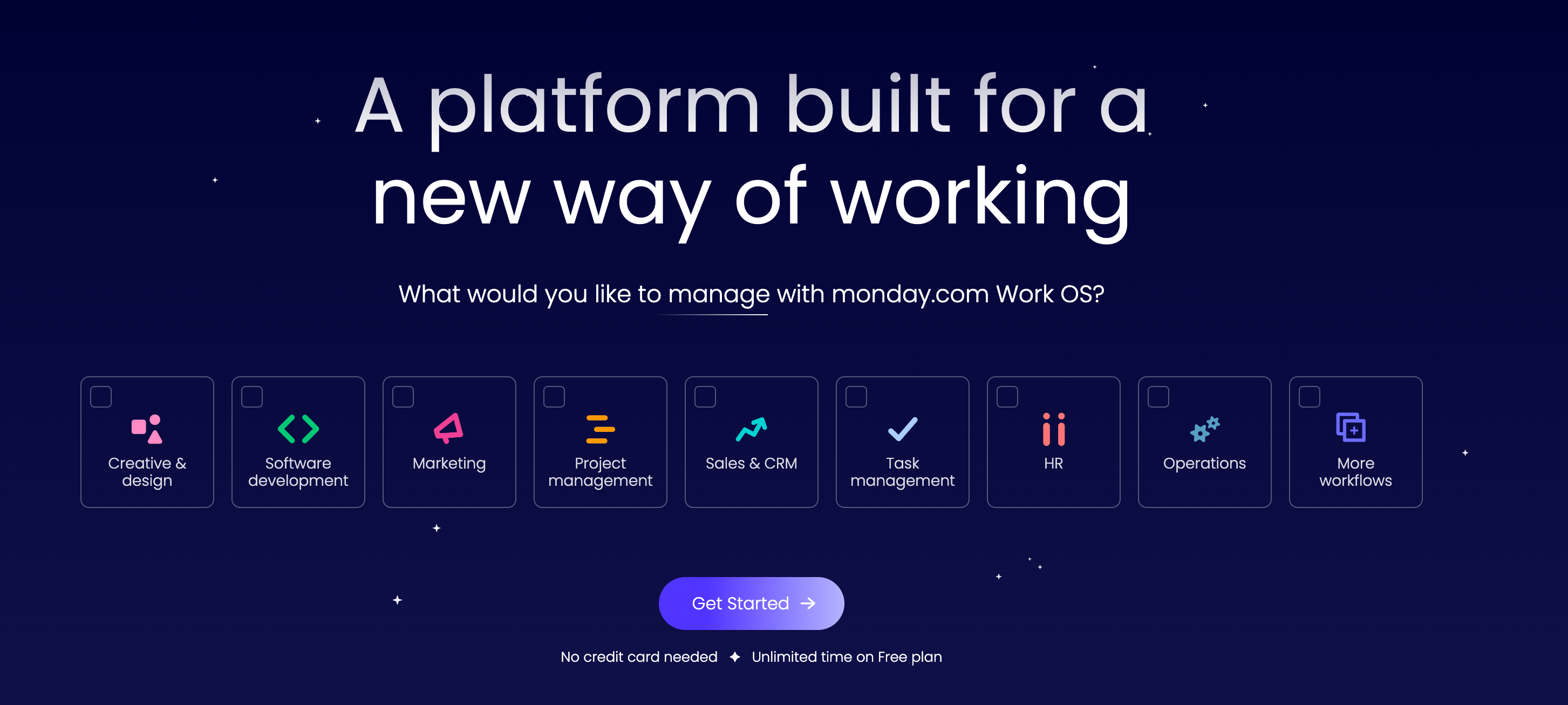 monday.com is the best project management tool for remote teams.
To ship projects on time you need a tool to track their progress.
But monday.com goes beyond just that. Late in 2022 they released a documentation feature so you can take notes and build a knowledge wiki for your team.
I've written more in-depth articles that you should check out, like some the best monday.com alternatives and a deep dive on monday vs clickup.
monday alternatives

Loom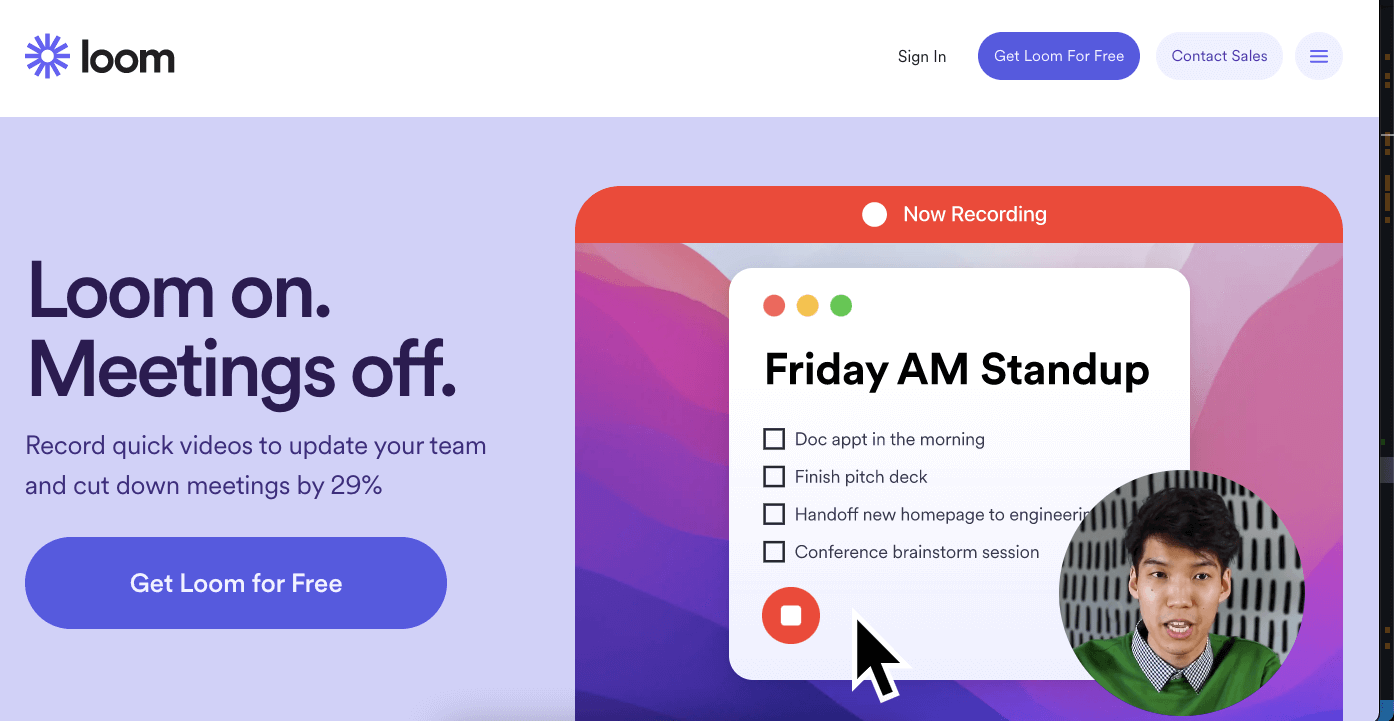 Disclaimer: I currently work for Loom.
Loom is a screen recording software that is free to use.
I was not paid to include them in this list, although they do pay me a salary to run their growth marketing team.
I include Loom here because I truly believe Loom is building a tool for the future of remote work. It's exactly why I'm working for them.
Let me give you an example.
At my last job I managed a team of five people spread across the United States and Europe.
I'd start working around 7a.m. to get synchronous time with my European team, where it was about 2pm for them.
I had a limited amount of time each day to spend with them so I had to sacrifice my mornings to make sure they had what they needed to be successful.
I'd be on weekly 7 a.m. calls starting to accomodate their timezone.
I didn't have access to Loom at that job but I really wish I did, because many of those meetings could've been replaced with Looms instead.
Loom is an asynchronous video communication tool that allows you to record your camera, your webcam, or both, to send a short video message that you can instantly share with a link.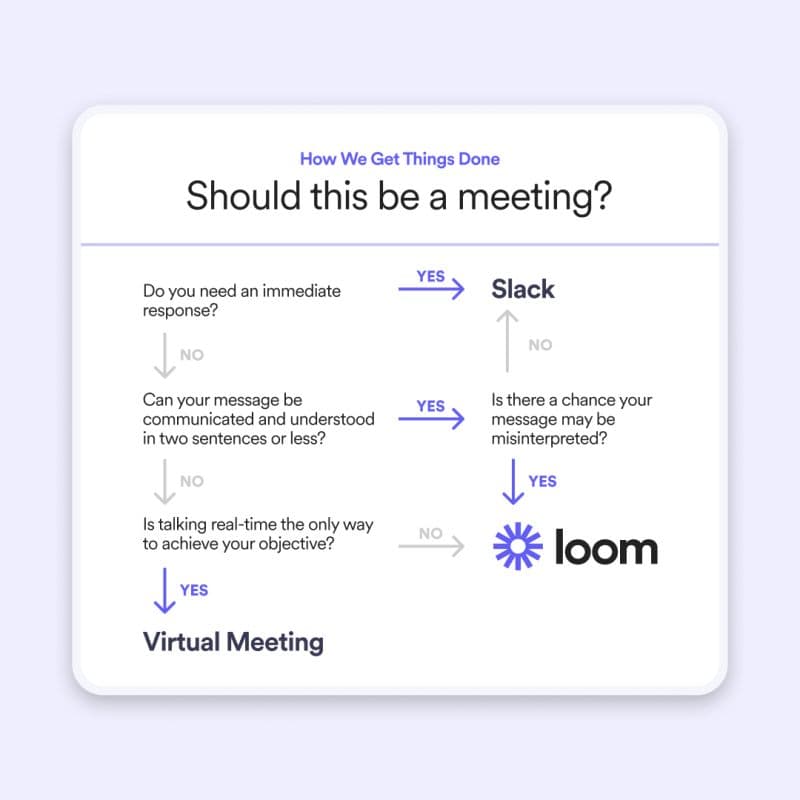 Not every meeting has to be held synchronously.
Status updates, announcements, and daily standups are all examples of meetings that could be a Loom instead.
The best part of async video is it's easily referenced later.
If I'm out of office I can just watch the Loom to get caught up instead of having to ask my boss or colleague to get filled in.
Loom is also one of the best tools for freelancers because it makes client communication easier.
Walking your client through something on video is objectively better than writing a long email to them.
Calendly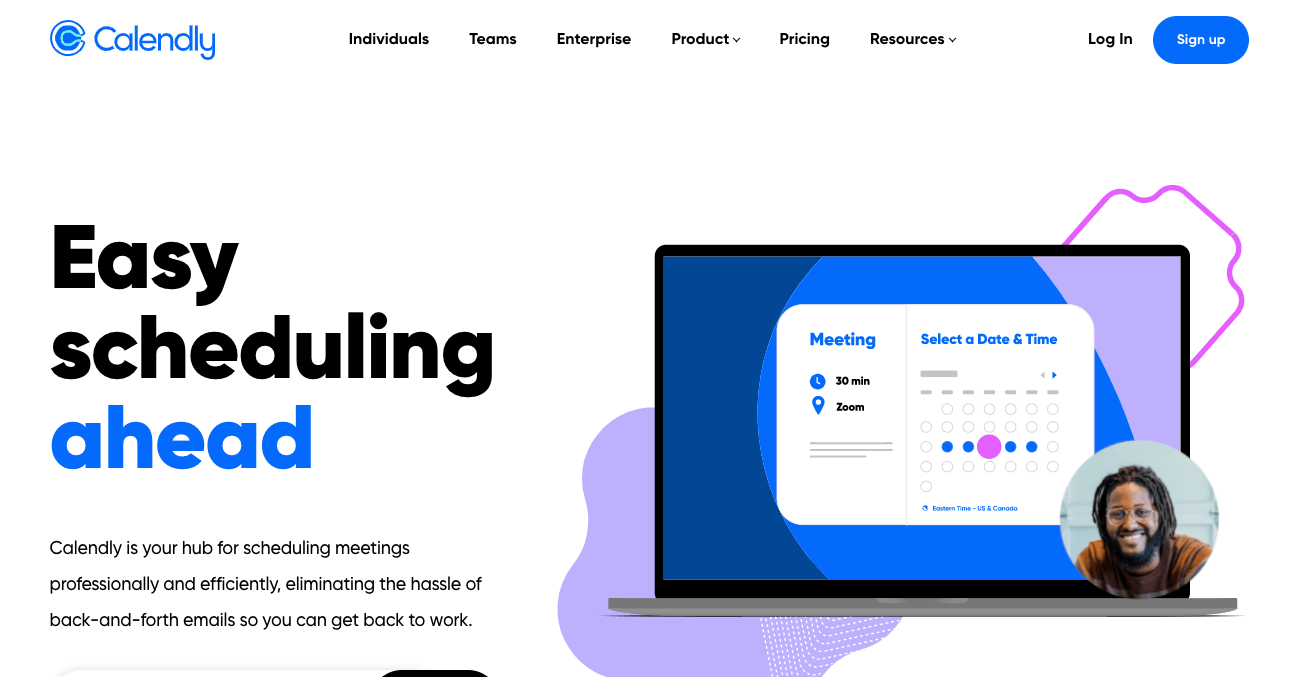 When you do need to book a synchronous meeting, you should use Calendly .
Tell me if this sounds familiar:
You're booking a meeting with someone over email.
You pull up your calendar, find a couple of free slots, and send over your availability.
The person responds and says none of those times work for them, but how about these different times instead?
Back and forth you go, wasting time just to book a meeting.
With Calendly you just send a link instead.
That link allows anyone to book a time with you that works for them, without all the back and forth.
Calendly works by connecting to your existing calendar, like Google Calendar or Outlook, and showing your available times to the person booking with you.
It's one of my favorite organization apps.
A calendar event automatically gets created, with a Zoom or Google Hangout meeting already setup, and sent to you both.
Easy.
Protect your time and avoid the hassle of setting up meetings the old way.
Figma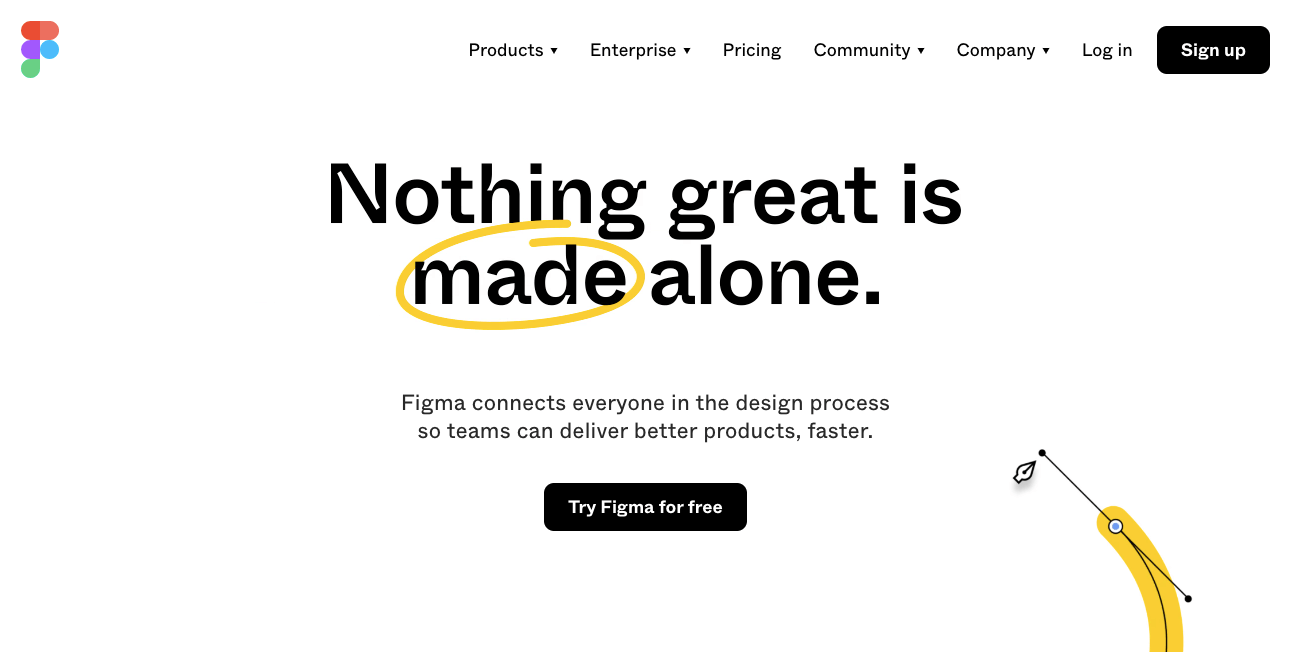 Figma is a collaborative design and whiteboarding tool that is valued at over $10 billion as of June 2020, when they raised a $200 million Series E funding round.
Figma is more than just an cloud-based Photoshop, it allows brand teams to build and share a design system aross their entire organization.
Product managers, engineers, and marketers can all use the same design-approved assets straight from Figma.
Not only does Figma make the design process for remote teams super easy, they also launched a whiteboarding product called FigJam.
FigJam is a way to ideate, brainstorm, or have a collaborative design retrospective among your distributed team.
FigJam lets you express your ideas, sketch them down, and get team approval before beginning the first design, all within one tool.
My current design team uses Figma and it's honestly a joy to use and interact with, even for someone like me who is not very design oriented.
Notion
Notion is one of my favorite productivity tools because it's an all-in-one workspace tool.
Need to write up a work document? Use Notion.
Need to build a list of OKRs for your 100+ person company? You can do it in Notion (and my company actually does).
Want to collaborate with your freelance client? Send them a link to a Notion doc you made (I've done this, too).
Plus, Notion has a great free plan that includes unlimited pages and blocks, so you can get started with no upfront cost.
I've written a bunch of Notion posts that you should check out to get some inspiration:
Superhuman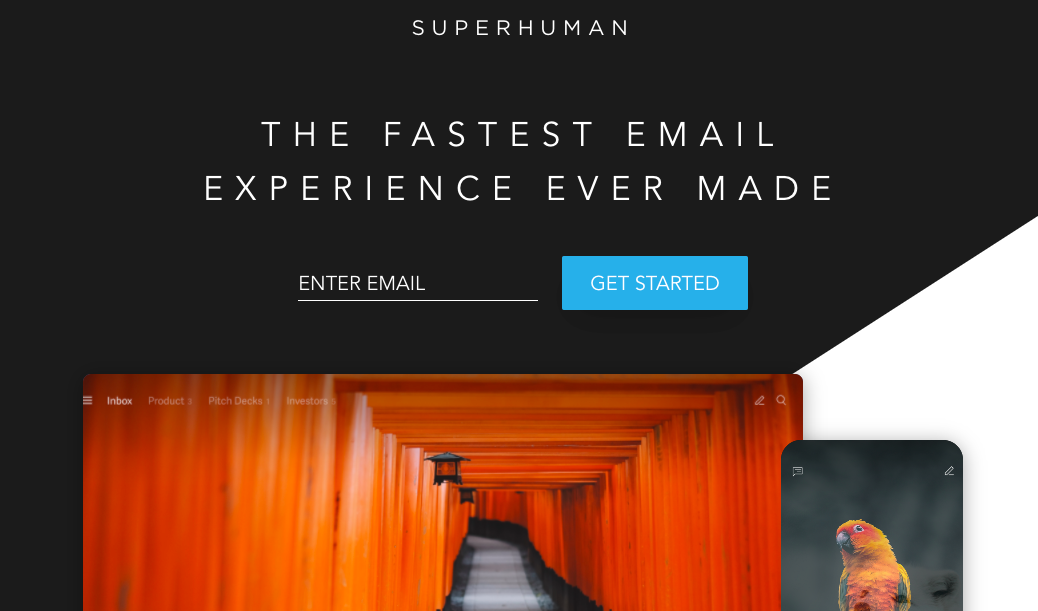 Superhuman is the fastest email experience ever made.
It's an email client that aims to be as simple, fast, and easy to use as humanly possible.
It's also my favorite email client and one I've been using since 2020.
The one downside to Superhuman is that it's pretty expensive: $30/month
To me it's worth the price because I send and receive a lot of email at work, but I understand if that's too high a price for someone to pay.
I wrote a longer Superhuman review if you want to take a deeper look.
Vimcal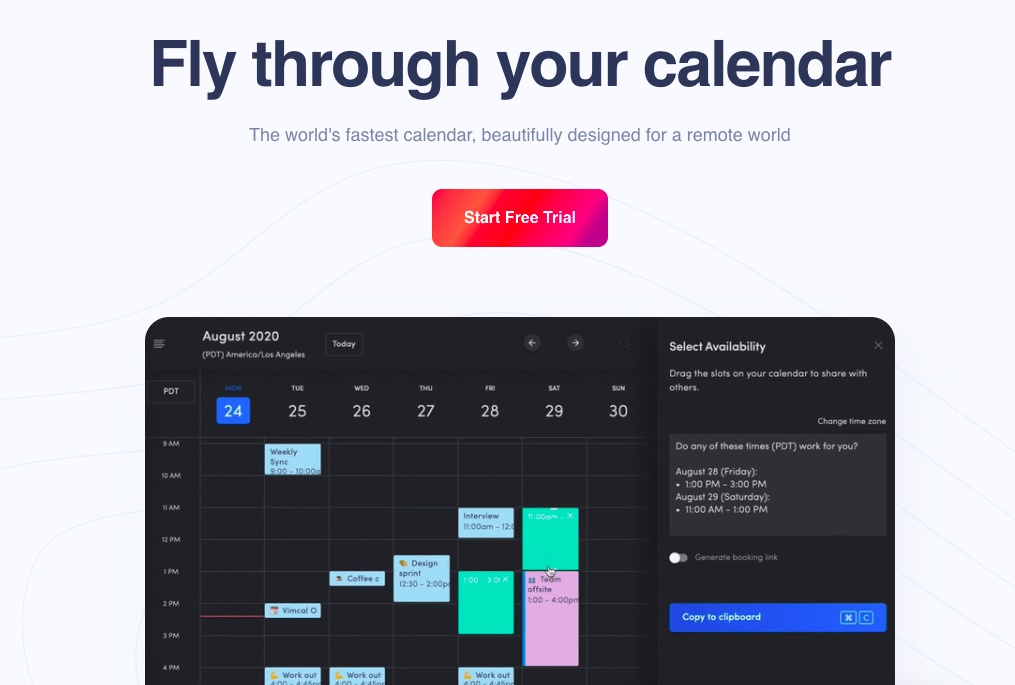 Vimcal is hands-down my favorite tool that I found in 2021.
They're a Y Combinator-backed startup aimed to do to the calendar what Superhuman did for email.
It's a the best calendar app I've ever used, and also combines the easily-bookable meetings of Calendly, all in one tool.
Vimcal uses many of the same shortcuts that Superhuman does, including the now ubiquitous Cmd-K hotkey to bring up a command center for the tool.
I wrote more about Vimcal in my best productivity tools post.
Clickup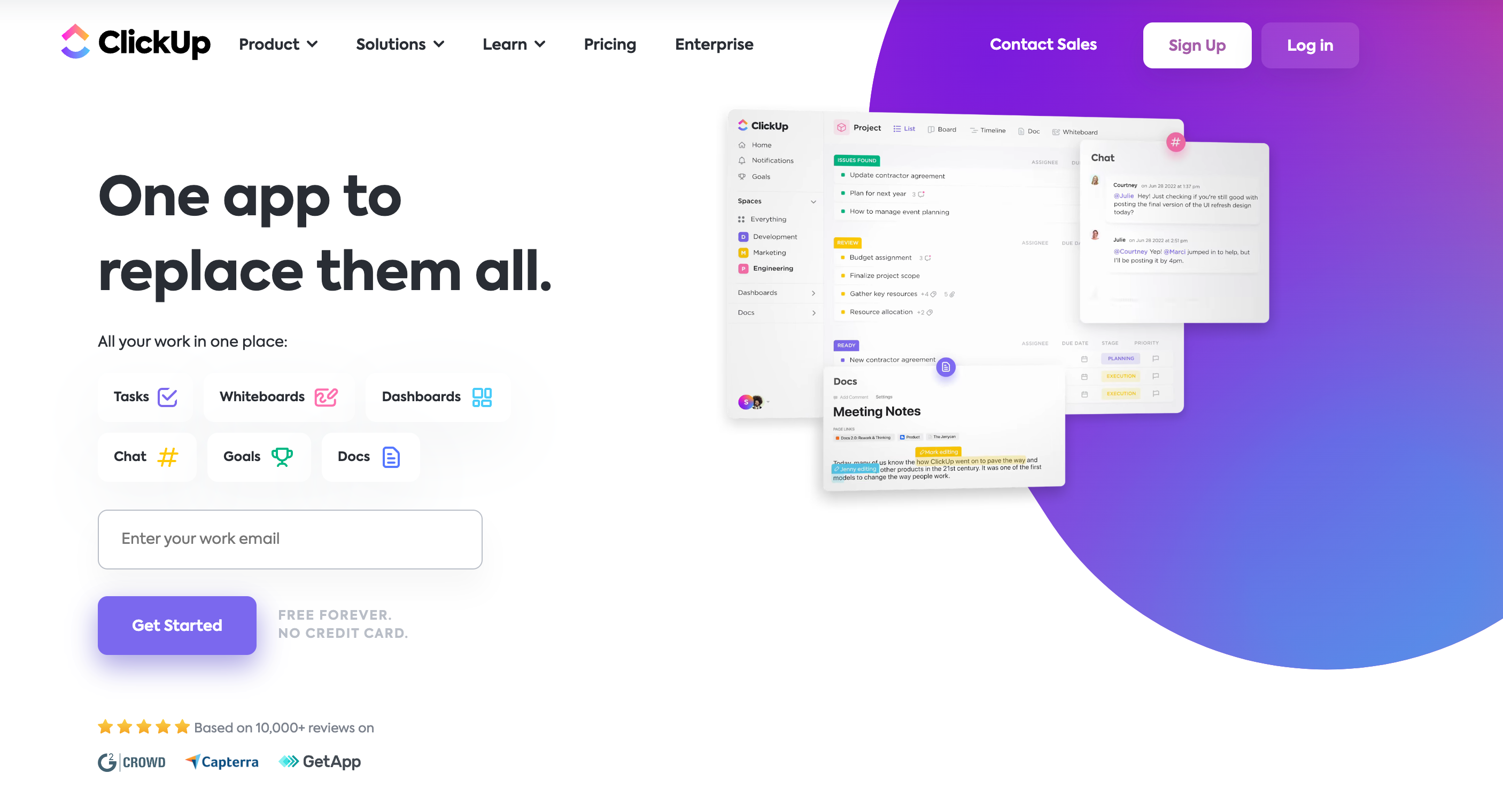 ClickUp is another project management tool, like monday.com, that helps remote teams stay organized and ship projects on time.
I have a more detailed ClickUp review if you want a more thorough look.
There are some key differences between it and monday.com that I've outlined in my monday.com vs clickup review.
And if you want a look at different options then checkout my new ClickUp Alternatives.
Toggl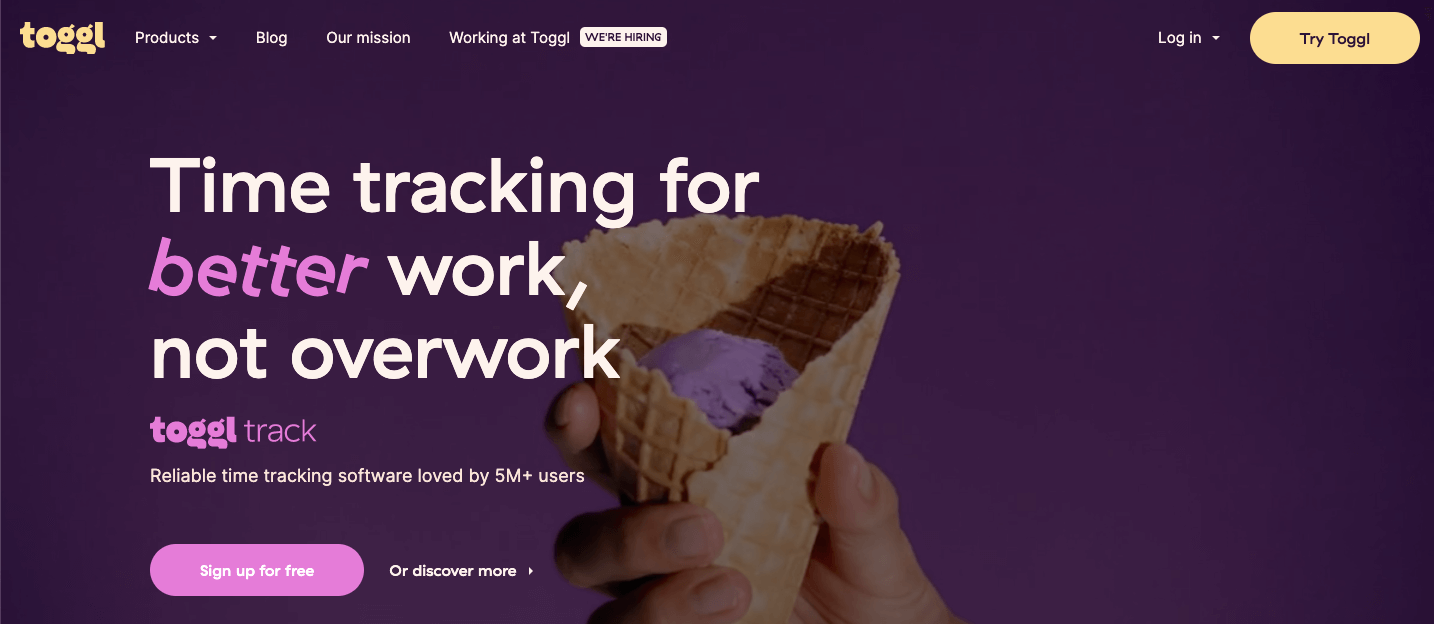 Toggl is three products in one, my favorite is Toggl Track, which is time tracking software to see what apps you spend the most time on.
I've used Toggl to better understand how I can be more productive with my computer time.
Toggl Track logs all the time you spend in apps, tracked by what app has the active focus on your computer, and spits out a bunch of useful charts and timelines to visually display where your time goes.
It can be helpful to everyone from freelancers to CEOs.
What are your biggest priorities this week or this month? Use Toggl to understand if you're actually spending time on what is most critical for you or not.
productivity-apps-students

Twist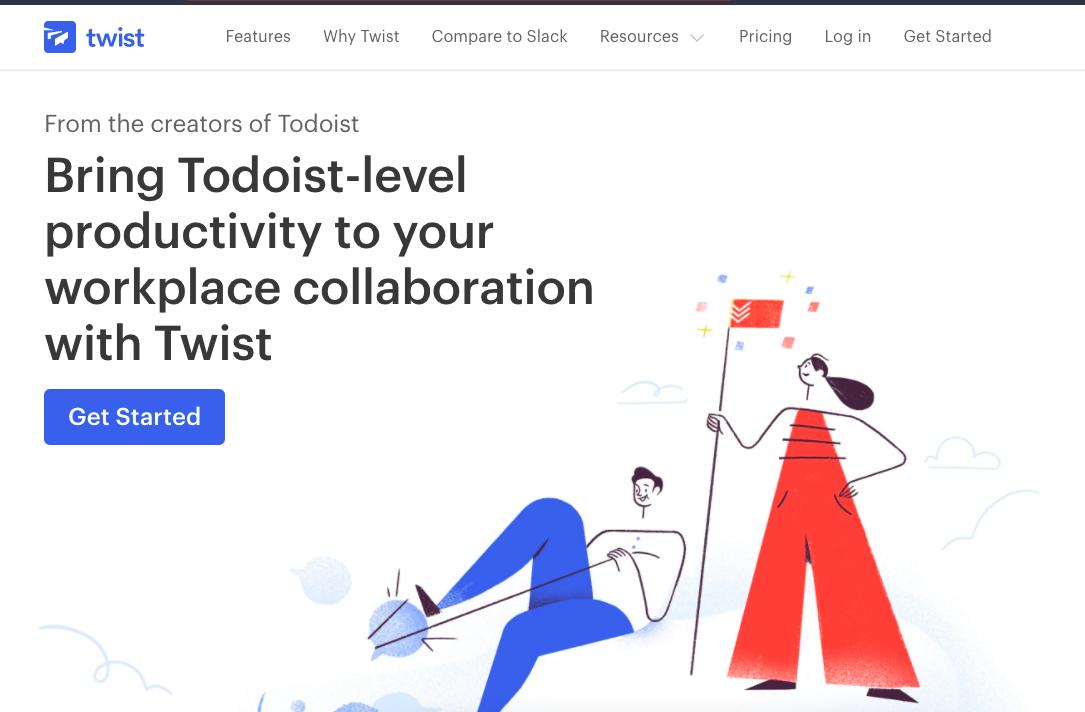 Twist is an asynchronous slack alternative that completely removes the chat box.
Talking to your colleagues in Slack may feel like it's productive in the moment, but it's almost always a distraction to real, deep work.
Twist solves this problem that keeps all conversions organized and in one place.
No more email chains, group chats, or long slack threads.
Threads in Twist are organized by a project or goal. All discussion, decisions, and collaboration is done asynchronously in that thread.
There are no real-time pings trying to grab your attention. Projects move on when your entire team is on the same page, not the same time zone.
Linear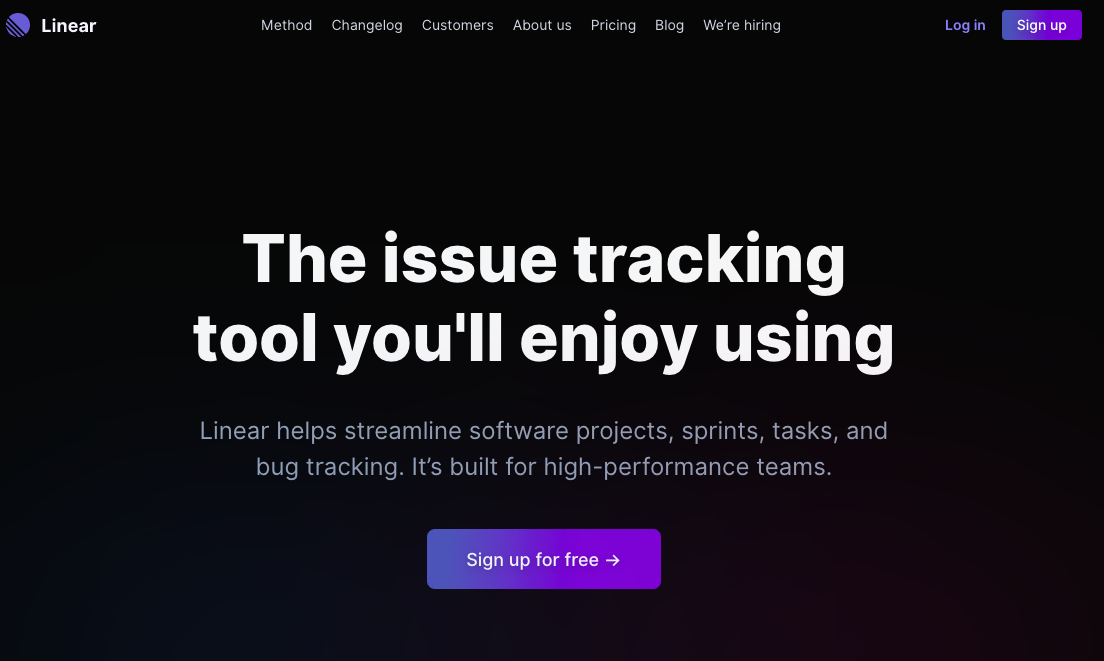 Linear is a JIRA alternative for tracking issues, streamlining software projects, sprints, tasks, and bug tracking.
I've used JIRA as a stakeholder since 2014, so I have a fairly general understanding of how it works from that perspective.
Linear is a more modern version of that tool, built by software teams for software teams.
Linear raised a $13m Series A funding round in December 2020, so they're overall a much smaller and younger company compared to Atlassian, the makers of JIRA.
Linear is built on specific and oppinionated software ideas outlined in their Linear Method.
My favorite is Scope projects down. Too often do projects spiral out of their initial scope, ballooning into gigantic projects.
Linear's method involves scoping projcets down into what can be completed in 1-3 weeks by 1-3 people.
Small and short projects help you prioritize the most important features.
As someone who has used both Linear and JIRA as a stakeholder, I've begun to prefer Linear for it's simple UI, keyboard shortcuts, and lightning-fast response times.
Table Stakes Tools
Slack. Zoom. Google Workspace.
Those tools could've easily made this list, but in 2022 they're tablestakes.
If you don't have Zoom, then you probably have access to Google Hangouts, Webex, Whereby, or other Zoom alternatives.
If you don't use Slack then you probably use Microsoft Teams. I included Twist in this list because it's a lesser known tool that moves away from the synchronous, always-on feel of Slack.
If you don't have Google Workspace then you probably have access to a Microsoft product.
My point is there's actually no point to including those tools in this list except for some SEO value.
And I'm not about that life.
Wrapping Up
My goal was to introduce you to new remote work tools.
Startups like Loom, Figma, Linear, Superhuman, and Vimcal are all redefining how the modern knowledge worker gets things done.
Most organizations still haven't cracked the code on how to do remote work well. Tools exist to solve a problem, and remote work tools are only going to grow as a software category.
And the great thing about all of these tools is they're either free or very cheap to try for yourself.
You don't need to ask your company to buy 100 licenses to get access to Loom or Superhuman.
You can try it yourself.
So go do that.
See Also