What is Project Management Software?
Project management software is used to schedule, plan, organize, and track the status of projects.
A project can be anything from a home renovation, to a ProductHunt launch, to a wedding.
Anything that involves breaking down a complex idea into smaller steps can be project planned.
Project management software helps organize all of the moving parts, due dates, and requirements for your project.
Verdict: monday.com is my pick for best project management software. Read on to find out why.
It's software that can make your life easier, and best of all, many project management tools are free.
Best Project Management Software
1. monday.com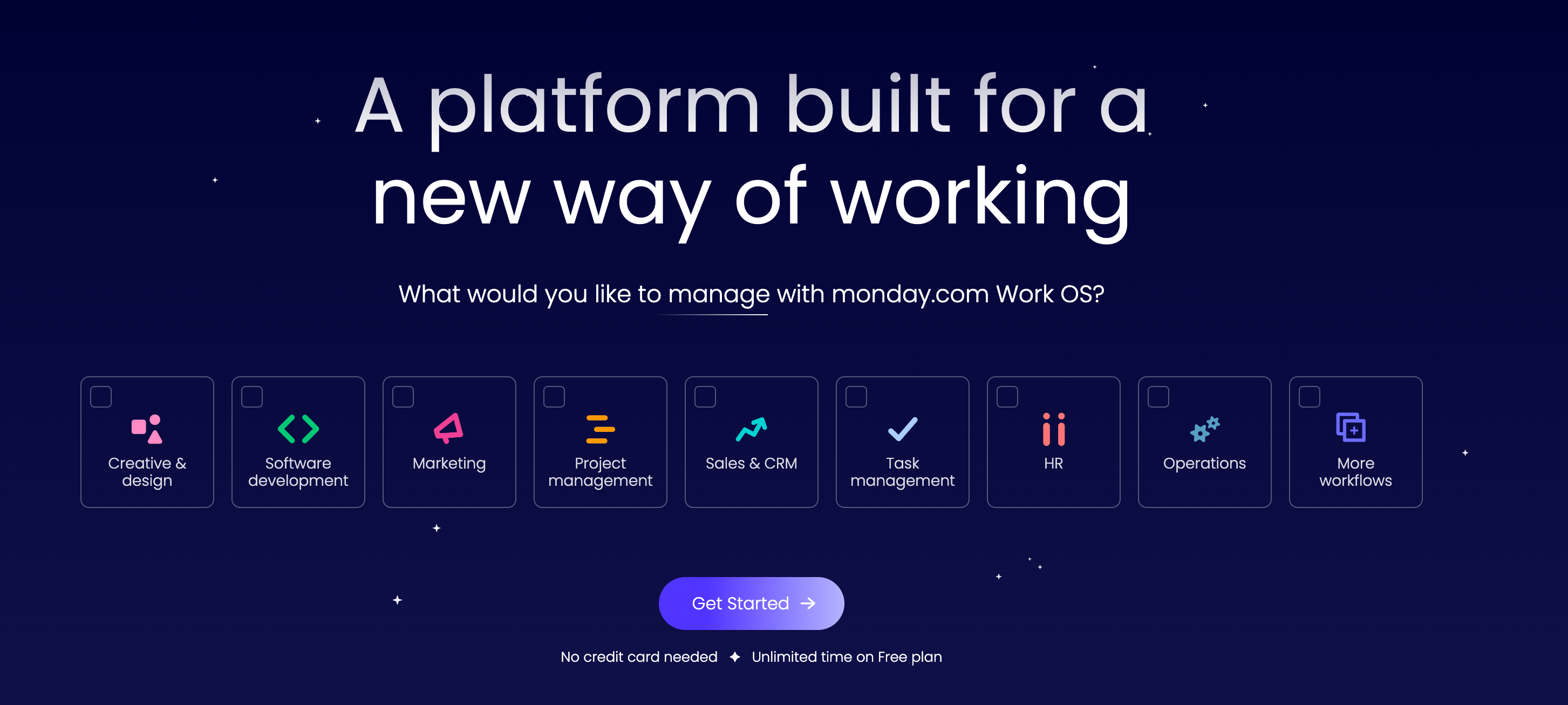 monday.com offers the best combination of features, price, and customer support for project management software.
The best tool is the one that is easy to use, priced affordably, and gets out of your way so you can actually work. monday.com's workOS does exactly that.
Over 120,000 organizations use monday.com to plan, organize, and execute on their projects.
Here's a short list of what I personally use monday.com for:
Planning the content calendar for this blog
Collaborating with freelancers
Creating documentation and guides
I wrote a longer review of monday.com if you want more details.
One of my favorite new features is called workdocs. It's a unified space to create collaborative documents with your team that also syncs with the rest of your workspace data.
You can embed other boards, dashboards, and videos directly into your docs. Each element is kept in sync automatically, so any change to a synced board will update in your doc.
Workdocs takes the collaboration functionality you're used to from Google Docs and supercharges it for the modern workplace. Easily drag and drop text around a document. Image bubbles indicate which team member edited the document so you can keep track of who changed what.
Creating documentation is great, but how do you action on it?
The team at monday.com thought of that too. You can easily convert text into an action item that connects with your existing boards.
After running through your next quarterly brainstorming session in Workdocs you can take the best ideas and move them directly into a board and assign project owners.
Still not convinced? Here's more of what monday.com can do for your team:
Access 100+ templates to get started in seconds
Integrations with Slack, Zoom, Google Calendar, and 40+ more tools.
Gantt views to show your project schedule
Trigger-based automations to speed up notifactions and your workflow
2. Clickup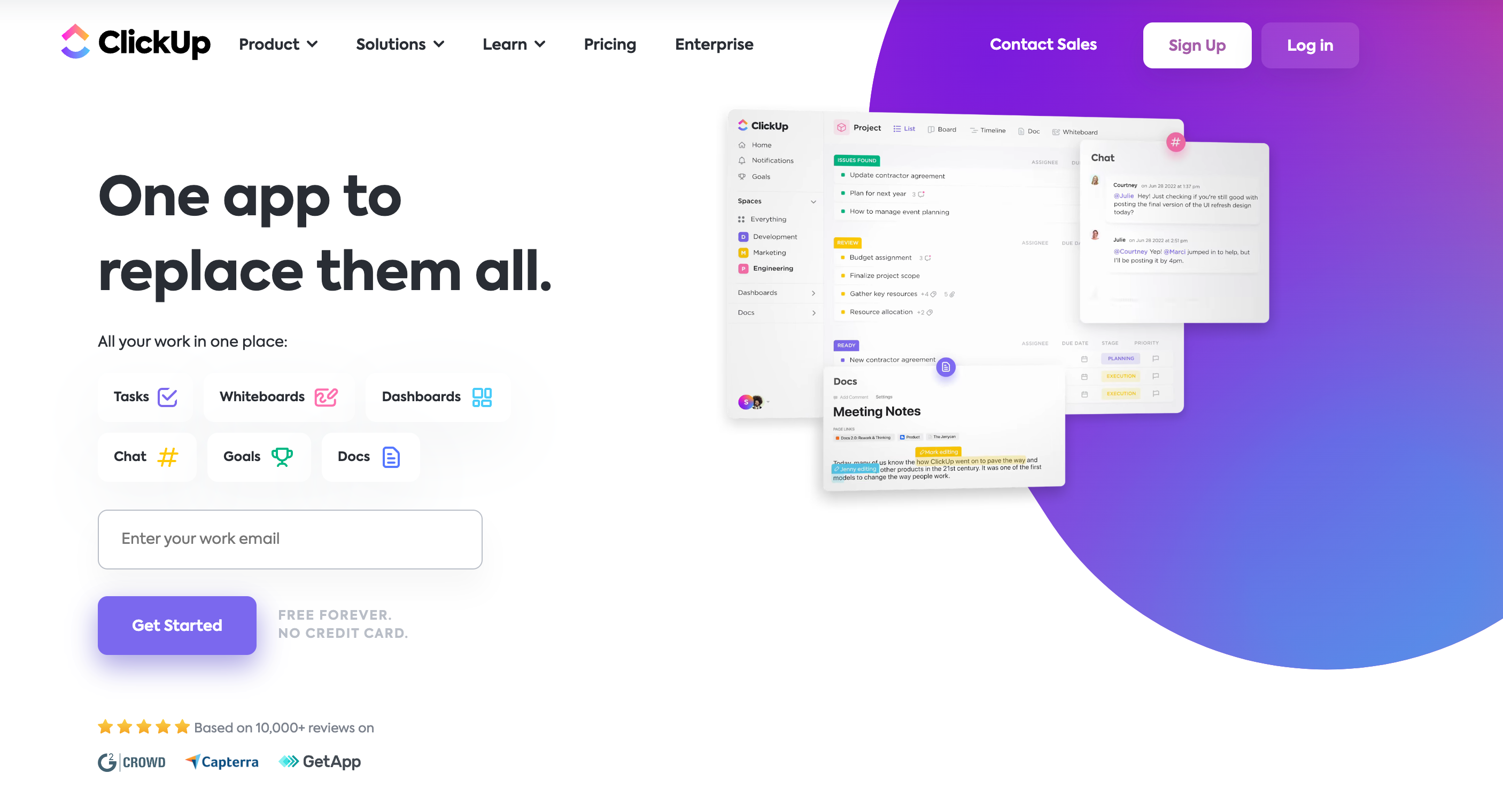 Similar to monday.com, ClickUp is an all-in-one workspace that combines tasks, project management, documentation, goals, and more.
Both tools compete on price and features. ClickUp has everything you'd expect from a project management tool:
Task Tracking
Gantt Charts
Goal Tracking
100+ integrations
ClickUp docs lets you create tables, banners, buttons, table of contents, but they're not synced to other objects in your workspace like monday.com's. But you can turn text into a task, so that's a nice touch.
If you're looking for solid project management software then give ClickUp a look.
I wrote a longer ClickUp alternatives post that I'd recommend looking at too.
Try ClickUp For Free
3. Wrike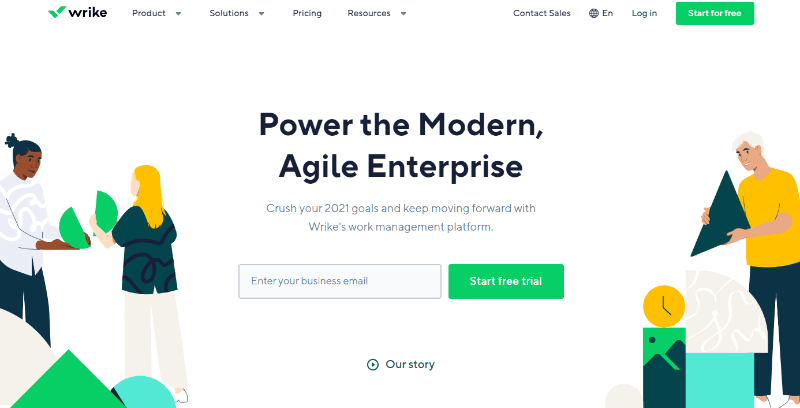 Wrike, which was acquired by Citrix in 2021 for over $2 billion, is one of the best project management tools.
I wrote an in-depth Wrike review if you want a more detailed look.
I've used Wrike when I was doing some consulting work last year. One of my clients used Wrike to manage tasks and priorities.
And honestly? It was pretty great. Especially for freelancers.
I was able to create tasks in Wrike for my freelance client to approve and they could easily track my progress.
Part of my freelance engagement included mentoring a more junior person, so I could also see their tasks in Wrike to see what they were working on.
Wrike's free plan includes:
Unlimited users
Task management
External collaborators
2GB cloud storage
Integrations with Google Drive, Dropbox, and more.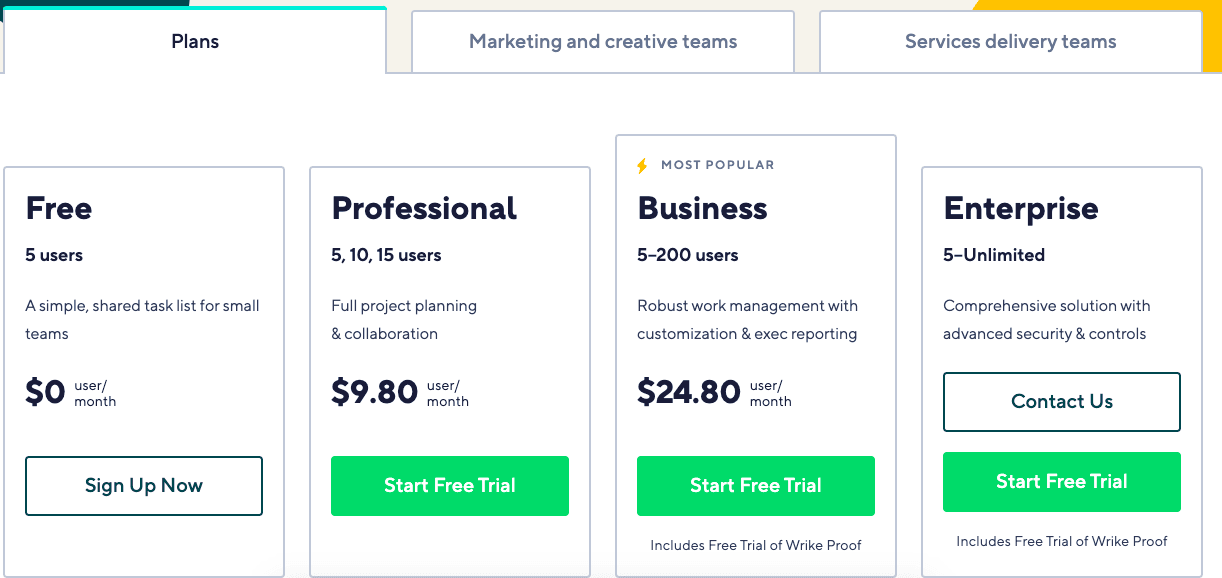 Upgrading to their business plan ($9.80/user/month) adds gantt charts, productivity integrations, and shareable dashboards.
If you're considering an investment in project management software then Wrike is worth checking out.
4. Notion
The market for all-in-one workspaces is competitive and Notion has a unique position in it.
Notion is a project management tool for tasks, wikis, and documentation. Rather than list what Notion has, it makes more sense to start with what it doesn't have compared to other tools I've listed here:
Gantt Charts
Automations
Complex goal tracking
What it does have is a huge library of free Notion templates and a newly-launched API.
Using the Notion API enables automations like monday.com and ClickUp have, but it's more cumbersome for the average user to setup.
Notion is one of my favorite productivity tools tools but it falls a little short for project management.
Here are some of my favorite Notion templates:
Notion is great but there are some other tools to consider. Check out my post on Notion alternatives.
5. Clubhouse (soon to be Shortcut)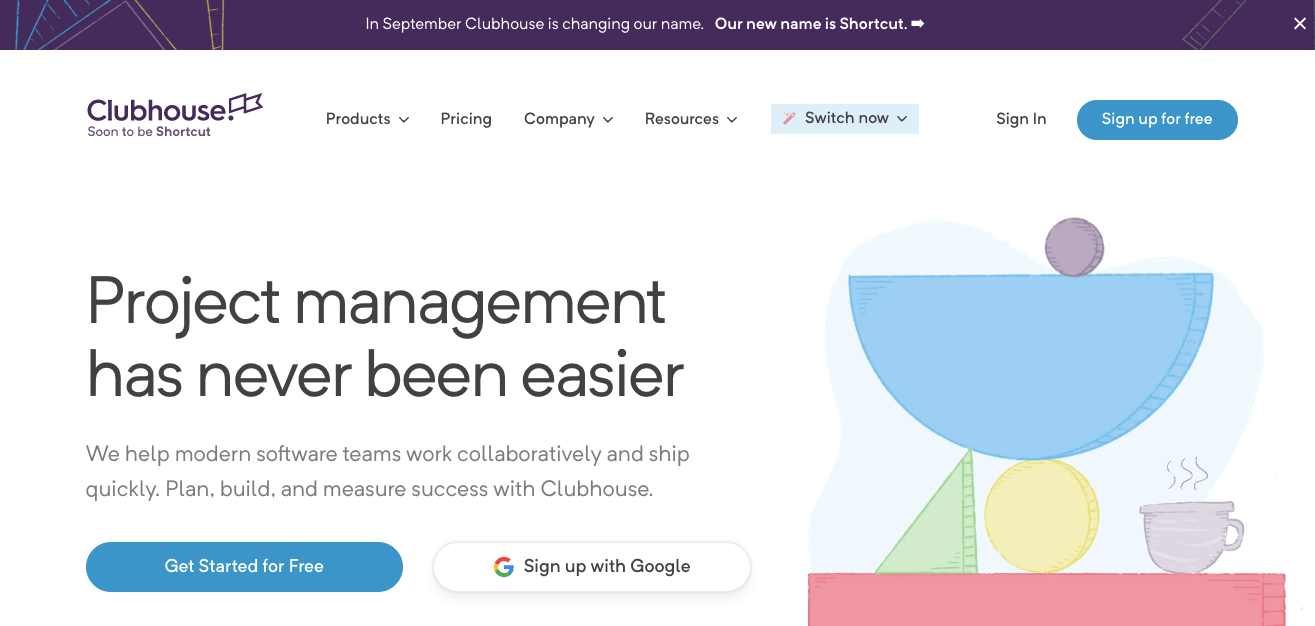 Clubhouse, no not the social audio app clubhouse, is a project management tool for remote teams.
They announced a rebrand to Shortcut after the huge spike in popular for the other clubhouse which I think was a smart marketing move. Sometimes being first isn't always best.
Clubhouse is a solid competitor to both monday.com and Clickup in features and price, something that Notion was not for project management.
They have everything you'd expect:
Project management tools
A documentation feature called Write
Integrations
Access to beta features in their Labs section
Their product isn't as mature as their competitors and neither is their funding, they raised a $25 million Series B round in January 2020.
But sometimes being smaller is an advantage. They've managed to nab some great clients including:
LaunchDarkly
Gatsby
Fullstory
Deloitte
Clubhouse is focused on software teams, which includes both engineering and product teams. Clubhouse is a remote-first company which gives them a unique advantage in building software that serves remote teams.
If you're a software team sick of using JIRA then check out Clubhouse, soon to be Shortcut.
6. ProofHub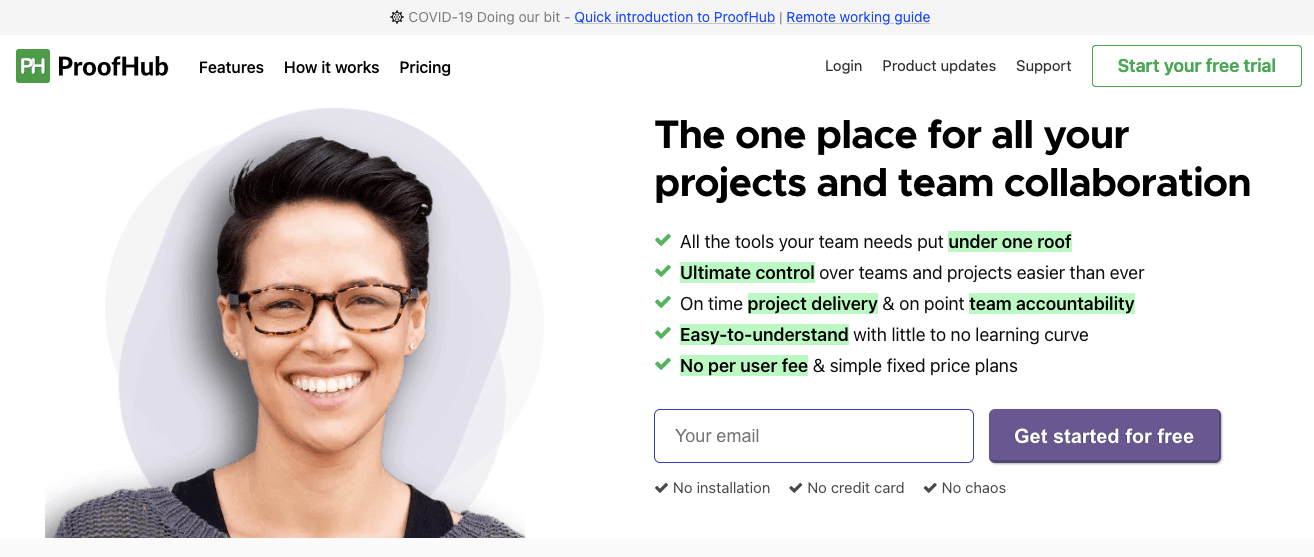 ProofHub is billed as a project management tool for managers to get projects done.
What's most unique about ProofHub is they don't charge per user. Their pricing is a flat monthly fee no matter how many users you have:
$50/month for the Essential plan
$99/month for the Ultimate Control plan
Most of their features are gated behind the Ultimate Control plan, but at $99/month for unlimited users it seems like a fair deal.
It has most of the features you'd expect from a project management tool:
Time tracking
File approval
Gantt charts
Task management
But what ProofHub is missing is a documentation feature, like monday.com's workdocs, where you can collaboratively create documents with your team and embed other objects into them.
ProofHub has managed to nab some cool logos including Nike, NASA, and Netflix.
If you're a budget conscious leader then ProofHub might be the tool for you.
7. Teamwork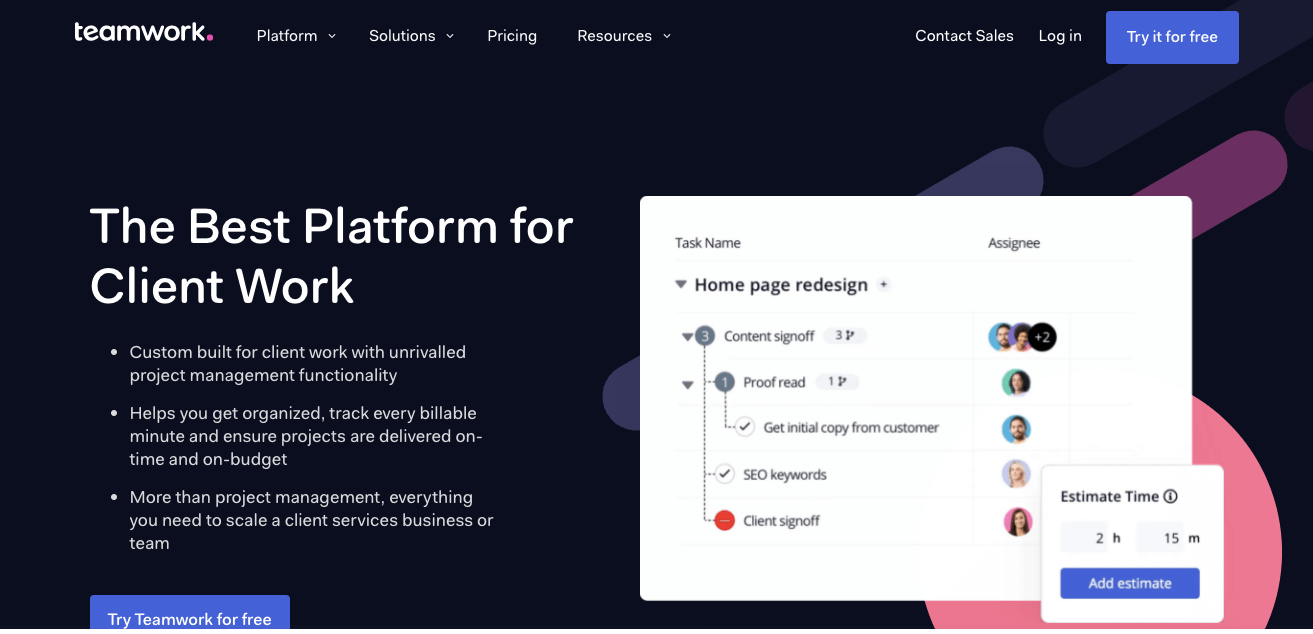 Teamwork is a project management tool focused on client work. It has some unique features to track billable time specifically to scale a client services business.
Teamwork also platforms add-ons that go beyond what you'd expect from project management software:
Helpdesk
Video chat
CRM software
Their helpdesk software was designed specifically to help their internal customer support team to provide better support to their customers.
It works by using specific inboxes that automatically sort and label support questions into specific buckets. Tickets from their high priority customers are handled first and the rest are triaged by the support team.
Teamwork's main usecase for their helpdesk tool was to increase efficiency through automation. Saving their team time was important to get the fastest possible response time to their customers.
For their project management tool, Teamwork has features for time tracking, kanban boards, and templates to get you started fast.
Unlike ProofHub, Teamwork charges on a per-user basis.
Try Teamwork Today
Honorable mentions
These tools didn't make my initial list but are worth mentioning because they do some features extremely well.
Google Tables

Google Tables is a new product from Area 120, Google's in-house software incubator for new projects.
Google Tables is like an early, free version of Airtable that comes pre-loaded with templates for project management, team management, customer service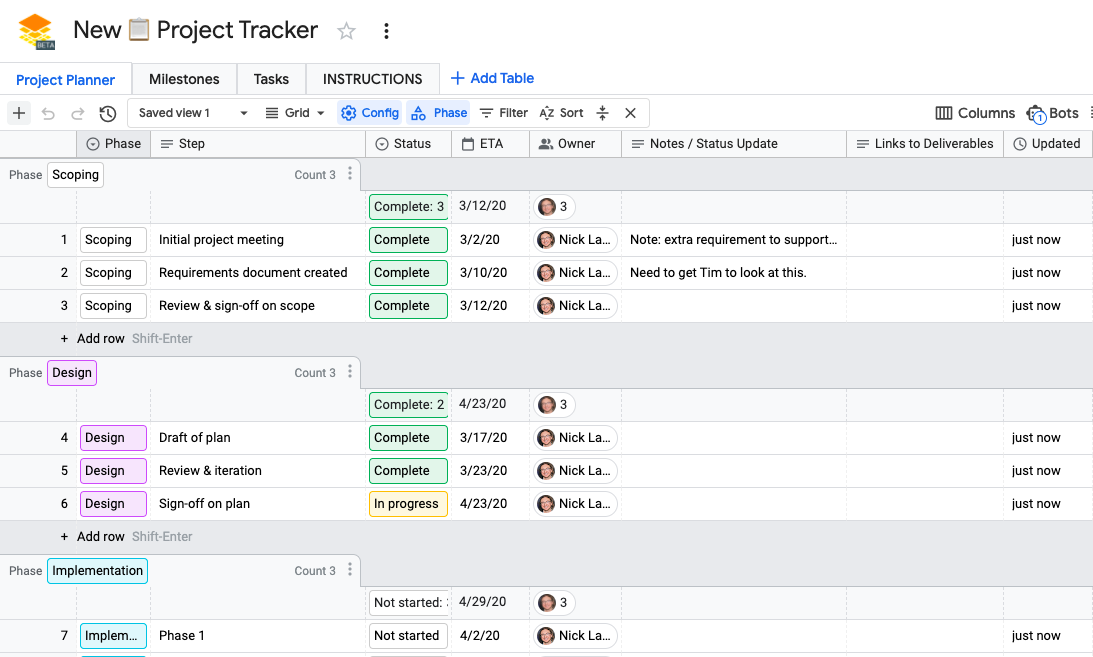 You can switch views to display your data in other ways:
Initially an experiment, Google Tables was successful and will transition into a fully supported Google Cloud product.
Expect to pay at least $10/month/user after the beta period ends, which is a fair price to pay for up to 1,000 tables, 10,000 rows per table, and 10gb of attachments per table.
Asana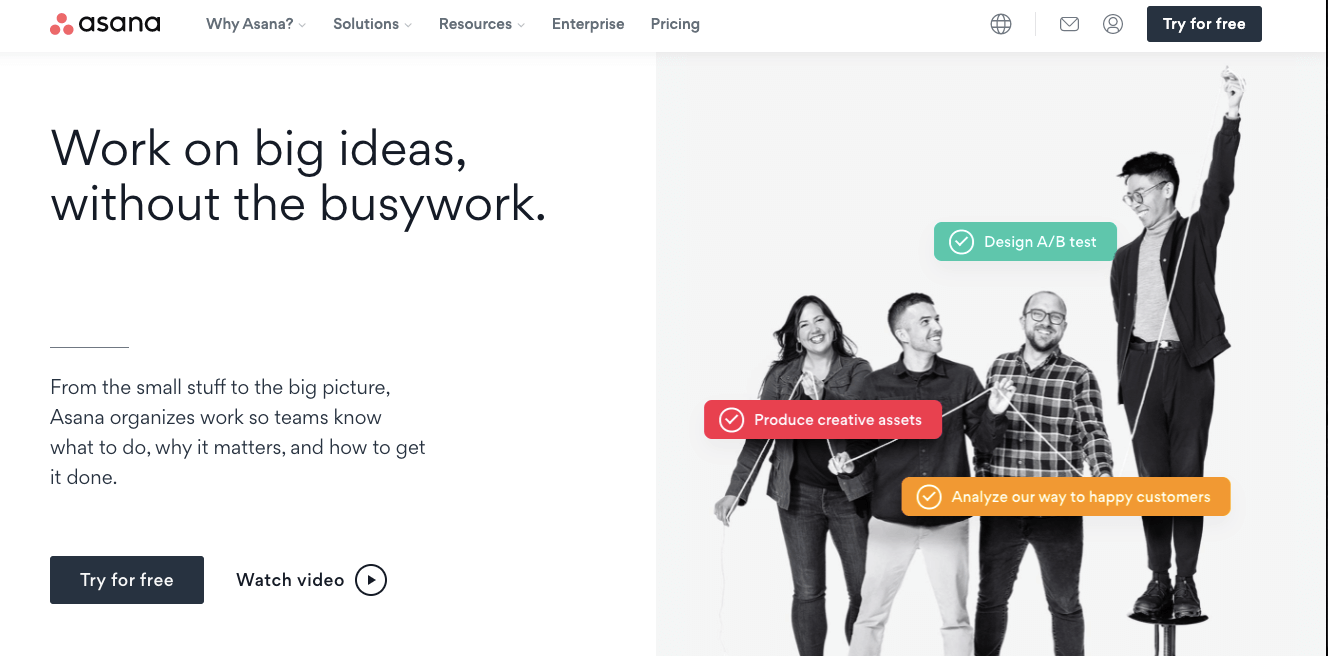 Asana is a project and task management tool, and one that I've personally used in my career as a marketer for B2B SaaS companies.
You can track your projects in Asana by assigning each owner of the project as an asignee to their task.
Say you're redesigning your website and you need to work across a lot of teams.
At my company this means working with the following teams:
Brand
Design
Engineering
Product Marketing
Content Marketing
SEO
That's a lot!
Asana makes that easy by allowing you to create subtasks with due dates and assignees.
Create tasks for all the teams, assign them to the proper owner, give them a due date that makes sense given their dependencies, and you've got a solid project plan.
I included Asana as an honorable mention here because it's features are more limited compared to monday.com and ClickUp.
Best Project Management Software for Remote Teams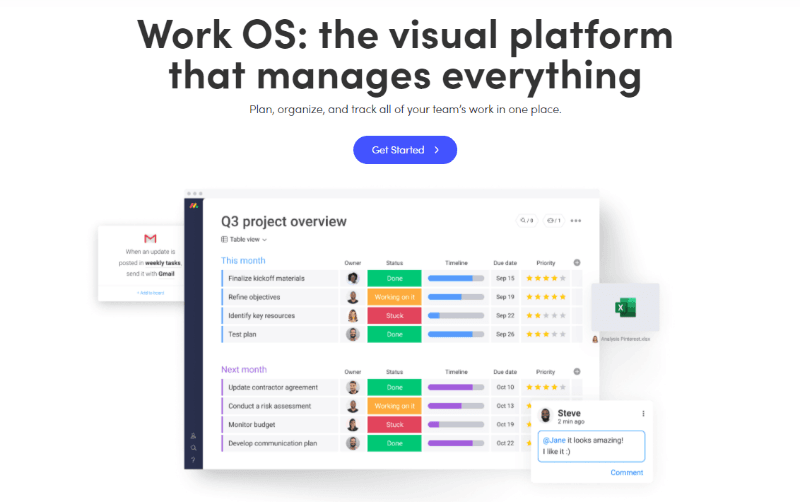 Monday.com is the best projet management tool for teams.
As of 2019 Monday was valued at $1.9 billion, matching valuations from Notion and Wrike.
I've written a full Monday.com review so be sure to check that out.
Monday calls itself an operating system for work. It's entirely designed to be used at work, it has very little personal use cases.
And it's priced for work too. Monday's paid plans require purchasing 3 user seats, which increases the price to almost $30/month.
At that price you'd expect a visually beautiful interface and more features than you know what to do with.
And that's exactly what you get with Monday.
Monday also offers a slew of ready-made templates to get you started quickly.
Wrapping Up
monday.com is one of the most powerful and flexibile project management tools on the market today whether you're a freelancer, small business.
I use it to build the content calendar for this blog, collaborate with freelancers, and to create documents.
Other tools like Notion or ClickUp have their strengths, but monday.com is best suited for project management.
See Also