What is a partnership relationship management tool (PRM Tool)?
A Partnership Relationship Management tool, also called a PRM, is software designed to help manage, recruit, automate, and commission marketing partners for your business.
PRMs are often used to create affiliate programs where your partners can earn a commission by referring you business.
PRM software can take all of the manual work out of building a partner program so you can unlock a new revenue stream.
Many businesses like monday.com, Evernote, and Asana use partner programs to help them refer new business.
Why should you trust me?
I've created and launched two affiliate programs for multi-million dollar software companies.
Each time I've done a comprehensive vendor search to identify the best PRM software on the market.
I'm also an affiliate myself so I know what makes partner programs effective.
I monetize this website through affiliate commissions and direct partnerships with specific brands.
By building and participating in partner programs I get to see both sides, which is not something that most bloggers have access to.
What Is The Best PRM Software?
Partnerstack
Impact
Allbound
Crossbeam
Partnerstack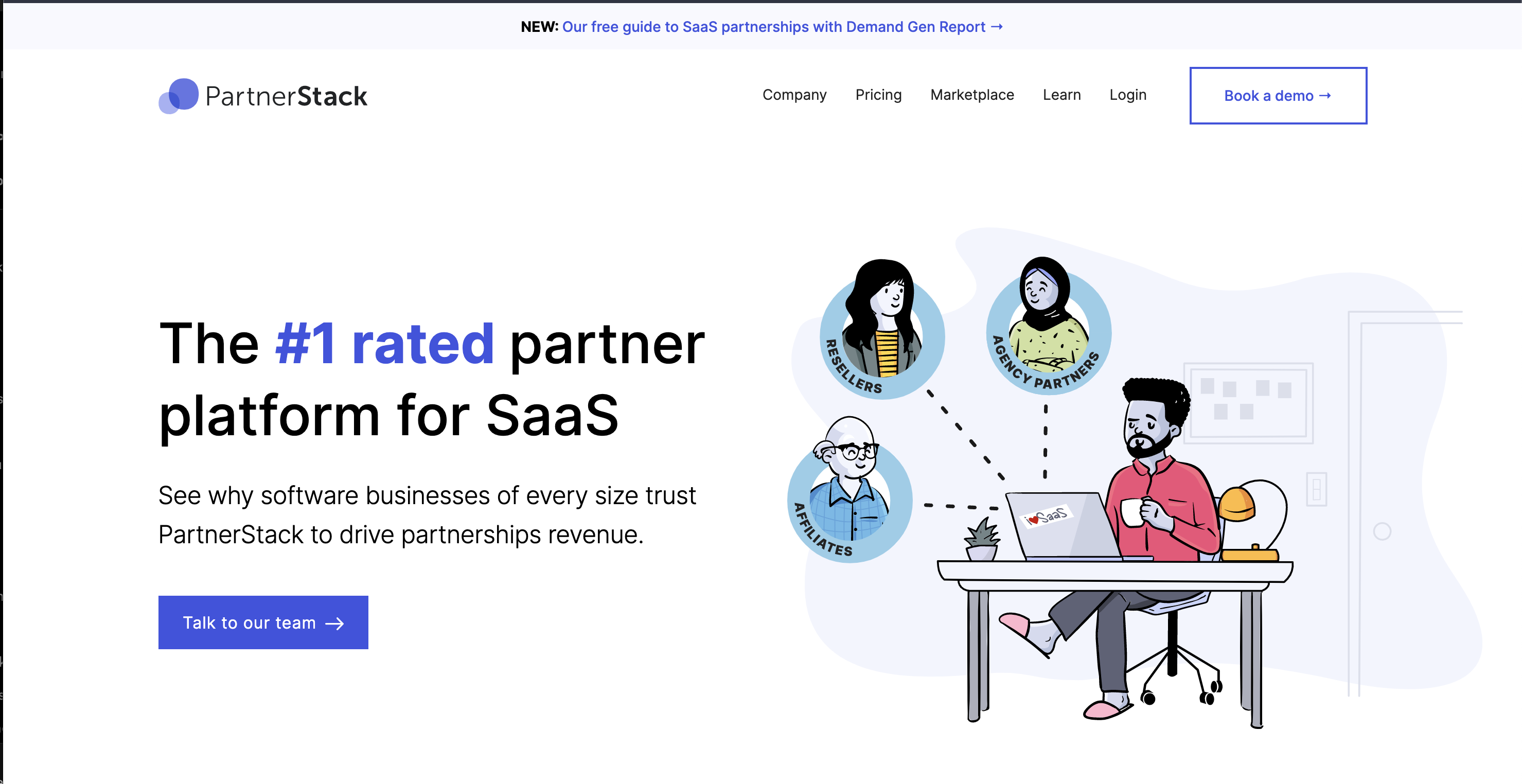 Partnerstack is my #1 choice for Partnership tools in 2023.
I've independently researched top PRM software for the last two companies I've worked for with the intention of launching an affiliate program.
Both times I've selected Partnerstack as my vendor of choice because they have the best combination of features and price that best fit my needs.
Here are some of my favorite Partnerstack features:
Automated email drip sequences
Commission and payouts are fully handled, no work for your finance team
Integrations with Salesforce, Hubspot, Stripe, Workato, and more
A best-in-class customer success team
The last company I worked for was looking to launch a three-part partner program that included:
Affiliates
Referral Partners
Reseller Partners
The commission structure and data sources for each program were completely different.
The affiliate program connected to their self-service product offering to commission affiliates a percent of paid signups referred.
The Referral and Reseller programs connected to lead forms and Salesforce to payout on large annual contracts.
Partnerstack was easily able to handle both types of programs with ease.
And to be honest, any complexity involved in setting up with Partnerstack was entirely on our side.
I had over 10 calls with Partnerstack's customer support team over the course of our onboarding process and they were extremely helpful and thorough to get us onboarded as fast as possible.
Really, they were incredible. I can't say enough good things about them.
The standard Partnerstack setup is fairly straight forward:
Add a tracking pixel to your website
Fire signup events to tell Partnerstack when a signup happens
Connect your billing provider like Stripe to Partnerstack to send transaction events
Connect to your CRM like Salesforce or Hubspot (optional)
What seems simple can become complex due to needing to coordinate between multiple teams.
I had to coordinate time between Marketing, Sales, Finance, and Engineering to get this project over the finish line.
But the end results were worth it.
Launching a Partner program will become a major source of revenue for that business for one simple reason: Only pay partners when you get paid.
One thing to note about Partnerstack: their marketplace
You can list your brand on their marketplace so potential new partners can find you and apply to join your program.
But there's a downside.
It's one-sided, meaning partners can see you but you can't search for them.
It's a somewhat strategic decision on Partnerstack's side because they get extra commission when someone signs up to your partner program through their marketplace.
For example, if a partner joins your program from a link on your website, Partnerstack charges a small fee for managing their payouts. It's about 5% of the total commission the partner earns.
But if that partner finds you through the Partnerstack marketplace, Partnerstack charges a larger fee on those commissions.
If you were able to find that Partner directly and bypass the marketplace then Partnerstack makes less of a cut.
They're very upfront and honest about how the marketplace works, but it's something to keep in mind.
Vendors like Impact let you search for new partners. It's a two-way street.
Impact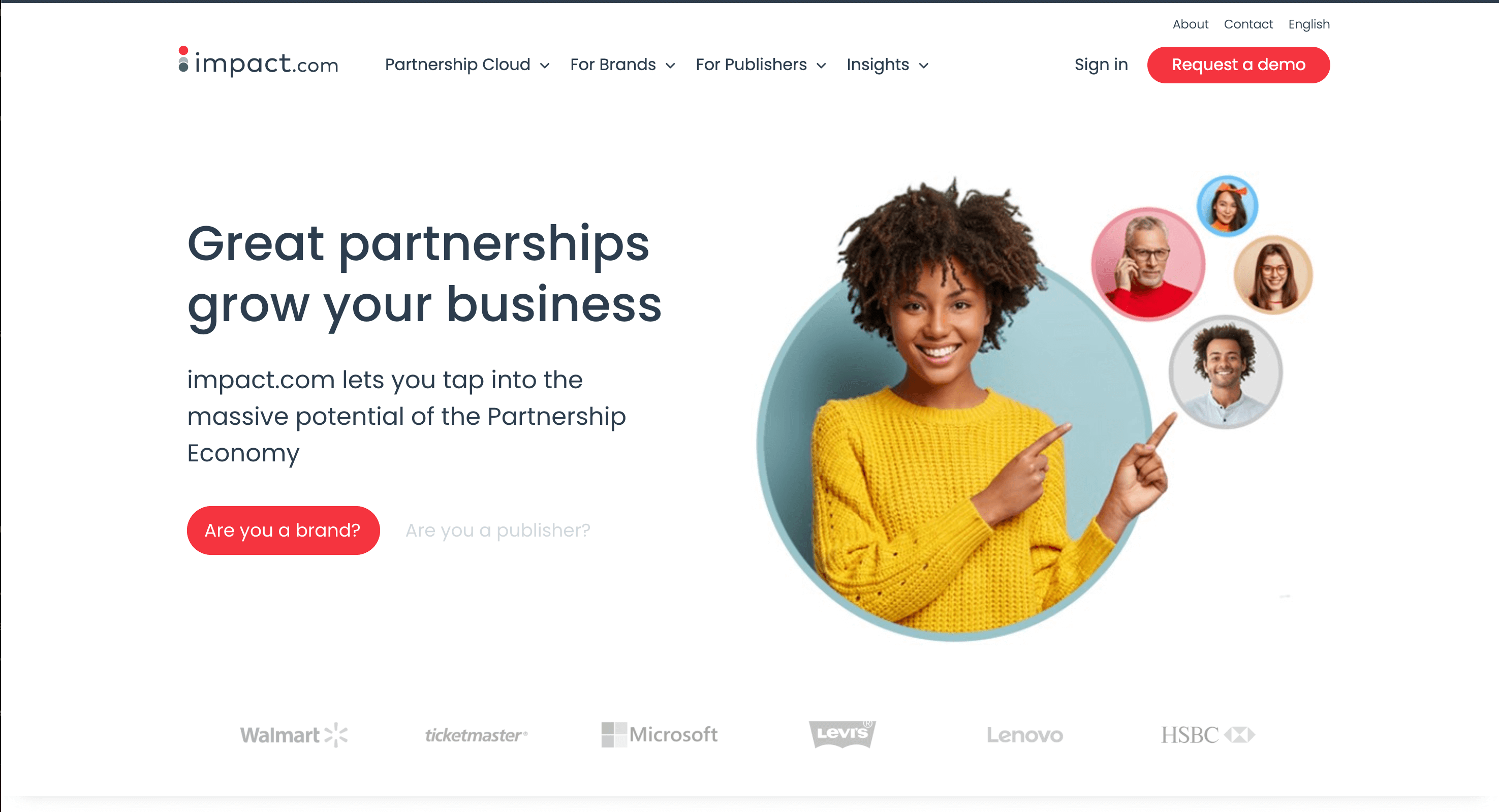 Impact operates in almost a completely different way than Partnerstack.
Impact's software is built around contracts. You begin by creating a contract, or many types of contracts, which define the scope of your relationship with your potential partners.
How much you pay, how frequently you pay, everything is in the contract.
You can easily create custom contracts for large or strategic deals to make sure all your key points are addressed.
Then you can search for new partners and propose a deal to them.
They can accept, modify, or reject that deal.
It's very clear cut but the process feels a little legacy to me.
As a potential manager of an Impact-hosted affiliate program it seemed like a lot of work to get started.
And maybe a nightmare to manage if you have lots of custom contracts, which seems common for the type of Partners in the Impact network.
One of Impact's marquee clients is Ticketmaster and Spotify.
Within Spotify you can find concert tickets.
If you click that button you're redirected to TicketMaster, and if you buy something then Spotify gets a kickback.
That integration depends on Impact for the tracking and payouts to work.
Another cool customer use case is Walmart and The New York Times.
The NYT bought review site Wirecutter and wanted to improve the affiliate payouts.
So links to Walmart.com within Wirecutter articles use Impact to process the commissions.
Ultimately I didn't choose to move forward with Impact because both times I felt that Partnerstack was the better choice for my use case.
But your use cases might be different.
I'd recommend getting demos from both Impact and Partnerstack to be sure.
Allbound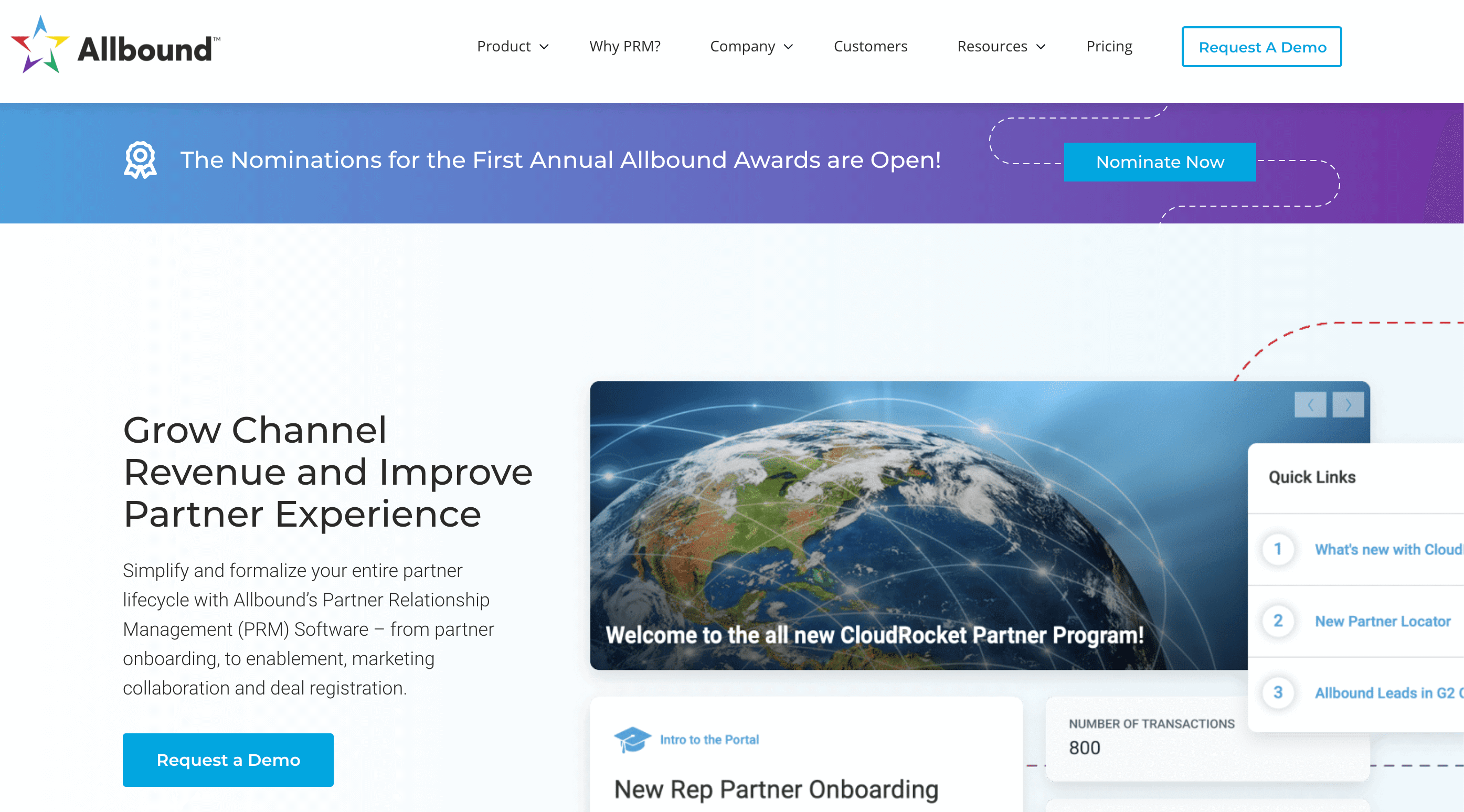 Allbound is my third choice for PRM software.
I did not evaluate them during my recent RFP process but they were briefly in consideration the first time.
Allbound's affiliate tracking solution didn't exist and they literally offered to build it for us.
Specifically they were looking at building a link tracking solution that all affiliates need.
It was impressive that they wanted to build a bespoke solution for us, but it would take a while and potentially not launch in time for our needs.
Ultimately their product wasn't mature enough for us to rely on, so we passed.
Where Allbound excells is in channel partner management.
They're used by huge brands like Zoom, Gainsight, and box.
It's not exactly like Crossbeam, which I cover below, but it's the most similar compared to Impact and Parnterstack.
Some of Allbound's features include:
Journey Automation
Partner Prospect Pages
Sales Enablement Playbooks
Deal Registration
Market Development Funds (MDF)
Allbound is positioned towards traditional partner sales instead of affiliate management programs.
What I like about Partnerstack is that it can do both, so you can manage all your Partner relationships with one tool.
Allbound is hyper focused on one side of that market and that's what they specialize in: channel partnerships.
Crossbeam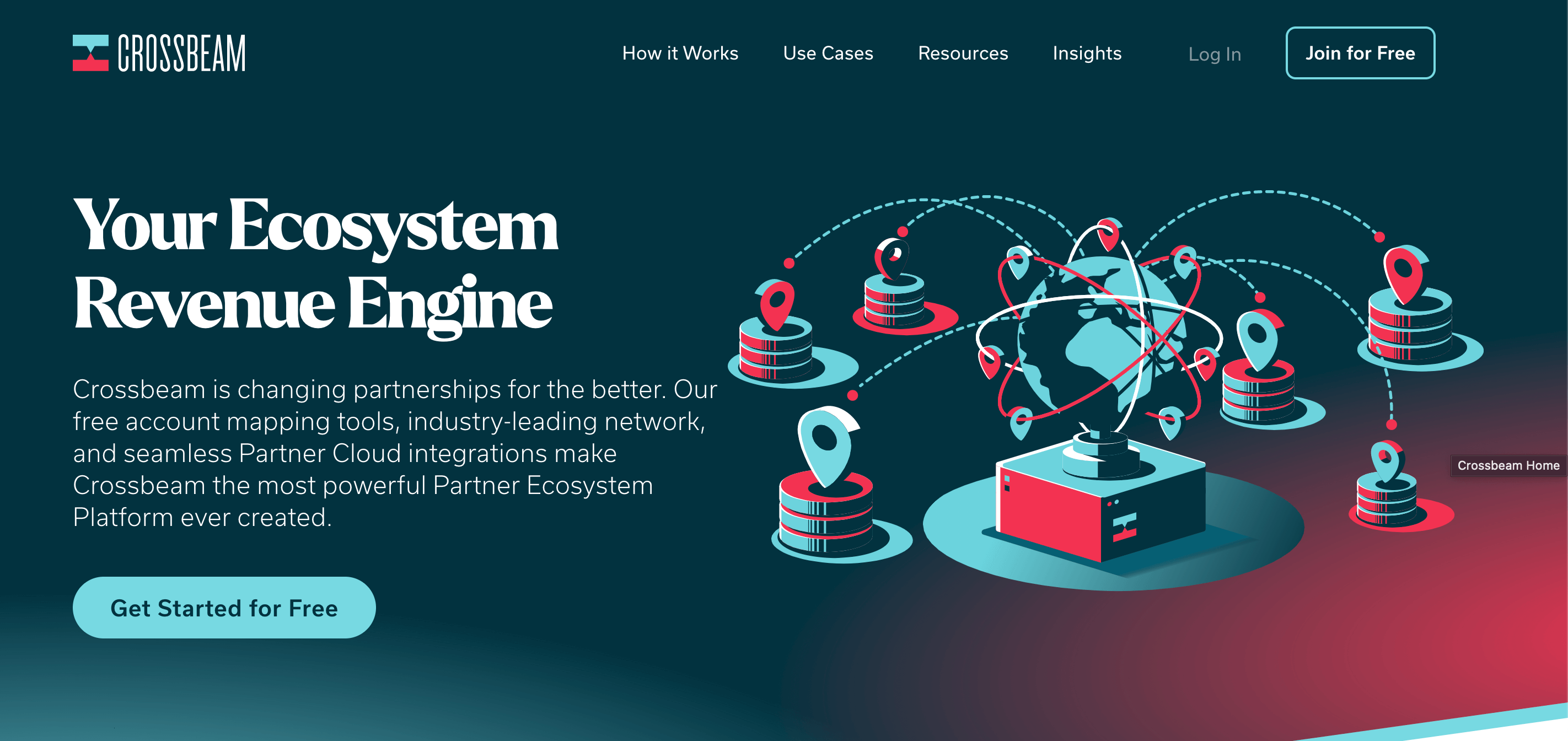 Crossbeam is an honorable mention here because it is fundamentally different than Partnerstack, Impact, and Allbound.
Crossbeam connects to your CRM like Salesforce and Hubspot to see who your current customers who and matches them with who their customers are.
You can easily see who your customers are doing business with to build lists of prospects and opportunities.
Crossbeam does not manage affiliate programs but it's still a powerful tool and worth mentioning here.
You can use Crossbeam for free to identify an unlimited number of Partners and connect your Salesforce, Hubspot, and Snowflake instances to Crossbeam.
But to import that data out of Crossbeam you'll need to upgrade to a paid plan which requires going through a sales motion.
What Features Do you Need in PRM Software?
Based on my experience onboarding Partnerstack twice and as an affiliate myself, here's a list of my top 4 features when evaluating PRM software.
1. Automated Commission & Billing Management
This is by far the most important aspect of sourcing a partnership tool.
Does it automatically track and payout rewards to your affiliates?
I list this first because I had to do this manually before and it sucks.
Imagine having to manually generate tens or hundrends of invoices, send them (again, manually) to affiliates, and forward their individual responses to your finance team.
Then imagine your affiliates emailing you to ask when payment will be processed. Or emailing you with problems or disputing a commission that was rejected.
It's a nightmare.
A good PRM tool will automate all of this for you.
At the end of the month you'll get an itemized bill with exactly how many commissions were paid to affiliates. The payment processing will be done automatically.
Before the month closed you'll have approved or denied all the commissions anyway, so payment is mostly a formality.
Tools like Partnerstack and Impact will automate this for you.
2. Email drip sequences
Not every PRM has this capability right now. Impact for example does not have a native email builder in their interface.
This is important because email is the most common way for you to communicate with your affiliates and partners.
Partnerstack in particular let's you build automated email sequences that can be triggered off specific events:
When a partner joins your program
When they've had their first sale
If they've been inactive for a period of time, like 30 days
Building good relationships with your partners is a building block of a successful partner program.
And it starts with communication.
Choose a vendor that has email drip sequences natively built into their interface.
As a bonus, Partnerstack also has a messaging feature.
This allows Partners to message your Partner team directly from their Partnerstack account.
Your team gets notified by email that a message has been received and you can respond accordingly.
3. Custom rewards
It all comes down to money.
Channel partners, affiliates, or resellers all want one thing: to grow a new revenue stream.
Even me as a hobbyist blogger, I want to grow my website into a passive income stream.
Any good Partnership tool will allow you to build custom rewards.
It could be something simple like 10% of the revenue you collect on a monthly basis is paid to Partners, or far more complex.
But you need the flexibility to create, generate, and payout custom rewards to your partners.
Partnerstack, Impact, and Allbound make this super easy.
One of my favorite levers for promoting affiliate activity is the use of bonuses.
You can bonus affiliates for creating content about your brand:
Blog posts
Youtube videos
TikToks
This has two benefits:
The affiliate is actively working to promote your brand and is more engaged with you
That content will live on and hopefully generate long-term referrals
There are hundreds of different affiliate programs out there. Your partners also have many different choices of who to Partner with.
You want them spending time and effort promoting you and not your competitor.
Using custom rewards is a great way to keep them active and excited about your brand.
4. Powerful 3rd-party integrations
Integrations make everything easier.
Connecting different systems, data sources, and APIs can massively increase the flexibility of Partnership tools.
Integrations are important for me because I'm often the one setting up these tools in the first place.
And almost no setup goes perfectly according to plan.
Things come up. Scope increases. Complexity happens.
And integrations provide options to creatively solve problems.
My favorite Partnerstack integration is with Workato, but they also integrate with Stripe, Salesforce, Hubspot, and more.
Impact doesn't have any integrations available which was also a downside.
Allbound and Crossbeam also have integrations, so really Impact
Wrapping Up
Partnerstack is my #1 choice for PRM software.
I've thoroughly vetted partnership tools twice for two separate companies I worked for.
Each time I chose Partnerstack.
There are cases where a tool like Impact or Crossbeam would be a better fit for your business or use case.
If you sign up for any of these tools let me know.
See Also