JIRA, built by software giant Atlassian, is the most common issue management tool for software development teams around the world.
And as of writing JIRA has been under a degraded status for over 10 days.
Specifically 400 JIRA customers accidentally had their data deleted.
While Atlassian keeps meticulous backups and their team is working hard to restore everyone's data, the issue started on April 5th 2022 and were ongoing as of April 17th.
And it's been having serious issues for over 10 days straight.
Atlassian claims to have resolved issues for 99% of its customers but the ongoing issues have certainly forced some of their customers to consider other options.
And that's what I'm going to talk about: JIRA Alternatives
But first..
Who am I?
I lead growth marketing for Loom , a video messaging tool for work.
My team owns the Loom website and its development roadmap. I've directly managed software developers here at Loom and also at my previous job.
I've spent a lot of time within JIRA, both as a stakeholder and a pseudo scrum master.
I now have a full-time person on my team managing the website development and experimentation roadmap (hey, Brad!).
Our eng team was using both JIRA and Linear for a while but every team has fully switched from JIRA to Linear as of April 2022.
We even have a short case study on the Linear website.
I'll walk you through in more detail why we switched to Linear and why you should consider switching too.
Review Methodology & Disclosure
Linear did not pay me to write this review and there are no affiliate links for Linear in this post.
Later on I reference both monday.com and Clickup and those are both affiliate links.
Since I have extensively used JIRA and Linear I can speak somewhat accurately to the differences between the two tools.
That said, I am not a software developer. I'm approaching my review from the standpoint of a stakeholder and as someone who has set priorities and managed sprints for software developers that directly reported to me.
I strongly believe Linear is the best and only JIRA alternative you need to consider, so I'm going to skip the typical "best 20 jira alternatives" post you'll find 20 other times on Google.
What is Linear?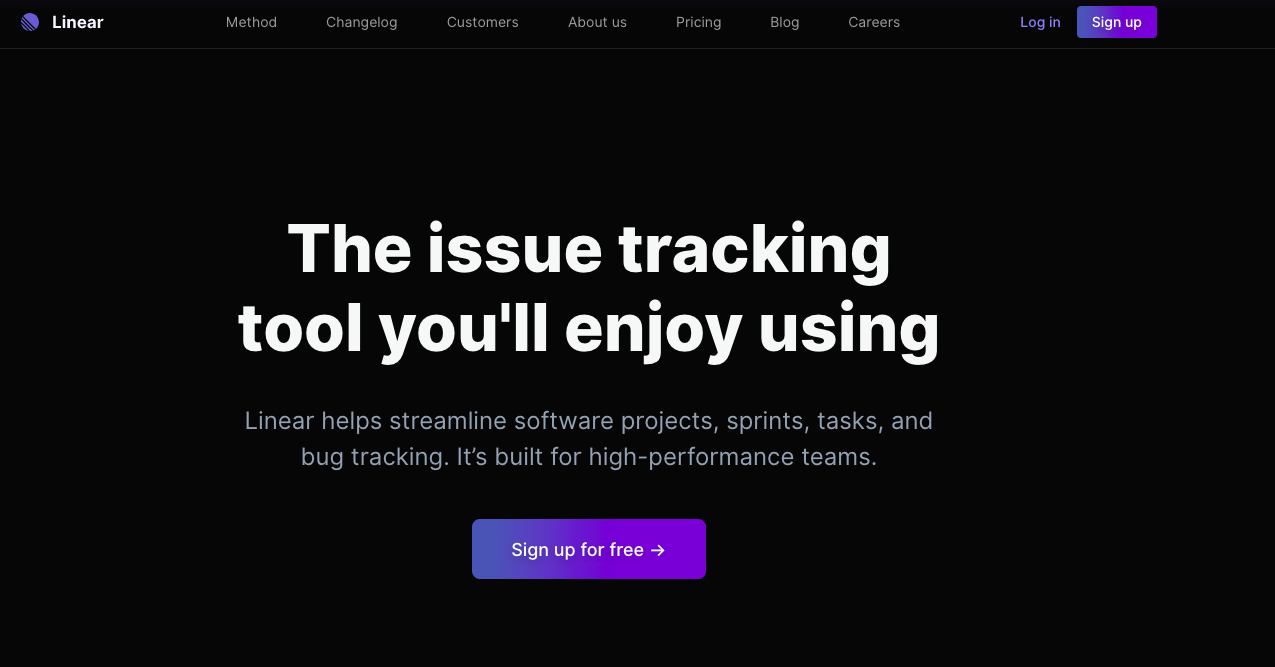 Linear is an issue tracking startup based in San Francisco, California.
They raised a $15 million Series A round in December 2020, lead by Sequoia Capital.
Linear is a tool built for speed and efficiency first.
It's founders, Karri and Tuomas, leveraged their experience working for Uber, Coinbase, and AirBnb to build a better tool for software development and bug tracking.
If you have been affected by the ongoing Jira outage, we at @linear can help. Your team can use any of our paid plans at no cost until the end of the year.

Email or DM me and we'll get you set up - ks@linear.app

— Karri Saarinen (@karrisaarinen) April 11, 2022
During the JIRA outage one of the Linear founders offered every affected JIRA customer access to Linear for the rest of the year.
Linear Pricing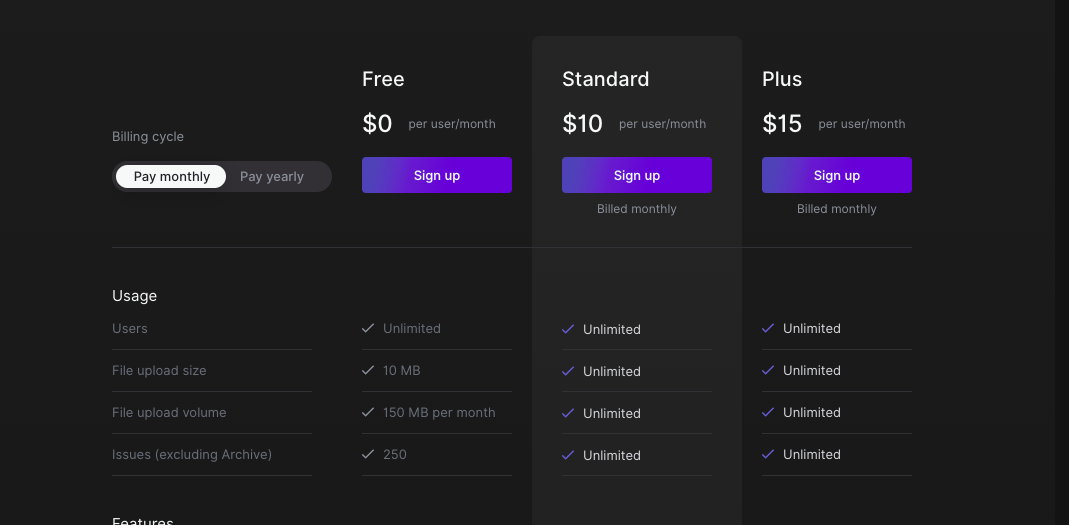 Linear is free to use and overall has a generous free tier.
Upgrading to their paid plan, starting at $10/month, gets you unlimited file uploads, unlimited upload size, and unlimited total issues.
Paying also gives you access to private teams, better admin tools, and advanced history information.
G Suite SSO is available at every plan which is very nice to see. SAML SSO is available under their plus plan which is only $15/month
The Linear Method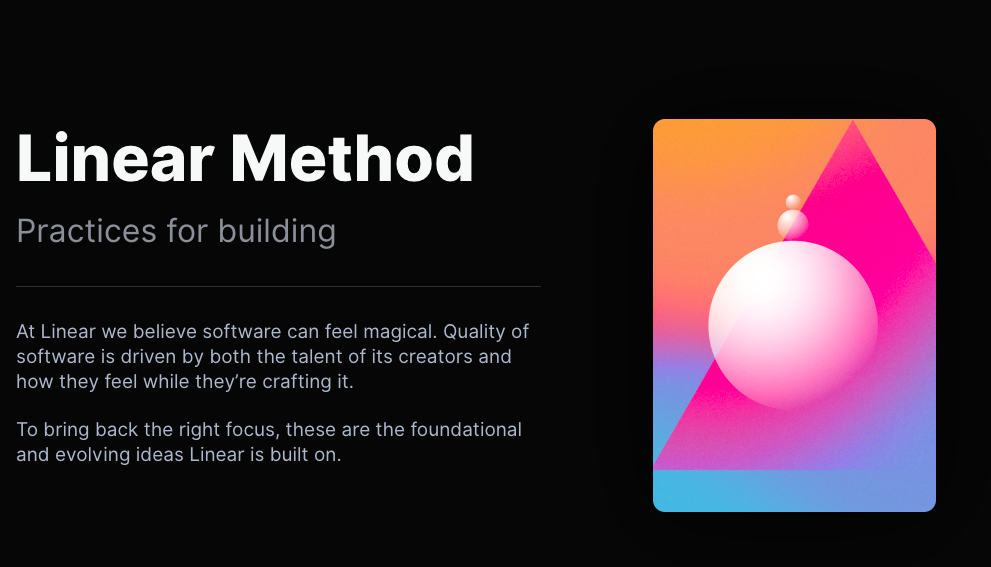 Linear outlines a development methodology on their website to highlight the foundational ideas that Linear is built on.
The first section is principles & practices.
I won't cover every point, but here are the ones that speak to me:
Build for the creators: Linear is built with the creator in mind
Opinionated software: Software should be opinionated so it can do the heavy lifting for you. Flexibility creates chaos eventually.
Say no to busy work: We own tools, they don't own us. Automate the busy work.
Set monthly, quarterly or/and annual roadmaps
Connect daily work to larger goals
I highly recommend reading their entire methodology.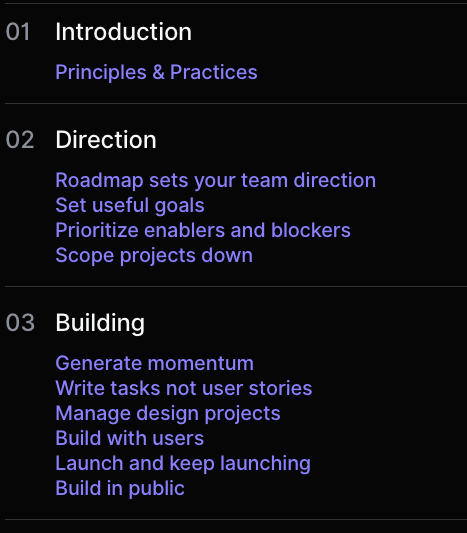 Linear Features Review
Here's a quote from Loom's Linear case study:
As a distributed team, we were looking for a better tool to help us manage our product development work and reduce the cost of coordination. Then we tried Linear and suddenly all those problems went away.
One of the wow features for Looms engineers was how fast tickets update with new information. Justin, one of our engineering managers, updated a Linear ticket live on a Zoom call and the ticket updated in real time for everyone else.
Linear is broken down into four sections:
Projects: for high level context
Roadmaps: for long term context
Issues: for low level context
Cycles: for short term context
I'll go into each section and talk about how we at Loom use each of those areas.
Our Linear workspace is also organized by team, which you can see in the screenshot above. Loom's fully remote engineering team has several developer teams that roll up to pillars of our product.
Some examples of our teams are:
Mobile
Growth
Data
Infrastructure
Inbox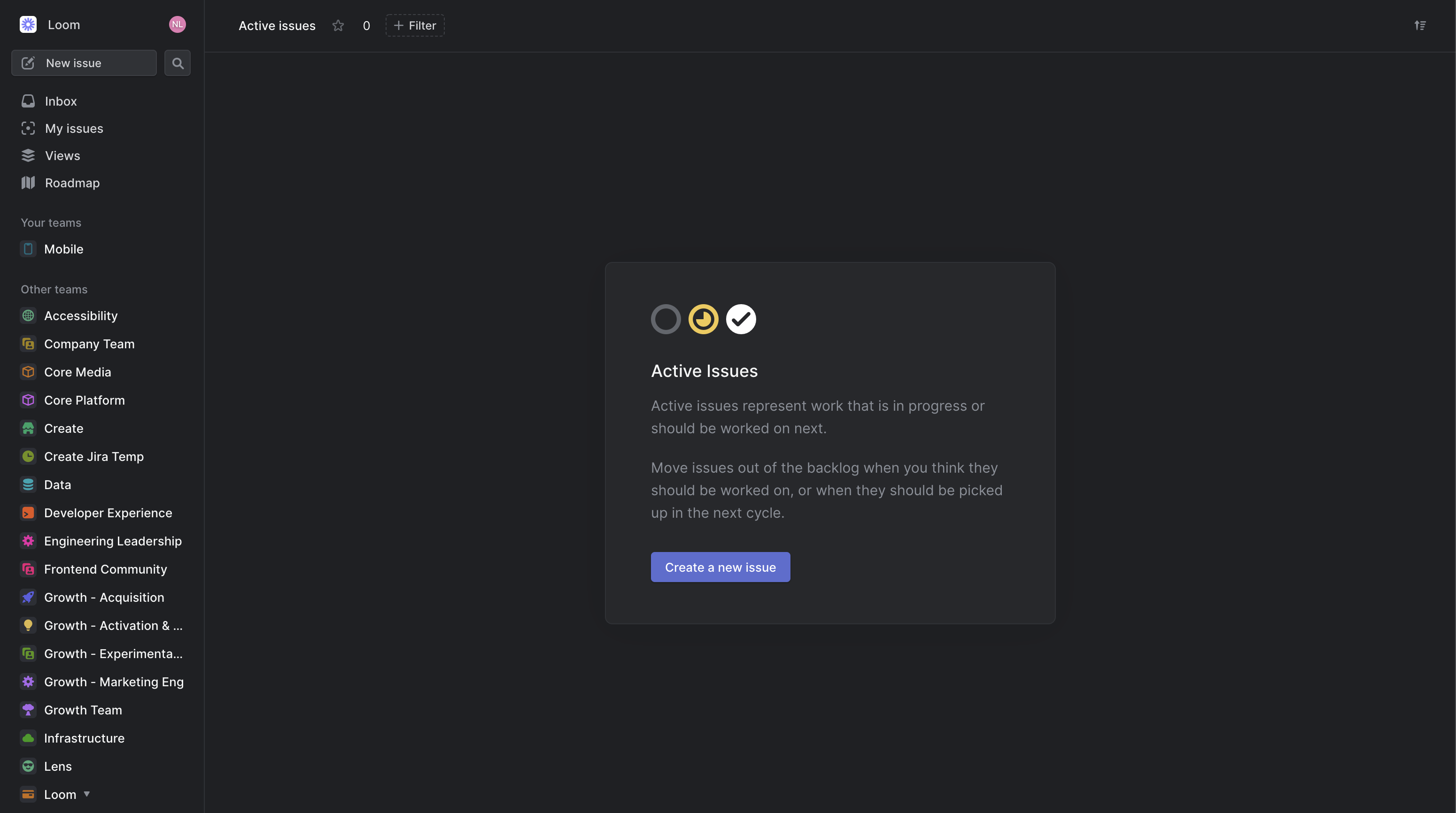 The inbox is where every user lands when they login to Linear.
It's your notification center where you'll find important updates on issues in your workspace.
For any events you're subscribed to their notifications will display in the Inbox. Here's what your automatically subscribed to:
issues you create
issues you're assigned
issues you're mentioned in (description or comment)
Within Linear's notification settings you can trigger which notifications fire other alerts like desktop push notifications, personal Slack notifications, and email digests.
Projects
Linear recommends using projects to manage work toward a specific deliverable. They're meant for larger initiatives or features.
Projects display all issues related to a project, details of the project, and progress graphs.
Projects can be shared across multiple teams and organized under Milestones. The roadmap shows you all projects across all your Linear teams.
Board and List Views

Most views in Linear can be displayed in either board or list view.
Boards operate in a similar way to JIRA's boards, where you can create custom columns for each issue status.
Tickets can be dragged between statuses and easily referenced to see what tickets are in what stage.
The board I showed above is pretty basic and has 7 stages:
Needs grooming
Backlog
Todo
In Progress
QA
A/B (optional)
Done
The A/B stage is optional for when a given issue needs to be A/B tested. This is done when we want to ensure a given change doesn't have a significant impact on our signup or revenue numbers.
Cycles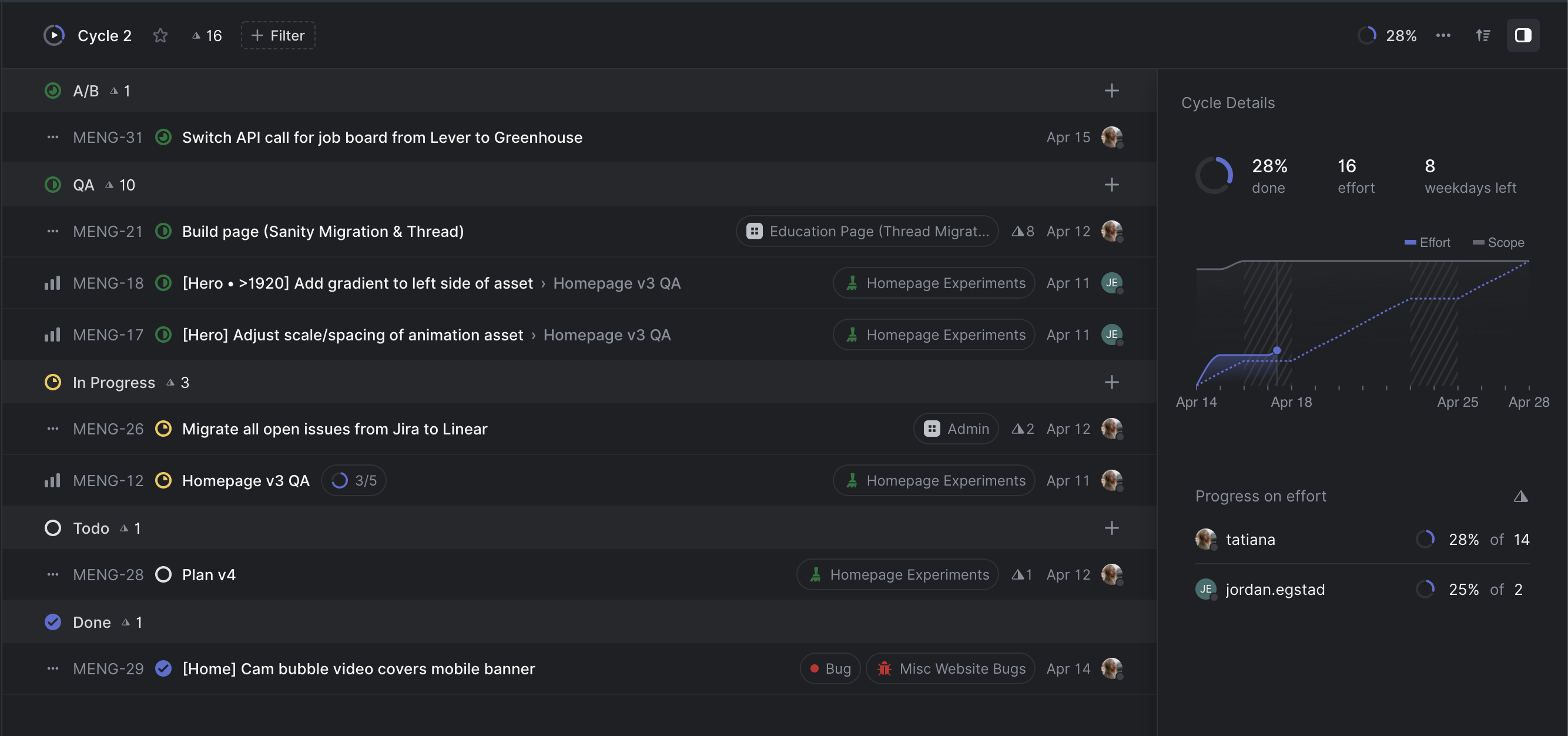 Cycles are similar to sprints in JIRA and prioritize a set of issues during a specific time period.
Our sprint cycles operate in two week increments, but I've worked with teams that do one week and three week sprint cycles too.
Cycles, like sprints, are automated and repeating. They get a start date and duration and then repeat forever.
Cycles in Linear specifically do not end in a release. Incomplete issues during a cycle roll over to the next cycle and we display basic statistics around estimated workload and percentage completion, which you can see from my screenshot.

I love the graphs available in that cycle screenshot. It lets me as the manager easily see where the issues are distributed and how far along we are.
Free JIRA Alternatives
Linear
monday.com
ClickUp
Look, from my very brief overview Linear might not be your thing.
And that's ok.
I purposely wanted to skip the standard SEO fluff that include 20 other JIRA alternatives with very thin content.
I wanted to go deep on Linear instead.
But two other options you'll come across are monday.com and Clickup .
I've written a lot of content about both of those tools, including:
There's more but I'll stop there.
If you want a deep dive on either monday.com or ClickUp then check out any of those four posts.
Both tools aren't built exclusively for software developers which is why I think they're an inferior choice to Linear, but I included them anyway.
Wrapping Up
Linear is the best JIRA alternative you can find on the market right now.
Even though they're a young company their tool is very polished and usable right now.
You don't need to keep using JIRA because thats what you've always used.
Try something new.
See Also