What is a URL shortener?
A URL shortener takes a long URL and makes it short. By shortening URLs you can track how many clicks they get and rebrand them to use your domain.
How does a URL shortener work?
URL shorteners work by redirecting your short URL to the long URL. The redirects are setup in an easy to use interface and have the ability to track clicks.
Should you use a URL shortener?
URL shorteners are commonly used in social media links. Brands want to understand how many people are clicking on links from their social media posts, and URL shorteners can give visibility into that.
URL shorteners are also good for affiliate links in blog posts. Affiliate links are often very long, so using a URL shortener makes them look nicer and lets you change the destination link without changing what link is in your blog post.
Best Free URL Shortener
I've tested several different free URL shorteners and the best is Rebrandly .
Rebrandly let's you add 5 custom domains, 500 branded links, and track 5,000 link clicks a month for free.
That is miles ahead other options like bit.ly and TinyURL.
I personally use Rebrandly on my blog for that exact reason. Increasing affiliater revenue to my blog was one of my professional goals I'm able to create many shortened URLs to use for affiliate links or any URL I want to track.
I'm tracking 20 different URLs for free with Rebrandly and it's been super easy to use and setup.
That said, there are many other alternatives to Rebrandly that you should consider.
Best URL Shorteners
Rebrandly
Bit.ly
TinyURL
Sniply.io
Rocketlink.io
What happened to the Google URL Shortener, goo.gl?
Goo.gl, the Google URL shortener, was shut down in March of 2018. It joins a slew of projects like Google Inbox, Google Wave, and Google Reader that have been killed by Google.
It was among the first URL shorteners, and best of all it was free. Google decided to focus on other projects and there was competition from tools like Bit.ly
Rebrandly Review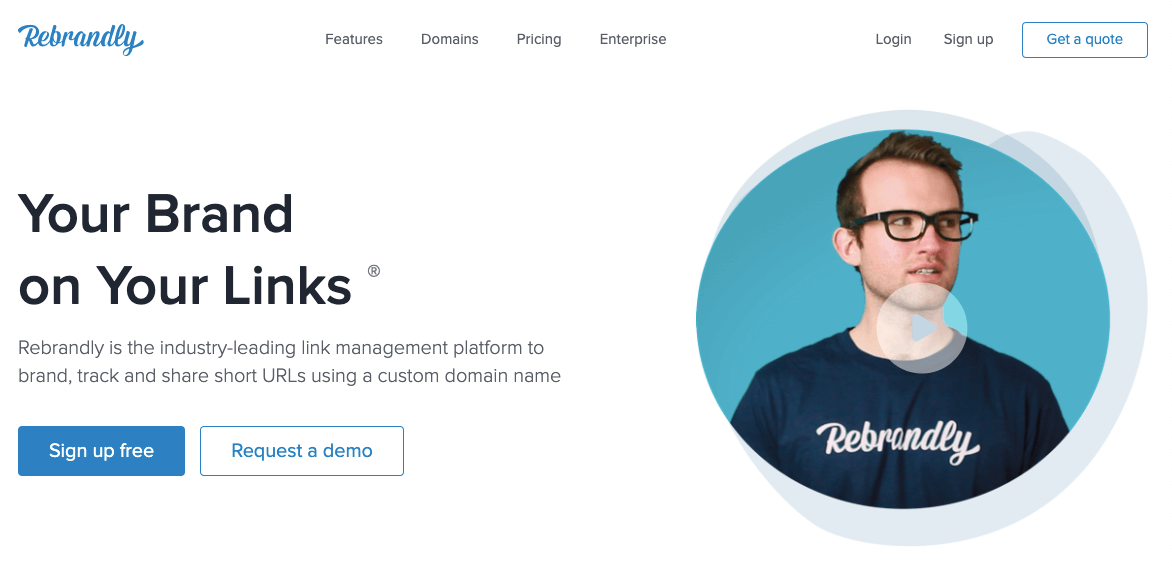 Rebrandly is a link shortening tool based in Dublin and Rome. Their tool tracks 2 billion link clicks each month and their users have created over 1 billion links so far.
They're smaller than bit.ly but that's an advantage – they have the best free link shortening tool I've tested.
When I was researching ways to create custom short URLs for free I wanted to use a custom domain. That way my short links were branded to my website instead of white-labeled. I'm distrustful of many short URLs because you never know where they'll take you.
In fact, many email providers like Gmail and Yahoo are also distrustful of bit.ly links and could mark your emails as spam if those links are included.
If you're sending bulk emails check out my Mailgun review to get an insiders look on how email companies operate.
Short URLs have a place and in my opinion that place is in social media posts, where you're often limited to a specific number of characters, and for tracking outbound links on a blog.
There isn't a lot of other technology behind URL shorteners outside of redirects, custom domains, and link tracking analytics. They're sort of like "the cloud", which abstracts away a complicated technology and presents the end user with a simple interface.
URL Shortener Cost
| | Basic | Pro | Premium |
| --- | --- | --- | --- |
| Rebrandly | $29 | $69 | $499 |
| bit.ly | $29 | $199 | - |
| TinyURL | $12.99 | $129 | - |
| Sniply.io | $29 | $79 | $149 |
| Rocketlink.io | $19 | $29 | $69 |
On a monthly basis TinyURL seems to have the cheapest paid plans, however there's more that goes into finding a good link shortener than just the monthly price.
TinyURL's base price only includes 500 active short urls, whereas bit.ly includes 1,500 and Rebrandly includes 5,000.
Rebrandly includes as many URLs in their free plan (500) as TinyURL does in their base paid plan. If you're not aware of other options you could be paying TinyURL for no reason.
Best URL Shortener for Facebook
The best URL shortener for Facebook is the same as the best url shortener for Youtube, Instagram, or affiliate links in general.
It's Rebrandly .
The best tool is the one that gives you the most features for the least cost. Rebrandly's Pro tier, which costs $79/month, let's you create 15,000 branded links and track 150,000 clicks every month.
That's more than enough for most businesses. And if you need more their next tier, which starts at $499/month, adds another zero to both of those numbers:
1,500,000 clicks/month
150,000 branded links
Unless you're Wendy's then you probably don't need that many.
That's why Rebrandly's free plan is such a good deal, it's good enough for most small businesses, influencers, youtubers, or bloggers.
It'll take me years to create more than 500 branded links, which is what's included in Rebrandly's free plan. It's honestly almost too good because I have no need to upgrade to a paid plan.
Summary
Look, you came here for a reason. I've reviewed the top link shorteners and the winner is clear: Rebrandly
The other tools listed here will get the job done but they're either more expensive or have a less robust free plan.
See Also