I've used a lot of URL shorteners as I've built this blog into a five-figure affiliate marketing business.
Every blog should be using short URLs. Full stop.
Scroll down for a quick overview of what URL shorteners are, how more context into why T.ly is my favorite URL shortener.
What is a URL shortener?
A URL shortener takes a long URL and makes it short.
By shortening URLs you can track how many clicks they get, rebrand them to use your domain, and easily swap out the destination links once instead of replacing many links across your entire website.
How does a URL shortener work?
URL shorteners work by redirecting your short URL to the long URL.
The redirects are setup in an easy to use interface and have the ability to track clicks.
Most URL shorteners allow additional customization, like sending clicks to different destination URLs depending on parameters like the user's location.
I use that location redirect feature a lot on this blog.
Should you use short URLs in emails?
No.
Absolutely not.
Many email providers like Gmail and Yahoo are very distrustful of all short links because they're used in phishing attempts.
Your emails will get flagged as spam if you use short links like bit.ly.
If you're sending bulk emails check out my Mailgun review to get an insiders look on how email companies operate.
Should you use a URL shortener?
URL shorteners are commonly used in social media links.
Brands want to understand how many people are clicking on links from their social media posts, and URL shorteners can give visibility into that.
URL shorteners are also good for affiliate links in blog posts, like this one.
Affiliate links are often very long and have ugly parameters at the end.
URL shortener helps make affiliate links look better by branding them to your website (my branded links are often c dot nicklafferty dot com) and lets you change the destination link without changing what link is in your blog post.
That last point is worth more explanation.
Imagine you're in an affiliate program for Notion templates.
You reference the same template 20 templates across your entire website, because you have a lot of Notion content.
But then your affiliate link changes and you need to update your website.
If you use a URL shortener, then you can login to their dashboard, change your link once, and it'll automatically update across your entire site.
If you don't use one, you'll have to find and replace that link 20 times which is much more time consuming.
Running a successful internet business is all about finding little efficiencies like that.
I still have a full-time job in addition to running this blog, so the more time I can save the better.
Best URL Shortener
I've tested several different free URL shorteners for this blog and the best is T.ly.
Here's a list of others that I've tested:
T.ly
Short.io
Rebrandly
Bit.ly
TinyURL
Sniply.io
Rocketlink.io
T.ly is run by one person which keeps their total cost low (no expensive salaries to pay) and is very affordable.
Pricing starts at $5/month for:
500 monthly links
Custom domains
Smart URLs (redirect by location)
API Access, Stats, and more
If you need to create more links then the next plan starts at $20/month and allows 4,000 monthly links, with a Pro plan for even more.
A good URL shortener is a required tool for my website due to the need for location-based redirects.
T.ly checks that box for me at a very affordable price. Their $5/month pla is enough for most people, and if you need to upgrade then $20/month is still less than the competitors like Bit.ly and Rebrandly.
Give T.ly a shot and tell Tim that Nick Lafferty sent you.
What happened to the Google URL Shortener, goo.gl?
Goo.gl, the Google URL shortener, was shut down in March of 2018. It joins a slew of projects like Google Inbox, Google Wave, and Google Reader that have been killed by Google.
It was among the first URL shorteners, and best of all it was free. Google decided to focus on other projects and there was competition from tools like Bit.ly
Rebrandly vs Bit.ly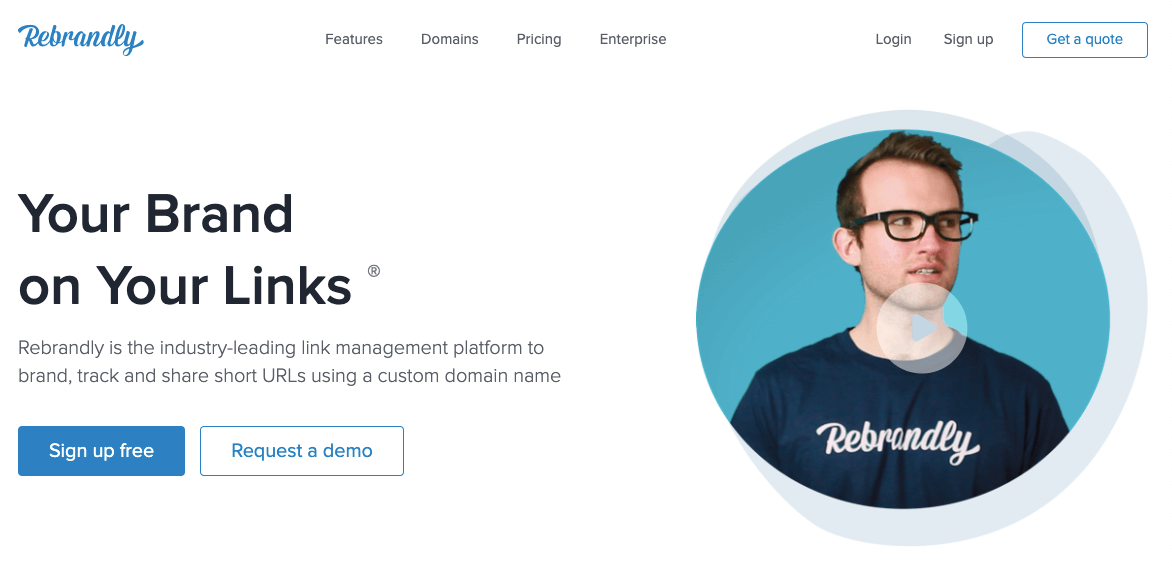 Rebrandly is a link shortening tool based in Dublin and Rome. Their tool tracks 2 billion link clicks each month and their users have created over 1 billion links so far.
Bit.ly is the largest URL shortening and link management service in the world
Note: Rebrandly used to be one of my favorite URL shorteners, but I don't find their pricing favorable for small blogs like mine.
Their pricing starts at $12/month, but only if you pay the entire cost up front for an annual plan.
This is true for Bit.ly as well, their cheapest plan is only available if you buy an annual plan.
If you want to pay monthly than Rebrandly's cheapest plan is $34/month which I frankly find insane.
Bit.ly is the same, their cheapest monthly plan is $35/month.
You can save a dollar if you use Rebrandly! Wow!
Rebrandly and Bit.ly also gate their Smart URL (redirect by location) feature behind that expensive plan too.
I'm sorry but I'm not paying $34/month for a URL shortener.
Rebrandly has a decent free plan that let's you add 1 custom domains, 250 branded links, and track 2,500 link clicks a month for free.
But it their free plan was nerfed since I originally wrote this article a few years ago, it used to be much better.
I understand businesses need to grow and be more efficient, but there are better options than Rebrandly today.
Rebrandly does have the advantage of letting you use a custom domain with their free plan, where Bit.ly does not.
I still wouldn't recommend Rebrandly or Bit.ly due to their pricing structures.
URL Shortener Cost Comparison
| | Basic | Pro | Premium |
| --- | --- | --- | --- |
| T.ly | $5 | $20 | $50 |
| Rebrandly | - | $34 | $99 |
| bit.ly | - | $35 | 300 |
| TinyURL | $12.99 | $129 | - |
| Sniply.io | $29 | $79 | $149 |
| Rocketlink.io | $19 | $29 | $69 |
On a monthly basis, T.ly has the most affordable paid plans compared to other link managers.
Be careful when comparing prices because some companies will only let you use their cheapest plan if you pay annually.
Summary
Look, you came here for a reason. I've reviewed the top link shorteners and the winner is clear: T.ly
The other tools listed here will get the job done but they're either more expensive or have a less robust free plan.
See Also