Are you looking to build a website with Notion?
You came to the right place.
This guide compares the top Notion website builders, Potion.so and Super.so.
Both let you create a full website with Notion.
Notion by itself does not let you build full websites, you can only publish individual pages.
You need a 3rd-party option to build an entire website.
But good news: there are great options available and they both have free plans.
Read my other post if you want a deeper dive on exactly how to create a Notion website.
Don't miss my list of popular Notion templates.
Why should you trust me?
I have over 10 years of experience building and growing websites for billion dollar companies.
I'm a professional growth marketer and I've helped companies like Mailgun (sold for $2 billion) and Loom (worth $1.3 billion) grow through paid ads, SEO, affiliate marketing, and website management.
I've been running my personal blog here for over 4 years and I've helped sell over $60,000 of Notion templates.
I run a podcast for Notion template creators, Template Titans, where I unpack their secrets to making money in the Notion ecosystem.
I used both tools to build a website from the same set of pages, and you can compare them both below:
Best Notion website builders
Potion.so
Super.so
Super.ink
Popsy.co
There are four popular website builders for Notion but today I'm going to focus on the top two: Potion and Super
How do Notion website builders work?
Tools like Potion.so and Super.so work by connecting information in your Notion pages to their systems, transforming it into website code, and publishing it on the internet.
They let you build a website by using a tool you're already very familiar with, Notion.
It works with all existing Notion blocks like callouts, tables, headings, images, and more.
What kind of Notion websites can you build?
Here are some example websites you can build:
A personal blog
A link-in-bio page for social media
A design portfolio
A resume to help you apply for jobs
Potion.so vs Super.so: Comparing Features, Pricing, & Page Speed
UI & Features
There are some major UI differences between the two tools.
Personally I find Super's UI easier to use and navigate.
Super UI & Features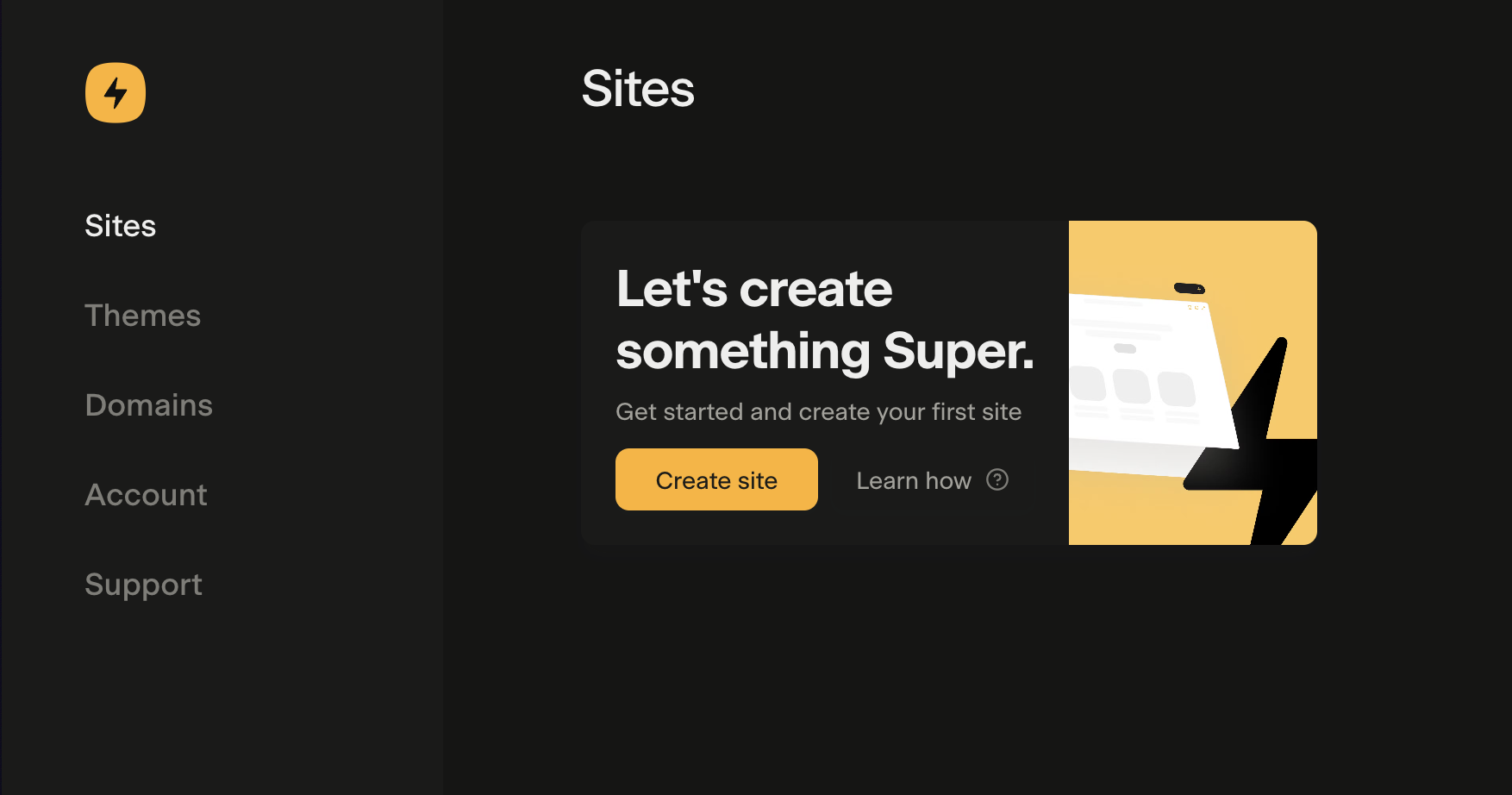 Here's what Super's UI looks like after signing up.
Clicking on add a website prompts you to name your website and link a Notion page.
After doing that it previews your page within the UI.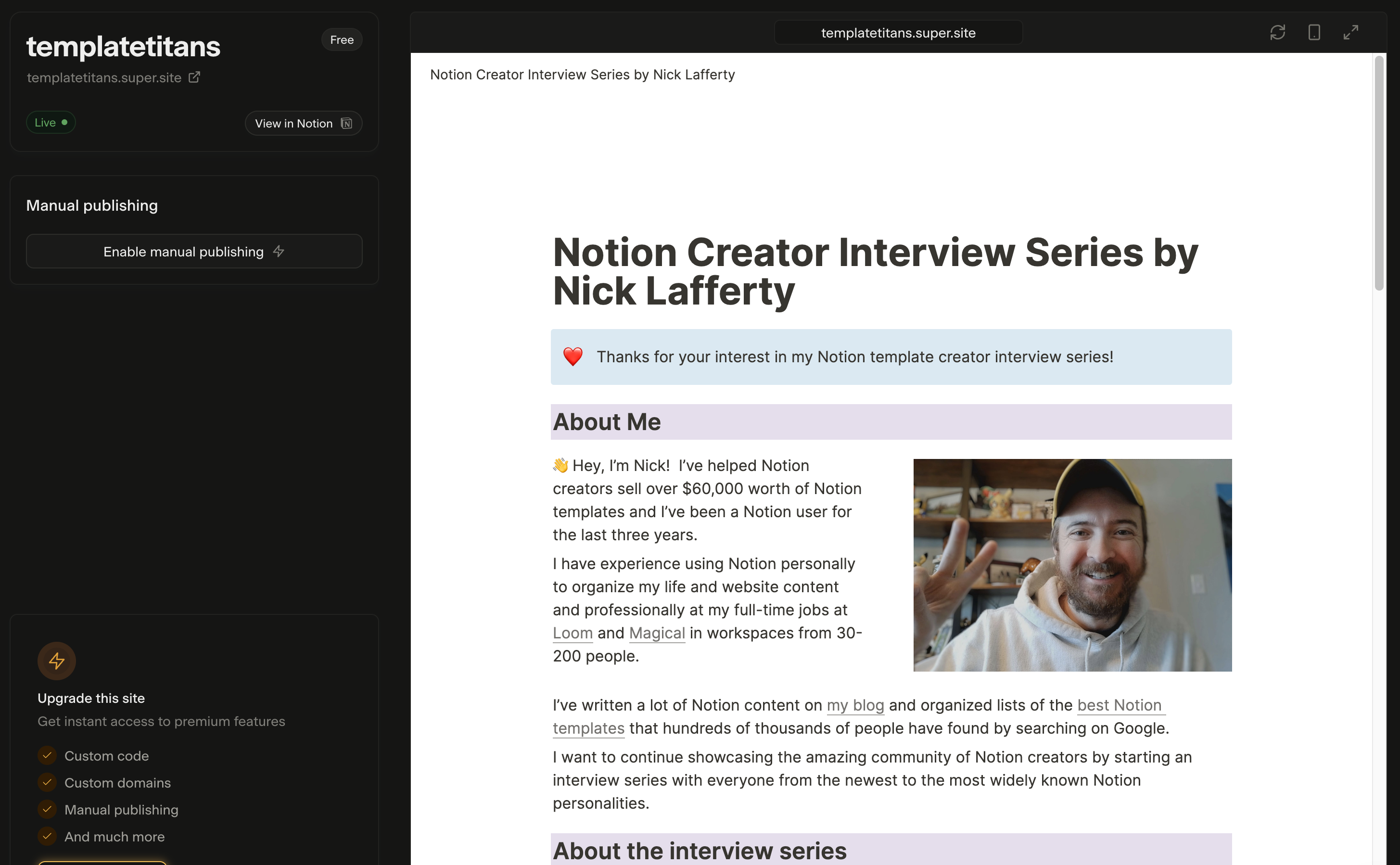 Configuration is grouped in the left-hand column:
Site
Settings
Domains
Pages
SEO
Design
Clicking on each group displays the options you'd expect.
I really like how the options are broken out visually and it made navigating between each option clear and easy.
The design section is my favorite part of Super.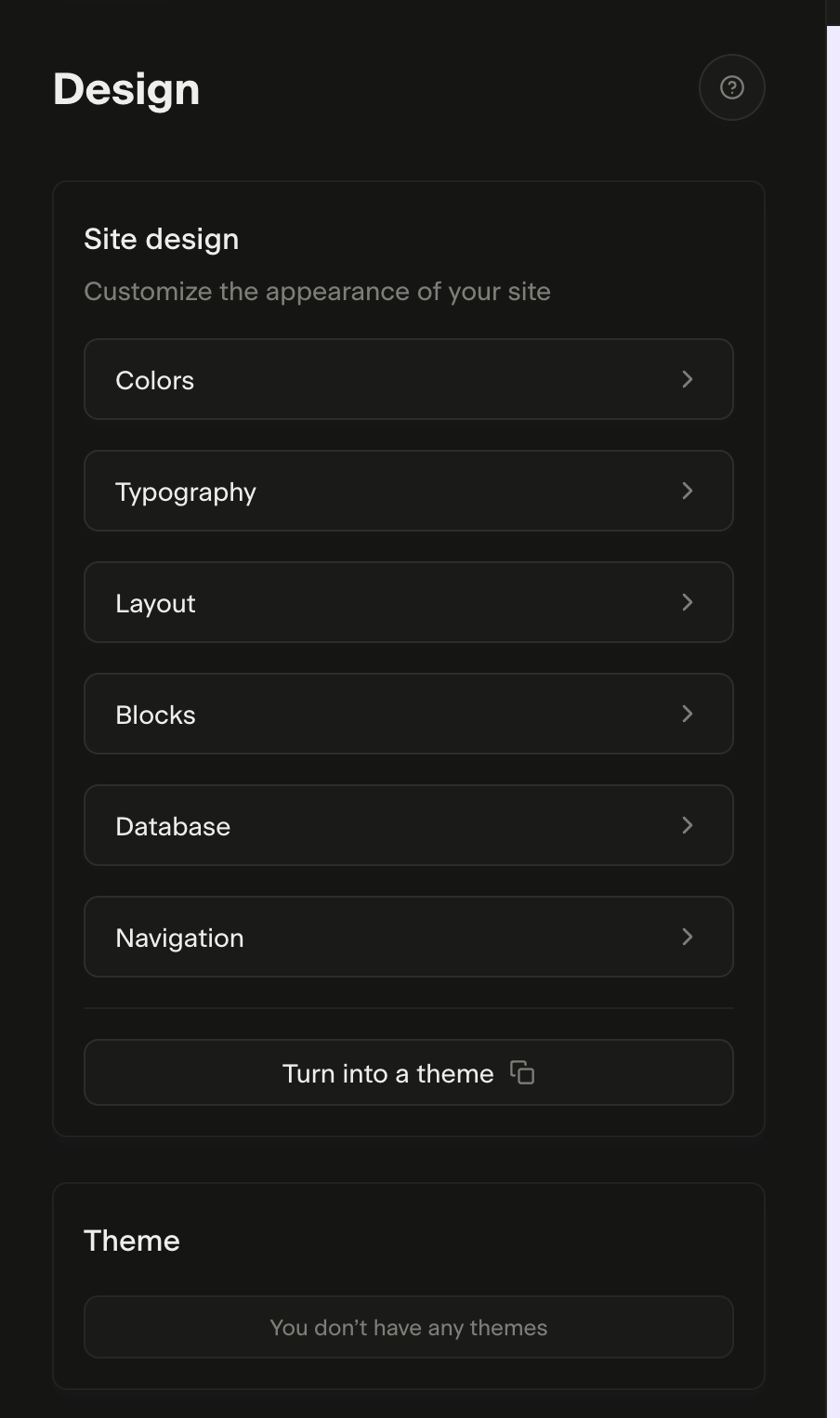 Here you can edit all aspects of your website design within Super:
Colors
Typography
Layout
Blocks
Database
Navigation
Clicking into colors lets you choose custom colors and themes for your entire website.

I selected a Light color mode and a Lavender color palette. This feature is unique to Super, Potion does not have it.
You can customize the color of each element on your page, down to individual pages, the header, the footer, and more.
Features Winner: Super
Potion UI & Features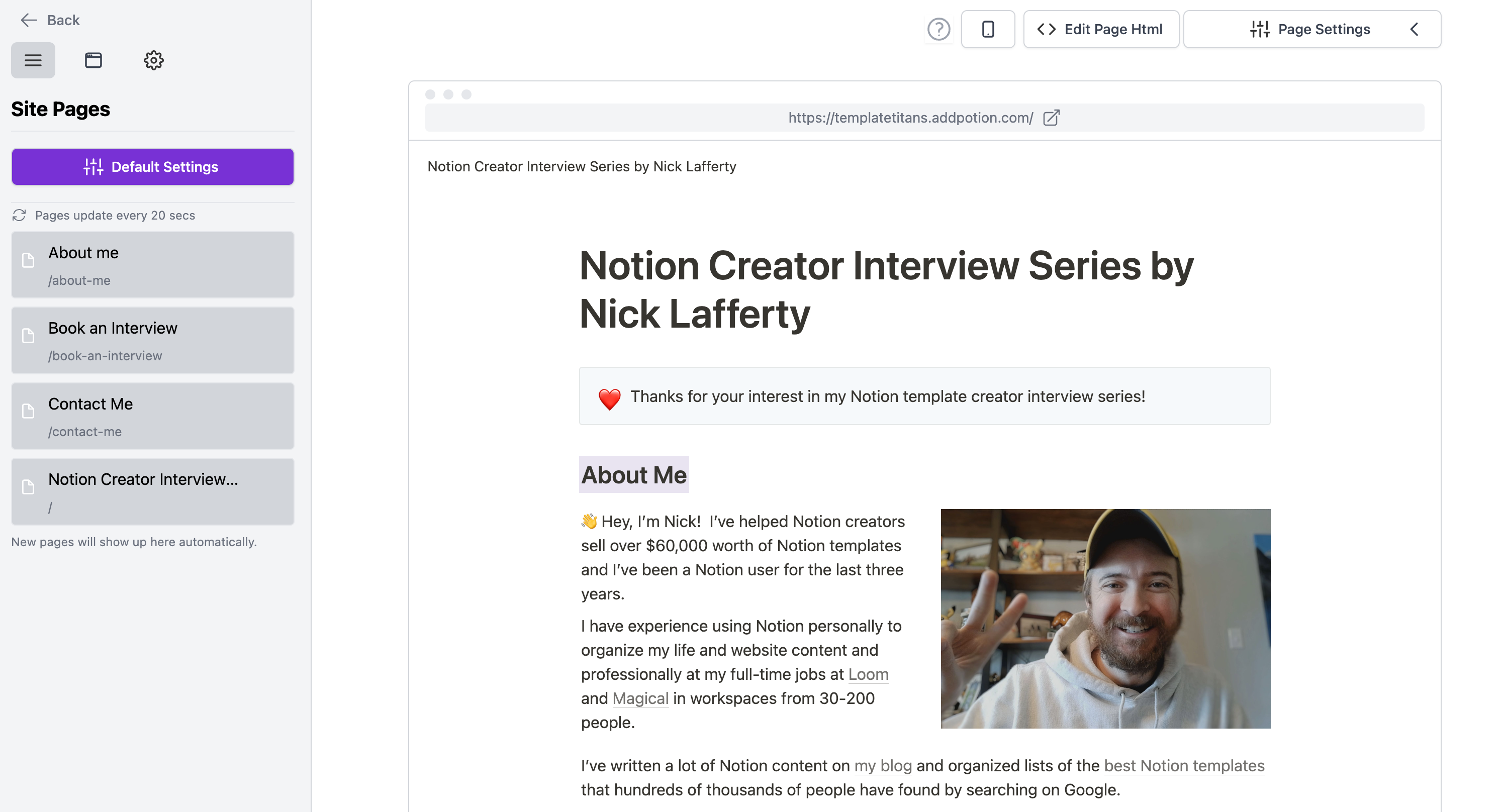 The Potion UI differs from Super in that the options are in a row at the top of the page, rather than a column.
Customizing your page in Potion is done more within the Notion page itself rather than in the Potion UI.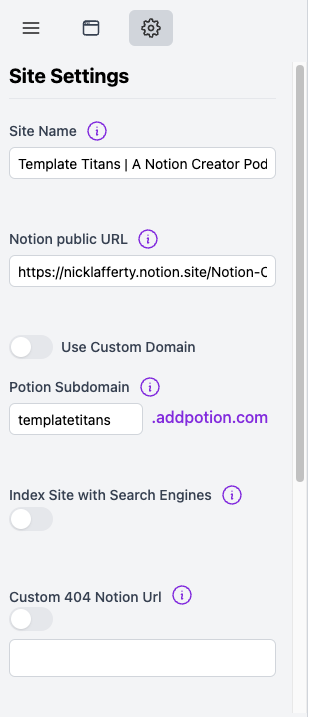 But there are still some settings available:
SEO Settings (title, description, index in Google)
Header background * font colors
Add call to action buttons
Set custom favicon
Potion does not have the same level of color customization as Super does.
You're limited to customizing header and background colors with a standard color picker.
There is no theme or color palettes to choose from like in Super.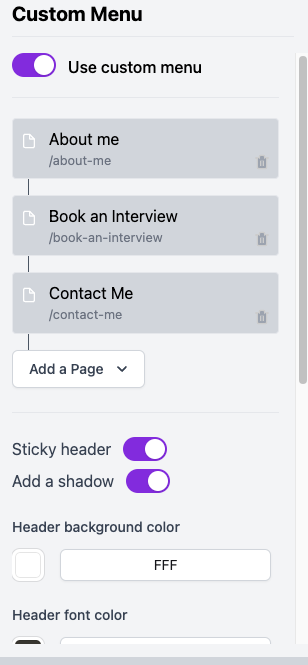 All of your color changes need to be done directly in the Notion page which is limiting.
Design Winner: Super
Pricing
Potion is more affordable than Super, especially if you plan to host multiple websites.
| | Potion | Super |
| --- | --- | --- |
| 1 Website: | $12/month | $16/month |
| 2 Websites: | $24/month | $32/month |
| 3 Websites: | $24/month | $48/month |
| 5 Websites: | $48/month | $80/month |
At 5 or more websites, Potion is half the cost of Super.
Both tools come with unlimited page views and bandwidth as well.
Here's what Super says about how they scale
Super is built to scale. Our distributed Content Delivery Network and caching infrastructure ensures fast page loads are available around the world, and that your site always performs at its best. There are no limits to the number of pages or bandwidth your site uses.
Pricing Winner: Potion
Page speed
I compared the page speed via Google's industry standard Page Speed Insights.
Both Potion and Super have similar performance for Mobile devices, which is what most websites are measured against because they have the slowest internet speed.
| | Potion | Super |
| --- | --- | --- |
| ** Speed Page:** | 79/100 | 76/100 |
Both websites load quick and the difference in points isn't enough to make a difference.
You can see their results in the screenshots below.
Potion Page Speed Insights Score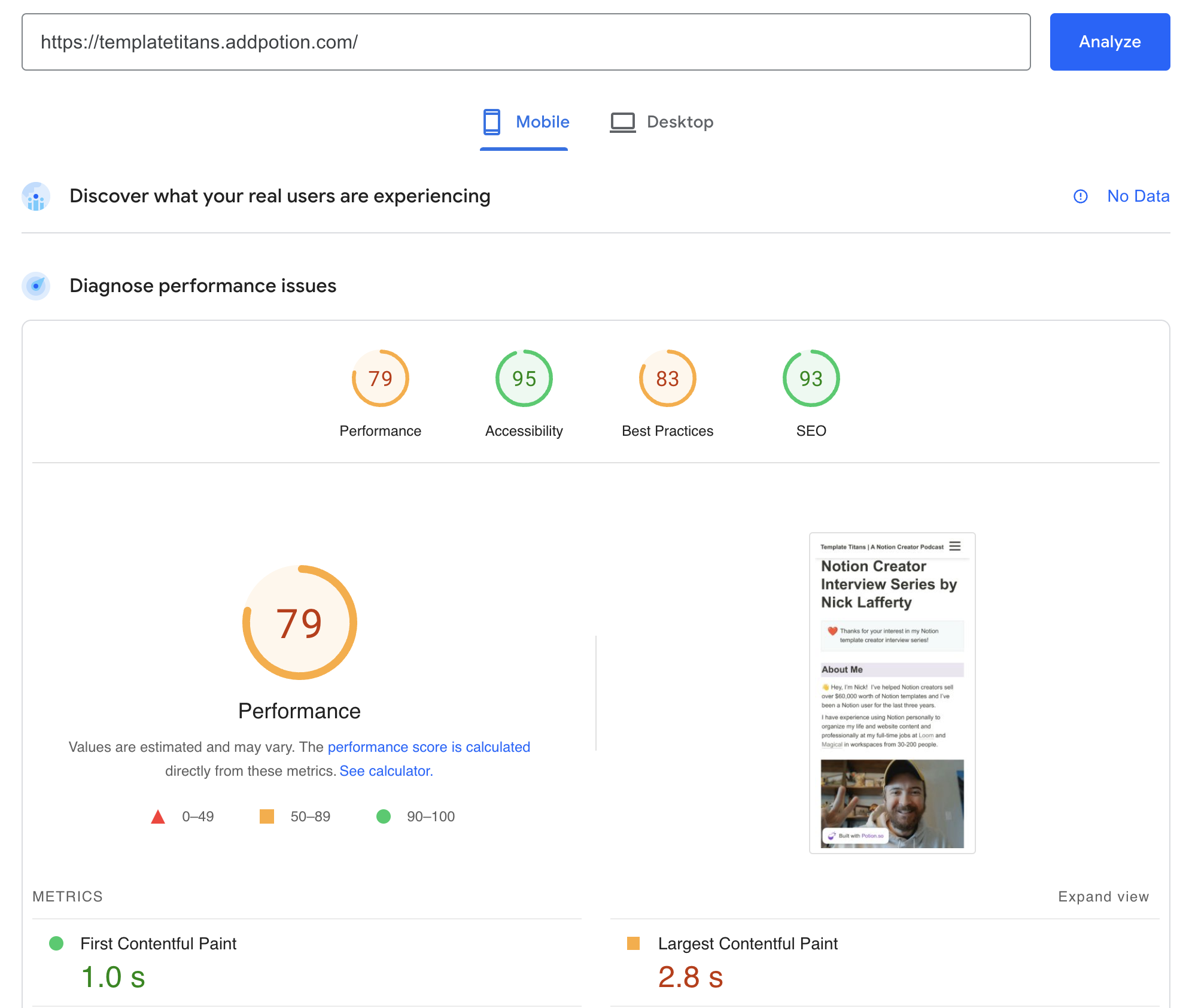 Super Page Speed Insights Score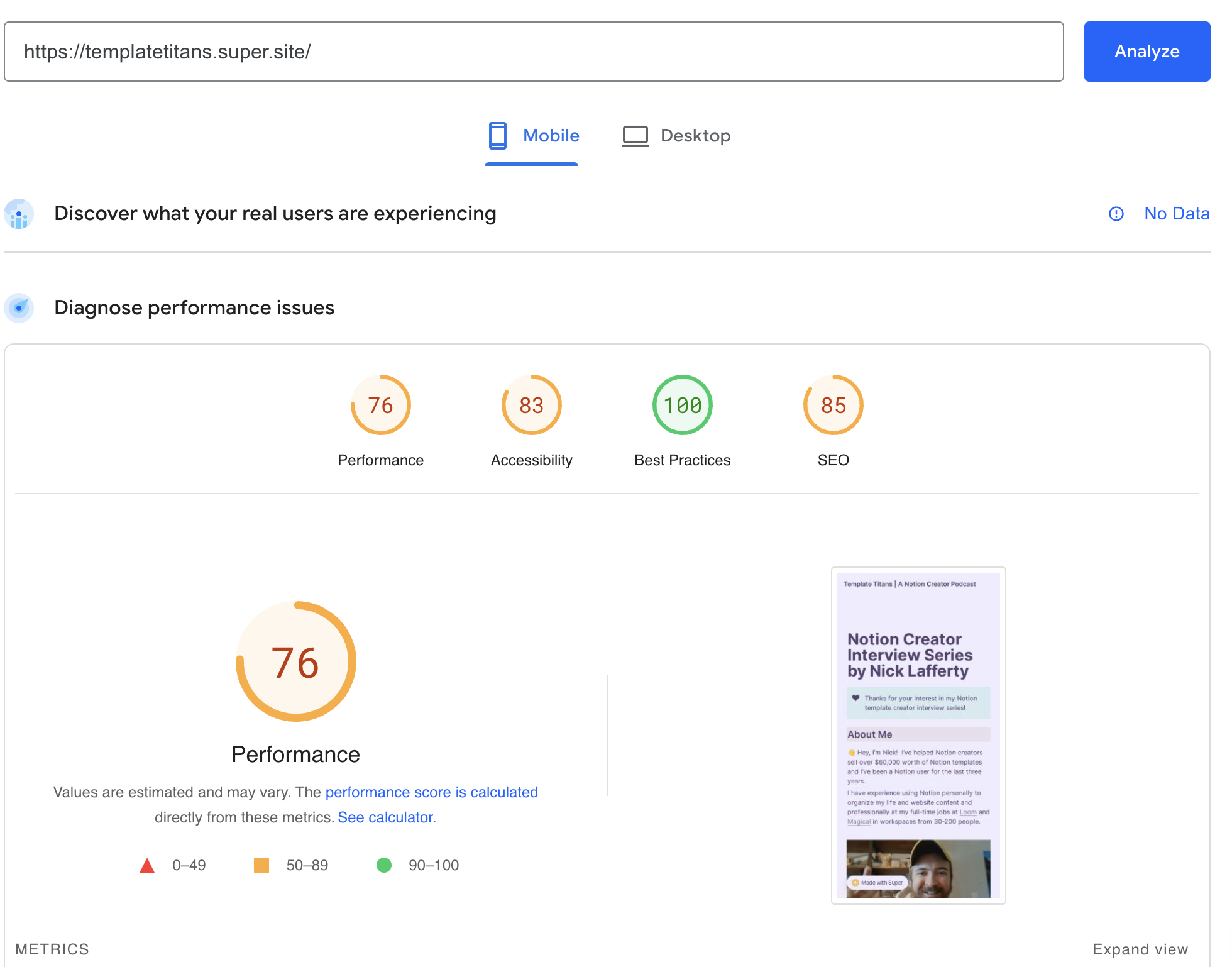 Page Speed Winner: Tie
Supported Blocks
Potion supports most, but not all, of Notion's blocks.
You can view the full list of supported blocks here and the list of unsupported blocks are:
Breadcrumbs
Calendar inline Database Views
Calendar Fullpage Database Views
Timeline inline Database Views
Timeline Fullpage Database Views
Abstract Embeds
Invision Embeds
Replit Embeds
Likewise with Super they have a list of supported blocks and their unsupported blocks are:
Timelines
Link previews
Complex formulas
Relative date format
Equations
Inline equations
Both tools support the same types of blocks neither of these are deal breakers to me.
Supported Blocks Winner: Tie
Super vs Potion: What's the best?
It all comes down to price.
If you're willing to shell out more, Super's color features are really nice.
But they come at a cost, Super is 50% more expensive if you're running 5 or more sites on it.
But for most people who want to host a single site, Super is a compelling option despite costing a few bucks more a month.
You can try them both for free to see what's best for you.
See Also