What is HR Software
HR software helps manage hiring and recruiting new employees, benefits, payroll, continued employee development, performance management, and general tasks for the human resources team.
Hiring, training, and managing a workforce is complicated. Whether you have 10 employees, 100, or 10,000, HR teams need the proper tools to ensure everyone is happy, productive, and gets paid on time.
Types of HR Software
Human Resources Information Systems (HRIS Software)
Applicant Tracking Systems (ATS & Recruiting Software)
Benefit Software
Learning Management
Performance Management
HR Software Features
HR software features fall into three buckets.
Hiring & Recruiting
Onboarding & Activating
Benefits & Payroll
I'll talk about each of the three below.
Applicant Tracking Systems (ATS)
ATS, or applicant tracking software, is what you see when applying for new jobs.
It's organizes the list of open roles, provides tools to let applicants apply, posts on job sites like Indeed or ZipRecruiter, and tracks candidates progress throughout the entire hiring journey.
All of the emails sent from the recruiter to you, and all of your replies, are organized in the ATS.
That's because hiring isn't a one person activity. An entire group is dedicated to finding, interviewing, and hiring the right person for the job.
The difference between a good ATS and a great ATS is about:
How easy it is for the HR team to use
How many hours does it save through automation
Most of the time saved is by automating candidate outreach.
Great applicant tracking systems will let you build automated outreach sequences to email candidates for you, based on filtering criteria you select.
I changed jobs recently and became very familiar with the different types of ATS in the market today.
I've also hired for dozens of digital marketing roles in my career so far.
The best applicant tracking systems are almost invisible to the person applying to the job.
And that's how it should be.
My top pick for an ATS is JazzHR
Onboarding
Onboarding is the second biggest feature of HR tools.
Finding and hiring great employees gets them in the door, but for them to be successful they need access to the right tools, resources, and guides.
They need to be setup for success, and that's where onboarding starts.
Imagine your employees first few weeks at a company.
They can be kind of scary. It's a new environment full of new people.
They have to learn new systems and get ingrained in a completely new company culture.
The company values are likely also different here than at their last job.
The average cost per hire is $4,000.
If your new employee has a bad onboarding experience and decides to start looking elsewhere, that's an immediate loss for the company.
All of this to say is that onboarding is even more important than the recruiting and hiring process.
My favorite tool for onboarding is Rippling .
With Rippling, you can complete all of this with a click a button:
Send a I-9
Finalize an offer letter
Begin setting up payroll &, health insurance
and more, all online and paperless
Benefits & Payroll
Benefits and payroll is the last, and the most important, feature for HR software.
Benefits and payroll tools make payday easier for both the HR team and the people getting paid.
They automatically track and pull timesheet data, including paid time off for salary employees, to pay your employees accurately.
They also need to calculate taxes and benefits (like 401k withholdings) to determine the net take home pay.
This data is typically surfaced in a self-service dashboard for employees to see and edit.
Sometimes their tax withholdings change, or they want to change their 401k contributions, or they had a major life event like getting married.
The lives of your employees are complicated and unique.
So your HR software needs to have the best employee portal available for benefits and payroll.
Because the best and most important part of HR software is payroll.
After all, that's why we work, right?
We trade our time and energy for a paycheck.
My top pick for Benefits & Payroll software is Rippling
Best HR Software For Workforce Management
Rippling
ADP
JazzHR
Goco.io
Sapling
BerniePortal
Rippling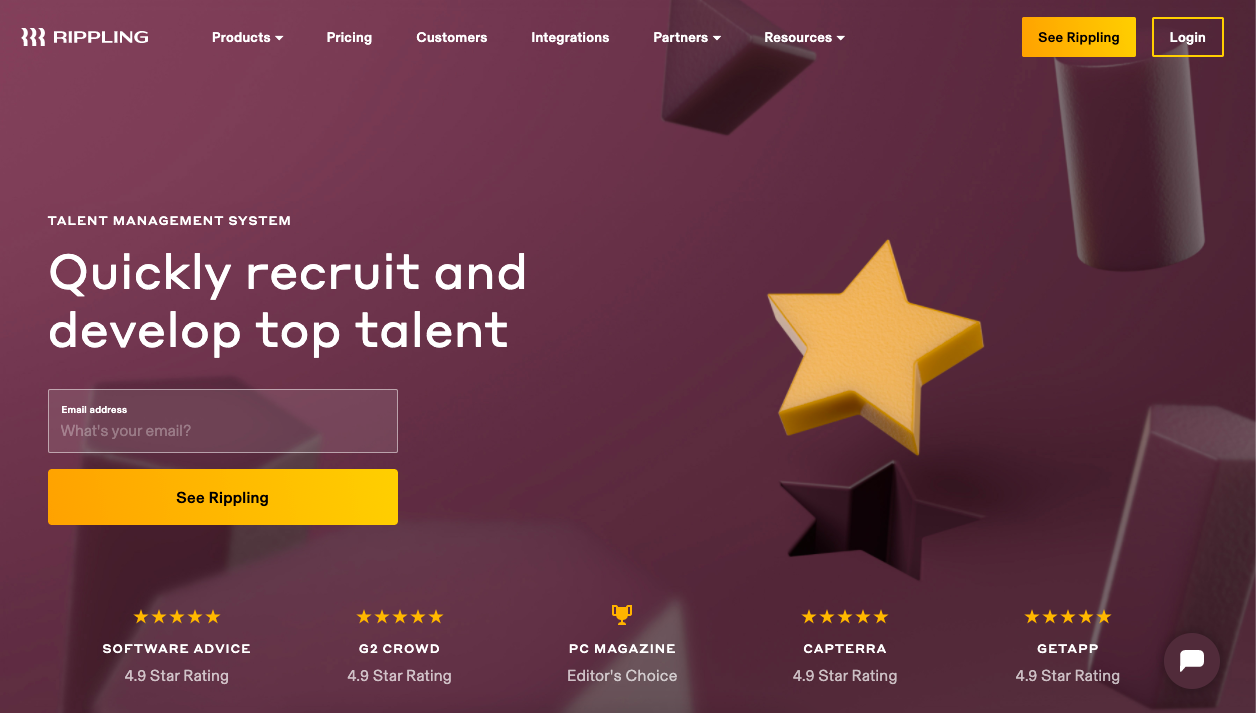 Rippling is an employee management system that brings together Payroll, Benefits, HR, IT, and more in one software package.
From onboarding to offboarding you can manage all your employee operations in one place.
And pricing starts at $8/month per user

Anything you need to hire, train, and manage a workforce of any size can be done with Rippling, including:
Payroll
Benefits
Learning Management
and more
One of the best email clients, Superhuman, uses Rippling.
Superhuman is all about creating a blazing fast email experience, and they needed an onboarding tool to match that level of speed.
Rippling helped them achieve that.
They cut their onboarding time in half and saved an average of 15 admin hours each month.
That adds up to real savings for a company.
Superhuman migrated from Gusto which is another popular HR software.
Rippling also has a 4.9 rating on G2, a popular site for B2B software reviews.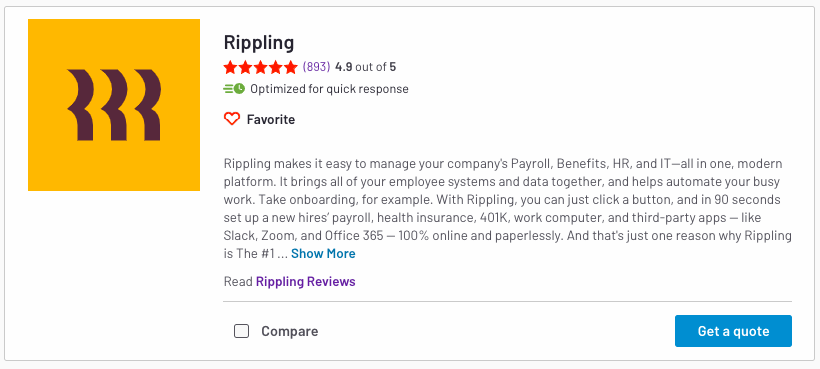 Rippling is some of the best rated HR software on G2's website, which is high praise in an industry that relies on making employees happy and productive.
ADP
ADP , which stands for Automatic Data Processing (I see why they abbreviate..), is an HR provider I've used multiple times as an employee.
ADP used to have a really outdated UI but they've made some huge improvements lately that help modernize their look.
ADP is a publicly listed company with revenue over $14 billion in 2020. Safe to say they're a major player in the HR space.
ADP serves companies of all sizes, most of my experience is at company sizes 100-300 employees, with everything from payroll, general HR services, time tracking, workforce management, and professional employer organization(PEO).
What is PEO? PEO is a managed HR service that ADP provides as an extension to your internal HR and People Ops team.
With a PEO from ADP®, your business gets dedicated guidance and all-in-one technology to help you manage your HR, talent, benefits and risks, and achieve concrete results.
The PEO performs basic HR tasks for you, like payroll and benefits administration.
It can help if your HR team is overloaded or can't hire quickly enough to support your growing organization.
My current company uses a form of PEO to manage our benefits. That certainly costs more than hiring internal employees to run it, but it frees our team up to manage other high priority tasks.
Our benefits include things like an internet stipend, wellness benefits, and mental health benefits. The PEO manages, approves, and helps payout those expenses to each employee.
JazzHR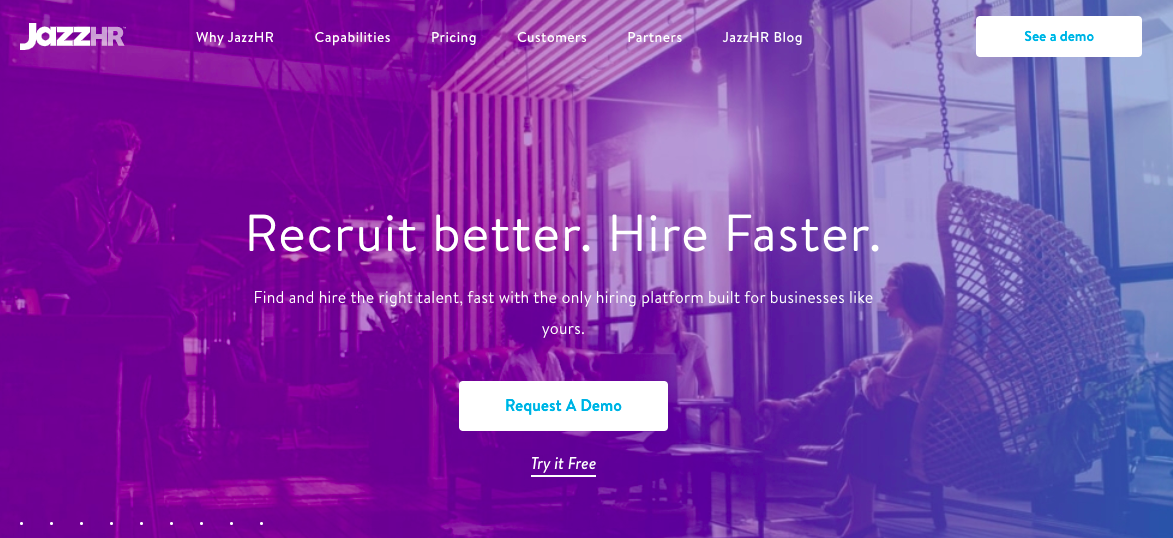 My next pick for HR software is JazzHR .
JazzHR focuses on the recruiting and sourcing of new candidates.
It allows you to easily track applicants, source better candidates, and send customized offer letters with ease.
Unlike Rippling, JazzHR is priced on a monthly basis for unlimited users.
It starts at $39/month but the best value is with their $229/month plan.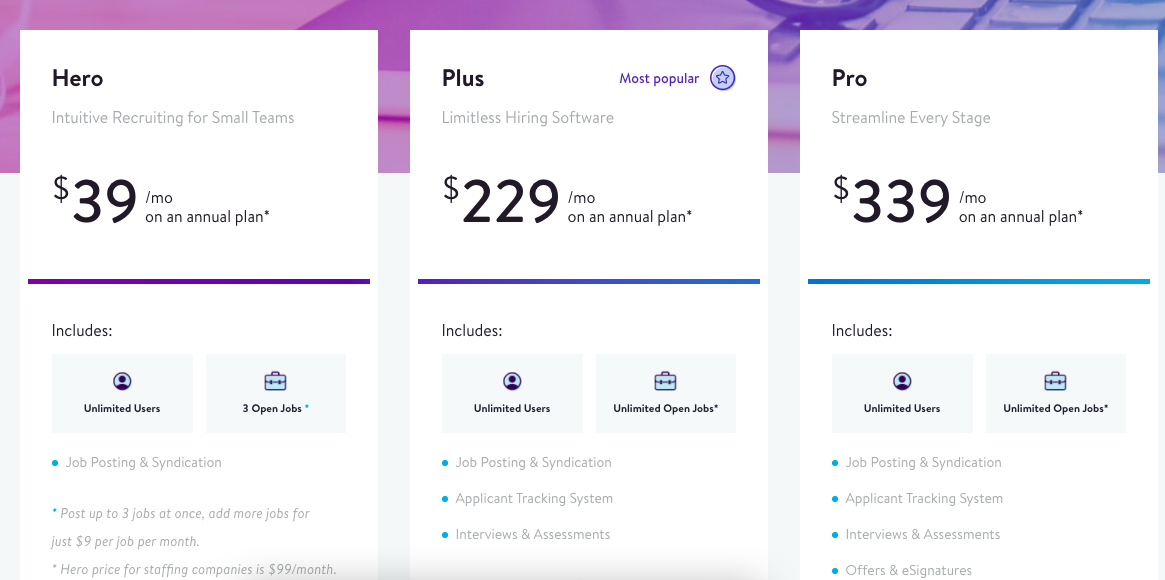 That includes job posting & syndication, an applicant tracking system, and interviews and assessments.
To send custom offers and collect eSignatures you'll need their Pro plan which is $339/month.
Overall it's still an affordable solution for HR teams looking to add-on a sourcing specific tool to their HR tech stack.
Goco.io

Goco is a smaller competitor to Rippling.
It's an all-in-one HR software that covers hiring, onboarding, benefits, payroll, and time tracking.
Goco was founded in 2015 and has raised $12.6 million in funding so far.
They have about 66 employees according to LinkedIn. Rippling has over 700.
But more employees does not necessarily mean the product is better.
Goco is competitive on price: starting at $5/month compared to $8/month for Rippling.
At a high level Goco has all the features an HR team would need.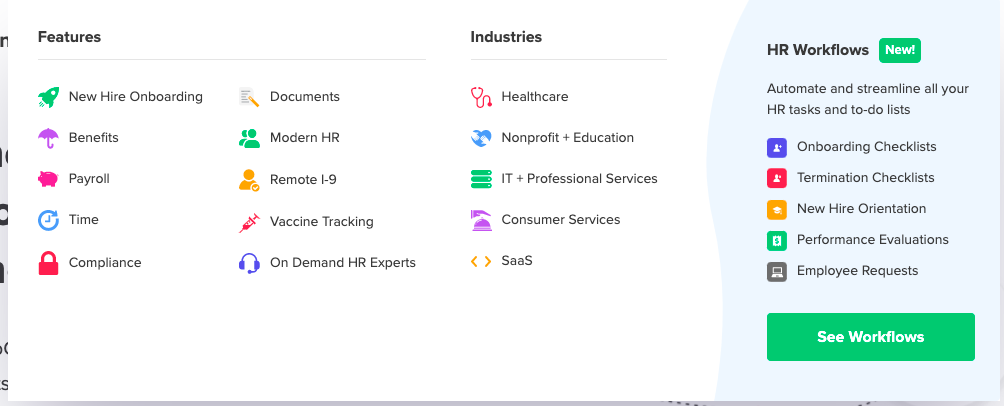 They even have a Covid compliance tracker where you can track vaccine status and test results for your entire organization.
I love how Goco describes their onboaridng tool.
| GoCo automates your hiring and onboarding workflow so you can greet your next new-hire with a smile on the first day — instead of a stack of paperwork.
Goco's hiring and onboarding process is directly integrated with JazzHR.
You can send a customized offer letter, collect e-signatures, and give a benefits preview to new employees.
Then once they've signed and had their first day, Goco has a self-service benefits enrollment suite.
Payroll, W-4 withholdings, and benefit deductions are all calculated and automated as well.
I have a soft spot for start-ups and smaller companies, so definitely give Goco a shot when you're sourcing your next HR tool.
Sapling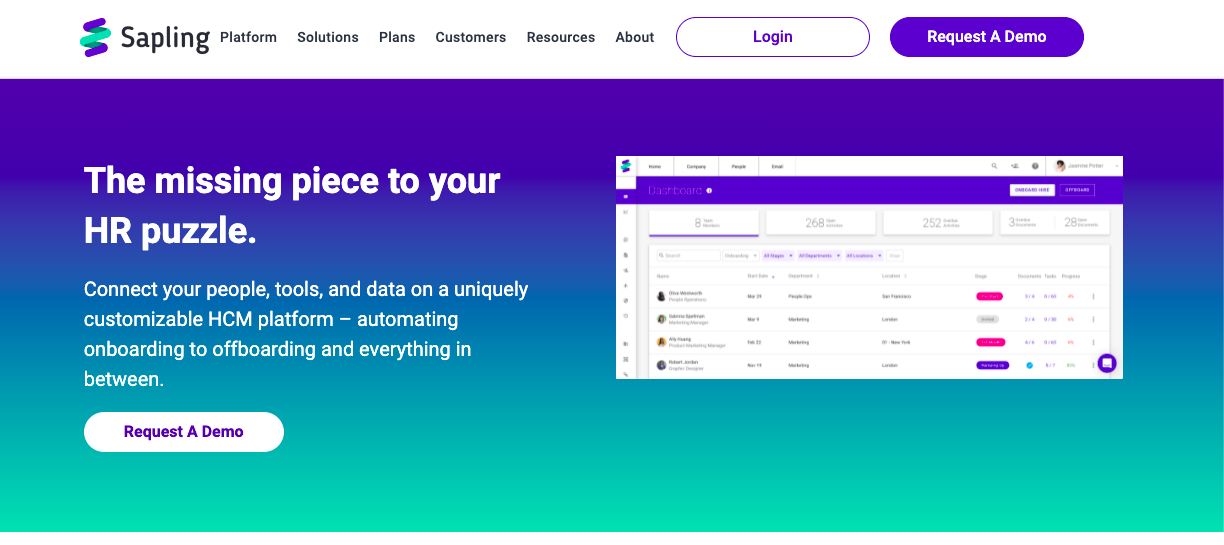 Sapling describes themselves as a people operations platform.
At most tech companies I've worked at, the HR team is often called the people operations team, so Sapling is positioning themselves as a modern HR solution.
Sapling manages everything from onboarding to offboarding.
They have 68 employees and raised a $4 million seed funding round in 2019.
In 2021 they were acquired by Kallidus, a provider of learning management solutions, for an undisclosed sum.
Sapling is used by some big brands:
Warby Parker
Webflow
Invision
PagerDuty
Figma
But unlike Sapling or Goco, they don't list their prices online.
You have to submit a demo form and enter a sales cycle to get pricing.
But from a feature perspective they have everything a people ops team would need.
Sapling is also focused on remote and fully distributed teams.
Companies like Invision and Figma are going fully remote, and they both use Sapling to manage their HR operations.
Sapling works wherever your employees are located, which is becoming increasingly normal now for more companies to accept remote workers.
BerniePortal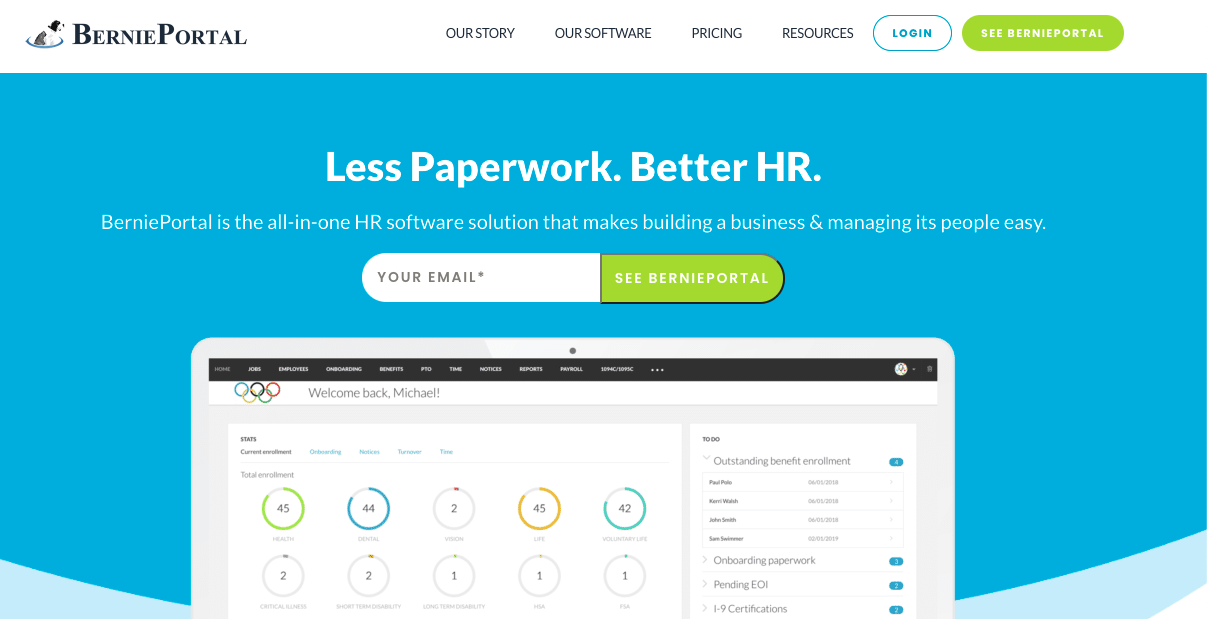 Last but not least on this list is BerniePortal .
Starting at $11/month they're more expensive than Rippling and Goco, but don't discount them yet.
They were founded in 2008 by two brothers in Nashville and have over 5,000 customers.
BerniePortal best serves small and mid-size businesses to help them optimize HR, improve employee experiences, and spend more time building their businesses.
Wrapping Up
HR software is becoming more competitive every year.
You have startups like Goco trying to disrupt major players like Rippling .
JazzHR does recruiting and hiring so well that other companies white label it in their products.
Choosing the right HR software is a choice that will impact all of your employees, so it's worth checking out multiple options and really taking your time.
See Also