How many times did you check your email today?
Most people checked email an average of 15 times every day.
Which means you check email every 37 minutes.
The average professional spends 27% of their workweek managing email.
That's a lot of wasted time.
You can instantly be 15% more productive if you reduced how much time you wasted on email.
And the best way to do that is with a better email experience.
Look, none of us were taught the right way to do email.
It's something we all learned either on the job or ignoring chain emails from Grandma.
But Gmail and Outlook aren't the only ways to send email. There are better options and I've used them all so I can give you my advice.
This is a list of the best email clients for Mac, starting with my personal favorite Superhuman.
And if you're a software developer don't miss my review of the best email clients for windows.
Best Email Clients For Mac
Best Email Clients For Mac
1. Superhuman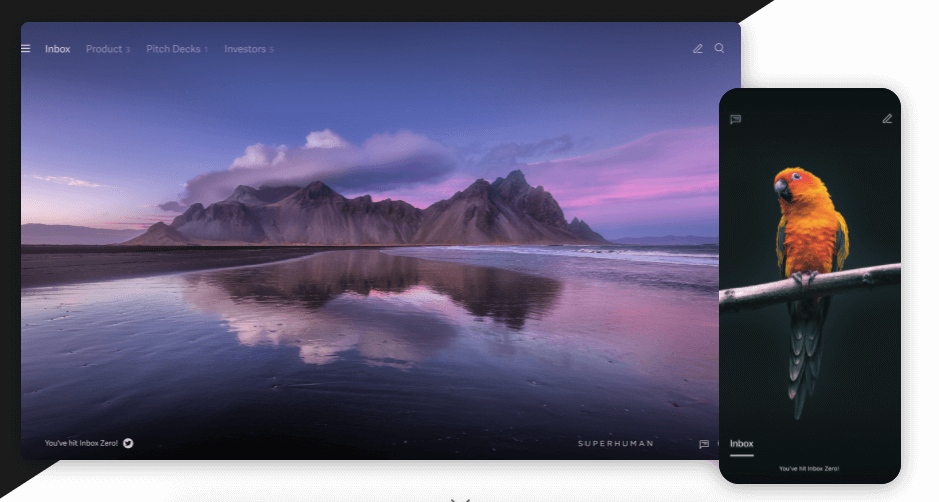 Superhuman is far and away the best email client I have ever used.
Here's why:
It's super fast
Everything has an intuitive shortcut
It has useful AI features
It suppots Gmail and Outlook
It works for Windows, Mac, Android, and iOS
It's been my full time email client since 2020 and I keep an updated full review of Superhuman where I talk about it's latest features.
Over the last 3 years no other email client has pulled me away from Superhuman.
Here's something no other email client does: a 30-minute personalized onboarding session.
Yes, a real human will talk with you for 30 minutes to teach you the best ways to use email (and Superhuman).
It's completely optional, so if the thought of meeting with a human freaks you out then you can skip it!
But let me tell you it's so worth it.
Especially if you have 100s or 1000s of unread emails, you need an expert to teach you the basics.
Because when you're done with the onboarding session you'll instantly be more productive.
You can conquer your inbox instead of letting those unread emails conquer you.
Click here for a free month of Superhuman.
Superhuman Features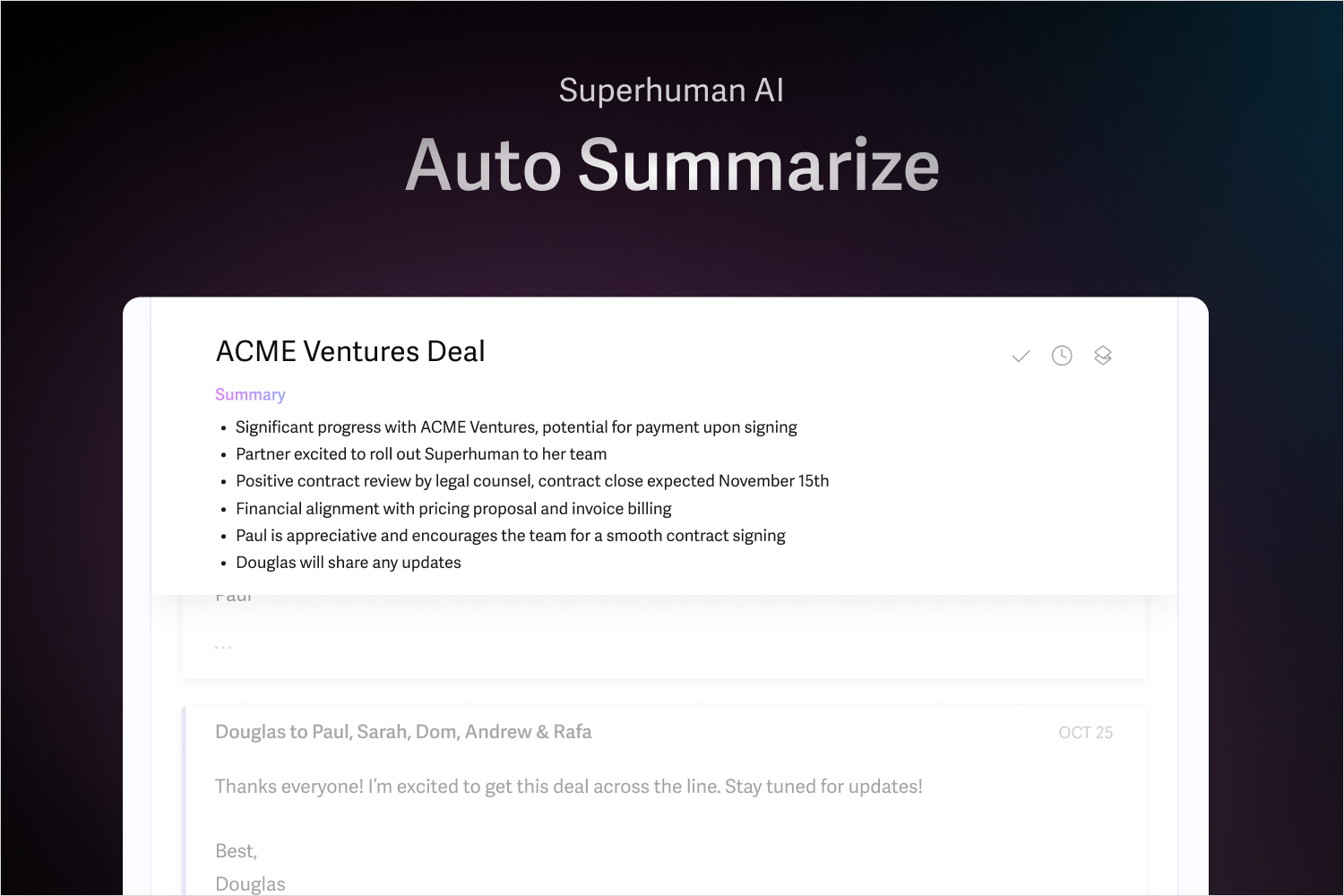 My favorite new Superhuman feature is Auto Summarize.
Once you've enabled Superhuman AI (which is opt-in) then Superhuman will automatically summarize long email threads for you.
This is super useful for keeping on top of long threads you get added to at work or long back-and-forths you have with contractors, freelancers, prospective clients, or your Mom.
It starts with a single sentence summary but you can press M to get a list of bullet points in chronological order, like the screenshot at the top of this section.
I use this all the time in my work as a solopreneur growth marketing consultant.
Here are some other features of Superhuman I use often:
Integrates with common email providers like Gmail and Outlook
The most intuitive shortcuts of any email app I've used
An optional white-glove on-boarding experience where A real human walks you through your first 30 minutes using Superhuman on a video call.
Customizable snippets to create templates for common responses.
Superhuman Pricing
Superhuman costs $30/month.
Yes, you read that correctly. 30 bucks a month for an email client.
How could it possibly be worth that much?
If Superhuman saves you one hour a week and your time is worth $30/hr (and trust me, your time is worth more than that), then it pays for itself in a week.
One thing I've learned in my career is that you need to invest in yourself.
Anything that can give you time back in your day so you can spend it doing other things (like building a portfolio career) is worth spending money on.
Not investing in yourself is like driving 20 minutes across town to save 2 cents on gas. It's not worth it.
But if you're not excited about paying $30/month then check out my list of Superhuman alternatives.
2. Spark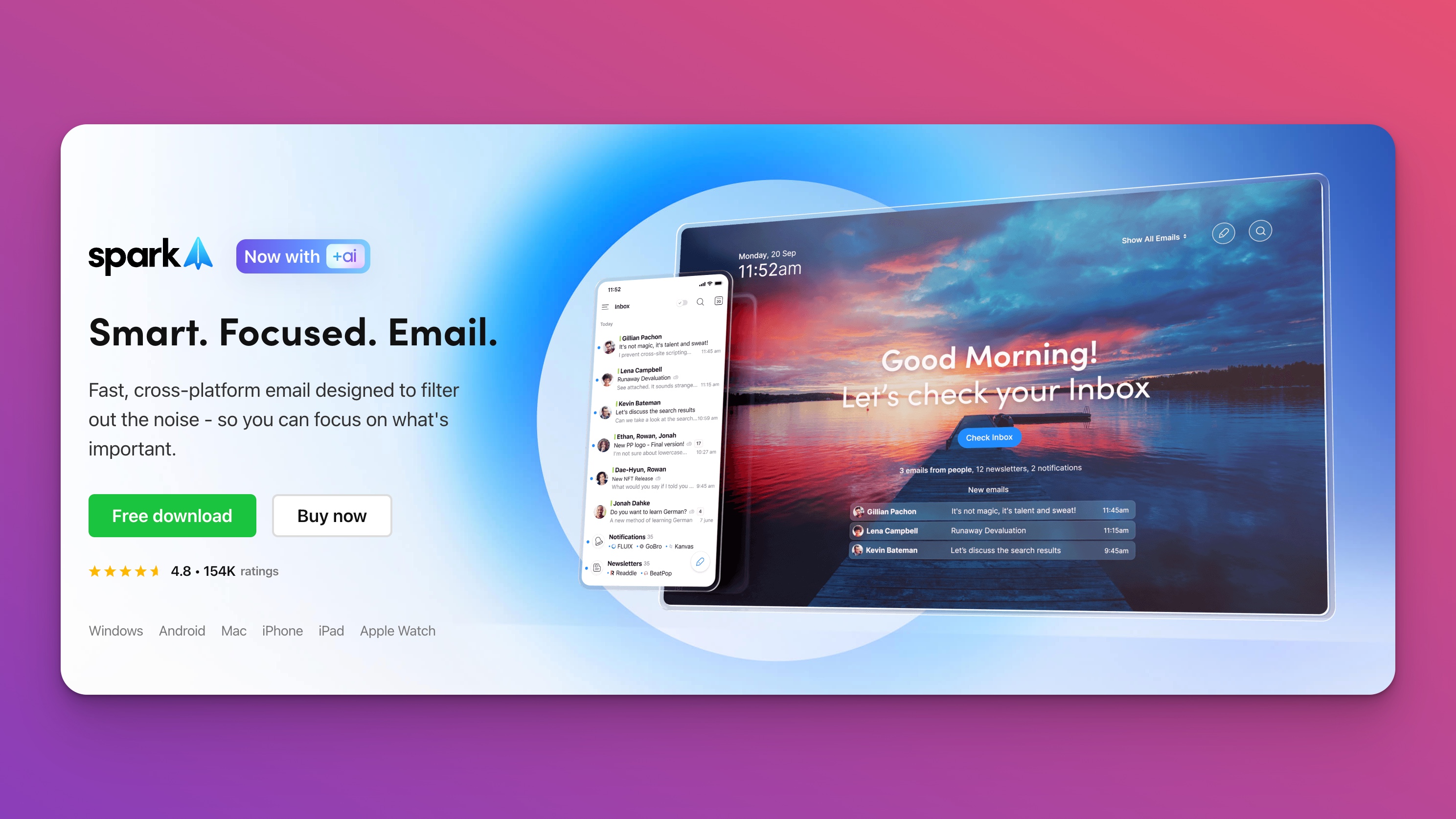 Spark was my main email client before I used Syperhuman.
Spark used to be Mac only but now it works across all devices.
Spark Initial Experience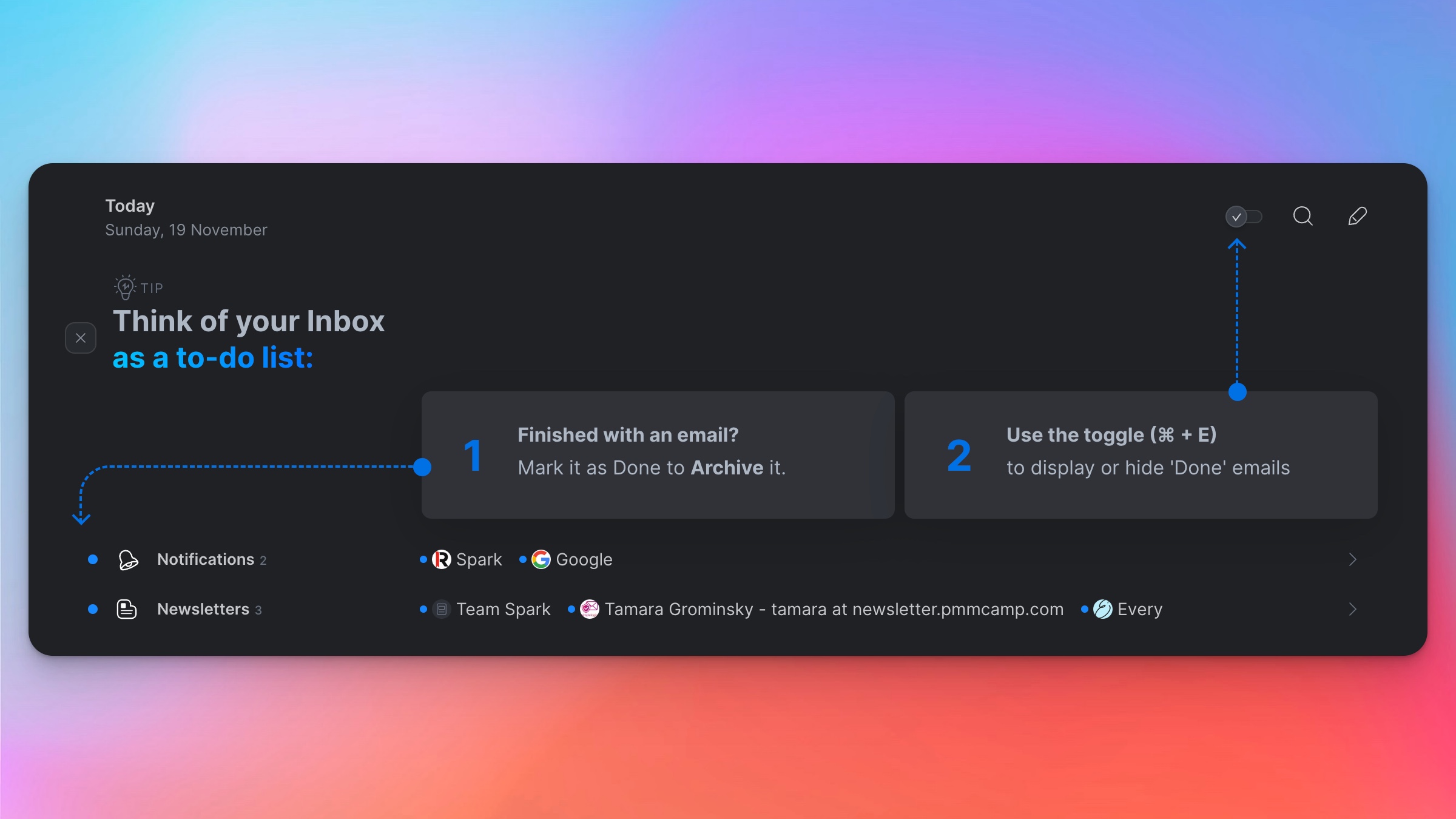 Spark has changed a lot since I first wrote this article in 2021 so I installed it again on my Mac to see what's new.
The first difference I noticed is the UI. It's more modern annd clean now – it even defaulted to dark mode using my system preferences.
Emails marked as 'Done' are automatically hidden but you can press Cmd-E (Ctrl-E on Windows) to show them like this: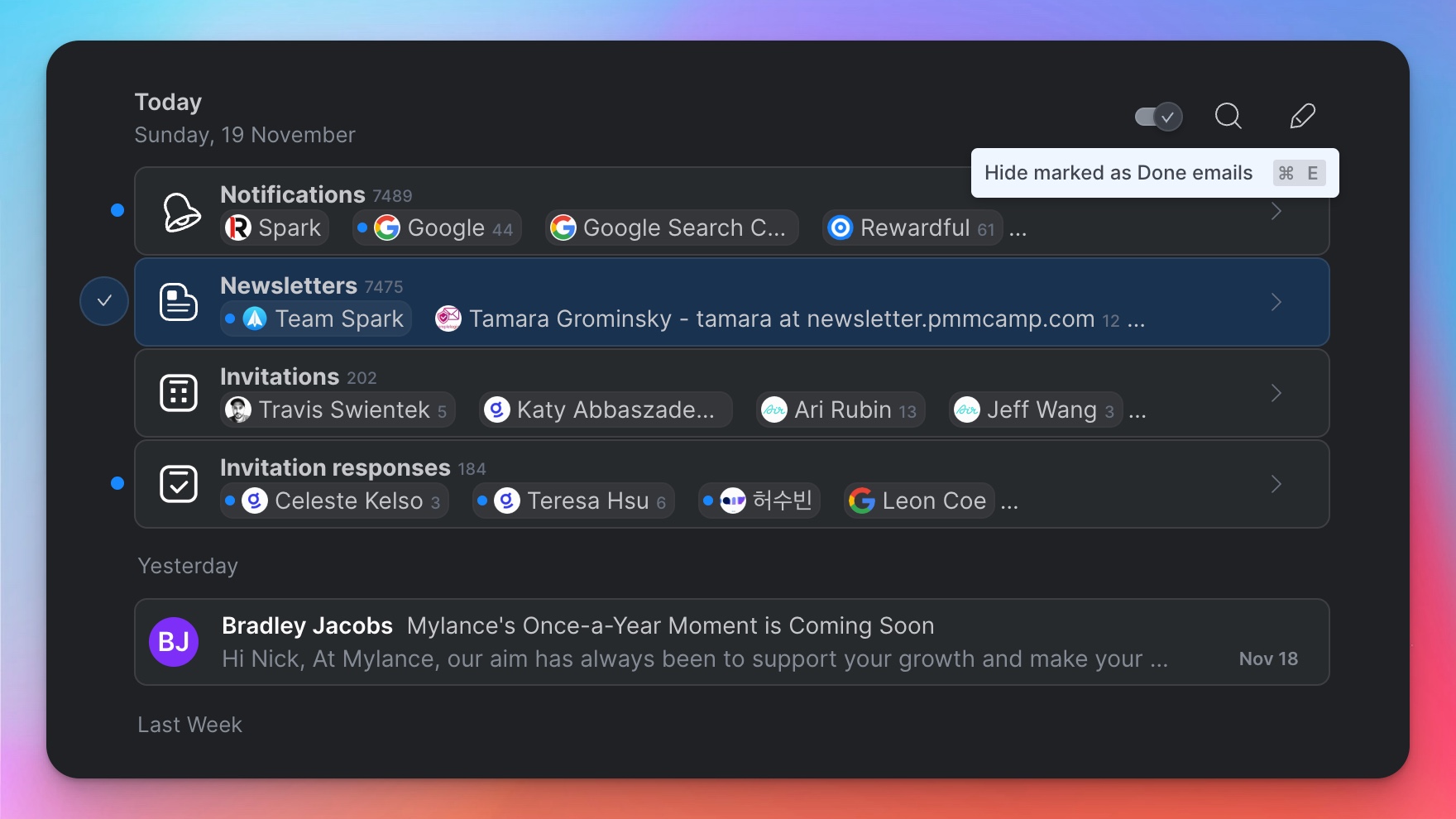 The left sidebar of Spark organizes your inbox into sections just like Gmail:
Spark Pricing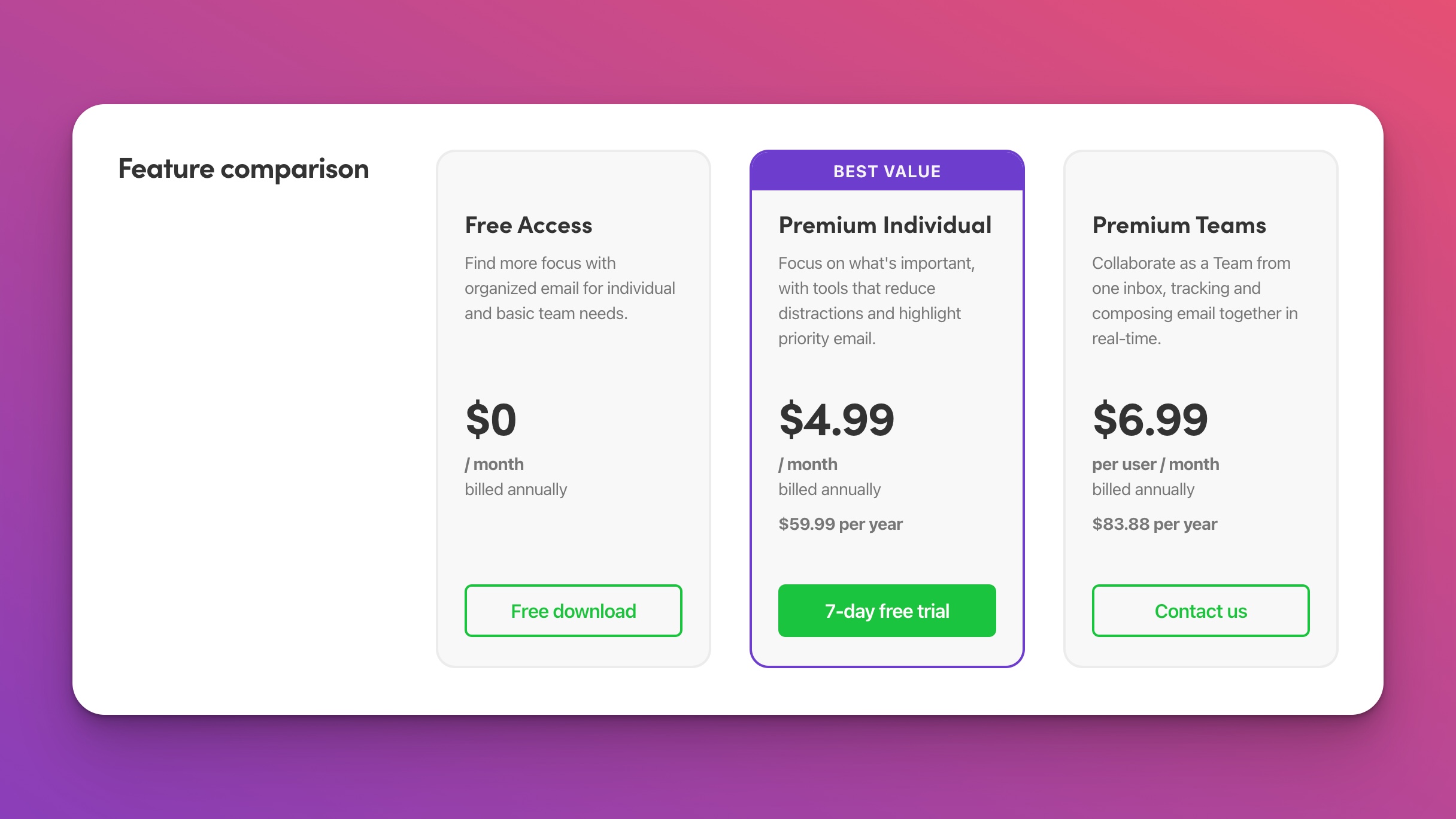 Spark also two payment plans for individuals:
$4.99/month
59.99/yr (no annual discount)
It's worth noting that Spark has a free version that does not include:
AI features
Priority email
Block sender
The great thing about Spark is you don't need to pay for it. The free features are perfectly fine for the average email user.
Worth noting that Spark is 84% cheaper than Superhuman per month.
Spark AI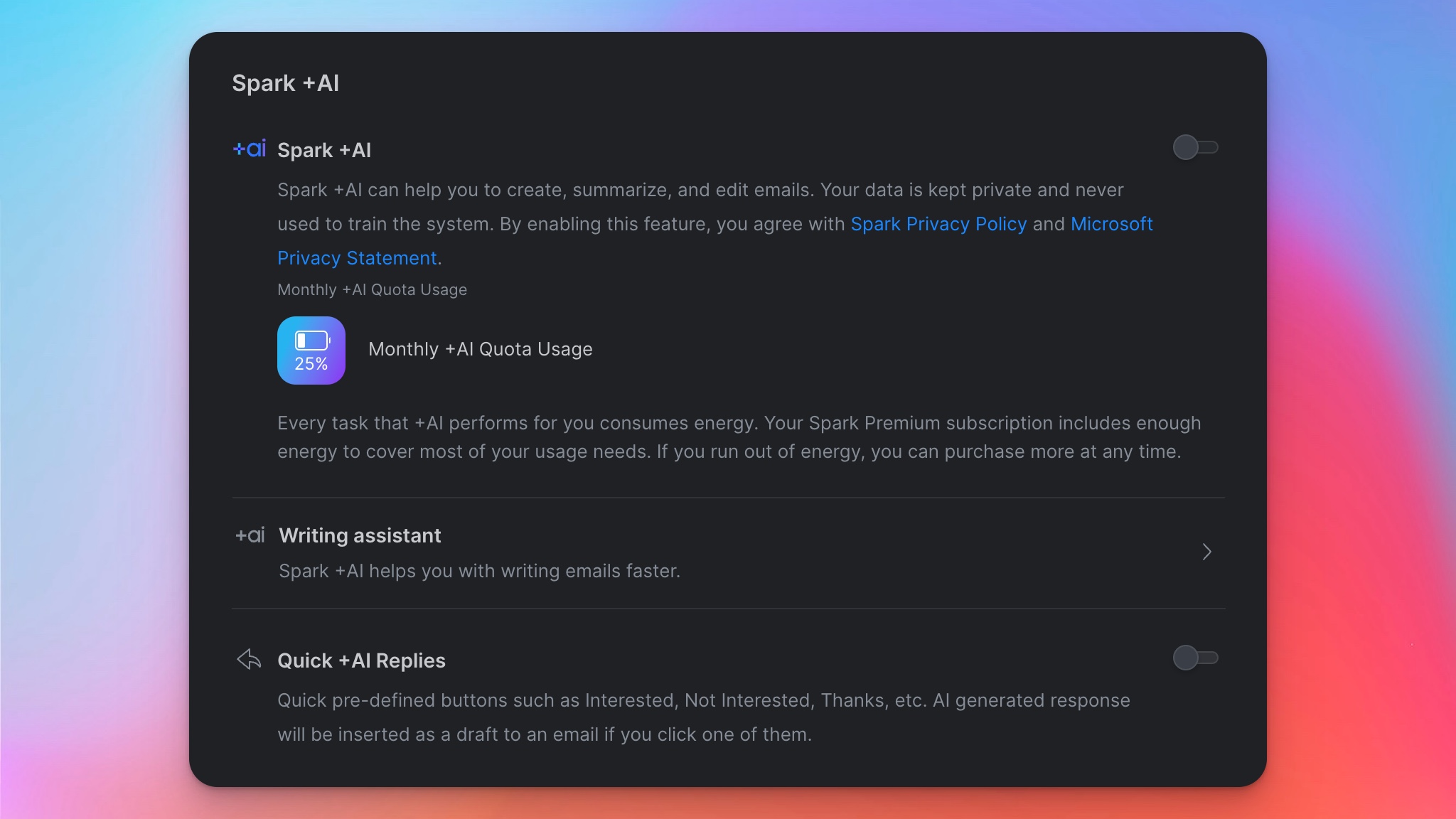 Spark's AI feature, like Superhuman, is opt-in.
But unlike Superhuman, Spark AI does not include unlimited use.
Each AI task you use consumes energy and your monthly subscription provides a fixed amount of energy per month.
If you use too much then you have to pay.
Spark AI can help create, summarize, and edit emails for you. You can also use it to write quick replies in your tone of voice.
I had Spark AI write an email explaining the benefits of using AI to write emails (so meta).
The first draft, like many first draft's from AI, are too long and verbose for my liking (be honest: no email is actually finding you well).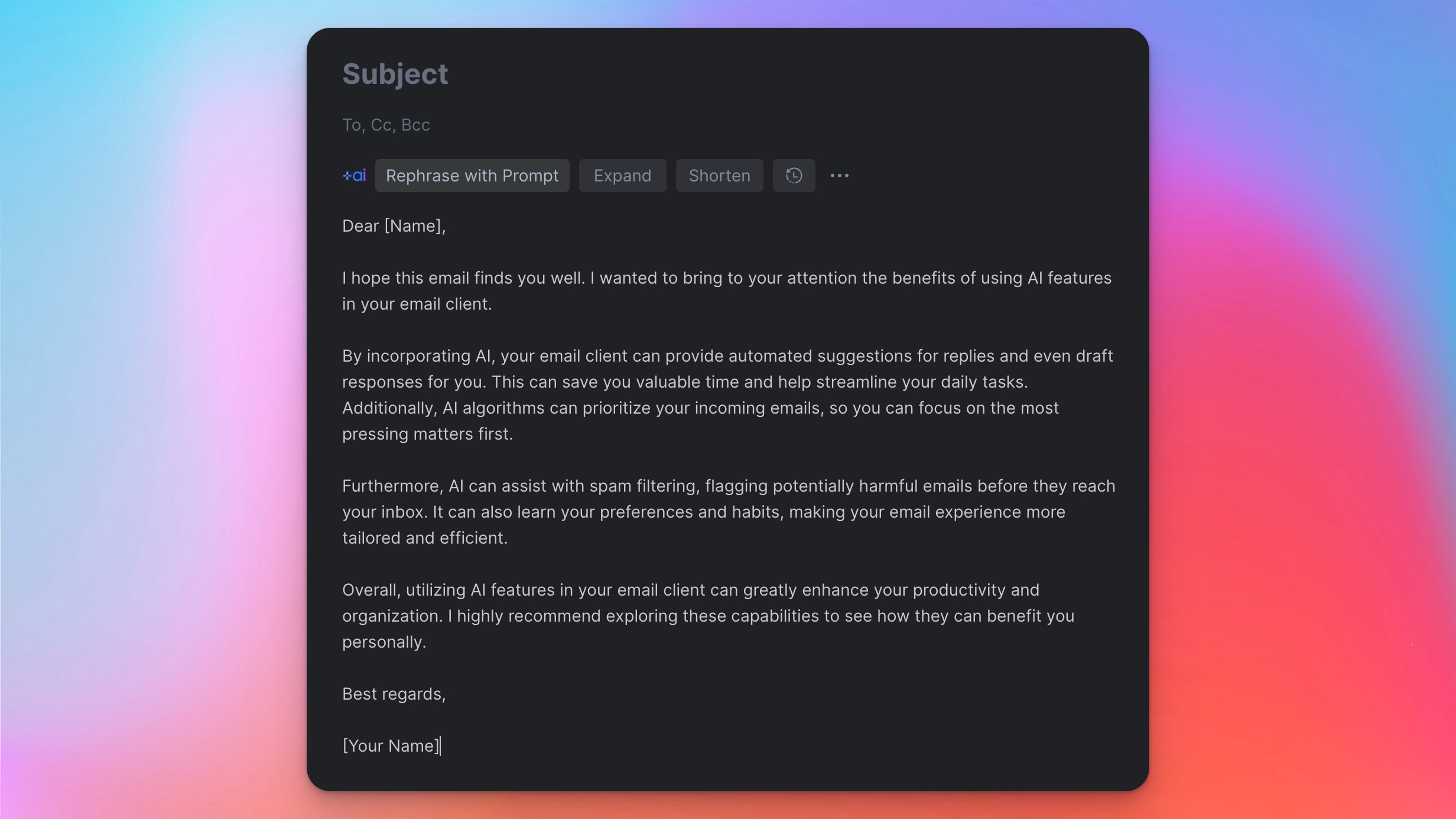 But when I clicked shorten it did a nice job of tightening up the email and removing the unwanted parts.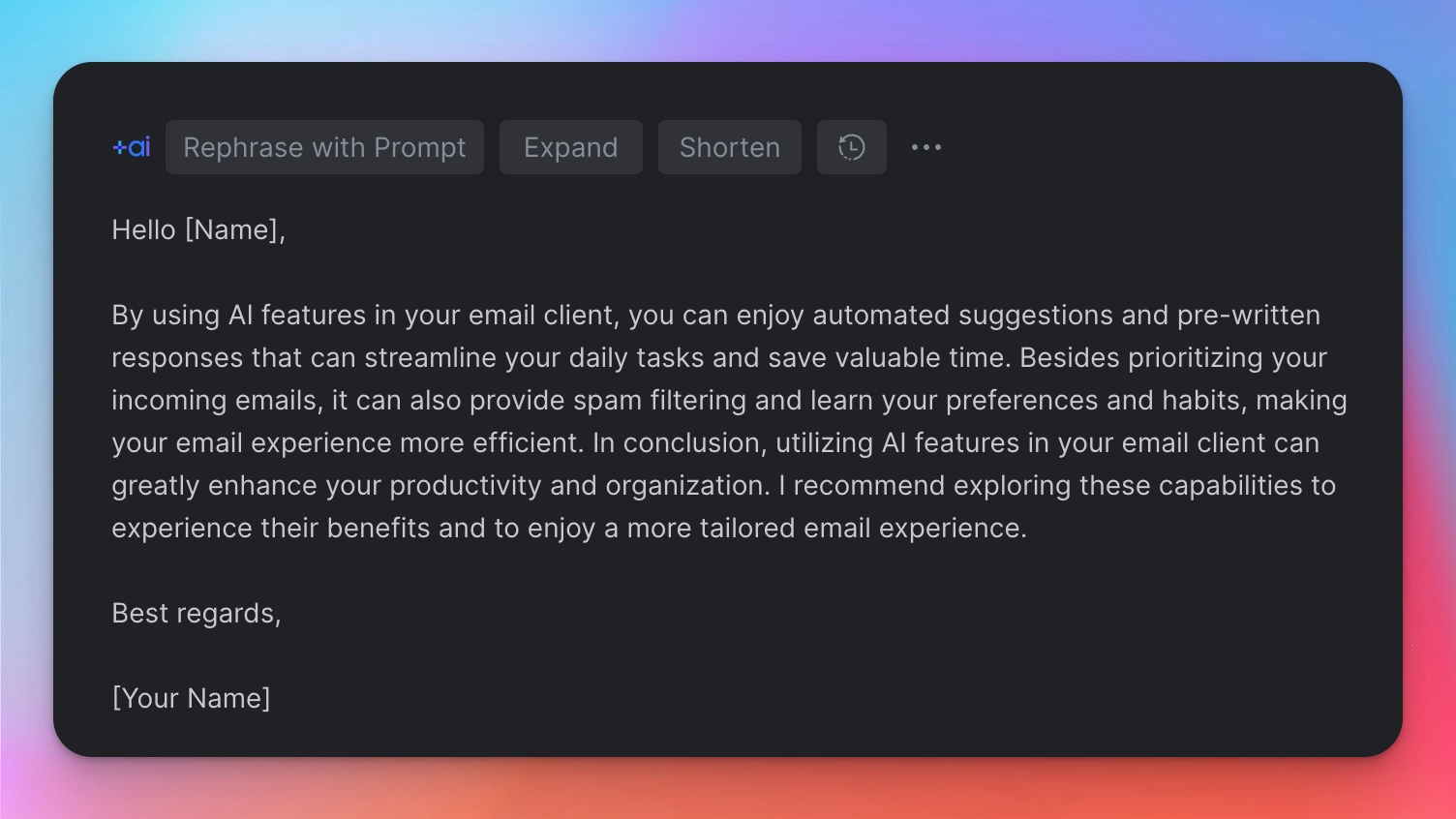 New Spark users get 7 days of premium features for free, including Spark AI.
Features & Shortcuts
Spark works with all of the major inbox providers:
Gmail
Outlook
Apple
Yahoo and more
Spark implemented a Superhuman-like command center (Superhuman was the first to do it) where after you press Cmd+K it brings up a search box of commands you can select.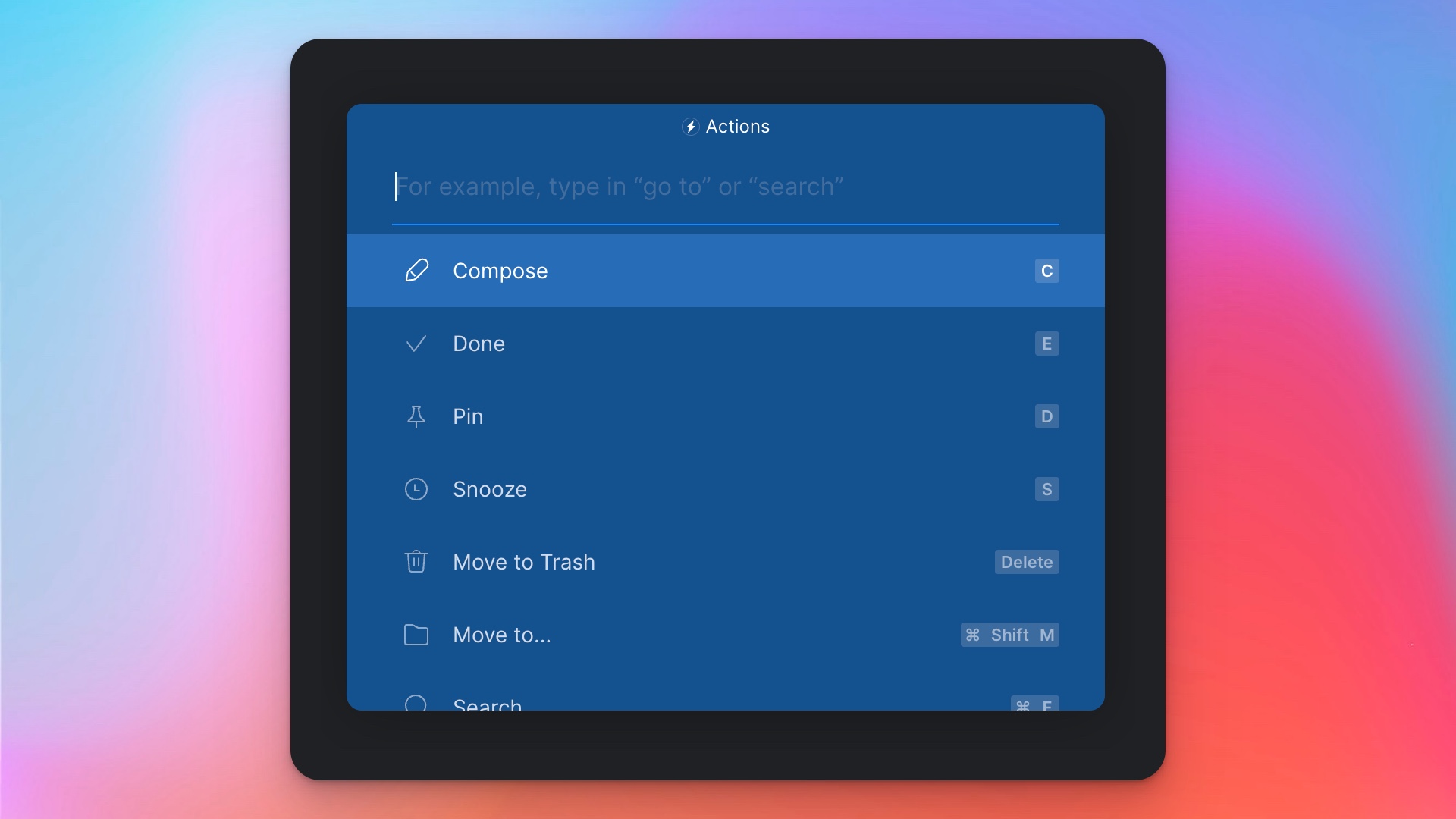 It neatly shows you the shortcuts for each command too which is great for power users.
Here are my favorite Spark features:
Snooze emails for later
A smart inbox powered by AI
Google Docs like team collaboration features.
Reply templates
Dark mode
Send later
Integrations with Dropbox, Google Drive, Pocket, and more.
3. Mimestream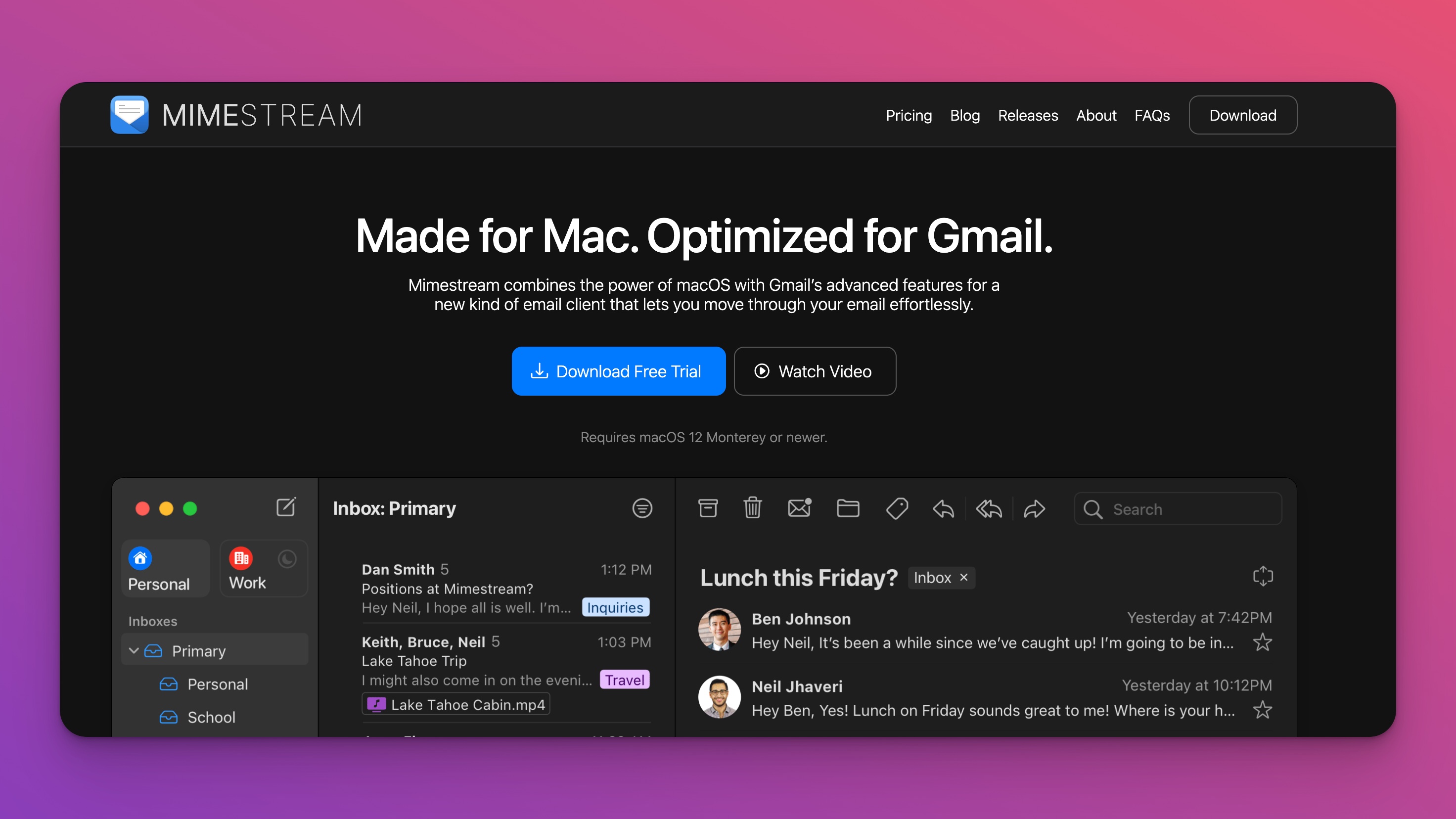 Mimestream is a native macOS email client for Gmail that one of my readers encouraged me to check out.
They launched a free beta period and they recent transitioned to a paid model.
Mimestream only works for Gmail accounts but it works really well.
Most email clients use the IMAP protocol which was initially designed in 1986.
Mimestream is different because it uses the Gmail API which is faster, more robust, and overall a more modern solution to managing email.
This Mimestream to only work with Gmail inboxes but thankfully there are over 1.8 billion active Gmail users worldwide as of 2023.
Mimestream supports multiple Gmail accounts, labels, and native support for Gmail's categories like Primary, Social, and Promotions.
Mimestream says they will never collect and sell your information.
Mimestream Pricing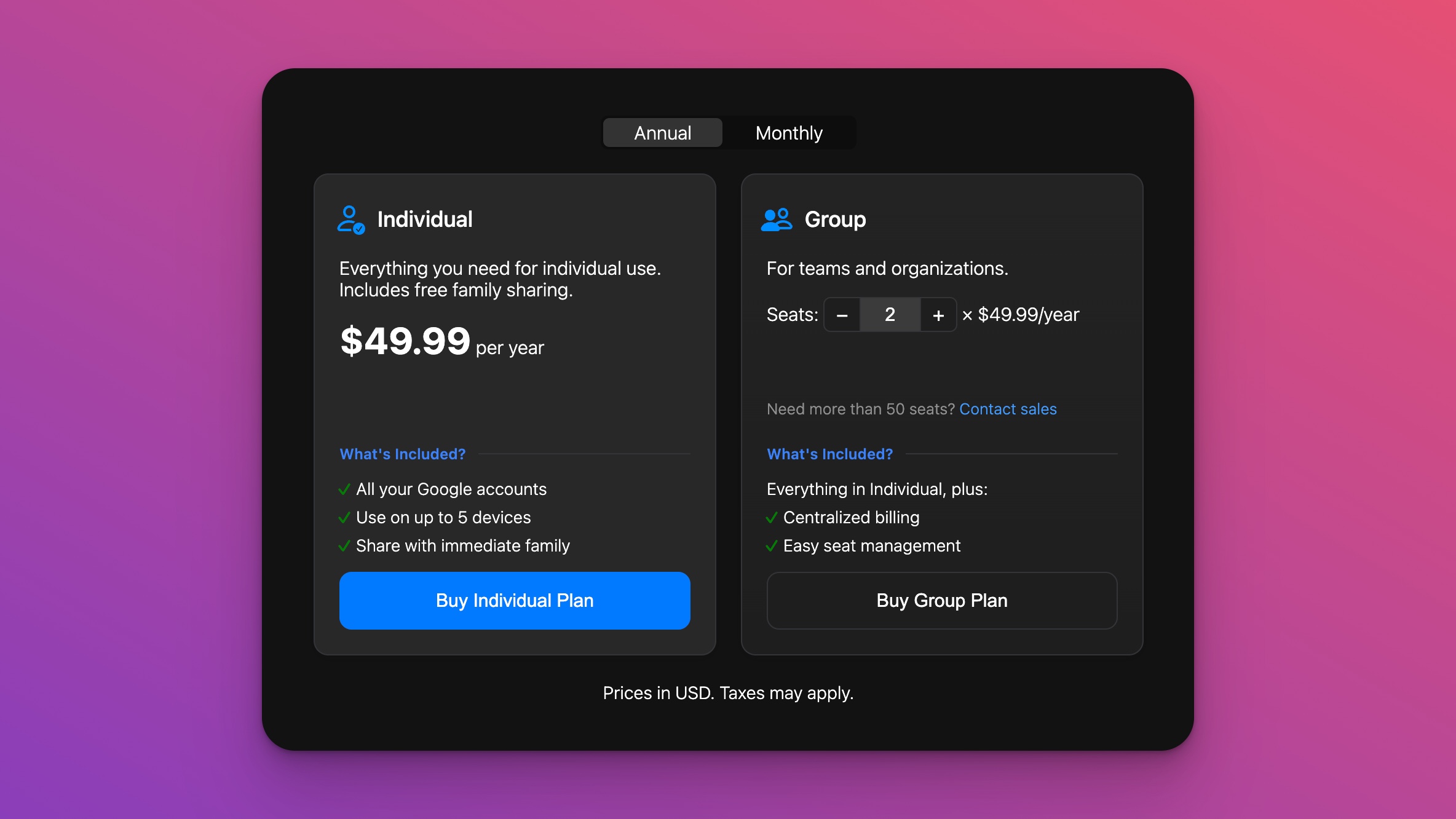 Mimestream has two pricing models:
Monthly at $5
Annually at $50 (save 20%)
$5/month is much cheaper than Superhuman and equal to Spark, but for that price you're not getting:
AI features
Outlook connections
Much better shortcuts
A 30-minute onboarding session
Mimestream does not have a free version but they do have a 14 day free trial which is long enough for most people to test it out.
Mimestream Reviews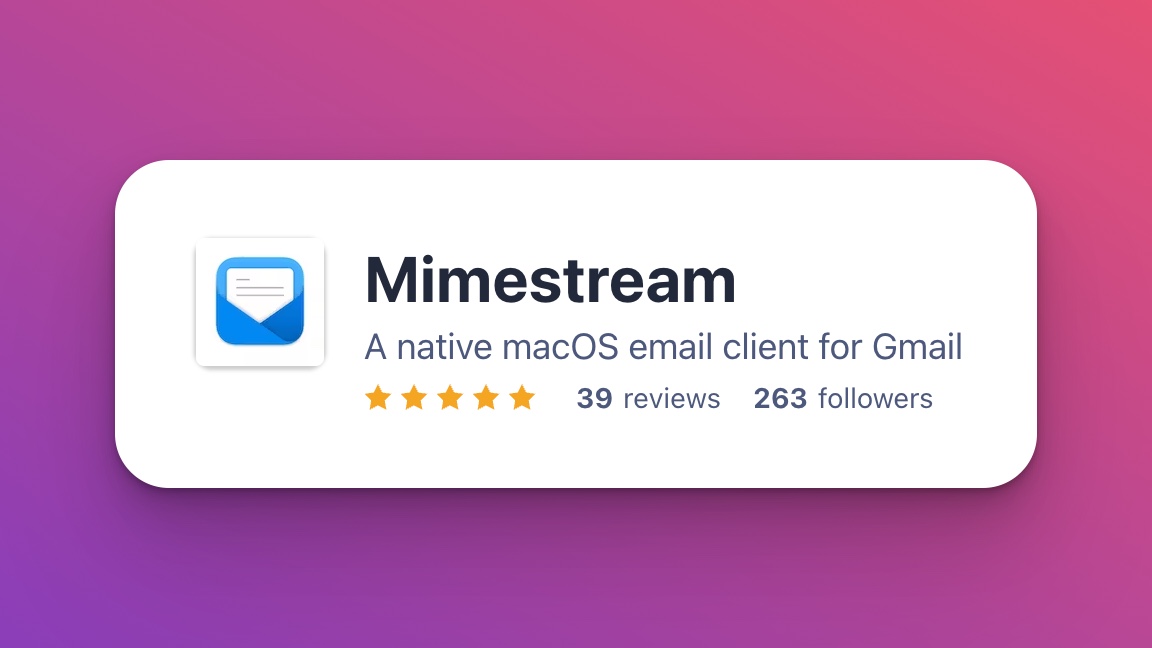 Mimestream has a 4.5 star rating on Product Hunt with 28 total reviews.
Here's a recent review from Product Hunt that is very favorable: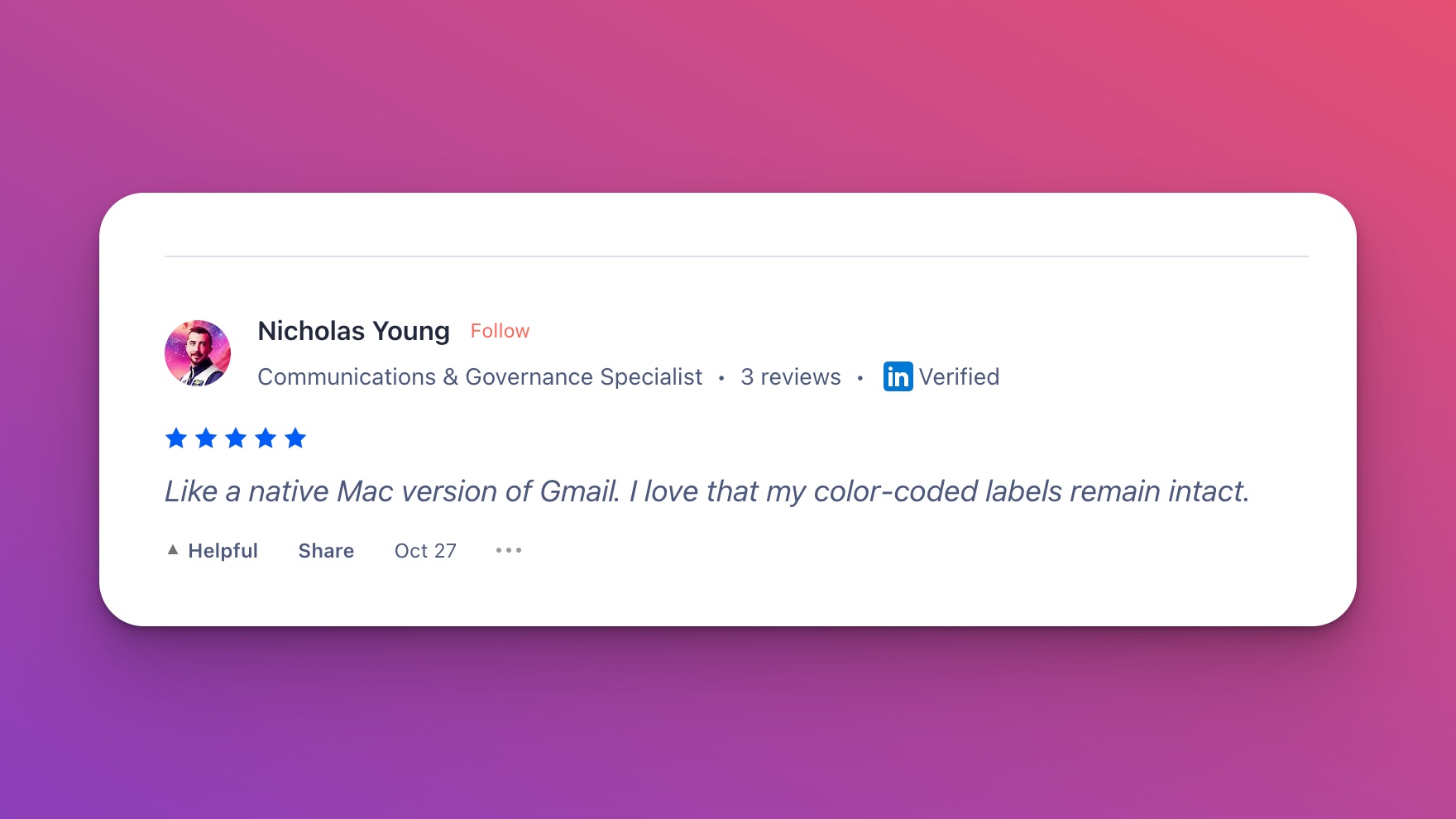 Mimestream is a game-changer for email! Its lightning-fast performance, intuitive interface, and seamless integration with Gmail make managing my inbox a breeze. Finally, an email app that delivers both efficiency and joy. Highly recommended!
4. eM Client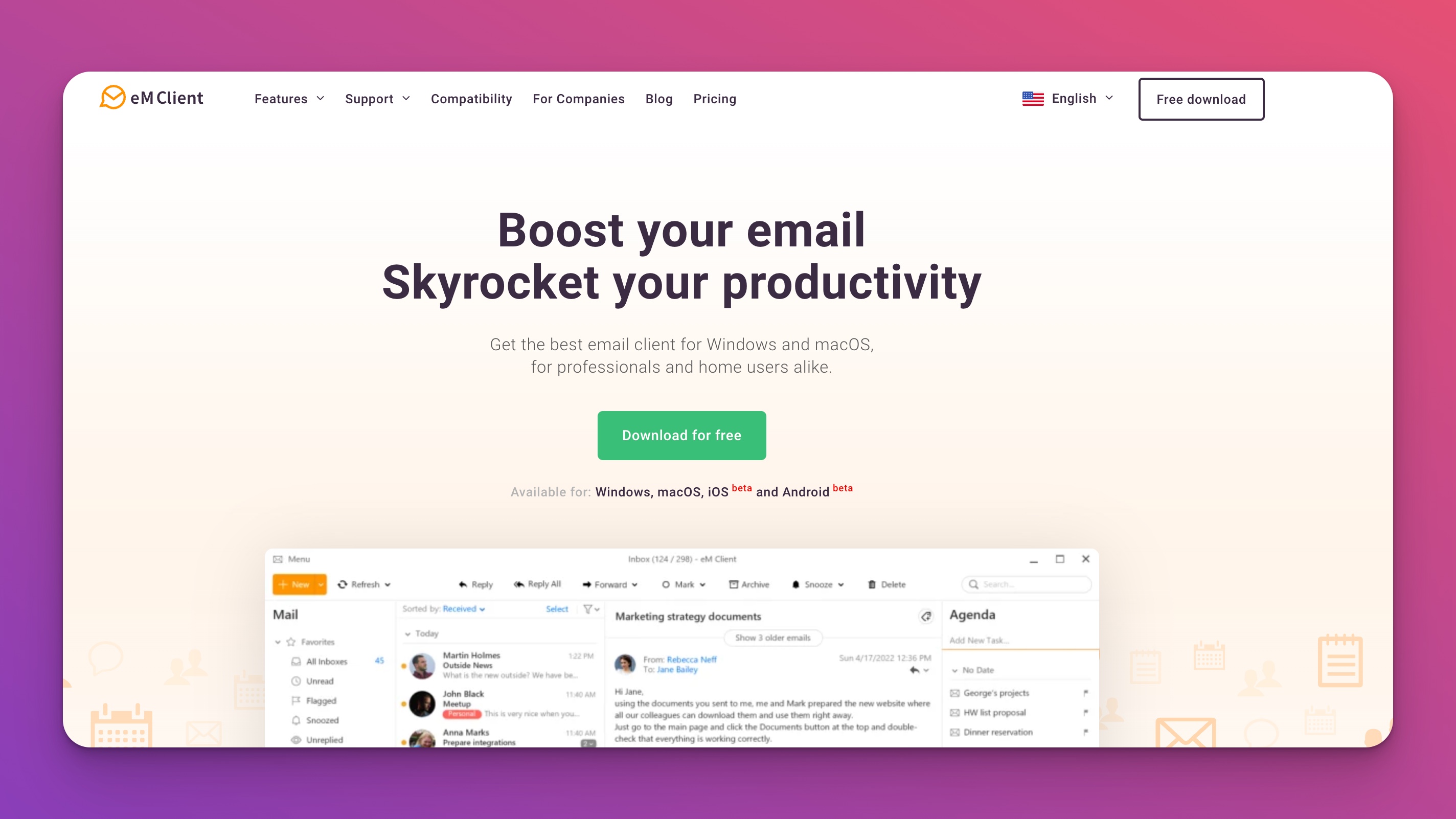 eM Client has a free tier that is perfect for the casual email user.
It's limited to only 2 email accounts and doesn't have several of the advanced features I'll list below.
They do offer a free 30 day trial of their Pro plan to give you time to test it out.
The main downside to the Free plan is it's not allowed for commercial use, which includes for business use.
eM Client Pricing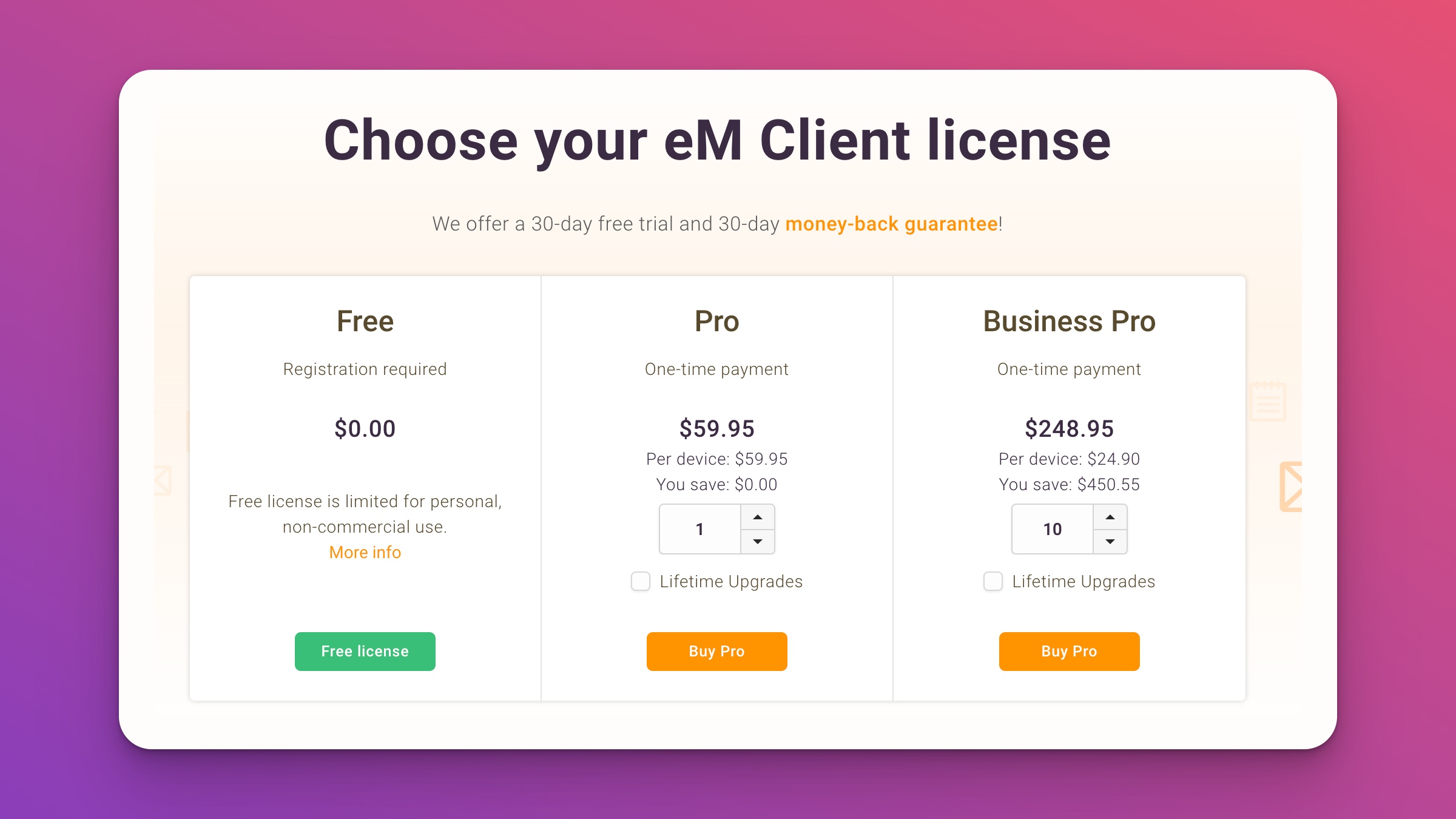 eM Client is the first tool on this list with a one-time payment model.
Pay $59 once and that verison of eM client is yours forever, including a year of VIP support.
It's a refreshing change of pace compared to the sea of subscription pricing that's so common right now.
If you want lifetime updates then they charge $129.95
In a world of subscription tools it's refreshing to see a one-time payment model.
Features
Like Spark, eM Client works with all the major inbox providers:
Gmail
Outlook
Apple
Yahoo and more
Here are the premium features only available on eM Client's Pro plan:
Commercial use
Notes
Snooze email
Send later
Message encryption
eM Client is a solid alternative to Spark, Superhuman, and Mimestream for users who dislike adding yet another monthly subscription to life.
5. Thunderbird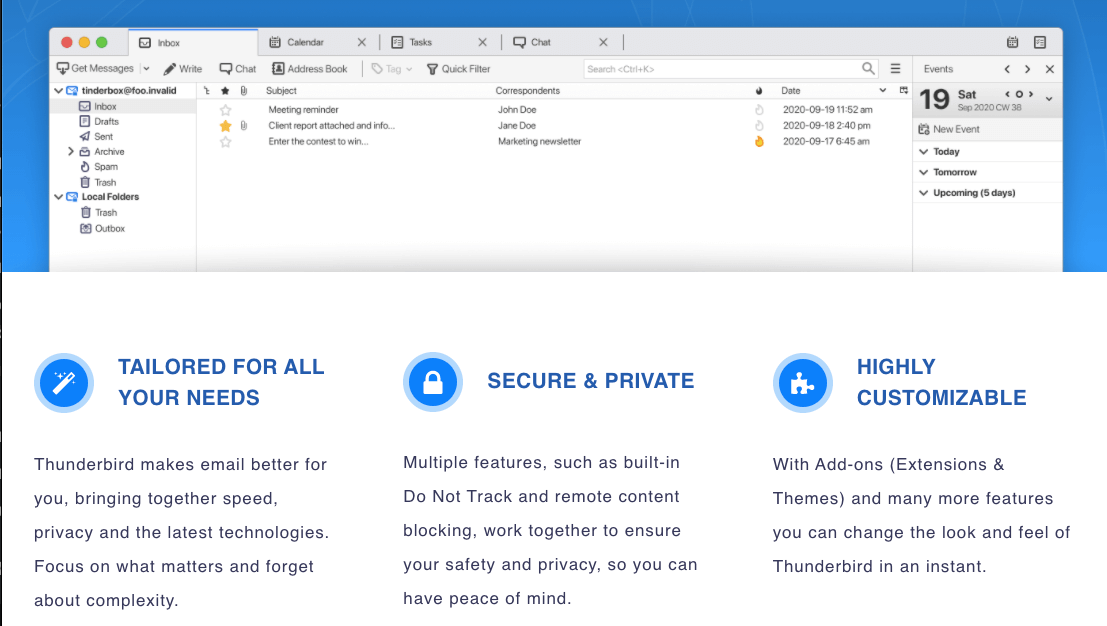 Thunderbird is old school, it launched in 2004. It's the only fully-free and open source email client on this list.
It's also built by Mozilla, the folks behind the popular Firefox browser.
Open source software is popular with developers, and for good reason. It promotes better software that is community supported.
I used Thunderbird almost 10 years ago, and the landscape of email clients has changed drastically since then.
Thunderbird is the most Outlook-like email client on this list. By that I mean its design and feature set most mirror Microsoft's famous Outlook email software. There's even a built in calendar, tasks, and chat.
Pricing
Thunderbird is free. Forever.
Features
The coolest feature of Thunderbird is its tabs, similar to most modern web browsers.
Here's a short list of Thunderbird's features:
Privacy first. Do-not-track settings.
Add-ons and extensions, similar to Firefox.
OpenPGP encryption
Open source, funded by donations.
Tabbed email
6. Postbox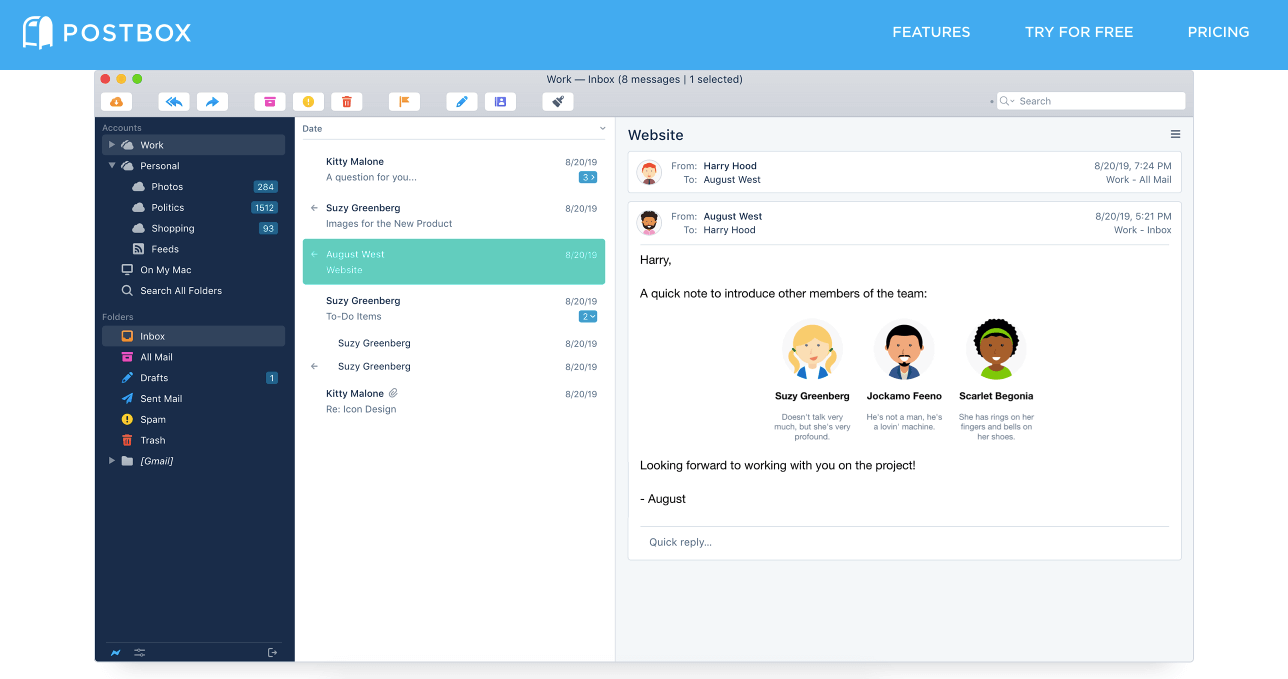 Private. Secure. Powerful.
That's how Postbox describes itself when you first land on their website.
Postbox is compatible with both Macs and PCs, like eM Client and Thunderbird.
Here's Postbox's commitment to Privacy:
We will not transmit your email data to our servers.
We will not scan your emails, looking for data to sell.
We will not target you with 3rd-party ads.
We will not share your personal information with anyone, ever.
We will not censor, filter, or log your content in any way.
I love that they come out and list that right on their homepage. Privacy is so important now with companies like Google and Facebook using and selling as much of your data as they can get their hands on.
Your email should be a private space that only you have access to.
Pricing
Postbox has one pricing tier: You pay once and get lifetime access.
Right now the price is $49
But you can also pay what you want and get up to a 50% discount.
That's a great deal for a private and secure email client.
Your Postbox license is good to use on as many computers as you own. It's a personal license and supports as many inboxes as you have too.
Features
Postbox has some great features for it's price point
Works with all popular email providers
Grouped accounts
Folders
Tabbed Email
Fast & powerful search
Templates & pre-canned responses
Full HTML code editor
Dark mode
Full theme support
Postbox is an attractive option for anyone looking for a privacy-first email client that is supported on both Windows and Macs.
7. Missive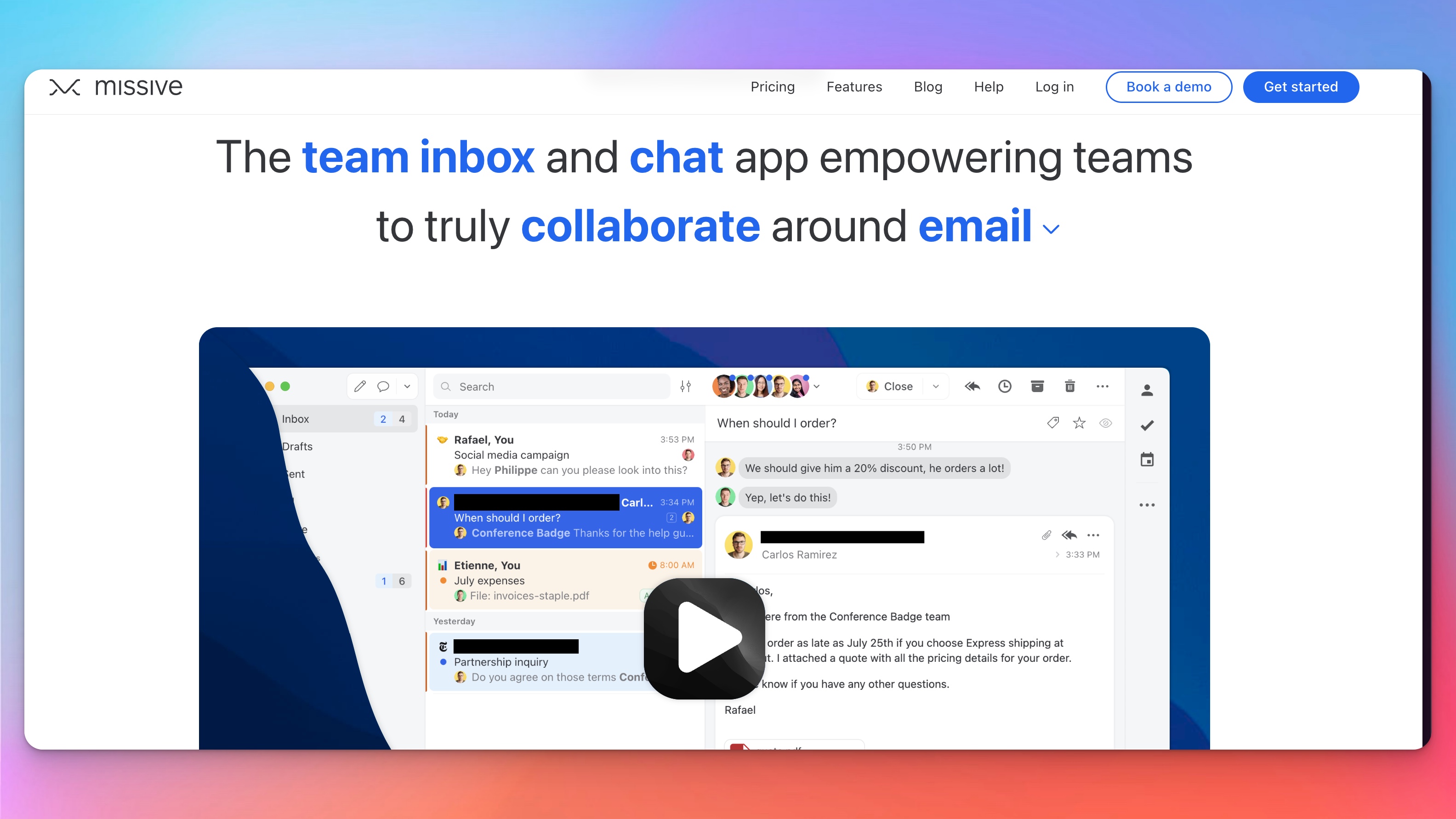 Missive is more than an email client, it's also a chat app for teams to better collaborate together.
It's a great piece of software for anyone who can convince their entire team to use the same tool (which is a tall order).
The focus on teams also makes it not a great option for individual users because you won't get value from Missive's best features, like chat.
Missive Features
Missive's core features are email and chat, but you can expand your workflow with integrations.
Their AI integration, which I cover later, is their most popular. But there's also integrations for:
ClickUp
Giphy
Grammarly
Hubspot + Salesforce
Shopify
Zapier
Within Missive you can share accounts like Email, Facebook, and Whatsapp among different team members.
That gives everyone access to the same account in one unified place.
Missive Pricing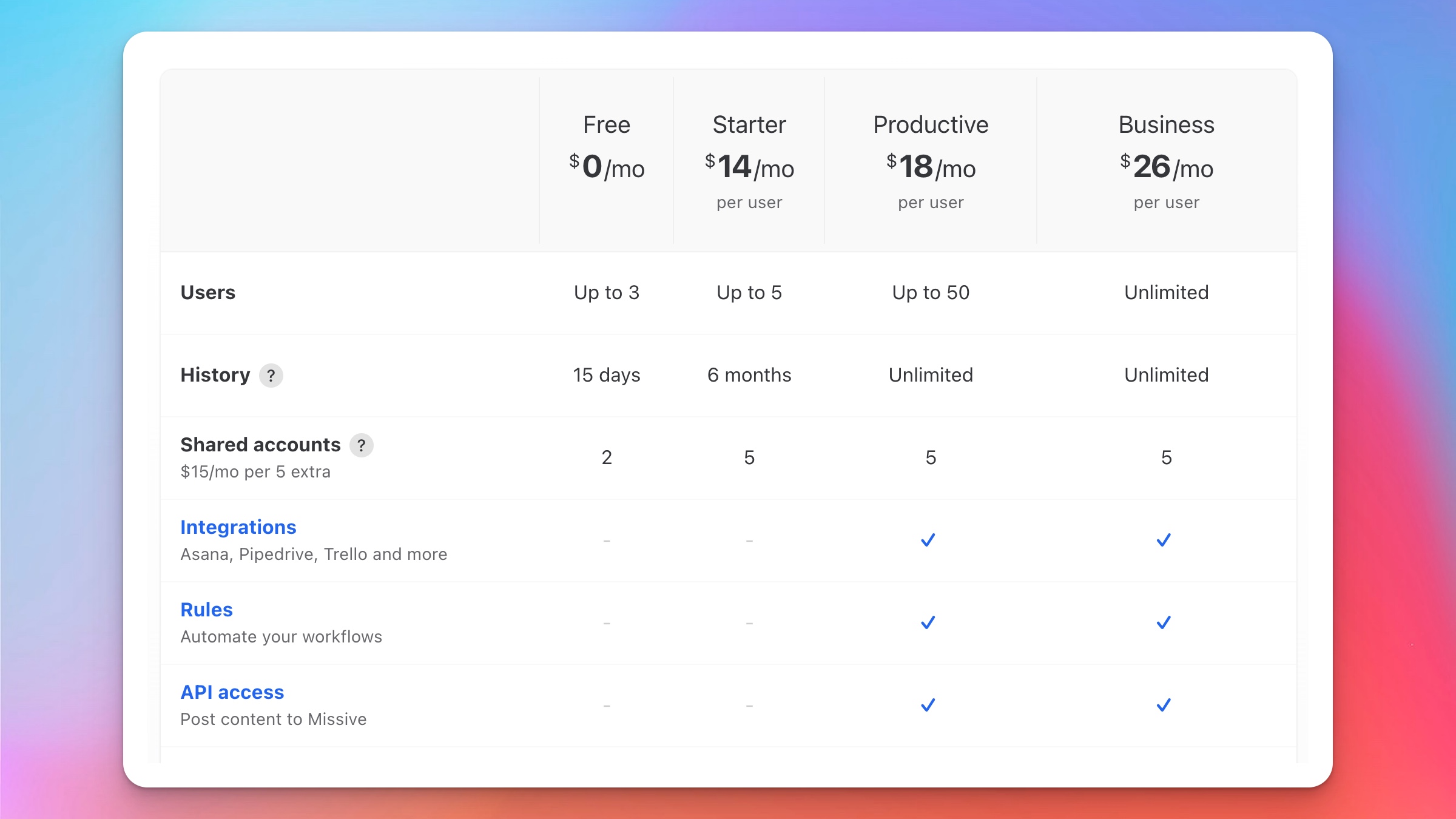 What's great about Missive is that you can collaborate with up to 3 people on their free plan.
Which is great for anyone who has an executive assistant or virtual assistant and want to create a tighter collaboration loop.
Missive AI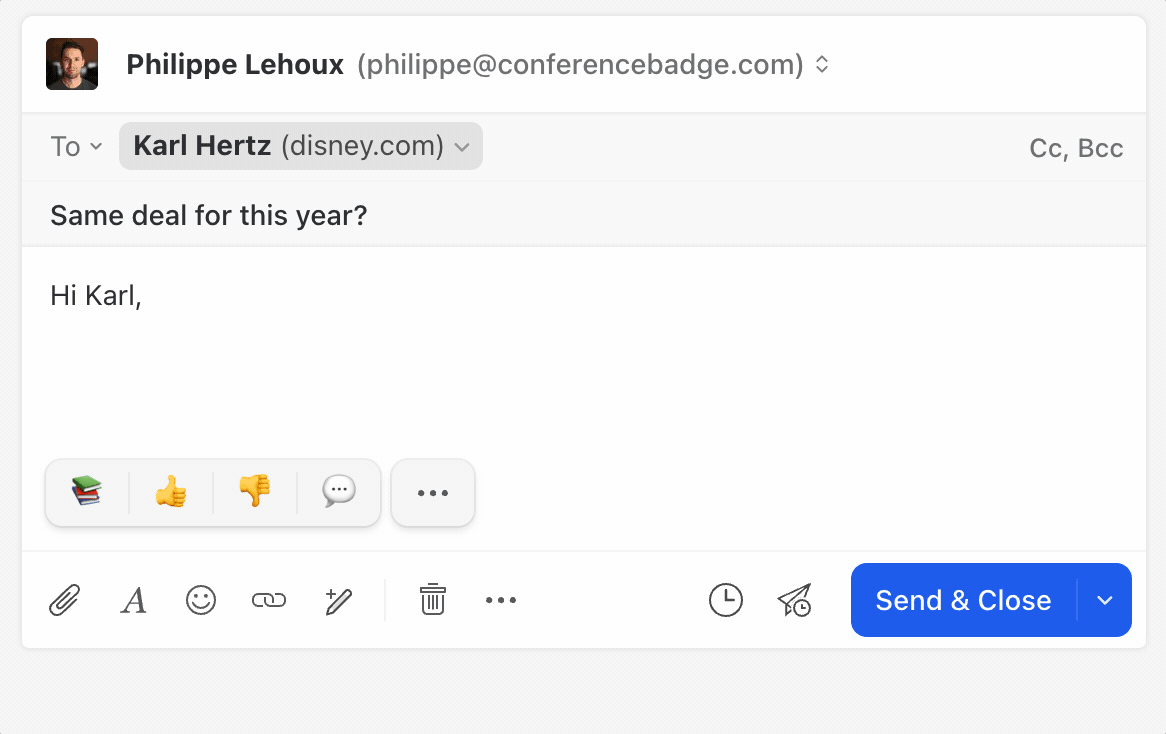 Missive has an AI integration like other email clients, but instead of them sending the queries to OpenAI it uses your API key so everything is tied to your account instead.
This is a little more work on the front end (you need to bring your own OpenAI key) but the benefits are you know exactly what is being sent to and from OpenAI.
You're more in control than with other AI implementations that send everything through their API key.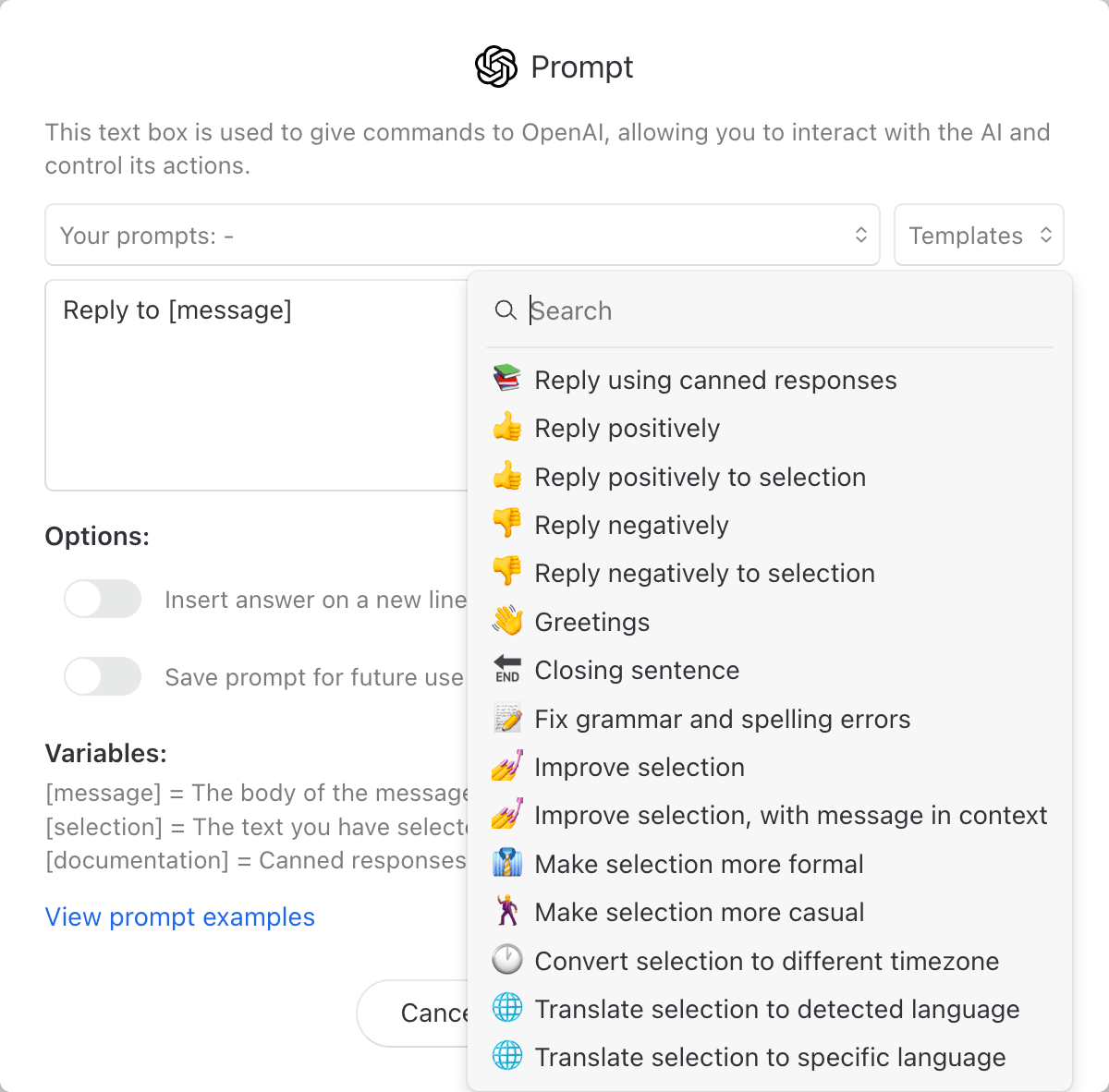 But it also means you can't use the more powerful GPT-4 model without paying OpenAI $20/month.
Essentially Missive is shifting the entire cost burden onto you, they just provide the integration plumbing for it to work.
8. Airmail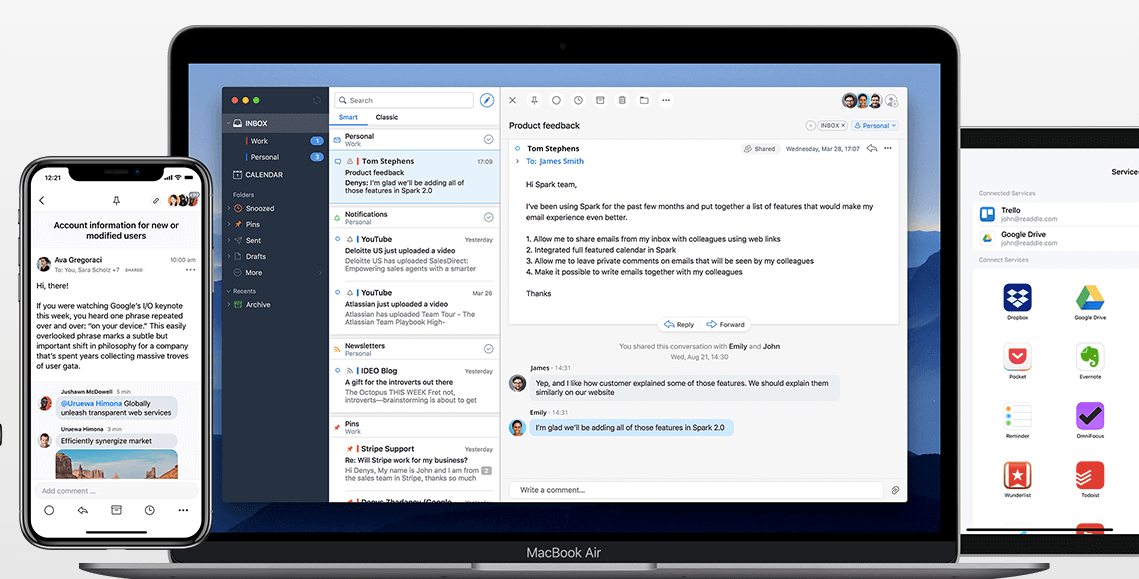 I first used Airmail in 2014 which tells you how long I've been using and testing different email clients.
It won the Apple design award in 2017 but has languished ever since.
It seems the developer has stopped adding new updates and the changelog for 2023 is full of small bug fixes but no major releases.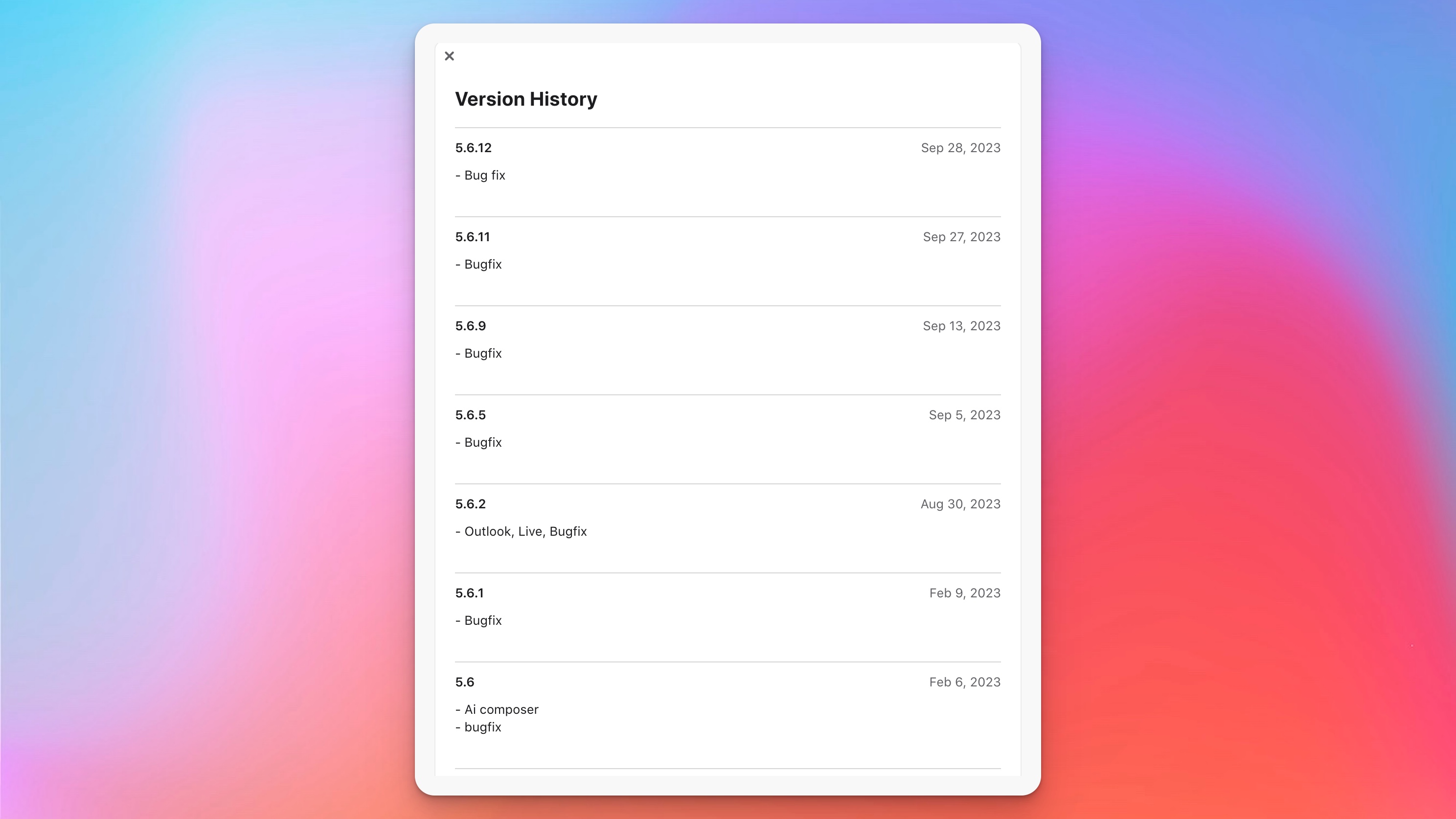 Airmail set the design standard for what the best email clients on Mac should look like.
I first used Airmail when their pricing model was a one-time payment. I think I paid like $20 or $30 and got access to the current version and the next one.
Eventually they switched to a subscription model like everyone else.
Pricing
Airmail has a free tier, and their professional level costs $5.99/month or $29.99/year.
The pricing is reasonable, especially compared to Superhuman but I personally wouldn't pick a tool that is close to being abandoned.
Features
Here's a short list of Airmail's features:
Multi-accounts
Unified inbox
Send later
Snooze
Privacy mode
Full iPhone and iPad support.
I eventually stopped using Airmail when my version was outdated, but it's still a solid email client.
9. Spike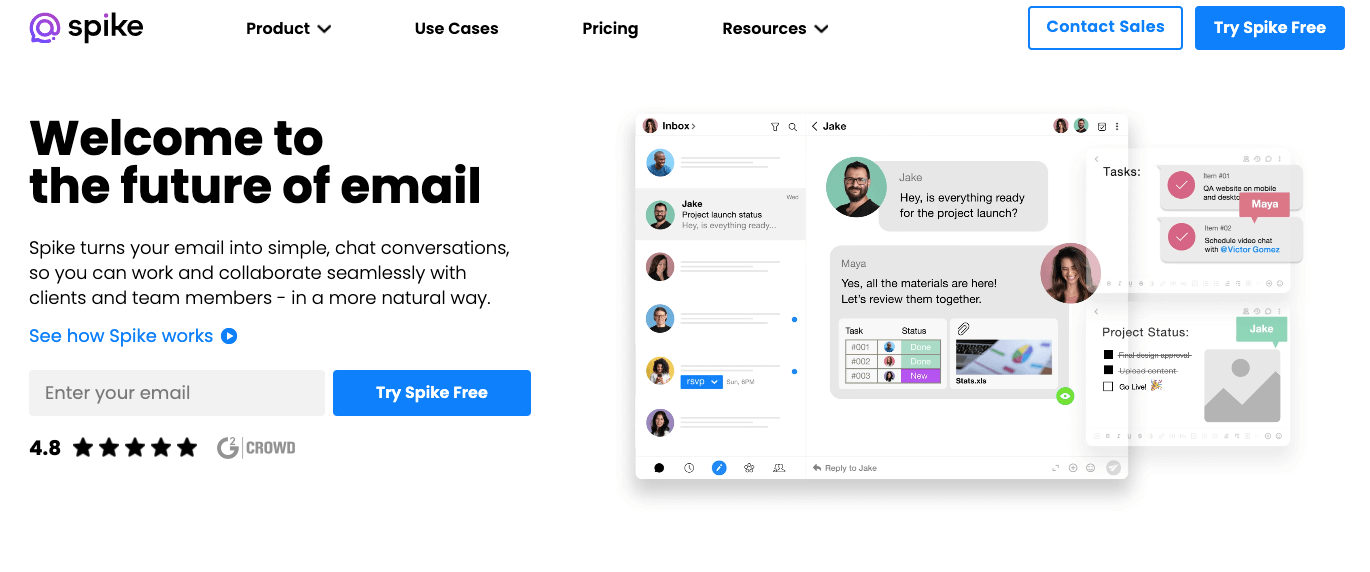 Spike is a conversational and collaborative email client. It's design is much more like a text conversation than your traditional email client. Spike takes an old school technology like email and brings it into the modern era with tasks and collaborative notes.
Using Spike truly feels much more conversational. The entire design and UI changes how you communicate with people and makes using common email cliches of "Hi , hope you are well!" feel awkward and unnecessary.
Spike has recently added new features, like the ability to send voice messages over email and fully integrated video calls. Spike is transforming into a collaborative communication platform that goes beyond just sending emails.
Spike is cross-platform and supports both Macs, PCs, iOS, and Android.
Pricing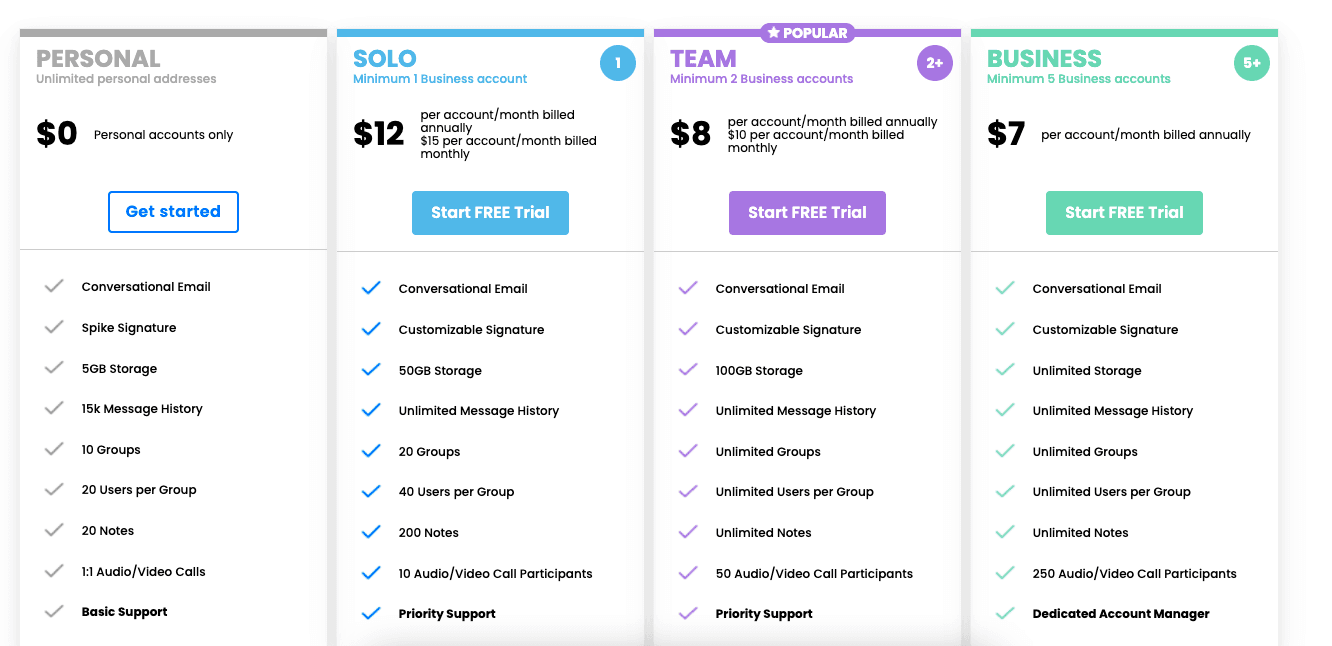 Spike has a competitive free tier that includes up to 15k message history and 5gb of storage. Plenty for the average user to get a feel for using it.
Upgrading to $15/month gets you unlimited messaging history, 50gb of storage, access to priority support, and the ability to start a video call with up to 10 people. Perfect for the email power user.
The next tier is for Teams which requires a minimum of 2 seats which cost $10/month each. This tier gives you almost unlimited everything with video calls limited to 50 people. Message storage is also increased to 100GB.
Lastly their business tier is best suited for larger organizations trying to roll Spike out to entire business units. Pricing there starts at $7/month billed annually and includes a dedicated account manager.
Features
Conversational email (more like a text than an email)
Video Meetings
Voice messages
Collaborative notes & tasks
Group chat
Advanced search
Calendar integration with Google, Outlook, and Apple Calendar
Priority inbox
Read receipts
Unified Inbox
What is an email client?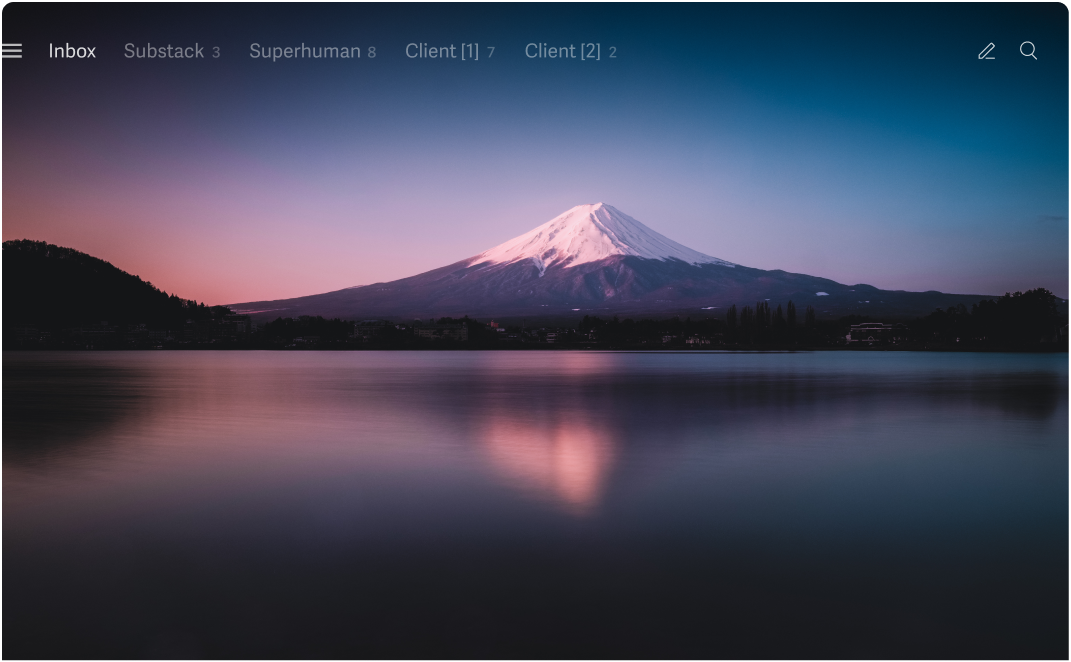 Email clients provide a visual interface for you to interact with, create, and send emails.
They can make you more efficient through shortcuts, hotkeys, and streamlined UIs that simply make it easier to manage tons of email.
They also enable you to connect multple email accounts (like having an Outlook, Yahoo, and Gmail account all in one window), so you view multiple inboxes in one place instead of switching between accounts or tabs in your browser.
Don't miss my guide on cc and bcc in email.
Why Use An Email Client?
Email clients have several advantages over using a web-based mail client.
Your data is stored locally on your computer. This enables you to access it offline, for instance on an airplane or bus.
They're more configurable. You have finer controls over settings, shortcuts, and other options.
You can manage multiple inboxes. Most people have both a personal and a work email. Email clients let you manage them both in the same application.
They connect to many of the common email providers like Gmail, Yahoo, and Outlook.
Wrapping Up
My favorite email client for mac is Superhuman.
eM client is my favorite email client that doesn't require a monthly subscription.
Did I miss your favorite one? Send me an email and let me know.
And if you're a software developer don't miss my review of the best email api services.
See Also