Recipe Summary
Prep Time: 20 Minutes
Cook Time: 40 Minutes
Total Time: 60 Minutes
Ingredients
1 head of cauliflower
1 bunch of radishes
1lb bag of brussel sprouts
1 box pre-washed mixed greens
3 cups basmati rice
1lb boneless skinless chicken thighs
1 bottle Stubb's Chili, Lime, & Ginger Pork Marinade
1 container hummus
1 cucumber
3 cloves garlic
1 cup plain greek yogurt
1tbsp dill
1tbsp olive oil
2tbsp Sriracha (optional)
Instructions
Place chicken in a bag with Stubb's marinade, let rest for 30 minutes.
Preheat oven to 400 degrees. Line two baking sheets with aluminum foil.
Slice cauliflower into even sized florets, chop stems off brussel sprouts, quarter radishes. Place onto baking sheet and cover with olive oil. Bake for 40 minutes
Remove chicken from marinade and place on second baking sheet, cook simultaneously with vegetables for 30 minutes.
Cook rice according to instructions.
Combine dill, yogurt, olive oil, and garlic into a small blender. Pulse into smooth, about 60 seconds.
Remove chicken from oven and slice into cubes.
Remove vegetables from oven and let cool, 2-3 minutes.
Combine vegetables, chicken, rice, and mixed greens into a bowl. Add 1 spoonful of hummus, tzaziki to taste, and optionally sriacha for heat. Serve immediately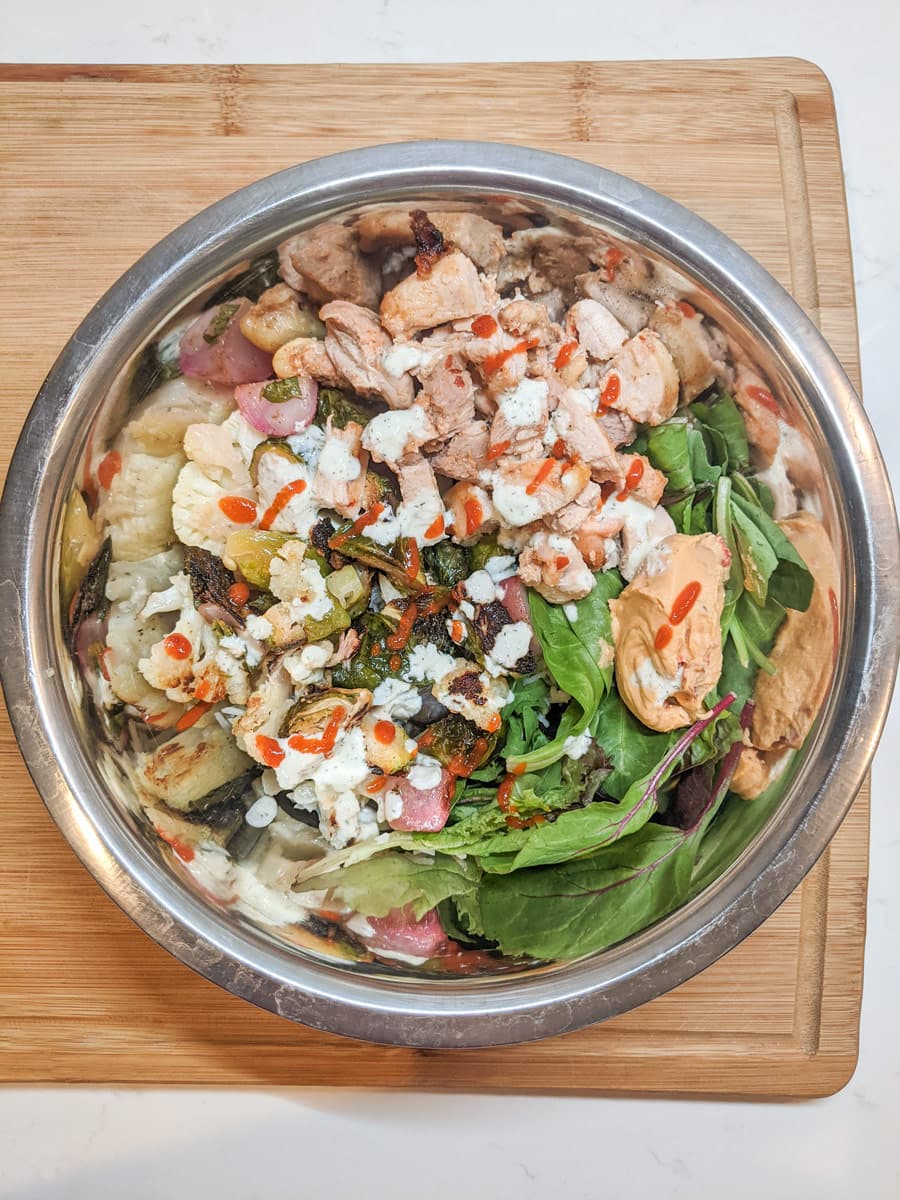 Chicken Gyro Bowls
This recipe is our take on immitating one of our favorite new restaraunts, Cava.
If you haven't been, Cava is like a mediterranean Chipotle.
You build a bowl that includes rice, greens, chicken, and a bunch of flavorful toppings.
So we did our best to immitate that here with marinated chicken, hummus, tzatziki, and a bunch of vegetables.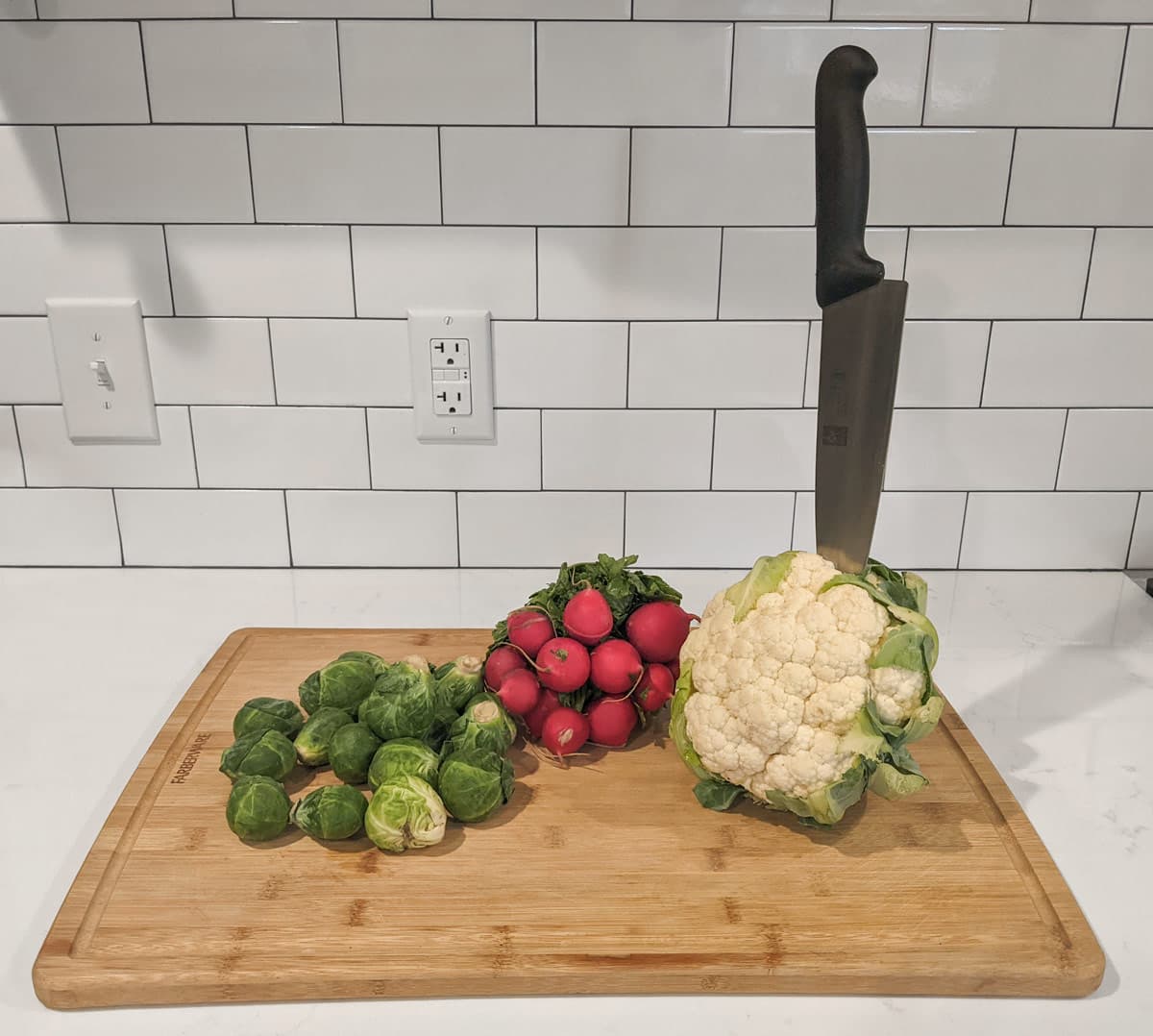 Chicken Gyro Rice Bowl
We use cauliflower, radishes, and brussel sprouts, but you can replace them with anything.
I didn't include it in this recipe but you can add in sweet potatoes to bring in some savory flavors too.
What's great about this recipe is that it's honestly super easy.
You roast all the vegetables and chicken, cook the rice, blitz the tzatziki, and you're basically done.
The longest part is waiting about 40 minutes for everything to roast in the oven.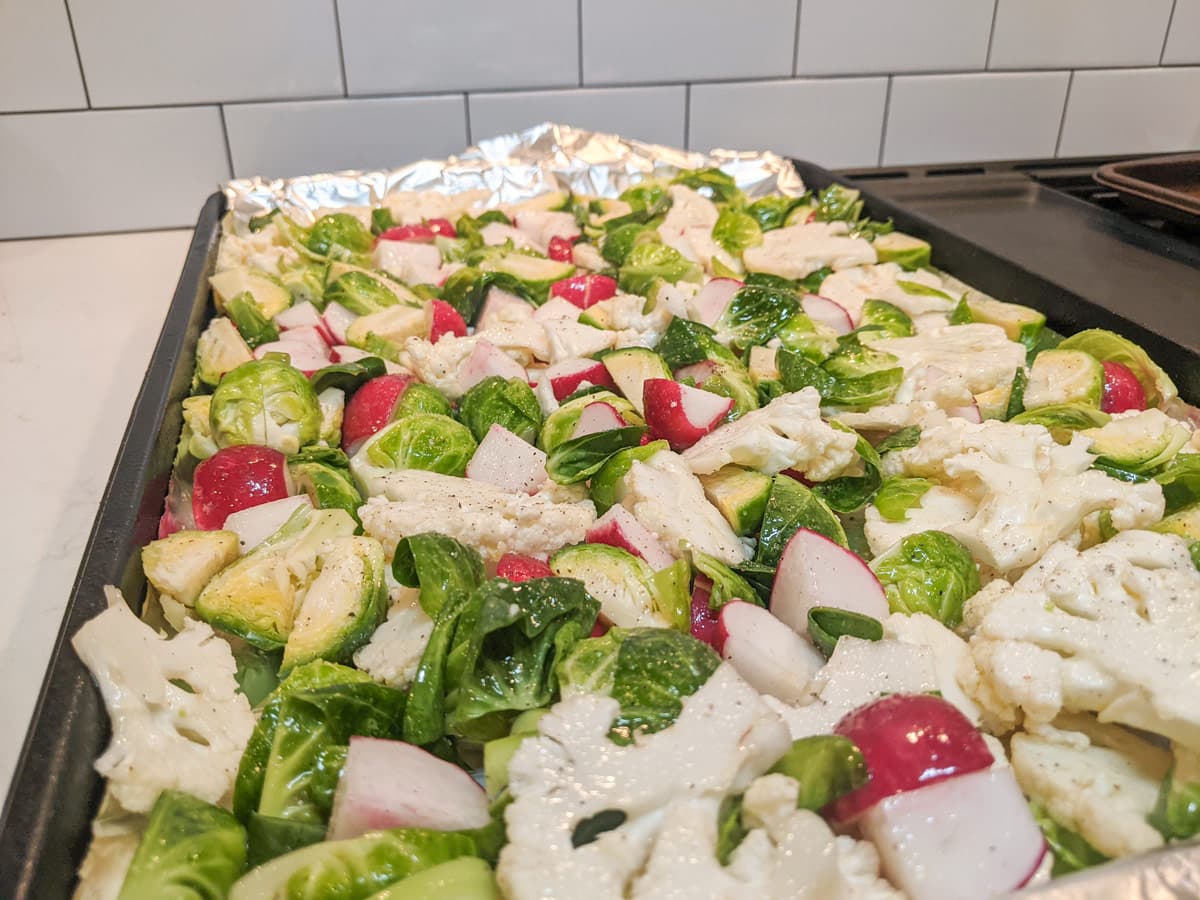 Oven roasted chicken is seriously my favorite new kitchen hack.
The chicken always comes out super juicy and tender, and it's so easy.
How long you roast the chicken depends on the cut, thickness, and total amount of chicken you're roasting.
If you have a different cut or amount of chicken I recommend Googling how to best roast it, but it's so worth it.
For the marinade we used a pork marinade because it had the flavor profile we wanted, but again you could honestly use anything.
Gyro Rice Bowl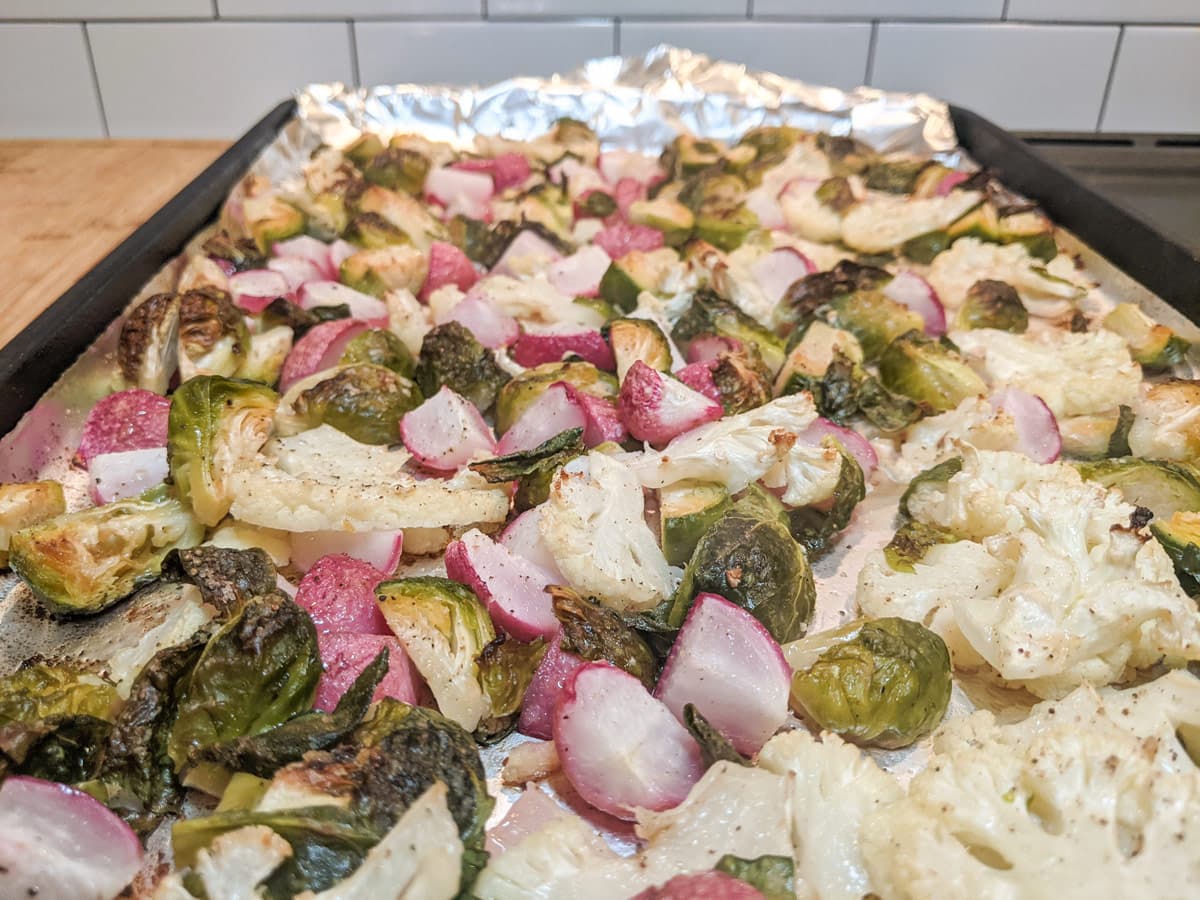 We make a homemade tzatziki because it's cheap, easy, and tastes really fresh.
I grew up a picky eater and what helps me overcome my picky eating is watching food be made.
I had an aversion to white sauces, especially mayonnaise, when I was a kid.
To be honest I still can't eat it, and I put tzatziki in the same category because it was also a white sauce.
But once I saw that tzatziki is just yogurt, cucumber, dill, and olive oil, it made me a lot more comfortable eating it.
Yes, I know mayonnaise is basically just egg whites, but I still can't do it.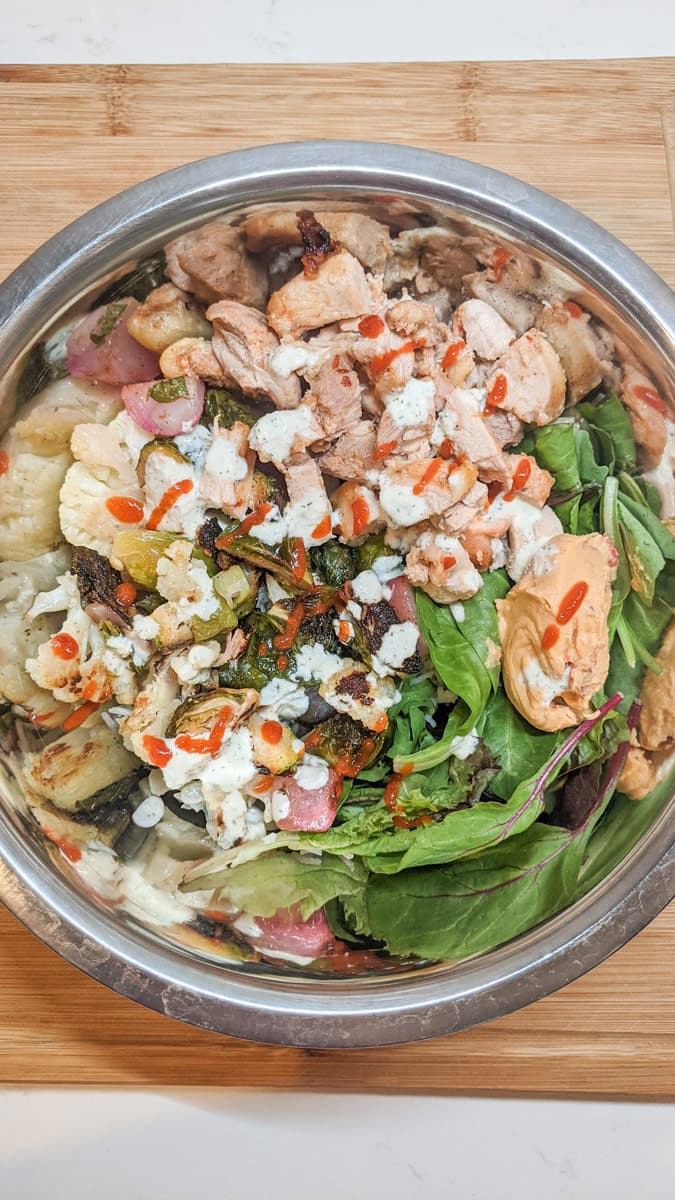 We don't make our own hummus for this recipe just to keep it really easy, but you definitely could.
The more homemade things you can add the better as it really makes a difference flavoring the gyro bowls.
When all of the ingredients are ready just throw it into a bowl, mix, and enjoy!
Add a little sriracha to make it spicy.
See Also