Recipe Summary
Prep Time: 2 Minutes
Cook Time: 3 Minutes
Total Time: 5 Minutes
Ingredients
3 eggs
3 slices of bacon
2 english muffins
1/2 cup sharp cheddar cheese
1/2 tablespoon butter
Tabasco (optional)
Instructions
Slice the english muffins in half and toast for 2 minutes. Grate the cheese. Scramble eggs in a small bowl.
Cook bacon on stove, or if using microwave bacon cook according to instructions.
Set Instant Pot to Sear/Sautee on medium high. Add butter to coat the bottom. Pour in eggs and let cook until the bottom sets, about 1 minute. Using a spatula cut eggs in half, flip, and finish cooking for about 30 seconds.
Remove eggs from Instant Pot and place onto english muffins. Place bacon then cheese on top.
Switch Instant Pot to broil and place sandwiches inside. Broil for 2 minutes or until cheese is melted.
Remove, add optional hot sauce, and serve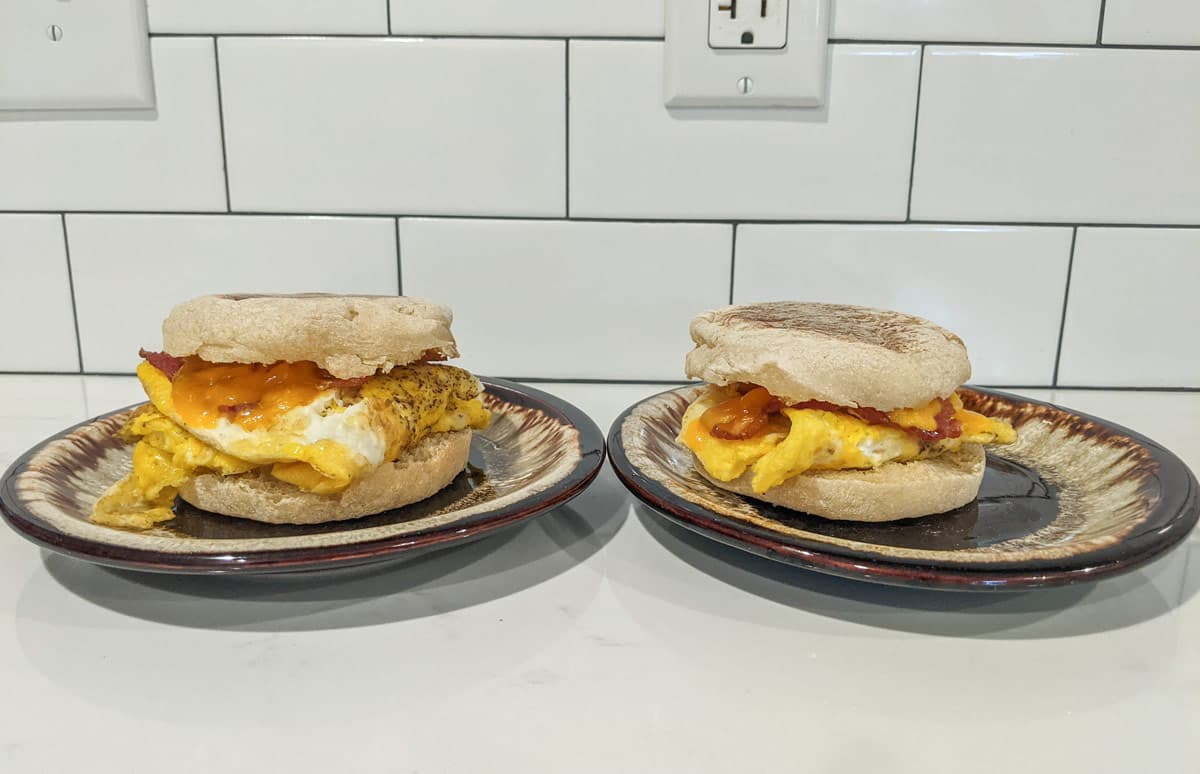 My wife Cody came up with this one and it's truly a one pot breakfast sandwich recipe.
This also totally works in a Ninja Foodie, and in fact that's what we used. The nice thing about both is that you can sautee and broil in the same pot which makes this recipe super fast and easy.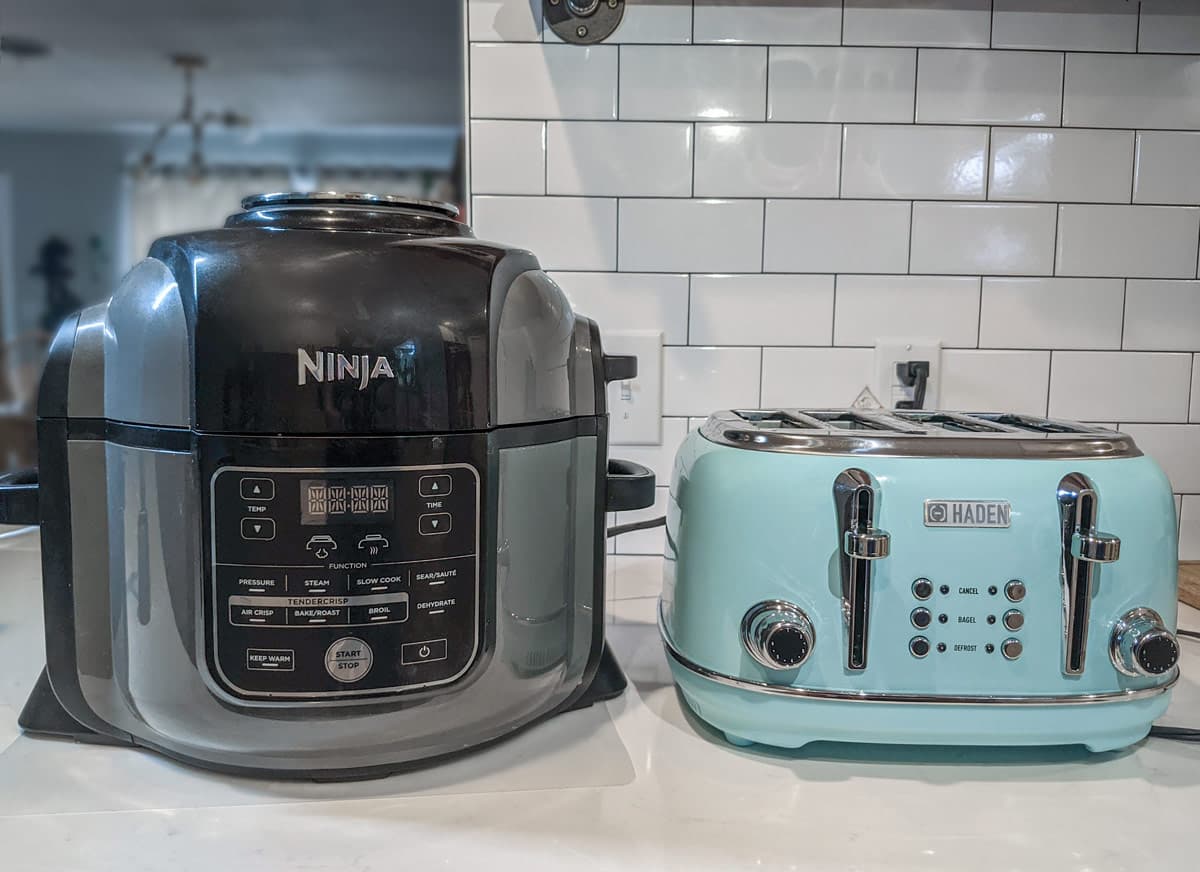 This recipe makes two sandwiches but you can easily adapt it to 1 by only using one egg and 1-2 slices of bacon, or you can double it if you need to make it for more people.
You can cook a bunch of eggs at a time too. My wife makes them omelette style where she scrambles them in a bowl and then pours them all into the pot. Then she slices them into portions with a spatula, and because the Instant Pot is so big you can really fit a lot of eggs into the bottom.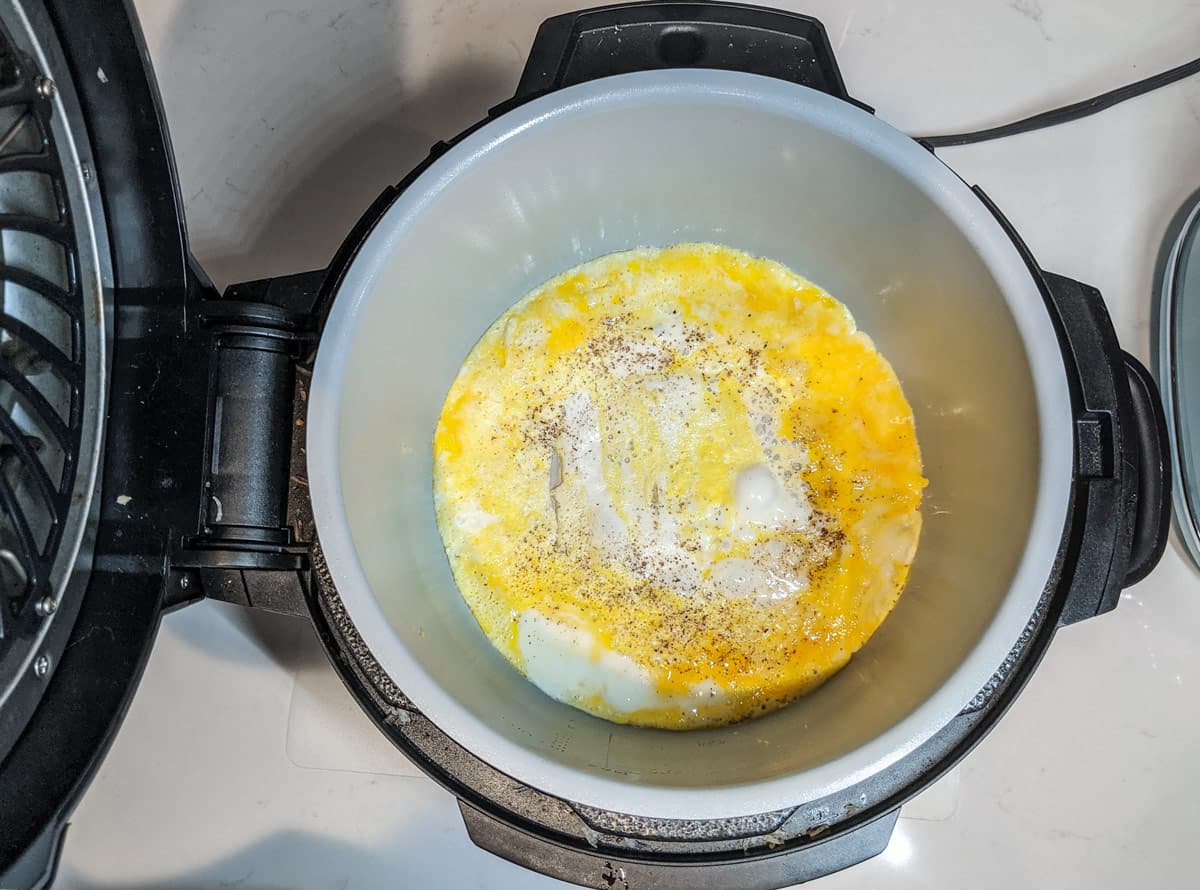 We prefer to use microwave bacon because it's so much easier than the stove top kind. Plus having to dispose, or store, the grease is kind of a pain. And the whole point of this meal for us is to create a fast breakfast sandwich.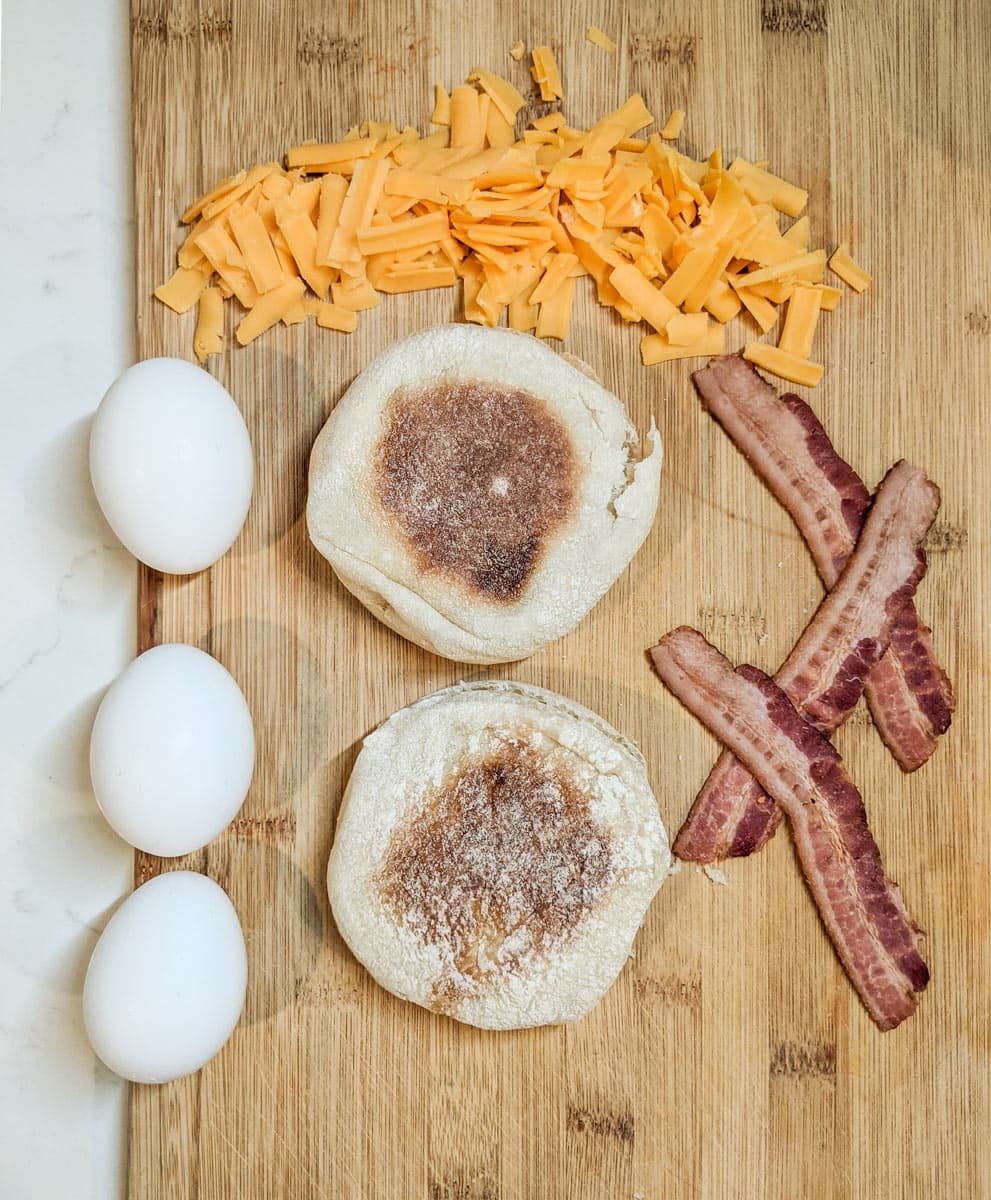 For cheese we like using a block of cheese that you have to grate. Pre-sliced cheese is covered in potato starch and doesn't melt nicely. The blocked kind is much better, and I find that it tastes a bit better too. But you can use whatever you have on hand.
We also use store bought english muffins because ain't no one got time to make those from scratch.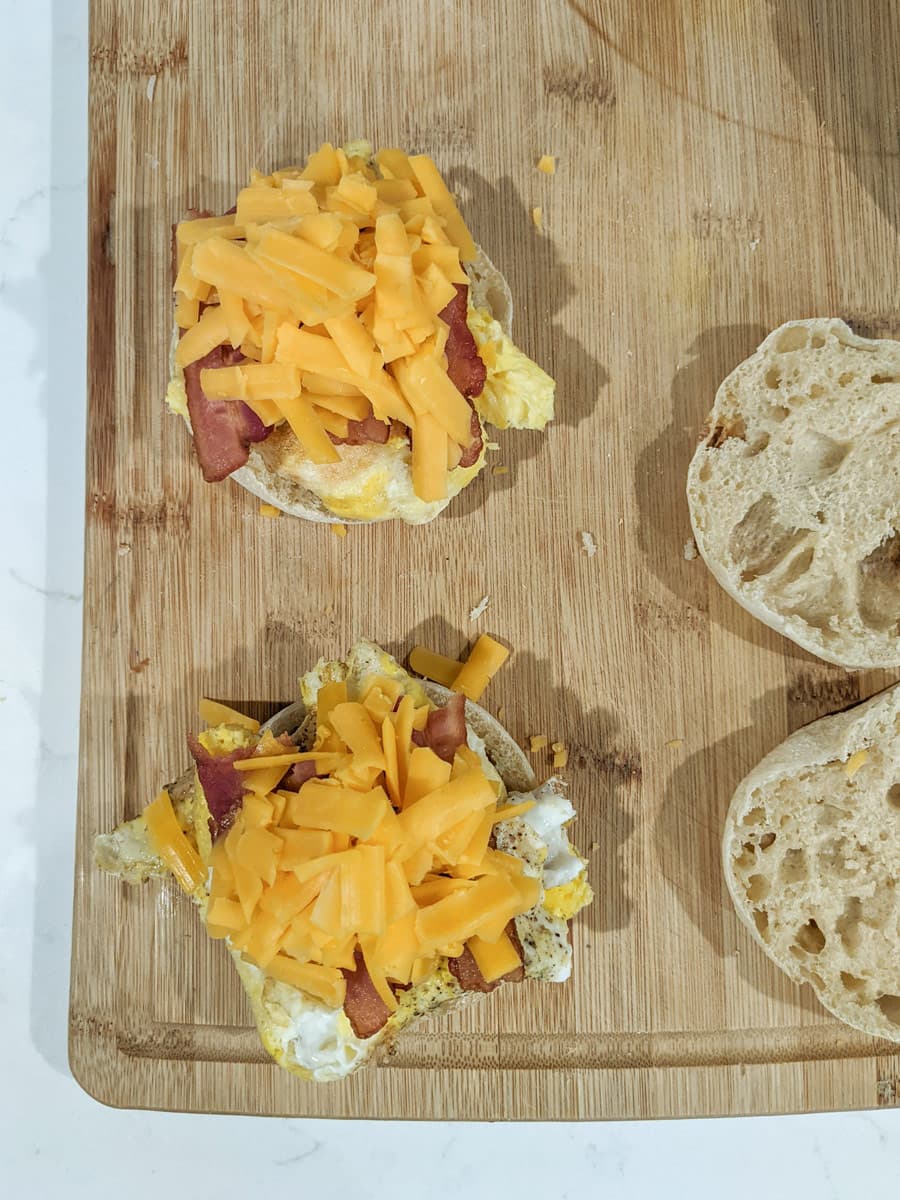 And that's pretty much it! Top with some optional Tabasco sauce for a little vinegary kick, or add some homemade habanero hot sauce to really spice it up. This recipe is a really fast way to make delicious bacon egg and cheese breakfast sandwiches.
Give it a try!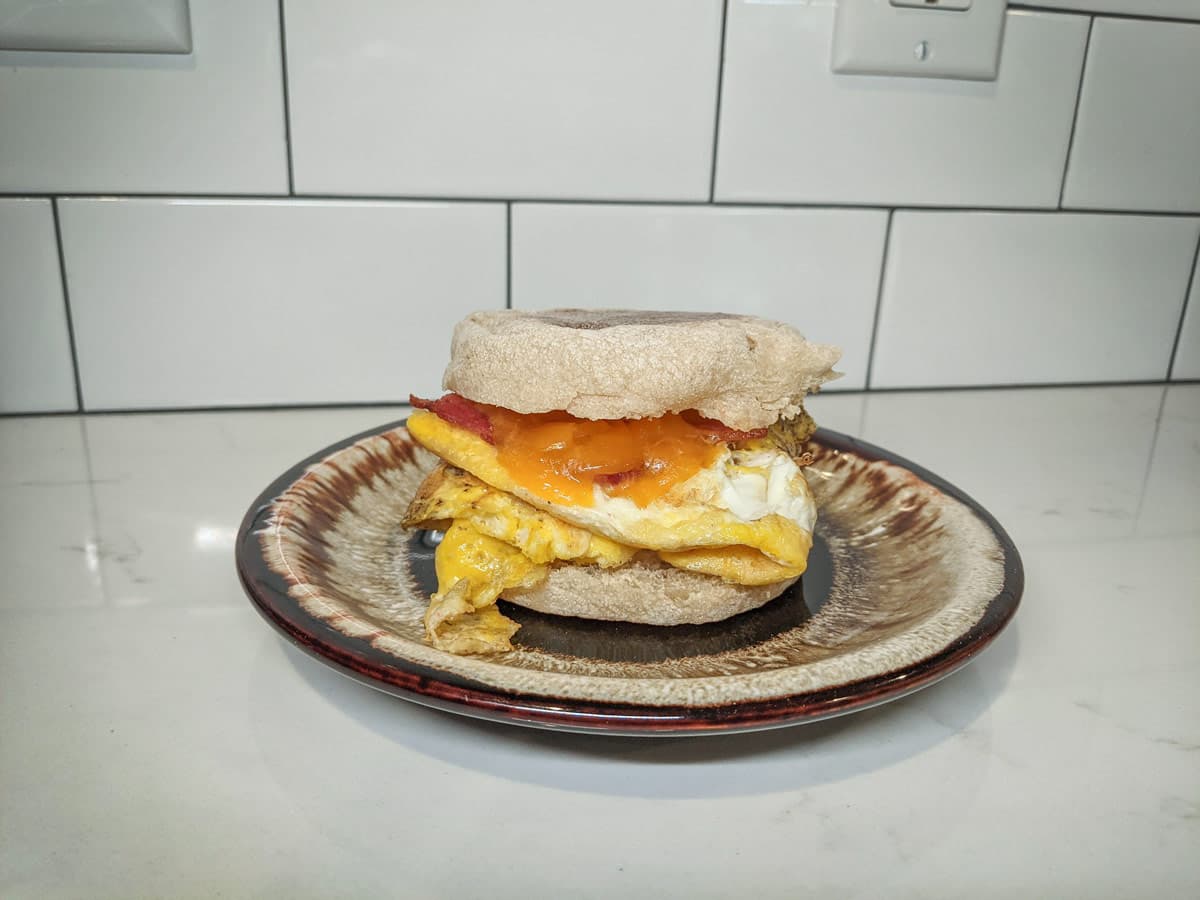 See Also