Notion launched their Project Management feature, simply called Projects, in June 2023.
Suddenly the big project management tools like monday.com and ClickUp have serious, focused competition from Notion.
With that in mind, here are some of my favorite Notion templates for project manageent.
Don't miss my other templates:
Notion Project Management Templates
Ultimate Brain by Thomas Frank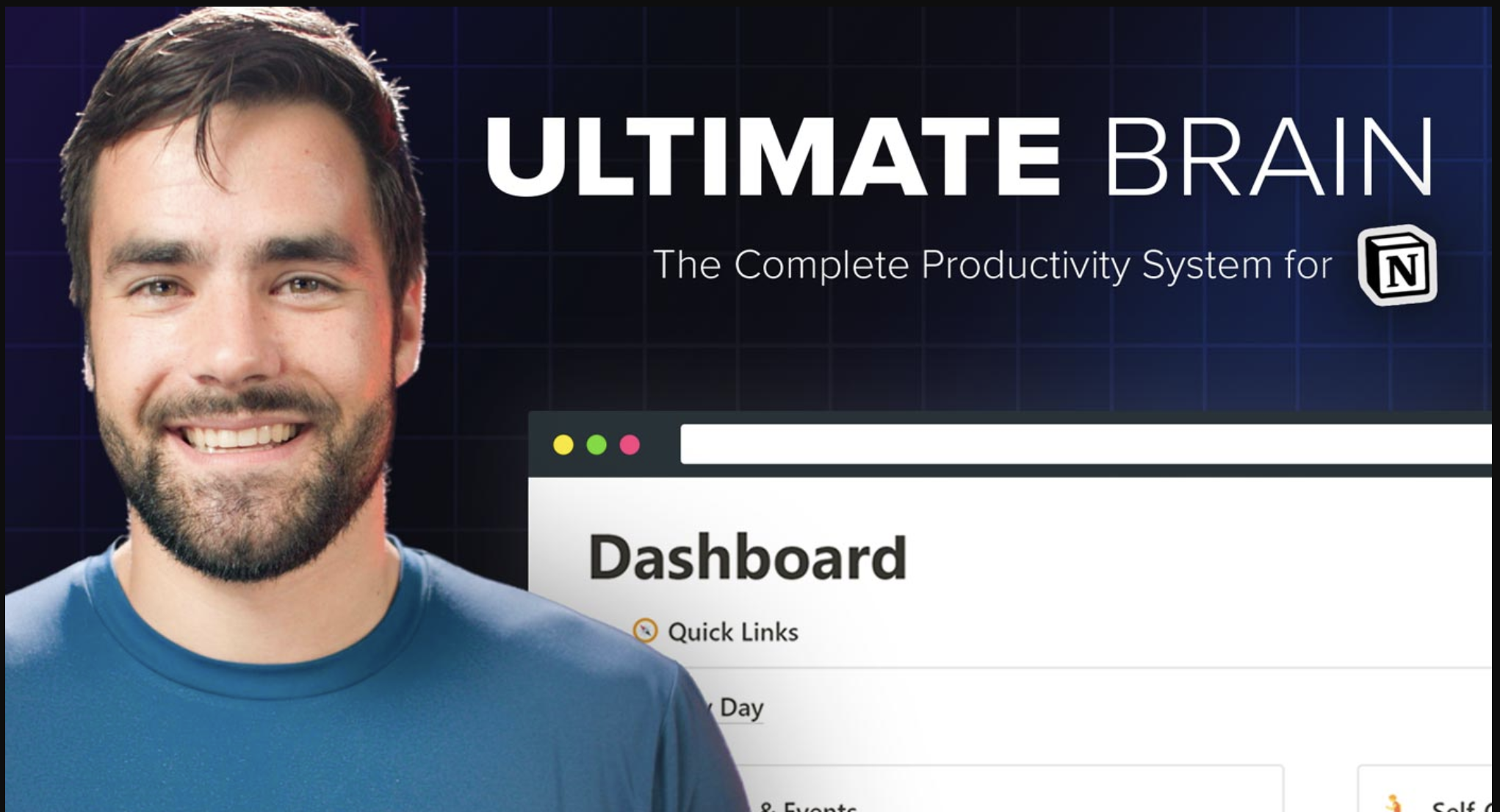 Author: Thomas Frank
The ultimate productivity system and second brain for Notion.
Ultimate Brain seamlessly combines tasks, projects, notes, and goals - turning Notion into your all-in-one task manager, note-taker, and planner.
Inside, you'll find advanced features like:
A Quick Capture dashboard for quickly capturing notes and tasks, then getting on with your day
GTD-style task capture and processing
PARA-style organization (Projects, Areas, Resources, Archives) for tasks, projects, and notes. Ultimate Brain turns Notion into the perfect tool choice for Tiago Forte's Building a Second Brain course.
Ultimate Brain has gone through extensive testing and design in order to be optimized for all devices and screen sizes, unlike many other templates which are only designed for large computer screens.
This template also comes with extensive tutorials along with free lifetime access to a support community on Circle where you can ask questions!
Project Management Template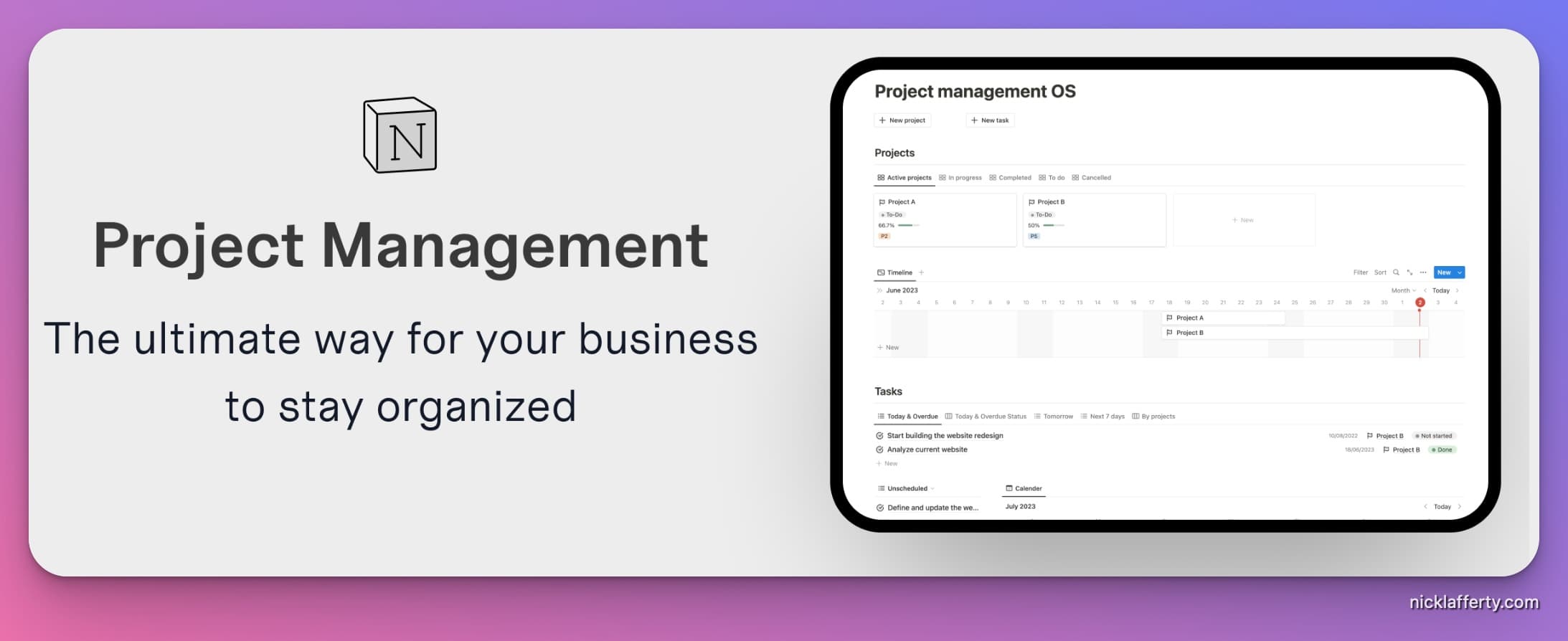 Author: Notionize
The ultimate way for your business to stay organized.
Introducing Project Management, the ultimate toolbox for businesses of all sizes.
This template will take you from setting up your tasks to completing them on time in one easy-to-use package.
It starts with the project manager, which keeps you connected to all of your assignments and initiatives and helps you maintain control over your work.
The progress task bar lets you keep a clear eye on how far along each project is and helps ensure that nothing slips through the cracks.
In addition, the project timeline keeps track of all deadlines and completion dates to help make sure everyone stays on schedule.
Learn more at the link below
Mint OS : Project Management Notion Template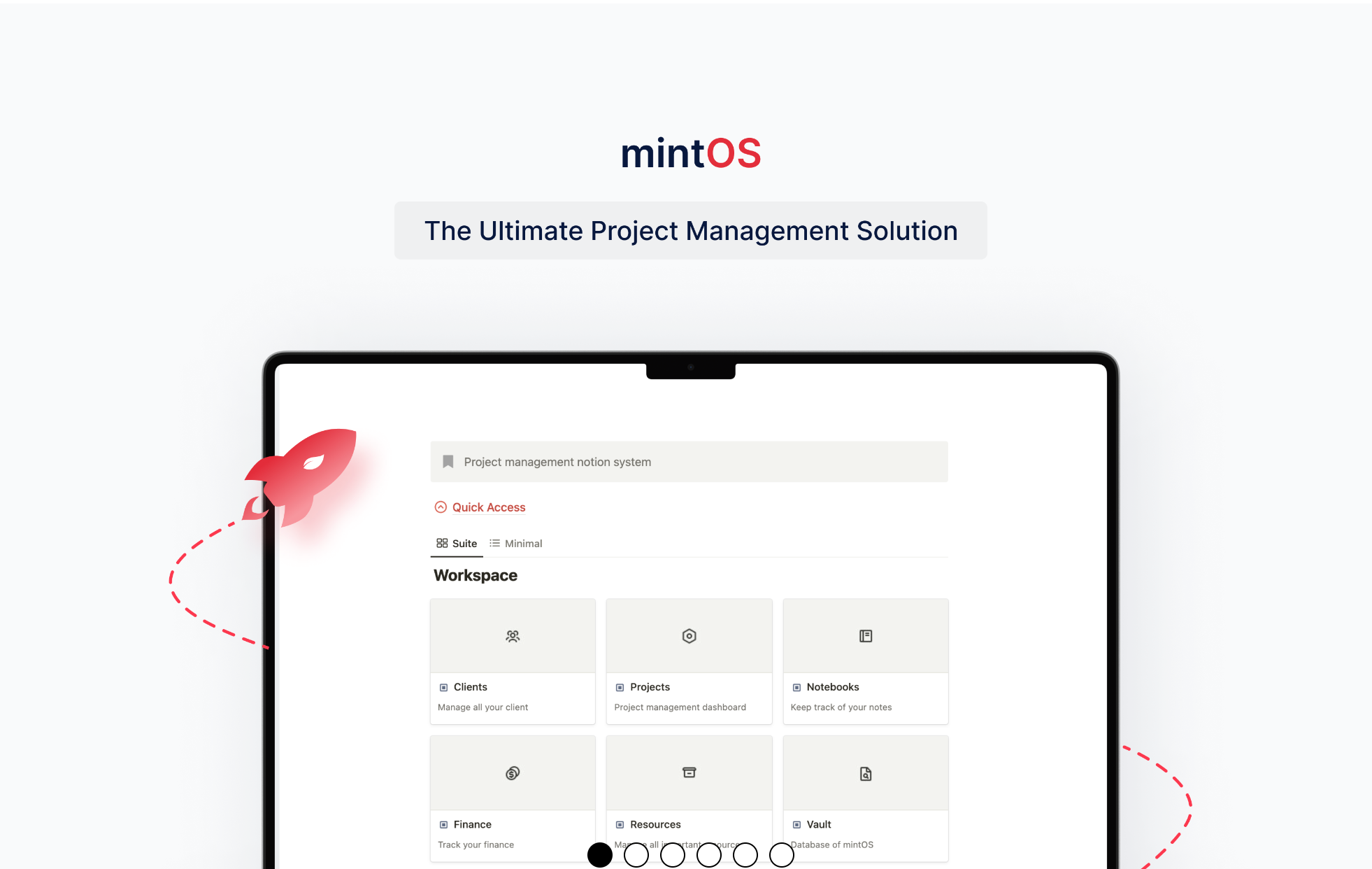 Author: Deepak yadav
MintOS is the ultimate project management tool for small businesses and freelancers.
It streamlines workflow, manages clients and projects efficiently, and improves communication with your team. With MintOS, managing your projects will be a breeze.
Notion Project Management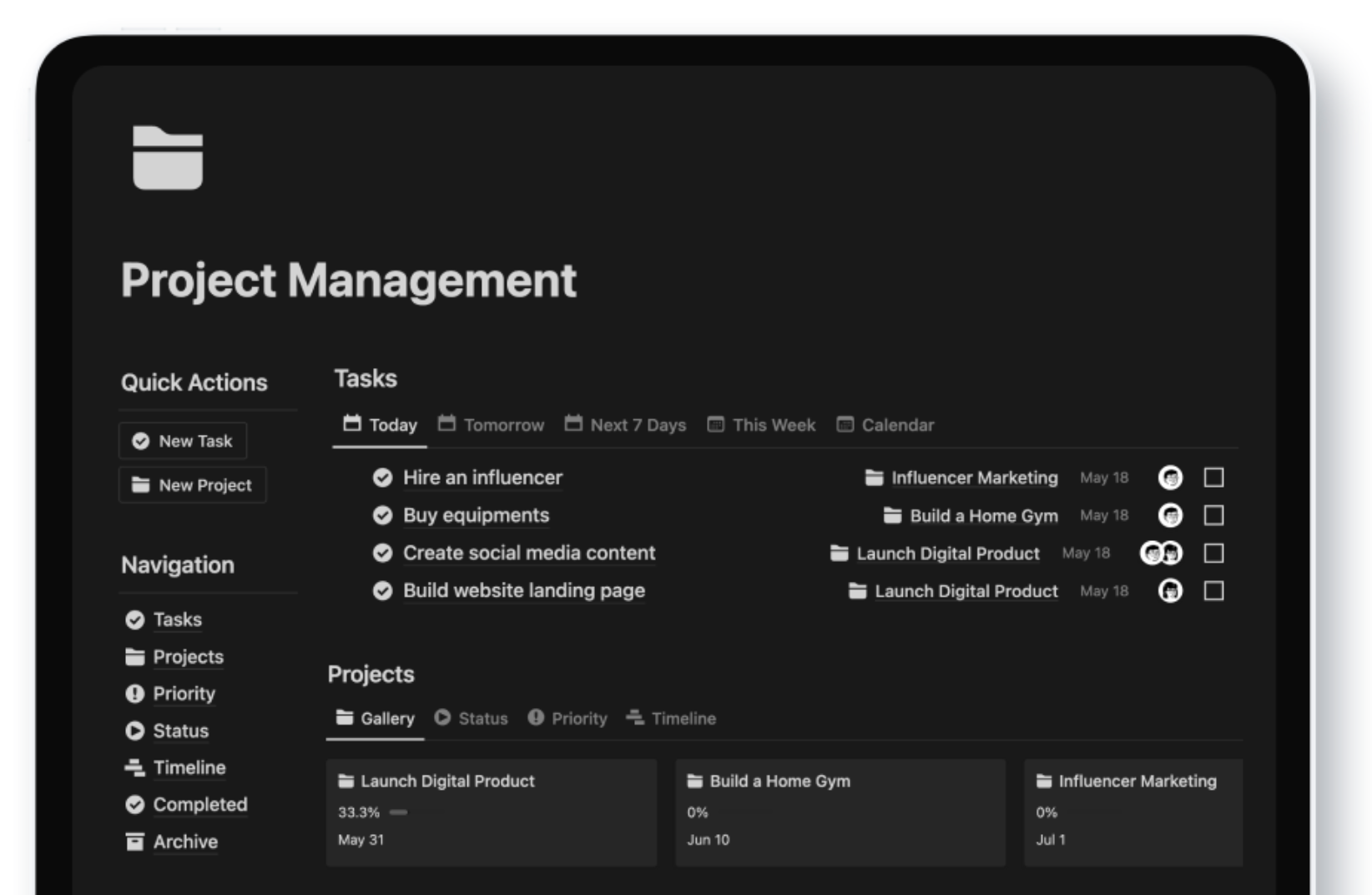 Author: Easlo
Manage Your Tasks & Projects with Our Simple Yet Powerful Notion Template.
Say goodbye to your outdated to-do list and boring project management tools.
Step into the future of productivity with our powerful Notion dashboard that masterfully manages your tasks and projects in just 2 databases.
Project Management OS ⚡️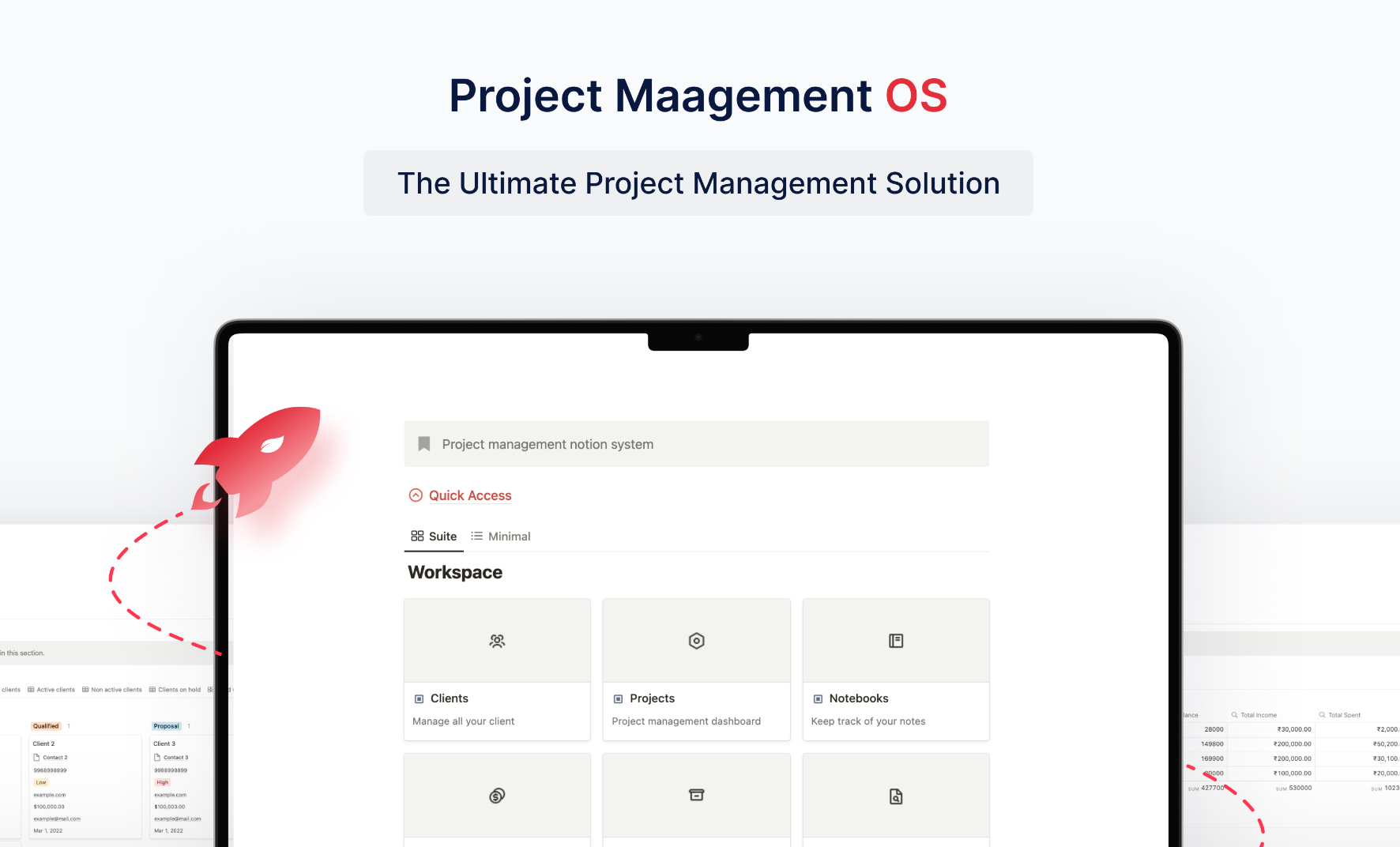 Author: Deepak yadav
Unleash the power of organization and efficiency with our specially designed project management template on Notion.
From task tracking to client management and project finances, this template has everything you need to take your projects to the next level.
Say goodbye to cluttered spreadsheets and disorganized notes, and hello to streamlined success.
Managing projects can be a daunting task, with multiple moving parts and a never-ending list of tasks.
But with our project management template, you'll have everything you need to keep your projects on track and your team in sync.
Notion Business Hub
Your Business Hub, entirely in Notion.
One place for Everything in your Business.
Tired of cobbling together multiple apps to form your Business? Me too. Business Hub lets you capture and organize everything inside of Notion - turning it into an all-in-one workspace.
Business Hub is the most advanced business & startup Notion template that helps you manage every aspect of your SaaS product, Digital product, Startup, and in general your online business.
Project Management for Designers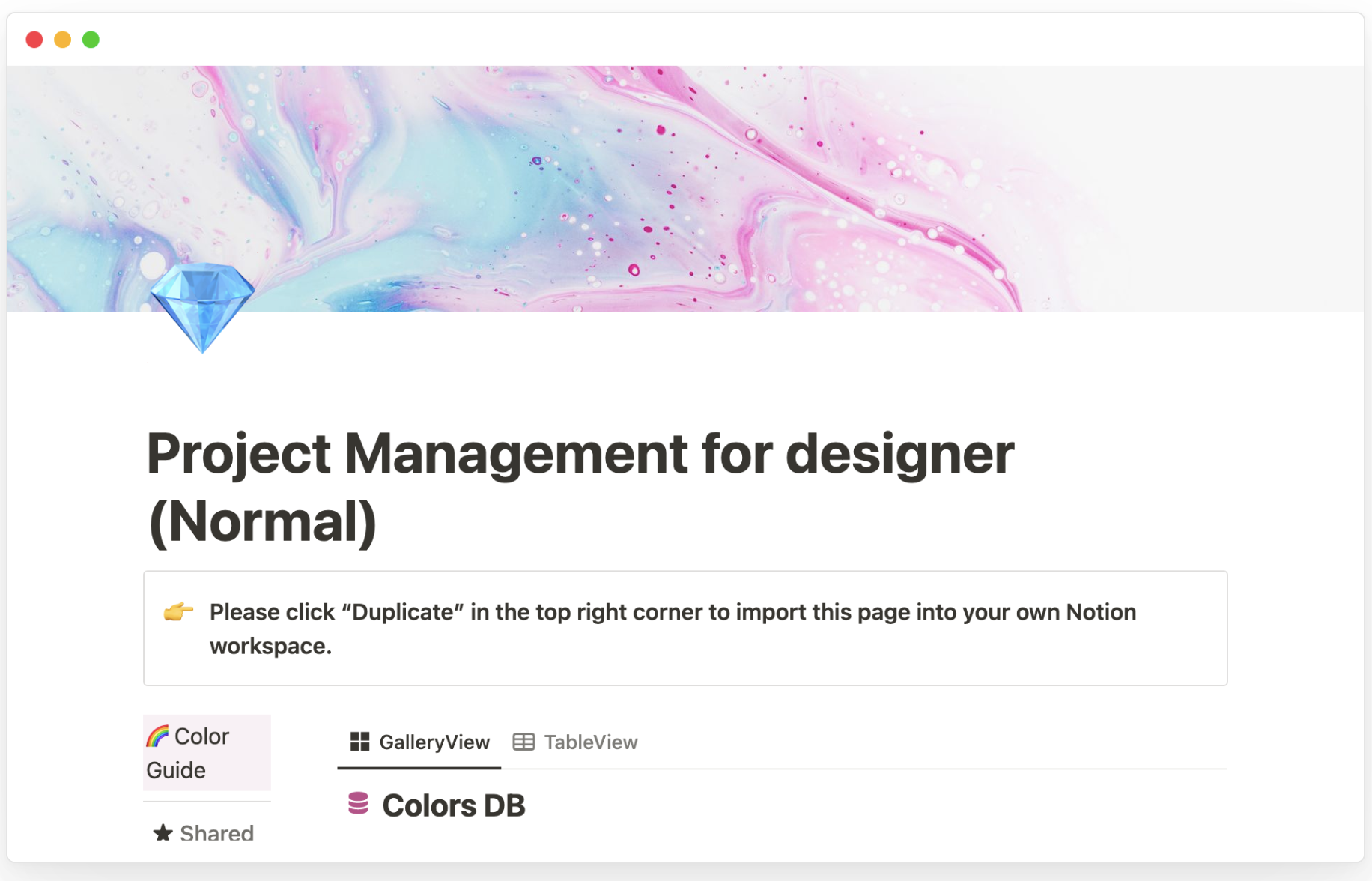 Author: Jeepha
Upgrade the productivity of your design projects by assigning the colors and tasks to them.
This Notion template will be a great tool for managing, sharing and reviewing your projects.
Easily organize your own project zone with one click and share all the process with your team members, so you can save the time and work efficiently.
Project Management for PMMs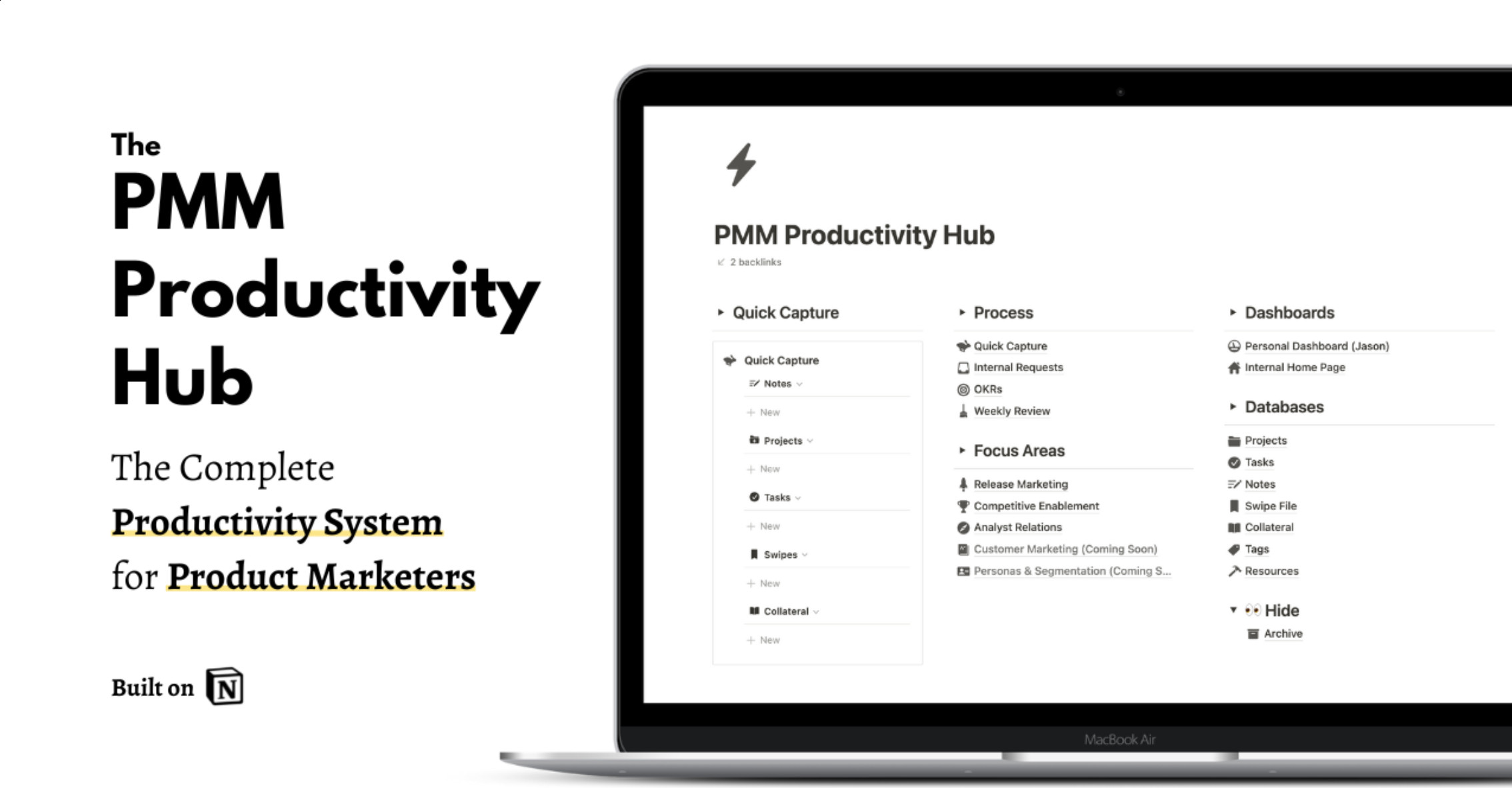 Author: Jason Oakley
The complete productivity system for product marketers.
Created by Jason Oakley who previously lead Product Marketing at Klue and Chili Piper, he now runs Productive PMM.
His first product is the PMM Productivity Hub, a central place for managing your work, your team, and your sanity.
✅ Stay on top of your goals, projects, and tasks
💡 Easily capture and recall notes and inspiration
⚡️ Never start a project from scratch again
Projects & Tasks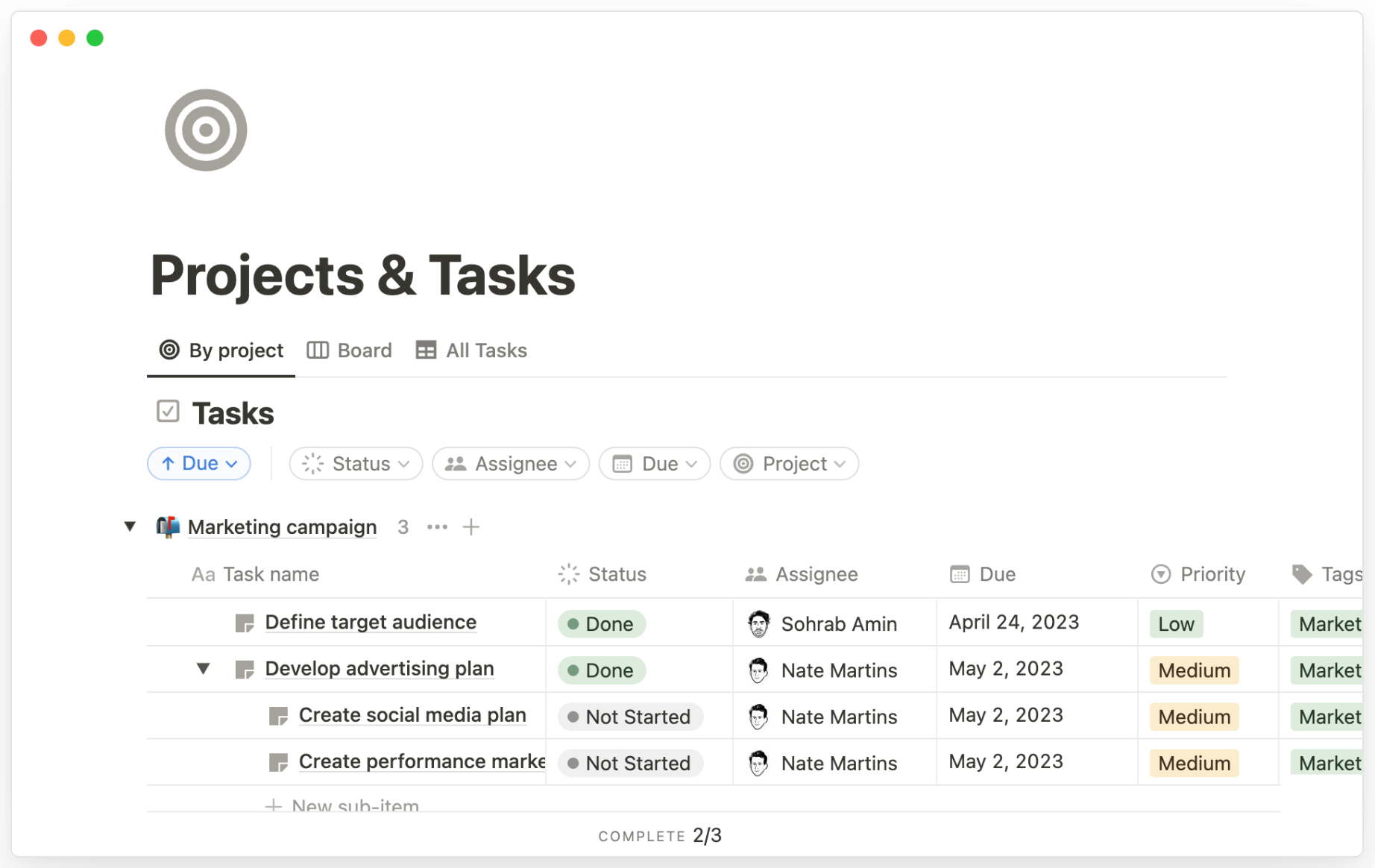 Author: Notion
Track and manage projects of any shape or size. For any size of team too.
View your projects as a timeline, kanban board, or calendar.
Then write planning docs, embed designs, and organize meeting notes in the same place to keep your projects on track.
The Simple Project Manager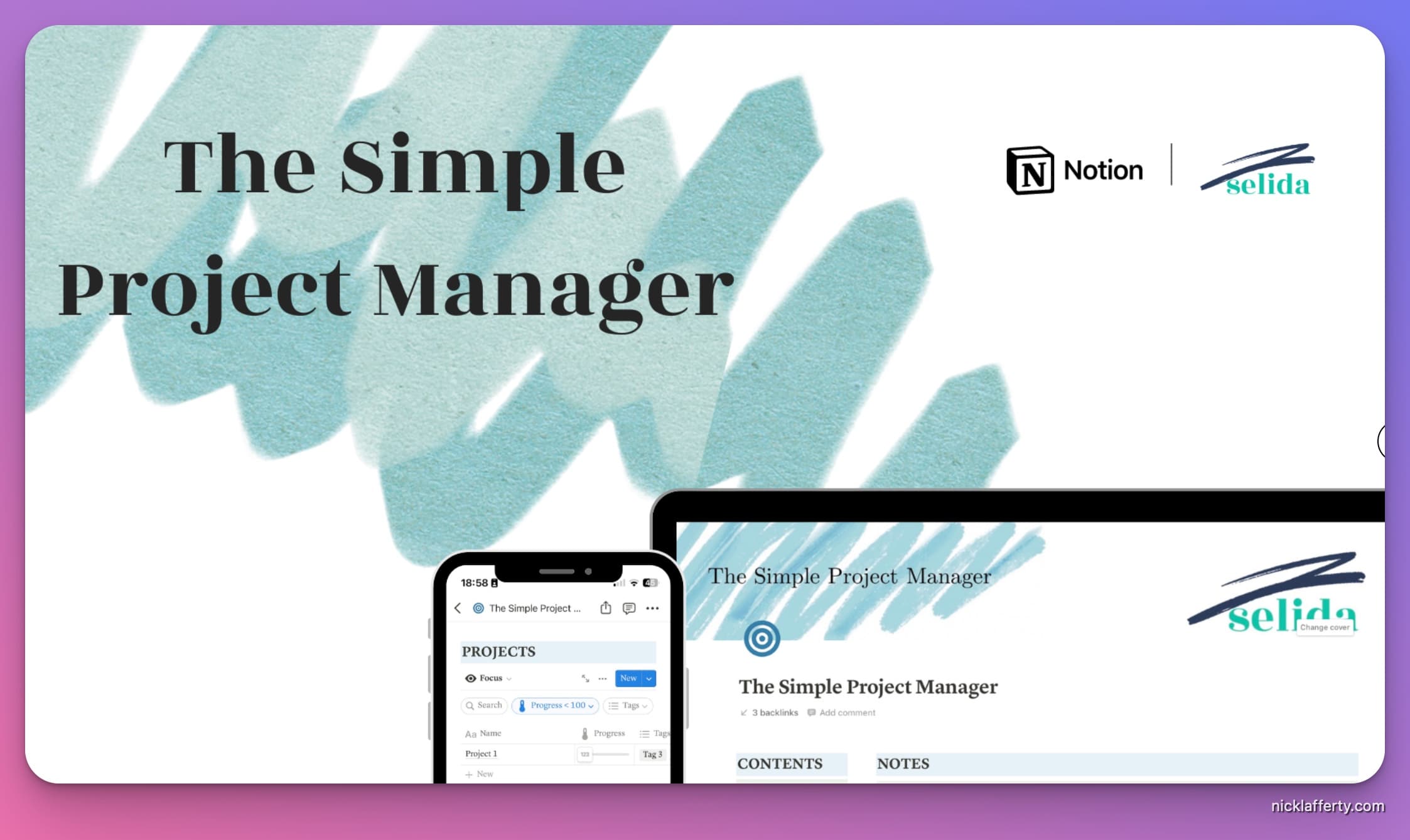 Author: Selida
The Simple Project Manager is a stripped back way to manage projects, tasks and sub-tasks using Notion.
It is based on the idea that success is achieved in increments.
Use this template to break your projects down and watch each task and sub-task you complete automatically add to your project's progress bar.
Startup OS: Project Management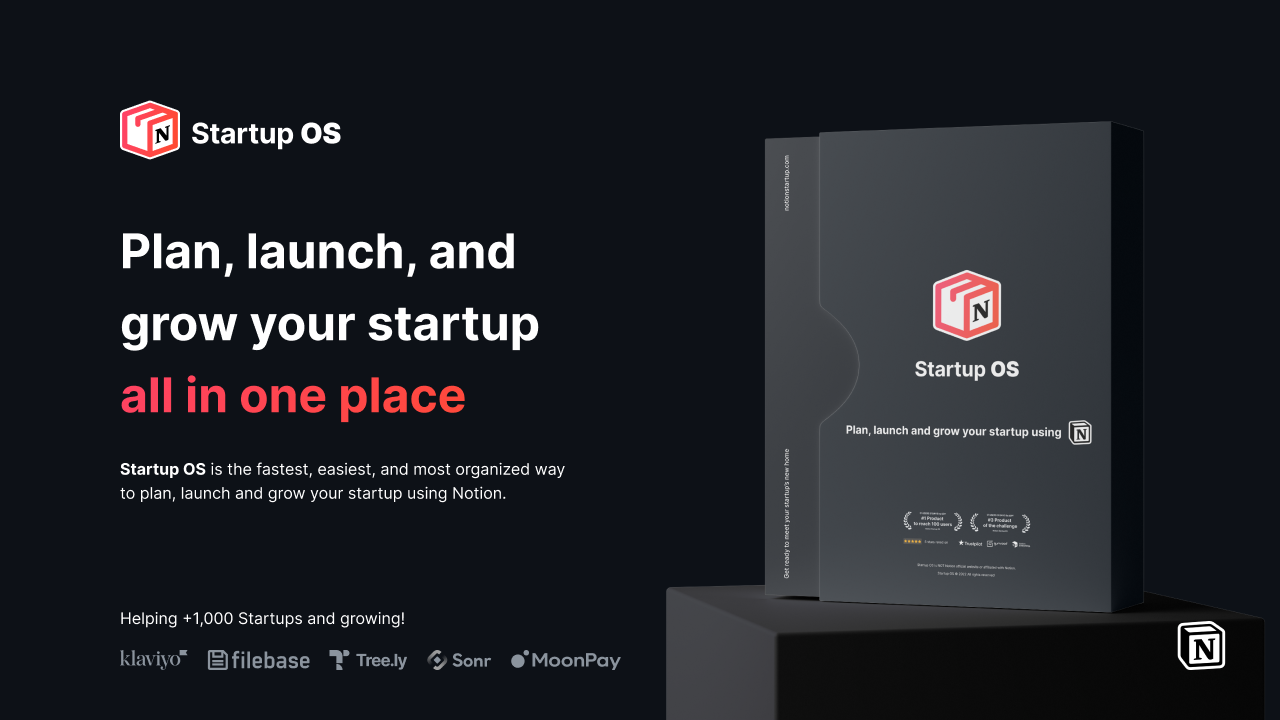 Plan, launch, and manage your startup's project management all in one place!
Startup OS is the fastest, easiest, and most organized way to plan, launch and grow your startup using Notion.
The Startup OS has +60 ready-to-use and easy-to-customize templates including:
✅ Company Dashboard
✅ Business Model Canvas
✅ Value Proposition Canvas
✅ Company OKRs ➕ +56 Other Templates
A process-based approach to growing your startup.
Get the Startup OS today.
Notion Small Business Kit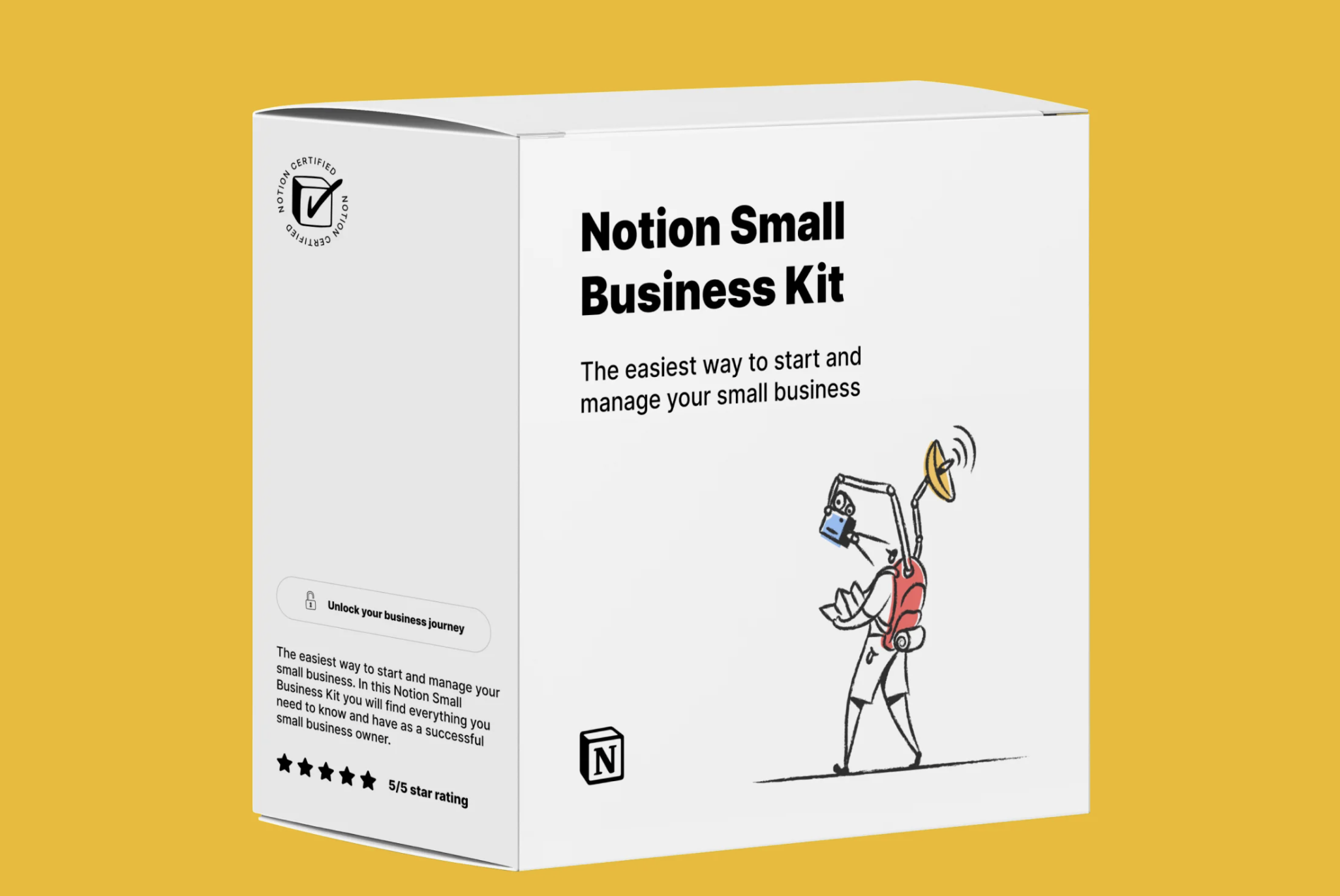 Your ultimate guide and management tool to help you start and manage your small business.
In this Notion Small Business Kit you will find everything you need to know and have as a successful small business owner.
So you are looking for the easiest way to start or manage your small business.
Well, this kit is designed exactly for you.
No matter if your business is online or offline, e-commerce or service provider agency you will find this kit extremely beneficial.
This guide will help you to start/manage your entire small business.
Notion Enterprise OS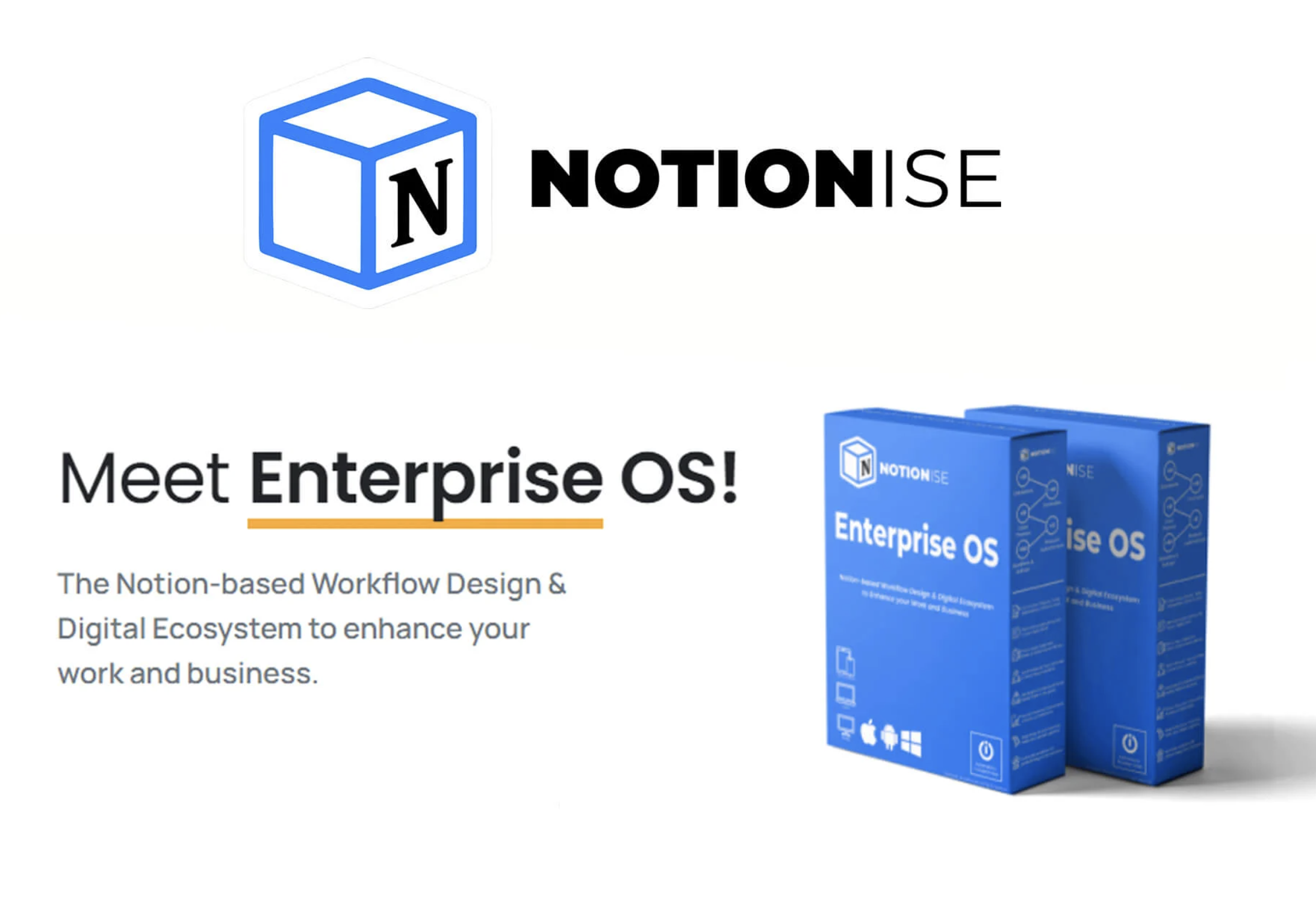 Author: Notionise
👉 Enterprise OS is an all-inclusive Notion-based company management system, guaranteed to streamline your business and save hours daily!
It includes:
Main Hub
Task Dashboard: Based on business best practices & leading productivity frameworks.
Project Roadmap: Stay on top of all parallel projects. Juggle deadlines like a pro.
OKR Planning Hub: Align all day-to-day activities with your goals & always stay focused.
Social Media Scheduler: Schedule & automate all social media with this API powered tool.
Company Profile: Stand out in competition with your brand's professional introduction.
And much more.
The Enterprise OS has everything you need to run your business.
Try it today.
See Also