The Ikea Kallax is probably the most recognizable piece of furniture out there and that's not necessarily a bad thing. This shelving unit is all-function and is priced affordably at $70 so it's no wonder everyone has one or two or six.
We have a grand total of three Kallaxs in our home and have had them for years- one of which since we moved in together in 2014. Our primary one is used as our TV stand and our second and third are used as storage in the sunroom and office respectively. Again, all function.
Grab Cody's patterns below or read on for more story into how and why she built them.
Ikea Kallax Door Hacks
The Kallax's most notable feature has to be its versatility. While the unit itself is a symbol of function over form, that lack of form lends itself willingly to its owner's creativity. You can really do anything you want to the Kallax and it will look great. Ikea knows this as well and offers several customization options for the Kallax. But why limit yourself to what the big box store offers? Why not make something yourself?
And that's exactly what my super beautiful and intelligent wife, Cody, did. She's a creative person by nature, so it made sense when she started to take up woodworking and built small items. One of her first projects was doors for our TV stand- which just so happened to be an Ikea Kallax. It served us well and kept us from buying a fancier $1800 console from Article. However, it was looking a little drab and radiated that college-chic vibe that doesn't fit in a home owned by two 30-somethings.
4 Door Ikea Kallax DIY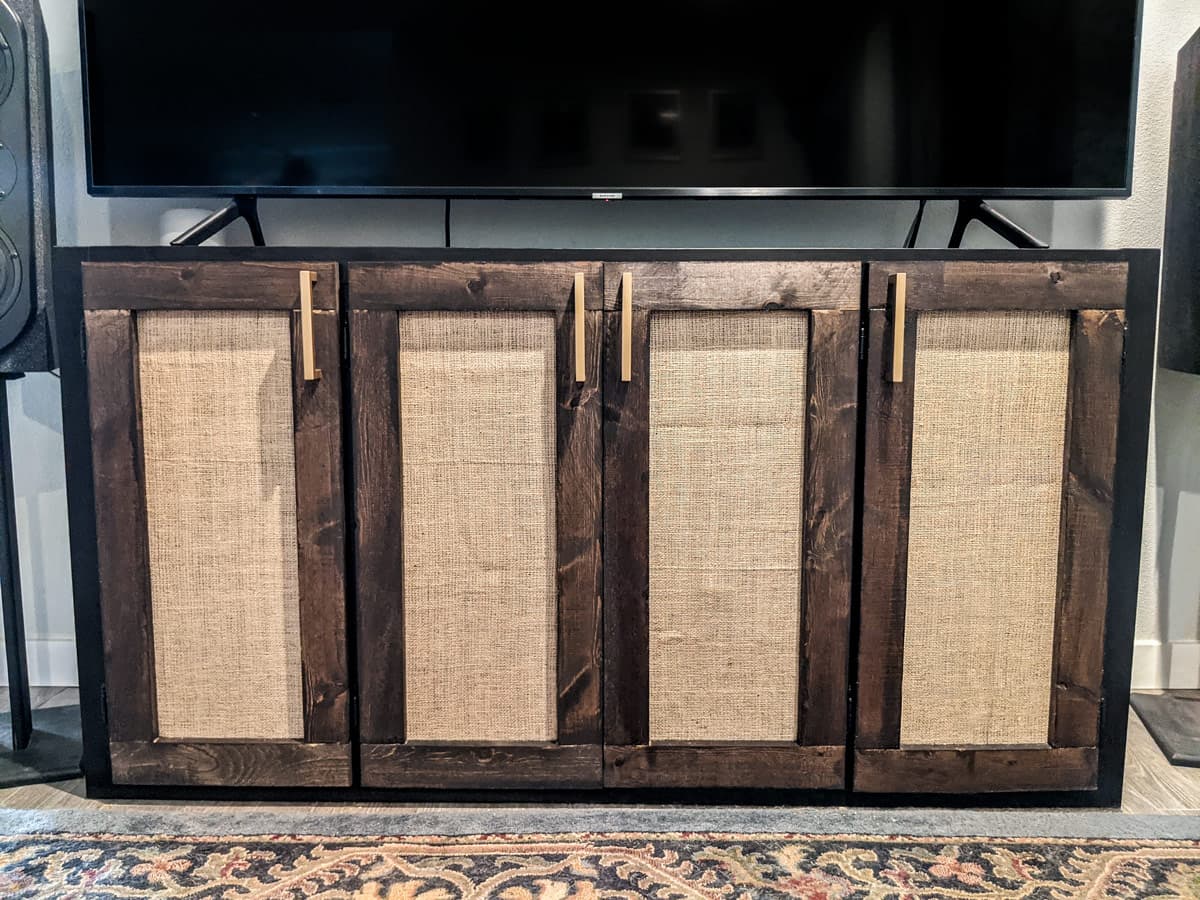 Cody drew up some simple ideas and created a plan to affix four doors along the front of the unit. They would hide all of our electronics but, more importantly, would give the Kallax some much-needed style.
The most important aspect of these doors is their affordability. They're getting attached to an economical piece of furniture and didn't need to break the bank in materials. The wood used for the frames is pine and the fabric is burlap. She was originally planning to use rattan, but it can be very expensive and not worth putting on something we might not have forever (even though it's looking that way). The stain used is 'Jacobean' by Minwax and closely matches the color of the Kallax.
I think the whole project came out wonderfully. They fit the space because they're unassuming and they hide all of the wires we have hidden back there. She wanted these doors to be easily customizable and made with the minimum amount of tools to be approachable for first-time woodworkers.
You can find an easy-to-follow PDF for sale on her Etsy.
2 Door Ikea Kallax DIY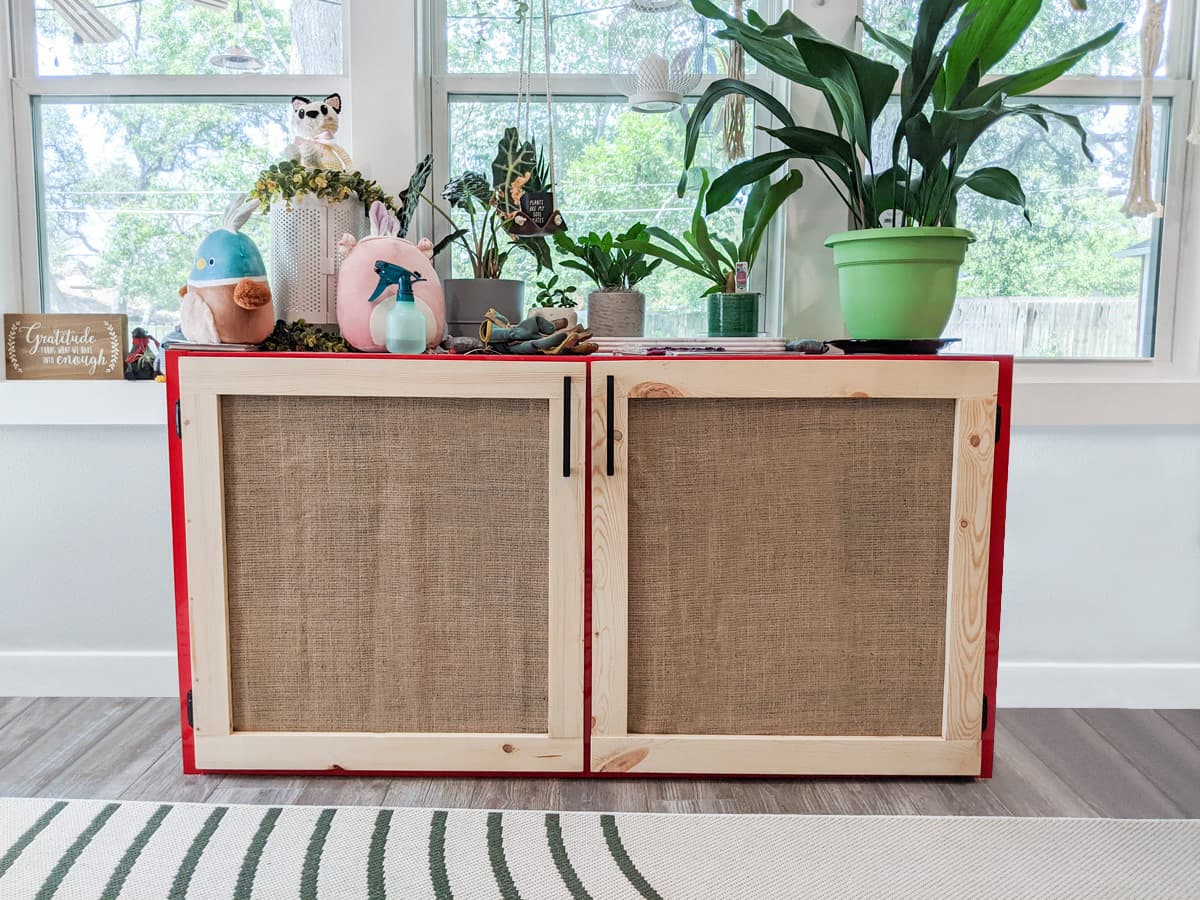 As I mentioned before, one of our Kallaxs lives in our sunroom and houses some of our books and board games. It's also bright red. I mean bright red. This is the one we bought back in 2014 for our first apartment and it's made three moves with us since. It's covered in stickers from various venues and shows that we used to go to in Austin. Needless to say, there is a lot of sentimental value there for my wife (and me too).
After she finished her first set of doors, it was time to update the red Kallax. The overall look was going to stay the same for consistency, but it also needed to match the aesthetic of the sunroom.
That aesthetic? Cozy.
The goal here was to tone down the red, so she left the wood unfinished. Natural wood lends itself to a boho theme and looks good with the many, many plants living in the sunroom. She placed an inexpensive blanket over the top to protect the stickers against the dirt and water from the plants. This also helped break up the red and up the cozy factor.
Also made from pine, they're larger than her first set of doors so as to differentiate from the TV stand. Burlap was used again since you have to buy about 15 feet of it. We still have a ton left, but the total cost comes down every time you use from your stockpile.
The two-door version of her Kallax doors is also available on Etsy.
Other Ikea Kallax Hacks
We're putting together a list of my favorite door-based Ikea Kallax hacks. A lot of DIYers add legs to the bottom and call it a day- which is totally fine! However, I wanted to showcase some DIYs where you might have to get your hands a little dirty, but only a little. Nothing too complicated, but the results are stunning.
The Sorry Girls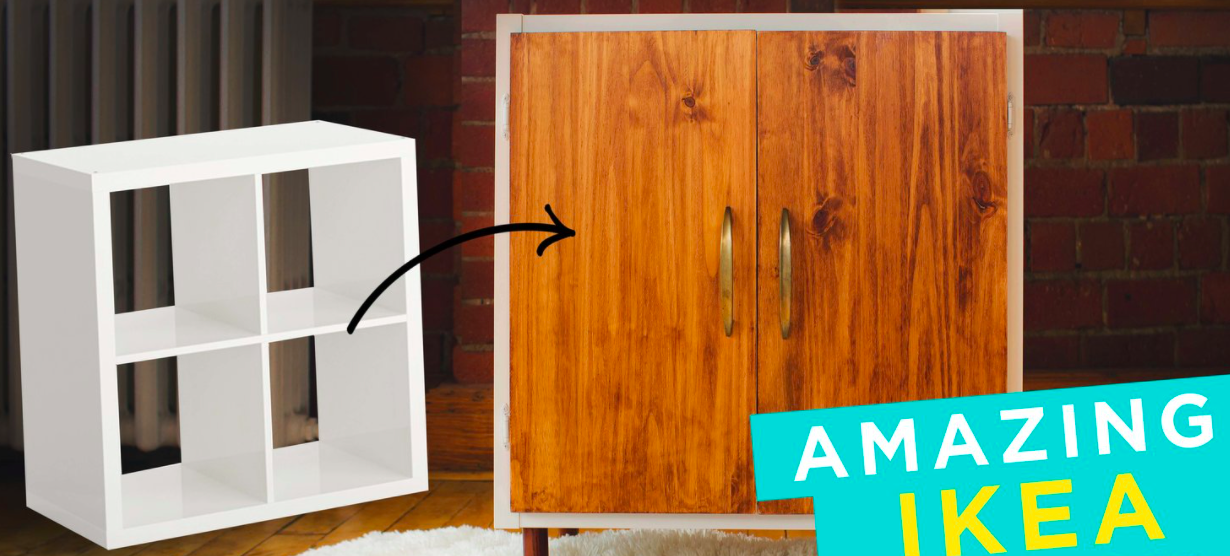 These ladies have tons of awesome DIYs and a lot of them are beginner friendly. Here they made a simple and stylish wardrobe out of a 2x2 cubby Kallax. This would work great in a dorm room. You also don't have to use it as a tiny closet either, they give you the blueprint to make it into whatever you need for your space.
Grillo Designs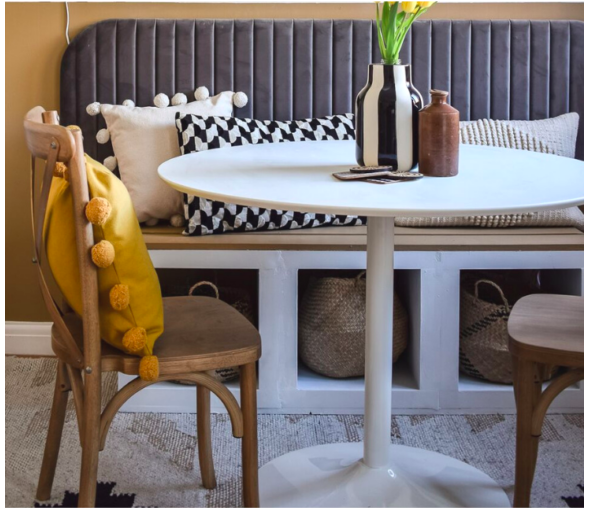 I love the idea of turning a storage unit into a functional piece of furniture and Medina at Grillo Designs does just that. She created a bench from Kallax shelves that would fit great in a small breakfast nook. If you have the room, you could also use a 1x4 Kallax unit and skip all the gluing and puttying!
The Navage Patch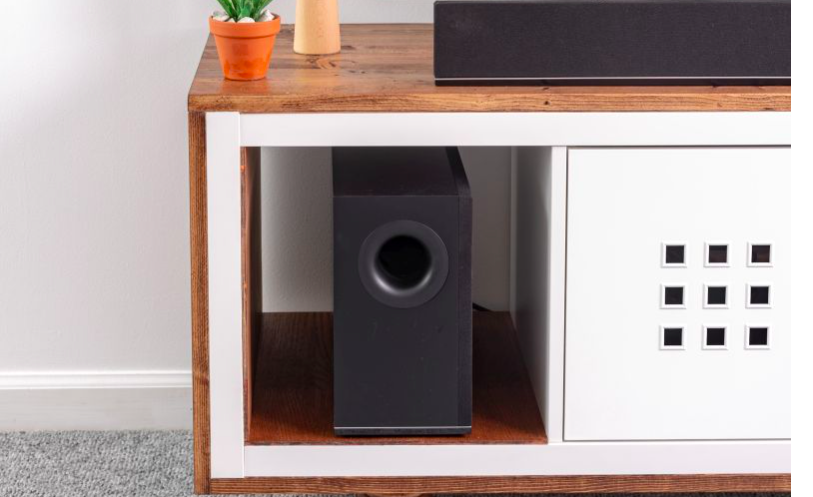 Ah, another TV stand that could do with some sprucing up. A slightly longer DIY, but the final product looks so good. The wood on this one is a great touch and exactly what this little 1x4 Kallax needed.
Deeply Southern Home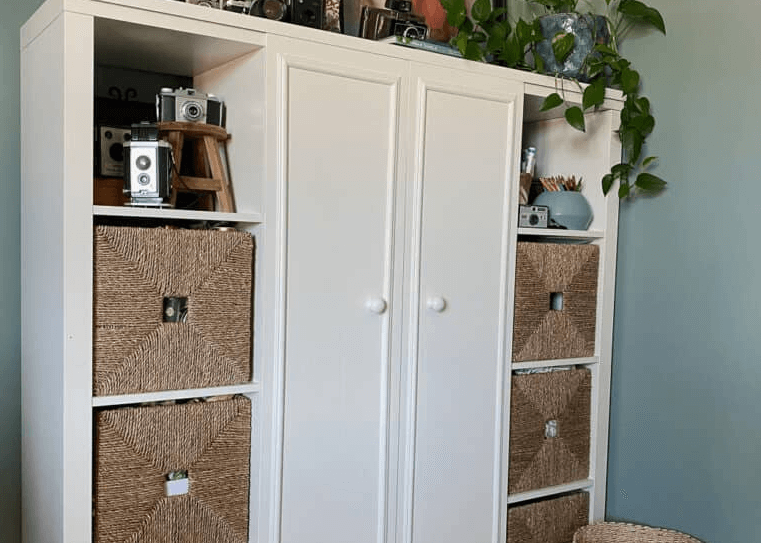 Doors really spruce this thing up, don't they? This set of doors can slide across your Kallax to hide cubbies that are strictly storage and they look amazing. Let your creative juices flow since they're so large.
Flax and Twine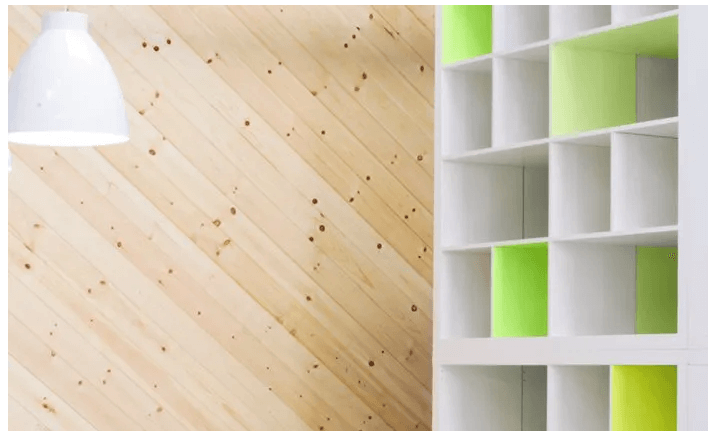 Okay, so this one isn't so much a "hack" as it is a cool design feature. I love the bold choice of color and selectively removing some of the shelves to create a unique, asymmetrical look. Easy to experiment with, you can go with any color you'd like! This hack really highlights how a touch of paint (or veneer) can create a whole mood.
Wrapping Up
These DIYs for the Ikea Kallax are all super easy ways to spruce up a piece of furniture you may have had since college.
Make sure to check out the plans below.