I've been a professional growth marketer for the last seven years. I've worked in-house at several software companies, including Mailgun and Loom (the best screen recording tool for work), and I've consulted for many more.
I mention this at the beginning to let you know that I know what I'm talking about. Too many bloggers write fluff pieces without any real-world experience using the tool.
This isn't your average listicle. These are my favorite growth hacking tools that I've personally used.
Use the table of contents above to jump to any specific section.
What are growth hacking tools?
Growth hacking tools enable rapid interation, experimentation, and automation to scale a manual and repeatable process. They are most commonly used for marketers to grow a key metric: web traffic, signups, leads, or emails captured.
Growth hacking tools can be landing page builders, automation tools, email marketing software, SEO tools, chat bots, and more.
Best Growth Hacking Tools
Ahrefs
Clearscope
Supermetrics
Unbounce
Zapier
Convertkit
Drift
SEO Tools
Ahrefs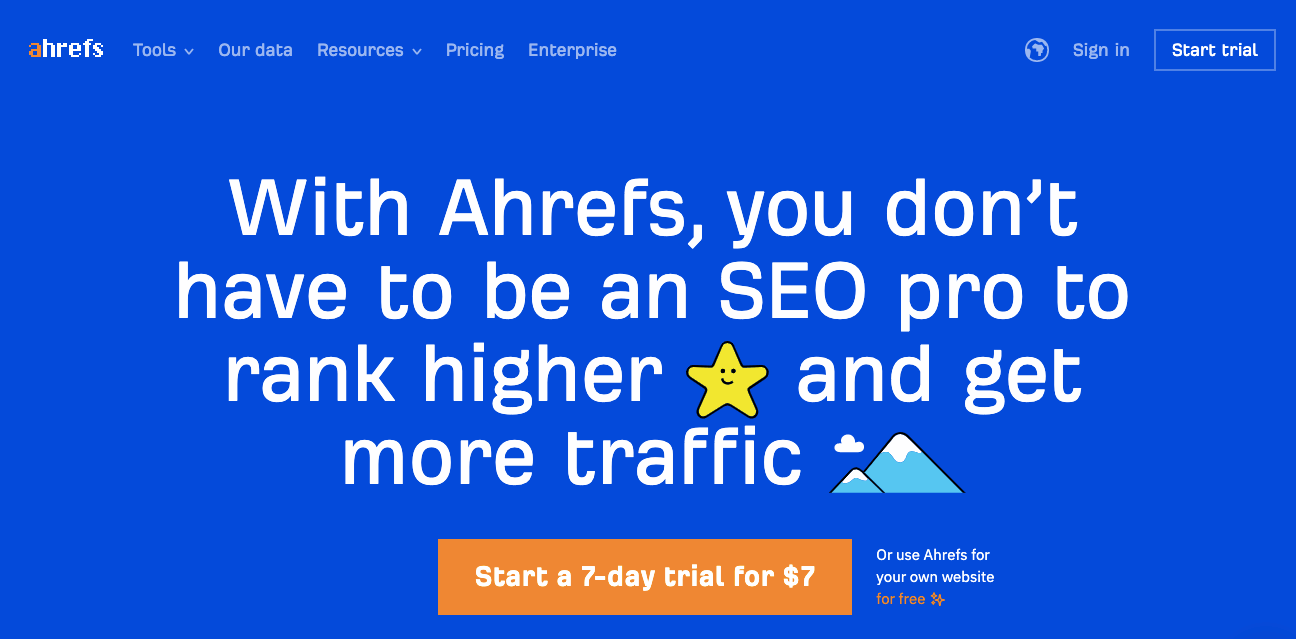 Ahrefs is by far the best SEO keyword research tool on the market. Their bigger competitor is SEMRush but in using it I have a lot of complaints.
SEMRush's UI is bloated and confusing to me. It offers too many options on the screen at once and doing simple things like exporting data seems nedlessly cumbersome.
Ahrefs on the other hand is clean, modern, and everything is where I expect it to be. I've also found the data inside Ahrefs to be cleaner, specifically for keywords.
I use Ahrefs for:
Keyword research
Backlink analysis
Content gap analysis
Competitive benchmarking
Website crawling
It's a really comprehensive tool and is essential for any SEO or Content team to be successful.
Clearscope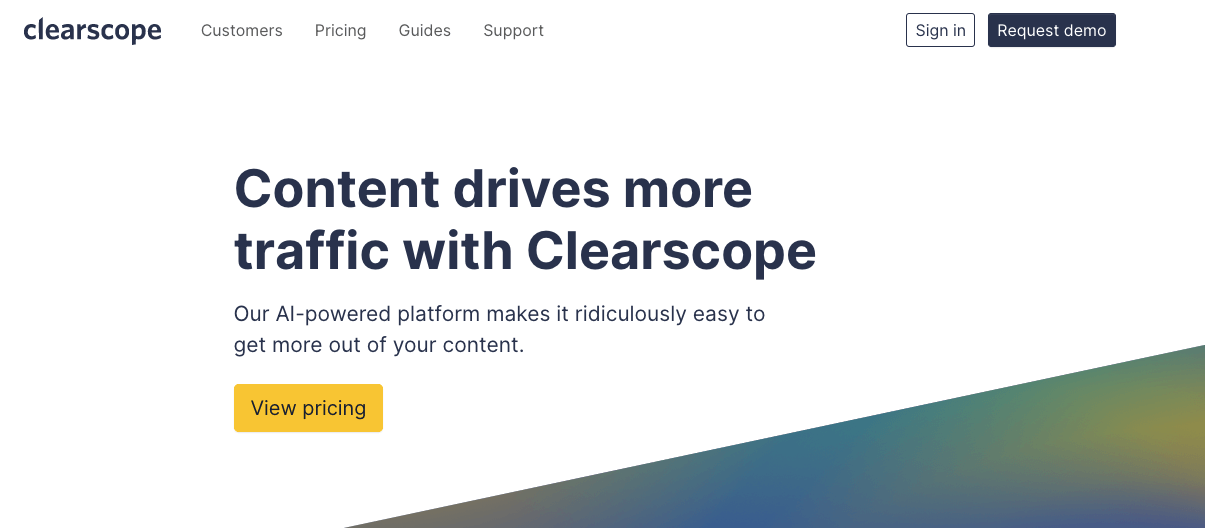 Clearscope is an AI-powered tool that helps you write better content. You plug in a keyword then Clearscope crawls the search result page, pulls in information and the actual content from every result on page one, and grades the content of every result.
Clearscope then gives you a list of important keywords to use in your writing, which frequently includes things you may not have thought of initially, and will grade your content against others.
I've personally used Clearscope and have seen it's ability to drive SEO traffic. It's an easy to use tool across your entire team because it doesn't require any complex knowledge of SEO.
You can generate and share a brief with your content writers to go in and benchmark their content against Clearscope's score. Tell your writer to get an A+ score and you can be sure your content is well optimized for SEO.
Clearscope also has a Google Docs and Wordpress plugin to easily integrate into your content team's existing workflows.
I use Clearscope for:
Generating content briefs
Optimizing content for SEO
Refreshing old content
UseTopic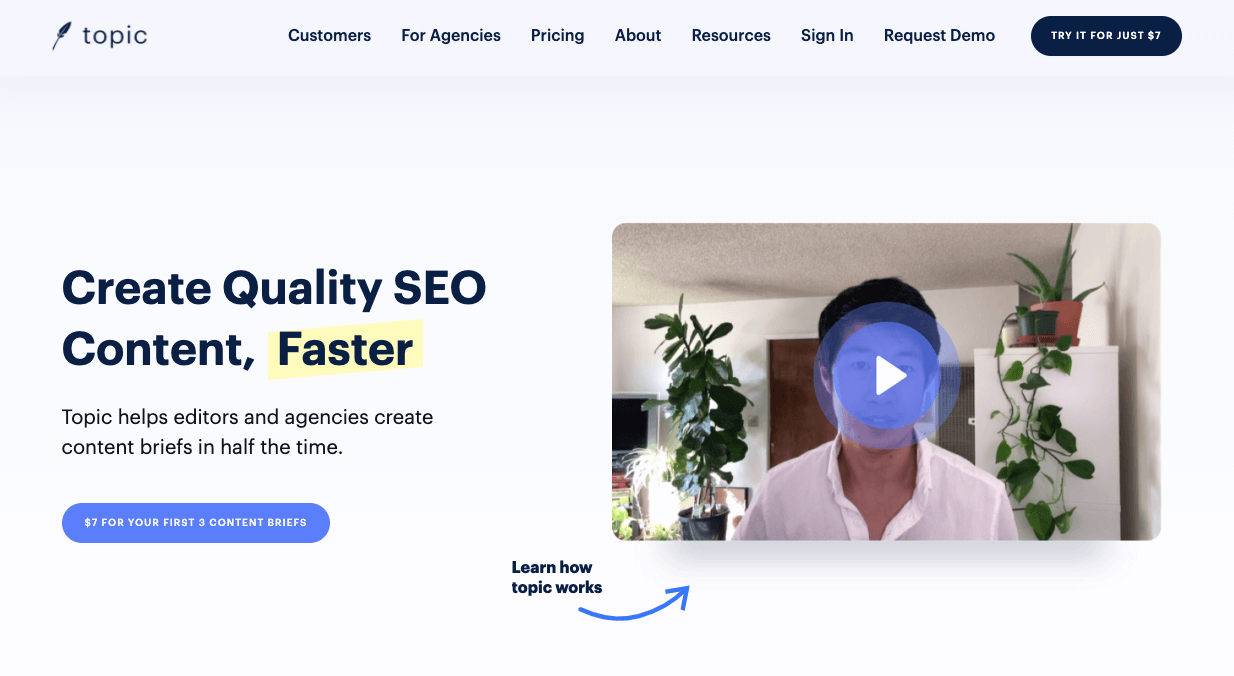 UseTopic, like Clearscope, is an SEO content optimization tool. Between the two tools you really only need one, but there are some key differences.
UseTopic has a really strong headline generator. By using a similar SERP crawling feature, UseTopic will auto generate headlines for you and your team to get started quickly.
Using their outlind builder you can shuffle headlines around to easily build a content outline to share with your writing team. It's suggested headlines are powered by GPT-3.
Like Clearscope, UseTopic also grades your content with the highest rating being A++. They also have Google Docs and a Wordpress plugin.
I used this tool to perform some content optimizations and think it does a great job. You could run Clearscope and UseTopic head to head, but they're both solid tools and you'll do well selecting either one.
UseTopic is a little cheaper than Clearscope, so if budget is a concern then this may be the better option for you.
I Use Topic for:
Generating content briefs
Optimizing content for SEO
Refreshing old content
Screaming Frog & Sitebulb

Look, I'll be straight with you. I'm not a technical SEO. I have perhaps a slightly-beyond beginner knowledge of technical SEO problems and solutions.
I also don't like desktop-based crawlers. I much prefer web-based crawlers like DeepCrawl or OnCrawl for one simple reason: I've worked with technical SEOs who create what I call spreadsheet hell.
Screaming Frog doesn't export what I consider human friendly data files. You have to do a heavy amount of cleaning to get them readable by non SEOs, and that is a serious downside to me.
Then you're still dealing with a spreadsheet, probably in Google Sheets, so you end up with hundreds of these spreadsheets.
It's a nightmare.
My preferred crawler has a web interface that refreshes with new data that anyone can access, even outside the SEO team.
Nothing against my former technical SEO colleagues but the waterhose of information from Screaming Frog and Sitebulb is overwhelming.
All that aside, I personally used Sitebulb to conduct a very light website audit when I was interviewing for jobs earlier this year and it was great.
Sitebulb, compared to Screaming Frog, outputs nicer looking PDFs that are more client facing. I still took the Sitebulb exports and translated them into slide format instead, but it helped me identify some easily-overlooked SEO problems.
I've used Sitebulb for
Light technical SEO audits
Broken link identification
Website Optimization Tools
Google Optimize
Google Optimize is the best a/b testing tool for freelancers and small businesses who can't justify paying tens of thousands a year for an enterprise tool.
Google Optimize is more than good enough, it's great. It also connects seamlessly with other Google products like Analytics and Google Ads.
That connection let's you run localized a/b tests for your Google Ads campaigns. Say you're running a campaign across the entire United States but you want to test something specifically in the California market – Google Optimize let's you do that.
One negative to Google Optimize is you get essentially no support. It also reportedly does not play nice with static websites built with React and Next.js
But for the low price of free, Google Optimize is hard to beat.
I've used Google Optimize for:
Small scale website a/b testing
Optimizely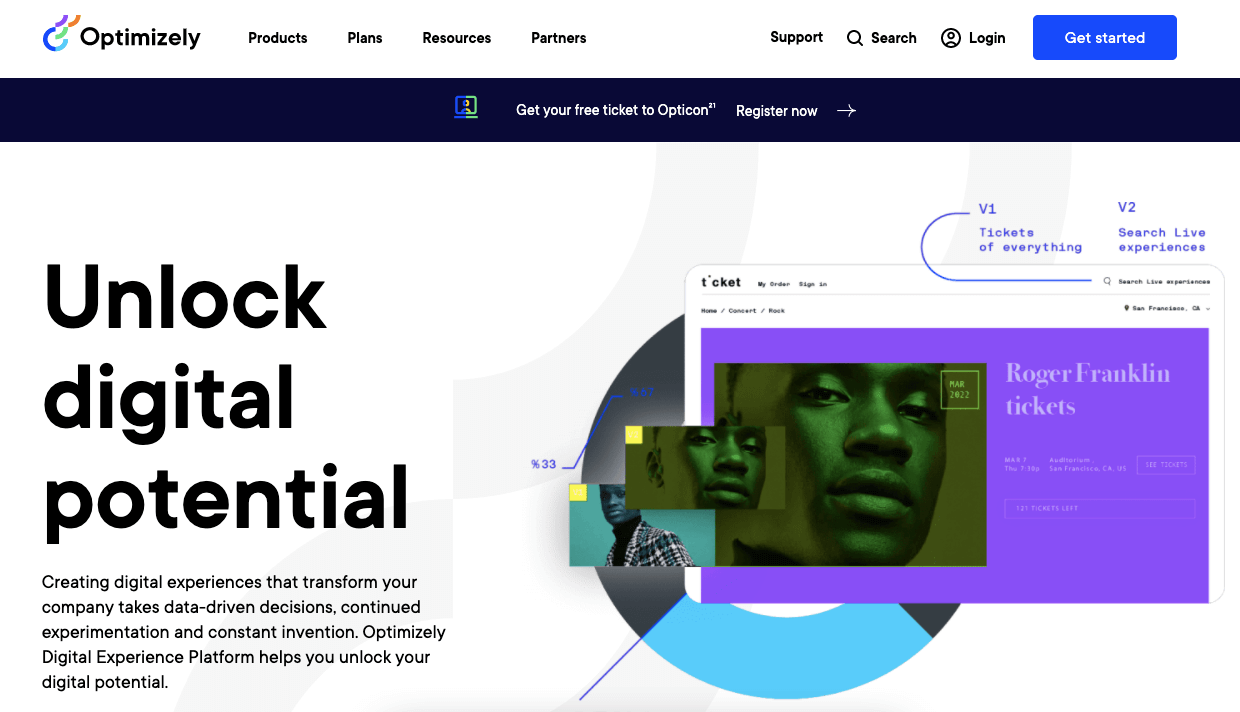 I wrote a full Optimizely review if you want a more in-depth look.
Here's the summary: Optimizely is the best a/b testing tool for enterprises.
That caveat is important because Optimizely is super expensive. I can't disclose the actual price but peg it somewhere above $40k/year, which is above average for enterprise software.
Optimizely's closest competitor in features, Visual Website Optimizer (VWO) by Wingify, is certainly cheaper in comparison. But cheaper is not better, and VWO is not better than Optimizely.
This isn't a VWO vs Optimizely article, but it's difficult to talk about one tool's pricing without discussing the next option.
I value Optimizely highly because it just works. I've personally run into headache after headache with VWO at multiple companies, and you get what you pay for.
Optimizely's method of tracking conversion events is simple, easy, and fast.
The support I've received from Optimizely has also been great.
It's major downside is it's priced like the leading option, which it is.
I've used Optimizely for:
Enterprise website a/b testing
Hot Jar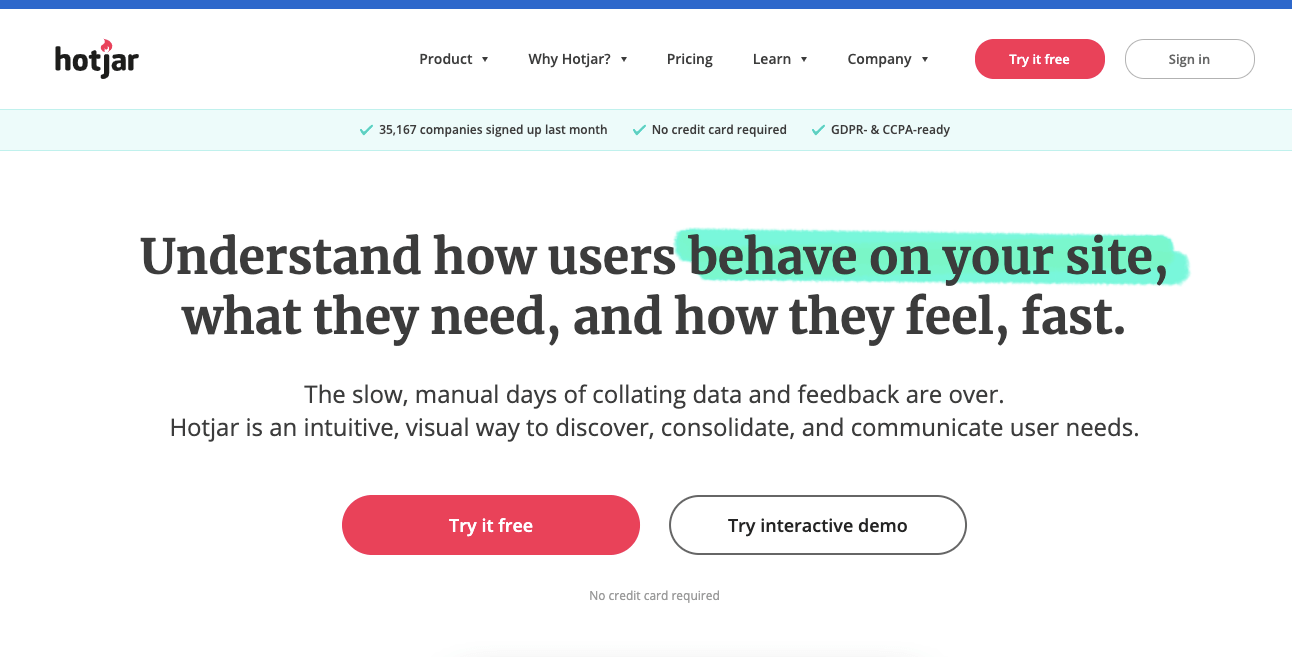 As of September 1st 2021 Hotjar joined forces with ContentSquare.
HotJar unmasks user behavior on your website. It's perhaps best known for it's heat mapping tool but it's product has evolved beyond that, it now supports:
Screen Recording
User Surveys
Real-time Feedback
Hotjar's free plan let's you capture 1,000 page views per heat map, afterwards you need to upgrade to their Plus plan at $39/month.
I've personally used Hotjar for:
PPC Tools
Supermetrics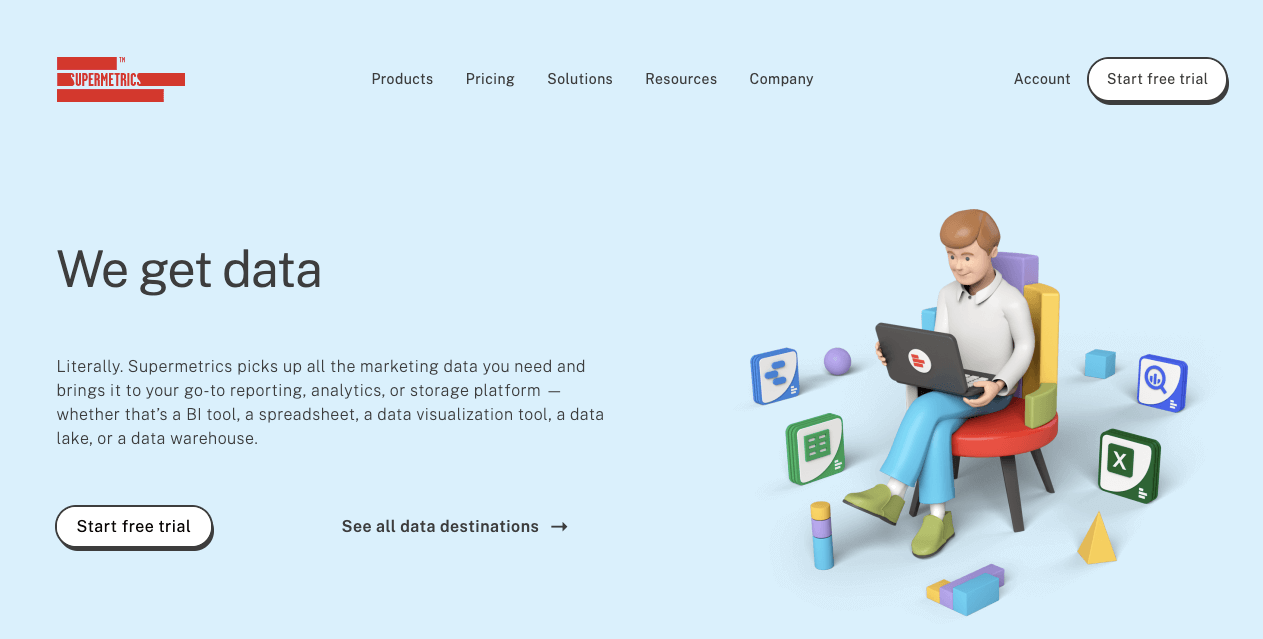 Supermetrics is an essential tool for any performance marketer. See my longer Supermetrics review to better understand why.
It's the one tool I've brought with me to every job, and sadly the one tool that has increased in price and decreased in features the most since I first started using it.
Supermetrics is still worth every dollar, it was just ridiculously underpriced when I first started out. They have since gone through several pricing and packaging updates that shifted key features towards more expensive plans and increased pricing.
Supermetrics is a marketer-friendly data connector between ad platforms like Google, Facebook, Reddit, Bing, LinkedIn, and TikTok and your database of choice:
Google Sheets
Excel
Snowflake
Redshift
Supermetrics can also read from Redshift and MySQL databases which supercharges even the slightest technically adept marketers abilities.
I wrote more about that in my review, so definitely check it out if that piqued your interest.
I've personally used Supermetrics for:
Data extraction work with ad platforms and Google sheets
To make me a 5x more efficient performance marketer
Website Analytics Software
Plausible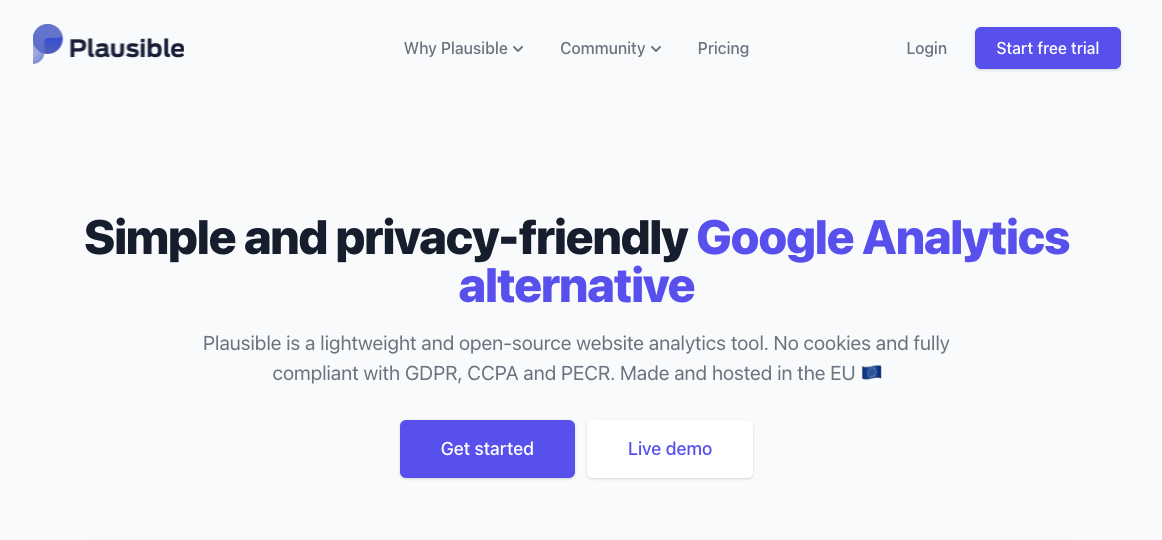 Read my Plausible vs Google Analytics review.
Plausible is a privacy focused alternative to Google Analytics. Plausible doesn't place cookies, is GDPR compliant, and doesn't track repeat visitors.
I've become really enamored with Plausible after spending my career using Google Analytics. I run Plausible on this site and post monthly traffic updates on my LinkedIn page.
There is a downside to Plausible. If you want to monetize your blog by using a premium display service like Mediavine then you need to have Google Analytics.
Mediavine requires publishers to connect their Google Analytics account to upload traffic stats to their platform.
Something worth consideration for blog owners who are looking to monetize their traffic beyond affiliate links.
Google Analytics
Look, no list is complete without Google Analytics. Almost every website uses it, and if you plan to do professional growth marketing then knowing Google Analytics is tablestakes.
You shouldn't need someone to explain to you how GA works, or where a report is, if you've been working in the field for a few years.
I listed it here because knowledge of Google Analytics is essential, not necessarily the tool itself.
I've personally moved the analytics of this website to Plausible, which I mentioned just above this. I like the privacy-forward features of Plausible compared to Google Analytics.
Still, you can't get away from it.
I've personally used Google Analytics for:
Website analytics
Pageview tracking
Email Marketing Software
Mailjet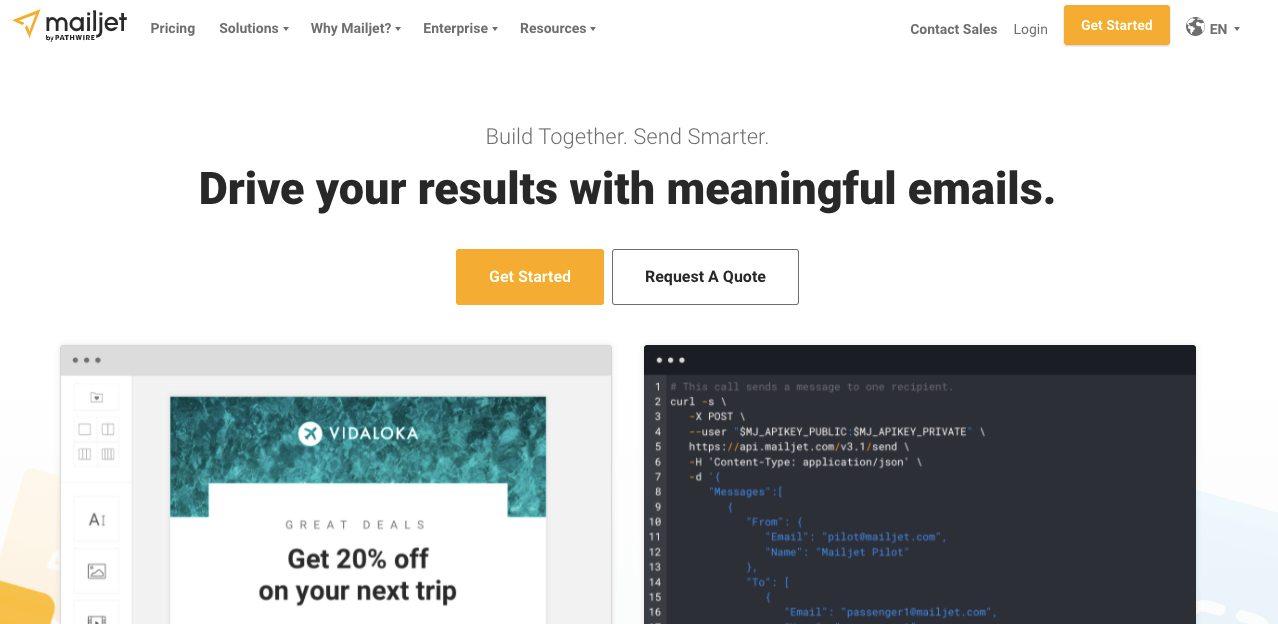 Disclaimer: I used to work at Mailjet.
Mailjet is a great affordable email marketing tool. It does lack in automation and workflow features compared to ConvertKit and Sendinblue, but it's also priced accordingly.
Mailjet was acquired by Mailgun in October 2019 and is now part of the Pathwire brand.
Mailjet's email builder is best in class. Designing emails is easy and fast, and even a design inept person like my can make a good looking email in minutes.
I started a weekly newsletter and used Mailjet to build and send my emails. As a growth hacking tool for email Mailjet is a great choice because of it's price and simple feature set.
Compared to ConvertKit, Mailjet prices based on the volume of emails you send in a given month. ConvertKit prices based on the amount of subscribers you have, similar to Mailchimp.
Mailjet supports SMS but it's only for transactional SMS as of September 2021. I believe marketing SMS is on the product roadmap.
I've personally used Mailjet for:
Sending an email newsletter
Email marketing
ConvertKit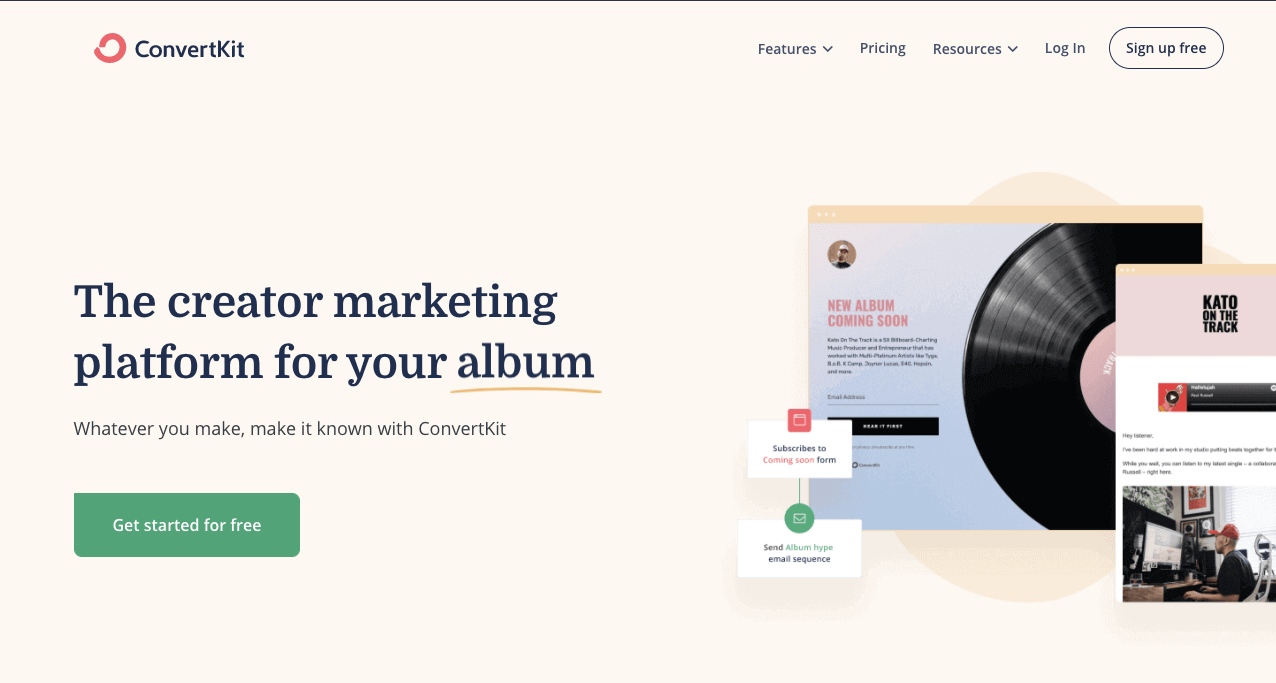 ConvertKit is an email marketing solution for creators to monetize and grow their audience. ConvertKit offers powerful automations, workflows, and even connects to Facebook custom audiences to run ads.
My favorite ConvertKit feature is the out of the box landing pages and email signup forms. You can literally copy paste onto your website to start building an email list in seconds.
Their automations are also unrivaled in the email marketing space. You can build paths for new subscribers to your email list so they get the right emails in exactly the order you want.
One downside to ConvertKit is their pricing model: pay per subscriber
You can have up to 1,000 subscribers for the free plan, but ConvertKit's best features are gated behind their monthly plans.
Once you get up to 65,000 subscribers, which is honestly not a lot, ConvertKit starts costing $400+/month.
You better be monetizing your audience to afford that kind of monthly price!
I've personallt used ConvertKit for:
Email marketing
Automated drip sequences
Sendinblue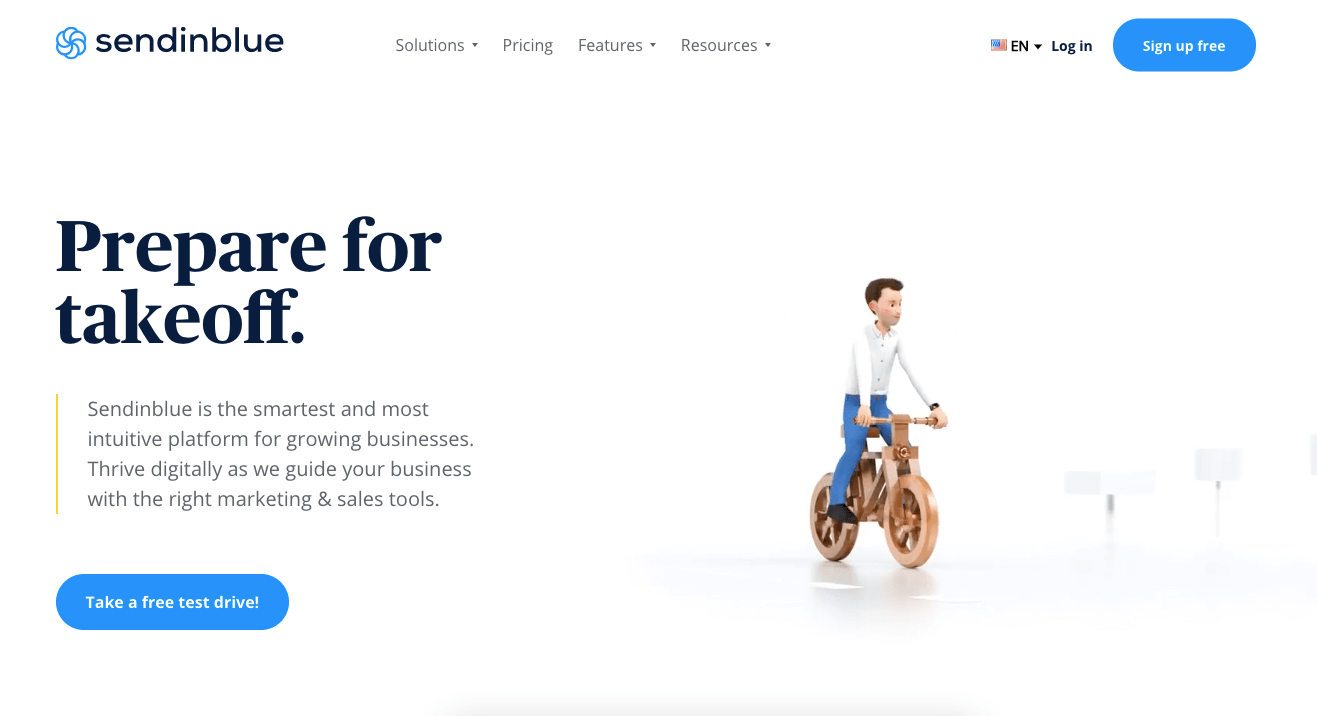 Fun fact: Sendinblue was Mailjet's biggest competitor as they both started in the French market.
Sendinblue has scaled way beyond competing with Mailjet by now and has received some serious funding: they rasied $160M in October 2020.
Sendinblue is a hybrid of Mailjet and Convertkit, although their closest competitor is Mailchimp. Sendinblue's pricing is based on the volume of emails you send but they have more complex automation and workflows compared to Mailjet.
Their cheapest plan starts at $25/month but you still need to pay extra to remove the Sendinblue branding from the footer of your emails, which personally I find is a bad move. Paying any amount should remove that branding.
Sendinblue also has an email api for developers to use.
Like ConvertKit, Sendinblue has landing pages, a Facebook ads integration, and powerful automation features.
I've personally used Sendinblue for:
Email marketing
Automated drip sequences
Campaign Management Software
monday.com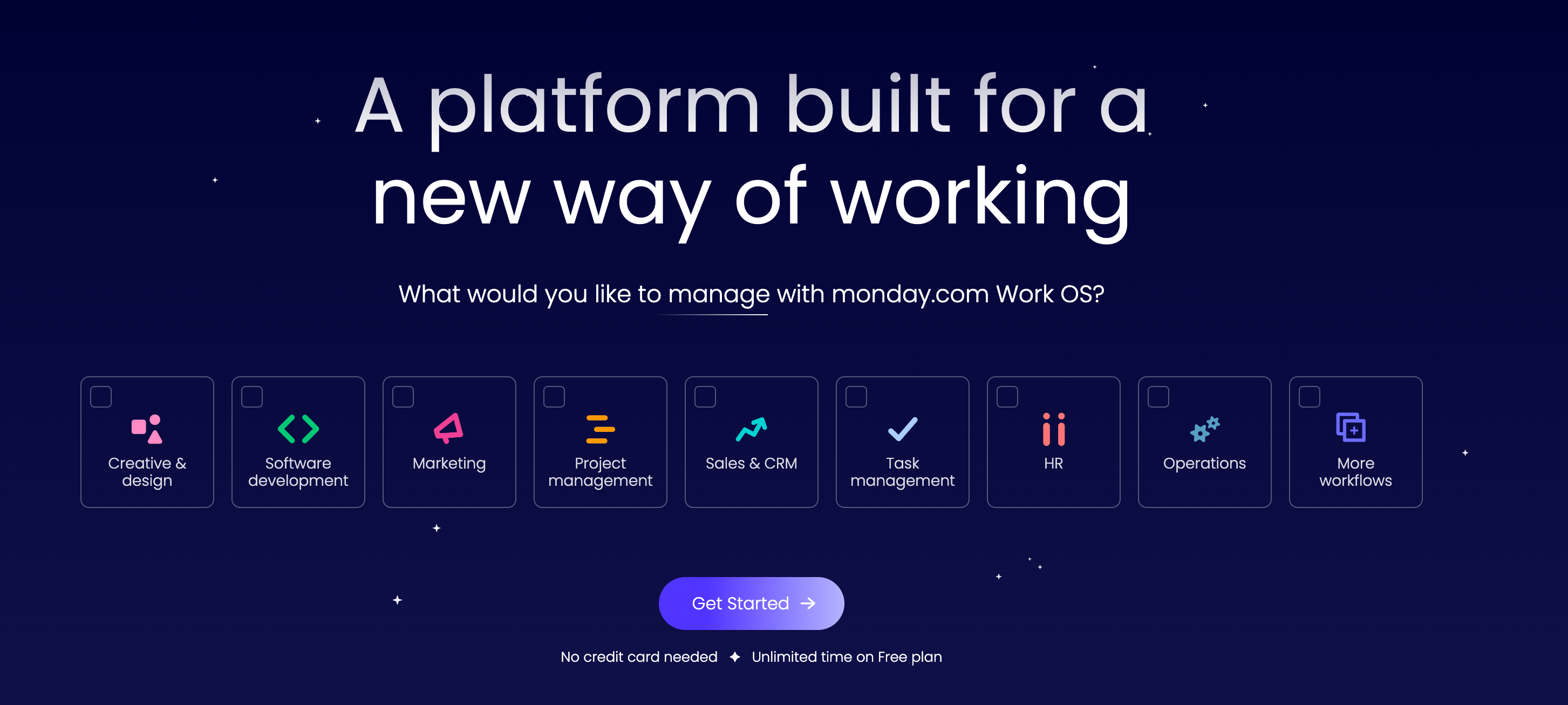 Monday.com is campaign management software, collaboration tool, and work documentation builder rolled into one sleek package.
Billed as an operating system for work, Monday.com has taken the software world by storm. They raised over $500 million and completed a successful IPO in 2021.
I wrote a much longer Monday.com review but I wanted to highlight one of their latest features here: workdocs
Monday workdocs enables you to create documents within your workspace. The best part is you can sync other objects from your Monday.com workspace into your documentation.
Say you're writing a brief for a new marketing campaign and you want to include a table with important launch dates and links. With Workdocs doing that is easy.
I've personally used Monday.com for:
Marketing project management
Building a blog content calendar
Creating campaign briefs and documentation
Notion
Documention may not seem important at first, but if folks on your team or throughout the company are curious what you're working on then having something written down is helpful.
Notion is one of my favorite tools for the workplace and my personal work as well. It's great for creating a company-wide wiki and knowledge base, and for tracking your habits.
I wrote a longer review of about the best productivity tools.
I personally use Notion for:
Tracking my workouts and habits
Documenting my tasks at work
Managing a content calendar
Don't miss my best Notion alternatives blog post to see how Notion compares to monday.com, Asana, ClickUp, and more.
Automation Tools
Zapier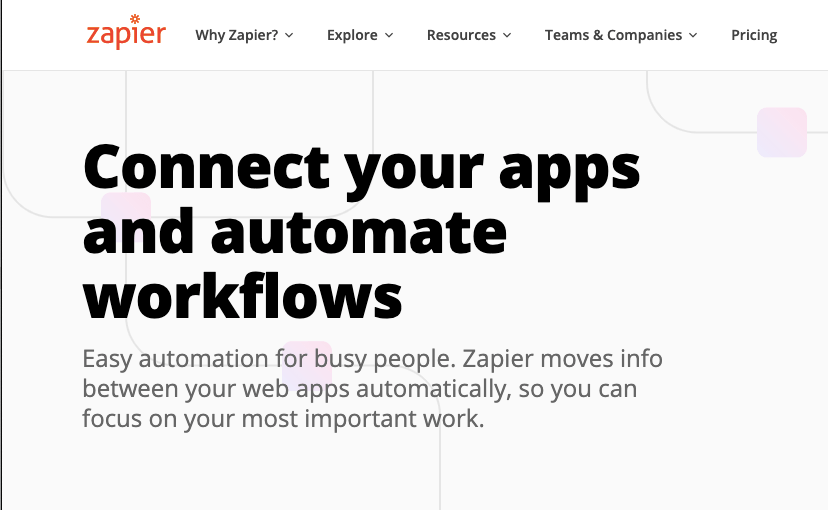 Using Zapier well can make you feel like a marketing wizrd.
Need to capture lead form data with a webhook, transform it with a lookup table, then send it to your CRM? Zapier can do that.
Need to scrape your email for something and add it to a Google sheet? Zapier can do that.
I've solved hundreds of problems by using Zapier to connect data sources together.
But there's a downside. Using Zapier can sometimes feel like a brittle bandaid that can break randomly. And often your Zaps are stuck one person's account – what happens if they leave the company?
It takes another Zapier master to understand someone elses Zaps.
Then to the end user it often looks like data appears magically in their system, so it can be unclear where it comes from. Zapier can create a lot of confusion.
But it's great, and I continue to use it, despite the known downsides.
I've personally used Zapier for:
Complex automation between systems
Connecting Gmail, Google Sheets, web forms, Web hooks, Pardot, Hubspot, and more
PhantomBuster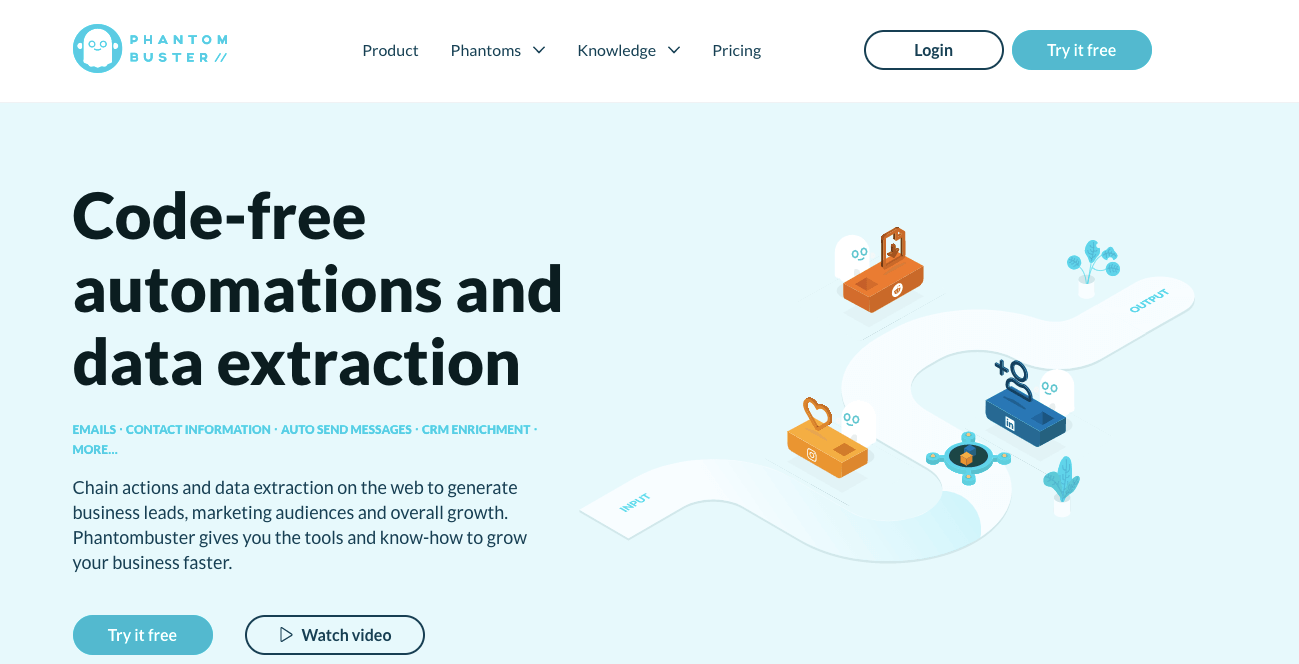 If Zapier is a way to stich different tools together, PhantomBuster is a way to automate repetitive taks for one system.
Things you can do with PhantomBuster:
Auto-connect with accounts on LinkedIn
Scrape LinkedIn profiles
Auto-follow on Instagram
Scrape followers on Twitter
PhantomBuster is a great tool for growth hackers, sales reps, SDRs, BDRs, anyone who needs to automate repetitive tasks or scrape data from a specific social media platform.
Pricing is reasonable too, starting at $30/month for 5 Phantoms and 1 hour a day of automation time. There's a free version but it only allows 10 minutes of automation each day which is not a lot.
I've personally used PhantomBuster for:
Expanding my LinkedIn network
Scraping reviews from Chrome Extensions & Facebook pages
Collecting followers from a Twitter account
Landing Page Builders
Unbounce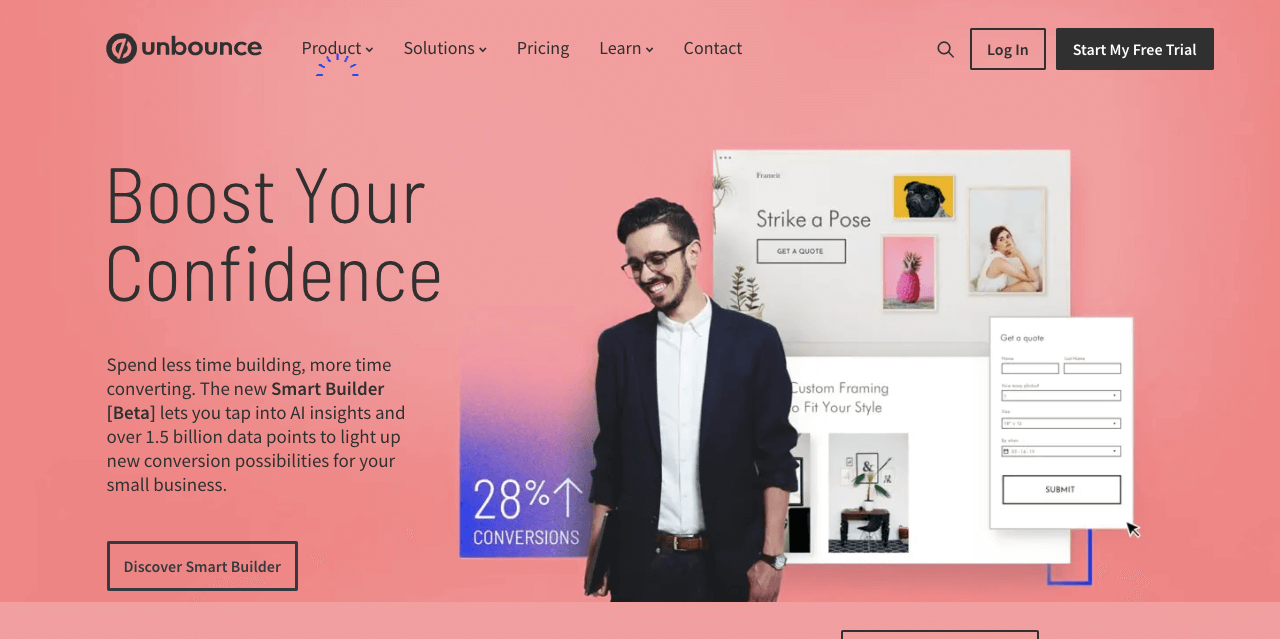 I've written an entire review of landing page builders so I recommend checking that out.
Spoiler: Unbounce is my choice for best landing page builder.
It mostly comes down to price, Instapage is more expensive in comparison and they'll try to upsell you to their enterprise service.
One downside to Unbounce is their analytics reports are shockingly bad. The graphs have a fixed time series that you can't change or export so it's hard to drill down and understand where a major change happened.
Unbounce does make it easy to run A/B or multi-variate tests on your landing page and see which one has a higher conversion rate. I used Unbounce extensively at my last job to quickly make landing pages when a developer wasn't available.
Unbounce also connects to Zapier and you can send form data to webhooks. That was useful for me as my destination for Unbounce lead data was Pardot, but Pardot didn't accept Unbounce's webhooks natively.
So I had to sit Zapier in between them, a gigantic pain, but it worked.
Unbounce pages are also fast. You'll have no problem crushing any page speed scores because they're very well optimized, which is important if you're spending tens or hundreds of thousands of dollars on paid ads.
I've personally used Unbounce for:
Creating landing pages
Running a/b tests
Instapage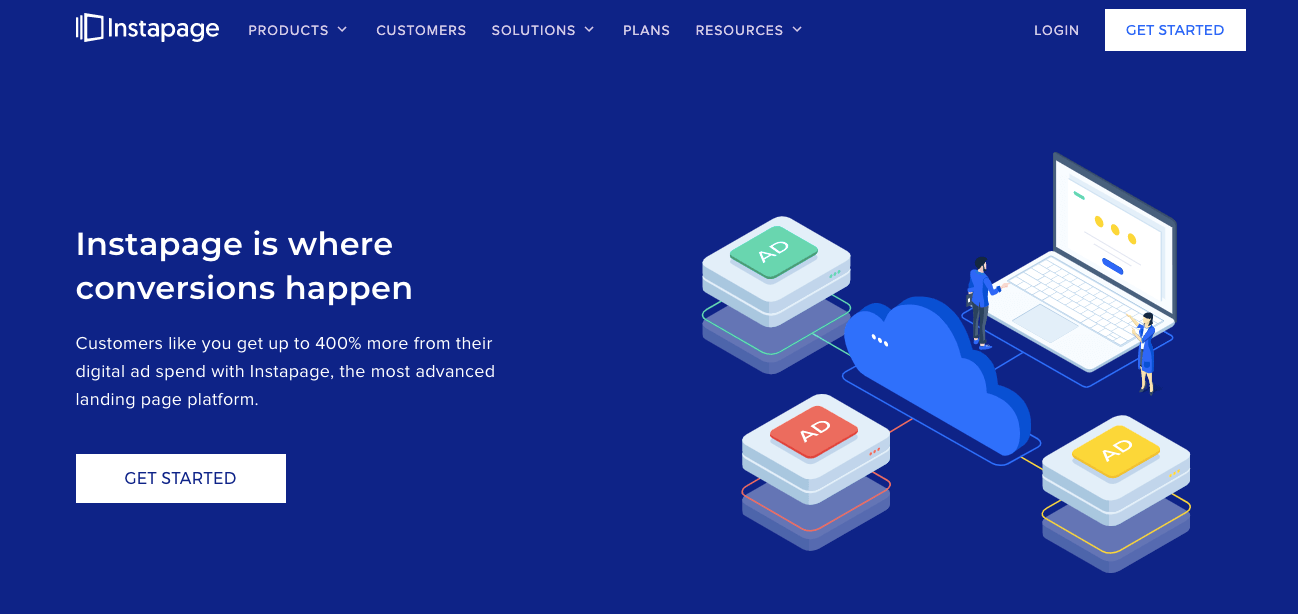 Instapage, a competitor to Unbounce, is also a solid choice for landing page builders.
It is more expensive than Unbounce but it feels more premium. Instapage uses a system called Instablocks which lets you reuse elements across multiple pages.
This is handy for design teams to build on-brand compnents that design inept marketers (like me) can rinse and repeat without needing approval.
One of my former freelance clients used Instapage and I had an overall great experience with the tool. That said, my client had to sign a 1-year contract because the amount of monthly website visits was higher than Instapage allowed on their self-service plan.
My main gripe with Instapage is their upsell model. They purposely limit the amount of page views allowed on their self-service tier to force you into an annual contract.
Not very growth hacker friendly, but it's a choice they made.
That's part of the reason I prefer Unbounce, they have a higher page view limit than Instapage (50,000/month compared to 30,000/month for Instapage).
I've personally used Instapage for:
Creating landing pages
Running a/b tests
Chat Bots
Drift
Drift was the category creator in conversational marketing. They literally wrote the book on it.
In August 2021 they announced strategic funding from Vista Equity, one of the leading private equity firms that invests in software companies.
The investment valued Drift at over $1 billion, although the exact terms of the deal were not disclosed.
What that means in real terms is the founders, execs, and perhaps employees likely cashed out some equity and Drift got a big cash infusion to revinest into product development, possible mergers and acquisitions, and future hiring.
I used Drift for almost 3 years at my last company and every touch point, from customer success, to support, to sales, was positive. My CSM (shoutout Jaclyn) was dope and actively helped me build Drift playbooks that drove revenue for the business.
If you don't know, Drift and the other tools in this section are mostly chat bot that appear in the bottom right corner of websites. You can interact with them, sometimes it's literally just a bot, but there can also be a live human on the other end.
My last company used Drift to have a live chat service during business hours to answer support questions (most of the chats fell into this bucket), upsell customers to higher tier plans, and generate enterprise leads.
I also used Drift playbooks to automatically generate leads by asking visitors a series of questions. Based on their answers Drift would qualify them into a lead and add it to Salesforce.
Drift also has an email service, called Drift Email, and a video screen recorder tool, called Drift Video.
Overall Drift is a really powerful tool and they're an exciting company to watch.
I've personally used Drift for:
Intercom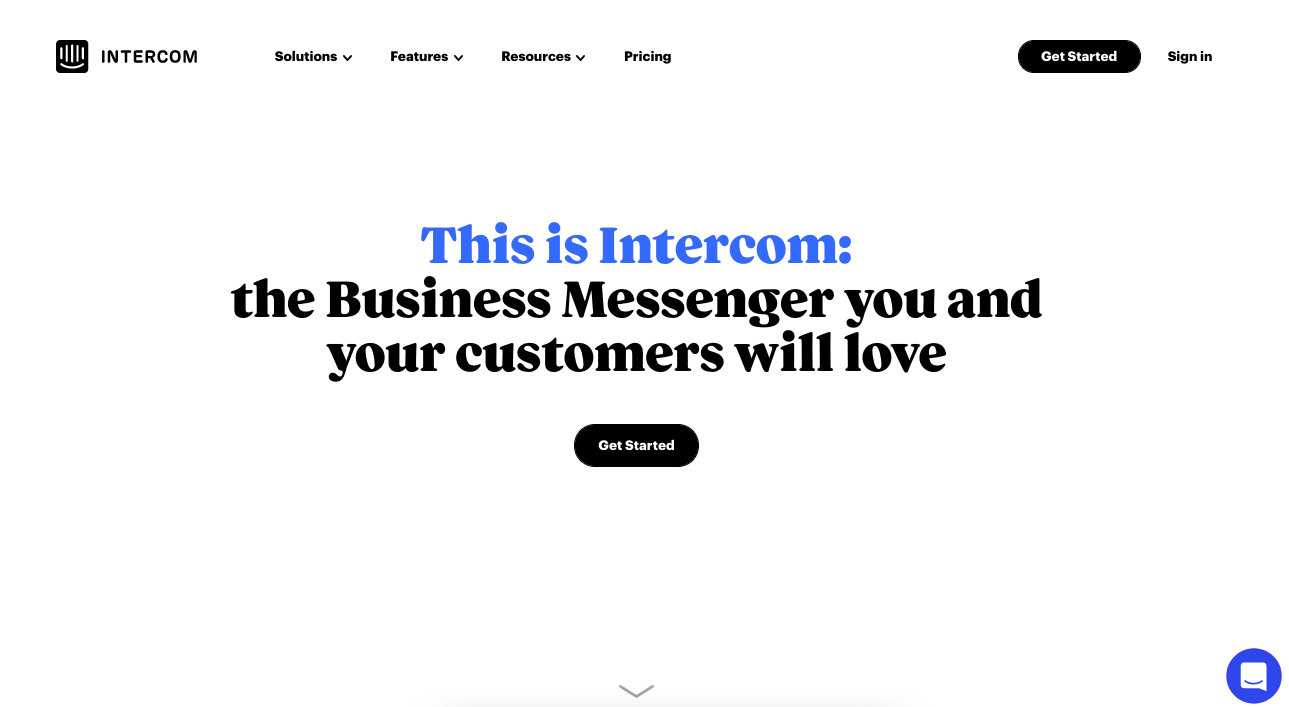 Intercom, also known for it's chat bot, is one of Drift's main competitors.
Intercom's last round of funding was a Series D in 2018 for $125 million. That round valued them at $1.2 billion so it's very likely their current valuation is much higher now.
Also like Drift, Intercom is a conversational marketing platform.
One of Intercom's main features is it's campaign builder, which let's you build a messaging campaign across a variety of channels. Someone could come to your website, get a chat message, bounce, then receive an email (assuming you have their contact info already), then they could get a push notification, wait 2 days, get a follow-up chat message when they return to your website, and on and on.
If done well it's a cool way to build personalized and targeted messaging to your key accounts.
My current job uses Intercom to communicate with customers over email and for customer success. Sorry I can't share any more secrets than that :)
I've personally used Intercom for:
Creating chat bots
Customer email communication
Landbot.io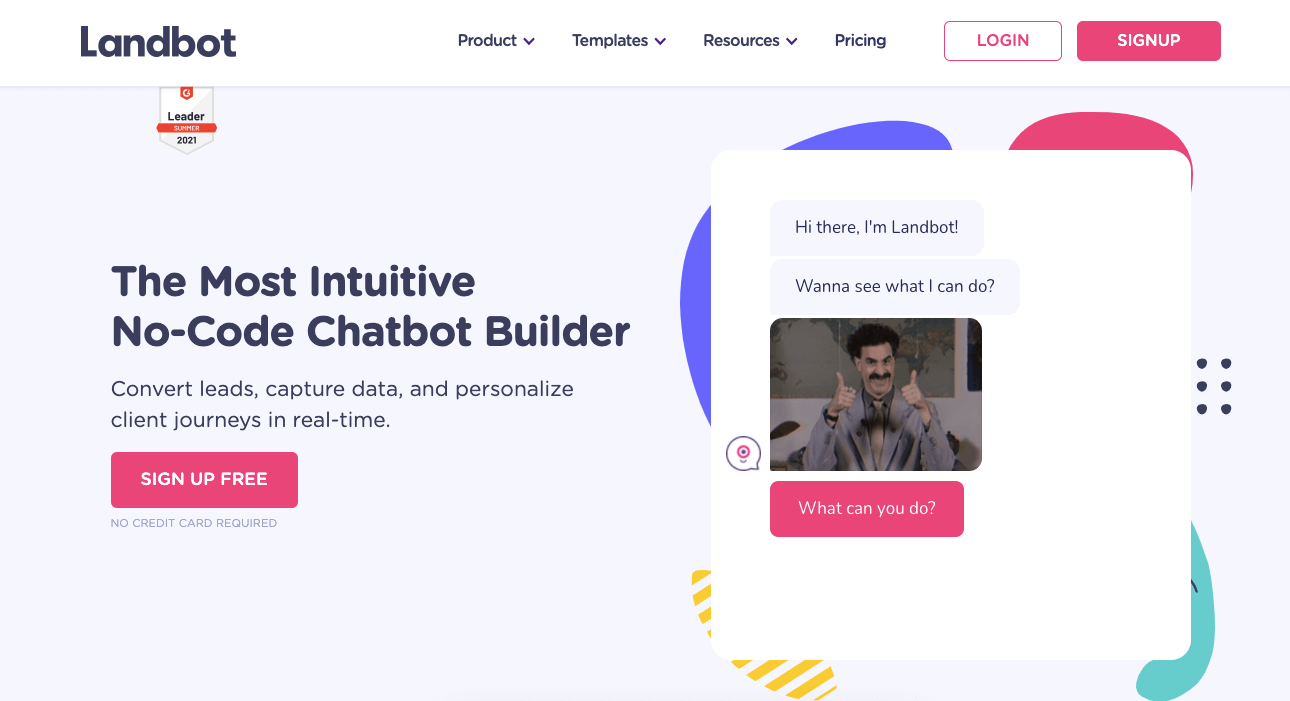 Lastly we have Landbot, a newer player in the chat bot space. So new they raised a $2.2 million Series A round in January 2021.
That's a big difference from Intercom's $150 million in 2018, but don't discount Landbot yet.
Being small and scrapy is an advantage when you're going up against established players.
Landbot is a low code / no code conversational marketing platform, which is hip lingo meaning they have an intuitive drag and drop interface that any tech savvy person can use.
No code tools are becoming popular because developers are expensive and not every solution needs to be custom coded.
Right now Landbot is only a chat bot platform but I expect that to change quickly.
Landbot's pricing is available on their website: 30 euros/month starting out
Compared to Drift and Intercom, which regardless of plan require you to talk to a sales rep, Landbot is definitely more affordable in comparison.
For a small company Landbot might be the better choice.
I have not personally used Landbot yet.
Summary
So many growth hacking tools, so little time!
I hope this massive list was helpful for you to better understand some of my favorite tools and get a preview to some up and coming tools that are shaking things up.
Did I miss anything? Send me an email
See Also