What is ClickUp?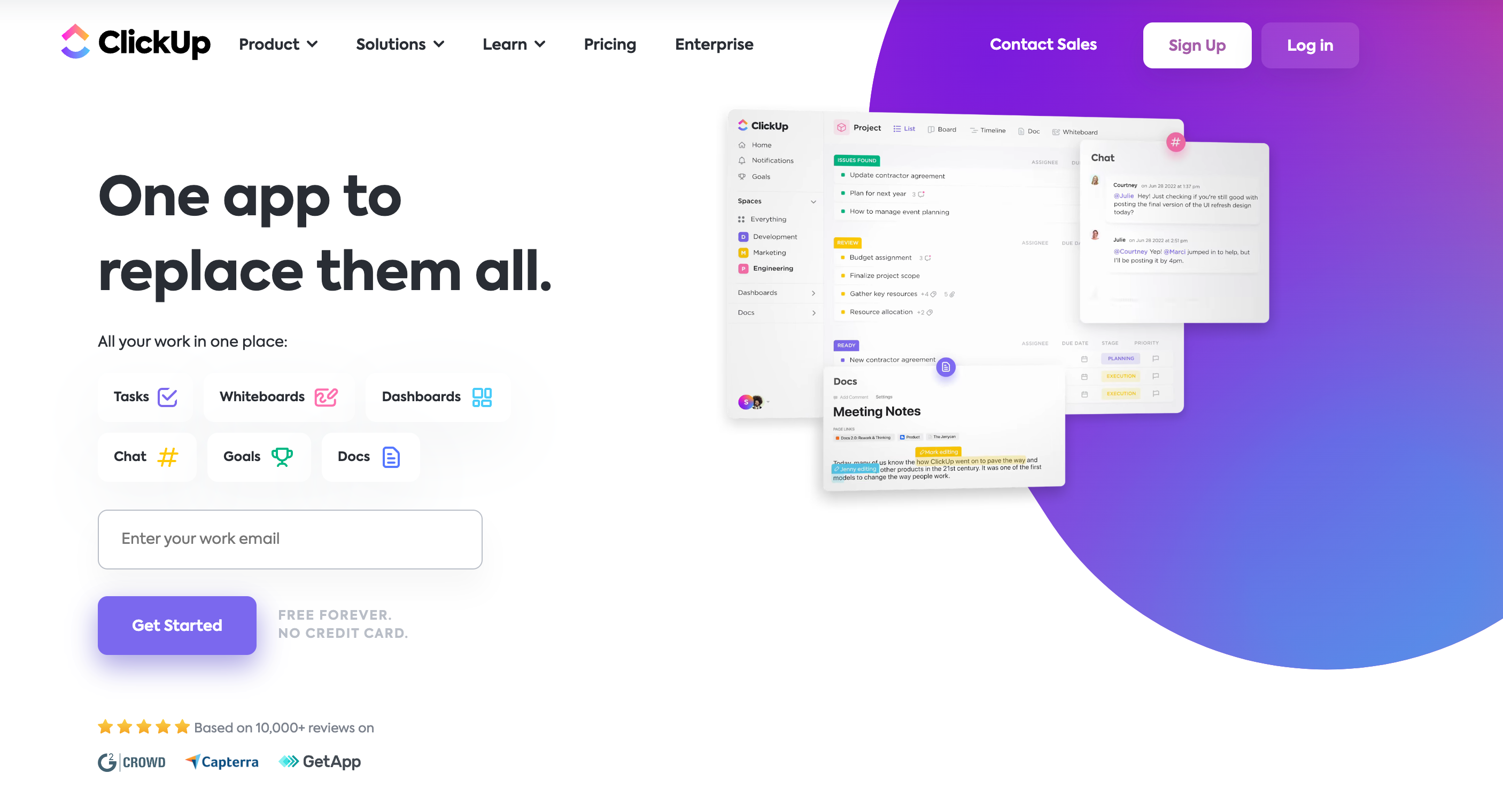 ClickUp is more than just a project management tool. ClickUp can track your tasks, goals, and OKRs, work documents, and more.
ClickUp is trying to become one app that can replace all other apps.
They raised a $400 million Series C funding round in October 2021 which valued ClickUp at $4 billion
But you're looking for alternatives to ClickUp, and that's what I'm going to give you.
Why Look at Clickup Alternatives?
As software has eaten the world each category has become increasingly competitive. Project management tools, which I think is ClickUp's primary function, is hyper competitive.
Tools like monday.com have successfully IPO'd and now trades around $240 per share as of January 2022.
Notion is now valued at over $10 billion.
This is a crowded and successful space, so if you're not happy with one tool then there are other options for you.
So let's get into them.
Best Free ClickUp Alternatives
monday.com
Wrike
Asana
Smartsheet
Notion
Obsidian
Reflect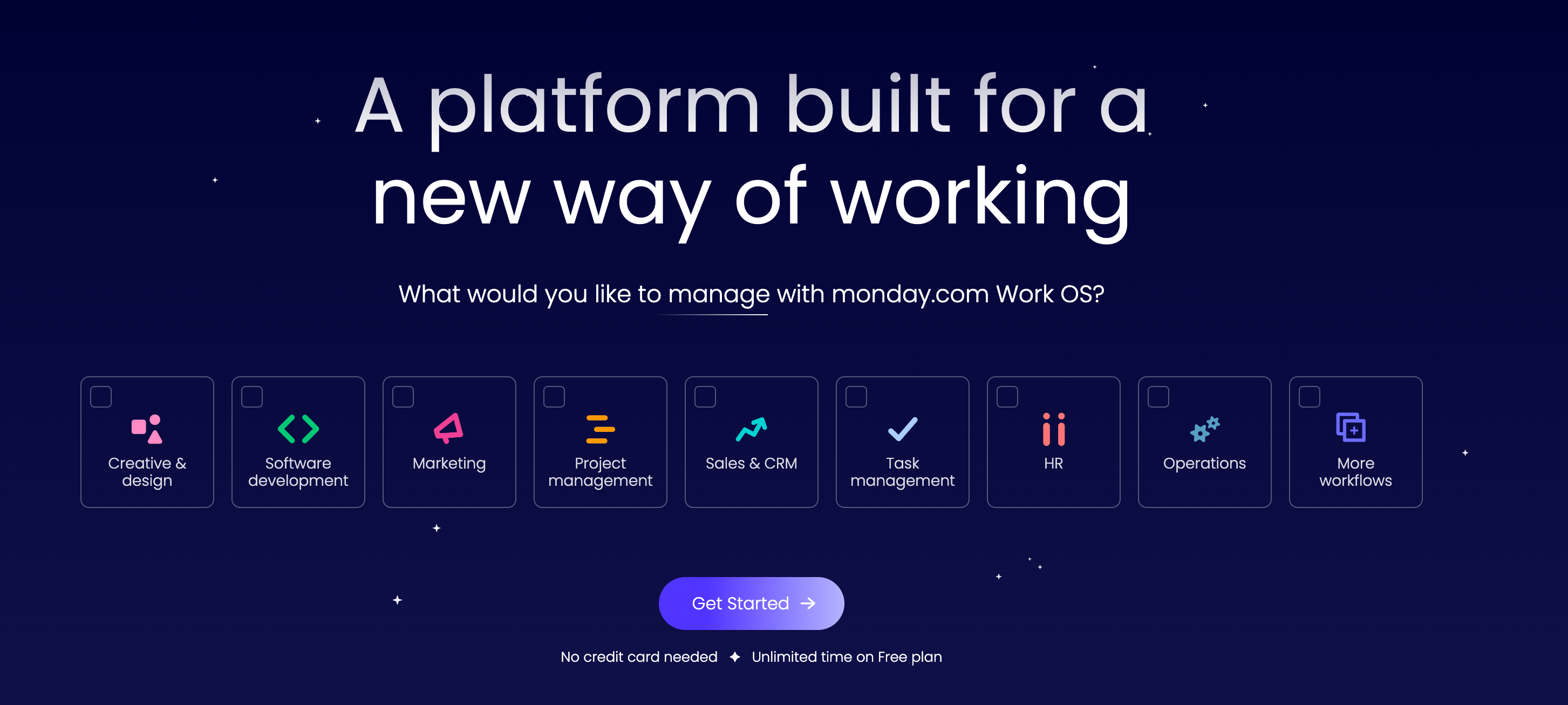 monday.com is my #1 choice for ClickUp alternatives.
They offer everything ClickUp does and in some cases do it better.
monday.com is purpose built for team collaboration in the workplace, so if you're using ClickUp with your team now then I'd strongly recommend giving monday.com a look.
Make sure to check out my complete clickup vs monday post for a deeper dive.
Features
ClickUp
Automatic time tracking
Board, Gannt, and Calendar views
Unlimited users
Dynamic recurring tasks
Start & Due Times
monday.com
Custom Automations
Form, Board, Gannt, and Calendar Views
Automatic time tracking
Spreadsheets, docs, and dashboards
Pros & Cons
The biggest con for monday.com is their pricing structure, which I discuss in more detail in the next section.
The biggest pro for monday.com is honestly the maturity of their tool. They've been in the project management space for a long time, formerly they were called DaPulse (and I agree with them that monday.com is the better name). Feature maturity means a smother user experience compared to a startup like ClickUp.
ClickUp's biggest con is I personally find their UI confusing and not as intuitive. It has improved over the years, and now when you register for ClickUp they have a short video tutorial series that gets you over the initial hurdle.
Kudos to the ClickUp team for addressing the initial user onboarding flow in a quick and easy way.
ClickUp's biggest pro for me is pricing. It's much cheaper to get into the ClickUp ecosystem than it is for monday.com.
Speaking of pricing…
Cost
monday.com's pricing plan includes a minimum of 3 users, which means you're paying at least $30/month to access their basic paid features.
ClickUp has no minimum user amount, and actually allows an unlimited amount of users to access your workspace.
ClickUp's pricing is more favorable, starting at $10/month. But for either tool to be effective you need to be working with a team, so for 3 users both ClickUp and Monday are comparably priced.
I'm a price-sensitive buyer, and I think most folks are, so pricing is a huge consideration for me when I'm looking at new tools.
Some of monday.com's best features are locked behind their Standard plan, which costs $36/month.
Honestly it seems like monday's Basic plan ($30/month) exists to anchor your to a specific price and push you towards their slightly more expensive Standard plan ($36/month).
For only 6 more bucks you get access to so many more things!
On pricing alone I prefer ClickUp, but overall I think monday.com is better for teams.
Wrike vs Clickup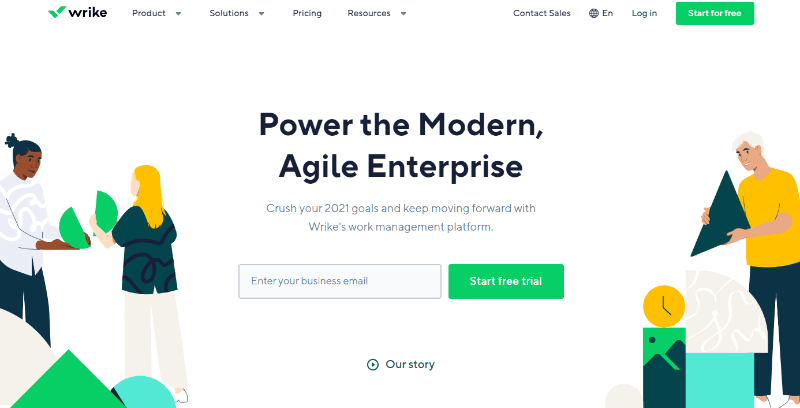 Wrike is a project management tool custom built for the Enterprise.
That isn't to say small teams or professionals can't use Wrike, they definitely can, but Wrike's main audience is larger companies.
I consulted for a ~50 person company last year that used Wrike to track tasks across the entire company and it did the job well.
Wrike was acquired by digital workspace giant Citrix for $2.25 billion. At the time of acquisition Wrike had about $140 million in annual recurring revenue(ARR), which is no small feat for a software company to achieve.
I'll walk you through Wrike's features and a cost comparison to ClickUp.
Check out my full Wrike review for more info.
Features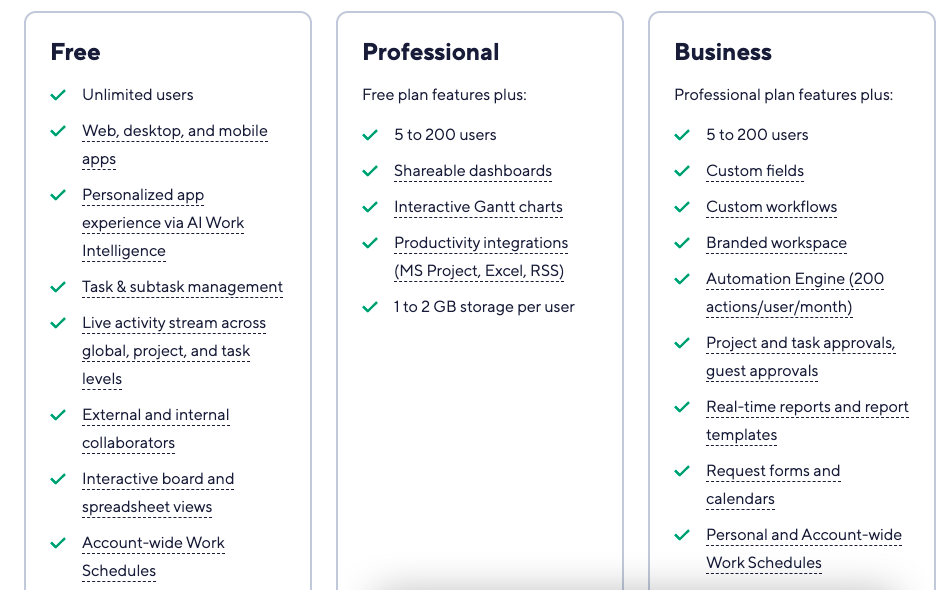 Frankly Wrike is missing a lot of features in it's paid plan that ClickUp offers for free.
Some of Wrike's missing features compared to ClickUp are:
Goal tracking
Assignable comments
Native docs
Teams & multiple assignees
Sprint tracking
Native docs
Perhaps that's a result of the Citrix acquisition, or a nod to Wrike's enterprise focus, since those types of companies tend not to value a freemium model very much.
The difference in growth models for product-lead growth(PLG) companies compared to sales-lead companies is worth another post, but for now my assumption that Wrike is sales-lead rings true in their free feature list.
If free features are what you're after then you're better served by ClickUp.
Cost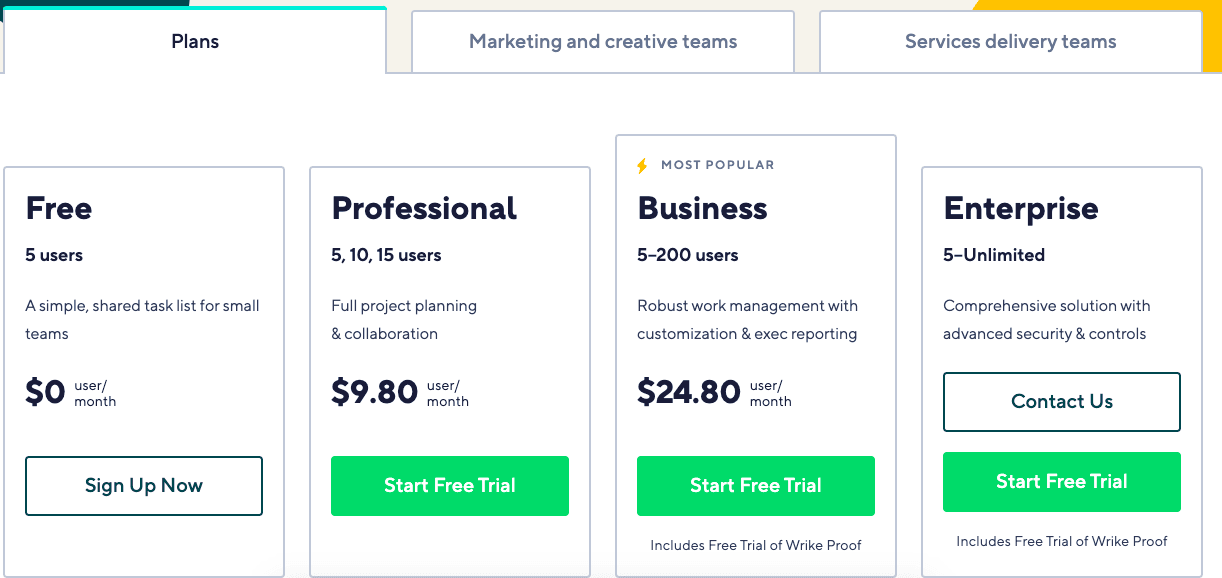 Priced affordably, Wrike starts at $9.80/month per user for their Professional plan.
If you want more business features, like time tracking, custom fields, automation, task approvals, and a Salesforce integration, then you need to upgrade to their Business plan ($24.80/user/month).
In comparison, ClickUp's business plan is cheaper at $19/month for many similar features.
Both Wrike and ClickUp offer free plans so you can get started, but ClickUp's free plan includes more features than Wrike does.
Asana vs ClickUp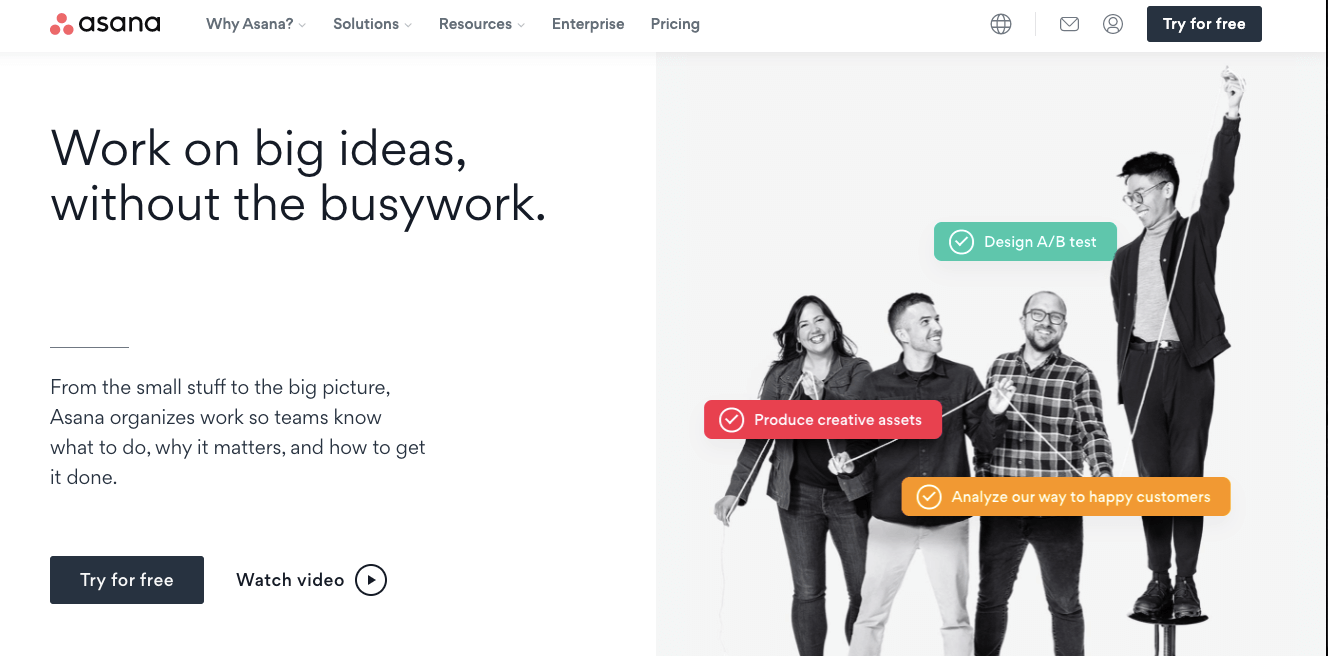 Asana was founded in 2008, which seems like forever ago in today's land of hot silicon valley startups.
But Asana is still no slouch and it's worth considering.
Several companies I've worked at have used Asana in both a free and paid capacity.
The content editor at my last job was a massive Asana fan, and there are even dedicated Youtube videos to Asana tips and tricks.
Features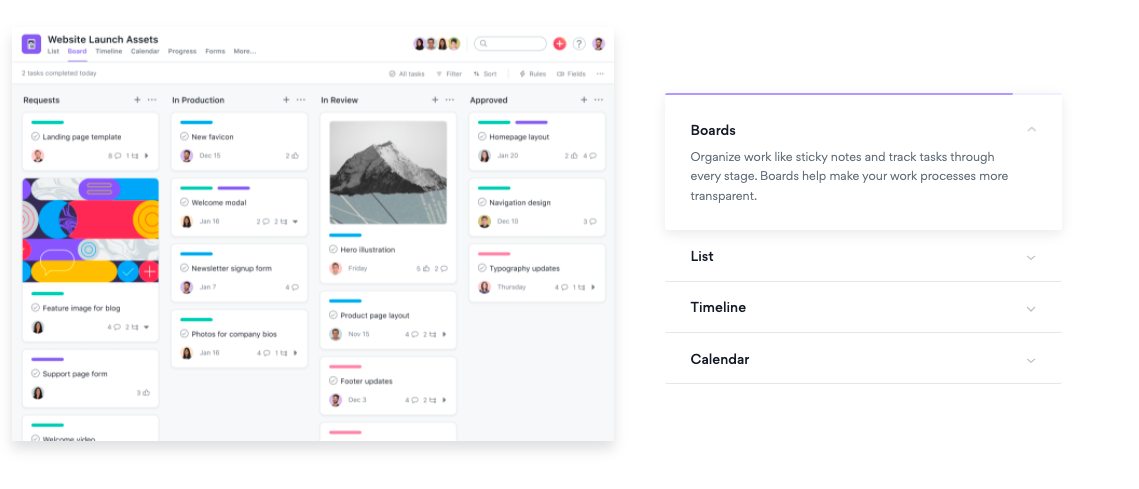 At it's core Asana is more than a simple kanban board, it's a project management tool that makes it easy to manage projects and tasks across a team, whether fully remote, hybrid, or in the office.
Here's a basic Asana workflow I've used before:
You kick off a project by submitting an Asana form with important info like project name, description, deadline, and dependencies.
The project manager triages the requests and communicates with team members necessary to complete the project, like designers, strategists, and engineers
The project is broken down into phases, each with their own due dates. The designers have a due date, then the project is handed off to the engineers
At each phase the Asana task is updated, so it's clear who's on deck and what team is up next
The project is completed and you move onto the next one
Cost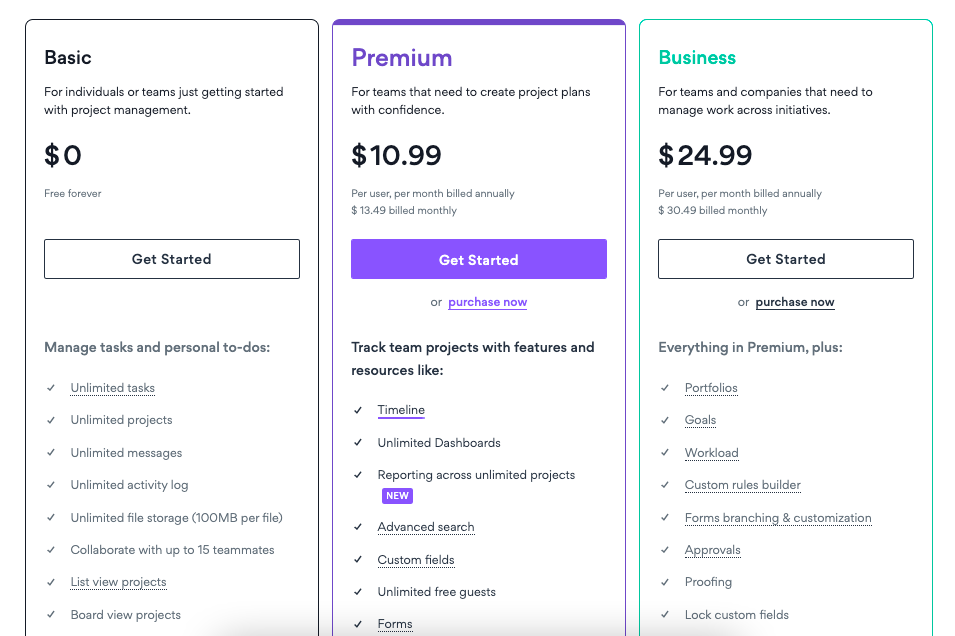 I've used both the free and paid versions of Asana. The paid version isn't cheap, starting at $13.50/user/month, or $11/month per user paid annually.
The paid version is where Asana really shines because it unlocks the full workflow I described in the last section.
In my experience, having an intake form for requests is absolutely critical to keeping project information in one place.
Kicking off a project with only a slack message of basic info sounds like a project managers nightmare.
Compared to ClickUp, Asana is slightly more expensive.
They're also different tools. ClickUp has some robust documentation features that Asana lacks.
But Asana's strict focus on projects and deadlines means it stays out of your way as you work. Sometimes I feel like ClickUp is trying to do too many things that could ultimately distract you or your team.
For specific use cases Asana really shines, but ClickUp has a more comprehensive solution.
Smartsheet vs ClickUp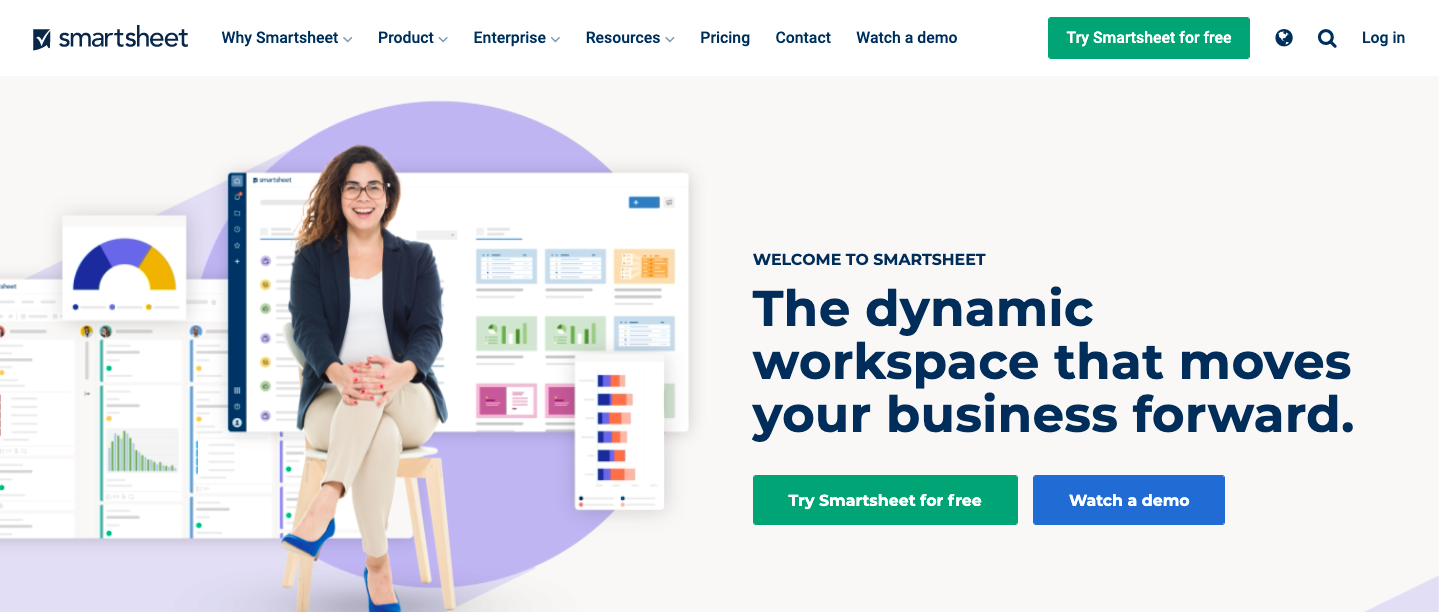 Smartsheet was founded in 2005 by Mark Mader and Brent Frei, which makes it older than Asana.
Smartsheet is a publicly traded company with a stock price of $63 as of January 2022 and they last reported annual revenue of $385 million, which makes them larger than Wrike.
They have over 2,000 employees and are headquartered in Bellevue, Washington.
The Smartsheet interface was completely redesigned in 2010, and afterwards the company grew 100% each year for four consecutive years, which is frankly an amazing stat.
But is Smartsheet worth using compared to ClickUp?
Features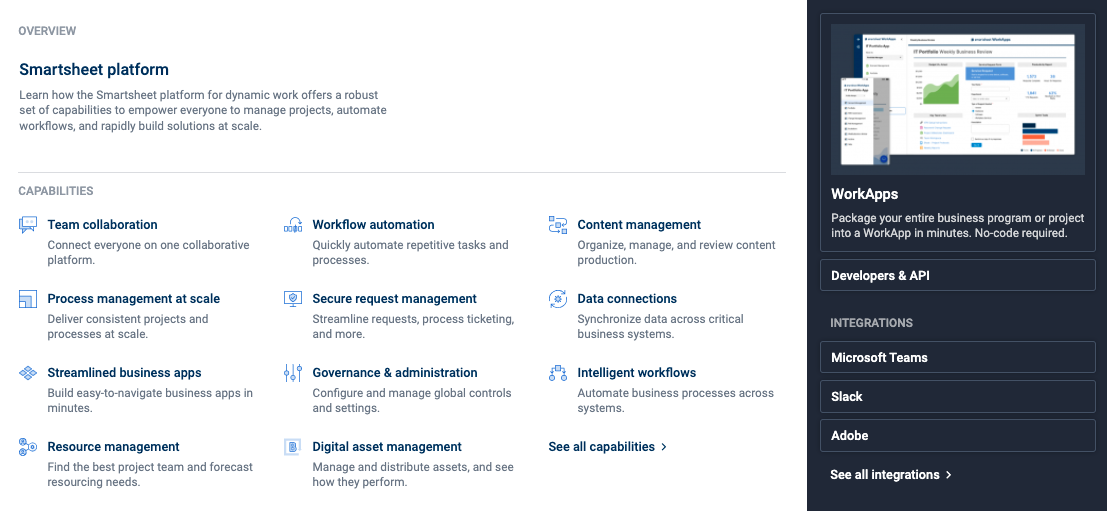 Smartsheet, like Wrike, is an enterprise focused company. How do I know that?

This ROI stat with a case study download link is how. That is a stat aimed at organizations looking to implement a wall-to-wall (across every employee) solution.
Smartsheet also doesn't have a free plan, their cheapest plan is $7/user/month after the free 30 day trial.
Here's a small list of ClickUp features missing from Smartsheet:
Relational databases
Automatic global time tracking
Native docs
Gantt charts and list views
Dedicated sprint planning
Smartsheet started a glorified spreadsheet and has since evolved into a more complex product. But at it's core Smartsheet still excels in spreadsheet-like tasks, whereas ClickUp is a broader product.
Smartsheet is deep into one feature set and ClickUp is wide across multiple features.
If you're part of a large Enterprise looking to implement a tool across your entire company, one that has proven to work for 90% of the Fortune 100, then Smartsheet is worth your time.
If you're a small scrappy startup then I'd consider ClickUp instead.
Cost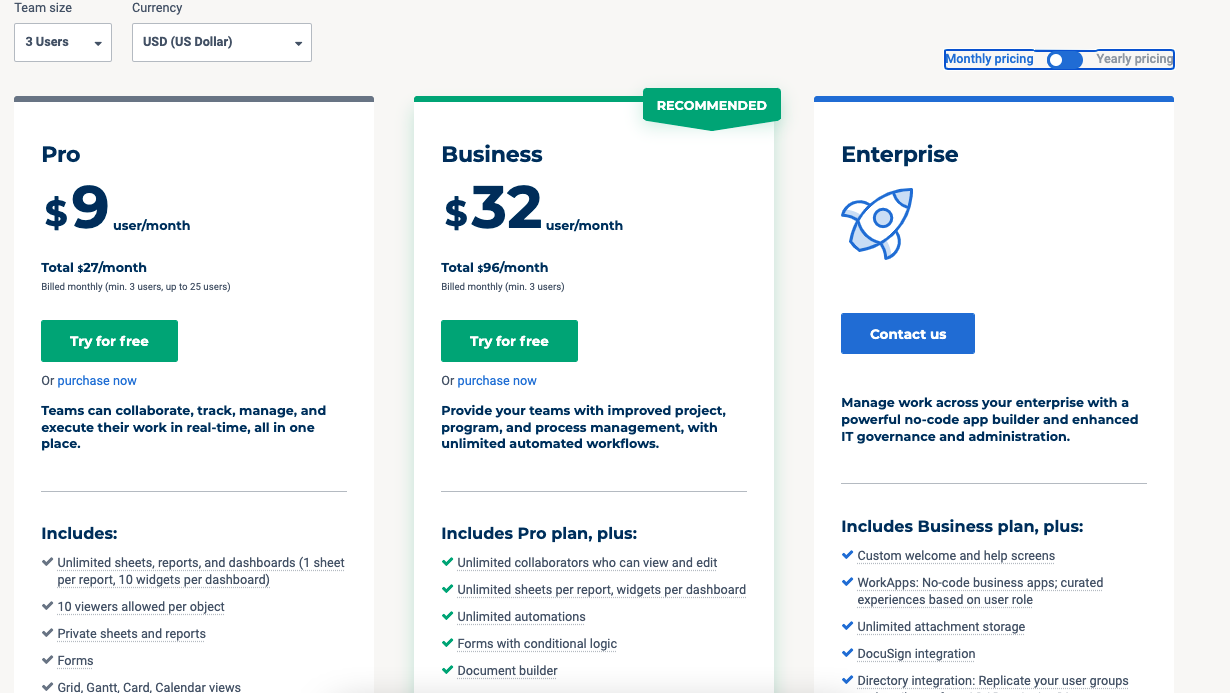 First, Smartsheet doesn't have a free plan and ClickUp does.
Second, Smartsheet also locks you into paying for 3 users at a minimum, like monday.com, which makes their cheapest plan is $27/month.
So ClickUp has a better free plan, has a cheaper price floor, and gives you more features for your money.
Notion vs ClickUp
Notion is one of the best productivity tools I've ever used. Notion provides flexibility to create documents, workspaces, and internal documentation however you want.
Plus Notion lets you natively embed a Loom in them, which is really handy for including a quick video summary at the top of your document (disclaimer: I work for Loom).
But no tool is perfect and Notion isn't for everyone.
ClickUp has some features that Notion does not and I'll cover them below.
Features
ClickUp Features*

To-Do Lists
Robust Project Management
Docs, Wikis, and Spreadsheets
Goal & Time Tracking
Dashboards
Goals & OKRs
Dynamic Recurring Tasks
A generous free plan

Notion Features*

A fully customizable database able to track your entire life
A generous free plan
Limited Project Management
To-Do Lists
Docs, Wikis, and Relational Databases
An API
Synced blocks
Pros & Cons
Notion isn't built strictly for task management like ClickUp is.
ClickUp has better project management tracking tools like Gantt charts and Notion does not.
A lack of Gantt charts means Notion doesn't have automatic progress tracking capabilities. Load a ClickUp dashboard and you'll get an instant, automatically updated view of how your project is going.
ClickUp is also more visually colorful than Notion is, if that's your thing. Some prefer the minimalistic and sleek style of Notion, but if colors are your jam then ClickUp could be your preference.
Don't miss my post on Notion alternatives to see the other side of this comparison.
Cost
ClickUp is more expensive per month than Notion.
Notion: $5/month ($4/month paid annually)
ClickUp: $9/month ($5/month paid annually)
On price alone Notion is more favorable. I'd also argue that Notion is more favorable to smaller companies, businesses, and startups.
Notion gives every startup $1,000 in free credits to get started which I think is really cool.
Of course there's a business reason for that. Notion is betting that by having their tool ingrained in a startup's operations from the beginning that the startup will eventually grow, scale, and start paying Notion in the long term.
Obsidian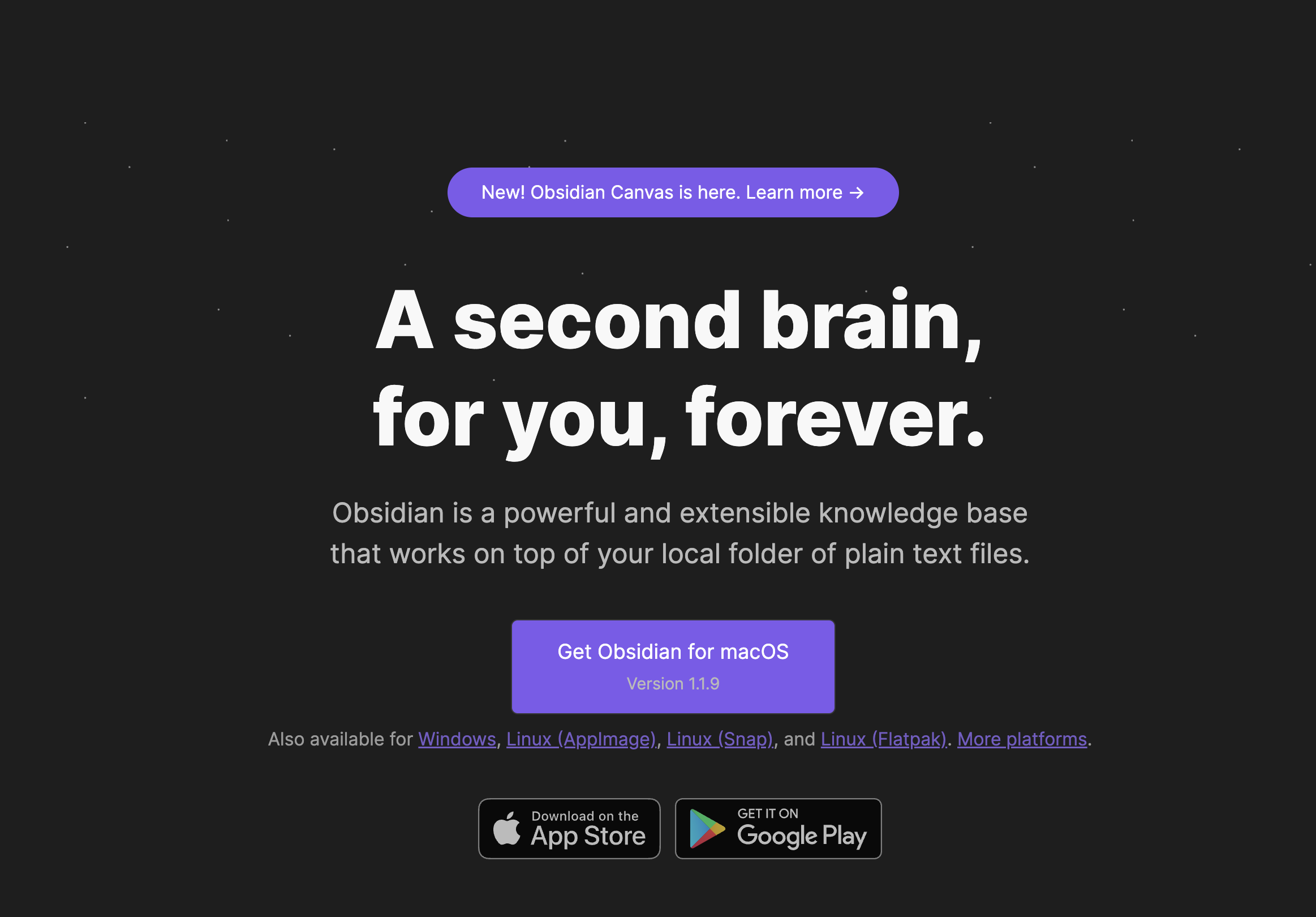 Obsidian is part of a new group of apps designed to become your second brain.
A second brain is a concept popularizaed by researcher Tiago Forte who literally wrote a book on the topic.
It's a methodology for storing, saving, and organizing ideas so you can easily retrieve and action on them later. It's a digital repository for everything you learn and where you learned it.
Obsidian is more than a note-taking app. An obsidian notebook connects ideas via backlinks, which are references to other people, places, objects, or ideas in your second brain.
Often visualized in graph views like this, backlinks help you connect the dots between various ideas, much like pathways in your brain are connected with synapses.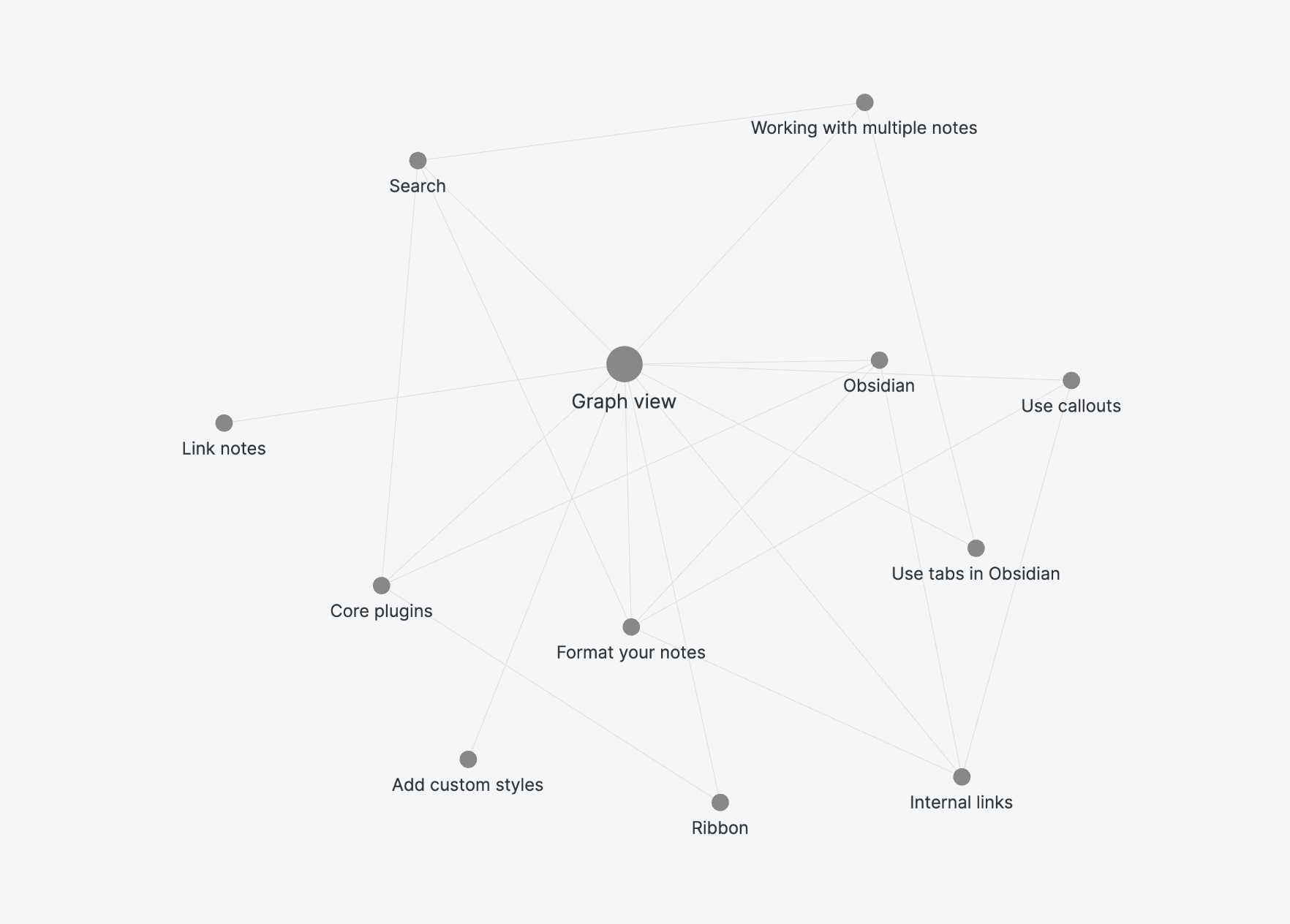 So while Obsidian may not have some of the core project management functionality of ClickUp, it's way better for note-taking, journaling, and creating documents.
Obsidian is available as a web app or as native Windows, Mac, and Linux apps.
I prefer using native apps and I used Obsidian to keep track of my notes at work. I'd create folders for 1x1s with my manager and direct reports.
I created another folder for frequent meetings so I could write out my thoughts and perspectives ahead of time. Often I'd need to read out the week's performance, so instead of winging it every week I liked to write out my talk track to keep myself from rambling.
Obsidian makes it easy to create folders and organize notes within them.
Reflect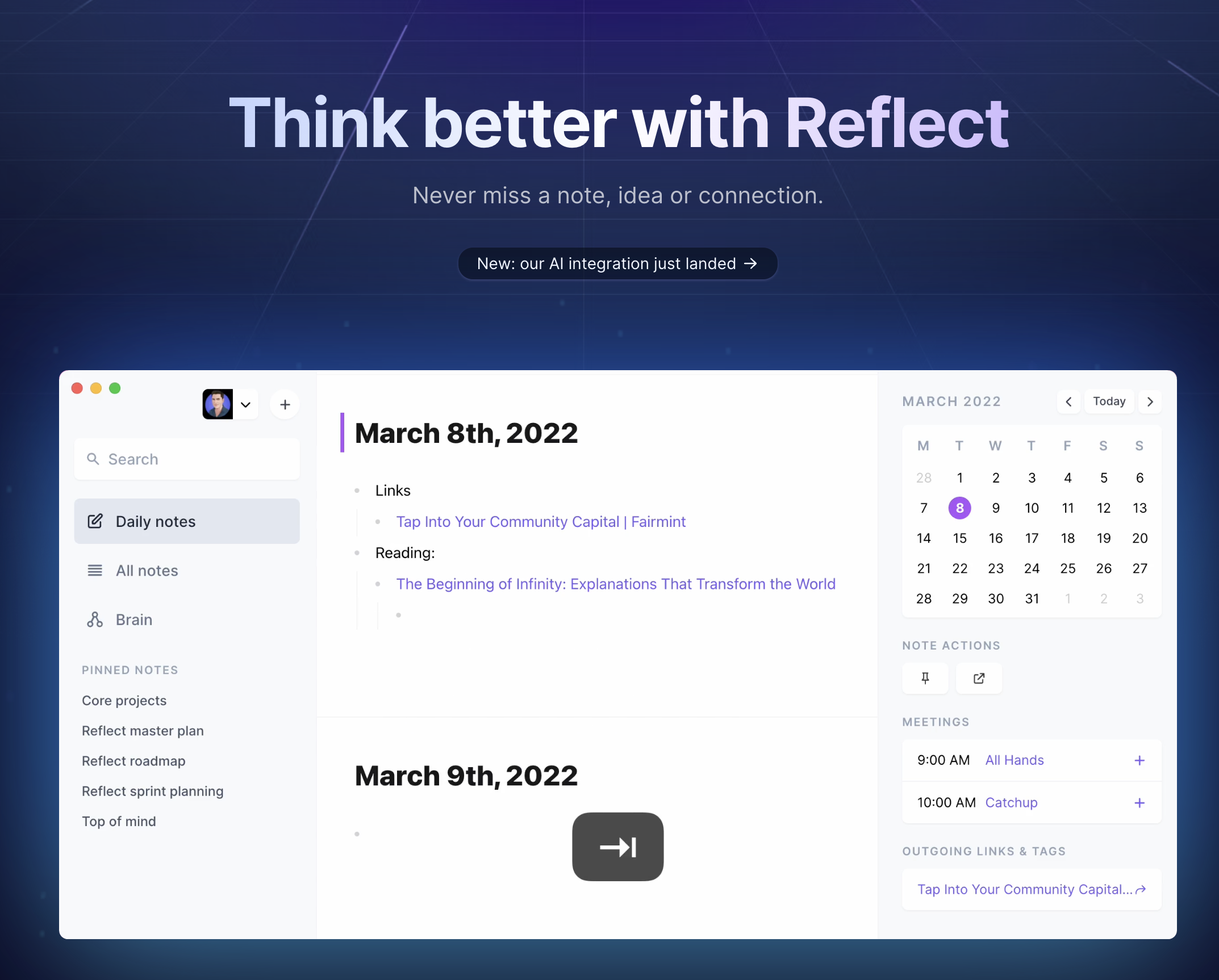 Like Obsidian, Reflect is also a second brain tool.
I've been using Reflect as my main note-taking app since starting a new job. Creating notes is easy and everything can be accessed via the Cmd-K shortcut (my first experience with that shortcut was via the Superhuman email client)
They also just launched an AI integration to take better notes and easily expand your ideas.
Here are some ways Reflect suggests you can use their AI palette:
List key takeaways from a body of text
List action-items from call notes
Improve spelling and grammar
Simplify and rephrase writing
Reflect also uses backlinks to connect various ideas together. Backlinks are created by first typing [[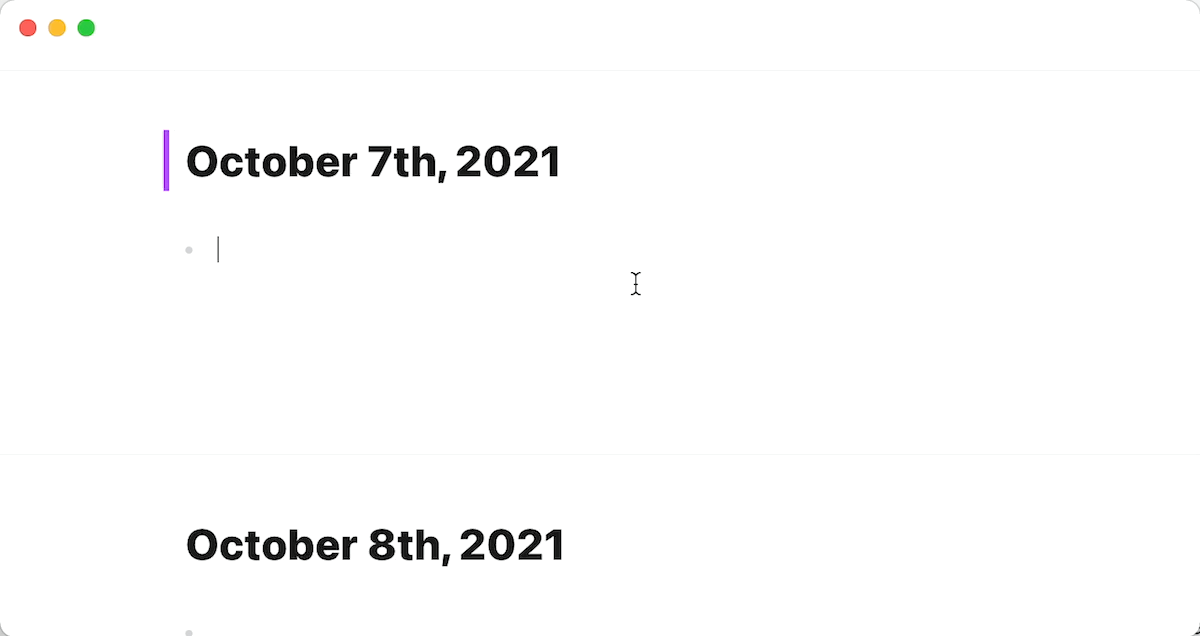 But one of my favorite features of Reflect is their templates
I have a lot of 1x1 meetings since starting a new job so I created a 1x1 template that I can reuse over and over again. It's super handy and easily accessible via the the / shortcut.
Reflect is a newer tool but it's getting constant updates. Check them out if you're looking for a modern note-taking solution.
Wrapping Up
monday.com is my favorite ClickUp alternative.
Notion is the best free alternative to ClickUp, but if you're part of a larger team that manages long, complex projects, then monday is the better pick.
You can't really go wrong with any of the tools in this list. They all have similar features and pricing, it just comes down to what features you need to get the job done.
See Also